Quick Facts
Region: Europe
Full Name: Swiss Confederation
Capital City: Bern
Language Spoken: German (official) 63.7%, French (official) 20.4%, Italian (official) 6.5%, Serbo-Croatian 1.5%, Albanian 1.3%, Portuguese 1.2%, Spanish 1.1%, English 1%, Romansch 0.5%, other 2.8% (2000 census) note: German, French, Italian, and Romansch are all national languages, but only the first three are official languages
Switzerland Travel Insurance
Get travel insurance to Switzerland from Direct Travel Insurance. We offer low cost and high quality travel insurance to Switzerland and most of the world.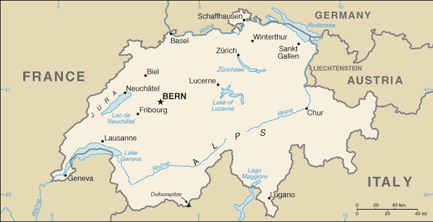 Geographic data
47 00 N, 8 00 E
Elevation Extremes
lowest point: Lake Maggiore 195 m highest point: Dufourspitze 4,634 m
Land boundaries
total: 1,852 km border countries: Austria 164 km, France 573 km, Italy 740 km, Liechtenstein 41 km, Germany 334 km
Natural hazards
avalanches, landslides, flash floods
Natural resources
hydropower potential, timber, salt
Land use
arable land: 9.91% permanent crops: 0.58% other: 89.51% (2005)
Environmental current issues
air pollution from vehicle emissions and open-air burning; acid rain; water pollution from increased use of agricultural fertilizers; loss of biodiversity
Climate
The Alps cause many climatic variations throughout Switzerland. In the higher Alpine regions temperatures tend to be low, while the lower land of the northern area has higher temperatures and warm summers. Required clothing Warm clothes and rainwear; lightweights for summer.
Time difference
time difference: UTC+1 daylight saving time: +1hr, begins last Sunday in March; ends last Sunday in October
Population
7,523,934 (July 2006 est.)
Age structure
0-14 years: 16.3% (male 637,585/female 591,297) 15-64 years: 68.1% (male 2,585,062/female 2,539,345) 65 years and over: 15.6% (male 480,198/female 690,447) (2006 est.)
Median age
total: 40.1 years male: 39 years female: 41.1 years (2006 est.)
Population growth rate
0.43% (2006 est.)
Birth rate
9.71 births/1,000 population (2006 est.)
Death rate
8.49 deaths/1,000 population (2006 est.)
Net migration rate
3.12 migrant(s)/1,000 population (2006 est.)
Sex ratio
at birth: 1.05 male(s)/female under 15 years: 1.08 male(s)/female 15-64 years: 1.02 male(s)/female 65 years and over: 0.7 male(s)/female total population: 0.97 male(s)/female (2006 est.)
Life expectancy at birth
total population: 80.51 years male: 77.69 years female: 83.48 years (2006 est.)
Total fertility rate
1.43 children born/woman (2006 est.)
Business Practices
Business people are expected to wear suits. Swiss businesspeople tend to be somewhat conservative in such things as dress and the formal use of family (rather than first) names. Although English is widely spoken, it is always appreciated if a visitor attempts to say a few words in French or German (depending on the host). When visiting a firm a visiting card is essential. Office hours are 0800-1200 and 1400-1700 Monday to Friday.
Crime
Switzerland has a low rate of violent crime. However, pick-pocketing and purse snatching do occur in the vicinity of train and bus stations, airports, and some public parks, especially during peak tourist periods (such as summer and Christmas) and when conferences, shows, or exhibits are scheduled in mayor cities. Travelers should exercise caution on trains, especially on overnight trains to neighboring countries. Thieves, who steal from passengers while they sleep, can enter even locked sleeping compartments. Parked cars may be vandalized for the purpose of stealing valuables left on the seats or locked in the trunk.
Hotels
Hotels are of high quality and in high demand. Advance booking is advised.
Communications
Full telephone IDD service is available. The country code is 41 and the outgoing international code is 00. Fax facilities are available in all telegraph offices, most major hotels and post offices. Telecommunications is modern and, with the advent of deregulation, prices have dropped dramatically. . Post office hours: 0730-1200 and 1345-1830 Monday to Friday. Saturday closing is at 1100 except in major cities.
Electricity
is a 220 volts AC, 50Hz. Electricity 220 volts AC, 50Hz.
Plug Types
J
Food And Dining
Swiss cuisine is varied. The great specialty is fondue, a delicious concoction of Gruy?re and Vacherin cheese, melted and mixed with white wine, flour, Kirsch and a little garlic. Other cheese specialties are Emmental and T?te de Moine. Pork sausages or salami come in a variety of local recipes including Beinwurst, Engadinerwurst, Kalbsleberwurst (calf's liver p?t?), Knackerli, Landj?ger and Leberwurst (p?t?). A great variety of Swiss wines are available throughout the country. Swiss beer of a lager type is also available. Bottled mineral water is an accepted beverage, with local brands including Henniez. Things to know: Bars/cocktail lounges have table and/or counter service. Although there are many self-service snack bars, table service is normal. National specialties
? Viande s?ch?e (dried beef or pork) from Valais and the Grisons where it is called B?ndnerfleisch, served with spring or pickled onions.
? Papet vaudoir (leeks and potatoes).
? Pieds de porc (pigs' feet).
? R?sti (shredded fried potatoes).
? Fondue Bourguignonne (cubed meat with various sauces).
? Leckerli (spiced honey cakes topped with icing sugar, decorated in Bern with a white sugar bear).
? Fasnachtk?chli (sugar-dusted pastries eaten during Carnival).
? Gugelhopf (a type of sponge cake with a hollow center).
? Schaffhausen (cream-filled cakes). National drinks
? Beer, Kirsch, Marc, Pfl?mli and Williams (spirits).

Tipping:
A service charge is included in all hotel, restaurant, cafe, bar, taxi and hairdressing services by law; further gratuities are not usually required.

Nightlife
Most major towns and resorts have nightclubs or discos with music and dancing, sometimes serving food. There are also cinemas and theaters, and some bars and restaurants have local folk entertainment.
Entry departure requirements
Note :The regulations below also apply to Liechtenstein (no border control between the two countries); Passengers arriving at Basle or Geneva airports can enter either France or Switzerland, provided their documents for the country of entry are in order; both airports have two different exits, one to France and one to Switzerland. Therefore passengers can exit to the French part of the airport with a valid French or Schengen visa, if required; The airport of B asle/Mulhouse is located on French territory; Part of Geneva airport is located by convention in France and some flights between France and Geneva are considered as domestic flights while others are considered international flights. In this case, passengers must hold proper entry documents for either of the destination countries. Passport/Visa * Please see passport section
Visa immigration information
Passports
Passport valid for three months after intended period of stay required by all except:
(a) 1. nationals of Austria, Belgium, Cyprus, Czech Republic, Finland, France, Germany, Greece, Hungary, Italy, Luxembourg, Malta, Monaco, The Netherlands, Portugal, San Marino, Slovak Republic, Slovenia, Spain and the UK holding a valid national identity card, providing not taking up employment and for stay up to three months;
(b) 2. foreigners holding national Identity Cards issued by the Governments of Belgium, France or Luxembourg, provided they are resident in one of these countries.
(c) 3. nationals of Austria, Belgium, France, Liechtenstein, Luxembourg, Monaco, The Netherlands, Portugal, San Marino and Spain with normal passports, expired for up to five years, providing not taking up employment and for stay up to three months;
(d) 4. nationals of Germany with passports expired for up to one year;
(e) nationals of Liechtenstein who may enter Switzerland without valid identity papers.
Visas
Required by all except the following for stays of up to three months:
(a) nationals of countries referred to in the chart above;
(b) nationals of countries in South and North/Central America, including nationals of Caribbean island/West Indies states (except nationals of Belize, Bolivia, Colombia, Cuba, Dominican Republic, Ecuador, Haiti and Peru who do need a visa);
(c) nationals of Andorra, Brunei, Bulgaria, Croatia, Fiji, Hong Kong (SAR), Iceland, Israel, Kiribati, Korea (Rep), Liechtenstein, Malaysia, Monaco, New Zealand, Norway, Romania, San Marino, Singapore, Solomon Islands, South Africa, Tuvalu and Vatican City;
(d) nationals of Bahrain, Kuwait, Oman, Qatar, Saudi Arabia, Taiwan (China, PR), Thailand and United Arab Emirates, if in possession of passport valid for three months after leaving Switzerland, endorsed with a valid multiple-entry Schengen visa (valid for all Schengen states);
(e) nationals in direct transit traveling within 48 hours providing they hold all valid documents, except nationals of certain countries (see note).
Note: Stateless persons require a transit visa at all times. Nationals of Afghanistan, Angola, Bangladesh, Congo (Dem Rep), Ethiopia, Ghana, Guinea, India, Iran, Iraq, Lebanon, Nigeria, Pakistan, Sierra Leone, Somalia, Sri Lanka and Turkey require a transit visa unless they hold a visa or residence permit for an EU country, Canada, Iceland, Norway or the USA.
Tourists and business visitors who travel repeatedly to Switzerland but stay less than three months each time must apply for a residence permit if their total stay exceeds six months within a period of twelve months.
Types of visa and cost
Tourist; Visitor; Business; Transit; Airport Transit. All visas cost US$43 (to be paid in cash only).
Validity
Three months. Transit visas: 48 hours.
Application to
Consulate (or Consular section at Embassy responsible for place of residence; see Passport/Visa Information) not more than three months before planned entry. Visa applications must be made in person; postal applications are not accepted.
Application requirements
Tourist: (a) Valid passport or travel document valid for three months after the intended visit to Switzerland. (b) One completed application form. (c) One recent passport-size photo (three for student visas). (d) Fee, payable in cash only. (e) Travel ticket to/from or via Switzerland to final destination. (f) Proof of sufficient funds in the form of a recent bank statement/travelers' cheques (?50 per day, ?25 for students). (g) Hotel reservation. Transit: (a)-(e) and, (f) Proof of flight with an airline licensed in Switzerland. (i) Visa(s) for ongoing destination(s). (j) Valid ticket for the whole journey to the destination. Visitor: (a)-(e) and, (f) Invitation letter from Swiss resident sent directly to the Embassy, with a copy of their Swiss Passport/ID card or Resident Permit. In special cases, a 'declaration of guarantee' might be required which has to be approved by the Swiss authorities. Business: (a)-(e) and, (f) Invitation from Swiss company sent directly to the Embassy. Student: (a)-(f) and, (g) Student identity card or letter from university/college.
Working days required
Visas may be issued within 24 hours, but travelers are advised to apply at least one week prior to departure and no earlier than three months before proposed travel. Some applications may need to be referred to the Swiss authorities, which can take six to eight weeks for approval.
Temporary residence
Nationals of most European and some other countries do not require a visa if they intend to take up employment or residence in Switzerland; however, before entry they must obtain an Assurance of a Residence Permit from their employer in Switzerland.
HIV entry requirements
No Test Required
Departure tax
None
Embassies
Embassy of Switzerland in the UK
16-18 Montagu Place, London W1H 2BQ, UK
Tel: (020) 7616 6000 or (09065) 508 909 (recorded visa information).
Website: www.swissembassy.org.uk
Opening hours: Mon-Fri 0900-1200 (for personal visa applications).
Embassy of Switzerland in the USA
2900 Cathedral Avenue, NW, Washington, DC 20008, USA
Tel: (202) 745 7900.
Website: www.swissemb.org

Most visits to Switzerland are trouble-free but you should be aware of the global risk of indiscriminate international terrorist attacks, which could be against civilian targets, including places frequented by foreigners.
This advice is based on information provided by the Foreign, Commonwealth & Development Office in the UK. It is correct at time of publishing. As the situation can change rapidly, visitors are advised to contact the following organizations for the latest travel advice:
British Foreign, Commonwealth & Development Office
Tel: (0845) 850 2829.
Website: https://www.gov.uk/foreign-travel-advice/switzerland
US Department of State
Website: https://travel.state.gov/content/travel/en/international-travel/International-Travel-Country-Information-Pages/Switzerland.html
Currency
Swiss Franc (CHF) = 100 rappen or centimes. Notes are in denominations of CHF1000, 500, 200, 100, 50, 20 and 10. Coins are in denominations of CHF5, 2 and 1, and 50, 20, 10 and 5 centimes. Eurocheques Eurocheques are no longer guaranteed and and can not be accepted for encashments but may be useable for payments without the guarantee.
Currency restrictions
There are no restrictions on the import or export of local or foreign currencies.
Banking hours
Mon-Fri 0830-1630.
Currency exchange
Personal cheques within the Eurocheque system are accepted. ATMs provide a convenient means of obtaining Swiss Francs. There are Bureaux de Change at train stations and banks.
Credit cards
American Express, Diners Club, MasterCard and Visa are widely accepted. Check with your credit or debit card company for details of merchant acceptability and other facilities which may be available.
Travellers cheques
Pound Sterling, US Dollar, Euro or Swiss Franc cheques are accepted at airports, railway stations and banks. To avoid additional exchange rate charges, travelers are advised to take traveller's cheques in Pounds Sterling, Euros or US Dollars.
| City/Region | City/Area code | Followed by |
| --- | --- | --- |
| Baden | (0)56 | + 7 digits |
| Basel | (0)61 | + 7 digits |
| Bellinzona | (0)91 | + 7 digits |
| Bern | (0)31 | + 7 digits |
| Biel, Neuchatel, Solothurn, Jura | (0)32 | + 7 digits |
| Burgdorf, Langnau i.E. | (0)34 | + 7 digits |
| Chur | (0)81 | + 7 digits |
| Fribourg | (0)26 | + 7 digits |
| Gen?ve | (0)22 | + 7 digits |
| Lausanne | (0)21 | + 7 digits |
| Luzern | (0)41 | + 7 digits |
| Olten | (0)62 | + 7 digits |
| Rapperswil | (0)55 | + 7 digits |
| Sion | (0)27 | + 7 digits |
| St. Gallen | (0)71 | + 7 digits |
| Switserland | (0)51 | + 7 digits |
| Thun | (0)33 | + 7 digits |
| Winterthur | (0)52 | + 7 digits |
| Yverdon, Aigle | (0)24 | + 7 digits |
| Z?rich | (0)44 | + 7 digits |