Quick Facts
Region: Africa
Full Name: Republic of Seychelles
Capital City: Victoria
Language Spoken: Creole 91.8%, English 4.9% (official), other 3.1%, unspecified 0.2% (2002 census)
Seychelles Travel Insurance
Get travel insurance to Seychelles from Direct Travel Insurance. We offer low cost and high quality travel insurance to Seychelles and most of the world.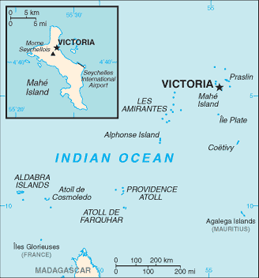 Geographic data
4 35 S, 55 40 E
Elevation Extremes
lowest point: Indian Ocean 0 m highest point: Morne Seychellois 905 m
Land boundaries
0 km
Natural hazards
lies outside the cyclone belt, so severe storms are rare; short droughts possible
Natural resources
fish, copra, cinnamon trees
Land use
arable land: 2.17% permanent crops: 13.04% other: 84.79% (2005)
Environmental current issues
water supply depends on catchments to collect rainwater
Climate
The islands lie outside the cyclone belt but receive monsoon rains from November to April with the northwest trade winds. This hot and humid season gives way to a period of cooler weather, though the temperature rarely falls below 23°C, and rougher seas when the trade winds blow from the southeast (May to October). Required clothing Tropical lightweights, with rainwear advisable during the rainy season. Sun hats and sunglasses essential all year round.
Time difference
time difference: UTC+4
Population
81,541 (July 2006 est.)
Age structure
0-14 years: 25.9% (male 10,667/female 10,440) 15-64 years: 68% (male 27,060/female 28,366) 65 years and over: 6.1% (male 1,607/female 3,401) (2006 est.)
Median age
total: 28.1 years male: 27 years female: 29.1 years (2006 est.)
Population growth rate
0.43% (2006 est.)
Birth rate
16.03 births/1,000 population (2006 est.)
Death rate
6.29 deaths/1,000 population (2006 est.)
Net migration rate
-5.4 migrant(s)/1,000 population (2006 est.)
Sex ratio
at birth: 1.03 male(s)/female under 15 years: 1.02 male(s)/female 15-64 years: 0.95 male(s)/female 65 years and over: 0.47 male(s)/female total population: 0.93 male(s)/female (2006 est.)
Life expectancy at birth
total population: 72.08 years male: 66.69 years female: 77.63 years (2006 est.)
Total fertility rate
1.74 children born/woman (2006 est.)
Business Practices
Business customs are similar to those in Europe and the United States, however businessmen do not wear suits and ties Lunches and cocktail receptions are common business functions. Most executives speak English and/or French. Prospective visitors should bring an adequate supply of business cards as well as brochures and other literature. Office hours are 0800-1200 and 1300-1600 Monday to Friday.
Crime
Petty crime is common. Violent crime against tourists is rare. Travelers who keep valuables in hotel safes and who close and lock hotel windows at night, even while the room is occupied, are less likely to be at risk. It is dangerous, particularly for women, to swim alone at isolated beaches. Thieves may target boats left unlocked while in Victoria harbor. Though a small number of burglaries are known to occur in tourist areas, they are generally non-violent. Boats left unlocked in the harbor may be burglarized In September 1998 two soldiers were killed in an attack described by local authorities as criminal in nature, the attack followed an August 1998 shooting of a national guardsman.
Hotels
All recently built hotels come well up to international standards and there are a number of large resort hotels equipped with air-conditioning, private bathrooms, swimming pools, full sporting facilities and small business centers.
Communications
Telephone IDD is available in the country. The country code is 248. SEYTELS offers a 24-hour service for telexes, telegrams, telephones and faxes via SEYTELS/Cable & Wireless Ltd, Francis Rachel Street, Victoria, Mah?. Phonecards were introduced in 1988. All outgoing international calls must be made through the operator. Post office hours: 0800-1200 and 1300-1600 Monday to Friday and 0800-1200 Saturday.
Electricity
is a 240 volts AC, 50Hz. British 3-pin plugs are in use. Electricity 240 volts AC, 50Hz. British three-pin plugs are in use.
Plug Types
G
Food And Dining
Seychellois Creole cuisine is influenced by African, Chinese, English, French and Indian traditions. The careful blending of spices is a major feature and much use is made of coconut milk and breadfruit. Breadfruit is prepared in similar ways to the potato (mashed, chipped, roasted and so on) but has a slightly sweeter taste. Other locally produced fruits and vegetables include aubergines, calabashes, choux choutes, patoles, paw-paws (papaya), bananas, mangoes, avocados, jackfruits, grapefruits, guavas, lychees, pineapples, melons, limes and golden apples. Lobster, octopus, pork and chicken are used more frequently than beef or lamb, which must be imported. Most restaurants offer a few items of what is termed 'international' cuisine, generally with a bias towards preparations of fresh fish and shellfish, as well as the Creole delicacies mentioned above. There are Italian and Chinese restaurants on Mah?. Some of the main hotels have bakeries and home-baked bread is also a feature of some of the small guest houses and lodges. Waiter service is the norm. All restaurants which are members of the Seychelles Restaurateurs' Association quote an average price per person for a three-course meal inclusive of two glasses of wine and coffee. Prior notice should be given in restaurants for groups of four or more and advance bookings should be made for restaurants on Round and Cerf and for La R?serve restaurant on Praslin. A wide range of wines, spirits and other alcoholic beverages is available in the Seychelles. The same company produces Guinness under license and soft drinks. Local tea is also popular. Things To Know. A hotel license permits hotel residents to drink at any time. Alcohol can be sold to anyone between Mon-Fri 1400-1800, Sat 0800-1200 and 1400-1800. Other bars open 1130-1500 and 1800-2200. It is illegal to drink alcohol on any road or in public. National specialties
? Kat-kat banane.
? Coconut curries.
? Chatini requin.
? Cbourgeois grill?.
? Soupe de tectec.
? Bouillon br?de.
? Chauve-souris (fruitbat).
? Cari bernique.
? Salade de palmiste (made from the 'heart' of the coconut palm and sometimes known as 'millionaire's salad').
? La daube (made from breadfruit, yams, cassavas and bananas). National drinks
? Seybrew (a German-style lager made locally).

Tipping:
Tips in restaurants, hotels, to taxi drivers, porters and so on are usually already included, as 5 to 10 per cent of the bill or fare. All hotel and restaurant tariffs include a service charge, but payment is not obligatory.

Nightlife
Largely undeveloped and unsophisticated. There is, however, much to be enjoyed in the evenings, and a specialty is the local camtolet music, often accompanied by dancers. Several hotels have evening barbecues and dinner dances. Theater productions are often staged (in Creole, English and French) and there is one cinema in Victoria and casinos at Beau Vallon Bay Hotel and the Plantation Club.
Entry departure requirements
Visa immigration information
Passports
Passport valid for six months from date of arrival in the Seychelles.
Visas
Visa not required by any nationality as long as they have:
(a) onward or return ticket (if not, onward or return ticket must be purchased on arrival);
(b) proof of sufficient funds (between US$100-150 per day) and organized accommodation for the duration of the stay.
A visitor's permit, valid for up to one month, is issued on arrival, subject to possession of (a) and (b) as above; alternatively, a deposit may be made by 'security' bond in lieu. The permit may be renewed, provided the applicant holds a valid open return ticket and applies at least one week before the permit's expiry. For further information, contact the nearest Seychelles Tourist Office.
Transit
Passengers in transit must have tickets with reserved seats for their onward journey.
Temporary residence
Enquire at the High Commission. Additional information about temporary residence and visitor's permits may be obtained from the Immigration Division.
HIV entry requirements
Foreign workers have to undergo a medical on arrival which includes an HIV test
Departure tax
None. Tax is already included in the airline ticket.
Embassies
Embassy of the Republic of Seychelles in the USA
Suite 400C, 4th Floor, 800 Second Avenue, New York, NY 10017, USA
Tel: (212) 972 1785.
Immigration Division
2nd Floor, Independence House, Victoria, Mah?, Seychelles
Tel: 611 110.
E-mail: dgoi@immigration.sc

Most visits to the Seychelles are trouble-free but you should be aware of the global risk of indiscriminate international terrorist attacks, which could be against civilian targets, including places frequented by foreigners.
Please note that beaches are a favorite target for petty thieves.
This advice is based on information provided by the Foreign & Commonwealth Office in the UK. It is correct at time of publishing. As the situation can change rapidly, visitors are advised to contact the following organizations for the latest travel advice.
British Foreign, Commonwealth & Development Office
Website: https://www.gov.uk/foreign-travel-advice/seychelles
US Department of State
Website: https://travel.state.gov/content/travel/en/international-travel/International-Travel-Country-Information-Pages/Seychelles.html
Currency
Seychelles Rupee (SRe: singular; SRs: plural) = 100 cents. Notes are in denominations of SRs100, 50, 25 and 10. Coins are in denominations of SRs5 and 1, and 25, 10 and 5 cents. Note Tourists must pay hotel bills in foreign currency (in the form of cash, travelers cheques or credit or debit cards). Payment in local currency is only allowed if an exchange receipt can be shown as proof of the conversion from foreign currency into local currency. The duty free shop at the airport only accepts credit cards or foreign cash.
Currency restrictions
The import and export of local and foreign currency is unlimited. The import and export of local currency is limited to SRs1000.
Banking hours
Mon-Fri 0830-1430, Sat 0830-1100.
Currency exchange
Exchange facilities are available at the airport banks, which are open for all flight departures and arrivals. The following banks have branches in the Seychelles and will exchange travelers cheques and foreign currency: Barclays Bank, Bank of Baroda, Banque Fran?aise Commerciale, Central Bank of Seychelles, Development Bank of Seychelles, Habib Bank Ltd, Nouvo Banq and Seychelles Savings Bank. Currency exchange receipts should be kept in order to facilitate re-exchange on departure. ATMs are available in Mah? and Praslin.
Credit cards
Access, American Express, MasterCard and Visa are widely accepted; Diners Club has more limited use. Check with your credit or debit card company for details of merchant acceptability and other services which may be available.
Travellers cheques
Accepted in most hotels, guest houses, restaurants and shops. To avoid additional exchange rate charges, travelers are advised to take traveller's cheques in US Dollars or Pounds Sterling.
| City/Region | City/Area code | Followed by |
| --- | --- | --- |
| Anse Aux Pins | 316 | + 3 digits |
| Anse Boileau | 354 | + 3 digits |
| Anse Etoile | 244 | + 3 digits |
| Anse Royale | 370 | + 3 digits |
| Anse Volbert (Praslin) | 231 | + 3 digits |
| Baie Lazare | 363 | + 3 digits |
| Beau Vallon | 249 | + 3 digits |
| Cascade | 313 | + 3 digits |
| Gran Anse (Praslin) | 237 | + 3 digits |
| La Digue | 235 | + 3 digits |
| Northholme | 263 | + 3 digits |
| Plaisance | 343 | + 3 digits |
| Port Victoria | 228 | + 3 digits |
| St. Louis | 265 | + 3 digits |