Quick Facts
Region: Asia & Oceania
Full Name: Democratic Socialist Republic of Sri Lanka
Capital City: Colombo
Language Spoken: : Sinhala (official and national language) 74%, Tamil (national language) 18%, other 8% note: English is commonly used in government and is spoken competently by about 10% of the population
Sri Lanka Travel Insurance
Get travel insurance to Sri Lanka from Direct Travel Insurance. We offer low cost and high quality travel insurance to Sri Lanka and most of the world.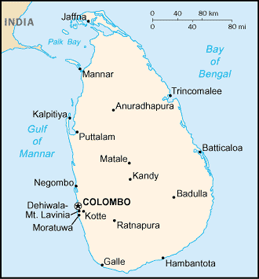 Geographic data
7 00 N, 81 00 E
Elevation Extremes
lowest point: Indian Ocean 0 m highest point: Pidurutalagala 2,524 m
Land boundaries
0 km
Natural hazards
occasional cyclones and tornadoes
Natural resources
limestone, graphite, mineral sands, gems, phosphates, clay, hydropower
Land use
arable land: 13.96% permanent crops: 15.24% other: 70.8% (2005)
Environmental current issues
deforestation; soil erosion; wildlife populations threatened by poaching and urbanization; coastal degradation from mining activities and increased pollution; freshwater resources being polluted by industrial wastes and sewage runoff; waste disposal; air pollution in Colombo
Climate
Tropical climate. Upland areas are cooler and more temperate, and coastal areas are cooled by sea breezes. There are two monsoons, which occur May to July and December to January. Required clothing Lightweights and rainwear.
Time difference
time difference: UTC+5.5 note: Sri Jayewardenepura Kotte (legislative capital)
Population
20,222,240 note: since the outbreak of hostilities between the government and armed Tamil separatists in the mid-1980s, several hundred thousand Tamil civilians have fled the island and more than 200,000 Tamils have sought refuge in the West (July 2006 est.)
Age structure
0-14 years: 24.1% (male 2,488,689/female 2,379,233) 15-64 years: 68.6% (male 6,727,399/female 7,140,751) 65 years and over: 7.3% (male 687,842/female 798,326) (2006 est.)
Median age
total: 29.8 years male: 28.7 years female: 30.9 years (2006 est.)
Population growth rate
0.78% (2006 est.)
Birth rate
15.51 births/1,000 population (2006 est.)
Death rate
6.52 deaths/1,000 population (2006 est.)
Net migration rate
-1.23 migrant(s)/1,000 population (2006 est.)
Sex ratio
at birth: 1.05 male(s)/female under 15 years: 1.05 male(s)/female 15-64 years: 0.94 male(s)/female 65 years and over: 0.86 male(s)/female total population: 0.96 male(s)/female (2006 est.)
Life expectancy at birth
total population: 73.41 years male: 70.83 years female: 76.12 years (2006 est.)
Total fertility rate
1.84 children born/woman (2006 est.)
Business Practices
Business attire is generally casual. The business language is English. Business cards are a necessity. Courtesy is highly valued in Sri Lanka, and personal graciousness plays a major role in clinching deals. While punctuality is not as highly prized as in the United States, most appointments and other commitments are scrupulously observed. Office hours are 0800-1630 Monday to Friday.
Crime
Sri Lanka has a high crime rate. However, the crime does not seem to affect the expatriate community residing in Colombo. Most of the violent crimes occur within the local community and involves people that know each other. Routine petty crimes (i.e. pickpockets, theft from hotel rooms etc.) are not uncommon if the traveler does not take the appropriate personal safeguards. Street hustlers or "touts" are common around the hotels and tourist sites. For the most part, if they are told that you are not interested, the touts will leave you alone. Pedestrians should guard against purse-snatching and pocket-picking by keeping a firm grip on handbags and carrying wallets in inside jacket pockets. People on the street offering black-market exchange rates are often sleight-of-hand tricksters ready to cheat anyone foolish enough to do business with them. When traveling in vehicles, personnel should keep bags out of sight, doors locked and windows rolled up to guard against occasional snatch-and-grab thieves working in slowed traffic.
Hotels
Several five-star hotels provide accommodations and a wide range of amenities and services for business travelers in Colombo. Most business visitors to Colombo stay at the Colombo Hilton on Lotus Road, the Colombo Renaissance, the Lanka Oberoi on Galle Road or the Galle Face Hotel. All are at the city's center and have good security, but visitors are advised to consign anything of value to safe deposit. In Kandy, good hostelries include the Hotel Hilltop, the Hotel Topaz; Queen's Hotel and the Citadel. There are also dozens of fine beach resorts two to three hours away. Housing facilities for expatriates are satisfactory, and options are steadily improving. Stand- alone homes with yards are available, but often require extensive effort and resources to renovate and maintain. Some expatriates choose to negotiate long-term living arrangements with five-star hotels for suites or rooms with kitchenettes. Several luxury apartment buildings, offering furnished units and numerous amenities (e.g., pool, health club, shopping, and restaurants), and catering primarily to expatriates, have recently opened in Colombo.
Communications
Telephone IDD facilities are available to the principal cities. The country code is 94 and the outgoing international code is 00. The General Post Office in Colombo (address below) provides fax services. Many hotels also have fax facilities. International direct dialing is available and cellular telephones have become increasingly popular. International mail and courier services (including FedEx, UPS and DHL) are also available. A number of local providers offer Internet and e-mail services; because the phone line quality varies, connections are sometimes unstable.
Electricity
is a 230/240 volts AC, 50Hz. Round 3-pin plugs are usual, with bayonet lamp fittings. Electricity 230 volts AC, 50Hz. Round three-pin plugs are usual, with bayonet lamp fittings.
Plug Types
D,G,M
Food And Dining
Standard foods are spicy and it is advised to approach curries with caution. There are many vegetables, fruits, meats and seafoods. Chinese, Continental, Indian and Japanese menus are available in Colombo. A specialty is basic curry, made with coconut milk, sliced onion, green chilli, aromatic spices such as cloves, nutmeg, cinnamon and saffron and aromatic leaves. Things to know: Alcohol cannot be sold on poya holidays (which occur each lunar month on the day of the full moon).

National specialties:
? Hoppers is a cross between a muffin and a crumpet with a wafer-crisp edge, served with a fresh egg soft-baked on top.
? Stringhoppers are steamed circlets of rice flour, a little more delicate than noodles or spaghetti.
? Jaggery is a fudge made from the crystallised sap of the kitul palm.
? The durian fruit is considered a great delicacy. National drinks:
? Tea is the national drink and thought to be amongst the best in the world.
? Toddy (sap of the palm tree).
? Arrack (fermented Toddy which comes in varying degrees of strength).

Tipping:
Most hotels include a service charge of 10 per cent. Extra tipping is optional.

Nightlife
Some Colombo hotels have supper clubs with music for dancing. There are theaters in Colombo, cinemas showing films from the USA, ballet, concerts and theater productions.
Entry departure requirements
* Please see visa section
Visa immigration information
Passports
Passport valid for at least six months from date of entry required by all.
Visas
Required by all except nationals of the following countries, who will be issued with visas free of charge for a period of 30 days on arrival at Colombo Airport (for tourist visits only):
(a) nationals of those countries mentioned in the chart above (except 1. nationals of Malta and the Slovak Republic who do require a visa);
(b) nationals of Albania, Bahrain, Bangladesh, Bhutan, Bosnia & Herzegovina, Brunei, Bulgaria, China (PR, including Hong Kong), Croatia, India, Indonesia, Iran, Israel, Korea (Rep), Kuwait, Macedonia, Malaysia, Maldives, Nepal, New Zealand, Norway, Oman, Pakistan, The Philippines, Qatar, Romania, Saudi Arabia, Serbia & Montenegro, Seychelles, Singapore, South Africa, Switzerland, Taiwan, Thailand, Turkey, United Arab Emirates and Vietnam;
(c) nationals of CIS countries.
Note
All business visitors require a visa.
Types of visa and cost
Tourist and Business: US$65 (up to three months); fee given is for UK nationals. Fees vary according to nationality; contact the Consulate (or Consular section at Embassy or High Commission); see Passport/Visa Information. Multiple-entry visas cost US$196 (three months) or US$325 (12 months).
Validity
As above. Visitors can request to extend their stay by applying to the Department of Immigration & Emigration, 23 Station Road, Colombo 3 (tel: (1) 259 7513). This is issued at the discretion of the authorities who must be satisfied that the applicant has at least US$30 per day for the stay and holds an onward or return ticket for travel.
Application to
Consulate (or Consular section at Embassy or High Commission); see Passport/Visa Information. British nationals, traveling as tourists, may obtain a visa upon arrival, upon port of entry into Sri Lanka, for up to 30 days.
Application requirements
(a) Valid passport valid for six months from date of entry. (b) Completed application form. (c) Two passport-size photos signed on the back by applicant. (d) Visa fee, payable by cash (not if sending by post) or postal order/bank draft in favor of "Sri Lanka High Commission, London." (e) Self-addressed envelope, with appropriate cost of stamps necessary for returning passport by registered post. (f) Proof of sufficient funds (minimum US$30 per day) for duration of stay. (g) Return or onward ticket. Business: (a)-(g) and, (h) A letter from the company or organization recommending the issue of visa and giving details of the status of the applicant, nature of business, duration of stay, sufficient funds and details of the party, if available in Sri Lanka, with whom the business is to be conducted, along with a letter from that company/organization in Sri Lanka.
Working days required
At least three.
Temporary residence
Enquire at Embassy or High Commission.
HIV entry requirements
No Test Required
Departure tax
None
Embassies
High Commission of Sri Lanka in the UK
13 Hyde Park Gardens, London W2 2LU, UK
Tel: (020) 7262 1841-7.
Opening hours: Mon-Fri 0930-1700; 0930-1300 (visa section).
Embassy of Sri Lanka in the USA
2148 Wyoming Avenue, NW, Washington, DC 20008, USA
Tel: (202) 483 4025-8.
Website: www.slembassyusa.org

Travelers are advised against all but essential travel to the north or east of Sri Lanka. On 26 April 2006, the Government restricted access to the north of Sri Lanka by closing military checkpoints.
There is a threat from domestic terrorism. On 25 April 2006, there was an explosion at the Sri Lankan army headquarters in the Fort area of Colombo.
There has been a recent increase in ongoing political violence and civil unrest, especially in the north and east, with fatal attacks on an almost daily basis.
Visitors should follow local developments closely, be aware of their surroundings and alert to changing situations. Avoid political gatherings or demonstrations.
A state of emergency is in effect. This gives wide discretionary powers to the Sri Lankan Authorities. Travelers are strongly advised to comply with Government and security instructions.
Travelers should be aware of the global risk of indiscriminate terrorist attacks which could be against civilian targets, including places frequented by foreigners. It is strongly recommended that all overseas nationals who are resident and/or working in Sri Lanka, or visiting for over one month, register with their High Commission or Embassy in Colombo.
This advice is based on information provided by the Foreign, Commonwealth & Development Office in the UK. It is correct at time of publishing. As the situation can change rapidly, visitors are advised to contact the following organizations for the latest travel advice:
British Foreign, Commonwealth & Development Office
Tel: (0845) 850 2829.
Website: https://www.gov.uk/foreign-travel-advice/sri-lanka
US Department of State
Website: https://travel.state.gov/content/travel/en/international-travel/International-Travel-Country-Information-Pages/SriLanka.html
Currency
Sri Lanka Rupee (LKR) = 100 cents. Notes are in denominations of LKR1000, 500, 200, 100, 50, 20 and 10. Coins are in denominations of LKR10, 5, 2 and 1, and 50, 25, 10, 5, 2 and 1 cents. There are also large numbers of commemorative coins in circulation.
Currency restrictions
The import and export of local currency is limited to SLRs1000. The import of notes from India and Pakistan is not allowed, otherwise, the import of foreign currency is not restricted but all amounts over US$5000 are subject to declaration. Export of foreign currency is limited to the amount declared on import.
Banking hours
Mon-Sat 0900-1300. Some city banks close at 1500, whilst some even have night bank facilities.
Currency exchange
Foreign currency must be changed only at authorized exchanges, banks and hotels, and these establishments must endorse such exchanges on the visitor?s Exchange Control D form, which is issued on arrival and must usually be returned at the time of departure.
Credit cards
American Express, MasterCard and Visa are widely accepted. Diners Club has more limited acceptance. Check with your credit or debit card company for details of merchant acceptability and other services which may be available.
Travellers cheques
The rate of exchange for traveller's cheques is better than the rate of exchange for cash. To avoid additional exchange rate charges, travelers are advised to take traveller's cheques in US Dollars or Pounds Sterling.
| City/Region | City/Area code | Followed by |
| --- | --- | --- |
| Ampara | (0)63 | + 7 digit subscriber nr |
| Anuradhapura | (0)25 | + 7 digit subscriber nr |
| Awissawella | (0)36 | + 7 digit subscriber nr |
| Badulla | (0)55 | + 7 digit subscriber nr |
| Bandarawela | (0)57 | + 7 digit subscriber nr |
| Batticaloa | (0)65 | + 7 digit subscriber nr |
| Chilaw | (0)32 | + 7 digit subscriber nr |
| Colombo | (0)11 | + 6/7 digit subscriber nr |
| Galle | (0)91 | + 5/7 digit subscriber nr |
| Gampaha | (0)33 | + 7 digit subscriber nr |
| Hambantota | (0)47 | + 7 digit subscriber nr |
| Hatton | (0)51 | + 7 digit subscriber nr |
| Jaffna | (0)21 | + 7 digit subscriber nr |
| Kalmunai | (0)67 | + 7 digit subscriber nr |
| Kalutara | (0)34 | + 7 digit subscriber nr |
| Kandy | (0)81 | + 6/7 digit subscriber nr |
| Kegalle | (0)35 | + 7 digit subscriber nr |
| Kurunegala | (0)37 | + 7 digit subscriber nr |
| Mannar | (0)23 | + 7 digit subscriber nr |
| Matale | (0)66 | + 7 digit subscriber nr |
| Matara | (0)41 | + 7 digit subscriber nr |
| Nawalapitiya | (0)54 | + 7 digit subscriber nr |
| Negombo | (0)31 | + 7 digit subscriber nr |
| Nuwara Eliya | (0)52 | + 7 digit subscriber nr |
| Panadura | (0)38 | + 7 digit subscriber nr |
| Polonnaruwa | (0)27 | + 7 digit subscriber nr |
| Ratnapura | (0)45 | + 7 digit subscriber nr |
| Trincomalee | (0)26 | + 7 digit subscriber nr |
| Vavuniya | (0)24 | + 7 digit subscriber nr |