Quick Facts
Region: Africa
Full Name: Somalia
Capital City: Mogadishu
Language Spoken: Somali (official), Arabic, Italian, English
Somalia Travel Insurance
Get travel insurance to Somalia from Direct Travel Insurance. We offer low cost and high quality travel insurance to Somalia and most of the world.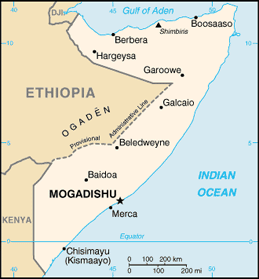 Geographic data
10 00 N, 49 00 E
Elevation Extremes
lowest point: Indian Ocean 0 m highest point: Shimbiris 2,416 m
Land boundaries
total: 2,340 km border countries: Djibouti 58 km, Ethiopia 1,600 km, Kenya 682 km
Natural hazards
recurring droughts; frequent dust storms over eastern plains in summer; floods during rainy season
Natural resources
uranium and largely unexploited reserves of iron ore, tin, gypsum, bauxite, copper, salt, natural gas, likely oil reserves
Land use
arable land: 1.64% permanent crops: 0.04% other: 98.32% (2005)
Environmental current issues
famine; use of contaminated water contributes to human health problems; deforestation; overgrazing; soil erosion; desertification
Climate
The Jilal starts around January and is the harshest period, hot and very dry. Gu is the first rainy season lasting from March to June. Hagaa, during August, is a time of dry monsoon winds and dust clouds. The second rainy season is from September to December and is called Dayr. Required clothing Lightweights and rainwear.
Time difference
time difference: UTC+3
Population
8,863,338 note: this estimate was derived from an official census taken in 1975 by the Somali Government; population counting in Somalia is complicated by the large number of nomads and by refugee movements in response to famine and clan warfare (July 2006 est.)
Age structure
0-14 years: 44.4% (male 1,973,294/female 1,961,083) 15-64 years: 53% (male 2,355,861/female 2,342,988) 65 years and over: 2.6% (male 97,307/female 132,805) (2006 est.)
Median age
total: 17.6 years male: 17.5 years female: 17.7 years (2006 est.)
Population growth rate
2.85% (2006 est.)
Birth rate
45.13 births/1,000 population (2006 est.)
Death rate
16.63 deaths/1,000 population (2006 est.)
Net migration rate
0 migrant(s)/1,000 population (2006 est.)
Sex ratio
at birth: 1.03 male(s)/female under 15 years: 1.01 male(s)/female 15-64 years: 1.01 male(s)/female 65 years and over: 0.73 male(s)/female total population: 1 male(s)/female (2006 est.)
Life expectancy at birth
total population: 48.47 years male: 46.71 years female: 50.28 years (2006 est.)
Total fertility rate
6.76 children born/woman (2006 est.)
Business Practices
Lightweight suits or safari-style jackets without a tie are acceptable for business meetings in hot weather. Office hours are typically 0800-1400 Saturday to Thursday.
Crime
All forms of violent crime, including looting, banditry, armed robbery, and kidnapping are common. Inter-clan conflicts continue in Mogadishu, the Baidoa area, the lower Shabelle region, the Juba Valley north of Kismayo, and parts of the northwest. A common crime against the foreign community is residential theft. Foreigners are most often targeted because they live in the most developed areas of Mogadishu. Foreigners often protect their homes with pet dogs and guards. There is a high level of street crime. Foreigners who display their wealth are most obvious targets of pickpockets and purse-snatchers. Visitors should be aware that Somalia is Moslem country that is liberal when dealing with foreign ways, but there is indeed a limit to its tolerance. Visitors, especially female visitors, should dress conservatively to avoid being targets of confrontation and harassment.
Hotels
In the main cities of Mogadishu and Hargeysa there are international standard hotels. There are also hotels in Afgoi, Berbera, Borama, Burao, Kismayu and Marka. The latter boasts the best hotel in Somalia set in attractive parkland offering ethnic accommodation in chalets.
Communications
Telephone IDD service is available in Somalia. The country code is 252. Outgoing international calls must go through the operator.
Electricity
is a 220 volts AC, 50Hz. Electricity 220 volts AC, 50Hz.
Plug Types
C
Food And Dining
In peacetime, restaurants in the major cities serve Chinese, European, Italian and Somali food.

National specialties:
? Lobster, prawn, squid, crab, fresh tuna.
? Somali bananas, mangoes and papaya.
? Roast kid and spiced rice.

Tipping:
10 to 15 per cent is normal in hotels and restaurants.

Nightlife
Local bands playing African and European music perform at nightclubs. There are frequent traditional feasts with ritualistic and recreational dance, music and folk songs.
Entry departure requirements
Note The Somali Embassy in London is closed at present owing to civil war in Somalia. Contact the Foreign Office (website: www.gov.uk/foreign-travel-advice) for any information regarding entry into Somalia.
Visa immigration information
Passports
Valid passport required by all.
Visas
Required by all except transit passengers continuing their journey by the same or first connecting aircraft, provided holding onward or return documentation and not leaving the airport.
Types of visa
Tourist, Business and Transit.
Validity
Dependent on nationality.
Application to
Contact the Somali Embassy in Addis Ababa, Ethiopia (tel: (1) 635 921/2; fax: (1) 627 847). The British Embassy in Ethiopia can also help with up-to-date information concerning travel to Somalia, available consular services, visa application requirements, visa costs and temporary residence.
Note
Upon arrival, all visitors - except those under 18 years of age - must exchange US$100 or equivalent into local currency. Please note that the exact amount to be exchanged may vary according to region.
HIV entry requirements
No Test Required
Departure tax
The equivalent of US$20. Transit passengers and children under two years are exempt.
Embassies
The Somaliland Mission to the UK
Somaliland Mission, 234 - 236, Whitechapel road, London E1 1BJ
Email: Contact@somaliland-mission.com
Telephone: 020 3441 2631
Website: http://www.somaliland-mission.com/
United Nations Development Program for Somalia (UNDP)
Street address: Springette off lower Kabete Road, Spring Valley, Nairobi, Kenya
Postal address: PO Box 28832, Nairobi, 00200 Kenya
Tel: (20) 418 3640/2/3/4.
Website: www.unsomalia.net or www.so.undp.org
European Commission Somalia Unit (ECSU)
Street address: Union Building, Ragati Road, 00100 Nairobi, Kenya
Postal address: PO Box 45119, 00100 Nairobi, Kenya
Tel: (20) 271 2860 or 3250.

Travelers are advised against all travel to Somalia because of the dangerous level of criminal activity and internal insecurity. Westerners and those working for western organizations have been targeted in recent shootings.
There is a high threat from terrorism in Somalia.
Those travelers deciding to visit Somalia should take strong security precautions.
This advice is based on information provided by the Foreign, Commonwealth & Development Office in the UK. It is correct at time of publishing. As the situation can change rapidly, visitors are advised to contact the following organizations for the latest travel advice:
British Foreign, Commonwealth & Development Office
Website: https://www.gov.uk/foreign-travel-advice/somalia
US Department of State
Website: https://travel.state.gov/content/travel/en/international-travel/International-Travel-Country-Information-Pages/Somalia.html
Currency
Somali Shilling (SOS) = 100 cents. Notes are in denominations of SOS500, 100, 50, 20, 10 and 5. Coins are in denominations of SOS1, and 50, 10 and 5 cents.
Currency restrictions
The import and export of local currency is limited to SoSh200. The import of foreign currency is unlimited provided declared on arrival and exchanged at the national banks within five days after arrival. The export of foreign currency is limited to the amount declared on arrival. All foreign exchange transactions should be recorded on the official currency form which may be required prior to departure from Somalia.
Banking hours
Sat-Thurs 0800-1130.
Currency exchange
US Dollar bills are the easiest currency to exchange; hotels are the easiest and safest places. Avoid money changers in crowded areas.
Credit cards
Not accepted.
Travellers cheques
US traveller's cheques are preferred but generally not recommended.
| City/Region | City/Area code | Followed by |
| --- | --- | --- |
| Somaliland | 2 | + 6 digits |