Quick Facts
Region: Europe
Full Name: Slovak Republic
Capital City: Bratislava
Language Spoken: Slovak (official) 83.9%, Hungarian 10.7%, Roma 1.8%, Ukrainian 1%, other or unspecified 2.6% (2001 census)
Slovakia Travel Insurance
Get travel insurance to Slovakia from Direct Travel Insurance. We offer low cost and high quality travel insurance to Slovakia and most of the world.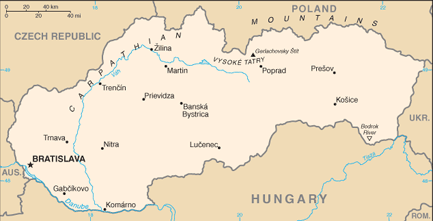 Geographic data
48 40 N, 19 30 E
Elevation Extremes
lowest point: Bodrok River 94 m highest point: Gerlachovsky Stit 2,655 m
Land boundaries
total: 1,524 km border countries: Austria 91 km, Czech Republic 215 km, Hungary 677 km, Poland 444 km, Ukraine 97 km
Natural hazards
NA
Natural resources
brown coal and lignite; small amounts of iron ore, copper and manganese ore; salt; arable land
Land use
arable land: 29.23% permanent crops: 2.67% other: 68.1% (2005)
Environmental current issues
air pollution from metallurgical plants presents human health risks; acid rain damaging forests
Climate
The Slovak Republic lies in a moderate zone and possesses a continental climate with four distinct seasons. The average daily temperature in Bratislava in winter is -2°C (31 °F), rising to 21°C (70 °F) in the summer. January is the coldest month, the hottest being July and August. The highest peaks are snowcapped 130 days a year. Required clothing Mediumweights, heavy topcoat and overshoes for winter; lightweights for summer. Rainwear is advisable throughout the year.
Time difference
time difference: UTC+1 daylight saving time: +1hr, begins last Sunday in March; ends last Sunday in October
Population
5,439,448 (July 2006 est.)
Age structure
0-14 years: 16.7% (male 465,304/female 443,967) 15-64 years: 71.3% (male 1,929,448/female 1,947,735) 65 years and over: 12% (male 244,609/female 408,385) (2006 est.)
Median age
total: 35.8 years male: 34.2 years female: 37.6 years (2006 est.)
Population growth rate
0.15% (2006 est.)
Birth rate
10.65 births/1,000 population (2006 est.)
Death rate
9.45 deaths/1,000 population (2006 est.)
Net migration rate
0.3 migrant(s)/1,000 population (2006 est.)
Sex ratio
at birth: 1.05 male(s)/female under 15 years: 1.05 male(s)/female 15-64 years: 0.99 male(s)/female 65 years and over: 0.6 male(s)/female total population: 0.94 male(s)/female (2006 est.)
Life expectancy at birth
total population: 74.73 years male: 70.76 years female: 78.89 years (2006 est.)
Total fertility rate
1.33 children born/woman (2006 est.)
Business Practices
The time is one hour ahead of GMT. Summertime lasts from March to September and, as in other European countries, time is two hours ahead of GMT. Shops are open from Mon-Fri 9:00 a.m. - 6:00 p.m. Larger department stores are open until 7:00 p.m., on Thursdays until 9:00 p.m. On Saturdays, shopping hours are 8:00 a.m. - 12:00 noon. Credit cards are accepted in the large hotels and in main shops. Businesspeople wear suits. A knowledge of German and English is useful. Long business lunches are usual.
Crime
Organized crime factions in Slovakia appear to be engaging in a power struggle at this time. While not directed against foreign visitors, A number of gangland-style slayings have occurred over the past years, including fatal shootings at or near major hotels. Foreigners however are targeted for street crimes such as pick-pocketing and purse snatching. Also, a foreigner with an expensive car such as a BMW, Mercedes, Volvo or late model Volkswagen is more likely to be a victim of a car theft or vandalism. The same goes for residential robberies, where a wealthy foreigner is more likely to be a target. Many foreigners living in Bratislava have been pickpocketed or have been witnesses to such incidents; most foreigners know someone who has been a victim of a residential robbery. Visitors should maintain an appropriate defensive posture, and remain alert to their surroundings at all times, particularly when in crowded environments such as public transport, restaurants and tourist sites. In addition, and particularly in the summer, pickpocketing is common in shopping centers, in the vicinity of major hotels where foreigners stay, near major tourist sites, and on night trains, especially Prague-Bratislava-Budapest or Budapest-Warsaw.
Hotels
Business accommodations are available but limited. Hotel standards are generally lower than those of Western Europe and the United States, though prices may be high, especially in major cities. It is legal and not uncommon for foreigners to be charged a higher rate than Slovaks. Travelers to Slovakia should note that while major credit cards are increasingly accepted at major hotels and restaurants in Bratislava, acceptance lags in other parts of the country.
Communications
Telephone IDD service is available. The country code is 421. The outgoing international code is 00. There are public telephone booths, including special kiosks for international calls. Surcharges can be quite high on long-distance calls from hotels. Slovakia is slowly upgrading its antiquated telecommunication system. Crossed lines and uncompleted exchanges are common, and fax communication is unreliable due to low-grade connections. Telex services are available, but not commonly used. Other data communication services (e-mail, Internet) are quickly expanding throughout the country as another form of communication. Post office hours: 0800-1800 Monday to Friday.
Electricity
is generally 220 volts AC, 50Hz. Most major hotels have standard international 2-pin razor plugs. Lamp fittings are normally of the screw type. Electricity Generally 230 volts AC, 50Hz. Round two-pin plugs are in use. Lamp fittings are normally of the screw type.
Plug Types
E
Food And Dining
Traditional Slovak eating and drinking habits date back to the old Slavic period influenced later by Austrian, German and Hungarian cooking. Slovak food is based on many different kinds of soups, gruels, boiled and stewed vegetables, roast and smoked meats and dairy products. The style of cooking varies from region to region. Slovak specialties include both sweet and savoury dishes made with flour, including dumplings. Popular drinks include Slovak beer, wine and mineral waters. are particular specialties, as are wine from the Tokay region and sparkling wine from the Bratislava region. Restaurants and other catering establishments are many and varied, including cafes, buffets, snack bars, inns, ale houses and wine taverns. All restaurants are graded according to quality. The main meal of the day is usually lunch, comprising soup, a main meal and desert. National specialties
? Bryndzov? haluisky (small potato dumplings with sheep's cheese).
? Mutton with sauerkraut (flavored with prunes, mushrooms and apples).
? Cabbage leaves filled with minced meat (served with a milky sauce).
? Sulance (potato dough turnovers filled with plum jam). National drinks
? Borovicka (strong gin).
? Slivovica (plum brandy).

Tipping:
A 5 to 10 per cent tip is usual.

Nightlife
Theater and opera are of a high standard. Much of the nightlife takes place in hotels, although nightclubs are to be found in major cities.
Entry departure requirements
* Please see passport section
Visa immigration information
Passports
Passport valid for at least three months beyond length of stay required by all except:
(a)1. EU/EEA nationals (EU + Iceland, Liechtenstein, Norway) and Swiss nationals holding a valid national ID card.
Note: EU and EEA nationals are only required to produce evidence of their EU/EEA nationality and identity in order to be admitted to any EU/EEA Member State. This evidence can take the form of a valid national passport or national identity card. Either is acceptable. Possession of a return ticket, any length of validity on their document, sufficient funds for the length of their proposed visit should not be imposed.
(b) nationals of Croatia holding a valid national ID card.
Visas
Required by all except the following:
(a) EU nationals, nationals referred to in the chart above for stays of up to 90 days for tourist or transit purposes only (except full British passport holders, who also do not need visas for business purposes for an indefinite period);
(b) nationals of Andorra, Argentina, Aruba, Brazil, Brunei, Chile, El Salvador, Guatemala, Honduras, Hong Kong (SAR), Israel, Korea (Rep), Macau, Malaysia, Mexico, New Zealand, Nicaragua, Panama, Paraguay, Singapore, Switzerland, the Netherlands Antilles, Uruguay and Venezuela for stays of up to 90 days;
(c) nationals of Monaco for stays of up to three months;
(d) nationals of Bolivia, Bulgaria, Costa Rica, Holy See, Romania, San Marino and United Nations passport holders for stays of up to 30 days;
(e) holders of Refugee Travel Documents (Convention of 28 July 1951) are visa exempt, provided refugee status is given according to the Convention and status of EU states (except refugee status from Austria, Cyprus, Estonia, Greece, Hungary, Latvia, Lithuania, Poland, Slovak Republic and Slovenia), and from Iceland, Liechtenstein, Norway and Switzerland.
Note
(a) Visitors should have the equivalent funds of US$50 per person per day for their stay in the Slovak Republic; this may be checked by customs. (b) Further information is available from the Ministry of Foreign Affairs (website: www.foreign.gov.sk).
Types of visa and cost
Tourist/Transit/Airport Transit: US$43 (single-entry); US$89 (multiple-entry). Transit: US$36 (two-way/return).
Note: (a) There is a processing fee of US$3 per application. (b) Visa cost continually fluctuates according to the exchange rate.
Validity
Tourist: Single-entry: up to 90 days; Multiple-entry: Unlimited number of 90-day stays during a 90-day period. Transit: Valid for 90 days for a maximum stay of five days (plus seven reserve days). Airport Transit: Three days within airport confines.
Note: Tourist visas can be issued a maximum 90 days before the intended start date.
Application to
Consular section at Embassy in person; see Passport/Visa Information.
Application requirements
(a) Passport valid beyond requested validity of visa, with one blank page. (b) Completed application form. (c) One passport-size photo. (d) Fee (including processing fee), payable by cash, cheque or postal order. (e) A stamped, self-addressed envelope for visas delivered by mail. (f) Valid health and travel insurance.
Working days required
Between one week to 30 days. However, all visa applications are referred to the Slovak Immigration Headquarters and local embassies can not guarantee the time required for processing.
Temporary residence
Special application form required; enquire at the Embassy.
HIV entry requirements
Test required for long term visa applications and residency permits
Departure tax
None
Embassies
Embassy of the Slovak Republic in the UK
25 Kensington Palace Gardens, London W8 4QY, UK
Tel: (020) 7313 6470/1 or 313 6490 (Consular section) or (09065) 508 956 (recorded visa information; calls cost ?1 per minute).
Website: www.slovakembassy.co.uk
Opening hours: Mon-Fri 1000-1300.
Embassy of the Slovak Republicin the USA
3523 International Court, NW, Washington, DC 20008, USA
Tel: (202) 237 1054.
Website: https://www.mzv.sk/web/washington-en

Most visits to the Slovak Republic are trouble-free but you should be aware of the global risk of indiscriminate international terrorist attacks, which could be against civilian targets, including places frequented by foreigners.
This advice is based on information provided by the Foreign & Commonwealth Office in the UK. It is correct at time of publishing. As the situation can change rapidly, visitors are advised to contact the following organizations for the latest travel advice:
British Foreign, Commonwealth & Development Office
Website: https://www.gov.uk/foreign-travel-advice/slovakia
US Department of State
Website: https://travel.state.gov/content/travel/en/international-travel/International-Travel-Country-Information-Pages/Slovakia.html
Currency
Slovensk? Koruna (SKK) = 100 halierov. Notes are in denominations of SKK5000, 1000, 500, 100, 50 and 20. Coins are in denominations of SKK10, 5, 2 and 1, and 50 halierov. Further information can be found online (website: www.nbs.sk).
Currency restrictions
The import and export of local and foreign currency is permitted up to an amount equivalent of SK150,000, which must be declared.
Banking hours
Generally Mon-Fri 0800-1800.
Currency exchange
Foreign currency (including traveller's cheques) can be exchanged at bureaux de change, main hotels, all banks, road border crossings, as well as major travel agencies.
Credit cards
Major credit cards (American Express, Diners Club, and MasterCard/Eurocard Visa) and debit cards (Eurocheque cards, Maestro and Visa Electron) are widely accepted. Check with your credit or debit card company for details of merchant acceptability and other services which may be available.
Travellers cheques
American Express, Thomas Cook and Visa traveller's cheques are accepted in banks and at bureaux de change. Exchange rate charges are at least 1 per cent of the nominal cheque value. To avoid additional charges, travelers are advised to take traveller's cheques in Euros, US Dollars or Pounds Sterling.
| City/Region | City/Area code | Followed by |
| --- | --- | --- |
| Banovce nad Bebravou | (0)38 | + 7 digit subscriber nr |
| Banska Bystrica | (0)48 | + 7 digit subscriber nr |
| Banska Stiavnica | (0)45 | + 7 digit subscriber nr |
| Bardejov | (0)54 | + 7 digit subscriber nr |
| Bratislava | (0)2 | + 8 digit subscriber nr |
| Bytca | (0)41 | + 7 digit subscriber nr |
| Doln? Kubin | (0)43 | + 7 digit subscriber nr |
| Dubnica nad Vahom | (0)42 | + 7 digit subscriber nr |
| Dunajska Streda | (0)31 | + 7 digit subscriber nr |
| Gelnica | (0)53 | + 7 digit subscriber nr |
| Hlohovec | (0)33 | + 7 digit subscriber nr |
| Hnusta | (0)47 | + 7 digit subscriber nr |
| Holic | (0)34 | + 7 digit subscriber nr |
| Humenne | (0)57 | + 7 digit subscriber nr |
| Hurbanovo | (0)35 | + 7 digit subscriber nr |
| Kezmarok | (0)52 | + 7 digit subscriber nr |
| Kosice | (0)55 | + 7 digit subscriber nr |
| Kralovsky Chlmec | (0)56 | + 7 digit subscriber nr |
| Levice | (0)36 | + 7 digit subscriber nr |
| Liptovsky Hradok | (0)44 | + 7 digit subscriber nr |
| Nitra | (0)37 | + 7 digit subscriber nr |
| Nove Mesto nad V?hom | (0)32 | + 7 digit subscriber nr |
| Presov | (0)51 | + 7 digit subscriber nr |
| Prievidza | (0)46 | + 7 digit subscriber nr |
| Revuca | (0)58 | + 7 digit subscriber nr |