Quick Facts
Region: Africa
Full Name: Kingdom of Swaziland
Capital City: Mbabane
Language Spoken: English (official, government business conducted in English), siSwati (official)

Swaziland Travel Insurance
Get travel insurance to Swaziland from Direct Travel Insurance. We offer low cost and high quality travel insurance to Swaziland and most of the world.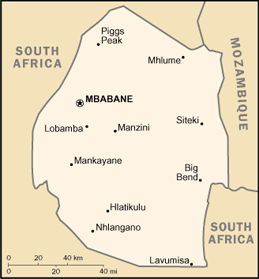 Geographic data
26 30 S, 31 30 E
Elevation Extremes
lowest point: Great Usutu River 21 m highest point: Emlembe 1,862 m
Land boundaries
total: 535 km border countries: Mozambique 105 km, South Africa 430 km
Natural hazards
drought
Natural resources
asbestos, coal, clay, cassiterite, hydropower, forests, small gold and diamond deposits, quarry stone, and talc
Land use
arable land: 10.25% permanent crops: 0.81% other: 88.94% (2005)
Environmental current issues
limited supplies of potable water; wildlife populations being depleted because of excessive hunting; overgrazing; soil degradation; soil erosion
Climate
Due to the variations in altitude the weather is changeable. Except in the lowland, it is rarely uncomfortably hot and nowhere very cold, although frosts occasionally occur in the Highveld which has a wetter, temperate climate. The Middleveld and Lubombo are drier and subtropical with most rain from October to March.
Time difference
time difference: UTC+2 note: Lobamba (royal and legislative capital)
Population
1,136,334 note: estimates for this country explicitly take into account the effects of excess mortality due to AIDS; this can result in lower life expectancy, higher infant mortality and death rates, lower population and growth rates, and changes in the distribution of population by age and sex than would otherwise be expected (July 2006 est.)
Age structure
0-14 years: 40.7% (male 233,169/female 229,103) 15-64 years: 55.8% (male 303,260/female 330,460) 65 years and over: 3.6% (male 16,071/female 24,271) (2006 est.)
Median age
total: 18.5 years male: 17.8 years female: 19.2 years (2006 est.)
Population growth rate
-0.23% (2006 est.)
Birth rate
27.41 births/1,000 population (2006 est.)
Death rate
29.74 deaths/1,000 population (2006 est.)
Net migration rate
0 migrant(s)/1,000 population (2006 est.)
Sex ratio
at birth: 1.03 male(s)/female under 15 years: 1.02 male(s)/female 15-64 years: 0.92 male(s)/female 65 years and over: 0.66 male(s)/female total population: 0.95 male(s)/female (2006 est.)
Life expectancy at birth
total population: 32.62 years male: 32.1 years female: 33.17 years (2006 est.)
Total fertility rate
3.53 children born/woman (2006 est.)
Business Practices
Lightweight suits are generally expected for business. Appointments are necessary and business cards are exchanged. English is widely spoken in business circles. Some Swazis may say "yes" merely out of politeness. Traditionally decisions are made communally, not individually. Standing against the majority is not easy. In making business deals with Swazi partners, bargaining is common and expected. Office hours are 0800-1300 and 1400-1645 Monday to Friday.
Crime
Crime remains a serious concern, and is the most serious threat to expatriate visitors and residents in Swaziland. Incidents of petty crime and, occasionally, violent crime, are most prevalent in the capital city of Mbabane and Swaziland's urban industrial center, Manzini. However, crime affects most other urban and rural areas as well. Swaziland is experiencing a serious crime problem that is recognized as such by both the public and the government. While urban areas are particularly dangerous at night, daytime attacks are not unknown. The presence of other people in the area should not be misinterpreted as an indication of safety. Many crime victims report being assaulted and robbed in the presence of witnesses. Travelers are cautioned not to expect assistance from bystanders to deter or respond to criminal attacks. Pedestrians are advised not to wear excessive jewelry or carry expensive items. All visitors are cautioned to be particularly vigilant when using ATM machines and should not display large sums of cash. Residential security is a significant concern for most residents of Swaziland. Security features, including lighting, window grills, alarm systems and uniformed guards are considered essential for ensuring the safety of residents. Burglaries and home invasions occur with alarming regularity. These criminals rarely operate singly, and are often armed. Auto theft, including carjackings, occur in both urban and rural areas. All types of vehicles are targeted, but there is a slightly higher rate of reported thefts of ubiquitous Toyotas and of four-wheel drive sport utility vehicles. The use of gearshift locks and/or steering wheel locks for parked vehicles is highly recommended.
Hotels
There are some good hotels in Swaziland, some of international standard, but it is necessary to book well in advance. There are also smaller motels and inns.
Communications
Telephone IDD service is available. The country code is 268. Outgoing international calls must go through the international operator. Public telephones are available. Some hotels have fax facilities. Post office hours: 0800-1300 and 1400-1700 Monday to Friday, 0800-1100 Saturday.
Electricity
is a 220 volts AC, 50Hz. 15-amp round pin plugs are in use. Electricity 220/30 volts AC, ord=adDateTimeStamp;url=adCountryStamp;document.write(''); 50Hz; 15-amp round pin plugs are in use.
Plug Types
M
Food And Dining
Restaurants are found mainly in the larger centers and at hotels. Most serve international cuisine: Greek, Hungarian and Indian food is available. Food stalls in the local markets sell traditional Swazi meat stew and maize meal or stamped mealies and roasted corn on the cob (in season). There is a good selection of spirits, beers and wines. Traditional Swazi beer can be tasted in rural areas. There are no formal licensing hours.
Tipping:
10 to 15 per cent of the bill is customary in restaurants and hotels.
Nightlife

In the main centers of Mbabane and Ezulwini Valley, there are nightclubs and discos, some with live music and cabaret. The main attraction in Ezulwini Valley is the casino at the Royal Swazi Hotel. There is also a cinema there.
Entry departure requirements
* Please see visa section
Visa immigration information
Passports
Passport valid for at least six months upon entry required by all.
Visas
Required by all except the following:
(a) 1. nationals of Australia, Canada, Japan and the USA for stays of up to two months;
(b) 2. nationals of the EU for stays of up to two months* (except nationals of the Czech Republic, Estonia, Hungary, Latvia, Lithuania, Slovak Republic and Slovenia who do require a visa);
(c) nationals of Commonwealth countries for stays of up to two months (except nationals of Antigua & Barbuda, Bangladesh, Belize, Brunei, Cameroon, Dominica, India, Kiribati, Maldives, Mauritius, Mozambique, Nigeria, Pakistan, Sri Lanka, Tuvalu and Vanuatu who do require a visa);
(d) nationals of Iceland, Israel, Korea (Rep), Liechtenstein, Norway, San Marino, Turkey, Uruguay and Zimbabwe for stays of up to two months.
Note
* 3. Nationals of Belgium, Denmark, Greece, Ireland, Luxembourg, The Netherlands and Portugal ca also obtain a visa free of charge upon arrival and may remain in Swaziland longer than two months, at the discretion of the Immigration department. Nationals of the UK may also remain in Swaziland for an undisclosed amount of time.
Types of visa and cost
Single-entry: US$27 Multiple-entry: US$41 (three months); US$65 (six months); US$100 (nine months); US$103 (12 months).
Note
Transit passengers should consult their carrying company when making reservations for up-to-date advice on whether a visa is required.
Validity
Three to six months from date of issue for stays of up to two months each. Applications for extensions should be submitted to the Chief Immigration Officer in Swaziland.
Application to
Consulate (or Consular section at Embassy or High Commission); see Passport/Visa Information.
Application requirements
(a) Application form. (b) Two passport-size photos. (c) Fee. (d) Valid passport. (e) Proof of means of support during stay. (f) Letter on headed paper confirming that the visitor holds return or onward tickets. (g) For all visitors except tourists, a letter of invitation from a Swazi national or for business trips, a letter from applicant's company giving details of the business and confirming the financial responsibility for the applicant.
Working days required
One or two unless authorization is required, in which case the application could take several weeks.
Temporary residence
Apply to Chief Immigration Officer if staying longer than two months in Swaziland.
HIV entry requirements
No Test Required
Departure tax
E20; children under three years or age and direct transit passengers are exempt.
Embassies
Kingdom of Swaziland High Commission in the UK
20 Buckingham Gate, London SW1E 6LB, UK
Tel: (020) 7630 6611.
Opening hours: Mon-Thurs 0900-1630, Fri 0900-1600 (by appointment only).
Embassy of the Kingdom of Swaziland in the USA
1712 New Hampshire Avenue, NW, Washington, DC 20009, USA
Tel: (202) 234 5002.
E-mail: embassy@swaziland-usa.com
Most visits to Swaziland are trouble-free but you should be aware of the global risk of indiscriminate international terrorist attacks, which could be against civilian targets, including places frequented by foreigners.
Travelers are advised not to drive at night along the N4 and other isolated roads, as there is a risk of being hijacked, and livestock and unlit, parked vehicles pose additional hazards.
This advice is based on information provided by the Foreign, Commonwealth & Development Office in the UK. It is correct at time of publishing. As the situation can change rapidly, visitors are advised to contact the following organizations for the latest travel advice:
British Foreign, Commonwealth & Development Office
Tel: (0845) 850 2829.
Website: https://www.gov.uk/foreign-travel-advice/swaziland
US Department of State
Website: https://travel.state.gov/content/travel/en/international-travel/International-Travel-Country-Information-Pages/Swaziland.html
Currency
Lilangeni (SZL) = 100 cents. The plural of Lilangeni is Emalangeni. Notes are in denominations of SZL200, 100, 50, 20 and 10. Coins are in denominations of SZL5, 2 and 1, and 100, 50, 20, 10, 5, 2 and 1 cents. The South African Rand is also accepted as legal tender (E1 = 1 Rand) although coins are not accepted.
Currency restrictions
The import and export of foreign and local currency is unrestricted.
Banking hours
Mon-Fri 0830-1430, Sat 0830-1100.
Currency exchange
Visitors are advised to exchange Emalangeni back into their own currency before leaving Swaziland.
Credit cards
American Express, MasterCard and Visa are widely accepted. Check with your credit or debit card company for details of merchant acceptability and other facilities which may be available.
Travellers cheques
Widely accepted. Several banks will exchange travelers cheques, but to avoid additional exchange rate charges, travelers are advised to take them in Euros, Pounds Sterling or US Dollars.
| City/Region | City/Area code | Followed by |
| --- | --- | --- |
| Bhunya | 453 | + 4 digits |
| Big Bend | 364 | + 4 digits |
| Hlathikulu | 217 | + 4 digits |
| Hluthi | 227 | + 4 digits |
| Lobamba | 416 | + 4 digits |
| Ludzeludze | 548 | + 4 digits |
| Mahamba | 237 | + 4 digits |
| Mahwalala | 472 | + 4 digits |
| Malkerns | 528 | + 4 digits |
| Mankayane | 538 | + 4 digits |
| Manzini | 506 | + 4 digits |
| Maphiveni | 373 | + 4 digits |
| Matsapha | 518 | + 4 digits |
| Mbabane | 406 | + 4 digits |
| Mhlambanyatsi | 467 | + 4 digits |
| Mhlume | 313 | + 4 digits |
| Mpaka | 333 | + 4 digits |
| Ngwenya | 442 | + 4 digits |
| Nhlangano | 207 | + 4 digits |
| Nsoko | 303 | + 4 digits |
| Pigg's Peak | 437 | + 4 digits |
| Sidwashini | 422 | + 4 digits |
| Simunye | 383 | + 4 digits |
| Siphocosini | 482 | + 4 digits |
| Siphofaneni | 344 | + 4 digits |
| Siteki | 343 | + 4 digits |
| Tshaneni | 323 | + 4 digits |