Quick Facts
Region: Europe
Full Name: Republic of Slovenia
Capital City: Ljubljana
Language Spoken: Slovenian 91.1%, Serbo-Croatian 4.5%, other or unspecified 4.4% (2002 census)
Slovenia Travel Insurance
Get travel insurance to Slovenia from Direct Travel Insurance. We offer low cost and high quality travel insurance to Slovenia and most of the world.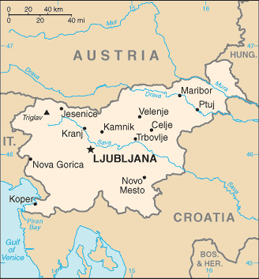 Geographic data
46 07 N, 14 49 E
Elevation Extremes
lowest point: Adriatic Sea 0 m highest point: Triglav 2,864 m
Land boundaries
total: 1,382 km border countries: Austria 330 km, Croatia 670 km, Hungary 102 km, Italy 280 km
Natural hazards
flooding and earthquakes
Natural resources
lignite coal, lead, zinc, mercury, uranium, silver, hydropower, forests
Land use
arable land: 8.53% permanent crops: 1.43% other: 90.04% (2005)
Environmental current issues
Sava River polluted with domestic and industrial waste; pollution of coastal waters with heavy metals and toxic chemicals; forest damage near Koper from air pollution (originating at metallurgical and chemical plants) and resulting acid rain
Climate
Continental climate with warm summers and cold winters (snowfalls in the Alps). Mediterranean climate on the coast. Required clothing Mediumweight clothing and heavy overcoats in winter; lightweight clothing and raincoats for the summer, particularly for the higher Alpine north.
Time difference
time difference: UTC+1 daylight saving time: +1hr, begins last Sunday in March; ends last Sunday in October
Population
2,010,347 (July 2006 est.)
Age structure
0-14 years: 13.8% (male 143,079/female 135,050) 15-64 years: 70.5% (male 714,393/female 702,950) 65 years and over: 15.7% (male 121,280/female 193,595) (2006 est.)
Median age
total: 40.6 years male: 39 years female: 42.2 years (2006 est.)
Population growth rate
-0.05% (2006 est.)
Birth rate
8.98 births/1,000 population (2006 est.)
Death rate
10.31 deaths/1,000 population (2006 est.)
Net migration rate
0.88 migrant(s)/1,000 population (2006 est.)
Sex ratio
at birth: 1.07 male(s)/female under 15 years: 1.06 male(s)/female 15-64 years: 1.02 male(s)/female 65 years and over: 0.63 male(s)/female total population: 0.95 male(s)/female (2006 est.)
Life expectancy at birth
total population: 76.33 years male: 72.63 years female: 80.29 years (2006 est.)
Total fertility rate
1.25 children born/woman (2006 est.)
Business Practices
Suit and tie are recommended for business meetings. Appointments are usual and visitors should be punctual. Visiting cards are essential. Slovenian business managers are quite familiar with Western-type market economy philosophy and customs. Management style in Slovenia tends to concentrate decision-making on senior management. Executives will generally have a good knowledge of German, English and sometimes Italian. Slovenes place a premium on personal contacts, and correspondence and visits play significant roles in the conduct of business in Slovenia. Clarity and continuity in communication are important. Office hours are 0800-1600 Monday to Friday.
Crime
Slovenia continues to be a safe country for travel and business. Street crimes, as in any developed country, include the occasional stolen auto, pick-pocketing, graffiti painting, etc. Sensible precautions should be taken when carrying money in busy tourist areas.
Hotels
Comfortable accommodation is available in all major cities in Slovenia, many are business class or resort hotels. Office space or housing can be rented through a specialized local agency or by individual advertisements in local daily newspapers.
Communications
Telephone IDD service is available. The country code is 386 and the outgoing international code is 00 The use of e-mail is increasingly available. Telephone calling card services are not available in-country, and long-distance charges tend to be high, even by European standards. In many areas only pulse telephone lines are available, though tone dialing availability is increasing. Fax services to and from Western Europe are available. Telex facilities are limited. Post office hours: 0800-1900 Monday to Friday and 0800-1300 Saturday.
Electricity
is a 220 volts AC, 50Hz. Electricity 220 volts AC, 50Hz.
Plug Types
C,F
Food And Dining
Slovenia's national cuisine shows an Austro-German influence with sauerkraut, grilled sausage and apple strudel often appearing on menus.

National specialties:
? The best-known Slovene foods are the breads made for special occasions, which appear in the form of braided loaves or wreathes: the struklji stuffed with sweet fillings, meat or vegetables.
? Another Slovene specialty is potica, a dessert prepared with a wide variety of fillings. National drinks:
? The western and northeastern parts of Slovenia are known for their outstanding white wines (Laski, Renski Rizling and many others).
? The south is the homeland of the light, russet-colored cvicek wine.
? The Adriatic Coast and the Karst region have mainly red karstteran wine.

Tipping:
10 per cent is generally expected in hotels, restaurants and for taxis.

Nightlife
There is a wide selection of theaters, cinemas, casinos and nightclubs in the larger towns. Ljubljana also has a good opera house and the symphony orchestra plays regularly in the Big Hall of the Cultural and Congress Center.
Entry departure requirements
* Please see passport section
Visa immigration information
Passports
Passport valid for at least three months beyond length of stay required by all except:
(a) 1. EU/EEA nationals (EU + Iceland, Liechtenstein, Norway) and Swiss nationals holding a valid national ID card.
Note: EU and EEA nationals are only required to produce evidence of their EU/EEA nationality and identity in order to be admitted to any EU/EEA Member State. This evidence can take the form of a valid national passport or national identity card. Either is acceptable. Possession of a return ticket, any length of validity on their document, sufficient funds for the length of their proposed visit should not be imposed.
(b) national of Croatia holding a valid national ID card.
Visas
Required by all except the following:
(a) nationals of countries referred to in the chart above for stays of up to three months;
(b) nationals of Andorra, Argentina, Bolivia, Brazil, Brunei, Bulgaria, Chile, Costa Rica, Croatia, El Salvador, Gibraltar, Guatemala, Honduras, Hong Kong (SAR), Iceland, Israel, Korea (Rep), Liechtenstein, Macau (SAR), Mexico (one month only for business trips), Monaco, New Zealand, Nicaragua, Norway, Panama, Paraguay, Romania, San Marino, Switzerland, Uruguay, Vatican City and Venezuela for stays of up to 90 days;
(c) nationals of Malaysia for stays of up to 30 days;
(d) nationals of Singapore for stays of up to 14 days;
(e) transit passengers continuing their journey by the same or first connecting aircraft, provided holding onward or return documentation and not leaving the airport.
Note
(a) Nationals of the following countries can enter Slovenia without a visa for transit purposes or for stays of maximum 90 days, provided they are in possession of an EU/EFTA residents or work permit that is valid for three months from the date of entry into Slovenia or a Schengen visa (issued by one of the Schengen Member States) that is valid for at least one month beyond their stay in Slovenia: Bosnia & Herzegovina, Macedonia (Former Yugoslav Republic of), Romania (for a maximum of 10 days), Russian Federation, Serbia & Montenegro and Turkey. Nationals of these countries should note that their visa-free stay's duration depends on where they have a valid residence permit/visa, and may be less than 90 days. (b) The following nationals require an airport transit visa if wishing to remain within the international transit area: nationals of Afghanistan, Bangladesh, Congo (Dem Rep), Ethiopia, Eritrea, Ghana, Iran, Iraq, Nigeria, Pakistan, Somalia and Sri Lanka.
Types of visa and cost
All visas, regardless of duration and number of entries, cost US$43
Validity
Visitor (single-, double- and multiple-entry): Either a single uninterrupted stay or collective duration over successive days not exceeding 90 days within a six-month period, starting from the first day of entry. Transit (single-, double- and occasionally multiple-transit): Up to five days.
Application to
Consulate (or Consulate section at Embassy); see Passport/Visa Information.
Application requirements
(a) Passport valid for at least three months longer than the date of entry into Slovenia. (b) Application form. (c) One passport-size photo. (d) Fee, payable by cash, cheque or postal order. (e) Medical travel insurance testifying the ability to cover urgent medical care whilst in Slovenia. (f) For private visits, an invitation from a person in Slovenia (letter of guarantee) authenticated by a notary, containing data guaranteeing accommodation and support for visit, and other possible costs. The letter must also contain a large amount of other data; please consult the nearest Embassy for further information. (g) For tourist travel, a voucher and confirmation from tourist agency or hotel. (h) For business travel, official invitation from company or organization in Slovenia. (i) Additional documents, eg return ticket. (j) Letter from employer; contact the nearest Embassy for details. Transit: (a)-(e) and, (f) Proof of permitted entry into next destination.
Working days required
Between three and 10 but depends on nationality.
Temporary residence
Enquire at Consulate (or Consulate section at Embassy); see Passport/Visa Information.
HIV entry requirements
No Test Required
Departure tax
None
Embassies
Embassy of the Republic of Slovenia in the UK
10 Little College Street, London SW1P 3SH, UK
Tel: (020) 7222 5400.
Website: http://www.london.embassy.si/
Opening hours: Mon-Fri 0900-1700; 1000-1200 (consular section; for appointments in person).
Embassy of the Republic of Slovenia in the USA
1525 New Hampshire Avenue, NW, Washington, DC 20036, USA
Tel: (202) 667 5363.
Website: www.embassy.org/slovenia

Most visits to Slovenia are trouble-free but you should be aware of the global risk of indiscriminate international terrorist attacks, which could be against civilian targets, including places frequented by foreigners.
This advice is based on information provided by the Foreign & Commonwealth Office in the UK. It is correct at time of publishing. As the situation can change rapidly, visitors are advised to contact the following organizations for the latest travel advice:
British Foreign, Commonwealth & Development Office
Tel: (0845) 850 2829.
Website: https://www.gov.uk/foreign-travel-advice/slovenia
US Department of State
Website: https://travel.state.gov/content/travel/en/international-travel/International-Travel-Country-Information-Pages/Slovenia.html
Currency
Slovene Tolar (SIT) = 100 stotins. Notes are in denominations of SIT10,000, 5000, 1000, 500, 200, 100, 50, 20 and 10. Coins are in denominations of SIT 50, 20,10, 5, 2 and 1, and 50, 20 and 10 stotins.
Currency restrictions
The import and export of local currency is permitted, although amounts in excess of SIT3,000,000 must be declared to customs.
Banking hours
Mon-Fri 0830-1230 and 1400-1700; Sat 0830-1100/1200.
Currency exchange
The Tolar is fully convertible within Slovenia, but visitors are advised to exchange surplus amounts to the currency of their choice before leaving Slovenia, as it is not generally exchangeable elsewhere. Foreign currencies can be exchanged at banks and some hotels, supermarkets, petrol stations, tourist agencies and exchange bureaux.
Credit cards
American Express, Diners, EuroCard, MasterCard and Visa are accepted at upmarket establishments; elsewhere cash is preferred. Credit cards can be used to get cash advances from banks.
Travellers cheques
Widely accepted. To avoid additional exchange rate charges, travelers are advised to take traveller's cheques in Euros, US Dollars or Pounds Sterling.
| City/Region | City/Area code | Followed by |
| --- | --- | --- |
| Celje | (0)3 | + 7 digits |
| Koper | (0)5 | + 7 digits |
| Kranj | (0)4 | + 7 digits |
| Krsko | (0)7 | + 7 digits |
| Ljubljana | (0)1 | + 7 digits |
| Maribor | (0)2 | + 7 digits |