Quick Facts
Region: Africa
Full Name: Democratic Republic of Sao Tome and Principe
Capital City: Sao Tome
Language Spoken: Portuguese (official)
Sao Tome and Principe Travel Insurance
Get travel insurance to Sao Tome and Principe from Direct Travel Insurance. We offer low cost and high quality travel insurance to Sao Tome and Principe and most of the world.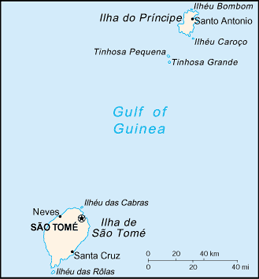 Geographic data
1 00 N, 7 00 E
Elevation Extremes
lowest point: Atlantic Ocean 0 m highest point: Pico de Sao Tome 2,024 m
Land boundaries
0 km
Natural hazards
NA
Natural resources
fish, hydropower
Land use
arable land: 8.33% permanent crops: 48.96% other: 42.71% (2005)
Environmental current issues
deforestation; soil erosion and exhaustion
Climate
An equatorial climate with heavy rainfall, high temperatures and humidity. The south of the main island, being mountainous, is wetter than the north. The main dry season is from early June to late September. There is another dry season, the 'Pequenha Gravana', from the end of December to the start of February.\nRequired clothing\nTropicals and lightweight cottons throughout the year. Umbrellas or light waterproofs for the rainy season are advised.
Time difference
time difference: UTC 0
Population
193,413 (July 2006 est.)
Age structure
0-14 years: 47.5% (male 46,478/female 45,302) 15-64 years: 48.8% (male 45,631/female 48,661) 65 years and over: 3.8% (male 3,368/female 3,973) (2006 est.)
Median age
total: 16.2 years male: 15.6 years female: 16.8 years (2006 est.)
Population growth rate
3.15% (2006 est.)
Birth rate
40.25 births/1,000 population (2006 est.)
Death rate
6.47 deaths/1,000 population (2006 est.)
Net migration rate
-2.32 migrant(s)/1,000 population (2006 est.)
Sex ratio
at birth: 1.03 male(s)/female under 15 years: 1.03 male(s)/female 15-64 years: 0.94 male(s)/female 65 years and over: 0.85 male(s)/female total population: 0.98 male(s)/female (2006 est.)
Life expectancy at birth
total population: 67.31 years male: 65.73 years female: 68.95 years (2006 est.)
Total fertility rate
5.62 children born/woman (2006 est.)
Business Practices
Business meetings tend to be informal. Business cards are not widely used, but should be carried. The Portuguese influence is very strong and knowledge of Portuguese is useful. Every greeting is accompanied by a handshake. Office hours are generally 0800-1500 Monday-Friday
Crime
Visitors are targeted for petty burglary, essentially as a result of their relative affluence and their possession of items which are desirable and easily converted into use, e.g., money, watches, food, swim masks, fins, etc. Items such as cameras, automobiles, etc. Are not easily convertible, are easily detected and are therefore not as desirable to a potential thief.
Hotels
There are currently 11 hotels in the country offering a total of 200 beds, including the Miramar Hotel in the capital Sao Tome, the Marlin Beach hotel and the Bom Bom Island Resort on the northern coast of Principe. Apart from the hotels there is also a chain of state-run inns, operated at more modest levels of comfort.
Communications
Limited IDD telephone service is available. The country code is 239. Fax and telegraph facilities are available in the capital and main hotels.
Electricity
is 220 volts AC. Electricity Same as GMT
Plug Types
Food And Dining
There are several restaurants in the capital, augmented by a considerable number of more informal eating establishments patronized by the inhabitants. Reservations are nearly always required, even at the higher profile restaurants, not because of lack of space but to allow the proprietor to obtain sufficient food in advance. Grilled fish and chicken, fried fish and tropical fruit are popular. Most dishes are highly spiced.

Tipping:
Not always welcomed.
Entry departure requirements
Visa immigration information
Passports
Valid passport required by all.
Visas
Required by all except transit passengers continuing their journey to another country by the same or first connecting aircraft within 24 hours provided holding valid onward or return documentation and not leaving the airport.
Types of visa and cost
Tourist: single-entry: US$60; mutiple-entry: US$70. Business: single-entry: US$80; multiple-entry: US$90. Visas processed immediately are available for an additional fee of US$5. Enquire at the Embassy for further details.
Validity
Three months from date of issue for single-entry; six months from date of issue for multiple-entry. Extensions are possible; apply at the Immigration Department in Sao Tome.
Application requirements
(a) Valid passport. (b) Fee, payable by money order only. (c) One passport-size photo. (d) One application form. (e) Stamped addressed envelope to cover international postal charges. (f) Letter stating purpose of travel. (g) Yellow fever immunization card "copy". Business: (a)-(g) and, (h) Company letter.
Application to
Consulate (or Consular section at Embassy); see Passport/Visa Information. For applications in person, an appointment should be made with the Consulate (or Consular section at Embassy) in advance.
Working days required
Two days (personal application); up to one week (postal applications).
Temporary residence
Enquire at Embassy (see Passport/Visa Information).
HIV entry requirements
No Test Required
Departure tax
US$20 per adult, payable in cash on departure for all international flights. US$10 must be paid for children, except those under two years who are exempt.
Embassies
Embassy of the Democratic Republic of Sao Tome and Principe in UK
Flat 8, Marsham Court, 58 Victoria Drive, Southfields, London SW19 6BB
Embassy of the Democratic Republic of Sao Tome and Principe in Belgium
Square Montgommery, 175 Avenue de Tervuren, 1150 Brussels, Belgium
Tel: (2) 734 8966.
Embassy of the Democratic Republic of Sao Tome and Principe in the USA
400 Park Avenue, 7th Floor, New York, NY 10044, USA
Tel: (212) 317 0533.
Website: www.saotome.org
Crime rates are generally low, but armed robberies do happen.
The threat from terrorism is low, but you should be aware of the global risk of indiscriminate terrorist attacks which could be against civilian targets, including places frequented by foreigners.
This advice is based on information provided by the Foreign, Commonwealth & Development Office in the UK. It is correct at time of publishing. As the situation can change rapidly, visitors are advised to contact the following organizations for the latest travel advice:
British Foreign, Commonwealth & Development Office
Tel: (0845) 850 2829.
Website: https://www.gov.uk/foreign-travel-advice/sao-tome-and-principe
US Department of State
Website: https://travel.state.gov/content/travel/en/international-travel/International-Travel-Country-Information-Pages/SaoTomeandPrincipe.html
Currency
Dobra (STD) = 100 centimos. Notes are in denominations of STD50, 000, 20,000, 10,000 and 5000. Coins are in denominations of STD20, 10, 5, 2 and 1, and 50 centimos.
Currency exchange
Foreign currencies can be exchanged at banks and some hotels.
Currency restrictions
The import and export of local and foreign currency is unlimited, provided declared on arrival.
Banking hours
Mon-Fri 0730-1130. Currency exchange
Credit cards
Travellers cheques
Limited acceptance by banks and hotels. To avoid additional exchange rate charges travelers are advised to take traveller's cheques in US Dollars.
| City/Region | City/Area code | Followed by |
| --- | --- | --- |
| Sao Tome | 2 | + 5 digits |