Quick Facts
Region: Africa
Full Name: Republic of Sierra Leone
Capital City: Freetown
Language Spoken: English (official, regular use limited to literate minority), Mende (principal vernacular in the south), Temne (principal vernacular in the north), Krio (English-based Creole, spoken by the descendants of freed Jamaican slaves who were settled in the Freetown area, a lingua franca and a first language for 10% of the population but understood by 95%)
Sierra Leone Travel Insurance
Get travel insurance to Sierra Leone from Direct Travel Insurance. We offer low cost and high quality travel insurance to Sierra Leone and most of the world.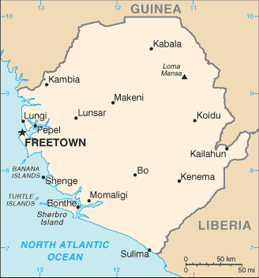 Geographic data
8 30 N, 11 30 W
Elevation Extremes
lowest point: Atlantic Ocean 0 m highest point: Loma Mansa (Bintimani) 1,948 m
Land boundaries
total: 958 km border countries: Guinea 652 km, Liberia 306 km
Natural hazards
dry, sand-laden harmattan winds blow from the Sahara (December to February); sandstorms, dust storms
Natural resources
diamonds, titanium ore, bauxite, iron ore, gold, chromite
Land use
arable land: 7.95% permanent crops: 1.05% other: 91% (2005)
Environmental current issues
rapid population growth pressuring the environment; overharvesting of timber, expansion of cattle grazing, and slash-and-burn agriculture have resulted in deforestation and soil exhaustion; civil war depleting natural resources; overfishing
Climate
Tropical and humid all year. Between November and April, it is very hot and dry, although the coastal areas are cooled by sea breezes. In December and January, the dry, dusty Harmattan wind blows from the Sahara. During the rainy season between May and November, rainfall can be torrential.
Time difference
time difference: UTC 0
Population
6,005,250 (July 2006 est.)
Age structure
0-14 years: 44.8% (male 1,321,563/female 1,370,721) 15-64 years: 52% (male 1,494,502/female 1,625,733) 65 years and over: 3.2% (male 90,958/female 101,773) (2006 est.)
Median age
total: 17.4 years male: 17.1 years female: 17.7 years (2006 est.)
Population growth rate
2.3% (2006 est.)
Birth rate
45.76 births/1,000 population (2006 est.)
Death rate
23.03 deaths/1,000 population (2006 est.)
Net migration rate
0.23 migrant(s)/1,000 population note: refugees currently in surrounding countries are slowly returning (2006 est.)
Sex ratio
at birth: 1.03 male(s)/female under 15 years: 0.96 male(s)/female 15-64 years: 0.92 male(s)/female 65 years and over: 0.89 male(s)/female total population: 0.94 male(s)/female (2006 est.)
Life expectancy at birth
total population: 40.22 years male: 38.05 years female: 42.46 years (2006 est.)
Total fertility rate
6.08 children born/woman (2006 est.)
Business Practices
While local businessmen tend not to wear suit and tie for meetings, visitors are typically expected to do so. English is the most common language in business circles. Appointments and punctuality are expected. Visiting cards are essential. Office hours are 0800-1200 and 1400-1700 Monday to Friday.
Crime
Scams abound and thefts of property are increasing. Thefts during daylight hours in populated areas are rare and usually non-confrontational. Purse snatching have occurred in the beach areas and eastern parts of the city. Expatriate residents employ guards against nighttime home invasions and robberies. Police assistance is better than in the past, but the force is still poorly equipped, lacking radios, transport and fuel. Salaries are low and corruption is common. Few recoveries of stolen property are ever made. Often when a thief is caught in the act they are subjected to mob street justice. Visitors in Freetown are cautioned to carry limited cash and not to wear expensive jewelry. Visitors are advised to keep control of their bags at all times, as unattended property is likely to be stolen. Taxi drivers are known to stage car breakdowns, asking passengers to push the car to a jump-start, and then driving off with the passenger's belongings. There are many beggars on Freetown's streets. Visitors are advised not to encourage their actions, as it is very difficult to help just one. Visitors traveling in vehicles should make sure that all doors are locked and windows rolled up. Visitors hiring taxis should make it clear that no other passengers are allowed to ride along.
Hotels
Hotels in Freetown tend to be run down. Thefts from rooms of visitors are common occurrence. Recently, outside investors have refurbished a small number of hotels in the beach area. With the rehabilitation has come an effort to provide adequate security for hotels in the city. Additionally, there are three luxury hotels located on the peninsula at Lakka and Tokay. Hotels in the interior are rare, although in Bo there is now the Hotel Sir Milton, which is of international standard.
Communications
Telephone IDD service is available. The country code is 232. Outgoing international calls must go through the operator. Telex and telegram facilities are available at Slecom House, 7 Wallace Johnson Street, Freetown.
Electricity
is a 220/240 volts AC, 50Hz. Supply is subject to fluctuations. Electricity 220/240 volts AC, 50Hz. Supply subject to fluctuations.
Plug Types
D,G
Food And Dining
Restaurants in the capital serve Armenian, English, French and Lebanese food. African food is served in hotels.
National specialties:
? Excellent fish, lobster and prawns.
? Exotic fruit and vegetables.
Tipping:
Most hotels and restaurants include a service charge of 10 to 15 per cent. Taxi drivers do not expect tips.
Nightlife
Freetown has nightclubs and two casinos and there is music, dancing and local entertainment arranged by the hotels along Lumley Beach in the Cape Sierra district. Some beachside clubs organize concerts by local pop bands. SHOPPING Shopping hours: Mon-Sat 0800-1200 and 1400-1700.
Entry departure requirements
Restricted entry Nationals of Liberia need authorization from the Government of Sierra Leone or they will be refused admission.
Visa immigration information
Passports
Passport valid for a minimum of six months required by all.
Visas
Required by all except the following:
(a) nationals of Benin, Burkina Faso, Cape Verde, C?te d'Ivoire, The Gambia, Ghana, Guinea Republic, Guinea-Bissau, Liberia, Mali, Niger, Nigeria, Senegal and Togo;
(b) transit passengers continuing their journey by the same or first connecting aircraft within 24 hours provided holding onward or return documentation and not leaving the airport transit area.
Types of visa and cost
Tourist: US$77 (single-entry); US$155 (multiple-entry). Express Tourist and Business: US$69 in addition to cost. Business: US$103 (single-entry); US$206 (multiple-entry: six months), US$344 (multiple-entry: one year).
Validity
Entry Permits and visas generally are valid for three months and allow a stay of one month in Sierra Leone for single-entry only. An extension is possible by application to the Department of Immigration in Freetown. Multiple-entry tourist and visitor visas are valid for six months; a business multiple-entry visa is valid for up to one year.
Application to
Consulate (or Consular section at Embassy or High Commission); see Passport/Visa Information.
Application requirements
(a) Completed application form. (b) Two passport-size photos. (c) Passport valid for six months. (d) Confirmation of hotel reservation for tourist visa. (e) Letter of invitation and company letter for business visa. (f) Vaccination against yellow fever, malaria and cholera are required in order to obtain a visa (see Health section). (g) Fee in cash or postal order for mail applications. (h) Evidence of sufficient funds.
Working days required
Three. Several weeks are required where referral to authorities in Sierra Leone is necessary. One day for Express visa.
HIV entry requirements
No Test Required
Departure tax
US$20 (payable in hard currency by all except nationals of Sierra Leone). Transit passengers and children under two years of age are exempt.
Embassies
High Commission for Sierra Leone in the UK
High Commission of Sierra Leone, 41 Eagle Street, Holborn, London WC1E 4TL
Tel: 0207 4040 140.
Opening hours: Mon-Thurs 1000-1300 and 1430-1500; Fri 1000-1300.
Website: http://www.slhc-uk.org/
Embassy of the Republic of Sierra Leone in the USA
1701 19th Street, NW, Washington, DC 20009, USA
Tel: (202) 939 9261.
Website: www.sierra-leone.org
There has been political unrest in 2005.
Visits to the Western Area of Sierra Leone, including Freetown are usually trouble-free.
Travel outside the Western Area can be difficult, as roads and infrastructure are poor.
Petty crime is common.
Travelers should take sensible precautions and maintain a high level of vigilance in public places.
The threat from terrorism is low, but you should be aware of the global risk of indiscriminate attacks, which could be against civilian targets including places frequented by foreigners.
This advice is based on information provided by the Foreign, Commonwealth & Development Office in the UK. It is correct at time of publishing. As the situation can change rapidly, visitors are advised to contact the following organizations for the latest travel advice:
British Foreign, Commonwealth & Development Office
Tel: (0845) 850 2829.
Website: https://www.gov.uk/foreign-travel-advice/sierra-leone
US Department of State
Website: https://travel.state.gov/content/travel/en/international-travel/International-Travel-Country-Information-Pages/SierraLeone.html
Currency
Leone (SLL) = 100 cents. Notes are in denominations of SLL5000, 2000, 1000, 500, 100, 50, 20, 10, 5, 2 and 1. Coins are in denominations of SLL100 and 50. In June 1986, a system of 'floating' exchange rates was introduced to correct persistent over-valuation of the Leone.
Currency restrictions
The import and export of local currency is limited to Le50,000. The import of foreign currency is unlimited subject to declaration; export of foreign currency is limited to the amount declared on arrival (amounts exceeding US$5000 must be authorized by the National Bank of Sierra Leone).
Banking hours
Mon-Thurs 0800-1330, Fri 0800-1400.
Currency exchange
Credit cards
These are not accepted.
Travellers cheques
These are generally not recommended.
| City/Region | City/Area code | Followed by |
| --- | --- | --- |
| Bo y Kenema | (0)32 | + 6 digit subscriber nr |
| Freetown | (0)22 | + 6 digit subscriber nr |