Quick Facts
Region: Asia & Oceania
Full Name: Republic of Korea
Capital City: Seoul
Language Spoken: Korean, English widely taught in junior high and high school
South Korea Travel Insurance
Get travel insurance to South Korea from Direct Travel Insurance. We offer low cost and high quality travel insurance to South Korea and most of the world.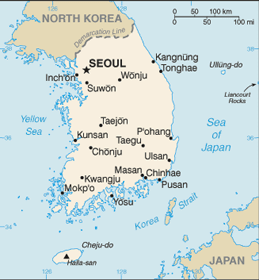 Geographic data
37 00 N, 127 30 E
Elevation Extremes
lowest point: Sea of Japan 0 m highest point: Halla-san 1,950 m
Land boundaries
total: 238 km border countries: North Korea 238 km
Natural hazards
occasional typhoons bring high winds and floods; low-level seismic activity common in southwest
Natural resources
coal, tungsten, graphite, molybdenum, lead, hydropower potential
Land use
arable land: 16.58% permanent crops: 2.01% other: 81.41% (2005)
Environmental current issues
air pollution in large cities; acid rain; water pollution from the discharge of sewage and industrial effluents; drift net fishing
Climate
Moderate climate with four seasons. The hottest part of the year is during the rainy season between July and August, and the coldest is December to February. Spring and autumn are mild and mainly dry and are generally considered the best times to visit. Required clothing Lightweight cottons and linens are worn during summer, with light- to mediumweights in spring and autumn. Medium- to heavyweights are advised during the winter.
Time difference
time difference: UTC+9
Population
48,846,823 (July 2006 est.)
Age structure
0-14 years: 18.9% (male 4,844,083/female 4,368,139) 15-64 years: 71.9% (male 17,886,148/female 17,250,862) 65 years and over: 9.2% (male 1,818,677/female 2,678,914) (2006 est.)
Median age
total: 35.2 years male: 34.2 years female: 36.3 years (2006 est.)
Population growth rate
0.42% (2006 est.)
Birth rate
10 births/1,000 population (2006 est.)
Death rate
5.85 deaths/1,000 population (2006 est.)
Net migration rate
0 migrant(s)/1,000 population (2006 est.)
Sex ratio
at birth: 1.08 male(s)/female under 15 years: 1.11 male(s)/female 15-64 years: 1.04 male(s)/female 65 years and over: 0.68 male(s)/female total population: 1.01 male(s)/female (2006 est.)
Life expectancy at birth
total population: 77.04 years male: 73.61 years female: 80.75 years (2006 est.)
Total fertility rate
1.27 children born/woman (2006 est.)
Business Practices
Businessmen are expected to wear a suit and tie. English is widely spoken in commercial and official circles. Prior appointments are necessary. For Koreans, relationships are all important; "cold calls" don't work -- introductions are crucial! Koreans want to do business with people with whom they have formed a personal connection. Business cards are widely used, perferably printed both in English and Korean. The use of the right hand when giving and receiving particularly applies to business cards. Office hours are 0900-1800 Monday to Friday and 0900-1300 Saturday.
Crime
Although the crime rate in the Republic of Korea is low, in major metropolitan areas, such as Seoul and Pusan, there is greater risk of pickpocketing, purse-snatching, hotel room burglaries, and residential crime, and foreigners can be targeted. Women should exercise caution when traveling alone in taxis, especially at night, as there have been incidents reported involving unwanted attention by taxi drivers towards unaccompanied female passengers. In addition, there have been occasional reports of the molestation and rape of foreigners. Travelers may reduce the likelihood of encountering such incidents by exercising the same type of security precautions that they would take when visiting high crime areas any urban center. While police statistics reflected a small increase in crime since 2003, there have been relatively few incidents involving the expatriate community. Most reported crimes involve pick pocketing in tourist areas and crowded markets, and are predominantly non-violent in nature. Korea is a country with strong gun control laws; consequently crimes involving firearms are statistically low. The Korean National Police (KNP) operate a Central Interpretation Center (CIC) where foreigners can report incidents of crime. The CIC is available on a twenty-four hour, seven-day-a-week basis. In Seoul, call telephone number 313-0842; outside of Seoul, call (02)313-0842. English speakers are not always available at the CIC, so it may be helpful to ask a Korean speaker to place the call. Radical student demonstrations continue as a part of Korean life in many cities, but a large number of these demonstrations are confined to university campuses by the Korean National Police (KNP). Students will use Molotov cocktails and carry steel pipes; the police will launch hundreds or even thousands of rounds of tear gas, depending on the size of the protest. Should a visitor realize that a demonstration is about to occur nearby, he/she should stay in his/her hotel or office until the demonstration ends, or if already outside, depart the area as soon as possible.
Hotels
There are many modern tourist and business-class hotels in the major cities and tourist areas. Hotels are registered with the Government. Facilities in most better hotels include dining rooms, convention halls, bars, souvenir shops, cocktail lounges, barber and beauty shops and recreation areas.
Communications
Telephone IDD service is available to Seoul and other major cities. T he country code is 82 and the outgoing international code is 001 Fax services are available at major hotels and business centers. Post offices open 0900-1700 Monday to Friday; 0900-1300 Saturday. SK Telecom is the main mobile telephone network provider (website: www.sktelecom.co.kr). A CDMA mobile network with 800MHz is in use. It is possible to rent a CDMA handset to use with GSM sim cards whilst in Korea (contact SK Telecom, as above). A new 3G network was introduced in 2002.
Electricity
is a 110/220 volts AC, 60Hz. The policy is to phase out the 110-volt supply. Electricity 110/220 volts AC, 60Hz. Government policy is to phase out the 110 volt supply and many hotels now have a 220 volt supply. Social conventions Shoes should be removed before entering a Korean home. Entertainment is usually lavish and Koreans may sometimes be offended if their hospitality is refused. Customs are similar to those in the West. Small gifts are customary and traditional etiquette requires the use of the right hand for giving and receiving. Dress should be casual and practical clothes are suitable. Traditional costume, or hanbok, is mainly worn on holidays and special occasions. For men it consists of a short jacket and loose trousers, called baji, that are tied at the ankles. Womens? hanboks comprise a wrap-around skirt and a bolero-style jacket and is often called a chima-jeogori. Both ensembles may be topped by a long coat called a durumagi.
Plug Types
C,F
Food And Dining
Korea has its own cuisine, quite different from Chinese or Japanese. Rice is the staple food and a typical Korean meal consists of rice, soup, rice water and eight to 20 side dishes of vegetables, fish, poultry, eggs, bean-curd and sea plants. Most Korean soups and side dishes are heavily laced with red pepper.

National specialties:
? Bibimbap (boiled rice mixed with vegetables).
? Kimchi (Korean national dish, highly spiced pickle of Chinese cabbage or white radish with turnips, onions, salt, fish, chestnuts and red pepper).
? Bulgogi (marinated, charcoal-broiled beef barbecue).
? Grilled galbi (seasoned ribs).
? Haemultang (seafood stew). National drinks:
? Yakju (refined pure liquor fermented from rice).
? Soju (like vodka and made from potatoes or grain).
? Korean beer: Cass, Hite and OB.
? Makgeolli and donggongju (milky liquor).
? Ginseng wine is strong and sweet, similar to brandy, but varies in taste according to the basic ingredient used.
? Tea: nokcha (green tea), insamcha (ginseng tea) and many other varieties. Things to know: There is waiter as well as counter service. Most major hotels will offer a selection of restaurants, serving Korean, Japanese and Chinese cuisine or more Western-style food. Korean Food is a 44-page e-book available from Korea National Tourism Organization?s website (see Top Things To Do). The most common type of drinking establishment is the suljip (wine bar), but there are also beer houses serving well-known European brands. Koreans offer glasses of liquor to each other as a gesture of camaraderie. When someone offers you an empty glass you are expected to hold it out and receive a fill-up and then to drink it empty. Juniors pour for seniors. Tipping : Although not a Korean custom, most hotels and other tourist facilities add a 10 per cent service charge to bills. Taxi drivers are not tipped unless they help with the luggage. Note For visitors who purchase goods worth more than KRW50,000 at stores with ?Tax Free Shopping? signs or goods over KRW30,000 at outlets with ?Tax Refund Shopping? signs, 70 to 80 per cent of the paid VAT (Value Added Tax) and SET (Special Excise Tax) will be refunded in cash at the airport. Only visitors staying less than three months are eligable. Purchases and receipts may need to be shown to the customs officer.

Nightlife
Korea?s nightlife successfully blends the traditional with increasing external influences. Yong-Dong and Itaewon are areas of Seoul with nightclubs catering largely to visitors, many with cabaret evenings. Some hotels also have nightclubs but these tend to be expensive. Larger hotels have their own private theater restaurants. Beer halls, many decorated along a European theme, are popular places to drink and meet friends. Visitors are expected to eat as well as drink. There are also many cinemas. Operas, concerts and recitals can be seen at the National Theater and performances of Korean classical music, dances and plays can be seen at Korea House. For daily listings of events, consult Korea?s English-language papers. Several licensed state-of-the-art casinos operate at various locations throughout the country.
Entry departure requirements
* Please see passport section below
Visa immigration information
Passports
Passport valid for a minimum of three months required by all.
Visas
Required by all except the following:
(a) nationals countries referred to in the table above except 1. nationals of Latvia and Slovak Republic, who do need a visa;
(b) nationals of Albania, Andorra, Argentina, Antigua & Barbuda, The Bahamas, Bangladesh, Barbados, Brazil, Brunei, Bulgaria, Chile, Colombia, Costa Rica, Croatia, Dominica, Dominican Republic, Egypt, El Salvador, Federated States of Micronesia, Fiji, Grenada, Guam, Guatemala, Haiti, Honduras, Hong Kong (SAR), Iceland, Israel, Jamaica, Kiribati, Kuwait, Lesotho, Liberia, Liechtenstein, Macau (SAR), Malaysia, Marshall Islands, Mexico, Monaco, Morocco, Nauru, New Caledonia, New Zealand, Nicaragua, Norway, Oman, Palau, Panama, Paraguay, Peru, Qatar, Romania, Serbia & Montenegro, St Kitts & Nevis, St Lucia, St Vincent & the Grenadines, San Marino, Saudi Arabia, Singapore, Solomon Islands, South Africa, Surinam, Swaziland, Switzerland, Taiwan, Thailand, Trinidad & Tobago, Tunisia, Turkey United Arab Emirates, Uruguay, Vatican City, Venezuala and Yemen.
Types of visa and cost
Single-entry (up to 90 days): US$28 . Single-entry (more than 90 days): US$48 Multiple-entry: US$77 The same fees apply for both business and tourist visas. Nationals of Italy, Japan, Spain, Sweden, Taiwan (China), Thailand and UK can obtain a visa valid up to six months free of charge.
Validity
30-, 60- or 90-days.
Application to
Consulate (or Consular section at Embassy); see Passport/Visa Information for details.
Application requirements
These may vary according to visa required and nationality of applicant. (a) Valid passport. (b) Completed application form. (c) One recent passport-size color photo. (d) Fee, payable by cash or postal order (but not cheque). (e) Stamped, self-addressed envelope, if applicable. (f) Proof of sufficient funds (a bank statement for ?1000 if not working in the UK and a company letter if working in the UK). Short-term business: (a)-(f) and, (g) Substantiating documents for the activity of the applicant, eg letter of invitation from the host company in the Republic of Korea, business-related documents etc. Private visit: (a)-(f) and, (g) A certificate for confirmation of visa issuance, obtained by the person in Korea with whom the applicant will be staying. Student: (a)-(f) and, (g) Standard admission letter for students, substantiating the educational ability and coverage of the expense of the applicant, issued by the president or a dean of the University. (h) Substantiating documents for researchers, including a reference, if applicable.
Note
(a) For a national who cannot fulfill the necessary requirements and entry conditions (such as the expiration of passport validity) due to unavoidable circumstances, or is required for further review before a visa can be issued, a conditional entry permit may be granted with a validity of up to 72 hours. In regards to this permit, the chief of a district or branch office may impose conditions such as a reference, financial guarantee, restrictions on duration of stay, a duty to obey summons or other necessary conditions, and, if deemed necessary, a monetary deposit not exceeding 10 million won (US$10,000). (b) When a short-term visitor or unregistered national who visited Korea (DPR) re-enters the Republic of Korea, an immigration officer shall issue the same visa which was granted, minus the duration of stay in Korea (DPR). If a national?s duration of stay on the visa expired whilst in Korea (DPR), or remaining period is less than 30 days, a new visa may have to be granted. (c) A national who wishes to enter the Republic of Korea via Korea (DPR) must carry a valid passport and visa. If the national has a visa waiver agreement with the Republic of Korea, they must present a passport, a written paper outlining the reason for visiting Korea (DPR) and E/D Card (Immigration Card) to the Immigration officer at an inspection counter.
Working days required
Five.
Temporary residence
Applications for a residence certificate or for a stay of more than 90 days should be made to the Immigration Office in Seoul. For details contact the Consulate (or Consular section at Embassy); see Passport/Visa Information.
HIV entry requirements
Test required for foreigners working in the entertainment industry
Departure tax
KRW10,000. Transit passengers and infants under two years old are exempt.
Embassies
Embassy of the Republic of Korea in the UK
60 Buckingham Gate, London SW1E 6AJ, UK
Tel: (020) 7227 5500 or 5505 (consular section).
Website: www.korea.embassyhomepage.com
Opening hours: Mon-Fri 0930-1230, 1400-1730.
Embassy of the Republic of Korea in the USA
2450 Massachusetts Avenue, NW, Washington, DC 20008, USA
Consular section: 2320 Massachusetts Avenue, NW, Washington, DC 20008, USA
Tel: (202) 939 5600 or 5661-3 (consular section).
E-mail: consular_usa@mofat.go.kr (consular section).

Most visits to the Republic of Korea are trouble-free but you should be aware of the global risk of indiscriminate international terrorist attacks, which could be against civilian targets, including places frequented by foreigners.
Developments in the Democratic People's Republic of Korea (DPRK) (North Korea) could potentially give rise to regional tension.
It is recommended that British nationals coming to the ROK for longer than two weeks should register with the Consular Section of the British Embassy.
This advice is based on information provided by the Foreign, Commonwealth & Development Office in the UK. It is correct at time of publishing. As the situation can change rapidly, visitors are advised to contact the following organizations for the latest travel advice:
British Foreign, Commonwealth & Development Office
Website: https://www.gov.uk/foreign-travel-advice/south-korea
US Department of State
Website: https://travel.state.gov/content/travel/en/international-travel/International-Travel-Country-Information-Pages/KoreaRepublicof.html
Currency
Won (KRW). Notes are in denominations of KRW10,000, 5000 and 1000. KRW1000 is called Chon Won in Korean (chon means ?one thousand?). Coins are in denominations of KRW500, 100, 50 and 10.
Currency restrictions
The import and export of local currency is allowed up to KRW8,000,000. The import of foreign currency is unlimited, provided amounts greater than US$10,000 (including traveller's cheques) are declared on arrival. Export of foreign currency is limited to the amount declared on arrival.
Banking hours
Mon-Fri 0900-1700.
Currency exchange
Foreign banknotes and travelers cheques can be exchanged at foreign exchange banks and other authorized money changers. ATMs are available in all major cities, but all instructions are in Korean.
Credit cards
American Express, Diners Club, MasterCard and Visa are widely accepted at major hotels, shops and restaurants in the larger cities. Check with your credit or debit card company for details of merchant acceptability and other services which may be available.
Travellers cheques
Accepted, but may be difficult to change in smaller towns. To avoid additional exchange rate charges, travelers are advised to take travelers cheques in US Dollars. The Korea Travel Card (KTC) This is a multi-purpose, pre-paid travel card sold by the Korean National Tourism Office, Shinhan Card and the Shinhan Bank, only to foreign tourists or residents. This card provides discounts on currency charges, international and national calls and provides free travel insurance. The card can be bought in denominations of KRW100,000, 200,000, 300,000, 500,000 or in a customized amount between KRW100,000 and 500,000.
| City/Region | City/Area code | Followed by |
| --- | --- | --- |
| Busan | (0)51 | + 4/7 digit subscriber nr |
| Cheju-Do | (0)64 | + 4/7 digit subscriber nr |
| Chulla-Buk Do (Province) | (0)63 | + 4/8 digit subscriber nr |
| Chulla-Nam Do (Province) | (0)61 | + 4/7 digit subscriber nr |
| Chungchong-Buk Do (Province) | (0)43 | + 4/7 digit subscriber nr |
| Chungchong-Nam Do (Province) | (0)41 | + 4/7 digit subscriber nr |
| Daegu | (0)53 | + 4/7 digit subscriber nr |
| Dae-Jun | (0)42 | + 4/7 digit subscriber nr |
| In-Chun | (0)32 | + 4/7 digit subscriber nr |
| Kangwon-Do (Province) | (0)33 | + 4/7 digit subscriber nr |
| Kwang-Ju | (0)62 | + 4/7 digit subscriber nr |
| Kyonggi-Do (Province) | (0)31 | + 4/7 digit subscriber nr |
| Kyoung-Sang-Buk Do (Province) | (0)54 | + 4/7 digit subscriber nr |
| Kyoung-Sang-Nam Do (Province) | (0)55 | + 4/7 digit subscriber nr |
| Seoul | (0)2 | + 3/8 digit subscriber nr |
| Ulsan | (0)52 | + 4/8 digit subscriber nr |