Quick Facts
Region: Africa
Full Name: Republic of Senegal
Capital City: Dakar
Language Spoken: French (official), Wolof, Pulaar, Jola, Mandinka
Senegal Travel Insurance
Get travel insurance to Senegal from Direct Travel Insurance. We offer low cost and high quality travel insurance to Senegal and most of the world.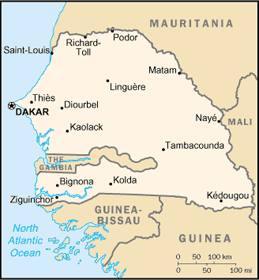 Geographic data
14 00 N, 14 00 W
Elevation Extremes
lowest point: Atlantic Ocean 0 m highest point: unnamed feature near Nepen Diakha 581 m
Land boundaries
total: 2,640 km border countries: The Gambia 740 km, Guinea 330 km, Guinea-Bissau 338 km, Mali 419 km, Mauritania 813 km
Natural hazards
lowlands seasonally flooded; periodic droughts
Natural resources
fish, phosphates, iron ore
Land use
arable land: 12.51% permanent crops: 0.24% other: 87.25% (2005)
Environmental current issues
wildlife populations threatened by poaching; deforestation; overgrazing; soil erosion; desertification; overfishing
Climate
Senegal is favored by a warm climate. The dry season runs from December through to May with cool trade winds in coastal areas. Throughout the rest of the year, a hot monsoon wind blows from the south bringing the rainy season and hot, humid weather. Rainfall is heaviest in Casamance and in the southeast and slight in the Sahelian region in the north and northeast, where temperatures tend to be higher.
Time difference
time difference: UTC 0
Population
11,987,121 (July 2006 est.)
Age structure
0-14 years: 40.8% (male 2,467,021/female 2,422,385) 15-64 years: 56.1% (male 3,346,756/female 3,378,518) 65 years and over: 3.1% (male 174,399/female 198,042) (2006 est.)
Median age
total: 19.1 years male: 18.9 years female: 19.3 years (2006 est.)
Population growth rate
2.34% (2006 est.)
Birth rate
32.78 births/1,000 population (2006 est.)
Death rate
9.42 deaths/1,000 population (2006 est.)
Net migration rate
0 migrant(s)/1,000 population (2006 est.)
Sex ratio
at birth: 1.03 male(s)/female under 15 years: 1.02 male(s)/female 15-64 years: 0.99 male(s)/female 65 years and over: 0.88 male(s)/female total population: 1 male(s)/female (2006 est.)
Life expectancy at birth
total population: 59.25 years male: 57.7 years female: 60.85 years (2006 est.)
Total fertility rate
4.38 children born/woman (2006 est.)
Business Practices
A lightweight suit is acceptable for business. Senegal has inherited French commercial traditions. Business practices, accounting methods and legal procedures derive from the French system. Business correspondence, catalogs and advertising materials should be prepared in French. French will also generally be needed for meetings. Appointments should be made and punctuality is expected, despite the fact that a Senegalese contact may be slightly late. Visiting cards are essential, preferably in French and English. Repeated personal contacts are often necessary to establish a working relationship with business partners. Office hours are normally 0800-1230 and 1300-1600 Monday to Friday. During Ramadan some offices open 0730-1430.
Crime
Street crime in Senegal poses moderate risks for visitors. Most reported incidents involve pickpockets, purse snatchers and street scam artists. Wallets, jewelry and other valuables are subject to theft, especially during times of international meetings or events that draw large crowds. In Dakar, there has been a relatively high incidence of purse snatchings and muggings in a popular restaurant area known locally as "la Petite Corniche", located along a three-kilometer stretch of coastal road in the southeastern part of the city. Road travel between Mauritania and Senegal is restricted to several designated border crossing points, and long delays at the border are normal. The Casamance area of southern Senegal should be avoided due to incidents involving Casamance separatists.
Hotels
Dakar has business hotels of excellent reputation. There are several of international standards, and more development is under way, including a number of hotels on the Petite C?te (the stretch of beaches between Dakar and Joal). In Casamance some luxury resorts have been built. It is advisable to book accommodation in advance, particularly in Dakar. Hotels in Dakar generally have air-conditioning but tend to be expensive. Visitors may choose the floating hotel in the River Region.
Communications
Telephone IDD service is available to the country. The country code is 221 and the outgoing international code is 00. International calls to most countries can be dialed directly. The country code is 221. Cable, telex, fax, paging and Internet services are available. A number of cybercafes are located in Dakar. Cellular telephones are very popular.
Electricity
is 220 volts AC, 50Hz. Electricity 230 volts AC, 50Hz.
Plug Types
C,D,E,K
Food And Dining
Senegalese food is considered among the best in Africa. The basis of many dishes is chicken or fish, but the distinctive taste is due to ingredients not found outside Africa. This food is served in many restaurants in Dakar. Provincial rest houses serve less sophisticated but delicious variations. There are bars in some hotels and clubs. Although Senegal is predominantly a Muslim country, alcohol is available.

National specialties:
? Chicken au yassa (chicken with lemon, pimento and onions).
? Tiebou dienne (rice and fish).
? Maffe (chicken or mutton in peanut sauce).
? Dem ? la St Louis (stuffed mullet).
? Accras (a kind of fritter). National drinks:
? Toufam (a kind of yogurt thinned with sugared water).
? Mint tea, the first cup drunk slightly bitter, the second with more sugar and the third very sweet.
? Palm wine, which is drunk either fresh or fermented.
? Home-roasted coffee with pimento.

Tipping:
A service charge of 10 to 15 per cent is included in all hotel and restaurant bills. Taxi drivers are not normally given a tip.

Nightlife
There are several nightclubs and music venues in Dakar, playing mbalakh (the local modern music), as well as a casino on the route to N'Gor. There are many cinemas showing the latest French films. The Daniel Sorano National Theater in the Boulevard de la Republique is a popular venue for theater, concerts and other arts performances.
Entry departure requirements
* Please see visa section
Visa immigration information
Passports
Passport valid for at least six months after date of entry required by all.
Visas
Required by all except the following:
(a) nationals of countries referred to in the chart above (except 1. nationals of Australia, Cyprus, Czech Republic, Estonia, Hungary, Latvia, Lithuania, Malta, Poland, Slovak Republic and Slovenia who do require a visa) for stays of up to three months;
(b) nationals of Benin, Burkina Faso, Cape Verde, C?te d'Ivoire, The Gambia, Ghana, Guinea, Guinea-Bissau, Israel, Liberia, Mali, Niger, Nigeria, Sierra Leone, Taiwan (China) and Togo for stays of up to three months;
(c) transit passengers continuing their journey by the same or first connecting aircraft provided holding onward or return documentation and not leaving the airport.
Note
Applications from nationals of the following countries must be referred to the authorities in Dakar and will therefore take longer (up to 21 days): Afghanistan, Albania, Angola, Bosnia & Herzegovina, Cambodia, Chile, China (PR), Croatia, Cuba, Cyprus, Equatorial Guinea, Estonia, Guyana, Hong Kong (SAR), Iran, Iraq, Jordan, Korea (Dem Rep), Laos, Latvia, Lebanon, Libya, Lithuania, Maldives, Mozambique, Pakistan, Russian Federation, S?o Tom? e Pr?ncipe, Serbia & Montenegro, Slovak Republic, Sudan, Syrian Arab Republic, Vietnam and Yemen.
Types of visa and cost
Entry: US$5 (up to 15 days); US$13 (15 to 30 days); US$18 (up to 90 days). Cheques are not accepted.
Validity
Three months from the date of issue for stays of up to three months.
Application to
Consulate (or Consular section at Embassy); see Passport/Visa Information. The visa section at the Embassy of Senegal in London is open 1000-1330 for lodging and 1300-1500 for collection.
Application requirements
(a) Valid passport. (b) Two passport-size photos. (c) Two completed application forms. (d) Letter of invitation or confirmed hotel booking, if applicable. (e) Self-addressed, stamped recorded delivery envelope for postal applications. (f) Evidence of return tickets. (g) Company letter for business trips.
Note
A WHO vaccination card, with current Yellow Fever and Cholera vaccinations, may be required if national is traveling from an endemic area.
Working days required
At least three. Nationals who must submit their applications to the authorities in Dakar prior to travel should submit their visa applications at least 21 days before the intended date of departure.
Temporary Residence
Enquire at Embassy (see Passport/Visa Information).
HIV entry requirements
No Test Required
Departure tax
None
Embassies
Embassy of the Republic of Senegal in the UK
39 Marloes Road, London W8 6LA, UK
Tel: (020) 7937 7237 or 7938 4048.
Opening hours: Mon-Fri 0900-1700; 0930-1300 (visa applications).
Embassy of the Republic of Senegal in the USA
2112 Wyoming Avenue, NW, Washington, DC 20008, USA
Tel: (202) 234 0540 or 0541.
Website: https://www.rbkc.gov.uk/contactsdirectory/az.aspx?searchletter=g&orgid=5236

Most visits to Senegal are trouble-free but you should be aware of the global risk of indiscriminate international terrorist attacks, which could be against civilian targets, including places frequented by foreigners.
Travelers are advised against road travel in the western Casamance, due to isolated incidents of banditry.
Pick pocketing and street crime is common in parts of Dakar. Travelers should take sensible precautions and avoid carrying valuables in public.
This advice is based on information provided by the Foreign, Commonwealth & Development Office in the UK. It is correct at time of publishing. As the situation can change rapidly, visitors are advised to contact the following organisaions for the latest travel advice:
British Foreign, Commonwealth & Development Office
Tel: (0845) 850 2829.
Website: https://www.gov.uk/foreign-travel-advice/senegal
US Department of State
Website: https://travel.state.gov/content/travel/en/international-travel/International-Travel-Country-Information-Pages/Senegal.html
Currency
CFA (Communaut? Financiaire Africaine) Franc (XOF) = 100 centimes. Notes are in denominations of XOF10,000, 5000, 2000 and 1000. Coins are in denominations of XOF500, 200, 100, 50, 25, 10, 5 and 1. Senegal is part of the French Monetary Area. Only currency issued by the Banque des Etats de l'Afrique de l'Ouest (Bank of West African States) is valid; currency issued by the Banque des Etats de l'Afrique Centrale (Bank of Central African States) is not. The CFA Franc is tied to the Euro.
Currency restrictions
Import of local currency is unlimited; import of foreign currency is unlimited but subject to declaration. Export of local currency is restricted to XOF20,000. Export of foreign currency is limited to XOF50,000; for amounts exceeding this, the declaration issued on arrival must be presented.
Banking hours
Mon-Fri 0800-1100 and 1430-1600.
Currency exchange
Credit cards
American Express is the most widely accepted, although Diners Club, MasterCard and Visa have limited use. Check with your credit or debit card company for details of merchant acceptability and other services which may be available. Commissions are added for the use of credit cards. There are ATMs in Dakar.
Travellers cheques
Traveller's cheques are easy to cash in Dakar. To avoid additional exchange rate charges, travelers are advised to take them in Euros.
| City/Region | City/Area code | Followed by |
| --- | --- | --- |
| Dakar | 8 | + 6 digits |
| Outside Dakar | 9 | + 6 digits |