Quick Facts
Region: Asia & Oceania
Full Name: Republic of Singapore
Capital City: Singapore
Language Spoken: Mandarin 35%, English 23%, Malay 14.1%, Hokkien 11.4%, Cantonese 5.7%, Teochew 4.9%, Tamil 3.2%, other Chinese dialects 1.8%, other 0.9% (2000 census)
Singapore Travel Insurance
Get travel insurance to Singapore from Direct Travel Insurance. We offer low cost and high quality travel insurance to Singapore and most of the world.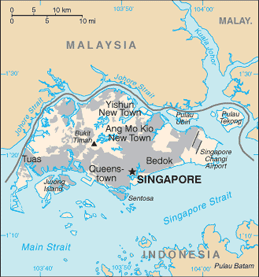 Geographic data
1 22 N, 103 48 E
Elevation Extremes
lowest point: Singapore Strait 0 m highest point: Bukit Timah 166 m
Land boundaries
0 km
Natural hazards
NA
Natural resources
fish, deepwater ports
Land use
arable land: 1.47% permanent crops: 1.47% other: 97.06% (2005)
Environmental current issues
industrial pollution; limited natural fresh water resources; limited land availability presents waste disposal problems; seasonal smoke/haze resulting from forest fires in Indonesia
Climate
Warm and fairly humid summer temperatures throughout the year (approximately 30ºC/86ºF during the day and 23ºC/74ºF in the evening). There is no distinct wet/dry season. Most rain falls during the northeast monsoon (November to January) and showers are usually sudden and heavy. Required clothing Lightweight cottons and linens.
Time difference
time difference: UTC+8
Population
4,492,150 (July 2006 est.)
Age structure
0-14 years: 15.6% (male 362,329/female 337,964) 15-64 years: 76.1% (male 1,666,709/female 1,750,736) 65 years and over: 8.3% (male 165,823/female 208,589) (2006 est.)
Median age
total: 37.3 years male: 36.9 years female: 37.6 years (2006 est.)
Population growth rate
1.42% (2006 est.)
Birth rate
9.34 births/1,000 population (2006 est.)
Death rate
4.28 deaths/1,000 population (2006 est.)
Net migration rate
9.12 migrant(s)/1,000 population (2006 est.)
Sex ratio
at birth: 1.08 male(s)/female under 15 years: 1.07 male(s)/female 15-64 years: 0.95 male(s)/female 65 years and over: 0.8 male(s)/female total population: 0.96 male(s)/female (2006 est.)
Life expectancy at birth
total population: 81.71 years male: 79.13 years female: 84.49 years (2006 est.)
Total fertility rate
1.06 children born/woman (2006 est.)
Business Practices
Shirt and tie are usually sufficient for most meetings, particularly in hot weather (most days). Suit and tie might be considered for more important transactions. Businesswomen wear conservative, lightweight attire. Business discussions are straightforward. English is widely spoken and most businesspeople are skilled and technically knowledgeable. Corruption is virtually non-existent. Many Singapore business people are ethnic Chinese, and many of them will have "Christian" first names (e.g., Albert Lim, Sally Lee). Those who do not will have only their Chinese name on their business card, in which case the family name is listed first. Mr. Lim Siew Fook would be addressed as "Mr. Lim" and Mrs. Tan Lee Yik as "Mrs. Tan". For the sake of politeness and respect, it is wise to address a businessperson by the last name rather than the first name - unless an immediate rapport is developed. Business cards are a must as they are immediately exchanged during business and social meetings. The "Chinese" practice of presenting a business card with both hands is observed. There is no need to have special business cards printed in Chinese, however. Business hours normally are 8:30 am - 5:30 pm, Monday-Friday, 8:30 am - 1:00 pm, Saturday.
Crime
Singapore is a large, clean and relatively safe metropolitan area, which prides itself on law and order. Visitors in Singapore can expect low crime rates and good police protection in all areas. Common crimes in Singapore include petty theft, pickpocketing, simple assaults, residential and vehicular burglaries. There has been a slight increase in drug arrests in Singapore over the last year but overall usage and distribution of illegal substances remains relatively low. There is no significant anti-Western sentiment known to exist in Singapore. Petty crime committed by juveniles is up slightly for the past year; the police blame this on the economy. The common offenses committed by them continued to be shoplifting and simple theft. Singaporean police continue to be proactive in responding to the crime situation and the national laws continue to be very strict with mandatory sentencing for those who are caught. US Embassy switchboard: (65) 6476- 9100 British High Commission (65) 6424 4200 Australian High Commission (65) 6836-4100 Singapore police emergency operator: 999 Singapore fire and medical emergency: 995 Tanglin divisional police station: Orchard road shopping district (65) 6733-0000 Central Divisional police station: Central business district (65) 6334-0000
Hotels
There are a wide variety of accommodations, characterized by new, high-class hotels. These have extensive facilities including swimming pools, health clubs, several restaurants, full business services and shopping arcades. It is advisable to make advance reservations. Many hotels are designated as being ?International Standard? with all modern conveniences such as swimming pools and air-conditioning.
Communications
Full telephone IDD service is available. The country code is 65 and the outgoing international code is 001. There are fax services at many major hotels and at the Telecoms buildings in Robinson Road and Exeter Road. Telegrams can be sent from post offices, hotels. Overall, communications systems are among the most modern in the world, including Internet connections and cellular services.
Electricity
is 220/240 volts AC, 50Hz. Plug fittings of the 3-pin square type are in use. Many hotels have 110-volt outlets. Electricity 220/240 volts AC, 50Hz. Plug fittings of the three-pin square type are in use. Many hotels have 110-volt outlets.
Plug Types
Food And Dining
Singapore is a gourmet?s paradise, ranging from humble street stalls to 5-star restaurants. There are over 30 different cooking styles, including various regional styles of Chinese cuisine, American, English, French, Indian, Indonesian, Italian, Japanese, Korean, Malay, Russian and Swiss. Malay cuisine is a favorite, famed for its use of spices and coconut milk. Things to know: One of the best ways to eat in Singapore is in the open at one of the ubiquitous street foodstalls. Some are quiet and casual while others are in areas bustling with activity. All have a vast selection of cheap, mouthwatering food. Newton Circus and La Pau Sat are food centers where all types of Asian food can be sampled cheaply. Although there are many self-service establishments, waiter service is more common in restaurants. Bars/cocktail lounges often have table and counter service. There are no licensing hours. ?Happy hours? are usually from 1700-1900.
National specialties:
? Beef rendang (coconut milk beef curry).
? Chicken sambal.
? Gado gado (a fruit and vegetable salad in peanut sauce).
? Satay (skewers of marinated meat cooked over charcoal) served with peanut sauce, cucumber, onion and rice. National drinks:
? Singapore Sling (cocktail containing gin, cherry liquor, contreau, benedictine, pineapple juice, lime juice, grenadine and angostura bitters). It was founded in the early 20th century for the Raffles Hotel in Singapore.
? Teh arak tarik (ginger tea with milk).
? Soya bean milk.
? Sugar cane juice.
Tipping:
Officially discouraged in restaurants, hotels and the airport. A 10 per cent service charge is included in restaurant bills.
Nightlife
Singapore has a vibrant and exciting nightlife. Entertainment ranges from bars, clubs, discos, karaoke pubs, street opera, night markets, river cruises, multiplex cinemas to theater productions and international stage shows. Boat Quay and Clarke Quay are popular riverside landmarks that offer exclusive restaurants, alfresco dining and lively bars. Moored Chinese junks have been refurbished into floating bars and restaurants. Bugis Street, Changi Village and Holland Village, known as Holland V, are popular areas for food, drink and entertainment. Muhammad Sultan Road is one of the latest entertainment hubs in Singapore with a wide variety of pubs, nightclubs and wine bars, as is Club Street.
Entry departure requirements
Note (a) Women more than 24 weeks pregnant or more must obtain a letter from a doctor confirming that it is safe for them to travel and a Social Visit Pass For Expectant Mothers prior to arrival; apply at the High Commission or Embassy. (b) Severe penalties are imposed on those found in possession of narcotics; the death penalty is in force for those convicted of trafficking in heroin or morphine.
Visa immigration information
Passports
Passport valid for at least six months beyond date of departure required by all.
Visas
Required only by the following:
(a) nationals of China (PR), CIS, Hong Kong (SAR), India, Macau (SAR) and Myanmar;
(b) nationals of Afghanistan, Algeria, Bangladesh, Egypt, Iran, Iraq, Jordan, Lebanon, Libya, Morocco, Pakistan, Saudi Arabia, Somalia, Sudan, Syrian Arab Republic, Tunisia, United Arab Emirates (temporary passport only) and Yemen.
Note
1. All other nationals require a Social Visit Pass, which is issued on arrival, provided the traveller holds a valid passport, sufficient funds to cover stay in Singapore, confirmed onward/return tickets and entry documentation for further destinations. For nationals holding British and Irish passports, the maximum length of stay is 30 days, for other nationals, the maximum length of stay is 14 days. Visitors on a Social Visit Pass are not permitted to work in Singapore. Extentions of up to 90 days can be applied for at the time.
Types of visa and cost
Entry Visa, Social Visit (short- or long-term; S$20), Business Visit (US$12 ), Student's Pass and Transit. For any extension of pass accumulating to a period of three months or more from the date of entry/issue and for every subsequent extension accumulating to three months or more, the cost is usually S$40. Payment by NETS or CashCard is preferable. Application packs with instructions and prevailing visa costs at the time of application are obtainable from the High Commission (see Passport Visa Information).
Validity
At the discretion of the ICA.
Application to
Consulate (or Consular section at High Commission or Embassy); see Passport Visa Information.
Application requirements
(a) Completed application form(s). (b) Two recent passport size photos. (c) Photocopies of valid passport. (d) Visa fee (payable by cash or postal order only. (e) Self-addressed, special delivery envelope if applicant wishes documents to be returned. (f) Letter of introduction form with signature of local sponsor (required by all except nationals of India and China (PR). Business: (a)-(f) and, (g) Printout of Singapore registered company's detailed business profile from ACRA. Social Visit: (a)-(f) and, (g) Local contact's Singapore identity card and photocopy. (h) Letter from the applicant's employer or unemployment booklet. Student Pass: (a)-(g) and (h) Applicant's birth certificate. (i) Applicant's highest education certificates. (j) Proof of financial means if applicant is from a country that always requires a visa.
Working days required
From two to four weeks for Level 2 nationals. Four working days for Level 1 nationals. However, it is still advisable to allow plenty of time. For those applying for student visas, allow two to six months.
Temporary residence
Apply to Consulate (or Consular section of High Commission or Embassy), who will forward application to the authorities in Singapore.
HIV entry requirements
Test required for anyone applying for work or residency permit
Departure tax
None
Embassies
High Commission for the Republic of Singapore in the UK
9 Wilton Crescent Belgravia, London SW1X 8SP, UK
Tel: (020) 7235 8315.
Website: www.mfa.gov.sg/london
Opening hours: Mon-Fri 0900-1700; 1000-1230 and 1400-1600 (visa section).
Embassy of the Republic of Singapore in the USA
3501 International Place, NW, Washington, DC 20008, USA
Tel: (202) 537 3100.
Website: www.mfa.gov.sg/washington

Most visits to Singapore are trouble-free, but travelers should be aware that Singapore shares with the rest of South-East Asia a threat from terrorism. Attacks could be indiscriminate and against civilian targets, including places frequented by foreigners.
Travelers should not become involved with drugs of any kind: possession of even very small quantities can lead to imprisonment or the death penalty.
This advice is based on information provided by the Foreign, Commonwealth & Development Office in the UK. It is correct at time of publishing. As the situation can change rapidly, visitors are advised to contact the following organisaions for the latest travel advice:
British Foreign, Commonwealth & Development Office
Tel: (0845) 850 2829.
Website: https://www.gov.uk/foreign-travel-advice/singapore
US Department of State
Website: https://travel.state.gov/content/travel/en/international-travel/International-Travel-Country-Information-Pages/Singapore.html
Currency
Singapore Dollar (SGD; symbol S$) = 100 cents. Notes are in denominations of S$10,000, 1000, 500, 100, 50, 20, 10, 5 and 2. Coins are in denominations of S$1, and 50, 20, 10, 5 and 1 cents. The currency of Brunei is also legal tender; 1 Brunei Dollar = 1 Singapore Dollar. US Dollars, Australian Dollars, Yen and Pounds Sterling are also accepted at most major shopping centers in Singapore.
Currency restrictions
There is no restriction on the import and export of local or foreign currency.
Banking hours
Mon-Fri 1000-1500, Sat 0930-1300 (some are open until 1500). Branches of certain major banks on Orchard Road open Sun 0930-1500.
Currency exchange
Foreign currencies, traveller's cheques and cheques can be changed at most banks and licensed money changers; however, some do not offer this service on Saturday. ATMs are widespread.
Credit cards
American Express, Diners Club, MasterCard and Visa are widely accepted. Check with your credit or debit card company for details of merchant acceptability and other facilities which may be available.
Travellers cheques
To avoid additional exchange rate charges, travelers are advised to take traveller's cheques in Pounds Sterling. A passport is required when cashing traveller's cheques.
| City/Region | City/Area code | Followed by |
| --- | --- | --- |
| Ang Mo Kio | 645 | + 5 digits |
| Ayer Rajah | 676 | + 5 digits |
| Bedok | 644 | + 5 digits |
| City | 653 | + 5 digits |
| Geylang | 673 | + 5 digits |
| Jurong West, Tampines | 678 | + 5 digits |
| North | 635 | + 5 digits |
| Sembawang | 675 | + 5 digits |
| Tampines | 677 | + 5 digits |