Quick Facts
Region: Asia & Oceania
Full Name: Independent State of Samoa
Capital City: Apia
Language Spoken: Samoan (Polynesian), English
Samoa Travel Insurance
Get travel insurance to Samoa from Direct Travel Insurance. We offer low cost and high quality travel insurance to Samoa and most of the world.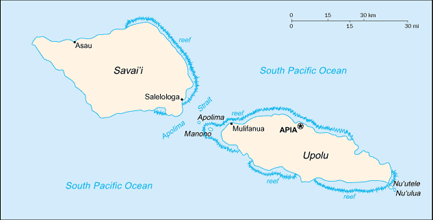 Geographic data
13 35 S, 172 20 W
Elevation Extremes
lowest point: Pacific Ocean 0 m highest point: Mauga Silisili (Savaii) 1,857 m
Land boundaries
0 km
Natural hazards
occasional typhoons; active volcanism
Natural resources
hardwood forests, fish, hydropower
Land use
arable land: 21.13% permanent crops: 24.3% other: 54.57% (2005)
Environmental current issues
soil erosion, deforestation, invasive species, overfishing
Climate
Samoa has a warm, tropical climate tempered by trade winds between May and September. Temperatures remain relatively constant throughout the year, becoming cooler at night. There are more than 2500 hours of sunshine annually. Rainfall is heaviest between December and April. Sea temperatures rarely fall below 24°C (75.2°F). Required clothing Lightweight cottons and linens with warmer clothes for evenings. Rainwear is advisable.
Time difference
time difference: UTC-11
Population
176,908 (July 2006 est.)
Age structure
0-14 years: 26.1% (male 23,492/female 22,653) 15-64 years: 67.3% (male 74,202/female 44,894) 65 years and over: 6.6% (male 5,299/female 6,368) (2006 est.)
Median age
total: 25.2 years male: 28.1 years female: 22 years (2006 est.)
Population growth rate
-0.2% (2006 est.)
Birth rate
16.43 births/1,000 population (2006 est.)
Death rate
6.62 deaths/1,000 population (2006 est.)
Net migration rate
-11.76 migrant(s)/1,000 population (2006 est.)
Sex ratio
at birth: 1.05 male(s)/female under 15 years: 1.04 male(s)/female 15-64 years: 1.65 male(s)/female 65 years and over: 0.83 male(s)/female total population: 1.39 male(s)/female (2006 est.)
Life expectancy at birth
total population: 71 years male: 68.2 years female: 73.94 years (2006 est.)
Total fertility rate
2.94 children born/woman (2006 est.)
Business Practices
Samoan business meetings are typically informal and English is widely spoken in business circles.
Crime
Samoa Islands have a low crime rate and violent crime is very rare. There has been a slight increase in personal property thefts. Pickpockets and purse-snatchers often operate where tourists tend to gather and normal security precautions should be observed.
Hotels
There is a wide range of accommodation available in Samoa, from international-standard hotels to simple guesthouses
Communications
Telephone IDD service is available. The country code is 684. Several hotels have fax facilities. Telex/telegram facilities are available at main towns and hotels. The Main Post Office in the Lumana'i Building in Fagatogo is open 24 hours. There are also branches in Leone and Faguita villages, open 0800-1600 Monday to Friday and 0830-1200 Saturday.
Electricity
is 110V. U.S.-style 2-pin plugs are used. Electricity 240 volts AC, 50Hz (110 volts AC in some hotels). Three-pronged plugs are in use as in Australia and New Zealand.
Plug Types
I
Food And Dining
Among the local specialties are dishes cooked in the traditional Samoan oven, umu. A variety of Chinese food is also available in a few places and there are several snack and light meal restaurants in Apia serving fast food and other Western food.

National specialties:
? Fresh seafood.
? Roast suckling pig.
? Chicken.
? Breadfruit and fruit. National drinks: Kava is the national drink (see also the American Samoa and Fiji sections). Alcohol may not be purchased on Sundays except by hotel residents and their guests.

Tipping:
Not customary.

Nightlife
Several nightclubs offer dancing and other entertainment. Several cinemas show English-language films and Chinese films with subtitles.
Entry departure requirements
* Please see visa section
Visa immigration information
Passports
Passport valid for six months beyond the date of departure from Samoa required by all.
Visas
Required by all except:
1. nationals of any country visiting Samoa as a tourist will be issued with a free 60-day visa on arrival provided they hold confirmed onward tickets, a valid passport and proof of sufficient funds to support the stay. For longer stays, visas should be obtained before arrival or visa extensions can be applied for in Apia.
Types of visa and cost
Visitor's Permit: free on arrival. Other types of visa cost from US$118 -US$1412 and applicants should enquire directly with the Samoan Embassy.
Validity
Six months from date of issue.
Application to
Nearest Samoan Embassy or High Commission or the Immigration Division of the Prime Minister?s Department in Apia (PO Box L1861).
Application requirements
(a) Two passport-size photos. (b) Completed application form. (c) Fee.
Working days required
Apply at least four weeks in advance.
Temporary residence
Costs from ?100 depending on the purpose of your visit. Business and employment visas are 50 per cent cheaper if applied for outside Samoa. Each application is assessed on an individual basis and takes at least four weeks to process.
HIV entry requirements
Anyone, applying for a work or a student permit and staying longer than 12 months have to submit a medical report which may include an HIV test.
Departure tax
Tala40 for adults. Transit passengers and children under 12 years of age are exempt.
Embassies
Samoan Consulate in UK
Samoan Consulate in London, Church Cottage, Pedlinge, Nr Hythe, Kent, CT12 5JL
Embassy of Samoa
20, Avenue de l'Oree, B- 1000 Brussels , Belgium
Tel: (2) 660 8454. Fax: (2) 675 0336.
Permanent Mission of Samoa to the United Nations
800 2nd Avenue, Suite 400J, New York, NY 10017, USA
Tel: (212) 599 6196.

Travelers should avoid driving out of built up areas at night.
Serious crime is low and most visits to Samoa are trouble-free. You should be aware of the global risk of indiscriminate international terrorist attacks, which could be against civilian targets, including places frequented by foreigners.
This advice is based on information provided by the Foreign, Commonwealth & Development Office in the UK. It is correct at time of publishing. As the situation can change rapidly, visitors are advised to contact the following organizations for the latest travel advice:
British Foreign, Commonwealth & Development Office
Tel: (0845) 850 2829.
Website: https://www.gov.uk/foreign-travel-advice/samoa
US Department of State
Website: https://travel.state.gov/content/travel/en/international-travel/International-Travel-Country-Information-Pages/Samoa.html
Currency
Tala or Samoa Dollar (Tala) = 100 sene. Notes are in denominations of Tala100, 50, 20, 10, 5 and 2. Coins are in denominations of Tala1, and 50, 20, 10, 5, 2 and 1 sene.
Currency restrictions
There are no restrictions on the import of local or foreign currency. Export of local currency is prohibited. Export of foreign currency is limited to the amount imported.
Banking hours
Mon-Fri 0900-1500, some banks open Sat 0900-1200 and may have slightly longer opening hours.
Currency exchange
Available at the airport or through banks. There are four banks in Samoa: ANZ Bank Samoa Ltd, the National Bank of Samoa , Samoa Commercial Bank and Westpac. These have ATMs at many of their branches throughout Samoa.
Credit cards
American Express, Cirrus, MasterCard and Visa are accepted on a limited basis. Check with your credit or debit card company for details of merchant acceptability and other services which may be available.
Travellers cheques
Accepted in major hotels, banks and tourist shops. To avoid additional exchange rate charges, travelers are advised to take traveller's cheques in US Dollars or Pounds Sterling.
| City/Region | City/Area code | Followed by |
| --- | --- | --- |
| Apia | 69 | + 3 digits |
| Savaii | 59 | + 3 digits |
| Upolu | 4 | + 4 digits |