Quick Facts
Region: Europe
Full Name: Kingdom of Sweden
Capital City: Stockholm
Language Spoken: Swedish, small Sami- and Finnish-speaking minorities
Sweden Travel Insurance
Get travel insurance to Sweden from Direct Travel Insurance. We offer low cost and high quality travel insurance to Sweden and most of the world.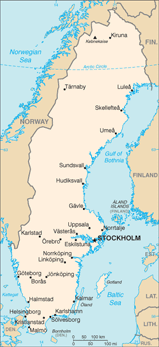 Geographic data
62 00 N, 15 00 E
Elevation Extremes
lowest point: reclaimed bay of Lake Hammarsjon, near Kristianstad -2.41 m highest point: Kebnekaise 2,111 m
Land boundaries
total: 2,233 km border countries: Finland 614 km, Norway 1,619 km
Natural hazards
ice floes in the surrounding waters, especially in the Gulf of Bothnia, can interfere with maritime traffic
Natural resources
iron ore, copper, lead, zinc, gold, silver, tungsten, uranium, arsenic, feldspar, timber, hydropower
Land use
arable land: 5.93% permanent crops: 0.01% other: 94.06% (2005)
Environmental current issues
acid rain damage to soils and lakes; pollution of the North Sea and the Baltic Sea
Climate
In spite of its northern position, Sweden has a relatively mild climate which varies greatly, owing to its length. The summers can be very hot but get shorter further north. The midnight sun can be seen between mid-May and mid-June above the Arctic Circle. Winters can be bitterly cold, especially in the north. Required clothing Light- to mediumweights for summer, heavyweights for winter and rainwear all year.
Time difference
time difference: UTC+1 daylight saving time: +1hr, begins last Sunday in March; ends last Sunday in October
Population
9,016,596 (July 2006 est.)
Age structure
0-14 years: 16.7% (male 775,433/female 732,773) 15-64 years: 65.7% (male 3,001,928/female 2,918,242) 65 years and over: 17.6% (male 689,756/female 898,464) (2006 est.)
Median age
total: 40.9 years male: 39.8 years female: 42 years (2006 est.)
Population growth rate
0.16% (2006 est.)
Birth rate
10.27 births/1,000 population (2006 est.)
Death rate
10.31 deaths/1,000 population (2006 est.)
Net migration rate
1.66 migrant(s)/1,000 population (2006 est.)
Sex ratio
at birth: 1.06 male(s)/female under 15 years: 1.06 male(s)/female 15-64 years: 1.03 male(s)/female 65 years and over: 0.77 male(s)/female total population: 0.98 male(s)/female (2006 est.)
Life expectancy at birth
total population: 80.51 years male: 78.29 years female: 82.87 years (2006 est.)
Total fertility rate
1.66 children born/woman (2006 est.)
Business Practices
Suit and tie are generally expected for business meetings. English is widely spoken in business circles. Punctuality is important for business and social occasions. Business cards are commonly used. Flexible working hours are a widespread practice between Monday and Friday, with lunch between 1200-1300. Swedes tend to take frequent holidays, particularly in December, May (3 3-day weekends) and the period between mid-June and mid-August.
Crime
Sweden has a relatively low crime rate, and violent crimes are uncommon although increasing. Most crimes involve theft of personal property in public areas or burglary from cars or residences. However, travelers, especially those who appear affluent, can become targets of pickpockets and purse-snatchers. Hotel breakfast rooms and lobbies, in particular, attract professional, well-dressed thieves who blend in with guests. Visitors should take the normal precautions that would be taken in any major city: no flashy jewelry, small amounts of cash, and above all be observant of your surroundings. Residential and hotel security is very important. Pickpocketing, theft of bicycles, theft of autos, and automobile vandalism are common in the downtown areas.
Hotels
Hotels are usually of a high standard. Most have a restaurant and/or cafeteria and a TV lounge. Good first- and medium-class hotels are found in every Swedish town. Sweden also has a large number of motels, most of which are new, usually situated on the outskirts of towns or in the countryside. They may have swimming pools, a gymnasium and saunas, restaurants and self-service cafeterias.
Communications
Full telephone IDD service is available. The country code is 46 and the outgoing international code is 009. Unlike other European countries, telephones are not found in post offices but in special 'Telegraph Offices'. Fax services are widely available throughout the country. Post offices are open during normal shopping hours (0900-1800 Monday to Friday and 1000-1300 Saturday).
Electricity
is a 220 volts, 3-phase AC, 50Hz. 2-pin continental plugs are used. Electricity 220 volts, three-phase AC, 50Hz. Two-pin continental plugs are used.
Plug Types
C,F
Food And Dining
Swedes like straightforward meals, simply prepared from the freshest ingredients. As a seafaring country with many freshwater lakes, fish dishes are prominent on hotel or restaurant menus. Things to know: Once on the open road the traveller is well catered for with picnic sites on the way, often with wooden tables and seats. Top-class restaurants in Sweden are usually fairly expensive, but even the smallest towns have reasonably priced self-service restaurants and grill bars. Many restaurants all over Sweden offer a special dish of the day at a reduced price which includes main course, salad, soft drink and coffee. Waiter service is common although there are many self-service snack bars. Wine, spirits and beer are sold through the state-owned monopoly, Systembolaget, open during normal shopping hours. Before 1300 on Sundays alcohol cannot be bought in bars, cafes or restaurants. After midnight alcohol can only be bought in nightclubs that stay open until between 0200-0500.

National specialties:
? Sm?rg?sbord (Scandinavian cold table. First pickled herring with boiled potatoes then perhaps a couple more fish courses, smoked salmon or anchovies followed by cold meat, p?t?, sliced beef, stuffed veal or smoked reindeer).
? K?ttbullar (small meatballs).
? Smoked reindeer from Lapland.
? Gravlax (salmon that has been specially prepared and marinated).
? Wild strawberries and cloudberries. National drinks:
? Snapps (a Swedish liqueur which is traditionally drunk chilled with sm?rg?sbord, flavors vary from practically tasteless to sweetly spiced). Minimum drinking age: 20 years, although alcohol can be consumed in bars from restaurants from 18 onwards. In a restaurant or a nightclub, the minimum age for buying alcoholic beverages is 18. Stiff penalties are enforced for drinking and driving.

Tipping:
Hotel prices include a service charge. Service in restaurants is not usually included in the bill; around 10 per cent should be added. Late at night the service charge is higher. Taxi drivers should be tipped around 10 per cent.

Nightlife
Stockholm has pubs, cafes, discos, restaurants, cinemas and theaters. In the more rural areas evenings tend to be tranquil. From August to June the Royal Ballet performs in Stockholm. Music and theater productions take place in many cities during the summer at open air venues. Outside Stockholm in the 18th-century Court Theater of the Palace of Drottningholm there are performances of 18th-century opera.
Entry departure requirements
Note (a) Sweden is a signatory to the 1995 Schengen Agreement. (b) Sweden does not recognize some Somali passports issued after 31st January 1991; check with Consulate or Consular section at Embassy for further details.
Visa immigration information
Passports
Passport valid for at least three months beyond length of stay required by all except:
(a) 1. EU/EEA nationals (EU + Iceland, Liechtenstein, Norway) and Swiss nationals holding a valid national ID card.
Note: EU and EEA nationals are only required to produce evidence of their EU/EEA nationality and identity in order to be admitted to any EU/EEA Member State. This evidence can take the form of a valid national passport or national identity card. Either is acceptable. Possession of a return ticket, any length of validity on their document, sufficient funds for the length of their proposed visit should not be imposed.
(b) 2. nationals of Denmark, Finland, Iceland and Norway, holding travel documents issued for travel between these countries.
Visas
Required by all except the following:
(a) nationals of the countries referred to in the chart and listed under passport exemptions above for stays of up to three months (based on individual circumstances);
(b) nationals of Andorra, Argentina, Bolivia, Brazil, Brunei, Bulgaria, Chile, Costa Rica, Croatia, El Salvador, Guatemala, Honduras, Hong Kong (SAR), Israel, Korea (Rep), Liechtenstein, Macau (SAR), Malaysia, Mexico, Monaco, New Zealand, Nicaragua, Panama, Paraguay, Romania, San Marino, Singapore, Switzerland, Uruguay and Venezuela for stays of up to three months;
(c) those continuing their journey, holding tickets with confirmed reservations and required travel documents, arriving and departing from/to a Schengen country and not leaving the transit area.
Note
A transit visa is required by nationals of the following countries (if holding a visa valid for less than three months): Afghanistan, Bangladesh, Congo (Dem Rep), Eritrea, Ethiopia, Ghana, India, Iran, Iraq, Nigeria, Pakistan, Somalia and Sri Lanka.
Validity
One to 90 days.
Types of visa and cost
US$43 (price is subject to change depending on the exchange rate). A uniform type of visa, the Schengen visa, is issued for tourist, business and private visits. Visa fees are non-refundable and payable on submission of the visa application.
Application to
Consulate (or Consular section at Embassy); see Passport/Visa Information. Travelers visiting just one Schengen country should apply to the Consulate of that country; travelers visiting more than one Schengen country should apply to the Consulate of the country chosen as the main destination or the country they will enter first (if they have no main destination).
Application requirements
(a) Valid passport with at least one blank page. (b) Two recent passport-size photos. (c) Fee, payable in cash or postal order (only if sent by post). (d) Completed, signed application form. (e) Proof of occupation/student status. (f) Proof of purpose of visit (invitation letter from Swedish company/friend for business visas/private-visit visas, or evidence of pre-booked hotel accommodation. (g) Stamped, registered, self-addressed envelope for return of passport. (h) Health insurance covering ?30,000, emergency treatment by a doctor, urgent ambulance transportation and transportation back to applicant's home. (i) Written consent from parents for minors. (j) Proof of means of support during stay may be required by some nationals. Transit: (a), (d) and (k) Copy of airline tickets.
Working days required
Seven to 60. However, applicants are advised to apply at least 30 days before the date of their intended departure.
Temporary residence
Enquire at Embassy.
HIV entry requirements
No Test Required
Departure tax
Embassies
Embassy of Sweden in the UK
11 Montagu Place, London W1H 2AN, UK
Tel: (020) 7917 6400.
Website: www.swedishabroad.com/london
Opening hours: Mon-Fri 0900-1200 and 1400-1500 (general enquiries); Mon-Fri 0900-1200 (visa applications).
Embassy of Sweden in the USA
1501 M Street, Suite 900, NW, Washington, DC 20005, USA
Tel: (202) 467 2600.
Website: www.swedenabroad.com/washington
Travel Advice
Most visits to Sweden are trouble-free but you should be aware of the global risk of indiscriminate international terrorist attacks, which could be against civilian targets, including places frequented by foreigners.
This advice is based on information provided by the Foreign, Commonwealth & Development Office in the UK. It is correct at time of publishing. As the situation can change rapidly, visitors are advised to contact the following organisaions for the latest travel advice.

Latest travel advice contacts:
British Foreign, Commonwealth & Development Office
Tel: (0845) 850 2829.
Website: https://www.gov.uk/foreign-travel-advice/sweden
US Department of State
Website: https://travel.state.gov/content/travel/en/international-travel/International-Travel-Country-Information-Pages/Sweden.html
Currency
Swedish Krona (SEK) = 100 ?re. Notes are in denominations of SEK1000, 500, 100, 50 and 20. Coins are in denominations of SEK10, 5, 2 and 1, and 50 ?re.
Currency restrictions
There are no restrictions on the import or export of local or foreign currency.
Banking hours
Mon-Wed and Fri 1000-1500, Thurs 1000-1600/1730. Some banks in larger cities have longer opening hours and are open at weekends.
Currency exchange
Currency can be converted at FOREX foreign exchange agencies; these are found in major cities, airports and ferry terminals etc. ATMs are widely available.
Credit cards
American Express, Diners Club, MasterCard and Visa are all widely accepted, as well as Eurocheque cards. Most shops and restaurants require ID when paying with a credit card. Check with your credit or debit card company for details of merchant acceptability and other facilities which may be available.
Travellers cheques
Widely accepted. A nominal fee is charged when paying with traveller's cheques. To avoid additional exchange rate charges, travelers are advised to take traveller's cheques in Euros, Pounds Sterling or US Dollars.
| City/Region | City/Area code | Followed by |
| --- | --- | --- |
| Alfta-Edsbyn | (0)271 | + 8 digit subscriber nr |
| Alings?s-V?rg?rda | (0)322 | + 8 digit subscriber nr |
| ?lmhult | (0)476 | + 8 digit subscriber nr |
| Alunda | (0)174 | + 8 digit subscriber nr |
| ?lvdalen | (0)251 | + 8 digit subscriber nr |
| Alvesta-Rydaholm | (0)472 | + 8 digit subscriber nr |
| ?lvsbyn | (0)929 | + 8 digit subscriber nr |
| ?m?l | (0)532 | + 8 digit subscriber nr |
| ?nge | (0)690 | + 8 digit subscriber nr |
| ?ngelholm-B?stad | (0)431 | + 8 digit subscriber nr |
| Arboga | (0)589 | + 8 digit subscriber nr |
| ?re-J?rpen | (0)647 | + 8 digit subscriber nr |
| ?rj?ng | (0)573 | + 8 digit subscriber nr |
| Arjeplog | (0)961 | + 8 digit subscriber nr |
| Arvidsjaur | (0)960 | + 8 digit subscriber nr |
| Arvika | (0)570 | + 8 digit subscriber nr |
| ?seda-Lenhovda | (0)474 | + 8 digit subscriber nr |
| ?sele | (0)941 | + 8 digit subscriber nr |
| Askersund | (0)583 | + 8 digit subscriber nr |
| ?tvidaberg | (0)120 | + 8 digit subscriber nr |
| Avesta-Krylbo | (0)226 | + 8 digit subscriber nr |
| Backe | (0)624 | + 8 digit subscriber nr |
| Bastutr?sk | (0)915 | + 8 digit subscriber nr |
| Bengtsfors | (0)531 | + 8 digit subscriber nr |
| Bergsj? | (0)652 | + 8 digit subscriber nr |
| Bj?rna | (0)662 | + 8 digit subscriber nr |
| Bjurholm | (0)932 | + 8 digit subscriber nr |
| Boden | (0)921 | + 8 digit subscriber nr |
| Bolln?s | (0)278 | + 8 digit subscriber nr |
| Bor?s | (0)33 | + 9 digit subscriber nr |
| Borl?nge | (0)243 | + 8 digit subscriber nr |
| Br?cke-G?ll? | (0)693 | + 8 digit subscriber nr |
| Bredbyn | (0)661 | + 8 digit subscriber nr |
| Burtr?sk | (0)914 | + 8 digit subscriber nr |
| Byske | (0)912 | + 8 digit subscriber nr |
| Charlottenberg - ?motfors | (0)571 | + 8 digit subscriber nr |
| Deje | (0)552 | + 8 digit subscriber nr |
| Delsbo | (0)653 | + 8 digit subscriber nr |
| Dorotea | (0)942 | + 8 digit subscriber nr |
| Ed | (0)534 | + 8 digit subscriber nr |
| Eksj? | (0)381 | + 8 digit subscriber nr |
| Emmaboda | (0)471 | + 8 digit subscriber nr |
| Enk?ping | (0)171 | + 8 digit subscriber nr |
| Eskilstuna-Torsh?lla | (0)16 | + 9 digit subscriber nr |
| Esl?v-H??r | (0)413 | + 8 digit subscriber nr |
| Fagersta-Norberg | (0)223 | + 8 digit subscriber nr |
| Falkenberg | (0)346 | + 8 digit subscriber nr |
| Falk?ping | (0)515 | + 8 digit subscriber nr |
| Falun | (0)23 | + 9 digit subscriber nr |
| F?rgelanda | (0)528 | + 8 digit subscriber nr |
| Filipstad | (0)590 | + 8 digit subscriber nr |
| Finsp?ng | (0)122 | + 8 digit subscriber nr |
| Fjugesta-Svart? | (0)585 | + 8 digit subscriber nr |
| Flen-Malmk?ping | (0)157 | + 8 digit subscriber nr |
| F?llinge | (0)645 | + 8 digit subscriber nr |
| Fredrika | (0)943 | + 8 digit subscriber nr |
| Furudal | (0)258 | + 8 digit subscriber nr |
| G?ddede | (0)672 | + 8 digit subscriber nr |
| Gagnef-Floda | (0)241 | + 8 digit subscriber nr |
| G?llivare | (0)970 | + 8 digit subscriber nr |
| Gamleby | (0)493 | + 8 digit subscriber nr |
| G?vle-Sandviken | (0)26 | + 9 digit subscriber nr |
| Gislaved-Anderstorp | (0)371 | + 8 digit subscriber nr |
| Gnesta | (0)158 | + 8 digit subscriber nr |
| G?teborg | (0)31 | + 9 digit subscriber nr |
| Gotland | (0)498 | + 8 digit subscriber nr |
| Gr?nna | (0)390 | + 8 digit subscriber nr |
| Gr?storp | (0)514 | + 8 digit subscriber nr |
| Grebbestad | (0)525 | + 8 digit subscriber nr |
| Grums | (0)555 | + 8 digit subscriber nr |
| Gullsp?ng | (0)551 | + 8 digit subscriber nr |
| Hagfors-Munkfors | (0)563 | + 8 digit subscriber nr |
| Hakkas | (0)975 | + 8 digit subscriber nr |
| H?llefors - Grythyttan | (0)591 | + 8 digit subscriber nr |
| Hallen-Oviken | (0)643 | + 8 digit subscriber nr |
| Hallsberg | (0)582 | + 8 digit subscriber nr |
| Hallstahammar-Surahammar | (0)220 | + 8 digit subscriber nr |
| Hallstavik-Rimbo | (0)175 | + 8 digit subscriber nr |
| Halmstad | (0)35 | + 9 digit subscriber nr |
| Hammarstrand | (0)696 | + 8 digit subscriber nr |
| Hammerdal | (0)644 | + 8 digit subscriber nr |
| Haparanda | (0)922 | + 8 digit subscriber nr |
| Harads | (0)928 | + 8 digit subscriber nr |
| H?rn?sand | (0)611 | + 8 digit subscriber nr |
| H?ssleholm | (0)451 | + 8 digit subscriber nr |
| Hede-Fun?sdalen | (0)684 | + 8 digit subscriber nr |
| Hedemora | (0)225 | + 8 digit subscriber nr |
| Hedesunda-?sterf?rnebo | (0)291 | + 8 digit subscriber nr |
| Helsingborg-H?gan?s | (0)42 | + 9 digit subscriber nr |
| Herrljunga | (0)513 | + 8 digit subscriber nr |
| Hind?s | (0)301 | + 8 digit subscriber nr |
| Hjo | (0)503 | + 8 digit subscriber nr |
| Hofors-Storvik | (0)290 | + 8 digit subscriber nr |
| H?rby | (0)415 | + 8 digit subscriber nr |
| Hoting | (0)671 | + 8 digit subscriber nr |
| Hudiksvall | (0)650 | + 8 digit subscriber nr |
| Hultsfred-Virserum | (0)495 | + 8 digit subscriber nr |
| Husum | (0)663 | + 8 digit subscriber nr |
| Hyltebruk-Torup | (0)345 | + 8 digit subscriber nr |
| Idre-S?rna | (0)253 | + 8 digit subscriber nr |
| Jokkmokk | (0)971 | + 8 digit subscriber nr |
| J?nk?ping-Huskvarna | (0)36 | + 9 digit subscriber nr |
| J?rn | (0)916 | + 8 digit subscriber nr |
| Junsele | (0)621 | + 8 digit subscriber nr |
| Kalix | (0)923 | + 8 digit subscriber nr |
| Kalmar | (0)480 | + 8 digit subscriber nr |
| Karlholmsbruk-Sk?rplinge | (0)294 | + 8 digit subscriber nr |
| Karlsborg | (0)505 | + 8 digit subscriber nr |
| Karlshamn-Olofstr?m | (0)454 | + 8 digit subscriber nr |
| Karlskoga-Degerfors | (0)586 | + 8 digit subscriber nr |
| Karlskrona | (0)455 | + 8 digit subscriber nr |
| Karlstad | (0)54 | + 9 digit subscriber nr |
| Katrineholm | (0)150 | + 8 digit subscriber nr |
| Kil | (0)554 | + 8 digit subscriber nr |
| Kinna | (0)320 | + 8 digit subscriber nr |
| Kiruna | (0)980 | + 8 digit subscriber nr |
| Kisa | (0)494 | + 8 digit subscriber nr |
| Klippan-Perstorp | (0)435 | + 8 digit subscriber nr |
| K?ping | (0)221 | + 8 digit subscriber nr |
| Kopparberg | (0)580 | + 8 digit subscriber nr |
| Korpilombolo | (0)977 | + 8 digit subscriber nr |
| Kramfors | (0)612 | + 8 digit subscriber nr |
| Kristianstad | (0)44 | + 9 digit subscriber nr |
| Kristinehamn | (0)550 | + 8 digit subscriber nr |
| Krokom | (0)640 | + 8 digit subscriber nr |
| Kung?lv | (0)303 | + 8 digit subscriber nr |
| Kungsbacka | (0)300 | + 8 digit subscriber nr |
| Kungs?r | (0)227 | + 8 digit subscriber nr |
| Laholm | (0)430 | + 8 digit subscriber nr |
| Lakatr?sk | (0)925 | + 8 digit subscriber nr |
| Landskrona-Sval?v | (0)418 | + 8 digit subscriber nr |
| Lax? | (0)584 | + 8 digit subscriber nr |
| Leksand-Insj?n | (0)247 | + 8 digit subscriber nr |
| Lerum | (0)302 | + 8 digit subscriber nr |
| Lessebo | (0)478 | + 8 digit subscriber nr |
| Liden | (0)692 | + 8 digit subscriber nr |
| Lidk?ping | (0)510 | + 8 digit subscriber nr |
| Lindesberg | (0)581 | + 8 digit subscriber nr |
| Link?ping | (0)13 | + 9 digit subscriber nr |
| Lit | (0)642 | + 8 digit subscriber nr |
| Ljungby | (0)372 | + 8 digit subscriber nr |
| Ljusdal | (0)651 | + 8 digit subscriber nr |
| Los | (0)657 | + 8 digit subscriber nr |
| L?v?nger | (0)913 | + 8 digit subscriber nr |
| Ludvika-Smedjebacken | (0)240 | + 8 digit subscriber nr |
| Lule? | (0)920 | + 8 digit subscriber nr |
| Lund | (0)46 | + 9 digit subscriber nr |
| Lycksele | (0)950 | + 8 digit subscriber nr |
| Lysekil | (0)523 | + 8 digit subscriber nr |
| Mal? | (0)953 | + 8 digit subscriber nr |
| Malm? | (0)40 | + 9 digit subscriber nr |
| Malung | (0)280 | + 8 digit subscriber nr |
| Mariannelund | (0)496 | + 8 digit subscriber nr |
| Mariefred | (0)159 | + 8 digit subscriber nr |
| Mariestad | (0)501 | + 8 digit subscriber nr |
| Markaryd-Str?msn?sbruk | (0)433 | + 8 digit subscriber nr |
| Mellerud | (0)530 | + 8 digit subscriber nr |
| Mj?lby | (0)142 | + 8 digit subscriber nr |
| Molkom | (0)553 | + 8 digit subscriber nr |
| M?nster?s | (0)499 | + 8 digit subscriber nr |
| Mora-Orsa | (0)250 | + 8 digit subscriber nr |
| Motala | (0)141 | + 8 digit subscriber nr |
| Mullsj? | (0)392 | + 8 digit subscriber nr |
| Munkedal | (0)524 | + 8 digit subscriber nr |
| N?s?ker | (0)622 | + 8 digit subscriber nr |
| N?ssj? | (0)380 | + 8 digit subscriber nr |
| Nora | (0)587 | + 8 digit subscriber nr |
| Nordmaling | (0)930 | + 8 digit subscriber nr |
| Norrk?ping | (0)11 | + 9 digit subscriber nr |
| Norrt?lje | (0)176 | + 8 digit subscriber nr |
| Norsj? | (0)918 | + 8 digit subscriber nr |
| Nybro | (0)481 | + 8 digit subscriber nr |
| Nyk?ping-Oxel?sund | (0)155 | + 8 digit subscriber nr |
| Ockelbo-Hamr?nge | (0)297 | + 8 digit subscriber nr |
| ?desh?g | (0)144 | + 8 digit subscriber nr |
| ?land | (0)485 | + 8 digit subscriber nr |
| ?rbyhus-Dannemora | (0)295 | + 8 digit subscriber nr |
| ?rebro | (0)19 | + 9 digit subscriber nr |
| ?regrund-?sthammar | (0)173 | + 8 digit subscriber nr |
| ?rnsk?ldsvik | (0)660 | + 8 digit subscriber nr |
| Orust-Tj?rn | (0)304 | + 8 digit subscriber nr |
| Osby | (0)479 | + 8 digit subscriber nr |
| Oskarshamn-H?gsby | (0)491 | + 8 digit subscriber nr |
| ?stersund | (0)63 | + 9 digit subscriber nr |
| ?verkalix | (0)926 | + 8 digit subscriber nr |
| ?vertorne? | (0)927 | + 8 digit subscriber nr |
| Pajala | (0)978 | + 8 digit subscriber nr |
| Pite? | (0)911 | + 8 digit subscriber nr |
| Porjus | (0)973 | + 8 digit subscriber nr |
| Ramsele | (0)623 | + 8 digit subscriber nr |
| R?ne? | (0)924 | + 8 digit subscriber nr |
| R?tan | (0)682 | + 8 digit subscriber nr |
| R?ttvik | (0)248 | + 8 digit subscriber nr |
| Robertsfors | (0)934 | + 8 digit subscriber nr |
| Ronneby | (0)457 | + 8 digit subscriber nr |
| Ryd | (0)459 | + 8 digit subscriber nr |
| S?ffle | (0)533 | + 8 digit subscriber nr |
| Sala-Heby | (0)224 | + 8 digit subscriber nr |
| S?vsj? | (0)382 | + 8 digit subscriber nr |
| Simrishamn | (0)414 | + 8 digit subscriber nr |
| Sj?bo | (0)416 | + 8 digit subscriber nr |
| Skara-G?tene | (0)511 | + 8 digit subscriber nr |
| Skellefte? | (0)910 | + 8 digit subscriber nr |
| Skinnskatteberg | (0)222 | + 8 digit subscriber nr |
| Sk?vde | (0)500 | + 8 digit subscriber nr |
| S?derhamn | (0)270 | + 8 digit subscriber nr |
| S?derk?ping | (0)121 | + 8 digit subscriber nr |
| Sollefte? | (0)620 | + 8 digit subscriber nr |
| S?lvesborg-Brom?lla | (0)456 | + 8 digit subscriber nr |
| Sorsele | (0)952 | + 8 digit subscriber nr |
| Stockholm | (0)8 | + 7/10 digit subscriber nr |
| Storuman | (0)951 | + 8 digit subscriber nr |
| Str?ngn?s | (0)152 | + 8 digit subscriber nr |
| Str?mstad | (0)526 | + 8 digit subscriber nr |
| Str?msund | (0)670 | + 8 digit subscriber nr |
| Stugun | (0)695 | + 8 digit subscriber nr |
| Sundsvall-Timr? | (0)60 | + 9 digit subscriber nr |
| Sunne | (0)565 | + 8 digit subscriber nr |
| Sv?rdsj?-Enviken | (0)246 | + 8 digit subscriber nr |
| Sveg | (0)680 | + 8 digit subscriber nr |
| Svenljunga-Tranemo | (0)325 | + 8 digit subscriber nr |
| Svenstavik | (0)687 | + 8 digit subscriber nr |
| Syssleb?ck | (0)564 | + 8 digit subscriber nr |
| T?rnaby | (0)954 | + 8 digit subscriber nr |
| T?rnsj?-?sterv?la | (0)292 | + 8 digit subscriber nr |
| Tibro | (0)504 | + 8 digit subscriber nr |
| Tidaholm | (0)502 | + 8 digit subscriber nr |
| Tierp-S?derfors | (0)293 | + 8 digit subscriber nr |
| Tingsryd | (0)477 | + 8 digit subscriber nr |
| Tomelilla | (0)417 | + 8 digit subscriber nr |
| T?reboda-Hova | (0)506 | + 8 digit subscriber nr |
| Torpshammar | (0)691 | + 8 digit subscriber nr |
| Tors?s | (0)486 | + 8 digit subscriber nr |
| Torsby | (0)560 | + 8 digit subscriber nr |
| Tran?s | (0)140 | + 8 digit subscriber nr |
| Trelleborg | (0)410 | + 8 digit subscriber nr |
| Trollh?ttan | (0)520 | + 8 digit subscriber nr |
| Trosa-Vagnh?rad | (0)156 | + 8 digit subscriber nr |
| Uddevalla | (0)522 | + 8 digit subscriber nr |
| Ull?nger | (0)613 | + 8 digit subscriber nr |
| Ulricehamn | (0)321 | + 8 digit subscriber nr |
| Ume? | (0)90 | + 9 digit subscriber nr |
| Uppsala | (0)18 | + 9 digit subscriber nr |
| Vadstena | (0)143 | + 8 digit subscriber nr |
| Vaggeryd | (0)393 | + 8 digit subscriber nr |
| Valdemarsvik | (0)123 | + 8 digit subscriber nr |
| V?nersborg | (0)521 | + 8 digit subscriber nr |
| V?nn?s | (0)935 | + 8 digit subscriber nr |
| Vansbro | (0)281 | + 8 digit subscriber nr |
| Vara-Nossebro | (0)512 | + 8 digit subscriber nr |
| Varberg | (0)340 | + 8 digit subscriber nr |
| V?rnamo | (0)370 | + 8 digit subscriber nr |
| V?ster?s | (0)21 | + 9 digit subscriber nr |
| V?stervik | (0)490 | + 8 digit subscriber nr |
| V?xj? | (0)470 | + 8 digit subscriber nr |
| Vetlanda | (0)383 | + 8 digit subscriber nr |
| Vikbolandet | (0)125 | + 8 digit subscriber nr |
| Vilhelmina | (0)940 | + 8 digit subscriber nr |
| Vimmerby | (0)492 | + 8 digit subscriber nr |
| Vindeln | (0)933 | + 8 digit subscriber nr |
| Ving?ker | (0)151 | + 8 digit subscriber nr |
| Vittangi | (0)981 | + 8 digit subscriber nr |
| Vuollerim | (0)976 | + 8 digit subscriber nr |
| Ystad | (0)411 | + 8 digit subscriber nr |