Quick Facts
Region: South America
Full Name: Suriname
Capital City: Paramaribo
Language Spoken: Dutch (official), English (widely spoken), Sranang Tongo (Surinamese, sometimes called Taki-Taki, is native language of Creoles and much of the younger population and is lingua franca among others), Hindustani (a dialect of Hindi), Javanese
Suriname Travel Insurance
Get travel insurance to Suriname from Direct Travel Insurance. We offer low cost and high quality travel insurance to Suriname and most of the world.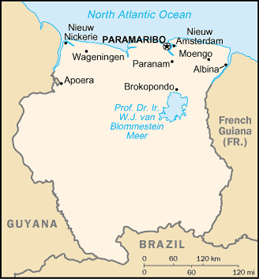 Geographic data
4 00 N, 56 00 W
Elevation Extremes
lowest point: unnamed location in the coastal plain -2 m highest point: Juliana Top 1,230 m
Land boundaries
total: 1,703 km border countries: Brazil 593 km, French Guiana 510 km, Guyana 600 km
Natural hazards
NA
Natural resources
timber, hydropower, fish, kaolin, shrimp, bauxite, gold, and small amounts of nickel, copper, platinum, iron ore
Land use
arable land: 0.36% permanent crops: 0.06% other: 99.58% (2005)
Environmental current issues
deforestation as timber is cut for export; pollution of inland waterways by small-scale mining activities
Climate
Tropical and humid, cooled by the northeast trade winds. The best time to visit is February to April (short dry season) and August to October (long dry season). The rainy seasons last from November to January and from May to July. Surinam lies outside the hurricane zone and the most extreme weather condition is the sibibusi (forest broom), a heavy rain shower. Required clothing Lightweights and rainwear.
Time difference
time difference: UTC-3
Population
439,117 (July 2006 est.)
Age structure
0-14 years: 29% (male 65,412/female 62,069) 15-64 years: 64.7% (male 145,913/female 138,076) 65 years and over: 6.3% (male 12,223/female 15,424) (2006 est.)
Median age
total: 26.5 years male: 26 years female: 26.9 years (2006 est.)
Population growth rate
0.2% (2006 est.)
Birth rate
18.02 births/1,000 population (2006 est.)
Death rate
7.27 deaths/1,000 population (2006 est.)
Net migration rate
-0.25 migrant(s)/1,000 population (2006 est.)
Sex ratio
at birth: 1.05 male(s)/female under 15 years: 1.05 male(s)/female 15-64 years: 1.06 male(s)/female 65 years and over: 0.79 male(s)/female total population: 1.04 male(s)/female (2006 est.)
Life expectancy at birth
total population: 69.01 years male: 66.66 years female: 71.47 years (2006 est.)
Total fertility rate
2.32 children born/woman (2006 est.)
Business Practices
Business suits are worn, but due to the topical climate, casual clothing is acceptable at most business meetings (except those with senior government officials). Meetings with government officials are best arranged in the morning. Business entertainment largely takes place at dinners and cocktail parties. Business lunches do take place, but are not common. Working breakfasts are rare. Surinamers prefer establishing a comfortable working relationship first, as opposed to directly tackling business. Given the consensual nature of the Surinamese government, there is often a lengthy consultation process before a decision is reached. Office hours are typically 0700-1500 Monday to Friday and 0700-1430 Saturday.
Crime
As in many capital cities, burglary, armed robbery and violent crime exist in Paramaribo and in outlying areas. Crimes against people and property do occur regularly. Foreigners in general are viewed as targets of opportunity, but there has been no specific targeting of foreign visitors. While travel to the interior is generally trouble-free, there have been reports of tourists being robbed. Travelers proceeding to the interior are advised to make use of well-established tour companies for safer experiences. While there have been few reports of criminal incidents in the vicinities of the major hotels used by tourists, night walks outside the immediate vicinity of the hotels are not recommended. Visitors should avoid the Palm Garden or "Palmentuin" in the Dutch area after dark. It has no police presence and is commonly used for illicit activity. Pick-pocketing and robbery are on the rise in the major business and shopping districts in Paramaribo. Avoid wearing expensive jewelry or displaying large amounts of money in public. Make every attempt to change currency at hotels, local banks, or official money exchanges or "cambios". Do not exchanging currency on the street, as this is both dangerous and illegal. Theft from vehicles is infrequent, but does occur, especially in areas near the business district. Drivers are cautioned not to leave packages and other belongings in the vehicle in plain view. When driving, keep windows and doors locked. For safety reasons, use of public mini-buses is strongly discouraged. There is an emergency number, "115", for police, fire and rescue. Fire and rescue services provide a relatively timely response, but police response, especially during night-time hours, is a rarity for all but the most serious of crimes. There have been attacks on vehicles in the district of Marowijne, between the towns of Moengo and Albina; as a result, the Police Task Force has set up roadblocks on this road.
Hotels
Paramaribo has a number of modern hotels with air-conditioning, but advance booking is essential due to the limited number of beds. Business travelers usually stay in one of two hotels in Paramaribo, the Hotel Torarica (tel (597) 471-500, fax (597) 411-682) or the Hotel Krasnapolsky (tel (597)475-050). At the Torarica, payment may be made by travelers check, cash or Diner's Club Card. Other credit cards are not accepted. Major credit cards are not widely accepted outside of the major hotels, nor are ATM cash machines widely available. Travelers should contact their intended hotel to confirm that credit cards are accepted.
Communications
Telephone IDD service is available in the country. The country code is 597 and the outgoing international code is 001. There are no area codes. Telephone and fax connections are generally good. Suriname is part of AT&T's world connect service and USA direct. In addition, a number of callback companies have recently been established in Suriname. Internet access is possible via the state telephone company, Telesur, and through several private companies. Electricity is a 110/220 volts AC, 60Hz. European round 2-pin plugs and screw-type lamp fittings are in use.
Electricity
127 volts AC, 60Hz. European round two-pin plugs and screw-type lamp fittings are in use.
Plug Types
C,F
Food And Dining
Owing to the diverse ethnic mixture of the population, Surinam offers a good variety of dishes including American, Chinese, Creole, European, Indian and Indonesian. Indonesian dishes are recommended, usually rijsttafel with rice (boiled or fried) and a number of spicy meat and vegetable side dishes, nasi goreng (Indonesian fried rice) and bami goreng (Indonesian fried noodles). Creole dishes include pom (ground tayer roots and poultry), pastei (chicken pie with various vegetables) and peanut soup. Indian dishes, such as roti (dough pancake) served with curried chicken and potatoes, and Chinese dishes, such as chow-mein and chop suey, are excellent. Moksi meti (various meats served on rice) is a local favorite.
Local drinks include the Indonesian Dawet (a coconut drink), Gemberbier (Creole ginger drink) and Pilsener Parbo Bier. There are some restaurants in Niew-Nickerie and Paramaribo, but they tend to be scarce outside the capital.
Tipping:
Hotels include 10 to 15 per cent service charge and restaurants may also add 10 per cent to the bill.
Nightlife:
There are several nightclubs in Paramaribo, often attached to a hotel, with live music and dancing. There are also a number of discos and several cinemas, including a drive-in. In general, it is best to stick to the hotels unless accompanied by locals who know the reputations of other nightspots, in particular those out of the town center. The Local Events Bulletin lists all current activities and is usually available in hotels.
Entry departure requirements
* Please see visa section Visa immigration information
Passports
Passport valid for at least six months after arrival required by all.
Visas
Required by all except the following:
(a) nationals of Antigua & Barbuda, Barbados, Belize, Brazil, Chile, Costa Rica, Dominica, Ecuador, The Gambia, Grenada, Guyana, Hong Kong (SAR), Israel, Jamaica, Japan, Korea (Rep), Malaysia, Netherlands Antilles (holding valid Netherlands passports), The Philippines, St Kitts & Nevis, St Lucia, St Vincent & the Grenadines, Singapore, Switzerland and Trinidad & Tobago;
(b) transit passengers continuing their journey by the same or first connecting aircraft within 24 hours, provided holding onward or return documentation and not leaving the airport.
Note: Nationals staying for more than 24 hours need to get a transit visa on arrival at the airport.
Types of visa and cost
Single-entry Tourist: US$30 (two months). Multiple-entry Tourist: US$60 (three to four months); US$90 (six months); US$175 (12 months). Business: US$45 (one month). Multiple-entry Business: US$90 (two months); US$270 (six months); US$540 (12 months).
Validity
Visas are usually for stays of up to three months, but check with the Consulate, as this is dependent on nationality. Extensions for a further three months are possible; apply at the Immigration Office in Uruguay.
Application to
Single-entry: two months; multiple-entry: up to one year.
Application requirements
(a) One completed, printed or typed, signed application form. (b) One current passport-size photo (in color and current, no three-minute photos; for children with no individual passport, a color photograph should be attached to the application form of the passport holder and their visa must also be paid for). (c) Valid passport. (d) Fee. (e) Self-addressed, stamped envelope with return postage for postal applications. (f) Photocopy of valid return ticket, if applicable. (g) For business trips, letter of invitation from company detailing purpose of trip, name of institute visited with contact details, plus approximate duration of stay, a completed business form and a guarantee or letter of reference.
Note: After arrival in Surinam, visitors are required to report to the Immigration Service within eight days at Police Precinct Nieuwe Haven, Van't Hogerhuysstraat, Paramaribo.
Working days required
At least one week before departure and no earlier than eight weeks. Applicants are encouraged to apply with plenty of time in case the application merits further scrutiny from official bodies. However, some applications may only take one day to be processed if a rush fee is paid of US$50, or equivalent. .
HIV entry requirements
No Test Required
Departure tax
US$35. Transit passengers and children under two years of age are exempt.
Embassies
Honorary Consulate UK
127 Pier House, 31 Cheyne Walk, London SE3 5HG
Website:http://www.honoraryconsul.info/
Embassy of the Republic of Surinam in the USA
4301 Connecticut Avenue, Suite 460, NW, Washington, DC 20008, USA
Tel: (202) 244 7488 or 244 7590/1/2.
Website: www.surinameembassy.org
Travel Advice
Most visits to Surinam are trouble-free but you should be aware of the global risk of indiscriminate international terrorist attacks, which could be against civilian targets, including places frequented by foreigners.
Burglary, armed robbery and violent crime occur with some frequency in Paramaribo and in outlying areas.
This advice is based on information provided by the Foreign, Commonwealth & Development Office in the UK. It is correct at time of publishing. As the situation can change rapidly, visitors are advised to contact the following organizations for the latest travel advice:
British Foreign, Commonwealth & Development Office
Tel: (0845) 850 2829.
Website: https://www.gov.uk/foreign-travel-advice/suriname
US Department of State
Website: https://travel.state.gov/content/travel/en/international-travel/International-Travel-Country-Information-Pages/Suriname.html
Currency
Surinam Dollar (SRD; symbol S$) = 100 cents. Notes are in denominations of S$100, 50, 20, 10 and 5. Coins are in denominations of 250, 100, 25, 10, 5 and 1 cents. Note: On 1 January 2004, the Surinam Dollar replaced the Surinam Guilder as the new monetary system. The new currency will enable the Central Bank to re-value the present gulden system to a ratio of 1000 guldens per 1 Surinam Dollar, and not have to differentiate between old and new guldens. The existing gulden coins will not have to be re-issued but will maintain their value and be incorporated into the new system. Surinam Dollars are tied to US Dollars. Old The government has kept the SRD exchange rate relatively stable since its inception, at around 2.7 SRD per U.S. dollar. Surinamese bank notes can only be exchanged at the Central Bank. (Formerly, the monetary system in Surinam was: Surinam Guilder (SG) = 100 cents. Notes are in denominations of SG25,000, 10,000, 5000, 2000, 1000, 100, 25, 10 and 5. Coins are in denominations of 25, 10 and 5 cents.)
Currency restrictions
The import of foreign and local currency is unlimited, provided amounts in excess of US$10,000 are declared on arrival. On departure, the imported foreign currency can be exported again, up to the amount declared on arrival. The export of local currency is limited to SRD$1000.
Banking hours
Mon-Fri 0730-1400.
Currency exchange
Surinam Dollars are the only legal tender; since the introduction of the new monetary system from the former gulden system, gulden coins are still in circulation, however they have been re-valued to a ratio of 1000 guldens per 1 Surinam Dollar. The Central Bank is authorized to exchange money.
Credit cards
American Express and MasterCard are the most widely accepted credit cards; Diners Club has limited acceptance. Check with your credit or debit card company for merchant acceptability and other facilities which may be available.
Travellers cheques
Must be changed at banks. To avoid additional exchange rate charges, travellers are advised to take travellers cheques in Pounds Sterling or US Dollars.
| City/Region | City/Area code | Followed by |
| --- | --- | --- |
| Central and East Suriname | (0)3 | + 5 digits |
| Paramaribo | (0)4 | + 5 digits |
| West Suriname | (0)2 | + 5 digits |