Region: Asia & Oceania
Full Name: Solomon Islands
Capital City: Honiara
Language Spoken: Melanesian pidgin in much of the country is lingua franca; English is official but spoken by only 1%-2% of the population note: 120 indigenous languages
Solomon Islands Travel Insurance
Get travel insurance to Solomon Islands from Direct Travel Insurance. We offer low cost and high quality travel insurance to Solomon Islands and most of the world.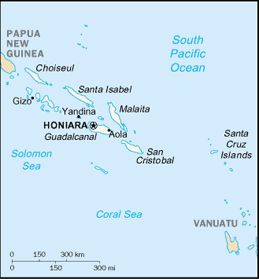 Geographic data
8 00 S, 159 00 E
Elevation Extremes
lowest point: Pacific Ocean 0 m highest point: Mount Makarakomburu 2,447 m
Land boundaries
0 km
Natural hazards
typhoons, but rarely destructive; geologically active region with frequent earth tremors; volcanic activity
Natural resources
fish, forests, gold, bauxite, phosphates, lead, zinc, nickel
Land use
arable land: 0.62% permanent crops: 2.04% other: 97.34% (2005)
Environmental current issues
deforestation; soil erosion; many of the surrounding coral reefs are dead or dying
Climate
Semi-tropical, mainly hot and humid, with little annual variation in temperature. The wet season (November to April) can bring severe tropical storms. Required clothing Tropical, lightweights and cottons are recommended. Rainwear from November to April.
Time difference
time difference: UTC+11
Population
552,438 (July 2006 est.)
Age structure
0-14 years: 41.3% (male 116,370/female 111,834) 15-64 years: 55.4% (male 154,793/female 151,308) 65 years and over: 3.3% (male 8,696/female 9,437) (2006 est.)
Median age
total: 18.9 years male: 18.7 years female: 19 years (2006 est.)
Population growth rate
2.61% (2006 est.)
Birth rate
30.01 births/1,000 population (2006 est.)
Death rate
3.92 deaths/1,000 population (2006 est.)
Net migration rate
0 migrant(s)/1,000 population (2006 est.)
Sex ratio
at birth: 1.05 male(s)/female under 15 years: 1.04 male(s)/female 15-64 years: 1.02 male(s)/female 65 years and over: 0.92 male(s)/female total population: 1.03 male(s)/female (2006 est.)
Life expectancy at birth
total population: 72.91 years male: 70.4 years female: 75.55 years (2006 est.)
Total fertility rate
3.91 children born/woman (2006 est.)
Business Practices
Dress for business meetings is typically casual (though modest) and a shirt and trousers or skirt will suffice. English and French are widely spoken in business circles. Office hours are 0800-1200 and 1300-1630 Monday to Friday, 0730-1200 Saturday.
Crime
There are still some guns held illegally in the community and a consequent risk of armed robberies and intimidation. A number of former militants operate personal ?fiefdoms? with armed followers. Some militant groups split and engaged in internecine conflict; some others pursued criminal activities. This has contributed to a general climate of lawlessness and criminal violence, particularly in Honiara, elsewhere on Guadalcanal, and on Malaita. There was an increase in criminal activity in Honiara in September 2006, including reports of robbery and rape. There has also been an increase in armed gang violence, particularly in the vicinity of the Burns Creek area in East Honiara including the Ranandi industrial center. Crime goes up after dark. The Royal Solomon Islands Police Force has limited resources and response times to calls for assistance are likely to be slow. Swearing is a crime and can lead to large compensation claims and even jail.
Hotels
There are only six hotels in Honiara. Visitors are advised to make advance reservations. The Tavanipupu Island Resort in the Marau Sound (Guadalcanal) is accessible by air and sea. Accommodation is also available in the Reef Islands, Western Solomons and Malaita.
Communications
Telephone IDD service is available. Country code: 677. Outgoing international code: 00. There are no area codes. Solomon Telekom provides fax services at its offices in Honiara, though introduction elsewhere has been gradual and only some hotels have facilities. The Main Post Office in Honiara is open 0900-1630 Monday to Friday; 0900-1100 Saturday. Other post office opening hours are 0800-1630 Monday to Friday; 0800-1200 Saturday.
Electricity
is 240 volts AC, 50Hz. Australian-type flat 3-pin plugs are in use. Electricity 230/240 volts AC, 50Hz. Australian-type flat three-pin plugs are in use.
Plug Types
Food And Dining
There are a few restaurants outside the hotels in Honaria. Both Asian and European food is served and the cuisine is generally good. There are two Chinese restaurants in Honiara which are quite popular. Table service is normal. Spirits, wine and beer are available.

National specialties:
? Tapioca pudding.
? Taro roots with taro leaves.

Tipping:
There is no tipping on the Solomon Islands and visitors are requested to honor this local custom.

Nightlife
Honiara is a comparatively quiet town, although there are a few clubs with music and dancing, the occasional film show, and snooker and darts. The clubs offer temporary membership to visitors.
Entry departure requirements
Visa immigration information
Passports
Passport valid for at least six months required by all except nationals of Hong Kong (SAR) with a document of identity.
Visas
A Visitor?s Permit will be issued to most nationals on arrival at the airport (including those listed in the chart above). The permit allows stays of up to three months and the cost of the permit varies according to nationality.
Note
Visitors from the following countries need clearance from the Immigration Department and are required to give prior notice in order to obtain a visitor?s permit:
(a) all African countries;
(b) all CIS countries (except Belarus);
(c) nationals of Afghanistan, Albania, Angola, Bahrain, Bangladesh, Benin, Bhutan, Bolivia, Bosnia & Herzegovina, Botswana, Bulgaria, Burkina Faso, Cambodia, Cameroon, Cape Verde, Chad, China (PR), Colombia, Comoros Islands, Congo (Dem Rep), Congo (Rep), Costa Rica, C?te d?Ivoire, Croatia, Cuba, Cyprus, Ecuador, El Salvador, Estonia, Guatemala, Haiti, Honduras, India, Indonesia, Iran, Iraq, Jamaica, Jordan, Korea (Dem Rep), Laos, Latvia, Lebanon, Lithuania, Macedonia (Former Yugoslav Republic of), Madagascar, Mauritius, Mexico, Mongolia, Myanmar, Nepal, Nicaragua, Oman, Pakistan, Panama, The Philippines, Qatar, Romania, Saudi Arabia, Seychelles, Sri Lanka, Syrian Arab Republic, Turkey, United Arab Emirates, Venezuela, Vietnam and Yemen.
Application to
Nearest Solomon Islands Consulate, High Commission or Embassy or Principal/Director of Immigration, Ministry of Commerce, Foreign Affairs and Tourism, PO Box G26, Honiara (e-mail: immigration@commerce.gov.sb).
Application requirements
All visitors: (a) Valid passport. (b) Onward or return tickets. (c) Proof of sufficient funds for the duration of stay. Visitors requiring prior clearance: (a)-(c) and, (d) Photocopy of passport. (e) Details of itinerary. (f) Reason for visit.
Working days required
Apply well in advance.
Temporary residence
Apply to the Labor Division, Ministry of Commerce, Foreign Affairs and Tourism (see address above).
HIV entry requirements
No Test Required
Departure tax
SI$40. Transit passengers and children under two years are exempt.
Embassies
Permanent Mission of the Solomon Islands to the United Nations in the USA
Suite 400L, 800 2nd Avenue, New York, NY 10017, USA
Tel: (212) 599 6192.
Website: https://www.un.int/solomonislands/

Most visits to the Solomon Islands are trouble-free, but you should be aware of the global risk of indiscriminate terrorist attacks which could be against civilian targets, including places frequented by foreigners.
The Solomon Islands is in the Pacific ?Ring of Fire? and subject to earthquakes.
This advice is based on information provided by the Foreign, Commonwealth & Development Office in the UK. It is correct at time of publishing. As the situation can change rapidly, visitors are advised to contact the following organizations for the latest travel advice:
British Foreign, Commonwealth & Development Office
Tel: (0845) 850 2829.
Website: https://www.gov.uk/foreign-travel-advice/solomon-islands
US Department of State
Website: https://travel.state.gov/content/travel/en/international-travel/International-Travel-Country-Information-Pages/SolomonIslands.html
Currency
Solomon Islands Dollar (SBD; symbol SI$) = 100 cents. Notes are in denominations of SI$50, 20, 10, 5 and 2. Coins are in denominations of SI$1, and 50, 20, 10, 5, 2 and 1 cents.
Currency restrictions
The import of local and foreign currency is unlimited provided declared on arrival. The export of local currency is limited to SI$250; the export of foreign currency is limited to the extent approved by the Solomon Islands' Monetary Authority.
Banking hours
Mon-Fri 0830-1500.
Currency exchange
Money can be changed at banks, bureaux de change, some hotels, and larger shops and restaurants. Automated foreign exchange machines and three ATMs are available in Honiara.
Credit cards
All major credit cards are widely accepted in hotels and tourist resorts. Check with your credit, or debit, card company for details of merchant acceptability and other facilities which may be available.
Travellers cheques
Can be exchanged at banks, of which there are three in the major towns. To avoid additional exchange rate charges, travelers are advised to take traveller's cheques in Australian Dollars or Pounds Sterling.
| City/Region | City/Area code | Followed by |
| --- | --- | --- |
| Atoifi | 411 | + 2 digits |
| Auki | 40 | + 3 digits |
| Buala | 35 | + 3 digits |
| Gizo | 60 | + 3 digits |
| Henderson | 36 | + 3 digits |
| Honiara | 29 | + 3 digits |
| KGVI | 39 | + 3 digits |
| Kira Kira | 50 | + 3 digits |
| Kiu | 414 | + 2 digits |
| Lata | 53 | + 3 digits |
| Malu'u | 413 | + 2 digits |
| Munda | 62 | + 3 digits |
| Noro | 61 | + 3 digits |
| Taro | 63 | + 3 digits |
| Tigoa | 52 | + 3 digits |
| Tulagi | 32 | + 3 digits |
| Yandina | 412 | + 2 digits |