Quick Facts
Region: Middle East
Full Name: Kingdom of Saudi Arabia
Capital City: Riyadh
Language Spoken: Arabic

Saudi Arabia Travel Insurance
Get travel insurance to Saudi Arabia from Direct Travel Insurance. We offer low cost and high quality travel insurance to Saudi Arabia and most of the world.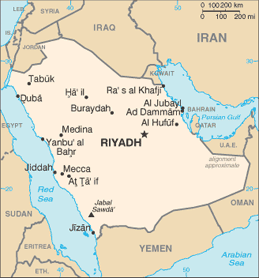 Geographic data
25 00 N, 45 00 E
Elevation Extremes
lowest point: Persian Gulf 0 m highest point: Jabal Sawda' 3,133 m
Land boundaries
total: 4,431 km border countries: Iraq 814 km, Jordan 744 km, Kuwait 222 km, Oman 676 km, Qatar 60 km, UAE 457 km, Yemen 1,458 km
Natural hazards
frequent sand and dust storms
Natural resources
petroleum, natural gas, iron ore, gold, copper
Land use
arable land: 1.67% permanent crops: 0.09% other: 98.24% (2005)
Environmental current issues
desertification; depletion of underground water resources; the lack of perennial rivers or permanent water bodies has prompted the development of extensive seawater desalination facilities; coastal pollution from oil spills
Climate
Saudi Arabia has a desert climate. In Jeddah it is warm for most of the year. Riyadh, which is inland, is hotter in summer and colder in winter, when occasional heavy rainstorms occur. The Rub al Khali (?empty Quarter?) seldom receives rain, making Saudi Arabia one of the driest countries in the world.\nRequired clothing\nTropical or lightweight clothing.
Time difference
time difference: UTC+3
Population
27,019,731 note: includes 5,576,076 non-nationals (July 2006 est.)
Age structure
0-14 years: 38.2% (male 5,261,530/female 5,059,041) 15-64 years: 59.4% (male 9,159,519/female 6,895,616) 65 years and over: 2.4% (male 342,020/female 302,005) (2006 est.)
Median age
total: 21.4 years male: 22.9 years female: 19.4 years (2006 est.)
Population growth rate
2.18% (2006 est.)
Birth rate
29.34 births/1,000 population (2006 est.)
Death rate
2.58 deaths/1,000 population (2006 est.)
Net migration rate
-4.94 migrant(s)/1,000 population (2006 est.)
Sex ratio
at birth: 1.05 male(s)/female under 15 years: 1.04 male(s)/female 15-64 years: 1.33 male(s)/female 65 years and over: 1.13 male(s)/female total population: 1.2 male(s)/female (2006 est.)
Life expectancy at birth
total population: 75.67 years male: 73.66 years female: 77.78 years (2006 est.)
Total fertility rate
4 children born/woman (2006 est.)
Business Practices
Men should wear suits for business meetings and formal social occasions. Appointments are necessary. Visiting cards printed in English with an Arab translation are usually exchanged. The official language of Saudi Arabia is Arabic, but English is widely used in business and on signs and notices, making it easy for the non-Arabic speaker to live and work in the Kingdom. Modern Saudi Arabia has adopted many of the business methods and styles of the West, but some differences remain. Most important is that business will only be conducted after a degree of trust and familiarity has been established. Considerable time may be spent exchanging courtesies, and several visits may be needed to secure business. Business visitors should arrange their itineraries to allow for long meetings, as traditional Saudis often maintain an "open office" in which they will sign papers, take telephone calls, and converse with friends or colleagues who drop by. Tea, soft drinks, and traditional Saudi coffee are usually offered. One to three cups of Saudi coffee should be taken for politeness, after which the cup should be wiggled between thumb and forefinger when returning it to the server to indicate that you have finished. Office hours are typically 0900-1300 and 1630-2000 Saturday to Thursday (Ramadan 2000-0100), with some regional variation (eg Dhahran offices: 0700-1130 and 1300-1430 Saturday to Wednesday). Government office hours are 0730-1430 Saturday to Wednesday. Saudi companies usually close for two hours in the afternoon and remain open through the early evening. Note: Prior to the execution of a final contract, some business persons and contract employees of Saudi companies have obtained an independent translation of the Arabic-language contract, to ensure a full understanding of all terms, limits and agreements, because the Arabic version usually governs under Saudi law. Settlement of disputes depends on the type of agreement and the agency involved. If the Saudi party in a business dispute files a complaint with the Saudi authorities, Saudi law permits barring the exit of the foreign party from the country until the dispute is settled. Travelers to Saudi Arabia should note that there is evidence that hotel rooms have been monitored in Saudi Arabia and should be discreet in discussing sensitive business matters.
Crime
Crime is generally not a problem for travelers in Saudi Arabia. However, private Saudi citizens who perceive that conservative standards of conduct are not being observed by a foreigner may harass, pursue, or assault the person. The occasional burglary is the only common criminal activity that occurs in the kingdom that is likely to affect expatriates, and is usually traced back to household help or temporary workers who have been in the house recently. Assault and robberies are extremely rare. Nevertheless, serious crime in Saudi Arabia does occur from time to time as Saudis and foreign workers have been beheaded for rape and other major crimes. Civil unrest and disorder in this tightly regulated society are virtually unknown. If you should need to contact the police, they can be reached at 999. However, the caller should have an Arabic speaker available to translate, as English skills among the rank and file police officers are rare.
Hotels
Four and five star hotel accommodations are readily available in the major business centers, and many of the better restaurants are located in the hotels. Accommodation is generally easy to find, except during the pilgrim season when advance reservations are recommended. Housing for expatriate employees residing in the Kingdom is usually provided by the employer or through a housing allowance given to the employee. The major cities offer a wide variety of houses and apartments for rents considered high by U.S. metropolitan standards. Most Western expatriates live in housing compounds that provide additional services such as cable television, recreation facilities, childcare, limousine services for women (who are not allowed to drive in the Kingdom), and security.
Communications
A sophisticated telecommunications network and satellite, microwave and cable systems span the country. Full telephone IDD service is available. The country code is 966 and the outgoing international code is 00. Major hotels provide fax facilities. Modern communication facilities are available including telephone, fax, telex, and courier services. In addition, a number of agreements have already been signed between various U.S. Internet service providers and Saudi companies to launch the service in Saudi Arabia. Use of private satellite communication transponders is not allowed. Facsimile machines are heavily utilized in the conduct of business. A cellular phone system based on the GSM standard is operational, while radiophones are restricted. The Government is embarking on a large-scale telecommunication upgrade program, and the shortage is expected to be resolved by the end of 2002.
Electricity
is 125/215 volts AC, 50/60Hz. Electricity 127/220 volts AC, 60Hz.
Plug Types
A,B,C,G
Food And Dining
Local food is often strongly flavored and spicy. The most common meats are lamb and chicken, beef is rare and pork is proscribed under Islamic law. The main meat meal of the day is lunch. Foreign cooking is on offer in larger towns and the whole range of international cuisine, including fast food, is available in the oil-producing Eastern Province and in Jeddah. Things to know: Eating, drinking and smoking in public during the fasting hours of Ramadan will incur strict penalties. Restaurants have table service. There are no bars. Alcohol is forbidden by law, and there are severe penalties for infringement; it is important to note that this applies to all nationals regardless of religion.
National specialties:
? The staple diet is pitta bread (flat, unleavened bread) which accompanies every dish.
? Rice, lentils, chick peas (hummus) and cracked wheat (burghul) are also common.
? Kultra (chicken or lamb on skewers) is popular for lunch.
? Kebabs served with soup and vegetables.
? Mezze, the equivalent of h?rs d?oeuvres, may include up to 40 dishes.
? Arabic cakes, cream desserts and rice pudding (muhalabia). National drinks:
? Arabic coffee and fruit drinks are popular alternatives to alcohol.
? Alcohol-free beers and cocktails are served in hotel bars.
Tipping:
The practice of tipping is becoming much more common and waiters, hotel porters and taxi drivers should be given 10 per cent.
Nightlife
Apart from restaurants and hotels there is no nightlife in the Western sense.
Entry departure requirements
Restricted entry (a) Holders of an Israeli passport or passports with Israeli stamps in them. (b) Passengers not complying with Saudi conventions of dress and behavior, including those who appear to be in a state of intoxication, or who display inappropriate affection (especially between men and women) will be refused entry (see Social Conventions section). (c) There are special regulations concerning pilgrims entering Saudi Arabia. Contact the Consulate (or Consular section at Embassy) for further information. Note (a) Unaccompanied women must be met at the airport by their sponsor or husband and have confirmed onward reservations as far as their final destination in Saudi Arabia. If met by a sponsor, it is worth noting that there are restrictions on women traveling by car with men who are not related by blood or marriage. However, it is acceptable for women visiting for business purposes to be accompanied and met at the airport by male business partners: further enquiries can be made at the Information Center or Embassy. Women and under-aged children should be accompanied by a Moharram (close male family member). (b) No foreign passenger who is working as a domestic servant in Saudi Arabia should be transported to Saudi Arabia unless holding a valid non-refundable return ticket.
Visa immigration information
Passports
A passport valid for six months at time of entry is required by all except Muslim pilgrims holding Pilgrim Passes, tickets and other documents for their onward or return journey and entering the country via Jeddah or Medina - although sufficient evidence of Muslim faith must be provided (eg religious authenticated certificate). All passports must be valid for at least six months beyond the estimated stay in Saudi Arabia.
Visas
Required by all except the following:
(a) nationals of Bahrain, Kuwait, Oman, Qatar, United Arab Emirates and Yemen;
(b) transit passengers continuing their journey by the same or first connecting aircraft within 18 hours, provided holding valid onward or return documentation, not leaving the airport and making no further landing in Saudi Arabia (except those traveling on Saudi Arabian Airlines who are permitted to make a second stop, and except nationals of Burkina Faso, Mali, Niger and Nigeria who always require a transit visa);
(c) holders of re-entry permits and ?Landing Permits? issued by the Saudi Arabian Ministry of Foreign Affairs (see Passport/Visa Information).
Types of visa and cost
Family Visit: US$67 Business: US$67 ; US$165 (multiple-entry). Work: SAR50 (approximately US$17 ), if paying at Embassy. Please consult the Consulate to confirm the exact amount as fluctuations occur due to exchange rates. Residency: US$17 Transit: US$17 Pilgrim (Ummra): no charge (one to three months for a maximum of 30 days).
Note
(a) The Pilgrim (Ummra) visa can only be obtained through an authorized 'Ummra Agency', appointed by the Ministry of Foreign Affairs. Check with Embassy for a full list of appointed agents. Administrative fees may apply. (b) Transit passengers who stay in the King Abdulaziz International Airport, Jeddah Islamic Port or Prince Mohammed bin Abdulaziz Airport in Medina for over 24 hours can perform Ummra or visit a Holy Mosque, provided they withhold a signed agreement with one of the appointed Ummra agencies.
Validity
The visa stay period starts from the first day of entry into Saudi Arabia within the visa?s valid dates. Ummra visas are valid for 30 days for stays of up to two weeks.
Application to
Consulate (or Consular section at Embassy); see Passport/Visa Information. Travelers are advised to apply well in advance. Hajj or Umrah visas are only available from the Consulate through an authorized travel agent. People visiting the Consulate directly for Hajj or Umrah visas will not be successful.
Application requirements
Family/Residency: (a) One application form. (b) One passport-size photo affixed to application form. Children traveling on parents' passport must have photos affixed on passport and endorsed by relevant authorities with photos attached on application form. Copies of birth certificate and marriage certificate of all accompanying children and spouses are also required. (c) Passport valid for at least six months. (d) Prepaid, self-addressed, recorded delivery envelope, if applying by post. If applying by post from Ireland (Rep), enclose a minimum of nine coupons. (e) Fee (payable in cash, by postal order or by banker?s draft only). (f) Medical report, authenticated by the UK Foreign Office (for persons over 15 years of age). Applicants from Ireland (Rep) should legalize their medical report at the Irish Foreign Office in Dublin. (g) A copy a of marriage certificate showing the visitor is married to the person working in Saudi Arabia whom they intend to visit. These documents must be legalized through the British Foreign and Common Wealth Office or the Department of Foreign Affairs in Dublin. Business: (a)-(e) and, (f) Letter of invitation from Saudi host company endorsed by Saudi Chamber of Commerce (original and copy). (g) Letter from company or organization in own country. Work: (a)-(d) and, (e) Letter of introduction from Saudi sponsor and copy of the employment contract. (f) Copies of academic qualifications and work experience in the field of job applied for. (g) A visa authorization letter from the Ministry of Foreign Affairs, supplied by the Saudi Arabian employer. (h) Letter of No Objection if previously employed in Saudi Arabia. (i) An amount equivalent to SAR50 deposited at the Consulate?s cashier desk. Pilgrim: (a)-(d) and, (e) Airline ticket with confirmed booking (both ways). The point of entry and departure must be Jeddah or Medina. (f) Meningitis immunization certificate with validity for more than three years and vaccination issued no less than 10 days before traveling. A Yellow Fever certificate may be required, if traveling from an infected area. (g) ID card must be worn on wrist band and luggage must be clearly labelled: 'PILGRIM'. (h) Letter of approval issued by Saudi Ministry of Hajj, confirming that the authorized UK travel agent, tour operator and charities, through which the application for Hajj was submitted, have completed the necessary requirements regarding their pilgrims. (i) Proof of conversion to Islam may have to be submitted. Transit: (a)-(e) and, (f) Airline ticket reservation showing proof of leaving Saudi Arabia within 48 hours and visa valid for next destination if applicable.
Note
(a) An Exit Permit is required for most nationals, requiring a passport-size photo and must be issued by the Chief of Police (usually processed within three days after application). It is advised to enquire at the nearest Embassy for further information. (b) There are further requirements for Ummra applications, but these must be submitted by the endorsed travel agent or tour operator.
Working days required
At least two days. At least one week if applying by post. For information on processing time for all other types of visa, contact the Consulate (or Consular section at Embassy).
HIV entry requirements
Test required for anyone applying for work or residency permit
Departure tax
SAR50. Children, Hajj and Ummra pilgrims and passengers accompanying human remains are exempt.
Embassies
Royal Embassy of Saudi Arabia
30 Charles Street, London W1J 5DZ, UK
Visa section: 30-32 Charles Street, London W1J 5DZ, UK
Tel: (020) 7917 3000.
Website: www.saudiembassy.org.uk
Opening hours: Mon-Thurs 0900-1600, Fri 0900-1500.
Consular section: Mon-Thurs 0900-1130 (visa applications); 1400-1530 (passport collection), Fri 1330-1430.
Royal Embassy of Saudi Arabia
601 New Hampshire Avenue, NW, Washington, DC 20037, USA
Tel: 337 4076 (information section) or 944 3126 (visa section).
Website: www.saudiembassy.net
There is a continuing high threat of terrorism in Saudi Arabia. It is believed that terrorists are planning further attacks, including against Westerners and places associated with Westerners in Saudi Arabia.
Travelers choosing to travel to, or remain in, Saudi Arabia should take all necessary steps to protect their safety and should make sure they have confidence in their individual security arrangements. Travelers should maintain a high level of vigilance, particularly in public places.
Travelers should remember that Islamic law is strictly enforced in Saudi Arabia.
This advice is based on information provided by the Foreign, Commonwealth & Development Office in the UK. It is correct at time of publishing. As the situation can change rapidly, visitors are advised to contact the following organizations for the latest travel advice:
British Foreign, Commonwealth & Development Office
Website: https://www.gov.uk/foreign-travel-advice/saudi-arabia
US Department of State
Website: https://travel.state.gov/content/travel/en/international-travel/International-Travel-Country-Information-Pages/SaudiArabia.html
Currency
Saudi Arabian Riyal (SAR) = 100 halala; 5 halala = 20 qurush. Notes are in denominations of SAR500, 200, 100, 50, 20, 10, 5 and 1. Coins are in denominations of 50, 25, 10, and 5 halala, and 10, 5, 2 and 1 qurush.
Currency restrictions
Free import and export of both local and foreign currency. Import of Israeli currency is prohibited.
Banking hours
Sat-Wed 0800-1200 and 1700-2000; Thurs 0800-1200. Money-changers stay open longer.
Currency exchange
Most foreign currencies can be exchanged at commercial banks and money-changers, which stay open longer.
Credit cards
American Express, Diners Club, MasterCard and Visa are all widely accepted. Check with your credit or debit card company for details of merchant acceptability and other services which may be available.
Travellers cheques
Widely accepted although they can be hard to change. To avoid additional exchange rate charges, travelers are advised to take traveller's cheques in Saudi Riyal, Euros, US Dollars or Pounds Sterling and to carry the purchase receipt.
| City/Region | City/Area code | Followed by |
| --- | --- | --- |
| Abha | (0)7 | + 7 digit subscriber nr |
| Dammam | (0)3 | + 7 digit subscriber nr |
| Hail | (0)6 | + 7 digit subscriber nr |
| Madinah | (0)4 | + 7 digit subscriber nr |
| Makkah | (0)2 | + 7 digit subscriber nr |
| Riyadh | (0)1 | + 7 digit subscriber nr |