Quick Facts
Region: Africa
Full Name: Republic of Mozambique
Capital City: Maputo
Language Spoken: Emakhuwa 26.1%, Xichangana 11.3%, Portuguese 8.8% (official; spoken by 27% of population as a second language), Elomwe 7.6%, Cisena 6.8%, Echuwabo 5.8%, other Mozambican languages 32%, other foreign languages 0.3%, unspecified 1.3% (1997 census)
Mozambique Travel Insurance
Get travel insurance to Mozambique from Direct Travel Insurance. We offer low cost and high quality travel insurance to Mozambique and most of the world.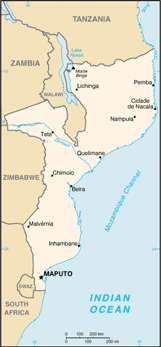 Geographic data
18 15 S, 35 00 E
Elevation Extremes
lowest point: Indian Ocean 0 m highest point: Monte Binga 2,436 m
Land boundaries
total: 4,571 km border countries: Malawi 1,569 km, South Africa 491 km, Swaziland 105 km, Tanzania 756 km, Zambia 419 km, Zimbabwe 1,231 km
Natural hazards
severe droughts; devastating cyclones and floods in central and southern provinces
Natural resources
coal, titanium, natural gas, hydropower, tantalum, graphite
Land use
arable land: 5.43% permanent crops: 0.29% other: 94.28% (2005)
Environmental current issues
a long civil war and recurrent drought in the hinterlands have resulted in increased migration of the population to urban and coastal areas with adverse environmental consequences; desertification; pollution of surface and coastal waters; elephant poaching for ivory is a problem
Climate
Climate varies according to area. Inland is cooler than the coast and rainfall higher as the land rises, with most rain between January and March. Hottest and wettest season is October to March. From April to September the coast has warm, mainly dry weather tempered by sea breezes. Required clothing Tropical lightweights, with warmer clothing for evenings. Rainwear advisable all year round.
Time difference
time difference: UTC+2
Population
19,686,505 note: estimates for this country explicitly take into account the effects of excess mortality due to AIDS; this can result in lower life expectancy, higher infant mortality and death rates, lower population and growth rates, and changes in the distribution of population by age and sex than would otherwise be expected; the 1997 Mozambican census reported a population of 16,099,246 (July 2006 est.)
Age structure
0-14 years: 42.7% (male 4,229,802/female 4,177,235) 15-64 years: 54.5% (male 5,207,149/female 5,519,291) 65 years and over: 2.8% (male 230,616/female 322,412) (2006 est.)
Median age
total: 18.3 years male: 17.8 years female: 18.8 years (2006 est.)
Population growth rate
1.38% (2006 est.)
Birth rate
35.18 births/1,000 population (2006 est.)
Death rate
21.35 deaths/1,000 population (2006 est.)
Net migration rate
0 migrant(s)/1,000 population (2006 est.)
Sex ratio
at birth: 1.03 male(s)/female under 15 years: 1.01 male(s)/female 15-64 years: 0.94 male(s)/female 65 years and over: 0.72 male(s)/female total population: 0.97 male(s)/female (2006 est.)
Life expectancy at birth
total population: 39.82 years male: 39.53 years female: 40.13 years (2006 est.)
Total fertility rate
4.62 children born/woman (2006 est.)
Business Practices
Business meetings are generally formal and businessmen of Portuguese heritage are sticklers for formalities. Knowledge of Portuguese is normally necessary for business dealings, although there are translation facilities available in Maputo. Maintaining a good reputation and consistently doing right by others is important to businessmen in Mozambique. Business cards are generally exchanged, though often not with senior government officials. Mozambicans are rarely late for an appointment and almost always show. Nevertheless, Mozambique's business class is quite thin. The primary business activity in Mozambique is still trading and distribution, although this is beginning to change. Distribution systems are primitive. Many Mozambicans engaged in international commerce take advantage of personal ties to Portugal, South Africa, Zimbabwe, or India. Many speak English. The business community is small enough so that most know each other fairly well. Competitors in one area may be partners in another. Potential investors should be on the lookout for questionable business practices; e.g. tax evasion is quite common. Many businesses do not produce accurate financial accounts. Concepts such as depreciation, cash and asset management are poorly understood. Few can bring more than local relationships to a venture with a foreign partner. Office hours are 0730-1230 and 1400-1730 Monday to Friday.
Crime
Crime remains a serious concern for residents and visitors in Mozambique. Incidents of armed robberies, home invasions, and carjackings are common, and many criminals actively target foreigners. Individuals, including foreigners, have been injured and in some cases killed. With the exception of highway banditry and carjackings, crime is generally more common in urban areas than in rural areas. Traveling alone or at night is particularly risky. Pedestrians and joggers have been mugged and robbed during daylight hours. Visitors are encouraged to avoid walking alone or in isolated areas. In certain areas in the city of Maputo, pedestrian traffic is prohibited. Government facilities should not be photographed without permission. Responsibility for crime prevention rests with a national police force that is poorly trained, poorly paid, and inadequately equipped to prevent or respond to criminal acts.
Hotels
Hotels of international standard are found in the cities of Maputo including the Hotel Polana, the Cardoso Hotel and the Rovuma Hotel. In Beira, the better hotels include the Makuti Housing Complex and the Hotel Mo ambique. Lesser accommodations can be found in smaller towns.
Communications
Telephone IDD service is available in the country. The country code is 258. Outgoing international calls must go through the operator. Telephone and fax service is fairly reliable in major urban centers, but expensive. In most of the country, public phones are not available except at the office of the national telephone company, TDM. However, TDM has begun installing public phones in Maputo. TDM inaugurated cellular telephone service in Maputo in 1997 through its joint venture with Deutsche Telekom. The GSM standard is used. Roaming is generally possible along the Maputo Corridor leading to South Africa, and billing may be accomplished in South Africa. Internet is available in Maputo through several local service providers.
Electricity
is 220 volts AC, 50Hz. Electricity 220/240 volts AC, 50Hz.
Plug Types
C,F,M
Food And Dining
The cuisine is mainly Portuguese with Far Eastern influences. Specialties are piri-piri chicken, Zambesi chicken, shellfish, including Delagoa Bay prawns (which are grilled and served with piri-piri sauce), matapa (sauce of ground peanuts and cassava leaves) with rice or wusa (stiff maize porridge). Restaurants are to be found in main towns, as well as hotel dining rooms.
Tipping:
Not generally expected outside Maputo. In Maputo and other tourist-exposed areas, around 5 per cent of the bill is normal (depending on standards of service and the place itself).
Nightlife
Maputo has a lively nightlife, particularly on weekends. Feira Popular is the main forum of evening activity with various bars and discos, some with live music. The style of music in clubs varies from typical Mozambican rhythms to Western pop music. The National Company of Song & Dance has rehearsals which are open to the public. Most major towns have cinemas.
Entry departure requirements
Visa immigration information
Passports
Passport valid for a minimum of six months beyond intended date of departure required by all.
Visas
Required by all.
Types of visa and cost
Tourist and Business: US$69 (single-entry); US$120 (multiple-entry). Express service: US$86 (single-entry); US$172 (multiple-entry). Same-day express service: US$103 (single-entry); US$189 (multiple-entry). Transit: US$69
Validity
Single-entry: One day to one month from date of entry, renewable to a maximum of three months. Multiple-entry: One to six months from date of issue. Transit: On request.
Application to
Mozambique
Embassies
, High Commissions, Consulates; or Empresa Nacional de Turismo (see General Info section).
Note
A visa can sometimes be obtained through a contact living in Mozambique or at the airport, although processing is often subject to delay. Apply to nearest High Commission for more information.
Application requirements
(a) Official application form. (b) Two passport-size photos. (c) Valid passport. (d) Return or onward ticket or flight confirmation slip. (e) Evidence of booked hotel/hostel accommodation or sufficient financial means. (f) Fee payable in cash or by cheque (made payable to the Mozambique High Commission). (g) Stamped, self-addressed registered envelope for postal applications. Business: (a)-(g) and, (h) Letter of invitation to Mozambique and/or introduction from an official or business institution.
Working days required
Three. Visas can be processed within 24 hours (express service) or within 90 minutes (same-day express service) for an additional fee.
Temporary residence
Apply to the Embassy or High Commission (see General Info section).
HIV entry requirements
No Test Required
Departure tax
US$20 if destination is outside Africa; US$10 if destination is within Africa. Infants under two years of age and transit passengers are exempt. Embassies
Mozambique High Commission in the UK
21 Fitzroy Square, London W1T 6EL, UK
Tel: (020) 7383 3800.
Website: http://www.mozambiquehighcommission.org.uk/
Opening hours: Mon-Fri 0930-1300; 1400-1600 (consular section).
Embassy of the Republic of Mozambique in the USA
1990 M Street, NW, Suite 570, Washington, DC 20036, USA
Tel: (202) 293 7146/9.
Website: www.embamoc-usa.org
Travelers should be aware of the risks of violent crime, poor road safety standards and minimal health facilities.
Women should not walk alone on the beach anywhere in Mozambique.
Travelers should also be aware of the global risk of indiscriminate terrorist attacks which could be against civilian targets, including places frequented by foreigners.
This advice is based on information provided by the Foreign, Commonwealth & Development Office in the UK. It is correct at time of publishing. As the situation can change rapidly, visitors are advised to contact the following organizations for the latest travel advice:
British Foreign, Commonwealth & Development Office
Website: www.gov.uk/foreign-travel-advice
US Department of State
Currency
Mozambique Metical (MZM) = 100 centavos. Notes are in denominations of MZM100,000, 50,000, 20,000, 10,000, 5000 and 1000. Coins are in denominations of MZM5000, 1000, 500, 100, 50, 20, 10, 5 and 1.
Currency restrictions
The import and export of local currency is prohibited. The import of foreign currency is unlimited, subject to declaration. The export of foreign currency is limited to the amount declared on import.
Banking hours
Mon-Fri 0730-1530.
Currency exchange
There are bureaux de change at the airports. Money can also be changed at banks. It is advisable to take US Dollars or South African Rand.
Credit cards
These are rarely used in shops. However, money can be obtained from some ATMs using Visa credit or debit cards.
Travellers cheques
High rates of commission are often charged on these. To avoid additional exchange rate charges, travelers are advised to take traveller's cheques in Pounds sterling, US Dollars or South African Rand.