Quick Facts
Region: Africa
Full Name: Republic of Mauritius
Capital City: Port Louis
Language Spoken: Creole 80.5%, Bhojpuri 12.1%, French 3.4%, English (official; spoken by less than 1% of the population), other 3.7%, unspecified 0.3% (2000 census)
Mauritius Travel Insurance
Get travel insurance to Mauritius from Direct Travel Insurance. We offer low cost and high quality travel insurance to Mauritius and most of the world.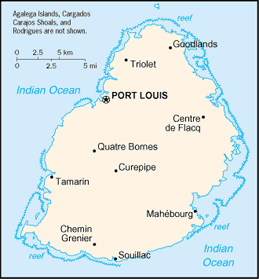 Geographic data
20 17 S, 57 33 E
Elevation Extremes
lowest point: Indian Ocean 0 m highest point: Mont Piton 828 m
Land boundaries
0 km
Natural hazards
cyclones (November to April); almost completely surrounded by reefs that may pose maritime hazards
Natural resources
arable land, fish
Land use
arable land: 49.02% permanent crops: 2.94% other: 48.04% (2005)
Environmental current issues
water pollution, degradation of coral reefs
Climate
Warm coastal climate (particularly January to April), with relatively little seasonal variation in temperatures, although they are generally slightly lower inland, with more rain on the plateau around Curepipe. Cyclones may occur between November and February. Sea breezes blow all year, especially on the east coast. Required clothing Tropical lightweights, with warmer wear for evenings and winter months (July to September). Rainwear advisable all year round. In the summer months, sun-care products and a hat are advisable.
Time difference
time difference: UTC+4
Population
1,240,827 (July 2006 est.)
Age structure
0-14 years: 23.9% (male 149,486/female 147,621) 15-64 years: 69.5% (male 430,288/female 431,753) 65 years and over: 6.6% (male 31,939/female 49,740) (2006 est.)
Median age
total: 30.8 years male: 30 years female: 31.8 years (2006 est.)
Population growth rate
0.82% (2006 est.)
Birth rate
15.43 births/1,000 population (2006 est.)
Death rate
6.86 deaths/1,000 population (2006 est.)
Net migration rate
-0.4 migrant(s)/1,000 population (2006 est.)
Sex ratio
at birth: 1.02 male(s)/female under 15 years: 1.01 male(s)/female 15-64 years: 1 male(s)/female 65 years and over: 0.64 male(s)/female total population: 0.97 male(s)/female (2006 est.)
Life expectancy at birth
total population: 72.63 years male: 68.66 years female: 76.66 years (2006 est.)
Total fertility rate
1.95 children born/woman (2006 est.)
Business Practices
Safari suits are often worn in business circles. Appointments should be made. English is widely understood in the business community. Handshaking is the customary form of greeting. It is appropriate to give a gift as a small token of appreciation if invited for a meal. Office hours are 0900-1600 Monday to Friday; 0900-1200 Saturday
Crime
Petty crime is common and travelers are advised to common sense precautions such as keeping an eye on personal belongings and avoiding crowds.
Hotels
There are an abundance of hotels throughout the island and a number of smaller family holiday bungalows. From June to September and during the Christmas season, reservations should be made in advance.
Communications
Telephone IDD service is available in Mauritius. The country code is 230 and there are no area codes. The outgoing international code is 00. There are a limited number of public telephone booths, mainly at the airport and in major hotels. Most hotels have fax facilities. Telegram messages can be sent from the Mauritius Telecommunications Service offices at Cassis and Port Louis. There are also facilities at Overseas Telecoms Services Ltd, Rogers House, President John F Kennedy Street, Port Louis. Airmail to Western Europe usually takes five days, four to six weeks by sea. Post office hours: Generally 0900-1100 and 1200-1600 Monday to Friday; 0800-1100 Saturday.
Electricity
220 volts AC, 50Hz. UK-type three-pin plugs are commonly used in hotels.
Plug Types
C,G
Food And Dining
Standards of cuisine, whether French, Creole, Indian, Chinese or English, are generally very high but fruit, meat, vegetables and even fresh seafood are often in short supply and restaurants must usually depend on imports.
National specialties:
? Venison (in season).
? Camarons (freshwater prawns) in hot sauces.
? Octopus.
? Fresh pineapple with chilli sauce.
? Rice with curry.
? Dholl purri is a wheat pancake stuffed with dholl and dipped in tomato sauce.
? Samosas. National drinks:
? Rum.
? Beer.
? Alouda (almond drink).
? Fresh coconut milk. Things to know: Waiter service is normal in restaurants and bars.
Tipping:
10 per cent is usual in most hotels and restaurants. Tips are not customary for taxi drivers.
Nightlife
In Grand Baie and some towns there are discos and nightclubs with music and dancing. Rivi?re Noire is a Creole fishermen's district where sega dancing is especially lively on Saturday nights. Sega troupes give performances at most hotels. Gamblers are lavishly catered for; casinos in the island's hotels are amongst the island's attractions.
Entry departure requirements
Visa immigration information
Passports
Passport valid for at least six months from date of entry required by all. Passports issued by the Government of Taiwan, homelands of Botsphutatswana, Ciskei, Transkei, Venda or any other homeland and the Turkish Republic of Cyprus are not recognized. The holders of such documents can apply for an entry permit to the Passport and Immigration Officer (see address below).
Note
All visitors must hold valid tickets and documents for their onward or return journey and adequate funds for their intended length of stay.
Visas
Required by all except the following:
(a) nationals of countries referred to in the chart above for stays up to three months;
(b) nationals of Commonwealth countries, except nationals of India (see below) and nationals of Bangladesh, Cameroon, Fiji, India, Nigeria, Pakistan, Sri Lanka and Swaziland, who do require a visa for stays of up to three months;
(c) nationals of Bahrain, Hong Kong (SAR), Israel, Kuwait, Liechtenstein, Monaco, Norway, Oman, Qatar, San Marino, Saudi Arabia, Switzerland, Tunisia, Turkey, United Arab Emirates, Vatican City and Zimbabwe for stays of up to three months;
(d) nationals of China (PR), India, Jordan and Lebanon for tourist stays of up to 15 days;
(e) transit passengers continuing their journey to a third country within 24 hours provided holding valid onward or return documentation and not leaving the airport.
Types of visa and cost
Tourist, Business and Social, each available as single- or multiple-entry. Visas are issued free of charge.
Validity
Tourist/Business visas: Up to three months. Applications for extensions should be made to the relevant authority (see below).
Application to
Consulate (or Consular section at Embassy or High Commission); see Passport/Visa Information.
Note
(a) Nationals of Argentina, Brazil, Chile and Paraguay can obtain a visa on arrival for stays of up to three months. (b) Nationals of Korea (Rep) can obtain a visa on arrival for stays of up to 16 days. (c) Nationals of Albania, Bulgaria, CIS, Comoro Islands, Fiji, Madagascar and Romania can obtain a visa on arrival for stays of up to two weeks. Extensions are possible. These visas can be issued from Sir Seewoosagur Ramgoolam International Airport or the Passport and Immigration Office in Port Louis (see Passport/Visa Information). (d) Nationals of Afghanistan, Algeria, Congo (Dem Rep), Iraq, Iran, Liberia, Libya, Nigeria, Sudan and Yemen should obtain a visa before traveling to Mauritius, even if they are on transit.
Application requirements
(a) Valid passport. (b) Completed application form. (c) Two passport-size photos. (d) Photocopy of passport page with date of birth. (e) Proof of sufficient funds (at least US$50 per day or equivalent, or at least US$100 per day for some other nationals). (f) Proof of accommodation such as hotel booking or letter of invitation. (g) Self-addressed stamped envelope. (h) Appropriate documents for the next destination, including return or onward tickets.
Working days required
Varies according to nationality of applicant. Most can be issued within seven days but can take up to one month.
Temporary residence
Residence permits are issued by the Passport and Immigration Officer, Sterling House, Lislet Geoffrey Street, Port Louis (tel: 210 9312-9). Work permits are necessary for those taking up employment.
HIV entry requirements
Test is performed on arrival when foreigners are applying for work or residency permit
Departure tax
None
Embassies
Mauritius High Commission in the UK
32-33 Elvaston Place, London SW7 5NW, UK
Tel: (020) 7581 0294-8.
Website: http://www1.govmu.org/portal/sites/mfamission/london/index.htm
E-mail: londonmhc@btinternet.com
Opening hours: Mon-Fri 0930-1200 (consular section); 0930-1700 (general enquiries).
Also deals with tourism enquiries.
Embassy of Mauritius in the USA
4301 Connecticut Avenue, Suite 441, NW, Washington, DC 20008, USA
Tel: (202) 244 1491/2.
Website: http://www1.govmu.org/portal/sites/mfamission/washington/index.htm
Also deals with enquiries from Canada.
Most visits to Mauritius are trouble-free but you should be aware of the global risk of indiscriminate international terrorist attacks, which could be against civilian targets, including places frequented by foreigners.
Drug trafficking carries severe penalties.
This advice is based on information provided by the Foreign, Commonwealth & Development Office in the UK. It is correct at time of publishing. As the situation can change rapidly, visitors are advised to contact the following organizations for the latest travel advice:
British Foreign, Commonwealth & Development Office
Website: www.gov.uk/foreign-travel-advice
US Department of State
Currency
Mauritian Rupee (MUR) = 100 cents. Notes are in denominations of MUR2000, 1000, 500, 200, 100, 50 and 25. Coins are in denominations of MUR10, 5 and 1, and 50, 20, 10, and 5 cents.
Currency restrictions
There are no limits on the import or export of local or foreign currency.
Banking hours
Mon-Thurs 0915-1515, Fri 0915-1530, Sat 0915-1115 (except for Bank of Mauritius). Some banks may open Mon-Fri 0900-1700. Banks are also open to coincide with the arrival and departure of international flights at the Sir Seewoosagur Ramgoolam Airport.
Currency exchange
Available in banks and at bureaux de change. A better rate of exchange can be obtained on traveller's cheques than on cash.
Credit cards
American Express, Diners Club, MasterCard and Visa are accepted by most banks, hotels, restaurants and tourist shops. Check with your credit, or debit, card company for details of merchant acceptability and other services which may be available. ATMs are available.
Travellers cheques
May be exchanged at banks, hotels and authorized dealers.
| City/Region | City/Area code | Followed by |
| --- | --- | --- |
| Agalega | 814 | + 4 digits |
| Albion | 558 | + 4 digits |
| Baie Du Cap | 621 | + 4 digits |
| Bambous | 552 | + 4 digits |
| Beau Bassin | 574 | + 4 digits |
| Bel Air | 519 | + 4 digits |
| Bel Ombre | 623 | + 4 digits |
| Belle Mare | 515 | + 4 digits |
| Bris?e Verdi?re | 518 | + 4 digits |
| Camp De Masque | 516 | + 4 digits |
| Candos | 528 | + 4 digits |
| Cap Malheureux | 562 | + 4 digits |
| Chemin Grenier | 622 | + 4 digits |
| Coromandel | 533 | + 4 digits |
| Dagoti?re | 581 | + 4 digits |
| Dubreuil | 665 | + 4 digits |
| Flacq | 539 | + 4 digits |
| Flic En Flac | 553 | + 4 digits |
| Flic-En-Flac | 403 | + 4 digits |
| Floreal | 698 | + 4 digits |
| Forest Side | 676 | + 4 digits |
| Glen Park | 684 | + 4 digits |
| Goodlands | 582 | + 4 digits |
| Government Centre | 201 | + 4 digits |
| Grand Bay | 563 | + 4 digits |
| Grand Bois | 617 | + 4 digits |
| Grand Gaube | 568 | + 4 digits |
| La Ferme | 832 | + 4 digits |
| La Gaulette | 551 | + 4 digits |
| La Prairie | 620 | + 4 digits |
| Le Morne | 450 | + 4 digits |
| L'Escalier | 636 | + 4 digits |
| Long Mountain | 545 | + 4 digits |
| Mahebourg | 631 | + 4 digits |
| Mapou | 556 | + 4 digits |
| Moka | 534 | + 4 digits |
| Montagne Blanche | 537 | + 4 digits |
| Nouvelle France | 677 | + 4 digits |
| Olivia | 414 | + 4 digits |
| Pailles | 506 | + 4 digits |
| Pamplemousses | 543 | + 4 digits |
| Piton | 554 | + 4 digits |
| Plaine Verte | 542 | + 4 digits |
| Plaisance | 637 | + 4 digits |
| Pointe Aux Sables | 535 | + 4 digits |
| Port Louis | 512 | + 4 digits |
| Poste Lafayette | 591 | + 4 digits |
| Quartier Militaire | 555 | + 4 digits |
| Quatre Soeurs | 517 | + 4 digits |
| Riche-En-Eau | 633 | + 4 digits |
| Ripailles | 501 | + 4 digits |
| Riviere Coco | 831 | + 4 digits |
| Rivi?re Des Anguilles | 626 | + 4 digits |
| Rivi?re Du Rempart | 502 | + 4 digits |
| Roches Noires | 411 | + 4 digits |
| Rose Belle | 627 | + 4 digits |
| Rose Hill | 566 | + 4 digits |
| Seizi?me Mile | 664 | + 4 digits |
| Signal Mountain | 217 | + 4 digits |
| Souillac | 625 | + 4 digits |
| Tamarin | 583 | + 4 digits |
| Terre Rouge | 549 | + 4 digits |
| Tombeau Bay | 547 | + 4 digits |
| Triolet | 561 | + 4 digits |
| Trou Aux Biches | 505 | + 4 digits |
| Trou D'Eau Douce | 580 | + 4 digits |
| Vieux Grand Port | 634 | + 4 digits |