Quick Facts
Region: Europe
Full Name: Republic of Malta
Capital City: Valletta
Language Spoken: Maltese (official), English (official)
Malta Travel Insurance
Get travel insurance to Malta from Direct Travel Insurance. We offer low cost and high quality travel insurance to Malta and most of the world.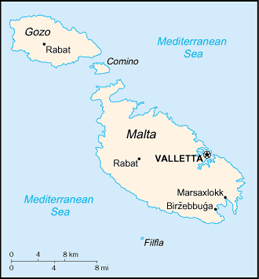 Geographic data
35 50 N, 14 35 E
Elevation Extremes
lowest point: Mediterranean Sea 0 m highest point: Ta'Dmejrek 253 m (near Dingli)
Land boundaries
0 km
Natural hazards
NA
Natural resources
limestone, salt, arable land
Land use
arable land: 31.25% permanent crops: 3.13% other: 65.62% (2005)
Environmental current issues
very limited natural fresh water resources; increasing reliance on desalination
Climate
Warm most of the year. The hottest months are between July and September, but the heat is tempered by cooling sea breezes. Rain falls for very short periods, mainly in the cooler winter months. Required clothing Lightweight cottons and linens are worn between March and September, although warmer clothes may occasionally be necessary in spring and autumn and on cooler evenings. A light raincoat is advisable for winter.
Time difference
time difference: UTC+1 daylight saving time: +1hr, begins last Sunday in March; ends last Sunday in October
Population
400,214 (July 2006 est.)
Age structure
0-14 years: 17.1% (male 35,264/female 33,368) 15-64 years: 69.1% (male 139,890/female 136,767) 65 years and over: 13.7% (male 23,554/female 31,371) (2006 est.)
Median age
total: 38.7 years male: 37.2 years female: 40.1 years (2006 est.)
Population growth rate
0.42% (2006 est.)
Birth rate
10.22 births/1,000 population (2006 est.)
Death rate
8.1 deaths/1,000 population (2006 est.)
Net migration rate
2.05 migrant(s)/1,000 population (2006 est.)
Sex ratio
at birth: 1.06 male(s)/female under 15 years: 1.06 male(s)/female 15-64 years: 1.02 male(s)/female 65 years and over: 0.75 male(s)/female total population: 0.99 male(s)/female (2006 est.)
Life expectancy at birth
total population: 79.01 years male: 76.83 years female: 81.31 years (2006 est.)
Total fertility rate
1.5 children born/woman (2006 est.)
Business Practices
Maltese business people have a conservative approach to business protocol with formal dress expected for most business meetings. English is widely spoken in business circles. Punctuality is expected and appreciated. Office hours are generally 0830-1245 and 1430-1730 Monday to Friday, 0830-1200 Saturday. Some smaller offices close 1300-1600, opening again later.
Crime
Malta has a low rate of violent crime. Property crime is also relatively low but on the rise in recent years. Theft of unattended personal property and car stereos from vehicles is common. Secure valuables, and be aware of pickpockets and purse snatchers. Petty thieves focus on areas and establishments frequented by tourists. Exercise especial caution in the Paceville nightclub area, where excessive drinking and poor crowd control have led to instances of violent behavior. Leave photocopies of ID and travel documents in the hotel safe.
Hotels
Accommodations in Malta are plentiful and usually meet western standards, with a number of luxury hotels, holiday complexes available.
Communications
Telephone IDD service is available from most locations on the islands. The country code is 356. There are no area codes. The outgoing international code is 00. Local calls can be made from numerous red phone-boxes located all over the island. Telemalta Corporation provides an international fax service through its offices and branches. Good postal services exist within the island.
Electricity
is 240 volts AC, 50Hz. There is no standardization of electrical fittings, although the 13-amp square-pin socket and plug seem to be gaining in popularity. Electricity 240 volts AC, 50Hz. UK-style three-pin plug are in use.
Plug Types
G
Food And Dining
There is a very good choice of restaurants and cafes from deluxe to fast food (hamburgers and fish & chips), including Chinese, fish and beachside bars. Table service is normal, but many bars and cafes have table and/or counter service. Pork and fish dishes are recommended and vegetables are excellent. The best Maltese fruits are oranges and grapes; also delicious are strawberries, melons, mulberries, tangerines, pomegranates and figs.
National specialties:
? Lampuki pie (fish pie).
? Bragoli (beef olives).
? Fenek (rabbit cooked in wine).
? Ricotta sweets are popular.
? Helwa tat-Tork (a sweet sugary mixture of crushed and whole almonds, offered to diners after a meal). National drinks:
? Maltese beer is excellent.
? Maltese wine.
? Maltese spirits. Licensing hours of bars, restaurants and cafes are usually 0900-0100 and beyond. Most hotel bars close between 1300 and 1600 and then reopen after 1800.
Tipping:
10 to 15 per cent is expected in hotels and restaurants when not included in the bill. Taxi drivers are usually tipped 10 per cent of the fare.
Nightlife
There are several discos, bars and nightclubs. Roulette, baccarat, blackjack and boule can be played at the 'Dragonara' casino, St Julian's or at the Casino de Venezia in Vittoriosa. The Manoel Theater is one of the oldest in Europe. Cinemas show mainly English and American films.
Entry departure requirements
* Please see passport section below
Visa immigration information
Passports
Passport valid for at least three months beyond length of stay required by all except:
1. EU/EEA nationals (EU + Iceland, Liechtenstein, Norway) and Swiss nationals holding a valid national ID card.
Note: EU and EEA nationals are only required to produce evidence of their EU/EEA nationality and identity in order to be admitted to any EU/EEA Member State. This evidence can take the form of a valid national passport or national identity card. Either is acceptable. Possession of a return ticket, any length of validity on their document, sufficient funds for the length of their proposed visit should not be imposed.
Visas
Required by all except the following for stays of up to three months:
(a) nationals of countries referred to in the chart above;
(b) nationals of Andorra, Argentina, Bolivia, Brazil, Brunei, Bulgaria, Chile, Costa Rica, Croatia, Cyprus, Czech Republic, Denmark, El Salvador, Estonia, Finland, Guatemala, Honduras, Hong Kong (SAR), Hungary, Iceland, Ireland, Israel, Korea (Rep), Latvia, Liechtenstein, Lithuania, Malaysia, Mexico, Monaco, New Zealand, Nicaragua, Norway, Panama, Paraguay, Romania, San Marino, Singapore, Slovak Republic, Sweden, Switzerland, Uruguay, Vatican City and Venezuela;
(c) nationals of UK Overseas Territories;
(d) nationals of Macau, provided in possession of passports bearing 'Regio Administrativa Especial de Macao';
(e) transit passengers continuing their journey by the same of first connecting airport within 24 hours provided holding valid onward or return documentation and not leaving the airport except nationals of Afghanistan, Bangladesh, Congo (Dem Rep), Eritrea, Ethiopia, Ghana, Iran, Iraq, Nigeria, Pakistan, Somalia and Sri Lanka, who need a transit visa.
Types of visa and cost
Entry: US$40 (single-entry); for Algerian and Moroccan nationals: US$27 ; for Libyan nationals: US$20 . Transit: US$30 . Multiple-entry visas for one year are issued only by the Immigration Police in Malta. Sudanese nationals en route for Libya via Malta require a transit visa and a valid residence permit for Libya.
All visa applicants, except nationals of Libya, Tunisia and Turkey (for whom there is no visa fee), are subject to an administrative charge of Lm4 (except nationals of Libya who must pay Lm10), even if a visa is not issued.
Note
Visitors requiring an entry visa to Malta and undertaking day trips of less than 24 hours to another country do not need to pay for another entry visa on their return to Malta.
Validity
Single-entry visa: one month; Transit visa: 24 hours. For renewal, apply to the High Commission or Embassy. For extension, apply to the Principal Immigration Officer at the Immigration Office, Police Headquarters, Floriana, Malta.
Application to
Consulate (or Consular section at Embassy or High Commission); see Passport/Visa Information. If there is no embassy/consulate in the applicant's country of residence, the applicant must contact either an Honorary Consul or directly contact the Immigration Police in Malta.
Application requirements
(a) Valid passport with at least one blank page. (b) Application form. (c) Two recent passport-size photos. (d) Fee (payable in cash or by postal order only). (e) ?3.75 (UK) is required to cover postage costs, if not collecting visa in person. These can be handed in at the High Commission or Embassy. (f) Self-addressed envelope for applications by post. (g) Other documents may be required in certain cases, including invitation from host, proof of financial means, proof of means of transport and valid health insurance.
Working days required
15.
Temporary residence
Apply to Principal Immigration Officer, Immigration Office, Police Headquarters, Floriana, Malta.
HIV entry requirements
No Test Required
Departure tax
None
Embassies
Malta High Commission in the UK
Malta House, 36-38 Piccadilly, London W1V 0PQ, UK
Tel: (020) 7292 4800.
Website: https://foreignaffairs.gov.mt/en/Embassies/Hc_London/Pages/HC-London.aspx
Opening hours: Mon-Fri 0900-1700.
Embassy of Malta in the USA
2017 Connecticut Avenue, NW, Washington, DC 20008, USA
Tel: (202) 462 3611.
Website: https://foreignaffairs.gov.mt/en/Embassies/Me_United_States/Pages/ME_United_States.aspx
Most visits to Malta and Gozo are trouble-free but you should be aware of the global risk of indiscriminate international terrorist attacks, which could be against civilian targets, including places frequented by foreigners.
This advice is based on information provided by the Foreign & Commonwealth Office in the UK. It is correct at time of publishing. As the situation can change rapidly, visitors are advised to contact the following organizations for the latest travel advice:
British Foreign, Commonwealth & Development Office
Tel: (0845) 850 2829.
Website: www.gov.uk/foreign-travel-advice
US Department of State
Currency
Maltese Lira (MTL) = 100 cents = 1000 mils. Notes are in denominations of MTL20, 10, 5 and 2. Coins are in denominations of MTL1, and 50, 25, 10, 5, 2 and 1 cents. A number of gold and silver coins are also minted.
Currency restrictions
The import of local currency is limited to MTL5000. The export of local currency is limited to Lm5000. The import and export of foreign currency is unlimited, subject to declaration if contemplating re-export up to amount imported.
Banking hours
Mon-Fri 0830-1230, Sat 0830-1130. Some work longer hours and summer and winter hours may differ.
Currency exchange
Money can be changed at banks, bureaux de change, some hotels, and larger shops and restaurants. Automated foreign exchange machines and ATMs are available at various locations on the islands. Exchange bureaus are often open 24-hours per day. Many hotels, larger shops and restaurants accept foreign currency.
Credit cards
American Express, Diners Club, MasterCard and Visa are accepted. Check with your credit or debit card company for details of merchant acceptability and other services which may be available.
Travellers cheques
Exchanged in the normal authorized institutions.