Quick Facts
Region: Asia & Oceania
Full Name: Mongolia
Capital City: Ulaanbaatar
Language Spoken: Khalkha Mongol 90%, Turkic, Russian (1999)
Mongolia Travel Insurance
Get travel insurance to Mongolia from Direct Travel Insurance. We offer low cost and high quality travel insurance to Mongolia and most of the world.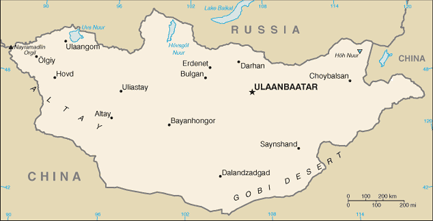 Geographic data
46 00 N, 105 00 E
Elevation Extremes
lowest point: Hoh Nuur 518 m highest point: Nayramadlin Orgil (Huyten Orgil) 4,374 m
Land boundaries
total: 8,220 km border countries: China 4,677 km, Russia 3,543 km
Natural hazards
dust storms, grassland and forest fires, drought, and "zud," which is harsh winter conditions
Natural resources
oil, coal, copper, molybdenum, tungsten, phosphates, tin, nickel, zinc, fluorspar, gold, silver, iron
Land use
arable land: 0.76% permanent crops: 0% other: 99.24% (2005)
Environmental current issues
limited natural fresh water resources in some areas; the policies of former Communist regimes promoted rapid urbanization and industrial growth that had negative effects on the environment; the burning of soft coal in power plants and the lack of enforcement of environmental laws severely polluted the air in Ulaanbaatar; deforestation, overgrazing, and the converting of virgin land to agricultural production increased soil erosion from wind and rain; desertification and mining activities had a deleterious effect on the environment
Climate
A dry climate with short, mild summers and long, severe winters (October to April). Some rain falls during summer and there is snow during winter. Required clothing Mediumweights are worn during summer, with very warm heavyweights advised for winter.
Time difference
time difference: UTC+8 daylight saving time: +1hr, begins last Saturday in March; ends last Saturday in September
Population
2,832,224 (July 2006 est.)
Age structure
0-14 years: 27.9% (male 402,448/female 387,059) 15-64 years: 68.4% (male 967,546/female 969,389) 65 years and over: 3.7% (male 45,859/female 59,923) (2006 est.)
Median age
total: 24.6 years male: 24.3 years female: 25 years (2006 est.)
Population growth rate
1.46% (2006 est.)
Birth rate
21.59 births/1,000 population (2006 est.)
Death rate
6.95 deaths/1,000 population (2006 est.)
Net migration rate
0 migrant(s)/1,000 population (2006 est.)
Sex ratio
at birth: 1.05 male(s)/female under 15 years: 1.04 male(s)/female 15-64 years: 1 male(s)/female 65 years and over: 0.77 male(s)/female total population: 1 male(s)/female (2006 est.)
Life expectancy at birth
total population: 64.89 years male: 62.64 years female: 67.25 years (2006 est.)
Total fertility rate
2.25 children born/woman (2006 est.)
Business Practices
Suits and ties are generally worn for business meetings. Mediumweight for summer and heavyweight for winter is recommended. Translator services should be arranged prior to departure to Mongolia, although an increasing number of executives speak English, and Russian is widely spoken. Office hours are 0900-1800 Monday to Friday and 0900-1500 Saturday.
Crime
Over the past few years there has been a significant rise in crime in Mongolia, particularly in Ulaan Baatar. Violent crime is increasing, and it is no longer advisable to walk alone through the city after dark. The most common crimes against foreigners are pickpocketing and bag-snatching. Travelers should be especially cautious in all crowded public areas such as markets, and while using public transportation. Visitors should avoid areas where protests and occasional street demonstrations can turn unruly.
Hotels
The number of hotels in Ulaan Baatar and of tourist-oriented facilities in the countryside has increased sharply in recent years. Accommodations are readily available, although many hotels may be fully booked during the peak tourist month of July. There are three hotels in Ulaan Baator, offering a total of 900 beds. Nevertheless, outside the capital, hotels remain basic.
Communications
An Asiasat Earth station has been providing international telecommunications with Mongolia since 1994. The country code is 976. Fax services are available. Telex and telegram facilities are limited in Ulan Bator. Airmail to Europe takes up to two weeks. There is a DHL service in Ulan Bator.
Electricity
is a 220 volts AC, 50Hz. Electricity 230 volts AC, 50Hz.
Plug Types
C,E
Food And Dining
Meat is the basis of the diet, primarily beef and mutton. The local cooking is quite distinctive. Traditional meals generally consist of boiled mutton with lots of fat and flour with either rice or dairy products. One local specialty is Boodog; this is the whole carcass of a goat roasted from the inside ? the entrails and bones are taken out through the throat, the carcass is filled with burning hot stones and the neck tied tightly, and thus the goat is cooked from the inside to the outside. Fish is also beginning to be widely available. Mongolian tea (suutei tsai), meaning salty tea with milk, is very popular. Mongolian vodka is excellent, as is the beer (although it is expensive). Hot and cold beverages are not normally included in meals and many restaurants will add on a 13 per cent sales tax.
Tipping:
Not customary, but this is changing and, if leaving a tip, 10 per cent is the norm.
Nightlife
There are evening performances at the State Opera and Ballet Theater, State Drama Theater and Puppet Theater. The Folk Song and Dance Ensemble and People?s Army Song and Dance Ensemble are in the capital. Other major towns also have theaters. Circus entertainment is also very popular. There is also one cinema featuring English-language films, and large numbers of bars, nightclubs and restaurants that offer dancing or live entertainment (bands).
Entry departure requirements
* Please see visa section below
Visa immigration information
Passports
Passport valid for at least six months required by all.
Visas
Required by all except the following:
(a) nationals of Kazakhstan for stays of up to three months;
(b) 1. nationals of the USA, if entering the country as a tourist, for stays of up to three months;
(c) nationals of Cuba, Israel and Malaysia for up to one month;
(d) nationals of The Philippines for stays of up to three weeks;
(e) nationals of Hong Kong and Singapore for stays of up to 14 days.
Types of visa and cost
Business and Ordinary: Single-entry/Exit: US$60 Double-entry/Exit: US$86 Multiple-entry/Exit: US$112 Single-transit: US$52 Double-transit: US$60 Multiple-transit: US$69
Validity
Visas are generally valid for 30 days from date of entry (and three months from date of issue) and can be extended in Mongolia by a maximum of 30 days.
Application to
Consulate (or Consular section at Embassy); see General Info section. If traveling on an organized tour, visas can be obtained through tourism companies or travel agencies. A group visa in the name of the tour leader is valid for all tourists on the list attached, provided relevant details (nationality, sex, date of birth, passport numbers, and dates of issue and expiry) are given at the time of application.
Note
All foreign nationals staying in Mongolia for longer than 30 days are required to register with the police within 10 days of arrival.
Application requirements
(a) Valid passport. (b) Application form. (c) One passport-size photo. (d) Fee, payable by cash or cheque; there is an additional ?5 fee for postal applications. Business (and any visas valid more than one month): (a)-(d) and, (e) Invitation letter from Mongolia.
Working days required
Two to five. An express service is available which costs an additional ?10.
Temporary residence/work permit
Enquire at the Mongolian Embassy.
HIV entry requirements
Test required for students and anyone staying longer than 3 months
Departure tax
US$12.
Embassies
Embassy of Mongolia in the UK
7-8 Kensington Court, London W8 5DL, UK
Tel: (020) 7937 0150 ext. 29 (visa section).
Website: www.embassyofmongolia.co.uk
Opening hours: Mon-Fri 1000-1230 (visa section).
Embassy of Mongolia in the USA
2833 M Street, NW, Washington, DC 20007, USA
Tel: (202) 333 7117.
Website: www.mongolianembassy.us
Most visits to Mongolia are trouble-free but you should be aware of the global risk of indiscriminate international terrorist attacks, which could be against civilian targets, including places frequented by foreigners.
Communications and health facilities in Mongolia, particularly outside Ulaanbaatar, can be poor.
Travelers entering Mongolia by road should be aware that only a few specified border crossings are open to foreigners.
This advice is based on information provided by the Foreign, Commonwealth & Development Office in the UK. It is correct at time of publishing. As the situation can change rapidly, visitors are advised to contact the following organizations for the latest travel advice:
British Foreign, Commonwealth & Development Office
Website: www.gov.uk/foreign-travel-advice
US Department of State
Website: https://travel.state.gov/content/travel.html
Currency
Tugrik (MNT). Notes are in denominations of MNT10,000, 5000, 1000, 500, 100, 50, 20, 10, 5 and 1. Coins are in denominations of MNT500, 200, 100, 50 and 20.
Currency restrictions
The import of local currency is limited to Tg815, provided declared on arrival. Bank certificates must be shown. The import of foreign currency is limited to US$2000 or equivalent. The export of local and foreign currency is limited to the amount declared on arrival.
Banking hours
Mon-Fri 0930-1230 and 1400-1500.
Currency exchange
Official organizations authorized to exchange foreign currency include commercial banks in Ulaanbaatar and bureaux de change at certain hotels. The easiest currency to exchange is the US Dollar.
Credit cards
Accepted by main commercial banks, large hotels and a few shops and restaurants in Ulaanbaatar. Credit card cash advances can be obtained at the Trade and Development Bank.
Travellers cheques
American Express Traveller's Cheques are most widely accepted although Thomas Cook are accepted by the Trade and Development Bank. To avoid additional exchange rate charges, travelers are advised to take traveller's cheques in US Dollars. Traveller's cheques can be difficult to exchange outside the capital.