Quick Facts
Region: Europe
Full Name: Republic of Moldova
Capital City: Chisinau (Kishinev)
Language Spoken: Moldovan (official, virtually the same as the Romanian language), Russian, Gagauz (a Turkish dialect)
Moldova Travel Insurance
Get travel insurance to Moldova from Direct Travel Insurance. We offer low cost and high quality travel insurance to Moldova and most of the world.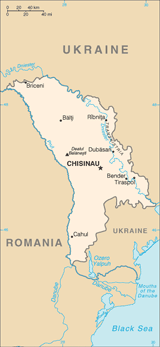 Geographic data
47 00 N, 29 00 E
Elevation Extremes
lowest point: Dniester River 2 m highest point: Dealul Balanesti 430 m
Land boundaries
total: 1,389 km border countries: Romania 450 km, Ukraine 939 km
Natural hazards
landslides (57 cases in 1998)
Natural resources
lignite, phosphorites, gypsum, arable land, limestone
Land use
arable land: 54.52% permanent crops: 8.81% other: 36.67% (2005)
Environmental current issues
heavy use of agricultural chemicals, including banned pesticides such as DDT, has contaminated soil and groundwater; extensive soil erosion from poor farming methods
Climate
Very mild and pleasant. Temperate with warm summers 20-23°C (68-73°F), crisp, sunny autumns and cold, sometimes snowy, winters. Required clothing Mediumweights, heavy topcoat and overshoes for winter; lightweights for summer. A light raincoat is useful.
Time difference
time difference: UTC+2 daylight saving time: +1hr, begins last Sunday in March; ends last Sunday in October
Population
4,466,706 (July 2006 est.)
Age structure
0-14 years: 20% (male 455,673/female 438,934) 15-64 years: 69.7% (male 1,498,078/female 1,613,489) 65 years and over: 10.3% (male 170,456/female 290,076) (2006 est.)
Median age
total: 32.3 years male: 30.3 years female: 34.3 years (2006 est.)
Population growth rate
0.28% (2006 est.)
Birth rate
15.7 births/1,000 population (2006 est.)
Death rate
12.64 deaths/1,000 population (2006 est.)
Net migration rate
-0.23 migrant(s)/1,000 population (2006 est.)
Sex ratio
at birth: 1.05 male(s)/female under 15 years: 1.04 male(s)/female 15-64 years: 0.93 male(s)/female 65 years and over: 0.59 male(s)/female total population: 0.91 male(s)/female (2006 est.)
Life expectancy at birth
total population: 65.65 years male: 61.61 years female: 69.88 years (2006 est.)
Total fertility rate
1.85 children born/woman (2006 est.)
Business Practices
Suit and tie should be worn for business meetings. Business cards are frequently exchanged. Office hours are typically 0900-1700.
Crime
Moldova has experienced a rise in crime, due to worsening economic conditions, increasing organized criminal activity, and more frequent travel by foreigners to Moldova. The possibility of becoming a victim of violent and/or street crime is significant. Proportionately, it is no greater than in most cities in the United States. Many travelers have reported to their embassies the theft of money and small valuables from hotel rooms and local apartments. Cases of breaking and entering into homes and offices have occurred. Take precautions when using ATM machines in Moldova. Thieves take PIN numbers either by "skimming" devices, which record the ATM card information while in use, or by surreptitious observation. Train and bus services are below Western European standards and travelers have been victims of theft while traveling on international trains to and from Moldova. Expatriates who use the Moldovan postal service also note frequent losses from international letter and package mail.
Hotels
There is a small selection of hotels in the capital Chisin?u, with the National at the top end of the market. Its location is fairly central, close to the railway station and about 6km (4 miles) from the airport. The Motel is located approximately 8km (5 miles) from the city center, in close proximity to the Ialovenu vineyard. The motel is closed during winter.
Communications
Telephone IDD service is available in major towns. The country code is 373. Outgoing international calls must generally go through the operator. The postal and telecommunication systems are in need of modernization. The Main Post Office is at 73 Stefan cel Mare, 277012 Chisin?u. Post office hours: 0900-2000 Monday to Sunday.
Electricity
is 220 volts AC, 50Hz Electricity 220 volts AC, 50Hz.
Plug Types
C,F
Food And Dining
There are plenty of small restaurants and coffee shops. The service tends to be slow, but the cuisine is delicious. Local specialties include mititeyi (small grilled sausages with onion and pepper) and mamaliga (thick, sticky maize pie) which is served with brinza (feta cheese). Tocana (pork stew) should be tried with sweet-and-sour watermelons and apples. There are more than 100 varieties of excellent wines produced in Moldova. White wines include Aligote, Riesling and Sauvignon. Moldovan Cabernet and Merlot are noteworthy reds. Doina or Nistru brandy is an ideal accompaniment with desserts.
Tipping:
5 to 10 per cent will be gladly accepted.
Nightlife
In Chisinau, there is a good selection of theaters and concerts halls, which includes an opera house. The Eminescu Music and Drama Theater specializes in Romanian productions, as does the Youth Theater Luceafarul (Poetic Star). All performances in the Chekhov Drama Theater are exclusively in Russian (the building used to be the Chisinau Choral Synagogue). The Philharmonia Concert Hall houses Moldova's Symphony Orchestra. It is also the base for the folklore Doina Choir, the internationally renowned Zhok National Dance Ensemble and the Fluerash Orchestra of National Music. Russian and Romanian productions can be seen in the puppet theater Licurici (Glow-worm).
Entry departure requirements
* See visa section below
Visa immigration information
Passports
Passport valid for at least six months required by all.
Visas
Required by all except the following for stays of up to 90 days:
(a) nationals of the CIS, except nationals of Turkmenistan who do require a visa;
(b) nationals of 1. Poland and Romania.
Types of visa and cost
Tourist, Simple, Service (Business) and Transit. All may be issued on a single-, double- or multiple-entry basis. Costs vary depending on nationality of applicant and type of visa. Contact Embassy for further details.
Validity
Tourist: One month from date of issue.
Application to
Consulate (or Consular section at Embassy); see Passport/Visa Information.
Application requirements
(a) Passport with blank pages to affix the visa. (b) One application form. (c) One passport-size photo. (d) Fee payable by money order or cheque only. (e) For postal applications, a self-addressed return envelope should also be submitted. (f) Letter of invitation from Moldova, authorized by the Department of Migration in Moldova, or a tourist voucher issued by a Moldovan tourist agency. Transit: (a)-(e) and, (f) Entry documents for next country. (g) Onward tickets.
Note
(a) Nationals of EU countries, Bulgaria, Canada, Croatia, Israel, Japan, Norway, Switzerland, Turkey and the USA do not need to submit an invitation to obtain a visa for stays of up to 90 days. (b) All foreign visitors must register with the police within three days of arrival.
Working days required
Five; same day for urgent visas with surcharge of 50 per cent of visa price.
Temporary residence
Apply to the Foreign Ministry in Moldova.
HIV entry requirements
Test required for anyone staying longer than 3 months
Departure tax
USD12.
Embassies
Embassy of the Republic of Moldova in the UK
5 Dolphin Square, Edensor Road, London W4 2ST, UK
Tel: (020) 8995 6818.
Website: http://britania.mfa.gov.md/news-eu/
E-mail: movilamd@mail.md
Embassy of the Republic of Moldova in the USA
2101 S Street, NW, Washington, DC 20008, USA
Tel: (202) 667 1130 or 1137 (ext. 15 for consular section).
E-mail: embassyofmoldova@mcihispeed.net
Travelers to Moldova should be aware of the global risk of indiscriminate international terrorist attacks, which could be against civilian targets, including places frequented by foreigners.
Caution is advised if considering traveling to Transnistria. Transnistria (northeast Moldova) is not under Moldovan government control and seeks autonomous status. There was tension between the Moldovans and Transnistrians in summer 2004 and relations remain poor. It is very important to avoid getting into difficulty with the Transnistrian authorities.
This advice is based on information provided by the Foreign, Commonwealth & Development Office in the UK. It is correct at time of publishing. As the situation can change rapidly, visitors are advised to contact the following organizations for the latest travel advice:
British Foreign, Commonwealth & Development Office
Tel: (0845) 850 2829.
Website: www.gov.uk/foreign-travel-advice
US Department of State
Currency
Leu (MDL) = 100 bani. Notes are in denominations of MDL500, 200, 100, 50, 20, 10, 5 and 1. Coins are in denominations of 50, 25, 10, 5 and 1 bani.
Currency restrictions
The import of local and foreign currency is unlimited. The export of local currency is unlimited. The export of foreign currency is limited to amount imported.
Banking hours
Mon-Fri 0930-1730.
Currency exchange
Foreign currencies can be exchanged in hotels or bureaux de change. Moldova is essentially a cash-only economy. There are three ATMs in Chisinau where local currency can be withdrawn using Visa cards.
Credit cards
Credit cards are only accepted by a few banks. Check with your credit or debit card company for details of merchant acceptability and other services which may be available.
Travellers cheques
Traveller's cheques are not generally accepted, though a few banks may exchange them.
| City/Region | City/Area code | Followed by |
| --- | --- | --- |
| Anenii Noi | (0)265 | + 5 digit subscriber nr |
| Balti | (0)231 | + 5 digit subscriber nr |
| Basarabeasca | (0)297 | + 5 digit subscriber nr |
| Bendery | (0)532 | + 5 digit subscriber nr |
| Briceni | (0)247 | + 5 digit subscriber nr |
| Cahul | (0)299 | + 5 digit subscriber nr |
| Cainari | (0)277 | + 5 digit subscriber nr |
| Calarasi | (0)244 | + 5 digit subscriber nr |
| Camenca | (0)281 | + 5 digit subscriber nr |
| Cantemir | (0)273 | + 5 digit subscriber nr |
| Causeni | (0)243 | + 5 digit subscriber nr |
| Cead?r ? Lunga | (0)291 | + 5 digit subscriber nr |
| Chisinau | (0)22 | + 6 digit subscriber nr |
| Cimislia | (0)241 | + 5 digit subscriber nr |
| Comrat | (0)298 | + 5 digit subscriber nr |
| Criuleni | (0)248 | + 5 digit subscriber nr |
| Dnestrovsk | (0)559 | + 5 digit subscriber nr |
| Donduseni | (0)251 | + 5 digit subscriber nr |
| Drochia | (0)252 | + 5 digit subscriber nr |
| Dubasari | (0)545 | + 5 digit subscriber nr |
| Edinet | (0)246 | + 5 digit subscriber nr |
| Falesti | (0)259 | + 5 digit subscriber nr |
| Floresti | (0)250 | + 5 digit subscriber nr |
| Glodeni | (0)249 | + 5 digit subscriber nr |
| Grigoriopol | (0)540 | + 5 digit subscriber nr |
| H?ncesti | (0)269 | + 5 digit subscriber nr |
| Ialoveni | (0)268 | + 5 digit subscriber nr |
| Kamenka | (0)556 | + 5 digit subscriber nr |
| Leova | (0)263 | + 5 digit subscriber nr |
| Nisporeni | (0)264 | + 5 digit subscriber nr |
| Ocnita | (0)271 | + 5 digit subscriber nr |
| Orhei | (0)235 | + 5 digit subscriber nr |
| Rezina | (0)254 | + 5 digit subscriber nr |
| R?bnita | (0)286 | + 5 digit subscriber nr |
| R?scani | (0)256 | + 5 digit subscriber nr |
| Rybnitsa | (0)555 | + 5 digit subscriber nr |
| S?ngerei | (0)262 | + 5 digit subscriber nr |
| Slobozia | (0)557 | + 5 digit subscriber nr |
| Soldanesti | (0)272 | + 5 digit subscriber nr |
| Soroca | (0)230 | + 5 digit subscriber nr |
| Stefan Voda | (0)242 | + 5 digit subscriber nr |
| Straseni | (0)237 | + 5 digit subscriber nr |
| Taraclia | (0)294 | + 5 digit subscriber nr |
| Telenesti | (0)258 | + 5 digit subscriber nr |
| Tiraspol | (0)533 | + 5 digit subscriber nr |
| Ungheni | (0)236 | + 5 digit subscriber nr |
| Vulcanesti | (0)293 | + 5 digit subscriber nr |