Quick Facts
Region: Asia & Oceania
Full Name: Republic of the Marshall Islands
Capital City: Majuro
Language Spoken: Marshallese 98.2%, other languages 1.8% (1999 census) note: English widely spoken as a second language; both Marshallese and English are official languages
Marshall Islands Travel Insurance
Get travel insurance to Marshall Islands from Direct Travel Insurance. We offer low cost and high quality travel insurance to Marshall Islands and most of the world.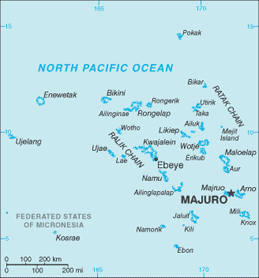 Geographic data
9 00 N, 168 00 E
Elevation Extremes
lowest point: Pacific Ocean 0 m highest point: unnamed location on Likiep 10 m
Land boundaries
0 km
Natural hazards
infrequent typhoons
Natural resources
coconut products, marine products, deep seabed minerals
Land use
arable land: 11.11% permanent crops: 44.44% other: 44.45% (2005)
Environmental current issues
inadequate supplies of potable water; pollution of Majuro lagoon from household waste and discharges from fishing vessels
Climate
Tropical, with cooling sea breezes and frequent rain. Trade winds blow steadily from the northeast from December through to March. Wettest months are usually October to November. The average temperature is 27°C (80°F). Required clothing Lightweight cottons and linens with rainwear.
Time difference
time difference: UTC+12
Population
60,422 (July 2006 est.)
Age structure
0-14 years: 38.1% (male 11,720/female 11,295) 15-64 years: 59.2% (male 18,305/female 17,445) 65 years and over: 2.7% (male 801/female 856) (2006 est.)
Median age
total: 20.3 years male: 20.4 years female: 20.3 years (2006 est.)
Population growth rate
2.25% (2006 est.)
Birth rate
33.05 births/1,000 population (2006 est.)
Death rate
4.78 deaths/1,000 population (2006 est.)
Net migration rate
-5.78 migrant(s)/1,000 population (2006 est.)
Sex ratio
at birth: 1.05 male(s)/female under 15 years: 1.04 male(s)/female 15-64 years: 1.05 male(s)/female 65 years and over: 0.94 male(s)/female total population: 1.04 male(s)/female (2006 est.)
Life expectancy at birth
total population: 70.31 years male: 68.33 years female: 72.39 years (2006 est.)
Total fertility rate
3.85 children born/woman (2006 est.)
Business Practices
Business practices are similar to those of Europe and America, however informal dress is usual for both business and social occasions.
Crime
The country's crime rate is relatively low, but rapidly increasing due to rapid population growth. Petty crimes such as pickpocketing do occur. The most common crimes include break-ins and burglaries from homes, hotel rooms, and vehicles. Visitors should practice commonsense precautions such as carrying a limited amount of cash and locking all valuables in a safe. The police force is poorly trained, poorly equipped, and lack incentive and proper transportation to respond to crime scenes.
Hotels
There are currently about 130 hotels in Majuro and some islands have guesthouses. Hotels exist in Majuro and on Ebeye, the country's second most populous island. Water shortages are common.
Communications
Telephone IDD service is available. The country code is 692. There are international satellite links. In Majuro dial 625 3399 or 625 3355 for the hospital; 625 3183 for the fire services; 625 3666 for police; and 411 for general information. Outgoing international calls must be made through the operator. 24-hour telex and telegram facilities are available in Majuro, near the High School in Rita, and in Ebeye. Opening hours: 0800-1200 and 1300-1700 Monday to Friday.
Electricity
is 110 volts AC, 60Hz. Plugs are American 2-pin style. Electricity 110 volts AC, 60 Hz. Plugs are US two-pin ord=adDateTimeStamp;url=adCountryStamp;document.write(''); style.
Plug Types
Food And Dining
There are several restaurants in Majuro, serving Chinese, Marshallese, US and Western specialties. Consumption of alcohol is forbidden on some of the islands.
Tipping:
Unnecessary.
Nightlife
There are several nightclubs on Majuro and Ebeye and some hotels offer traditional dancing.
Entry departure requirements
Visa immigration information
Passports
Passports valid for at least one year from date of arrival required by all.
Visas
Required by all except the following:
(a) nationals of the USA;
(b) nationals of the Federated States of Micronesia and the Republic of Palau.
Note
Tourist visas are issued on arrival. It may be necessary to obtain a transit visa for the USA first, as flights to the Marshall Islands are via Guam or Hawaii. Contact an airline such as Air Marshall Islands or Continental Micronesia for further information. All visitors require proof of adequate funds and return or onward tickets.
Types of visa and cost
Tourist: Free (up to 30 days); US$25 (up to 90 days). Business: US$50.
Validity
30 days; extensions for up to 90 days are available upon arrival in the Marshall Islands.
Application to
For stays exceeding 30 days, apply to: Attorney General, Office of the Attorney General, PO Box 890, Majuro, Marshall Islands 96960 (tel: 635 8495; fax: 625 5218).
Application requirements
(a) Valid passport. (b) Completed incoming passenger card (available on board ship/aircraft). (c) Return or onward ticket. (d) Sufficient funds to cover stay. (e) For those intending to stay for more than 30 days, an AIDS certificate is required. Contact the Chief of Immigration for latest information.
Working days required
Applications are dealt with on receipt.
Temporary residence
Apply to Attorney General (address above).
HIV entry requirements
Test required for anyone applying for work or residency permits
Departure tax
US$20 on international flights.
Embassies
Embassy of the Republic of the Marshall Islands in the USA
2433 Massachusetts Avenue, NW, Washington, DC 20008, USA
Tel: (202) 234 5414.
Website: www.rmiembassyus.org
Most visits to the Marshall Islands are trouble-free but you should be aware of the global risk of indiscriminate international terrorist attacks, which could be against civilian targets, including places frequented by foreigners.
This advice is based on information provided by the Foreign, Commonwealth & Development Office in the UK. It is correct at time of publishing. As the situation can change rapidly, visitors are advised to contact the following organizations for the latest travel advice:
British Foreign, Commonwealth & Development Office
Tel: (0845) 850 2829.
Website: www.gov.uk/foreign-travel-advice
US Department of State
Currency
Money For details of currency, credit & debit cards, traveller?s cheques, exchange rate indicators and banking hours, see Pacific Islands of Micronesia section.
Currency restrictions
There are no limits on the import and export of local and foreign currency, subject to declaration of amounts exceeding US$5000.
Banking hours
Mon-Thur 1000-1500; Fri 1000-1800; Sat 0900-1200.
Currency exchange
Credit cards
Most major credit cards are accepted at major visitor-orientated businesses.
Travellers cheques
Exchanged at the larger hotels and businesses.
| City/Region | City/Area code | Followed by |
| --- | --- | --- |
| Ebeye Island, Kwajelien Atoll | (1+)329 | + 4 digits |
| Majuro Island, Majuro Atoll | (1+)528 | + 4 digits |