Quick Facts
Region: Africa
Full Name: Republic of Madagascar
Capital City: Antananarivo
Language Spoken: French (official), Malagasy (official)
Madagascar Travel Insurance
Get travel insurance to Madagascar from Direct Travel Insurance. We offer low cost and high quality travel insurance to Madagascar and most of the world.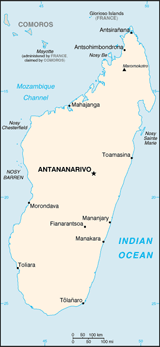 Geographic data
20 00 S, 47 00 E
Elevation Extremes
lowest point: Indian Ocean 0 m highest point: Maromokotro 2,876 m
Land boundaries
0 km
Natural hazards
periodic cyclones, drought, and locust infestation
Natural resources
graphite, chromite, coal, bauxite, salt, quartz, tar sands, semiprecious stones, mica, fish, hydropower
Land use
arable land: 5.03% permanent crops: 1.02% other: 93.95% (2005)
Environmental current issues
soil erosion results from deforestation and overgrazing; desertification; surface water contaminated with raw sewage and other organic wastes; several endangered species of flora and fauna unique to the island
Climate
Hot and subtropical climate, colder in the mountains. Rainy season: November to March. Dry season: April to October. The south and west regions are hot and dry. Monsoons bring storms and cyclones to the east and north from December to March. The mountains, including Antananarivo, are warm and thundery from November to April and dry, cool and windy the rest of the year. Required clothing Lightweights are worn during the summer on high central plateau and throughout the year in the north and south. Warmer clothes are advised for during the evenings and winter in mountainous areas. Rainwear is advisable.
Time difference
time difference: UTC+3
Population
18,595,469 (July 2006 est.)
Age structure
0-14 years: 44.8% (male 4,171,821/female 4,158,288) 15-64 years: 52.2% (male 4,809,173/female 4,900,675) 65 years and over: 3% (male 249,414/female 306,098) (2006 est.)
Median age
total: 17.5 years male: 17.3 years female: 17.7 years (2006 est.)
Population growth rate
3.03% (2006 est.)
Birth rate
41.41 births/1,000 population (2006 est.)
Death rate
11.11 deaths/1,000 population (2006 est.)
Net migration rate
0 migrant(s)/1,000 population (2006 est.)
Sex ratio
at birth: 1.03 male(s)/female under 15 years: 1 male(s)/female 15-64 years: 0.98 male(s)/female 65 years and over: 0.82 male(s)/female total population: 0.99 male(s)/female (2006 est.)
Life expectancy at birth
total population: 57.34 years male: 54.93 years female: 59.82 years (2006 est.)
Total fertility rate
5.62 children born/woman (2006 est.)
Business Practices
Business meetings tend to be somewhat informal, but tropical lightweight suits are appropriate wear. While many businessmen speak English or French, interpreters may at times be useful for business meetings. Office hours are generally 0800-1200 and 1400-1800 Monday through Friday.
Crime
The major concerns for visitors to Antananarivo are street crime, as well as theft from residences and vehicles. Walking at night, whether alone or in a group, is not considered safe in urban areas, including in the vicinity of Western-standard hotels. Wearing expensive jewelry, or carrying other expensive items while on foot or using public transportation, is strongly discouraged. Valuable items should never be left in an unattended vehicle. Although crimes, such as burglary, do occur in areas outside the capital, the threat of confrontational crime is less common in rural areas. Night travel in private or public conveyances outside Antananarivo is discouraged due to poor lighting and road conditions. In 1999, there were a series of robberies at Libanona Beach and Peak Saint Louis, in the Fort Dauphin area, perpetrated by persons representing themselves as "guides." Although there have been no such incidents reported since, visitors should hire only an authorized guide and be cautious when visiting any isolated areas.
Hotels
Business-class hotels are available in Antananarivo and a few other main towns, but since hotel development is in its early stages, outlying areas have less-appealing accommodations.
Communications
Telephone IDD service is available to major towns. Country code: 261. Outgoing international code: 16. Telex services are available at the telecommunications center and the Colbert and Hilton hotels in the capital. The main post office (PTT) in Antananarivo offers a 24-hour telegram transmission service. The Poste Restante facilities at main post offices are the most reliable option. Airmail to Europe takes at least seven days and surface mail three to four months.
Electricity
is mostly 220 volts AC, 50Hz. Plugs are generally 2-pin. Electricity Mostly 220 volts AC, 50Hz. Plugs are generally two-pin.
Plug Types
C,D,E,J,K
Food And Dining
In Madagascar, eating well means eating a lot. Malagasy cooking is based on a large serving of rice with a dressing of sauces, meat, vegetables and seasoning. The people of Madagascar enjoy very hot food and often serve dishes with hot peppers. Local restaurants are often referred to as hotely. The choice of beverages is limited. The national wine is acceptable.
National specialties:
? Ro (a mixture of herbs and leaves with rice).
? Beef and pork marinated in vinegar, water and oil, then cooked with leaves, onion, pickles and other vegetables and seasoned with pimento.
? Ravitoto (meat and leaves cooked together).
? Ramazava (leaves and pieces of beef and pork browned in oil).
? Vary amid 'anana (rice, leaves or herbs, meat and sometimes shrimps), often eaten with kitoza (long slices of smoked, cured or fried meat). National drinks:
? Malagasy drinks include litchel (an aperitif made from lychees).
? Betsa (fermented alcohol).
? Toaka gasy (distilled from cane sugar and rice).
? Three Horses lager.
? Non-alcoholic drinks include ranon 'apango or rano vda (made from burnt rice) and local mineral waters.
Tipping:
Not customary, although waiters expect 10 per cent of the bill. In European-style hotels and restaurants, the French system of tipping is followed. One should also tip in Chinese and Vietnamese establishments.
Nightlife
There are a few discos, sometimes with bands and solo musicians. Casinos can be found at Antananarivo, Toamasina and on Nossi B?. Most main towns have cinemas and theaters, and touring theater groups perform local plays throughout the country. Traditional dance troupes can also be seen.
Entry departure requirements
Visa immigration information
Passports
Passports valid for six months after date of entry required by all.
Visas
Required by all except:
Transit passengers continuing their journey by the same or first connecting aircraft within 24 hours provided holding onward or return documentation and not leaving the airport.
Types of visa and cost
Tourist: US$69 (single-entry); US$86 (multiple-entry). Business: US$94 (single-entry); US$112 (multiple-entry).
Validity
Visas are issued for stays of up to 90 days and are valid for six months from date of issue.
Application to
Consulate (or Consular section at Embassy). Some nationalities are able to get a visa at Antananarivo airport on arrival, however it is strongly recommended to obtain a visa prior to this. Contact the Embassy for further information before departure.
Application requirements
(a) Valid passport. (b) One application form and one copy. (c) Two passport-size photos. (d) Return ticket or confirmation of booking from travel agent. (e) Fee payable by cheque or cash. (f) If applying by post enclose pre-paid, next-day special delivery envelope. Business: (a)-(f) and, (g) Letter of recommendation and confirmation of employment on company-headed notepaper with details about the applicant's business activity, stating the company or individual responsible for expenses and the name of correspondent in Madagascar.
Working days required
Same day (personal applications); up to five days (postal applications).
Temporary residence
Enquire at Consulate (or Consular section at Embassy).
HIV entry requirements
No test Required
Departure tax
None
Embassies
Honorary Consulate of the Republic of Madagascar in the UK
16 Lanark Mansions, Pennard Road, London W12 8DT, UK
Tel: (020) 8746 0133.
Website: http://www.embassyhomepage.com/madagascar/contact-malagasy-embassy-london-uk.htm
Opening hours: Mon-Fri 0930-1300.
Embassy of the Republic of Madagascar in the USA
2374 Massachusetts Avenue, NW, Washington, DC 20008, USA
Tel: (202) 265 5525-7.
Most visits to Madagascar are trouble-free but you should be aware of the global risk of indiscriminate international terrorist attacks, which could be against civilian targets, including places frequented by foreigners.
Travelers should avoid walking in city centers after dark.
There have been reports of hold-ups at night on some of the major roads.
This advice is based on information provided by the Foreign, Commonwealth & Development Office in the UK. It is correct at time of publishing. As the situation can change rapidly, visitors are advised to contact the following organizations for the latest travel advice:
British Foreign, Commonwealth & Development Office
Website: www.gov.uk/foreign-travel-advice
US Department of State
Currency
The pre-colonial Ariary (MGA) has been reintroduced to replace the Malagasy Franc (MGF). Notes are in denominations of MGA10,000, 5000, 2000, 1000, 500, 200 and 100. Coins are in denominations of MGA 50, 20, 10 and 5. Malagasy Francs are no longer legal tender but can be exchanged at banks until 2009.
Currency restrictions
The import of local currency is limited to MGA1000. The export of local currency is prohibited to non-residents. The import and export of foreign currency is unlimited, subject to declaration.
Banking hours
Mon-Fri 0800-1100 and 1400-1600.
Currency exchange
Malagasy Francs can be bought only at banks and official bureaux de change in hotels and at the airport in Antananarivo. Hotels have a less favorable exchange rate. A few ATMs have now been installed in Antananarivo. The Ariary is a non-convertible currency and cannot be exchanged back into tradable currency. Therefore it is a good idea to exchange currency as required.
Credit cards
American Express, Diners Club, MasterCard and Visa are accepted at top-end hotels in Tana and the provincial capitals. These and other cards have limited use elsewhere in the country. Check with your credit or debit card company for details of merchant acceptability and other services which may be available.
Travellers cheques
These can be exchanged in banks and major hotels. To avoid additional exchange rate charges, travelers are advised to take traveller's cheques in Euros or US Dollars.
| City/Region | City/Area code | Followed by |
| --- | --- | --- |
| Antananarivo | 202 | + 6 digits |
| Antsiranana | 208 | + 6 digits |
| Fianarantsoa | 207 | + 6 digits |
| Mahajanga | 206 | + 6 digits |
| Toamasina | 205 | + 6 digits |
| Toliary | 209 | + 6 digits |