Quick Facts
Region: Europe
Full Name: Republic of Macedonia
Capital City: Skopje
Language Spoken: Macedonian 66.5%, Albanian 25.1%, Turkish 3.5%, Roma 1.9%, Serbian 1.2%, other 1.8% (2002 census)
Macedonia Travel Insurance
Get travel insurance to Macedonia from Direct Travel Insurance. We offer low cost and high quality travel insurance to Macedonia and most of the world.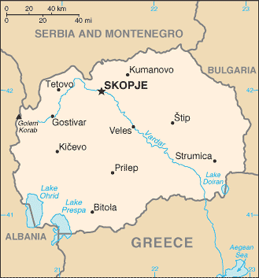 Geographic data
41 50 N, 22 00 E
Elevation Extremes
lowest point: Vardar River 50 m highest point: Golem Korab (Maja e Korabit) 2,764 m
Land boundaries
total: 766 km border countries: Albania 151 km, Bulgaria 148 km, Greece 246 km, Serbia 221 km
Natural hazards
high seismic risks
Natural resources
low-grade iron ore, copper, lead, zinc, chromite, manganese, nickel, tungsten, gold, silver, asbestos, gypsum, timber, arable land
Land use
arable land: 22.01% permanent crops: 1.79% other: 76.2% (2005)
Environmental current issues
air pollution from metallurgical plants
Climate
As a landlocked country, (Former Yugoslav Republic of) Macedonia has a pronounced continental climate, with very cold winters and hot summers. Required clothing Mediumweight clothing and very warm overcoats in winter; lightweight clothing and raincoats required for the summer.
Time difference
time difference: UTC+1 daylight saving time: +1hr, begins last Sunday in March; ends last Sunday in October
Population
2,050,554 (July 2006 est.)
Age structure
0-14 years: 20.1% (male 213,486/female 199,127) 15-64 years: 68.9% (male 711,853/female 701,042) 65 years and over: 11% (male 98,618/female 126,428) (2006 est.)
Median age
total: 34.1 years male: 33.2 years female: 35.1 years (2006 est.)
Population growth rate
0.26% (2006 est.)
Birth rate
12.02 births/1,000 population (2006 est.)
Death rate
8.77 deaths/1,000 population (2006 est.)
Net migration rate
-0.65 migrant(s)/1,000 population (2006 est.)
Sex ratio
at birth: 1.08 male(s)/female under 15 years: 1.07 male(s)/female 15-64 years: 1.02 male(s)/female 65 years and over: 0.78 male(s)/female total population: 1 male(s)/female (2006 est.)
Life expectancy at birth
total population: 73.97 years male: 71.51 years female: 76.62 years (2006 est.)
Total fertility rate
1.57 children born/woman (2006 est.)
Business Practices
Business meetings are formal, with suits and ties appropriate for men and skirts and blouses usually worn by women. English, French and German are spoken in most business circles. Office hours are 0700-1500 Monday to Friday.
Crime
Personal attacks, including serious sexual assaults and rapes, are rare. However, there has been a recent increase in reported street robberies involving the use of violence. Personal attacks against foreigners are extremely rare. However, acts of intimidation and harassment against nationals of Western countries have been reported. There have also been cases of foreigners being pickpocketed by gangs of children and bag snatchers in the main shopping and entertainment areas late at night. Foreign nationals appear to have been specifically targeted. Pickpocketing is an especial concern at Skopje's Petrovec Airport and Trgovski Centar, the main downtown shopping mall. Credit card fraud is widespread and caution should be exercised when making a purchase using this method. ATM use is considered safe as long as standard safety precautions are taken. Valuables, including cell phones and electronic items, should not be left in plain view in unattended vehicles. Windows and doors should be securely locked when residences are uninhabited. Organized crime is present in Macedonia, which occasionally results in violent confrontations between rival organizations. Criminal inter-gang rivalries and individuals associated with organized crime, particularly in western Macedonia, have been the source of periodic violent confrontations resulting in serious injury and even death to innocent people.
Hotels
Macedonia has no deluxe/A-class hotels. There are B-class hotels in Skopje and the Ohrid Lake tourist area on the border with Albania and Greece.
Communications
Telecommunications/Post: IDD is available. Country code: 389. Outgoing international code: 99. All telecommunications services, as well as the post, are generally working normally, although uncertainty still surrounds all future international connections via Serbia and Greece. The Ministry of Information acts as the state news agency, periodically producing material in English for international distribution.
Electricity
is 220 volts AC, 50Hz. Electricity 220 volts AC, 50Hz.
Plug Types
C,F
Food And Dining
Macedonian cuisine is similar to that of Turkey and Greece. Different varieties of kebab can be found almost everywhere, as can dishes such as moussaka (aubergines and potatoes baked in layers with minced meat). National specialties are gravce tavce (beans in a skillet) and the delicious Ohrid trout.
Entry departure requirements
* Please see passport section
Visa immigration information
Passports
Passport with at least three to six months' validity (depends on the individual case) required by all.
Visas
Required by all except the following:
(a) 1. nationals referred to in the chart above (except Australia, Canada, Czech Republic, Estonia, Hungary, Latvia, Lithuania, Poland, Slovak Republic and Slovenia) for tourist and business stays of up to three months;
(b) nationals of Barbados, Bosnia & Herzegovina, Botswana, Croatia, Cuba, Iceland, Israel, Liechtenstein, Monaco, New Zealand, Norway, San Marino, Switzerland and the Vatican City for tourist and business stays of up to three months;
(c) nationals of Serbia & Montenegro and Turkey for tourist and business stays of up to 60 days;
(d) nationals of Bulgaria and Malaysia for tourist and business stays of up to one month;
(e) nationals of CIS countries, except nationals of Moldova and Uzbekistan, can travel without a visa for purposes such as organized tourism and visiting relatives.
Note
(a) Nationals of the following countries need to obtain official approval from the Ministry of Interior in (Former Yugoslav Republic of) Macedonia. in order to obtain visas: Afghanistan, Algeria, Bangladesh, Burundi, Cameroon, Chile, China (PR), Congo (Rep), Egypt, Ethiopia, Gabon, Ghana, Guatemala, Guinea, Guinea-Bissau, Honduras, Hong Kong (SAR), India, Iran, Iraq, Jordan, Lebanon, Libya, Morocco, Niger, Nigeria, Oman, Pakistan, The Philippines, Rwanda, Saudi Arabia, Senegal, Somalia, Sri Lanka, Sudan, Syrian Arab Republic, Tunisia, United Arab Emirates, Vietnam and Yemen. Their visas must also be issued at an embassy (including for nationals of Czech Republic, although they do not need prior approval). All other nationals require visas, but their applications do not need to be referred to Skopje. (b) Any holders of travel documents other than a passport must also require approval from (Former Yugoslav Republic of) Macedonia.
Types of visa
Single-entry: ?13 (?21*); Double-entry: ?17 (?25*); Multiple-entry: ?24 (?32*).
* These prices are for those nationals that require approval from the Macedonian authorities. Visas are issued free of charge to nationals of the CIS (except nationals of Moldova and Uzbekistan).
Validity
Valid for 30 days. Transit visas valid for up to five days.
Application to
Nearest Diplomatic or Consular mission (see General Info section).
Application requirements
(a) Valid passport. (b) Application form, which must be submitted in person. (c) One passport-size photo. (d) Fee payable in cash. Tourist: (a)-(d) and, (e) Hotel reservation. Business: (a)-(d) and, (e) Letter of invitation from Macedonian company. (f) Business letter from the applicant's company. Transit: (a)-(d) and, (e) Visa for next country, if required.
Working days required
Usually one to three, although if approval is needed from (Former Yugoslav Republic of) Macedonia (see above), can take a minimum of 10 days.
HIV entry requirements
No Test Required
Departure tax
None
Embassies
Embassy of (Former Yugoslav Republic of) Macedonia in the UK
Suite 2.1 & 2.2, 2nd Floor, Buckingham Court, Buckingham Gate, London SW1E 6BE, UK
Tel: (020) 7976 0535 or 0538 (consular section).
Opening hours: Mon-Fri 0930-1730; Mon, Wed and Fri 1200-1500 (for personal callers).
Embassy of (Former Yugoslav Republic of) Macedonia in the USA
1101 30th Street, Suite 302, NW Washington, DC 20007, USA
Tel: (202) 337 3063.
E-mail: rmacedonia@aol.com

Most visits to Macedonia are trouble-free but you should be aware of the global risk of indiscriminate terrorist attacks, which could be against civilian targets, including places visited by foreigners.
Travelers intending to travel to the northern and western border regions of Macedonia should exercise caution.
Sporadic acts of violence do still occur in Macedonia, particularly in the north, but also including Skopje.
This advice is based on information provided by the Foreign, Commonwealth & Development Office in the UK. It is correct at time of publishing. As the situation can change rapidly, visitors are advised to contact the following organizations for the latest travel advice:
British Foreign, Commonwealth & Development Office
Website: www.gov.uk/foreign-travel-advice
US Department of State
Currency
Macedonian Denar (MKD) = 100 deni. Notes are in denominations of MKD5000, 1000, 500, 100, 50 and 10. Coins are in denominations of MKD5, 2 and 1, and 50 deni.
Currency restrictions
There are no restrictions on the import and export of local or foreign currency.
Banking hours
Mon-Fri 0700-1900; Sat 0700-1300.
Currency exchange
All major currencies may be exchanged, but Euros are easiest to exchange.
Credit cards
Very limited acceptance. Check with your credit or debit Card Company for details of merchant acceptability and other services which may be available.
Travellers cheques
To avoid additional exchange rate charges, travellers are advised to take cheques in US Dollars or Euros.
| City/Region | City/Area code | Followed by |
| --- | --- | --- |
| Bitola | (0)47 | + 6 digit subscriber nr |
| Gevgelija | (0)34 | + 6 digit subscriber nr |
| Gostivar | (0)42 | + 6 digit subscriber nr |
| Kicevo | (0)45 | + 6 digit subscriber nr |
| Kocani | (0)33 | + 6 digit subscriber nr |
| Kumanovo | (0)31 | + 6 digit subscriber nr |
| Ohrid | (0)46 | + 6 digit subscriber nr |
| Prilep | (0)48 | + 6 digit subscriber nr |
| Skopje | (0)2 | + 7 digit subscriber nr |
| Stip | (0)32 | + 6 digit subscriber nr |
| Tetovo | (0)44 | + 6 digit subscriber nr |
| Veles | (0)43 | + 6 digit subscriber nr |