Quick Facts
Region: Asia & Oceania
Full Name: Malaysia
Capital City: Kuala Lumpur
Language Spoken: Bahasa Melayu (official), English, Chinese (Cantonese, Mandarin, Hokkien, Hakka, Hainan, Foochow), Tamil, Telugu, Malayalam, Panjabi, Thai note: in East Malaysia there are several indigenous languages; most widely spoken are Iban and Kadazan
Malaysia Travel Insurance
Get travel insurance to Malaysia from Direct Travel Insurance. We offer low cost and high quality travel insurance to Malaysia and most of the world.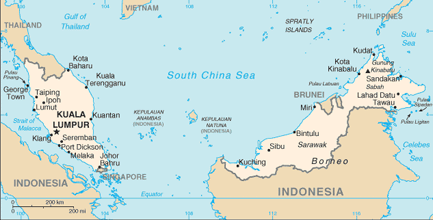 Geographic data
2 30 N, 112 30 E
Elevation Extremes
lowest point: Indian Ocean 0 m highest point: Gunung Kinabalu 4,100 m
Land boundaries
total: 2,669 km border countries: Brunei 381 km, Indonesia 1,782 km, Thailand 506 km
Natural hazards
flooding, landslides, forest fires
Natural resources
tin, petroleum, timber, copper, iron ore, natural gas, bauxite
Land use
arable land: 5.46% permanent crops: 17.54% other: 77% (2005)
Environmental current issues
air pollution from industrial and vehicular emissions; water pollution from raw sewage; deforestation; smoke/haze from Indonesian forest fires
Climate
Tropical without extremely high temperatures. Days are very warm, while nights are fairly cool. The main rainy season in the east runs between November and February, while August is the wettest period on the west coast. East Malaysia has heavy rains (November to February) in Sabah and in Sarawak. However, it is difficult to generalize about the country?s climate, as rainfall differs on the east and west coasts according to the prevailing monsoon winds (northeast or southwest).\nRequired clothing\nLightweight cottons and linens are worn throughout the year. Waterproofing is advisable all year.
Time difference
time difference: UTC+8 note: Putrajaya is referred to as administrative center not capital; Parliament meets in Kuala Lumpur
Population
24,385,858 (July 2006 est.)
Age structure
0-14 years: 32.6% (male 4,093,859/female 3,862,730) 15-64 years: 62.6% (male 7,660,680/female 7,613,537) 65 years and over: 4.7% (male 509,260/female 645,792) (2006 est.)
Median age
total: 24.1 years male: 23.6 years female: 24.8 years (2006 est.)
Population growth rate
1.78% (2006 est.)
Birth rate
22.86 births/1,000 population (2006 est.)
Death rate
5.05 deaths/1,000 population (2006 est.)
Net migration rate
0 migrant(s)/1,000 population note: does not reflect net flow of an unknown number of illegal immigrants from other countries in the region (2006 est.)
Sex ratio
at birth: 1.07 male(s)/female under 15 years: 1.06 male(s)/female 15-64 years: 1.01 male(s)/female 65 years and over: 0.79 male(s)/female total population: 1.01 male(s)/female (2006 est.)
Life expectancy at birth
total population: 72.5 years male: 69.8 years female: 75.38 years (2006 est.)
Total fertility rate
3.04 children born/woman (2006 est.)
Business Practices
In general, business customs in Malaysia do not differ fundamentally from those in the most western counties. Frankness, openness, promptness, etc. are all valued traits in business negotiations and dealings. Visiting businesspeople should be aware of some religious and cultural sensitivity; for example, Malay Muslims may feel uncomfortable in business/social functions where alcohol is served. Many businesses and government agencies work a half-day on Saturday mornings. Business visitors may be issued passes at the point of entry for the purpose of attending business meetings and conducting business negotiations in Malaysia. However, anyone who is to be employed in Malaysia, or to engage in work in Malaysia such as the overseeing of the installation of equipment on a project, must apply for a business or professional pass prior to arrival in Malaysia. English is widely spoken in Malaysia and is commonly used in business.
Crime
Malaysia remains among the Asian countries least affected by rising crime due to declining economic conditions resulting from the Asian financial crisis. Violent crime is still relatively uncommon in Malaysia, although there have been isolated incidents of armed robbery against the expatriate business community in the past year. Most criminal activity against foreigners is limited to non-violent crimes such as petty theft, purse snatching, and credit card fraud. Residential break-ins have increased, but burglaries of occupied homes remain quite rare. Industrial petty theft is a common problem. Companies in the high-tech industry should remain mindful of corporate espionage, trademark, and copyright infringement and these issues require considerable management attention. In the first half of 1998, firebombings of vehicles of Malaysian senior management officials of a foreign-owned high-tech firm occurred in Malacca, a port city about midway between Kuala Lumpur and Singapore. The devices were crude "molotov cocktail" type devices, and the results of the investigation pointed toward a recently dismissed former employee. Suspect and victims were all ethnic Chinese-Malaysian citizens. Ssimilar attacks have been known to occur when business deals, mostly of illegal or borderline businesses such as prostitution, gambling, or night club related deals, fail or go sour. Members of the close-knit ethnic Chinese minority communities in Malacca and Penang have been implicated in many of these activities. Much more serious were a series of armed robberies between May and November 1998. These were carried out against the corporate offices of foreign companies in and around Kuala Lumpur. Of the five robberies, the last one involving the corporate offices of a foreign construction firm. In this incident, an armed group forced its way into the corporate suite at gunpoint, compelled staff members to forge monetary instruments, and held them hostage while the negotiable instruments were cashed at local banks. Victims were left physically bound and emotionally distraught, but not physically hurt, while the gang made their getaways. Police made several arrests in the case late in 1998 and recovered a significant portion of the stolen funds. The gang now appears to have been neutralized. Other crime seems to have increased during the past year. Residential burglaries in Kuala Lumpur occur relatively frequently in neighborhoods with large expatriate communities. Particularly hard hit are detached, single family homes, and residences adjacent to building sites and open fields. Burglars usually try to limit the possibility of confrontation by committing their crimes at night or when residences are unoccupied. Good forced entry protection seems to be the best deterrent. The Embassy notes recent cases where less well protected residences were burglarized on the same night, and in the same neighborhood as unsuccessful attempts against homes with good forced entry protection. The incidence of burglary against expatriate residents of apartment complexes is lower than that against residents of detached homes. Gated apartment or condominium complexes with 24-hour guards have a lower (but not absent) rate of attempted and actual residential break-ins. Purse snatchings, pickpocketing, theft of cell phones, and other petty thefts are the most commonly reported crimes against expatriates. Ladies' handbags frequently fall prey to thieves on motorcycles who commit "ride-by snatch-and-grab" incidents with regularity, especially at shopping areas frequented by the expatriate community. Women, either by themselves or with small children, are the most frequent targets. Credit card fraud is a growing problem. The use of cards at poorly established businesses, such as souvenir stands without storefronts, leaves consumers particularly vulnerable to illegal exploitation of their credit card accounts. The occurrence of fraud at established businesses such as modern hotels and restaurants is not serious.
Hotels
Kuala Lumpur and other major cities in Malaysia have world class hotel accommodations catering to both business visitors and international tourism. For longer stays in the country, the market for rental housing and apartments in the Kuala Lumpur area is large and not overly expensive by regional standards. Food in Malaysia includes the three local cultures -- Malay, Chinese, and Indian -- as well as restaurants specializing in U.S., Japanese, Korean, and European cuisine. Among the new hotels in Kuala Lumpur are the Swiss Inn Kuala Lumpur and the 515-room Marriott International. It is necessary to book well in advance, especially during school and public holidays when the Malaysians take their holidays in the popular resorts, notably Penang, Langkawi and the highlands. The more basic hotels have little in the way of modern washing or bathing facilities, often only a water trough instead of a bath or shower. Government tax of 5 and service charge of 10 are added to bills. Tips are only expected (on the basis of good service) for room service and porter services. Laundry service is available in most hotels.
Communications
Telephone IDD service is available. Country code is 60. Outgoing international code: 00. Public coin-operated phones can be found in many areas, such as supermarkets and post offices. Local calls cost 10 sen. Telephone Card public phones can be found throughout the country. These can be purchased at airports, petrol stations and some shops for amounts ranging from R3-50. There are presently two types - Kadfon and Unicard - and these can only be used in their appropriate marked phone booths. Fax Centers for public use are located in the main post offices of all large towns. Most main hotels also have facilities. Public telex facilities are available 24 hours at Telegraph Office, Jalan Raja Chulan, Kuala Lumpur, and most main hotels. Telegrams can be sent from any telegraph office. There are post offices in the commercial center of all towns, open 0800-1700 Monday to Saturday.
Electricity
is 220 volts AC, 50Hz. Square 3-pin plugs and bayonet-type light fittings are generally used. Electricity 220-240 volts AC, 50Hz. Square three-pin plugs and bayonet-type light fittings are generally used.
Plug Types
G
Food And Dining
In multiracial Malaysia, every type of cooking from South-East Asia can be tasted. Malay food concentrates on subtleties of taste using a blend of spices, ginger, coconut milk and peanuts. There are many regional types of Chinese cooking including Cantonese, Peking, Hakka, Sichuan and Taiwanese. Indian food is also popular, with curries ranging from mild to very hot indeed. Vegetarian food, chutneys and Indian breads are also available. Indonesian cuisine also combines the use of dried seafoods and spiced vegetables with the Japanese method of preparation with fresh ingredients cooked to retain the natural flavor. Korean and Thai food are available in restaurants. Western food is served throughout the country and includes US, Spanish, Italian and French cuisine. Kuala Lumpur has several restaurants which rival the high standards set by established Western restaurants in Singapore and Hong Kong. Although the country is largely Islamic, alcohol is available. Things to know: Table service is normal, and chopsticks are customary in Chinese restaurants. Indian and Malay food is eaten with the fingers. Set lunches, usually with four courses, are excellent value for money.
National specialties:
? Sambals (a paste of ground chilli, onion and tamarind) is often used as a side dish.
? Blachan (a dried shrimp paste) is used in many dishes.
? Ikan bilis (dried anchovies) are eaten with drinks.
? Popular Malay dishes include satay, which consists of a variety of meats, especially chicken, barbecued on small skewers with a spicy peanut dipping sauce and a salad of cucumber, onion and compressed rice cakes. The best sauce often takes several hours to prepare to attain its subtle flavor.
? Gula Malacca (a firm sago pudding in palm sugar sauce) is also served in restaurants.
? Japanese-style seafood such as siakaiu beef (grilled at the table).
? Tempura (deep-fried seafood) and sashimi (raw fish with salad) are excellent.
? Amongst Malaysia?s exotic fruits are starfruit, durian, guavas, mangos, mangosteen and pomelos. National drinks:
? Local beers such as Tiger and Anchor are recommended.
? The famous Singapore Gin Sling.
? International beers are also available.
Tipping:
10 per cent service charge and 5 per cent government tax are commonly included in bills. Taxi drivers are not tipped..
Nightlife
Kuala Lumpur has a selection of reputable nightclubs and discos, most belonging to the big hotels. Nightclubs generally stay open until 0500 or 0600 and usually request a cover charge which includes the first drink free. Many of Kuala Lumpur?s bars have a ?Happy Hour?, offering two drinks for the price of one, between 1700-2000/2100. Bintang Walk is a lively spot and has a good selection of al fresco bars and coffee shops. Penang is also lively at night, larger hotels having cocktail lounges, dining, dancing and cultural shows. There are night markets in most towns, including both Kuala Lumpur and Penang Chinatown. Malay and Chinese films often have English subtitles and there are also English films. The national lottery and Malaysia?s only casino at Genting Highlands are Government-approved and visitors are not supposed to gamble elsewhere. Keno and Chinese Tai Sai, roulette, baccarat, french bull and blackjack are played at the casino. Dress is relatively formal and visitors must be over 21 years of age.
Entry departure requirements
Restricted entry (a) Certain nationals have to apply for a visa with a reference/approval from the Immigration Department in Malaysia, rather than through an Overseas Mission in their country of residence. (b) Foreign women who are at least six months pregnant (unless in transit) may be denied entry. (c) Nationals of Israel and Serbia & Montenegro require special approval from the Ministry of Home Affairs, and must be traveling for a special reason.
Visa immigration information
Passports
A valid passport or other travel documents recognized by the Malaysian government required by all. The former must have enough pages for the embarkation stamp upon arrival and be valid for at least six months at date of entry. The latter should be endorsed with a valid re-entry permit. If not in possession of a passport or travel document, a Document in lieu of Passport must be obtained from any Malaysian Representation Office. Holders of travel documents such as a Certificate of Identity, a Laisser Passer, a Titre de Voyage or a Country?s Certificate of Residence must ensure guarantee of return to country that issued the documents or the national?s country of residence.
Note
All visitors must also have proof of adequate funds and an onward or return sea or air ticket.
Visas
Visas are required by all except the following:
(a) 1. nationals of countries referred to in the chart above for stays of up to three months, except nationals of Cyprus, Estonia, Greece, Lithuania, Malta, Portugal and Slovenia who may stay for up to one month, and nationals of Latvia, who do require a visa;
(b) nationals of Albania, Algeria, Argentina, Bahrain, Bosnia & Herzegovina, Brazil, Croatia, Cuba, Egypt, Iceland, Japan, Jordan, Korea (Rep), Kuwait, Kyrgyzstan, Lebanon, Liechtenstein, Morocco, New Zealand, Norway, Oman, Peru, Qatar, Romania, San Marino, Saudi Arabia, South Africa, Switzerland, Tunisia, Turkey, Turkmenistan, United Arab Emirates, Uruguay and Yemen for social visits of up to three months;
(e) nationals of Iran, Libya, the Syrian Arab Republic, and holders of Palestinian travel documents or a Macau Travel Permit for social visits of up to 14 days;
(f) nationals of all countries other than those mentioned above for stays of up to one month, except for nationals of Afghanistan, Angola, Bangladesh, Benin, Bhutan, Botswana, Burkina Faso, Burundi, Cameroon, Central African Republic, China (PR), Colombia, Congo (Dem Rep), Congo (Rep), C?te D'Ivoire, Djibouti, Equatorial Guinea, Eritrea, Ethiopia, Ghana, Guinea-Bissau, India, Iraq, Israel, Latvia, Liberia, Mali, Mozambique, Myanmar, Nepal, Niger, Nigeria, Pakistan, Rwanda, Serbia & Montenegro, Sierra Leone, Sri Lanka, Taiwan and Western Sahara who always require a visa.
Note
Certain nationals can only enter Malaysia through airports and not seaports. Nationals may still require a pass upon arrival, even if they are permitted to enter Malaysia visa-free.
Types of visa and cost
Single-entry: US$17 Prices are subject to change. Student: RM60 per year, available only in Malaysia. Enquire at the Malaysian High Commission for details.
Validity
One to three months from date of issue. Multiple-entry visas are valid for up to three months; in certain cases, validity of up to 12 months may be granted. Extensions are also possible. Enquire at the Malaysian High Commission for further details. Transit: five days. The validity of the visa can also vary from nationality to nationality in accordance with whether a reference from the Immigration Department is obtained.
Application and enquiries to
Malaysian High Commission; see Passport/Visa Information.
Application requirements
(a) Valid passport. (b) Two identical passport-size photos. (c) Fee (payable in cash or postal order only). (d) Two completed application forms. (e) Proof of sufficient funds (eg most recent bank statement). (f) Onward or return ticket or travel itinerary from travel agent. (g) Letter of introduction (and copy) from applicant?s employer, college or university. For the spouse who is not working, a marriage certificate, photocopy of other spouse?s passport and a letter of introduction from their spouse's employer must be submitted. (h) Self-addressed envelope (recorded delivery) if applying by post. Student: (a)-(h) and, (i) Letter of acceptance and covering letter from educational institution in Malaysia. (j) Stamped personal bond.
Working days required
Same day ? morning submission of the application (0915-1215) and afternoon collection (1530-1630). Times apply to the Malaysian High Commission in London. Applications by post take approximately two weeks. Students who apply for a student pass on arrival will usually obtain one within two weeks.
HIV entry requirements
Foreign workers (unskilled & semiskilled) have to undergo a full medical which includes an HIV test within 1 month of arrival and then on a yearly basis
Departure tax
RM45 for international departures.
Embassies
Malaysian High Commission in the UK
45 Belgrave Square, London SW1X 8QT, UK
Tel: (020) 7235 8033 or 7930 7932 (tourist board).
Website: http://www.kln.gov.my/web/gbr_london/home
E-mail: mwlondon@btinternet.com
Opening hours: Mon-Fri 0900-1300 and 1400-1700; 0915-1215 (consular section).
Also deals with tourism enquiries.
Embassy of Malaysia in the USA
3516 International Court, NW, Washington, DC 20008, USA
Tel: (202) 572 9700.
E-mail: malwash@kln.gov.my
Travel Advice
Malaysia shares with the rest of South East Asia a threat from terrorism. Attacks could be indiscriminate and against civilian targets, including places frequented by foreigners.
It is believed that terrorists and criminal elements are continuing with plans to kidnap foreign tourists from the islands and coastal areas of Eastern Sabah. Boats traveling to and from offshore islands and dive sites are possible targets. Travelers wishing to visit resorts on, and islands off, Eastern Sabah, should exercise extreme caution.
Travelers planning to cross the border to Thailand should be aware that there has been a resurgence of terrorism in southern Thailand, particularly in the far southern provinces of Pattani, Yala, Narathiwat and Songkhla. All but essential travel to these Thai provinces is advised against. Since the beginning of 2004, over 800 people have been killed and several hundred injured.
Travelers should not become involved with drugs of any kind: possession of even very small quantities can lead to imprisonment or the death penalty.
This advice is based on information provided by the Foreign, Commonwealth & Development Office in the UK. It is correct at time of publishing. As the situation can change rapidly, visitors are advised to contact the following organizations for the latest travel advice:
British Foreign, Commonwealth & Development Office
Website: www.gov.uk/foreign-travel-advice
US Department of State
Currency
Ringgit (MYR) = 100 sen. Notes are in denominations of MYR1000, 500, 200 100, 50, 20, 10, 5, 1. The MYR1000 and MYR500 notes are now being phased out. Coins are in denominations of 50, 20, 10, 5 and 1 sen. There are also many commemorative coins in various denominations which are legal tender. The Ringgit is often referred to as the Malaysian Dollar.
Currency restrictions
All visitors entering Malaysia (including children) must declare amounts over RM1000 that they have in their possession (local and equivalent in foreign currencies) on a Travelers Declaration Form (TDF), which can be obtained at the airport or Malaysian embassies, high commissions and tourist offices. On departure, the TDF has to be filled in prior to immigration clearance. The import and export of local currency is limited to RM1000. The import of foreign currency is unlimited. The export of foreign currency is limited to the amount imported on arrival.
Banking hours
Mon-Fri 0930-1600, Sat 0930-1130 (closed on the first and third Saturday of each month). Banks in Sabah open at 0800 and usually break for lunch (1200-1400).
Currency exchange
The best currency for exchange is the Pound Sterling, but US Dollars are also widely accepted. All commercial banks are authorized foreign exchange dealers; major hotels are only licensed to buy or accept foreign currency in the form of notes and traveller's cheques. Although all major currencies can be exchanged easily in the main tourist centers, problems may occur elsewhere. It is difficult to exchange Malaysian currency outside of Malaysia, Singapore or Indonesia. All visitors need to fill in a Travelers Declaration Form (TDF); see below for details.
Credit cards
American Express, Diners Club, MasterCard, Visa and Eurocard are accepted. Check with your credit or debit card company for details of merchant acceptability and other services which may be available.
Travellers cheques
Accepted by all banks, hotels and large department stores. To avoid additional exchange rate charges, travelers are advised to take traveller's cheques in Pounds Sterling, US Dollars or Australian Dollars.
| City/Region | City/Area code | Followed by |
| --- | --- | --- |
| Johor | (0)7 | + 7 digit subscriber nr |
| Kedah | (0)4 | + 7 digit subscriber nr |
| Kelantan | (0)9 | + 7 digit subscriber nr |
| Pahang | (0)5 | + 7 digit subscriber nr |
| Sabah | (0)89 | + 6 digit subscriber nr |
| Sarawak | (0)86 | + 6 digit subscriber nr |
| Selangor | (0)3 | + 8 digit subscriber nr |