Quick Facts
Region: North & Central America & the Caribbean
Full Name: United Mexican States
Capital City: Mexico (Distrito Federal)
Language Spoken: Spanish, various Mayan, Nahuatl, and other regional indigenous languages
Mexico Travel Insurance
Get travel insurance to Mexico from Direct Travel Insurance. We offer low cost and high quality travel insurance to Mexico and most of the world.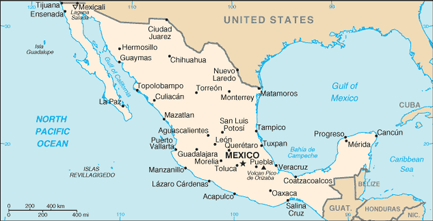 Geographic data
23 00 N, 102 00 W
Elevation Extremes
lowest point: Laguna Salada -10 m highest point: Volcan Pico de Orizaba 5,700 m
Land boundaries
total: 4,353 km border countries: Belize 250 km, Guatemala 962 km, US 3,141 km
Natural hazards
tsunamis along the Pacific coast, volcanoes and destructive earthquakes in the center and south, and hurricanes on the Pacific, Gulf of Mexico, and Caribbean coasts
Natural resources
petroleum, silver, copper, gold, lead, zinc, natural gas, timber
Land use
arable land: 12.66% permanent crops: 1.28% other: 86.06% (2005)
Environmental current issues
scarcity of hazardous waste disposal facilities; rural to urban migration; natural fresh water resources scarce and polluted in north, inaccessible and poor quality in center and extreme southeast; raw sewage and industrial effluents polluting rivers in urban areas; deforestation; widespread erosion; desertification; deteriorating agricultural lands; serious air and water pollution in the national capital and urban centers along US-Mexico border; land subsidence in Valley of Mexico caused by groundwater depletion note: the government considers the lack of clean water and deforestation national security issues
Climate
Climate varies according to altitude. Coastal areas and lowlands (tierra caliente) are hot and steamy with high humidity, while the central plateau is temperate even in winter. The climate of the inland highlands is mostly mild, but sharp changes in temperature occur between day and night. The cold lands (tierra fría) lie above 2000m (6600ft). Rainfall varies greatly from region to region. Only the Sierra Madre Oriental, the Isthmus of Tehuantepec and the state of Chiapas in the far south receive any appreciable amount of rain during the year, with the wet season running between June and September. All other areas have rainless seasons, while the northern and central areas of the central plateau are dry and arid. There is some snow in the north in winter. The dry season runs from October to May.
Time difference
time difference: UTC-6 daylight saving time: +1hr, begins first Sunday in April; ends last Sunday in October note: Mexico is divided into four time zones
Population
107,449,525 (July 2006 est.)
Age structure
0-14 years: 30.6% (male 16,770,957/female 16,086,172) 15-64 years: 63.6% (male 33,071,809/female 35,316,281) 65 years and over: 5.8% (male 2,814,707/female 3,389,599) (2006 est.)
Median age
total: 25.3 years male: 24.3 years female: 26.2 years (2006 est.)
Population growth rate
1.16% (2006 est.)
Birth rate
20.69 births/1,000 population (2006 est.)
Death rate
4.74 deaths/1,000 population (2006 est.)
Net migration rate
-4.32 migrant(s)/1,000 population (2006 est.)
Sex ratio
at birth: 1.05 male(s)/female under 15 years: 1.04 male(s)/female 15-64 years: 0.94 male(s)/female 65 years and over: 0.83 male(s)/female total population: 0.96 male(s)/female (2006 est.)
Life expectancy at birth
total population: 75.41 years male: 72.63 years female: 78.33 years (2006 est.)
Total fertility rate
2.42 children born/woman (2006 est.)
Business Practices
Business wear is usually formal for meetings with suit and tie expected. English is widely spoken in business circles although it is preferable for the visitor to be able to speak Spanish. Letters written in Spanish should be replied to in Spanish. Business cards are used extensively. Come with a large supply! Mexicans make extensive use of professional titles (doctor, profesor, licenciado, ingeniero). It is courteous to address them by their titles. There is respect for older and more senior members of a group. It is customary to shake hands with all upon arrival and departure. Many business transactions are conducted over a meal, including alcoholic beverages. It is polite to accept a drink with your host. The "no smoking" culture is not common in Mexico. Business meetings in Mexico will often take longer than they would in the States. Etiquette includes small talk before getting into business. Participation in social activities is very important to succeed in the Mexican business world. Yes does not always mean yes in Mexico as social etiquette makes it difficult to say no. Do not be overly aggressive while negotiating. It is considered rude. In conversation, Mexicans emphasize tactful and indirect phrasing. The concept of time is flexible in Mexico. Guests to social events (except in the case of cities in the North) can arrive an hour late, however punctuality is observed for most government appointments and social functions. Patience is the key to doing business in Mexico. Although the presence of businesswomen is increasing, business in Mexico is male oriented. It is customary to send a small gift or greeting card at Christmas to key business contacts. . Office hours vary considerably but are generally usually 0900-1400 and 1500-1800 Monday to Friday.
Crime
Crime in Mexico continues at high levels, and it is often violent, especially in Mexico City, Tijuana, Ciudad Juarez, Nuevo Laredo, and the state of Sinaloa. Other metropolitan areas have lower, but still serious, levels of crime. Crime related to drug cartels are rising concerns, particularly in northern Mexico. Low apprehension and conviction rates of criminals contribute to the high crime rate. The most common crime affecting visitors is the theft of passports, credit cards and personal documents. Among the estimated 250,000 British visitors annually, about 140 report stolen passports. Be particularly alert in tourist areas (especially on public transport and when dealing with real or purported policemen) Exercise caution when withdrawing money from cashpoints or exchanging money at Bureaux de Change. If an ATM must be used, it should be accessed only during the business day at large protected facilities (preferably inside commercial establishments, rather than at glass-enclosed, highly visible ATMs on streets). Travelers and local residents are sometimes accosted on the street and forced to withdraw money from their accounts using their ATM cards. Kidnapping, including the kidnapping of non-Mexicans, continues at alarming rates. So-called "express" kidnappings, an attempt to get quick cash in exchange for the release of an individual, have occurred in almost all the large cities in Mexico and appear to target not only the wealthy, but also middle-class people. Always leave valuables and irreplaceable items in a safe place, or do not bring them. Make use of hotel safes when available, avoid wearing obviously expensive jewelry or designer clothing, and carry only the cash or credit cards that will be needed on each outing. Be aware of surroundings at all times, even when in areas generally considered safe. Women traveling alone are especially vulnerable and should exercise caution, particularly at night. Victims, who are almost always unaccompanied, have been raped, robbed of personal property, or abducted and then held while their credit cards were used at various businesses and Automatic Teller Machines (ATMs). Armed street crime is a serious problem in all of the major cities. Some bars and nightclubs, especially in resort cities such as Cancun, Cabo San Lucas, Mazatlan, and Acapulco, can be havens for drug dealers and petty criminals. Some establishments may contaminate or drug drinks to gain control over the patron. A number of US citizens have been arrested for passing on counterfeit currency they had earlier received in change. If you receive what you believe to be a counterfeit bank note, bring it to the attention of Mexican law enforcement. Criminal assaults occur on highways throughout Mexico; travelers should exercise extreme caution at all times, avoid traveling at night, and may wish to use toll (?cuota?) roads rather than the less secure ?free? (?libre?) roads whenever possible. In addition, U.S. citizens should not hitchhike with, or accept rides from or offer rides to, strangers anywhere in Mexico. Tourists should not hike alone in backcountry areas, nor walk alone on lightly-frequented beaches, ruins or trails. All bus travel should be during daylight hours and on first-class conveyances. Although there have been several reports of bus hijackings and robberies on toll roads, buses on toll roads have a markedly lower rate of incidents than buses (second and third class) that travel the less secure "free" highways. The Embassy advises caution when traveling by bus from Acapulco toward Ixtapa or Huatulco. Although the police have made some progress in bringing this problem under control, armed robberies of entire busloads of passengers still occur. In some instances, travelers have become victims of harassment, mistreatment and extortion by Mexican law enforcement and other officials. Mexican authorities have cooperated in investigating such cases, but one must have the officer's name, badge number, and patrol car number to pursue a complaint effectively. Note this information if you ever have a problem with police or other officials. Be wary of persons representing themselves as police officers or other officials. When in doubt, ask for identification. Extortionists sometimes call prospective victims on the telephone, often posing as police officers, and demand payments in return for the release of an arrested family member, or to forestall a kidnapping. Prison inmates using smuggled cellular phones often place these calls. Persons receiving such calls should be extremely skeptical since most such demands or threats are baseless; contact your embassy or consulate for assistance.
Hotels
The enormous growth of tourism in Mexico is reflected in the wide range of hotels from the modern, elegant and expensive to the clean and modest. Five-star hotels, however, offer the best security and in central Mexico City, these include the Presidente Inter-Continental, the Camino Real, the Fiesta Americana, the Four Seasons, the Westin Galleria, the Maria Isabel Sheraton and the Nikko. Outside the city, the best choices include the Hotel Royal, the Raddison or the Raddison Plaza. In the Guadelajara, the Camino Real and the Fiesta Americana are good choices.
Communications
Telephone IDD service is available and the country code is 52. The outgoing international code is 98. Long-distance calls are very expensive due to heavy tax levies on international calls. Major hotels have fax facilities and international telex facilities are available at a number of hotels in Mexico City and in Acapulco, Chihuahua, Guadalajara, M?rida, Monterrey, Puebla, Tampico and Veracruz.
Electricity
is 110 volts AC, 60Hz. US-style 2-pin (flat) plugs are usual. Electricity 110 volts AC, 60Hz. US two-pin (flat) plugs are usual.
Plug Types
A
Food And Dining
Self-service (fast food) is available but table-service is usual. Bars have table- and/or counter-service. There are laws relating to minors and licensing on civic holidays. Every region of Mexico has its own dishes. International cuisine is available at most hotels in the larger cities, and at most restaurants. Imported spirits are expensive; local spirits probably give better value for money. The best buys are rum and gin. European aperitifs are produced in Mexico and are of excellent quality; and, of course, there is Mexico is a producer of good beer; both the dark beers and the light beers are worth sampling. All the big supermarkets sell spirits, beer and wine.
National specialties:
? Turkey mole, a sauce containing a score of ingredients, including several sorts of chilli, tomatoes, peanuts, chocolate, almonds, onions and garlic.
? Guacamole incorporates avocado pears, red peppers, onions and tomatoes.
? Tortillas (pancakes made with maize).
? Enchiladas and tacos (maize pancakes served with pork, chicken, vegetables or cheese and chilli).
? There is a wide variety of exotic fruits such as papayas, mangoes, guavas, zapotes (brown fruit resembling an avocado), pineapples and tunas (juicy prickly pears, fruit of the cactus). National drinks:
? Tequila (made from maguey, a variety of cactus).
? Hidalgo, Domecq and Derrasola are good Mexican white wines.
? Los Reyes and Calafia are excellent red wines.
? Mexico?s coffee liqueur, kahl?a, is world-famous. Legal drinking age: 18 years.
Tipping:
Service charges are rarely added to hotel, restaurant or bar bills and many of the staff depend on tips for their livelihood. 15 per cent is expected and 20 per cent if the service has been very good. Airport porterage is charged at the equivalent of US$1 per bag.
Nightlife
The Mexican nightlife is very vibrant and exciting and features a large variety of top-name entertainers, international shows, jazz groups, rock groups, traditional Mexican music and dancing, Spanish flamenco dancers and gypsy violinists. With a range of settings from panoramic restaurants to intimate bars, Mexico City offers excellent music and assorted cuisine, with some of the best bars and restaurants located in hotels. The main nightspots are on Avenida Insurgentes, the longest avenue in the capital. For a more cosy atmosphere with nice coffee shops and restaurants, visit the Condesa district. Acapulco is known as 'the city that never sleeps' with bars and discos lining the streets. Worth seeing is the impressive light show, with accompanying sound show at the archaeological site of Teotihuac?n. The history and mythology of this ancient civilization are recreated through a gorgeous display of colored lights, poetic dialog and music. The season runs from October to May.
Entry departure requirements
Note Non-compliance with visa regulations will result in fines and transportation (at the carrier?s expense) to the visitor?s country of origin.
Visa immigration information
Passports
Passport valid for at least six months after date of entry required by all.
Visas
Required by all except the following, who can obtain a Blue Tourist Card for tourist purposes from their airline on direct flights, at port of entry, or from the Mexican Consulate before traveling:
(a) nationals of countries referred to in the chart above for 180 days (except nationals of Australia, Austria, Cyprus, Czech Republic, Estonia, France, Greece, Hungary, Italy, Latvia, Lithuania, Malta, Poland, Portugal, Slovak Republic and Slovenia who can stay for up to 90 days);
(b) nationals of Andorra, Argentina, Bermuda, Chile, Costa Rica, Liechtenstein, New Zealand, Norway, San Marino, Singapore, Switzerland and Uruguay for stays of up to 180 days;
(c) nationals of Hong Kong (SAR), Iceland, Israel, Korea (Rep) and Monaco for up to 90 days;
(d) Venezuela for stays of up to 30 days.
Note
(a) Applicants for Blue Tourist Cards should have a valid passport, return/onward ticket and proof of financial means. (b) Tourist Cards must be kept by the visitor during the entire length of stay as they will have to be presented and stamped on leaving. (c) Nationals of the following countries traveling to Mexico on business on one entry and for less than 30 days do not need a business visa: Argentina, Australia, Austria, Belgium, Canada, Costa Rica, Chile, Czech Republic, Denmark, Finland, France, Germany, Greece, Hungary, Italy, Israel, Ireland, Japan, Luxembourg, New Zealand, Norway, Poland, Portugal, Korea (Rep), Singapore, Spain, Sweden, Switzerland, The Netherlands, UK, USA and Uraguay.
Types of visa and cost
Tourist: US$36 . Business: US$99 . Visa prices fluctuate according to the exchange rate.
Validity
Tourist: Up to six months (single-entry, but double and multiple-entry in particular circumstances). Business Visitor: Up to one year. Visas must be used within 90 days of issue. Extensions for visas must be submitted 30 days before the expiration of the allocated visa.
Application requirements
Tourist: (a) Valid passport with photocopy. (b) Completed application form. (c) One passport-size photo. (d) Fee (payable by cash or postal order only). (e) Proof of sufficient funds (eg last three bank statements and letter stating current salary, or original letter from the person who financially supports the traveller. (f) Letter specifying the purpose of the trip and the dates of entry and departure. (g) Dependent on nationality, either reference letter from employer/educator or original and photocopy of return, or onward, ticket. (h) Proof of permanent residence in country where application is being made. Business Visitor Carnet (FM3): (a)-(b) and, (c) Two identical passport-size photos. (d) Letter from applicant?s employer accepting financial responsibility to cover the applicant?s stay, which also states the nature of business to be undertaken. (e) Letter from company in Mexico to be visited, explaining purpose of visit. (f) Fee (payable in cash, postal order or company cheque). (g) Postal applications must be accompanied by a stamped, self-addressed envelope with recorded delivery.
Note
a) Non-British nationals seeking to visit Mexico on business are advised to check with the Consulate regarding visa requirements and fees. (b) Vaccinations against cholera and yellow fever are required by the Mexican Immigration Office if the visitor has been in an infected area two weeks prior to entry into Mexico. They are not required for transit passengers remaining in the airport.
Application to
Consulate (or Consular section at Embassy); see Passport/Visa Information.
Working days required
Two in person; one week by post. Applications should be made in good time as it may take up to four weeks for some nationals.
Temporary residence
Application should be made to the Mexican Home Office with proof of sufficient funds to cover length of stay without working. Contact the Consulate (or Consular section at Embassy) for further details; see Passport/Visa Information.
HIV entry requirements
No Test Required
Departure tax
Departure tax $13, airport tax $8.50 (varies according to airport). Children under two years and transit passengers are exempt. The tax is sometimes included in the price of the ticket.
Embassies
Mexican Embassy in the UK
16 St George Street, Hanover Square, London W1S 1LX, UK
Tel: (020) 7499 8586 or 7201 0961-3 (visa section).
Website: https://embamex.sre.gob.mx/reinounido/index.php/en/
Mexican Consulate in the UK
8 Halkin Street, London SW1X 7DW, UK
Tel: (020) 7235 6393 or (0906) 550 8969 (recorded visa information; calls cost ?1 per minute).
Opening hours: Mon-Fri 0930-1300.
Mexican Embassy in the USA
1911 Pennsylvania Avenue, NW, Washington DC 20006
Tel: (202) 728 1600.
Mexican Consulate in the USA
2827 16th Street, NW, Washington DC 20009, USA
Tel: (202) 1000 or 736 1002.
Website: www.embassyofmexico.org
Hurricane Wilma hit the Yucatan Peninsula in Mexico between 21-23 October 2005, including Canc?n, Riviera Maya and Cozumel. Canc?n airport, many hotels and most other tourist facilities are operating normally.
Most visits to Mexico are trouble-free, but be warned that street crime and kidnappings are on the increase. Travelers should be particularly alert in tourist areas (especially on public transport and when dealing with real or purported policemen) and exercise caution when withdrawing money from cashpoints or exchanging money at bureaux de change.
The threat from terrorism is low but you should be aware of the global risk of indiscriminate terrorist attacks, which could be against civilian targets, including places frequented by foreigners.
This advice is based on information provided by the Foreign, Commonwealth & Development Office in the UK. It is correct at time of publishing. As the situation can change rapidly, visitors are advised to contact the following organisaions for the latest travel advice:
British Foreign, Commonwealth & Development Office
Website: www.gov.uk/foreign-travel-advice
US Department of State
Currency
New Peso (MXN; symbol ME$) = 100 centavos. Notes are in denominations of ME$500, 200, 100, 50 and 20. Coins are in denominations of ME$20, 10, 5, 2 and 1, and 50, 20, 10 and 5 centavos.
Currency restrictions
Local currency may be imported and exported up to the equivalent of US$10,000; larger amounts must be declared. The import of foreign currency is unlimited, provided declared. Foreign currency may be exported up to the amount imported and declared. The export of gold coins is prohibited.
Banking hours
Mon-Fri 0900-1600; some banks are open longer hours and others are open on Saturday afternoon.
Currency exchange
Currency may only be exchanged at authorized banks. The exchange rate of the Mexican peso against Sterling and other hard currencies has, in recent years, been subject to considerable fluctuation.
Credit cards
MasterCard and Visa are the two most widely accepted cards. American Express and Diners Club are accepted on a smaller scale. Check with your credit or debit card company for details of merchant acceptability and other services which may be available. There is a Government tax of six per cent on such transactions. There are ATMs nationwide.
Travellers cheques
Traveller's cheques or letters of credit in US Dollars issued by well-known banks or travel organizations are readily negotiable in banks and hotels. Sterling traveller's cheques are not readily negotiable except at head offices of banks in the capital, and may be subject to a considerable discount. To avoid additional exchange rate charges, travelers are advised to take traveller's cheques in US Dollars.
| City/Region | City/Area code | Followed by |
| --- | --- | --- |
| 24 De Febrero | (01)924 | + 7 digit subscriber nr |
| Abanico, El | (01)634 | + 7 digit subscriber nr |
| Abasolo | (01)835 | + 7 digit subscriber nr |
| Abasolo Del Valle | (01)283 | + 7 digit subscriber nr |
| Abraham Gonzalez | (01)659 | + 7 digit subscriber nr |
| Acacoyagua | (01)918 | + 7 digit subscriber nr |
| Acambaro | (01)417 | + 7 digit subscriber nr |
| Acambay | (01)718 | + 7 digit subscriber nr |
| Acamixtla | (01)762 | + 7 digit subscriber nr |
| Acanceh | (01)988 | + 7 digit subscriber nr |
| Acapetlahuaya | (01)736 | + 7 digit subscriber nr |
| Acaponeta | (01)325 | + 7 digit subscriber nr |
| Acapulco, Gro. | (01)744 | + 7 digit subscriber nr |
| Acatepec | (01)741 | + 7 digit subscriber nr |
| Acatlan | (01)279 | + 7 digit subscriber nr |
| Acatlan De Juarez | (01)387 | + 7 digit subscriber nr |
| Acatlan De Osorio | (01)953 | + 7 digit subscriber nr |
| Acatlan De Perez Figueroa | (01)274 | + 7 digit subscriber nr |
| Acatzingo De Hidalgo | (01)249 | + 7 digit subscriber nr |
| Acaxochitlan | (01)776 | + 7 digit subscriber nr |
| Acaxtlahuacan De Albino Zertuche | (01)275 | + 7 digit subscriber nr |
| Acayuca | (01)743 | + 7 digit subscriber nr |
| Aconchi | (01)623 | + 7 digit subscriber nr |
| Actopan | (01)772 | + 7 digit subscriber nr |
| Acuitzeramo | (01)471 | + 7 digit subscriber nr |
| Acuitzio Del Canje | (01)434 | + 7 digit subscriber nr |
| Acula | (01)288 | + 7 digit subscriber nr |
| Adjuntas Del Rio (Las Adjuntas) | (01)418 | + 7 digit subscriber nr |
| Adolfo Lopez Mateos (Chamal Nuevo) | (01)832 | + 7 digit subscriber nr |
| Adolfo Lopez Mateos (Jahuara Segundo) | (01)698 | + 7 digit subscriber nr |
| Adolfo Ruiz Cortines | (01)784 | + 7 digit subscriber nr |
| Agostitlan | (01)786 | + 7 digit subscriber nr |
| Agua Blanca | (01)643 | + 7 digit subscriber nr |
| Agua Blanca Iturbide | (01)774 | + 7 digit subscriber nr |
| Agua Buena | (01)482 | + 7 digit subscriber nr |
| Agua Caliente (Ojo De Agua) | (01)454 | + 7 digit subscriber nr |
| Agua Caliente De Garate (Agua Caliente) | (01)694 | + 7 digit subscriber nr |
| Agua Dulce | (01)923 | + 7 digit subscriber nr |
| Agua Prieta | (01)633 | + 7 digit subscriber nr |
| Agua Zarca | (01)441 | + 7 digit subscriber nr |
| Agualeguas | (01)892 | + 7 digit subscriber nr |
| Aguas Buenas | (01)472 | + 7 digit subscriber nr |
| Aguascalientes, Ags. | (01)449 | + 7 digit subscriber nr |
| Aguililla | (01)426 | + 7 digit subscriber nr |
| Ahuacapan | (01)317 | + 7 digit subscriber nr |
| Ahuacatlan | (01)797 | + 7 digit subscriber nr |
| Ahuacuotzingo | (01)756 | + 7 digit subscriber nr |
| Ahualulco De Mercado | (01)386 | + 7 digit subscriber nr |
| Ahuatlan | (01)243 | + 7 digit subscriber nr |
| Ahuehuetzingo | (01)751 | + 7 digit subscriber nr |
| Ahuiran | (01)423 | + 7 digit subscriber nr |
| Ahuisculco | (01)384 | + 7 digit subscriber nr |
| Aire Libre (La Mina) | (01)231 | + 7 digit subscriber nr |
| Ajacuba | (01)778 | + 7 digit subscriber nr |
| Ajalpan | (01)236 | + 7 digit subscriber nr |
| Ajijic | (01)376 | + 7 digit subscriber nr |
| Ajuchitlan | (01)419 | + 7 digit subscriber nr |
| Ajuchitlan Del Progreso | (01)732 | + 7 digit subscriber nr |
| Akil | (01)997 | + 7 digit subscriber nr |
| Akumal | (01)984 | + 7 digit subscriber nr |
| Alamo | (01)765 | + 7 digit subscriber nr |
| Alamos | (01)647 | + 7 digit subscriber nr |
| Alberto, El | (01)759 | + 7 digit subscriber nr |
| Alcozauca De Guerrero | (01)757 | + 7 digit subscriber nr |
| Aldama | (01)836 | + 7 digit subscriber nr |
| Alfajayucan | (01)738 | + 7 digit subscriber nr |
| Allende | (01)862 | + 7 digit subscriber nr |
| Almolonga (Todos Santos) | (01)224 | + 7 digit subscriber nr |
| Almoloya | (01)748 | + 7 digit subscriber nr |
| Almoloya De Alquisiras | (01)716 | + 7 digit subscriber nr |
| Almoloya De Las Granadas | (01)724 | + 7 digit subscriber nr |
| Altamirano | (01)919 | + 7 digit subscriber nr |
| Altar | (01)637 | + 7 digit subscriber nr |
| Altata | (01)672 | + 7 digit subscriber nr |
| Altos, Los | (01)282 | + 7 digit subscriber nr |
| Altotonga | (01)226 | + 7 digit subscriber nr |
| Alvarado | (01)297 | + 7 digit subscriber nr |
| Alvaro Obregon | (01)455 | + 7 digit subscriber nr |
| Amacueca | (01)372 | + 7 digit subscriber nr |
| Amado Nervo (El Conde) | (01)327 | + 7 digit subscriber nr |
| Amanalco De Becerra | (01)726 | + 7 digit subscriber nr |
| Amapa | (01)323 | + 7 digit subscriber nr |
| Amarillas De Esparza (Amarillas) | (01)496 | + 7 digit subscriber nr |
| Amatitan | (01)374 | + 7 digit subscriber nr |
| Amatlan | (01)768 | + 7 digit subscriber nr |
| Amatlan De Quetzalcoatl | (01)739 | + 7 digit subscriber nr |
| Amayuca | (01)731 | + 7 digit subscriber nr |
| Amealco | (01)448 | + 7 digit subscriber nr |
| Ameca | (01)375 | + 7 digit subscriber nr |
| Amecameca De Juarez | (01)597 | + 7 digit subscriber nr |
| Amuco De La Reforma | (01)767 | + 7 digit subscriber nr |
| Anahuac | (01)894 | + 7 digit subscriber nr |
| Angao (Angao De Los Herrera) | (01)435 | + 7 digit subscriber nr |
| Angel R. Cabada | (01)284 | + 7 digit subscriber nr |
| Angostura | (01)697 | + 7 digit subscriber nr |
| Antigua, La | (01)296 | + 7 digit subscriber nr |
| Antonio Amaro (Saucillo) | (01)676 | + 7 digit subscriber nr |
| Antunez (Morelos) | (01)425 | + 7 digit subscriber nr |
| Apango | (01)754 | + 7 digit subscriber nr |
| Apaseo El Alto | (01)413 | + 7 digit subscriber nr |
| Apatzingan De La Constitucion | (01)453 | + 7 digit subscriber nr |
| Apaxco De Ocampo | (01)599 | + 7 digit subscriber nr |
| Apeo | (01)447 | + 7 digit subscriber nr |
| Apizaco, Tlax. | (01)241 | + 7 digit subscriber nr |
| Apozol | (01)467 | + 7 digit subscriber nr |
| Apulco | (01)346 | + 7 digit subscriber nr |
| Arado, Lo | (01)357 | + 7 digit subscriber nr |
| Aramberri | (01)826 | + 7 digit subscriber nr |
| Arana, Los | (01)588 | + 7 digit subscriber nr |
| Araro | (01)451 | + 7 digit subscriber nr |
| Arcabuz | (01)897 | + 7 digit subscriber nr |
| Arena De Hidalgo | (01)934 | + 7 digit subscriber nr |
| Areponapuchi | (01)635 | + 7 digit subscriber nr |
| Ario De Rosales | (01)422 | + 7 digit subscriber nr |
| Armadillo De Los Infante | (01)486 | + 7 digit subscriber nr |
| Arriaga | (01)966 | + 7 digit subscriber nr |
| Arroyo Del Potrero | (01)232 | + 7 digit subscriber nr |
| Arroyo Hondo | (01)235 | + 7 digit subscriber nr |
| Arroyo Seco | (01)487 | + 7 digit subscriber nr |
| Ascension | (01)636 | + 7 digit subscriber nr |
| Atapan | (01)354 | + 7 digit subscriber nr |
| Atarjea, La | (01)469 | + 7 digit subscriber nr |
| Atemajac De Brizuela | (01)326 | + 7 digit subscriber nr |
| Atenango Del Rio | (01)727 | + 7 digit subscriber nr |
| Atengo | (01)349 | + 7 digit subscriber nr |
| Atenguillo | (01)388 | + 7 digit subscriber nr |
| Atenquique | (01)371 | + 7 digit subscriber nr |
| Atitanac | (01)499 | + 7 digit subscriber nr |
| Atlacomulco De Fabela | (01)712 | + 7 digit subscriber nr |
| Atlapexco | (01)789 | + 7 digit subscriber nr |
| Atlatlahuca | (01)717 | + 7 digit subscriber nr |
| Atlixco, Pue. | (01)244 | + 7 digit subscriber nr |
| Atlzayanca | (01)276 | + 7 digit subscriber nr |
| Atolinga | (01)437 | + 7 digit subscriber nr |
| Atotonilco El Alto | (01)391 | + 7 digit subscriber nr |
| Atoyac De Alvarez | (01)742 | + 7 digit subscriber nr |
| Atzitzintla | (01)245 | + 7 digit subscriber nr |
| Augusto Gomez Villanueva (Coalatilla) | (01)313 | + 7 digit subscriber nr |
| Axochiapan | (01)769 | + 7 digit subscriber nr |
| Ayapa | (01)914 | + 7 digit subscriber nr |
| Ayotlan | (01)345 | + 7 digit subscriber nr |
| Ayotoxco De Guerrero | (01)233 | + 7 digit subscriber nr |
| Ayuquila | (01)321 | + 7 digit subscriber nr |
| Ayutla | (01)316 | + 7 digit subscriber nr |
| Ayutla De Los Libres | (01)745 | + 7 digit subscriber nr |
| Baborigame | (01)649 | + 7 digit subscriber nr |
| Baca | (01)991 | + 7 digit subscriber nr |
| Bacoachi | (01)645 | + 7 digit subscriber nr |
| Bahia Asuncion | (01)615 | + 7 digit subscriber nr |
| Bajio De San Jose | (01)475 | + 7 digit subscriber nr |
| Bajos De Chila | (01)954 | + 7 digit subscriber nr |
| Bajos Del Ejido | (01)781 | + 7 digit subscriber nr |
| Barca, La | (01)393 | + 7 digit subscriber nr |
| Barra De Navidad | (01)315 | + 7 digit subscriber nr |
| Barranca, La | (01)438 | + 7 digit subscriber nr |
| Barranquito, El | (01)828 | + 7 digit subscriber nr |
| Barril, El | (01)458 | + 7 digit subscriber nr |
| Barrio De La Soledad, El | (01)972 | + 7 digit subscriber nr |
| Barrio, El | (01)394 | + 7 digit subscriber nr |
| Becal | (01)996 | + 7 digit subscriber nr |
| Bellavista Del Rio | (01)761 | + 7 digit subscriber nr |
| Benemerito Juarez (Palo Gacho) | (01)287 | + 7 digit subscriber nr |
| Benito Juarez | (01)992 | + 7 digit subscriber nr |
| Benito Juarez (San Carlos) | (01)936 | + 7 digit subscriber nr |
| Benjamin Hill | (01)641 | + 7 digit subscriber nr |
| Bermejillo | (01)872 | + 7 digit subscriber nr |
| Bledos | (01)485 | + 7 digit subscriber nr |
| Boca Del Monte | (01)273 | + 7 digit subscriber nr |
| Bolillo, El | (01)696 | + 7 digit subscriber nr |
| Bonifacio Moreno (El Aguaje) | (01)424 | + 7 digit subscriber nr |
| Boquilla De Arriba | (01)498 | + 7 digit subscriber nr |
| Boquilla De Babisas (La Boquilla De Conchos) | (01)648 | + 7 digit subscriber nr |
| Boquita, La | (01)319 | + 7 digit subscriber nr |
| Bucerias | (01)329 | + 7 digit subscriber nr |
| Buenavista | (01)385 | + 7 digit subscriber nr |
| Buenos Aires | (01)964 | + 7 digit subscriber nr |
| Burgos | (01)841 | + 7 digit subscriber nr |
| Bustamante | (01)829 | + 7 digit subscriber nr |
| Cabeza De Toro | (01)994 | + 7 digit subscriber nr |
| Calera, La (El Canario) | (01)411 | + 7 digit subscriber nr |
| Calpulalpan | (01)749 | + 7 digit subscriber nr |
| Calvillo | (01)495 | + 7 digit subscriber nr |
| Calzada De La Merced, La | (01)432 | + 7 digit subscriber nr |
| Camalu | (01)616 | + 7 digit subscriber nr |
| Camaron, El | (01)995 | + 7 digit subscriber nr |
| Campeche, Camp. | (01)981 | + 7 digit subscriber nr |
| Campestre Flamboyanes | (01)969 | + 7 digit subscriber nr |
| Canc?n, Q.Roo | (01)998 | + 7 digit subscriber nr |
| Candelaria | (01)982 | + 7 digit subscriber nr |
| Candelaria Loxicha | (01)958 | + 7 digit subscriber nr |
| Candelaria, La | (01)967 | + 7 digit subscriber nr |
| Canelas | (01)674 | + 7 digit subscriber nr |
| Cantabria | (01)436 | + 7 digit subscriber nr |
| Capilla, La | (01)278 | + 7 digit subscriber nr |
| Capulin, El | (01)328 | + 7 digit subscriber nr |
| Caqada De Las Flores | (01)373 | + 7 digit subscriber nr |
| Caqada De Negros | (01)476 | + 7 digit subscriber nr |
| Caqadas De Obregon | (01)431 | + 7 digit subscriber nr |
| Caracuaro De Morelos | (01)459 | + 7 digit subscriber nr |
| Carapan | (01)355 | + 7 digit subscriber nr |
| Carboneras | (01)465 | + 7 digit subscriber nr |
| Cardenas | (01)937 | + 7 digit subscriber nr |
| Cargadero, El | (01)494 | + 7 digit subscriber nr |
| Carlos Greene 1 Ra. Seccion | (01)933 | + 7 digit subscriber nr |
| Carreton, El | (01)428 | + 7 digit subscriber nr |
| Catazaja | (01)916 | + 7 digit subscriber nr |
| Catemaco | (01)294 | + 7 digit subscriber nr |
| Ceballos | (01)629 | + 7 digit subscriber nr |
| Cedral | (01)488 | + 7 digit subscriber nr |
| Celaya, Gto. | (01)461 | + 7 digit subscriber nr |
| Cerro Azul | (01)785 | + 7 digit subscriber nr |
| Cerro Colorado | (01)456 | + 7 digit subscriber nr |
| Chalchihuites | (01)457 | + 7 digit subscriber nr |
| Chalchocoyo | (01)483 | + 7 digit subscriber nr |
| Chalma | (01)714 | + 7 digit subscriber nr |
| Chapantongo | (01)763 | + 7 digit subscriber nr |
| Charcos, Los | (01)356 | + 7 digit subscriber nr |
| Chavinda | (01)383 | + 7 digit subscriber nr |
| Chemax | (01)985 | + 7 digit subscriber nr |
| Chetumal, Q.Roo | (01)983 | + 7 digit subscriber nr |
| Chicomuselo | (01)963 | + 7 digit subscriber nr |
| Chihuahua, Chih. | (01)614 | + 7 digit subscriber nr |
| Chijol 17 | (01)846 | + 7 digit subscriber nr |
| Chilpancingo, Gro. | (01)747 | + 7 digit subscriber nr |
| Chiltepec (Chiltepec De Hidalgo) | (01)723 | + 7 digit subscriber nr |
| China | (01)823 | + 7 digit subscriber nr |
| Chinameca, Ver. | (01)922 | + 7 digit subscriber nr |
| Chontalpa (Estacion Chontalpa) | (01)917 | + 7 digit subscriber nr |
| Choya, La | (01)638 | + 7 digit subscriber nr |
| Cides, Los | (01)791 | + 7 digit subscriber nr |
| Cienega De Flores | (01)825 | + 7 digit subscriber nr |
| Cieneguilla | (01)675 | + 7 digit subscriber nr |
| Cieneguillas De Guadalupe | (01)725 | + 7 digit subscriber nr |
| Cintalapa De Figueroa | (01)968 | + 7 digit subscriber nr |
| Ciudad Acuqa | (01)877 | + 7 digit subscriber nr |
| Ciudad Camargo | (01)891 | + 7 digit subscriber nr |
| Ciudad Constitucion | (01)613 | + 7 digit subscriber nr |
| Ciudad Cuauht?moc, Chih. | (01)625 | + 7 digit subscriber nr |
| Ciudad de M?xico, D.F. y Zonas Conurbadas | (01)55 | + 8 digit subscriber nr |
| Ciudad del Carmen, Camp. | (01)938 | + 7 digit subscriber nr |
| Ciudad Delicias, Chih. | (01)639 | + 7 digit subscriber nr |
| Ciudad Guzm?n, Jal. | (01)341 | + 7 digit subscriber nr |
| Ciudad Ju?rez, Chih. | (01)656 | + 7 digit subscriber nr |
| Ciudad L?zaro C?rdenas, Mich. | (01)753 | + 7 digit subscriber nr |
| Ciudad Mante, Tamps. | (01)831 | + 7 digit subscriber nr |
| Ciudad Melchor Muzquiz | (01)864 | + 7 digit subscriber nr |
| Ciudad Morelos (Cuervos) | (01)658 | + 7 digit subscriber nr |
| Ciudad Obreg?n, Son. | (01)644 | + 7 digit subscriber nr |
| Ciudad Sabinas Hidalgo | (01)824 | + 7 digit subscriber nr |
| Ciudad Valles, S.L.P. | (01)481 | + 7 digit subscriber nr |
| Ciudad Victoria, Tamps. | (01)834 | + 7 digit subscriber nr |
| Coatetelco | (01)737 | + 7 digit subscriber nr |
| Coatzacoalcos, Ver. | (01)921 | + 7 digit subscriber nr |
| Cocuite, El | (01)285 | + 7 digit subscriber nr |
| Cocula | (01)377 | + 7 digit subscriber nr |
| Cojumatlan De Regules | (01)381 | + 7 digit subscriber nr |
| Colima, Col. | (01)312 | + 7 digit subscriber nr |
| Colonia Yucatan | (01)986 | + 7 digit subscriber nr |
| Comonfort | (01)412 | + 7 digit subscriber nr |
| Concepcion Del Oro | (01)842 | + 7 digit subscriber nr |
| Concha, La (La Concepcion) | (01)695 | + 7 digit subscriber nr |
| C?rdoba, Ver. | (01)271 | + 7 digit subscriber nr |
| Coroneo | (01)421 | + 7 digit subscriber nr |
| Covadonga | (01)468 | + 7 digit subscriber nr |
| Coyotepec | (01)593 | + 7 digit subscriber nr |
| Cozumel | (01)987 | + 7 digit subscriber nr |
| Cristobal Obregon | (01)965 | + 7 digit subscriber nr |
| Cuatrocienegas De Carranza | (01)869 | + 7 digit subscriber nr |
| Cuauhtemoc | (01)913 | + 7 digit subscriber nr |
| Cuautla, Mor. | (01)735 | + 7 digit subscriber nr |
| Cuencame De Ceniceros (Cuencame) | (01)671 | + 7 digit subscriber nr |
| Cuernavaca, Mor. | (01)777 | + 7 digit subscriber nr |
| Culiac?n, Sin. | (01)667 | + 7 digit subscriber nr |
| Cupareo | (01)466 | + 7 digit subscriber nr |
| Durango, Dgo. | (01)618 | + 7 digit subscriber nr |
| Ebano | (01)845 | + 7 digit subscriber nr |
| Ejutla | (01)343 | + 7 digit subscriber nr |
| Emiliano Zapata (Colonia Emiliano Zapata) | (01)719 | + 7 digit subscriber nr |
| Ensenada, B.C. | (01)646 | + 7 digit subscriber nr |
| Fresnillo, Zac. | (01)493 | + 7 digit subscriber nr |
| Fuente, La | (01)414 | + 7 digit subscriber nr |
| Garita, La | (01)358 | + 7 digit subscriber nr |
| General Enrique Estrada | (01)478 | + 7 digit subscriber nr |
| Guadalajara, Jal. y Zonas Conurbadas | (01)33 | + 8 digit subscriber nr |
| Guadalupe (Hacienda De Guadalupe, La) | (01)821 | + 7 digit subscriber nr |
| Guanajuato, Gto. | (01)473 | + 7 digit subscriber nr |
| Guandaro | (01)359 | + 7 digit subscriber nr |
| Guaymas, Son. | (01)622 | + 7 digit subscriber nr |
| Gutierrez Zamora | (01)766 | + 7 digit subscriber nr |
| Hermosillo, Son. | (01)662 | + 7 digit subscriber nr |
| Heroica Zitacuaro | (01)715 | + 7 digit subscriber nr |
| Huamantla | (01)247 | + 7 digit subscriber nr |
| Huanusco | (01)463 | + 7 digit subscriber nr |
| Huejotzingo | (01)227 | + 7 digit subscriber nr |
| Huisquilco | (01)344 | + 7 digit subscriber nr |
| Imuris | (01)632 | + 7 digit subscriber nr |
| Irapuato, Gto. | (01)462 | + 7 digit subscriber nr |
| Ixtacomitan | (01)932 | + 7 digit subscriber nr |
| Ixtapan De La Sal | (01)721 | + 7 digit subscriber nr |
| Ixtepec, Oax. | (01)971 | + 7 digit subscriber nr |
| Jalapa, Ver. | (01)228 | + 7 digit subscriber nr |
| Jaltepec | (01)592 | + 7 digit subscriber nr |
| Jim?nez, Coah. | (01)878 | + 7 digit subscriber nr |
| Julimes | (01)621 | + 7 digit subscriber nr |
| La Paz, B.C.S. | (01)612 | + 7 digit subscriber nr |
| La Piedad, Mich. | (01)352 | + 7 digit subscriber nr |
| Lagos de Moreno, Jal. | (01)474 | + 7 digit subscriber nr |
| Largo, El | (01)652 | + 7 digit subscriber nr |
| Le?n, Gto. | (01)477 | + 7 digit subscriber nr |
| Lerma, M?x. | (01)728 | + 7 digit subscriber nr |
| Loma Bonita | (01)281 | + 7 digit subscriber nr |
| Los Mochis, Sin. | (01)668 | + 7 digit subscriber nr |
| Magdalena Tetela Morelos, La | (01)223 | + 7 digit subscriber nr |
| Manuel Benavides | (01)626 | + 7 digit subscriber nr |
| Manzanillo, Col. | (01)314 | + 7 digit subscriber nr |
| Mariano Matamoros | (01)628 | + 7 digit subscriber nr |
| Matamoros, Tamps. | (01)868 | + 7 digit subscriber nr |
| Mayanal?n, Gro. | (01)733 | + 7 digit subscriber nr |
| Mazamitla | (01)382 | + 7 digit subscriber nr |
| Mazatl?n, Sin. | (01)669 | + 7 digit subscriber nr |
| M?rida, Yuc. | (01)999 | + 7 digit subscriber nr |
| Mesas, Las | (01)758 | + 7 digit subscriber nr |
| Mexicali, B.C. | (01)686 | + 7 digit subscriber nr |
| Milpas Viejas | (01)389 | + 7 digit subscriber nr |
| Mirandillas | (01)347 | + 7 digit subscriber nr |
| Monclova, Coah. | (01)866 | + 7 digit subscriber nr |
| Monterrey, N.L. y Zonas Conurbadas | (01)81 | + 8 digit subscriber nr |
| Morelia, Mich. | (01)443 | + 7 digit subscriber nr |
| Morole?n, Gto. | (01)445 | + 7 digit subscriber nr |
| Navojoa, Son. | (01)642 | + 7 digit subscriber nr |
| Nogales, Son. | (01)631 | + 7 digit subscriber nr |
| Nuevo Laredo, Tamps. | (01)867 | + 7 digit subscriber nr |
| Nuevo Necaxa | (01)764 | + 7 digit subscriber nr |
| Oaxaca, Oax. | (01)951 | + 7 digit subscriber nr |
| Ocotl?n, Jal. | (01)392 | + 7 digit subscriber nr |
| Orizaba, Ver. | (01)272 | + 7 digit subscriber nr |
| Oro De Hidalgo, El | (01)711 | + 7 digit subscriber nr |
| Pachuca, Hgo. | (01)771 | + 7 digit subscriber nr |
| Palmilla, La | (01)225 | + 7 digit subscriber nr |
| Parral, Chih. | (01)627 | + 7 digit subscriber nr |
| Playas De Rosarito | (01)661 | + 7 digit subscriber nr |
| Plazas, Las | (01)779 | + 7 digit subscriber nr |
| Polotitl?n, M?x. | (01)427 | + 7 digit subscriber nr |
| Poza Rica, Ver. | (01)782 | + 7 digit subscriber nr |
| Praderas Del Potrero | (01)591 | + 7 digit subscriber nr |
| Puebla, Pue. | (01)222 | + 7 digit subscriber nr |
| Puerto Vallarta, Jal. | (01)322 | + 7 digit subscriber nr |
| Quer?taro, Qro. | (01)442 | + 7 digit subscriber nr |
| Reyes Acozac, Los | (01)596 | + 7 digit subscriber nr |
| Reynosa, Tamps. | (01)899 | + 7 digit subscriber nr |
| Sabinas, Coah. | (01)861 | + 7 digit subscriber nr |
| Sahuayo, Mich. | (01)353 | + 7 digit subscriber nr |
| Salamanca, Gto. | (01)464 | + 7 digit subscriber nr |
| Saltillo, Coah. | (01)844 | + 7 digit subscriber nr |
| San Antonio Texcala | (01)237 | + 7 digit subscriber nr |
| San Diego De Alejandria | (01)395 | + 7 digit subscriber nr |
| San Jos? del Cabo, B.C.S. | (01)624 | + 7 digit subscriber nr |
| San Luis Potos?, S.L.P. | (01)444 | + 7 digit subscriber nr |
| San Luis R?o Colorado, Son. | (01)653 | + 7 digit subscriber nr |
| San Marcos Nepantla, M?x. | (01)594 | + 7 digit subscriber nr |
| San Mart?n Texmelucan, Pue. | (01)248 | + 7 digit subscriber nr |
| San Miguel de Allende, Gto. | (01)415 | + 7 digit subscriber nr |
| San Nicolas Tlazala | (01)713 | + 7 digit subscriber nr |
| Sayula | (01)342 | + 7 digit subscriber nr |
| Singuilucan, Hgo. | (01)775 | + 7 digit subscriber nr |
| Sonoita | (01)651 | + 7 digit subscriber nr |
| Tampico, Tamps. | (01)833 | + 7 digit subscriber nr |
| Tapachula, Chis. | (01)962 | + 7 digit subscriber nr |
| Tecate | (01)665 | + 7 digit subscriber nr |
| Tehuac?n, Pue. | (01)238 | + 7 digit subscriber nr |
| Tepatitlan, Jal. | (01)378 | + 7 digit subscriber nr |
| Tepeji del Rio, Hgo. | (01)773 | + 7 digit subscriber nr |
| Tepic, Nay. | (01)311 | + 7 digit subscriber nr |
| Texcoco, M?x. | (01)595 | + 7 digit subscriber nr |
| Tijuana, B.C. | (01)664 | + 7 digit subscriber nr |
| Tlaxcala, Tlax. | (01)246 | + 7 digit subscriber nr |
| Toluca, M?x. | (01)722 | + 7 digit subscriber nr |
| Torre?n, Coah. | (01)871 | + 7 digit subscriber nr |
| Tuxpan, Ver. | (01)783 | + 7 digit subscriber nr |
| Tuxtla Guti?rrez, Chis. | (01)961 | + 7 digit subscriber nr |
| Uruapan, Mich. | (01)452 | + 7 digit subscriber nr |
| Veracruz, Ver. | (01)229 | + 7 digit subscriber nr |
| Villahermosa, Tab. | (01)993 | + 7 digit subscriber nr |
| Zacatecas, Zac. | (01)492 | + 7 digit subscriber nr |
| Zacatepec, Mor. | (01)734 | + 7 digit subscriber nr |
| Zamora, Mich. | (01)351 | + 7 digit subscriber nr |
| Zihuatanejo, Gro. | (01)755 | + 7 digit subscriber nr |