Quick Facts
Region: Asia & Oceania
Full Name: Republic of Maldives
Capital City: Male
Language Spoken: Maldivian Dhivehi (dialect of Sinhala, script derived from Arabic), English spoken by most government officials
Maldives Travel Insurance
Get travel insurance to Maldives from Direct Travel Insurance. We offer low cost and high quality travel insurance to Maldives and most of the world.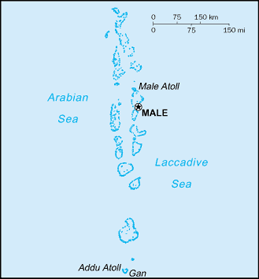 Geographic data
3 15 N, 73 00 E
Elevation Extremes
lowest point: Indian Ocean 0 m highest point: unnamed location on Wilingili island in the Addu Atoll 2.4 m
Land boundaries
0 km
Natural hazards
low level of islands makes them very sensitive to sea level rise
Natural resources
fish
Land use
arable land: 13.33% permanent crops: 30% other: 56.67% (2005)
Environmental current issues
depletion of freshwater aquifers threatens water supplies; global warming and sea level rise; coral reef bleaching
Climate
The Maldives have a hot tropical climate. There are two monsoons, the southwest from May to October and the northeast from November to April. Generally the southwest brings more wind and rain in June and July. The temperature rarely falls below 25°C (77°F). The best time to visit is November to Easter. Required clothing Lightweight cottons and linens throughout the year. Light waterproofs are advised during the rainy season.
Time difference
time difference: UTC+5
Population
359,008 (July 2006 est.)
Age structure
0-14 years: 43.4% (male 80,113/female 75,763) 15-64 years: 53.5% (male 98,040/female 94,029) 65 years and over: 3.1% (male 5,477/female 5,586) (2006 est.)
Median age
total: 17.9 years male: 17.8 years female: 18 years (2006 est.)
Population growth rate
2.78% (2006 est.)
Birth rate
34.81 births/1,000 population (2006 est.)
Death rate
7.06 deaths/1,000 population (2006 est.)
Net migration rate
0 migrant(s)/1,000 population (2006 est.)
Sex ratio
at birth: 1.05 male(s)/female under 15 years: 1.06 male(s)/female 15-64 years: 1.04 male(s)/female 65 years and over: 0.98 male(s)/female total population: 1.05 male(s)/female (2006 est.)
Life expectancy at birth
total population: 64.41 years male: 63.08 years female: 65.8 years (2006 est.)
Total fertility rate
4.9 children born/woman (2006 est.)
Business Practices
Most business takes place during the morning. An informal attitude prevails. Appointments should be made well in advance. For business meetings men normally wear a shirt and tie and a lightweight or tropical suit. Women wear a lightweight suit or equivalent. Handshaking is the customary form of greeting. Office hours are generally 0730-1430 Sunday to Thursday. Friday and Saturday are official rest days.
Crime
Although there is a low rate of crime in Maldives, petty crime does exist. Valuables left on beaches are subject to thievery. Visitors should also now that there are severe penalties for drug offenses.
Hotels
There are three hotels on Mal? and one on Gan; there are also 43 guesthouses on Mal? and rooms in private homes, although most visitors stay on resort islands. There are over 70 resorts that vary from extravagantly luxurious to fairly simple. Accommodation almost invariably consists of thatch-roofed coral cabanas with in-suite facilities. The rooms are fan-cooled although some have air-conditioning and/or a refrigerator.
Communications
Telephone IDD is available. The country code is 960 and the outgoing international code is 00. Fax: Services are available in Mal? and the resorts. Telecommunications in the Maldives are good - telex and telegram services are available to and from anywhere in the world from the Telecommunications Company in Mal?, Dhiraagu and the resorts.
Electricity
is 220 volts AC, 50Hz. Round-pin plugs are used, although square-pin plugs are found now and again. Electricity 230 volts AC, 50Hz. Round-pin plugs are used, although square-pin plugs are now becoming more common.
Plug Types
D,G,J,K,L
Food And Dining
Mal?, the capital, has a few simple restaurants which serve local and international food. On the other islands, there are a few restaurants in addition to those run by the resorts. Cuisine is international, with all foodstuffs other than seafood imported. There are no bars, except in the resorts, where there is a good range of alcoholic and non-alcoholic drink available, reflecting the demands of the visitors. Things to know: All bars are situated in tourist resorts (no alcohol is available on Mal?). All accept cash, but normally add orders onto the total bill. Locals do not drink at all. During the month of Ramadan (see Public Holidays), visitors are not allowed to drink alcohol in public except in the tourist resorts.
National specialties:
? Seafood is widely available, such as tuna, groupa, octopus, jobfish and swordfish.
? Kavaabu (deep fried snacks made from rice, tuna, coconut, lentils, and spices).
? Curries, such as chicken or beef, are widely available. Curry leaves are added to a lot of Maldavian dishes. National drinks:
? The Maldive Lady (a powerful and delicious cocktail, whose composition varies from bar to bar and island to island).
Tipping:
This is officially discouraged. Note All bars are situated in tourist resorts (no alcohol is available on Mal?). All accept cash, but normally add orders onto the total bill. Locals do not drink at all. During the month of Ramadan (see Public Holidays), visitors are not allowed to drink alcohol in public except in the tourist resorts.
Nightlife
There is little or no organized nightlife, although most resorts have informal discos around the bar areas, sometimes featuring live bands playing either traditional or Western music. Beach parties and barbecues are also popular. On some evenings, many resorts have cultural shows and some show videos.
Entry departure requirements
* Please see passport section below
Visa immigration information
Passports
Passport valid for six months required by all.
Visas
1. Tourist visas for 30 days will be issued on arrival only and are free of charge to all visitors in possession of valid travel documents.
Note
Foreign visitors who enter the Maldives must be in possession of return or onward tickets and sufficient funds to cover duration of stay.
Types of visa and cost
Tourist visas can be extended for a minimum of three months for a fee of Rf750 (US$77 ).
Validity
Three months to one year.
Application to
Visas are issued on arrival at the immigration desk at Maldives International Airport.
Application Requirements
(a) Valid passport and travel documents. (b) Fee. (c) Return or onward ticket. (d) Proof of sufficient funds to cover duration of stay (US$30 per person per day) or a confirmed hotel reservation for the intended period of stay.
Working days required
Visa extensions can be requested on arrival at Maldives International Airport, and will be issued immediately provided nationals are holding valid travel documents.
HIV entry requirements
No Test Required
Departure tax
None if airport tax has been paid before; otherwise, US$12.
Embassies
High Commission of the Republic of Maldives in the UK
22 Nottingham Place, London W1U 5NJ, UK
Tel: (020) 7224 2135.
Website: http://maldivesembassy.uk/
Opening hours: Mon-Fri 0930-1700.
The 26 December 2004 tsunami caused damage to a number of islands in the Maldives, including some resort islands. The large majority of resorts are now operating normally.
Travelers should avoid any demonstrations or large gatherings, especially on Mal? Island and the Southern Islands where there was some violence in demonstrations in August 2005.
The threat from terrorism is low, but you should be aware of the global risk of indiscriminate terrorist attacks which could be against civilian targets, including places frequented by foreigners.
Petty crime occurs: you should take care of your valuables and other personal possessions.
Possession of illegal drugs carries severe penalties.
Public observance of any religion other than Islam is prohibited.
This advice is based on information provided by the Foreign, Commonwealth & Development Office in the UK. It is correct at time of publishing. As the situation can change rapidly, visitors are advised to contact the following organizations for the latest travel advice:
British Foreign, Commonwealth & Development Office
Website: www.gov.uk/foreign-travel-advice
US Department of State
Currency
Maldivian Rufiya (MVR) = 100 laari. Notes are in denominations of MVR500, 100, 50, 20, 10 and 5. Coins are in denominations of MVR2 and 1, and 50, 25, 10, 5, 2 and 1 laari.
Currency restrictions
There are no restrictions on import or export of either local or foreign currencies. An explanation must be provided when carrying large quantities of currencies.
Banking hours
Sun-Thurs 0800-1330.
Currency exchange
Major currencies can be exchanged at banks, tourist resort islands, hotels and leading shops. Payments in hotels can be made in most hard currencies (particularly US Dollars) in cash, traveller's cheques or credit cards.
Credit cards
Most major island resorts, local and souvenir shops will accept American Express, Diners Club, Eurocard, MasterCard and Visa. Arrangements vary from island to island, and it is advisable to check with your credit or debit card company for details of merchant acceptability and other facilities which may be available. There are ATMs at a few places on the Capital Island.
Travellers cheques
These are generally accepted in Sterling and US Dollars. To avoid additional exchange rate charges, travelers are advised to take traveller's cheques in US Dollars.
| City/Region | City/Area code | Followed by |
| --- | --- | --- |
| Alif Alif | 666 | + 4 digits |
| Alif Dhaalu | 668 | + 4 digits |
| Baa | 660 | + 4 digits |
| Dhaalu | 676 | + 4 digits |
| Faafu | 674 | + 4 digits |
| Gaafu Alifu | 682 | + 4 digits |
| Gaafu Dhaalu | 684 | + 4 digits |
| Gnaviyani | 686 | + 4 digits |
| Haa Alif | 650 | + 4 digits |
| Haa Dhaalu | 652 | + 4 digits |
| Hulumale? | 35 | + 4 digits |
| Kaafu | 664 | + 4 digits |
| Laamu | 680 | + 4 digits |
| Lhaviyani | 662 | + 4 digits |
| Male? | 34 | + 4 digits |
| Meemu | 672 | + 4 digits |
| Noonu | 656 | + 4 digits |
| Raa | 658 | + 4 digits |
| Seenu | 689 | + 4 digits |
| Shaviyani | 654 | + 4 digits |
| Thaa | 678 | + 4 digits |
| Vaavu | 670 | + 4 digits |
| Villingili | 39 | + 4 digits |