Quick Facts
Region: Africa
Full Name: Kingdom of Morocco
Capital City: Rabat
Language Spoken: Arabic (official), Berber dialects, French often the language of business, government, and diplomacy
Morocco Travel Insurance
Get travel insurance to Morocco from Direct Travel Insurance. We offer low cost and high quality travel insurance to Morocco and most of the world.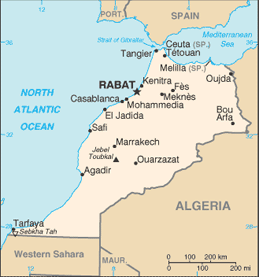 Geographic data
32 00 N, 5 00 W
Elevation Extremes
lowest point: Sebkha Tah -55 m highest point: Jebel Toubkal 4,165 m
Land boundaries
total: 2,017.9 km border countries: Algeria 1,559 km, Western Sahara 443 km, Spain (Ceuta) 6.3 km, Spain (Melilla) 9.6 km
Natural hazards
northern mountains geologically unstable and subject to earthquakes; periodic droughts
Natural resources
phosphates, iron ore, manganese, lead, zinc, fish, salt
Land use
arable land: 19% permanent crops: 2% other: 79% (2005)
Environmental current issues
land degradation/desertification (soil erosion resulting from farming of marginal areas, overgrazing, destruction of vegetation); water supplies contaminated by raw sewage; siltation of reservoirs; oil pollution of coastal waters
Climate
The climate varies from area to area. The coast has a warm, Mediterranean climate tempered on the eastern coast by southwest trade winds. Inland areas have a hotter, drier, continental climate. In the south of the country, the weather is very hot and dry throughout most of the year, with the nights coolest in the months of December and January. Rain falls from November to March in coastal areas. Mostly dry with high temperatures in summer. Cooler climate in the mountains. Marrakech and Agadir enjoy an average temperature of 21°C (70ºF) in the winter. Required clothing Lightweight cottons and linens are worn during summer, with warm mediumweights for the evenings during winter and in the mountains. Waterproofing is advisable in the wet season, particularly on the coast and in the mountains.
Time difference
time difference: UTC 0
Population
33,241,259 (July 2006 est.)
Age structure
0-14 years: 31.6% (male 5,343,976/female 5,145,019) 15-64 years: 63.4% (male 10,505,018/female 10,580,599) 65 years and over: 5% (male 725,116/female 941,531) (2006 est.)
Median age
total: 23.9 years male: 23.4 years female: 24.5 years (2006 est.)
Population growth rate
1.55% (2006 est.)
Birth rate
21.98 births/1,000 population (2006 est.)
Death rate
5.58 deaths/1,000 population (2006 est.)
Net migration rate
-0.87 migrant(s)/1,000 population (2006 est.)
Sex ratio
at birth: 1.05 male(s)/female under 15 years: 1.04 male(s)/female 15-64 years: 0.99 male(s)/female 65 years and over: 0.77 male(s)/female total population: 0.99 male(s)/female (2006 est.)
Life expectancy at birth
total population: 70.94 years male: 68.62 years female: 73.37 years (2006 est.)
Total fertility rate
2.68 children born/woman (2006 est.)
Business Practices
Business meetings are somewhat formal, although a suit is not necessary in very hot weather. Appointments should be made in advance. Negotiations often involve a great deal of bargaining and a visitor should expect to deal with a number of people. While the official and most important indigenous language is Arabic, French is the language of business. A substantial and growing number of Moroccan entrepreneurs and officials can conduct business in English. Office hours are usually 0830-1200 and 1430-1830 Monday to Friday.
Crime
Morocco has a moderately high crime rate in urban areas. Criminals have targeted tourists for assaults, muggings, thefts, pickpocketing, and scams of all types. Commonly reported crimes include falsifying credit-card vouchers, and shipping inferior rugs as a substitute for the rugs purchased by the traveler. There are reports of thefts occurring in the vicinity of ATM machines. Some travelers have been befriended by persons of various nationalities who have offered them food, drink, or cigarettes that are drugged. Harassment of tourists by unemployed Moroccans posing as "guides" is a common problem. Prudent travelers hire only official tour guides through hotels and travel agencies. Traveling alone in the Rif Mountain area is risky, as tourists have been the victims of schemes involving the purchase and/or trafficking of hashish. Unescorted women in any area of Morocco may experience verbal abuse. Thieves sometimes bump cars from behind and rob their victims when they get out of the car to inspect the damage. Visitors are cautioned to travel in groups of two or more and to always carry proper identification. Serious crimes such as armed robbery, hotel room sacking or auto theft rarely occur in Rabat.
Hotels
Morocco has 100,000 hotel beds to cater for its thriving tourist market. In all sizeable centers there is quite a wide choice. Internationally known hotels in most main towns represent the upper end of the market. Better hotels include: In Casablanca: Casablanca Hyatt Regency, Casablanca Sheraton, Holiday Inn, and the Royal Mansour; In Rabat: Rabat Hilton, La Tour Hassan and the Soundouss Hotel; and in Tangier: the El Minzah. Rental of apartments and houses in Casablanca is expensive. Depending on size and area, e.g. a two-story 4-bedroom house with a good garden and standard amenities in a very good neighborhood can cost about US 35-40,000 per year. Two-year leases, with rent payable quarterly, are common.
Communications
Telephone IDD service is available. The country code is 212 and the outgoing international code is 00. Fax services are available in major hotels. There are telex facilities available in most of Morocco's major hotels. The telephone service is being improved. Mobile cellular phones can be rented in major hotels. Direct dialing to most countries is available, but expensive. The PTT operates a packet switching network "Magrhipac" permitting reasonably fast data transmission to gateways like Tymnet. Morocco connected to the Internet in early 1996.
Electricity
is 110-120 volts AC. 50Hz is also common. Electricity 127/220 volts AC, 50Hz, depending on age and location of building.
Plug Types
C,E
Food And Dining
Morocco's traditional haute cuisine dishes are excellent and good value for money. They are often exceedingly elaborate, based on a diet of meat and sweet pastries. Hotel restaurants usually serve French cuisine. Restaurants offer a good selection of food, including typical Moroccan dishes, French, Italian or Spanish meals. The three-course fixed menus are not expensive. Many of the souks have stalls selling kebabs (brochettes) often served with a spicy sauce. Most restaurants have waiter service. Bars can have either waiter or counter service. Laws on alcohol are fairly liberal (for non-Muslim visitors) and bars in most tourist areas stay open late. Wines, beers and spirits are widely available. Locally produced wines, beers and mineral waters are excellent and good value, but imported drinks tend to be expensive.
National specialties:
? Harira, a rich soup.
? Pastilla, a pigeon-meat pastry made from dozens of different layers of thick flaky dough.
? Couscous, a dish based on savoury semolina that can be combined with egg, chicken, lamb or vegetables.
? Tajine is a stew, often rich and fragrant, using marinated lamb or chicken.
? Hout is a fish version of the same stew.
? Djaja mahamara is chicken stuffed with almonds, semolina and raisins.
? Also popular are mchoui, pit-roasted mutton.
? Kab-el-ghzal, almond pastries. National drinks:
? Mint tea made with green tea, fresh mint and sugar. It is very refreshing and its consumption is an integral part of Moroccan social courtesy.
? Coffee is made very strong, except at breakfast.
Tipping:
Service charges are usually included in hotel bills; it is customary to tip hairdressers, cinema usherettes and waiters MAD1-2.
Nightlife
Morocco offers a variety of entertainment from casinos, bars, discos, restaurants and nightclubs, often with belly dancing. There are modern nightclubs in all the cities and resorts around the country. There are casinos in Marrakech, Mohammedia, Tangier and Agadir. Traditional Moroccan entertainment, such as folk dancing, can be seen in every town.
Entry departure requirements
Visa immigration information
Passports
Passport valid for at least six months from date of entry required by all.
Visas
Required by all except the following:
(a) nationals of countries shown in the chart above for stays of up to three months;
(b) nationals of Algeria, Andorra, Argentina, Bahrain, Brazil, Bulgaria, Chile, Congo (Rep), C?te d'Ivoire, Croatia, Guinea, Iceland, Indonesia, Korea (Rep), Kuwait, Libya, Liechtenstein, Mali, Mexico, Monaco, New Zealand, Niger, Norway, Oman, Peru, The Philippines, Puerto Rico, Qatar, Romania, Russian Federation, Saudi Arabia, Senegal, Singapore, Switzerland, Tunisia, Turkey, United Arab Emirates and Venezuela for stays of up to three months;
(c) nationals of Hong Kong (SAR) for stays of up to 30 days;
(d) transit passengers continuing their journey by the same or first connecting aircraft within 24 hours, provided holding onward or return documentation and not leaving the airport.
Types of visa and cost
Single-entry: US$27 ; Double-entry or Multiple-entry (both business only): US$43 Prices may fluctuate in accordance with the exchange rate and must be paid by postal order only.
Validity
Entry visas are valid for three months; visitors wishing to stay longer should apply to the local police station within 15 days of arrival. For other visa enquiries, contact the Embassy (see Passport/Visa Information). Extensions can be applied for with the Directorate General of National Security in Morocco.
Application to
Consular section at Embassy (not the Consulate for those residing in London); see Passport/Visa Information.
Application requirements
(a) One completed application form. (b) Four passport-size photos taken within the previous six months. (c) Valid passport with at least one blank page, and with a photocopy of the relevant data pages. (d) Fee, payable by postal order only. (e) Photocopy of all flight bookings. (f) Photocopy of hotel reservation. (g) Letter from employer or educator. (h) Self-addressed, stamped, registered envelope for postal applications (for those living outside London only).
Working days required
Normally four, upon receipt of all necessary documents. Some nationals should note that their application forms are sent to Morocco for clearance and processing and may take up to two months.
HIV entry requirements
No Test Required
Departure tax
None
Embassies
Embassy of the Kingdom of Morocco in the UK
49 Queen's Gate Gardens, London SW7 5NE, UK
Tel: (020) 7581 5001/4.
Website: http://www.moroccanembassylondon.org.uk/en/indexD.asp
Opening hours: Mon-Fri 0930-1700; 1000-1300 (visa section); closed UK and Moroccan national holidays (open until 3pm during Ramadan).
Moroccan Consulate in the UK
Diamond House, 97-99 Praed Street, London W2 1NT, UK
Tel: (020) 7724 0624.
Opening hours: Mon-Fri 0900-1230.
Embassy of the Kingdom of Morocco in the USA
1601 21st Street, NW, Washington, DC 20009, USA
Tel: (202) 462 7979.
Most visits to Morocco are trouble-free, but there is a high threat from terrorism in Morocco.
Violent crime, though not a major problem in Morocco, is growing. There are occasional incidents involving theft at knifepoint in the major cities and along beaches.
Morocco has a poor road safety record. Accidents are frequent, especially on busy major routes. The main road from Agadir to Marrakesh via Imi'n Tanoute and Chichaoua has been reported as particularly hazardous.
This advice is based on information provided by the Foreign, Commonwealth & Development Office in the UK. It is correct at time of publishing. As the situation can change rapidly, visitors are advised to contact the following organizations for the latest travel advice:
British Foreign, Commonwealth & Development Office
Website: www.gov.uk/foreign-travel-advice
US Department of State
Currency
Moroccan Dirham (MAD) = 100 centimes. Notes are in denominations of MAD200, 100, 50, 20 and 10. Coins are in denominations of MAD10, 5 and 1, and 50, 20, 10 and 5 centimes.
Currency restrictions
The import and export of local currency is prohibited; all local currency must be reconverted prior to departure. The import and export of foreign currency is unlimited but must be declared if in excess of the equivalent of MAD15,000. Upon production of bank vouchers, half the Moroccan currency purchased during a visitor's stay may be re-exchanged for foreign currency (subject to some limitations) and all of it if the stay is less than 48 hours.
Banking hours
Mon-Thur 0815-1215 and 1415-1715; Fri 0815-1115 and 1430-1730; Sat 0900-1300.
Currency exchange
Moroccan Dirhams can only be obtained in Morocco. National currencies should be exchanged at official bureaux de change only (identified by a golden sign); changing money in the street is illegal. There is no commission charge and visitors will be issued with a receipt which they must keep in order to exchange Moroccan currency back into the original national currency upon departure. Money can be withdrawn in banks with a credit card and a cheque book or directly from an ATM in some larger towns.
Credit cards
Some credit cards are accepted. Check with your credit or debit card company for details of merchant acceptability and other services which may be available.
Travellers cheques
To avoid additional exchange rate charges, travelers are advised to take traveller's cheques in Pounds Sterling or US Dollars.
| City/Region | City/Area code | Followed by |
| --- | --- | --- |
| Casablanca | (0)2 | + 7 digits |
| Rabat | (0)3 | + 7 digits |