Quick Facts
Region: Asia & Oceania
Full Name: Union of Burma
Capital City: Rangoon (Yangon)
Language Spoken: Burmese, minority ethnic groups have their own languages
Burma Travel Insurance
Get travel insurance to Burma from Direct Travel Insurance. We offer low cost and high quality travel insurance to Burma and most of the world.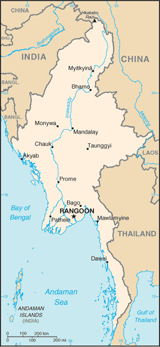 Geographic data
22 00 N, 98 00 E
Elevation Extremes
lowest point: Andaman Sea 0 m highest point: Hkakabo Razi 5,881 m
Land boundaries
total: 5,876 km border countries: Bangladesh 193 km, China 2,185 km, India 1,463 km, Laos 235 km, Thailand 1,800 km
Natural hazards
destructive earthquakes and cyclones; flooding and landslides common during rainy season (June to September); periodic droughts
Natural resources
petroleum, timber, tin, antimony, zinc, copper, tungsten, lead, coal, some marble, limestone, precious stones, natural gas, hydropower
Land use
arable land: 14.92% permanent crops: 1.31% other: 83.77% (2005)
Environmental current issues
deforestation; industrial pollution of air, soil, and water; inadequate sanitation and water treatment contribute to disease
Climate
A monsoon climate with three main seasons. The hottest period is between February and May, with little or no rain. Rainy season exists from May to October and dry, cooler weather from October to February. Required clothing Lightweight cottons and linens throughout most of the year are required. A light raincoat or umbrella is needed during the rainy season. Warmer clothes are advised for coolest period and some evenings.
Time difference
time difference: UTC+6.5 note: Nay Pyi Taw is administrative capital
Population
47,382,633 note: estimates for this country take into account the effects of excess mortality due to AIDS; this can result in lower life expectancy, higher infant mortality and death rates, lower population growth rates, and changes in the distribution of population by age and sex than would otherwise be expected (July 2006 est.)
Age structure
0-14 years: 26.4% (male 6,335,236/female 6,181,216) 15-64 years: 68.5% (male 16,011,723/female 16,449,626) 65 years and over: 5.1% (male 1,035,853/female 1,368,979) (2006 est.)
Median age
total: 27 years male: 26.4 years female: 27.6 years (2006 est.)
Population growth rate
0.81% (2006 est.)
Birth rate
17.91 births/1,000 population (2006 est.)
Death rate
9.83 deaths/1,000 population (2006 est.)
Net migration rate
0 migrant(s)/1,000 population (2006 est.)
Sex ratio
at birth: 1.06 male(s)/female under 15 years: 1.02 male(s)/female 15-64 years: 0.97 male(s)/female 65 years and over: 0.76 male(s)/female total population: 0.97 male(s)/female (2006 est.)
Life expectancy at birth
total population: 60.97 years male: 58.07 years female: 64.03 years (2006 est.)
Total fertility rate
1.98 children born/woman (2006 est.)
Business Practices
Lightweight suits are recommended during the day and jackets needed for top-level meetings. Most commercial business transactions will be conducted in English. Business cards in Burmese script can be useful. Handshaking is the normal form of greeting. Full names are used, preceded by U (pronounced oo) in the case of an older or well-respected man's name, Aung for younger men and Ko for adult males; a woman's name is preceded by Daw. When sitting, avoid displaying the soles of the feet, as this is considered offensive. Small presents are acceptable and appreciated, although never expected. Office hours are normally 0930-1630 Monday to Friday.
Crime
Security in tourist areas is generally good. The level of violent crime is exceedingly low and crimes against property are modest. There are occasional reports of pickpocketing and petty theft. Travel to the main tourist areas of Pagan, Inle Lake and the Mandalay area is generally safe. Travel to nearly all other parts of Myanmar is permitted, although transportation is difficult.
Hotels
Since the privatization of the hotel industry in 1993, a large number of new hotels and guesthouses have been completed or are under construction, particularly in Rangoon. There are also hotels at the resorts of Sandoway, Taunggyi and Pagan.
Communications
Telephone direct dial services is available to the main cities. Country code: 95. Outgoing international code: 0. There is a limited public internal service. Telegrams may be sent from the Central Telegraph Office on Maha Bandoola Street and there are further facilities at the Post and Telecommunications Corporation in Rangoon. Telex facilities are available to businessmen at main hotels but not to the public.
Electricity
is a 220/230 volts AC, 50Hz. Electricity 230 volts AC, 50Hz.
Plug Types
C,D,F,G
Food And Dining
The regional food is hot and spicy. Fish, rice, noodles and vegetables spiced with onions, ginger, garlic and chillies are the common local ingredients. Local dishes include lethok son (a sort of spicy vegetarian rice salad), mohinga (fish soup with noodles) and oh-no khauk swe (rice noodles, chicken and coconut milk). The avocados by Inle Lake are very good. Delicious fruits are available in the markets and food stalls appear on the corners of most large towns. Chinese and Indian cuisine is offered in many hotels and restaurants. Tea is a popular drink; the spices which are added to it can make the tongue turn bright red. Locally produced soft drinks are generally of poor quality and rather expensive. Coffee is not common. Locally produced beer, rum, whisky and gin are generally available.

Tipping:
It is usual to give 5 to 10 per cent on hotel and restaurant bills. Taxi drivers do not expect a tip.

Nightlife
Western-style nightlife is almost non existent, although there are occasional performances in Yangon?s three theaters as well as a number of rock and pop groups gaining in popularity. Cinemas are popular and seven of Yangon?s 50 cinemas regularly show English-language films.
Entry departure requirements
Entry restrictions Holders of passports issued by the government of the Chinese Taipei, if not holding a special affidavit issued by a diplomatic representation of Myanmar abroad.
Visa immigration information
Passports
Passport valid for at least six months beyond date of intended departure required by all.
Visas
Required by all except transit passengers continuing their journey by the same or first connecting aircraft, provided holding valid onward or return documentation and not leaving the airport.
Note
A separate visa is required for each child over seven years of age, even if traveling on their parent?s passport.
Types of visa and cost
Tourist (Foreign Independent Travelers - FIT): US$24 Business and Social: US$34
Validity
Tourist visas are valid for two months from the date of issue for stays of 28 days in Myanmar. This can be extended for an additional 14 days. Business visas are valid for three months from date of issue for stays of 10 weeks, extendable for up to 12 months on an individual basis. Transit visas are valid for 24 hours.
Application to
Consulate (or Consular section at Embassy; see General Info section).
Application requirements
(a) One application form. (b) Two passport-size photos. (c) Valid passport. (d) Fee (cash accepted if applying in person; cheque or postal order only if applying by post). (e) Self-addressed, stamped enveloped for postal applications with sufficient postage (registered post is recommended). Social Visit (visiting friends or relatives in Myanmar): (a) Two application forms (can be photocopied). (b) Three passport size photos. (c) Valid passport. (d) Fee (cash or postal order). (e) Self-addressed stamped envelope for postal applications with sufficient postage (registered post is recommended). (f) Letter of invitation from friends or relatives in Myanmar. Business: (a)-(e) and (f) Company letter explaining purpose of visit. (g) Letter of invitation from company in Myanmar.
Working days required
Normally three.
Temporary Residence
It is possible to get a stay permit once in Myanmar at the Immigration Department.
HIV entry requirements
No Test Required
Departure tax
US$10, payable also in FECs (Foreign Exchange Certificates; see also Money section for details). Passengers in direct transit are exempt.
Embassies
Embassy of the Union of Myanmar in the UK
19A Charles Street, Berkeley Square, London W1J 5DX, UK
Tel: (020) 7499 4340 or (0906) 550 8924 (recorded visa and tourism information; calls cost ?1 per minute).
Website: http://www.londonmyanmarembassy.com/
Opening hours: Mon-Fri 0930-1630.
Embassy of the Union of Myanmar in the USA
2300 S Street, NW, Washington, DC 20008, USA
Tel: (202) 332 9044/5.
Website: www.mewashingtondc.com or http://www.londonmyanmarembassy.com/

Travelers should exercise caution on visits to Myanmar, and avoid all but essential travel to the Myanmar side of the Myanmar/Thai border.
Travelers should be aware of the threat from terrorism in Myanmar. There have been a number of recent bomb explosions in public places, targets have included commercial interests and places tourists may visit as well as public transport.
The political situation in Myanmar remains unsettled, there are stringent restrictions on freedom of movement and speech.
This advice is based on information provided by the Foreign, Commonwealth & Development Office in the UK. It is correct at time of publishing. As the situation can change rapidly, visitors are advised to contact the following organizations for the latest travel advice:
British Foreign, Commonwealth & Development Office
Website: www.gov.uk/foreign-travel-advice
US Department of State
Currency
Kyat (MMK) = 100 pyas. Notes are in denominations of MMK1000, 500, 200, 100 and 90 pyas. Coins are in denominations of MMK1, and 50, 25, 10, 5 and 1 pyas. MMK100,000 is known as a lakh, and MMK10 million as a crore. Kyat is pronounced like the English word ?chat?. To combat the black market and limit the financial power of dissident groups, currency denominations are occasionally declared invalid without prior notice. Limited refunds are usually allowed for certain sectors of the population.
Currency restrictions
The import and export of local currency is prohibited. There are no import limits on foreign currencies, but any amounts must be declared on arrival and the declaration certificate kept safe ? on departure, foreign currencies are checked with the amounts declared on entry. There are regular customs checks at Yangon airport, aimed at curbing black-market activities; this makes it essential to keep all receipts in order to account for money spent while in the country.
Banking hours
Mon-Fri 1000-1400.
Currency exchange
FECs, which are printed in China, are Myanmar?s second legal currency and are issued by the Bank of Myanmar specifically for visiting tourists. They come in denominations equivalent to US$20, 10, 5 and 1. Payment for FECs is only accepted in US Dollars. One US Dollar equals one FEC. FECs can be exchanged into Kyats at officially authorized banks, bureaux de change, hotels and Myanmar Travel and Tour offices and can be spent anywhere in the country. Cash payments can also be made in US Dollars, but only at establishments (eg hotels, railway stations, airlines) that have an official license allowing them to accept dollars. Wherever possible, it is advisable to change US Dollars into Kyats rather than FECs, as FECs usually have a poorer exchange rate than Kyats. However, US Dollar travelers cheques can only be exchanged into FECs and not directly into Kyats unlike US Dollar cash. It is also recommended to carry small change as large notes may be difficult to change. Euros are now also accepted in all banks and currency exchange bureaux. There are no ATMs.
Credit cards
It is unlikely that credit or debit cards will be accepted; it is best to check with your card company prior to travel.
Travellers cheques
Accepted, although probably not by all establishments. To avoid additional exchange rate charges, travelers are advised to take traveller's cheques in US Dollars or Pounds Sterling.