Quick Facts
Region: Asia & Oceania
Full Name: Kingdom of Bhutan
Capital City: Thimphu
Language Spoken: Dzongkha (official), Bhotes speak various Tibetan dialects, Nepalese speak various Nepalese dialects
Bhutan Travel Insurance
Get travel insurance to Bhutan from Direct Travel Insurance. We offer low cost and high quality travel insurance to Bhutan and most of the world.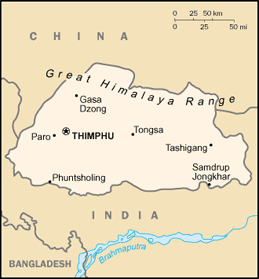 Geographic data
27 30 N, 90 30 E
Elevation Extremes
lowest point: Drangme Chhu 97 m highest point: Kula Kangri 7,553 m
Land boundaries
total: 1,075 km border countries: China 470 km, India 605 km
Natural hazards
violent storms from the Himalayas are the source of the country's name, which translates as Land of the Thunder Dragon; frequent landslides during the rainy season
Natural resources
timber, hydropower, gypsum, calcium carbonate
Land use
arable land: 2.3% permanent crops: 0.43% other: 97.27% (2005)
Environmental current issues
soil erosion; limited access to potable water
Climate
There are four distinct seasons similar in their divisions to those of Western Europe. The Monsoon occurs between June and August when the temperature is normally between 8? and 21?C (46?-70?F). Temperatures drop dramatically with increases in altitude. Days are usually very pleasant (average about 10?C/50?F) with clear skies and sunshine. Nights are cold and require heavy woolen clothing, particularly in winter. Generally, October, November and April to mid-June are the best times to visit ? rainfall is at a minimum and temperatures are conducive to active days of sightseeing. The foothills are also very pleasant during the winter.\nRequired clothing\nLightweight cottons in the foothills, also linens and waterproof gear, light sweaters and jackets for the evenings. Upland areas: woolens for evenings, particularly during the winter months.
Time difference
time difference: UTC+6
Population
2,279,723 note: other estimates range as low as 810,000 (July 2006 est.)
Age structure
0-14 years: 38.9% (male 458,801/female 426,947) 15-64 years: 57.1% (male 671,057/female 631,078) 65 years and over: 4% (male 46,217/female 45,623) (2006 est.)
Median age
total: 20.4 years male: 20.2 years female: 20.6 years (2006 est.)
Population growth rate
2.1% (2006 est.)
Birth rate
33.65 births/1,000 population (2006 est.)
Death rate
12.7 deaths/1,000 population (2006 est.)
Net migration rate
0 migrant(s)/1,000 population (2006 est.)
Sex ratio
at birth: 1.05 male(s)/female under 15 years: 1.07 male(s)/female 15-64 years: 1.06 male(s)/female 65 years and over: 1.01 male(s)/female total population: 1.07 male(s)/female (2006 est.)
Life expectancy at birth
total population: 54.78 years male: 55.02 years female: 54.53 years (2006 est.)
Total fertility rate
4.74 children born/woman (2006 est.)
Business Practices
The manners and customs of the Bhutanese are in many respects unique. The strongest influence on business and social conventions is the country's state religion, and everywhere one can see the reminders of Buddhism and the original religion of Tibet, Bonism. The majority of the Bhutanese live an agrarian lifestyle. The political leaders of the country have historically also been religious leaders. For years the country has deliberately isolated itself from visitors, and has only recently opened up to the outside world, a policy that is now to some extent being reversed. Recent economic policy has concentrated on export industries, particularly electric power generation and transmission to India.
Crime
While some incidents of pickpocketing and purse snatching are reported, there is relatively little crime in Bhutan and violent crimes are exceedingly rare. However, as in any traveling situation, visitors should be alert in crowded markets and avoid public transport, due to safety issues. Occasional robberies have been reported against travelers to rural areas of the country, but these have been rare.
Hotels
There are comfortable hotels, cottages and guesthouses. Hotels have hot and cold running water, electricity and room telephones. Restaurants are scarce and most tourists dine in their hotels.
Communications
International direct dial. Telephone services are restricted to the main centers. Country code: 975. All other calls must go through the international operator. Outgoing international code: 00. Telex services are available in main centers, but are liable to disruption. Airmail letters from Bhutan is subject to disruption, due to the highly prized nature of Bhutanese stamps, which often results in their being steamed off the envelopes en route.
Electricity
is 220 volts AC, 50Hz. Electricity 220 volts AC, 50Hz.
Plug Types
D,F,G
Food And Dining
Restaurants are relatively scarce and most tourists eat in their hotels.

National specialties:
? Meals are often buffet-style and mostly vegetarian.
? Cheese is a very popular ingredient in dishes and the most popular cheeses are datse (cow?s milk cheese), sometimes served in a dish with red chillies (emadatse), and yak cheese.
? Rice is ubiquitous, sometimes flavored with saffron.
? The country is replete with apple orchards, rice paddies and asparagus, which grows freely in the countryside. There are also over 400 varieties of mushroom.
? Fat brown and rainbow trout swim amid the glacial waters of the Pa Chu River, but these will not be caught by Bhutanese Buddhists. However, recent restrictions on meat-eating have lapsed ever so slightly. Meat and fish are now imported from nearby India, and Nepali Hindus living in Bhutan are licensed to slaughter animals. National drinks:
? The most popular drink is souza (Bhutanese tea).

Tipping:
Not widely practiced.
Entry departure requirements
Restricted entry Tourists to Bhutan are obliged to use Druk Air (the only airline serving Bhutan) either on entering or leaving the country. The Government may refuse entry to those wishing to visit for mountaineering, publicity and other research activities.
Visa immigration information
Passports
Valid passport required by all.
Visas
Required by all except nationals of India.
Note
(a) There are two ways of entering Bhutan: by air to Paro Airport or by road to the Bhutanese border town of Phuentsholing. All travelers entering the country by road must ensure that they have the necessary documentation for transiting through that part of India to Phuentsholing. Consult the Passport/Visa section for India. Visitors are also advised to contact the Government of India Tourist Office (see India section) to check exactly what special permits or other documents may be necessary as these regulations are subject to change at short notice. (b) Visitors are required to book with a registered tour operator in Bhutan, which can be done directly through an affiliated travel agent abroad. (c) A yellow fever certificate is required by all if arriving within six days from an infected area.
Types of visa and cost
Tourist: US$20 (payable in hard currency).
Validity
Visas are initially granted for stays of up to 14 days. The Bhutan Tourism Corporation Limited (BTCL) can apply for an extension of tourist visas for an additional fee per person.
Application to
Visa applications for all tourists processed by the travel/tour agent through the Tourism Authority of Bhutan (TAB). Only once the visa has been cleared can visitors travel to Bhutan. Visas are issued (stamped in passport) on arrival at Paro Airport or at Phuentsholing check post.
Application requirements
(a) Application forms, which may be obtained from the BTCL, who should be contacted directly (see Passport/Visa Information). (b) Faxed details of passport to the BTCL prior to arrival. (c) All necessary documents for transiting India (see Note above). (d) Confirmed onward or return ticket. (e) Sufficient funds for length of stay (Mar-May, Sep-Nov: US$200 per day; Jun-Aug, Dec-Feb: US$165 per day). (f) Fee. (g) Two passport-size photos.
Working days required
Visa clearance takes at least 10 days to process and should be applied for at least 60 days prior to arrival in Bhutan.
HIV entry requirements
No Test Required
Departure tax
BTN 300
Embassies
Royal Bhutanese Embassy in India
Chandragupta Marg, Chanakyapuri, New Delhi 110 021, India
Tel: (11) 2688 9230 or 9806/7.
Bhutan Tourism Corporation Limited (BTCL)
PO Box 159, Thimphu, Bhutan
Tel: (2) 324 045 or 322 647.
Website: www.kingdomofbhutan.com
Bhutan Tourism Corporation Limited (BTCL) in the USA
c/o Far Fung Places, 1914 Fell Street, San Francisco, CA 94117, USA
Tel: (415) 386 8306.
Website: www.farfungplaces.com or www.kingdomofbhutan.com

Travelers must arrange any visit to Bhutan through an authorized travel agent. Those traveling independently are not permitted to enter Bhutan. Most visits are trouble-free.
This advice is based on information provided by the Foreign, Commonwealth & Development Office in the UK. It is correct at time of publishing. As the situation can change rapidly, visitors are advised to contact the following organizations for the latest travel advice:
British Foreign, Commonwealth & Development Office
Tel: (0845) 850 2829.
Website: www.gov.uk/foreign-travel-advice
US Department of State
Currency
1 Ngultrum (BTN) = 100 chetrum (Ch). The Ngultrum is pegged to the Indian Rupee (which is also acccepted as legal tender). Notes are in denominations of BTN500, 100, 50, 20, 10, 5, 2 and 1. Coins are in denominations of BTN1, and 100, 50, 25, 10 and 5 chetrum. US Dollars are also widely accepted throughout the kingdom.
Currency restrictions
None, but foreign currency must be declared on arrival.
Banking hours
Mon-Fri 1000-1300. Some smaller branches may be open Saturday or Sunday for currency exchange.
Currency exchange
Leading foreign currencies are accepted but traveller's cheques are preferred and receive a better exchange rate. Major hotels in Thimphu and Phuentsholing, and the Olathang Hotel in Paro, will also exchange foreign currency.
Credit cards
American Express and Diners Club have very limited acceptability. Check with your credit or debit card company for details of merchant acceptability and other services which may be available.
Travellers cheques
These can be exchanged in any branch of the Bank of Bhutan or at all BTCL hotels. Travelers are advised to take traveller's cheques in US Dollars.
| City/Region | City/Area code | Followed by |
| --- | --- | --- |
| Gelephu | 6 | + 6 digit subscriber nr |
| Paro | 8 | + 6 digit subscriber nr |
| Phuntsholing | 5 | + 6 digit subscriber nr |
| S/Jongkhar | 7 | + 6 digit subscriber nr |
| Thimphu | 2 | + 6 digit subscriber nr |
| Trashigang | 4 | + 6 digit subscriber nr |
| Trongsa | 3 | + 6 digit subscriber nr |