Quick Facts
Region: Europe
Full Name: Republic of Bulgaria
Capital City: Sofia
Language Spoken: Bulgarian 84.5%, Turkish 9.6%, Roma 4.1%, other and unspecified 1.8% (2001 census)
Bulgaria Travel Insurance
Get travel insurance to Bulgaria from Direct Travel Insurance. We offer low cost and high quality travel insurance to Bulgaria and most of the world.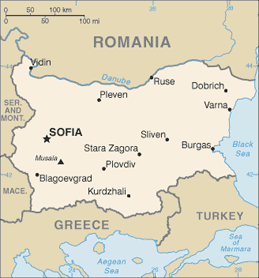 Geographic data
43 00 N, 25 00 E
Elevation Extremes
lowest point: Black Sea 0 m highest point: Musala 2,925 m
Land boundaries
total: 1,808 km border countries: Greece 494 km, Macedonia 148 km, Romania 608 km, Serbia 318 km, Turkey 240 km
Natural hazards
earthquakes, landslides
Natural resources
bauxite, copper, lead, zinc, coal, timber, arable land
Land use
arable land: 29.94% permanent crops: 1.9% other: 68.16% (2005)
Environmental current issues
air pollution from industrial emissions; rivers polluted from raw sewage, heavy metals, detergents; deforestation; forest damage from air pollution and resulting acid rain; soil contamination from heavy metals from metallurgical plants and industrial wastes
Climate
Varies according to altitude. Summers are warmest with some rainfall, with the south feeling the influence of the Mediterranean. Winters are cold with snow. It rains frequently during spring and autumn. Required clothing Mediumweights most of the year; warmer outdoor wear necessary in winter.
Time difference
time difference: UTC+2 daylight saving time: +1hr, begins last Sunday in March; ends last Sunday in October
Population
7,385,367 (July 2006 est.)
Age structure
0-14 years: 13.9% (male 527,881/female 502,334) 15-64 years: 68.7% (male 2,496,054/female 2,579,680) 65 years and over: 17.3% (male 527,027/female 752,391) (2006 est.)
Median age
total: 40.8 years male: 38.7 years female: 42.9 years (2006 est.)
Population growth rate
-0.86% (2006 est.)
Birth rate
9.65 births/1,000 population (2006 est.)
Death rate
14.27 deaths/1,000 population (2006 est.)
Net migration rate
-4.01 migrant(s)/1,000 population (2006 est.)
Sex ratio
at birth: 1.06 male(s)/female under 15 years: 1.05 male(s)/female 15-64 years: 0.97 male(s)/female 65 years and over: 0.7 male(s)/female total population: 0.93 male(s)/female (2006 est.)
Life expectancy at birth
total population: 72.3 years male: 68.68 years female: 76.13 years (2006 est.)
Total fertility rate
1.38 children born/woman (2006 est.)
Business Practices
Bulgarians are less formal than Western Europeans from dress to the manner of their business contacts. Meetings, including lunches or dinners, are used as an opportunity to get acquainted and as a basis for developing a relationship of trust. Companies use stand-up evening receptions at hotels, restaurants, trade shows, and even museums and auto showrooms for public relations and to solidify business relationships. Businesspeople may go without a jacket or tie or wear casual clothes in summer. One charming but confusing custom is that head movements indicating agreement or disagreement are reversed in Bulgaria. The rocking of the head from left-to-right, often with a slight smile, means "yes" while nodding up-and-down indicates "no." But with foreign language fluency growing, some Bulgarians will use head movements in typical western fashion. Therefore, it is best to clarify the situation by obtaining a verbal response.
Crime
There has been a rise in street crime, much of which is directed against foreigners. Pickpocketing and purse snatching are frequent occurrences, as is theft from automobiles, where thieves smash windows to remove valuables left in sight. There have been a number of incidents in which tourists have accepted offers of help or coffee from "friendly people" met by chance at the airport, bus stations or train stations and have been drugged or assaulted and robbed. Incidents of pilferage of checked baggage at Sofia airport are common; items of value in checked luggage are at risk. Automobile theft is also a frequent problem, with four-wheel drive vehicles and late model European sedans the most popular targets. Most stolen vehicles are reported shipped to other East European or former-Soviet countries and very few are ever recovered. Organized crime is probably the country's number one problem. In conjunction with organized crime, the drug industry is also a growing concern in Bulgaria. Over 1,600 Bulgarian citizens have been involved in the drug trade and some 112 Bulgarian firms have been used as covers for international drug trafficking, according to statements by an interior ministry official. The official was quoted by news agencies as saying that international crime groups were involved in the operations and that growing drug consumption was contributing to crime in Bulgaria.
Hotels
In Sofia, there are two international class hotels in Bulgaria, the Sheraton Sofia Hotel Balkan and the Kempinski Hotel Zografski. A Hilton was recently completed. Other hotels include the recently built Ambassador Hotel and Castle Hrankov Hotel (both 15 minutes from the city-center) and the Park Hotel Moskva. The Maria Luiza and Gloria Palace are two other good hotels centrally located. The Pliska, Bulgaria and the Grand Hotel Sofia are lower in price but vary substantially from the top tier hotels in terms of services, comfort and quality. The Princess Hotel (formerly Novotel) is currently under new management and renovation.
Communications
Telephone IDD is available to main cities. The country code is 359. The outgoing international code is 00. Calls from some parts of the country must be placed through the international operator. There are many public telephones in the main towns. Fax facilities are available at BTA (Bulgarina Telegraph Agency) offices.
Electricity
is 220 volts AC, 50Hz. Plugs are the 2-pin-type. Electricity 220 volts AC, 50Hz. Plugs are two-pin.
Plug Types
C,F
Food And Dining
The main meal is eaten in the middle of the day. Dinner is a social occasion, with dancing in many restaurants. Food is spicy, hearty and good. A lot of meals include meat, potatoes and cheese. Fruit is particularly good and cheap throughout the year. There is a wide variety of national dishes, as well as Western European standard dishes, which can be chosen on the spot at any restaurant. All good hotels have restaurants and there are many attractive folk-style restaurants and cafes throughout the country.

National specialties:
? Tarator (cold soup made from cucumber, walnuts and yogurt.).
? Kavarma (individual casseroles of pork or veal, onions and mushrooms).
? Shishkebab (stuffed vine or cabbage leaves and moussaka).
? Kebapcheta (small, strongly spiced, minced meat rolls).
? Banitsa (pastry stuffed with fruit or cheese). National drinks
? Coffee, heavily sweetened, is particularly popular.
? Drinks made from infusions of mountain herbs and dried leaves, particularly lime.
? White wines include Evksinograde, Karlouski Misket and Tamianka.
? Heavy red wines include Mavroud and Trakia.
? Liquors include mastika and rakia.

Tipping:
Until recently not applicable but some restaurants now include a 10-12 per cent service charge.

Nightlife
Some restaurants have folk dancing and music. Opera is performed at the State Opera House in Sofia; other classical concerts include the National Folk Ensemble. There are nightclubs with floor shows and dancing in Sofia and in Bourgas, Plovdiv, Stara Zagora and Varna, etc; other classical concerts include the National Folk Ensemble. There are nightclubs with floor shows and dancing in Sofia, as well as in most major towns and all the resorts.
Entry departure requirements
Visa immigration information
Passports
Passport with at least one blank page valid for at least three months beyond departure required by all.
Visas
Required by all except the following:
(a) 1. nationals of EU countries for stays of up to 90 days within each six-month period (except nationals of Ireland and the UK, who may stay for up to 30 days within a six-month period);
Note: UK nationals living overseas do need a visa.
(b) nationals of Croatia, Chile, Japan, Korea (Rep), Litchenstein, Malaysia, Norway, San Marino and Switzerland for stays of up to 90 days within a six-month period;
(c) 2. nationals of Andorra, Australia, Canada, Israel, Macedonia (Former Yugoslav Republic of), Monaco, New Zealand, Romania, Serbia and Montenegro, USA and Vatican City for stays of up to 30 days within each six-month period;
(d) nationals of Tunisia and Yugoslavia, provided they hold a valid passport.
Types of visa and cost
Single-entry: US$58 Multiple-entry: US$70 (three months); US$105 (six months); US$139 (12 months). Urgent single-entry: US$76 Transit: US$48 (single-entry); US$70 (double-entry); from US$93 (multiple entry).
Note
Nationals of Afghanistan, Angola, Bangladesh, Congo (Dem Rep), Eritrea, Ethiopia, Ghana, Iran, Iraq, Liberia, Nigeria, Pakistan, Somalia, Sri Lanka and Sudan must apply for an airport transit visa and may not leave the airport transit lounge. They need to present a valid flight reservation to get the visa.
Validity
Single-entry visas for tourist visits are normally valid for three months from date of issue for a maximum stay of 30 days. Multiple-entry visas are for business visits and are normally valid for three months from date of issue. Transit: Up to 24 hours. Enquire at the Embassy for further details.
Application to
Consulate (or Consular section at Embassy); see Passport/Visa Information. Applications should be made in person or by courier, not by post.
Application requirements
(a) Valid passport. (b) Application form. (c) One passport-size photo. (d) Return ticket or documentation for next destination. (e) Fee, payable in cash or by postal order only. (f) UK Resident visa (if applicable). (g) Prepaid tourist vouchers from the travel agency. (h) Proof of sufficient funds (at least ?50 for each entry). Transit: (a)-(h) and, (i) Visa issued by country of final destination. (j) Proof of paid fare for onward destination. (k) For motor vehicle transit, proof of an extra ?200 for each entry. (l) Proof of a secured return trip. Business: (a)-(h) and, (i) Letters from the applicant's company and from the Bulgarian business partner, endorsed by the Bulgarian Chamber of Commerce. Private: (a)-(h) and, (i) A letter of invitation by a Bulgarian citizen endorsed by the local authorities.
Working days required
Visas take up to ten days to be processed (with the exception of long-term visa which take up to 30 days) and should be applied for in person if resident in the UK.
Temporary residence
Enquire at the Bulgarian Embassy (see Passport/Visa Information).
HIV entry requirements
Test required for anyone planning on staying longer than one month for the purpose of work or study
Departure tax
None except for US nationals who will be charged US$20.
Embassies
British Embassy
9 Moskovska Street
Sofia
Telephone: (359) (2) 933 9222
Facsimile: (359) (2) 933 9219 Chancery
(359) (2) 933 9250 Management
(359) (2) 933 9289 Defence
(359) (2) 933 9279 Commercial
(359) (2) 933 9263 Visa/Consular
(359) (2) 933 9233 (DfID)
(359) (2) 942 4344 British Council
Email: britembcon@mail.orbitel.bg
britembvisa@mail.orbitel.bg
Visa Section
Office Hours: GMT:
Mon-Thurs: 0630-1530
Fri: 0630-1100
Local Time:
Mon-Thurs: 0830-1730
Fri: 0830-1300
Website: http://bulgarianembassy-london.org/
Currency
Lev (Lv) = 100 stotinki. Notes are in denominations of Lv50, 20, 10, 5, 2 and 1. Coins are in denominations of 50, 20, 10, 5, 2 and 1 stotinki. Note (a) The Lev is tied to the Euro at a fixed rate; ?1 = Lv1.955. (b) Notes dated 1997 and earlier are now out of circulation.
Currency restrictions
The import and export of local currency is prohibited. The import of foreign currency is unlimited, provided declared on arrival. The export of foreign currency is limited to the amount declared on arrival. Local currency can be exchanged at the airport on production of a bordereaux. Note Travelers should check the currency regulations just prior to departure, as they may change.
Banking hours
Mon-Fri 0900-1600.
Currency exchange
A bordereaux receipt indicating the amount of currency exchanged will be given, and must be kept until departure. Visitors are advised to exchange money at banks and at large hotels. Travelers should not change currency on the black market , and they should exercise caution when exchanging money in bureaux de change since some have been known to dupe customers with misleading rates of exchange. No store, bank or change bureau will accept mutilated, torn or excessively dirty foreign currency. ATMs are widespread, although it is best to check with the relevant bank/card provider prior to travel.
Credit cards
American Express, Diners Club, MasterCard and Visa are accepted in large cities, in larger hotels and car hire offices, and in some restaurants and shops, mainly in Sofia. Check with your credit or debit card company for details of merchant acceptability and other services that may be available. However, Bulgaria is still a country that operates mainly on currency, rather than credit cards.
Travellers cheques
Accepted in major hotels and restaurants. To avoid additional exchange rate charges, travellers are advised to take travellers cheques in US Dollars or Pounds Sterling.
| City/Region | City/Area code | Followed by |
| --- | --- | --- |
| ** KPP Kalotina | (0)7174 | + 4 digit subscriber nr |
| Ablanitsa, Blag. | (0)7524 | + 4 digit subscriber nr |
| Ablanitsa, Lov. | (0)6921 | + 4 digit subscriber nr |
| Ablanitsa, Pazardzh. | (0)35419 | + 3 digit subscriber nr |
| Agatovo | (0)67309 | + 3 digit subscriber nr |
| Aglen | (0)6982 | + 4 digit subscriber nr |
| Aglova Stantsiya | (0)3652 | + 4 digit subscriber nr |
| Ahmatovo | (0)3108 | + 4 digit subscriber nr |
| Ahtopol | (0)550 | + 5 digit subscriber nr |
| Aitos | (0)558 | + 5 digit subscriber nr |
| Akandzhievo | (0)3585 | + 4 digit subscriber nr |
| Aksakovo | (0)5113 | + 4 digit subscriber nr |
| Al. Stamboliyski | (0)5738 | + 4 digit subscriber nr |
| Albena | (0)579 | + 5 digit subscriber nr |
| Aldomirovtsi | (0)7177 | + 4 digit subscriber nr |
| Aleko Konstantinovo | (0)3527 | + 4 digit subscriber nr |
| Alekovo, Silistr. | (0)8522 | + 4 digit subscriber nr |
| Alekovo, Svisht. | (0)6322 | + 4 digit subscriber nr |
| Aleksandriya | (0)5774 | + 4 digit subscriber nr |
| Aleksandrovo, Hask. | (0)3710 | + 4 digit subscriber nr |
| Aleksandrovo, Lov. | (0)6942 | + 4 digit subscriber nr |
| Aleksandrovo, Shum. | (0)5353 | + 4 digit subscriber nr |
| Aleksandrovo, Starozag. | (0)4369 | + 4 digit subscriber nr |
| Aleksandrovo, Targ. | (0)6020 | + 4 digit subscriber nr |
| Alekseevo | (0)5718 | + 4 digit subscriber nr |
| Alfatar | (0)8511 | + 4 digit subscriber nr |
| Aligovska | (0)3028 | + 4 digit subscriber nr |
| Altimir | (0)9138 | + 4 digit subscriber nr |
| Altsek | (0)5769 | + 4 digit subscriber nr |
| Alvanovo | (0)6025 | + 4 digit subscriber nr |
| Angel Voyvoda | (0)3709 | + 4 digit subscriber nr |
| Angelariy | (0)5755 | + 4 digit subscriber nr |
| Angelov | (0)6710 | + 4 digit subscriber nr |
| Antimovo, Silistr. | (0)85303 | + 3 digit subscriber nr |
| Antimovo, Vid. | (0)9354 | + 4 digit subscriber nr |
| Anton | (0)7186 | + 4 digit subscriber nr |
| Antonovo | (0)6071 | + 4 digit subscriber nr |
| Aprilovo, Sof. | (0)7159 | + 4 digit subscriber nr |
| Aprilovo, Starozag. | (0)4156 | + 4 digit subscriber nr |
| Aprilovo, Targ. | (0)60377 | + 3 digit subscriber nr |
| Apriltsi, Kardzh. | (0)3679 | + 4 digit subscriber nr |
| Apriltsi, Pazardzh. | (0)3524 | + 4 digit subscriber nr |
| Apriltzi | (0)6958 | + 4 digit subscriber nr |
| Arbanasi | (0)62 | + 5/6 digit subscriber nr |
| Archar | (0)9317 | + 4 digit subscriber nr |
| Ardino | (0)3651 | + 4 digit subscriber nr |
| Armenite | (0)6713 | + 4 digit subscriber nr |
| Arnautito | (0)41145 | + 3 digit subscriber nr |
| Asen, Lov. | (0)6901 | + 4 digit subscriber nr |
| Asen, Sliv. | (0)4359 | + 4 digit subscriber nr |
| Asenovets | (0)4522 | + 4 digit subscriber nr |
| Asenovgrad | (0)331 | + 5 digit subscriber nr |
| Asenovo, Plev. | (0)6540 | + 4 digit subscriber nr |
| Asenovo, Velikotarn. | (0)6165 | + 4 digit subscriber nr |
| Asenovo, Yamb. | (0)4772 | + 4 digit subscriber nr |
| Asenovtsi | (0)6537 | + 4 digit subscriber nr |
| Asparuhovo | (0)517 | + 5 digit subscriber nr |
| Asparuhovo, Burg. | (0)5529 | + 4 digit subscriber nr |
| Asparuhovo, Mont. | (0)9729 | + 4 digit subscriber nr |
| Asparuhovo, Plev. | (0)6536 | + 4 digit subscriber nr |
| Atiya | (0)5914 | + 4 digit subscriber nr |
| Atoluka, Kurort | (0)35501 | + 3 digit subscriber nr |
| Austa | (0)3638 | + 4 digit subscriber nr |
| Avren | (0)5106 | + 4 digit subscriber nr |
| Avren, Kardzh. | (0)3645 | + 4 digit subscriber nr |
| Aydemir | (0)8513 | + 4 digit subscriber nr |
| Aygar | (0)3672 | + 4 digit subscriber nr |
| Baba Stana | (0)6952 | + 4 digit subscriber nr |
| Baba Tonka | (0)60383 | + 3 digit subscriber nr |
| Babek | (0)3192 | + 4 digit subscriber nr |
| Babino | (0)7044 | + 4 digit subscriber nr |
| Babovo | (0)8135 | + 4 digit subscriber nr |
| Babuk | (0)8521 | + 4 digit subscriber nr |
| Babyak | (0)74404 | + 3 digit subscriber nr |
| Bachevo | (0)7448 | + 4 digit subscriber nr |
| Bachkovo | (0)3327 | + 4 digit subscriber nr |
| Badeshte | (0)4112 | + 4 digit subscriber nr |
| Badevtsi | (0)6158 | + 4 digit subscriber nr |
| Badino | (0)7047 | + 4 digit subscriber nr |
| Bagrentsi | (0)7916 | + 4 digit subscriber nr |
| Bahovitsa | (0)6912 | + 4 digit subscriber nr |
| Bakalite | (0)3695 | + 4 digit subscriber nr |
| Bakalovo | (0)5772 | + 4 digit subscriber nr |
| Balabansko | (0)69615 | + 3 digit subscriber nr |
| Balanovo | (0)7036 | + 4 digit subscriber nr |
| Baldevo | (0)7523 | + 4 digit subscriber nr |
| Balgaranovo | (0)60458 | + 3 digit subscriber nr |
| Balgarchevo | (0)7415 | + 4 digit subscriber nr |
| Balgarene, Lov. | (0)6917 | + 4 digit subscriber nr |
| Balgarene, Plev. | (0)6532 | + 4 digit subscriber nr |
| Balgarene, Starozag. | (0)4145 | + 4 digit subscriber nr |
| Balgarevo | (0)5744 | + 4 digit subscriber nr |
| Balgari | (0)5569 | + 4 digit subscriber nr |
| Balgarin | (0)3763 | + 4 digit subscriber nr |
| Balgarka | (0)8516 | + 4 digit subscriber nr |
| Balgarovo (Burgas region) | (0)5915 | + 4 digit subscriber nr |
| Balgarska Polyana | (0)47353 | + 3 digit subscriber nr |
| Balgarski Izvor | (0)69032 | + 3 digit subscriber nr |
| Balgarsko Slivovo | (0)6323 | + 4 digit subscriber nr |
| Balinovtsi | (0)6717 | + 4 digit subscriber nr |
| Balkan | (0)3702 | + 4 digit subscriber nr |
| Balkanets | (0)6963 | + 4 digit subscriber nr |
| Balkanski | (0)8319 | + 4 digit subscriber nr |
| Balkantsi, Dobr. | (0)5736 | + 4 digit subscriber nr |
| Balkantsi, Velikotarn. | (0)61607 | + 3 digit subscriber nr |
| Balvan | (0)6113 | + 4 digit subscriber nr |
| Balyuvitsa | (0)9562 | + 4 digit subscriber nr |
| Banichan | (0)7525 | + 4 digit subscriber nr |
| Baniska | (0)8147 | + 4 digit subscriber nr |
| Banite | (0)3025 | + 4 digit subscriber nr |
| Banitsa | (0)9112 | + 4 digit subscriber nr |
| Bankovtsi | (0)67194 | + 3 digit subscriber nr |
| Bankya | (0)2993 | + 4 digit subscriber nr |
| Banovo | (0)51538 | + 3 digit subscriber nr |
| Bansko | (0)7443 | + 4 digit subscriber nr |
| Banya, Blag. | (0)7445 | + 4 digit subscriber nr |
| Banya, Novozag. | (0)4567 | + 4 digit subscriber nr |
| Banya, Pazardzh. | (0)3536 | + 4 digit subscriber nr |
| Banya, Plovd. | (0)3132 | + 4 digit subscriber nr |
| Baratsi | (0)36402 | + 3 digit subscriber nr |
| Bardarevo | (0)51429 | + 3 digit subscriber nr |
| Bardarski Geran | (0)9135 | + 4 digit subscriber nr |
| Bardokva | (0)8333 | + 4 digit subscriber nr |
| Barkach | (0)6525 | + 4 digit subscriber nr |
| Barkachevo | (0)9148 | + 4 digit subscriber nr |
| Barlya | (0)7199 | + 4 digit subscriber nr |
| Barutin | (0)3046 | + 4 digit subscriber nr |
| Barzina | (0)9169 | + 4 digit subscriber nr |
| Barzitsa | (0)5120 | + 4 digit subscriber nr |
| Barziya | (0)9523 | + 4 digit subscriber nr |
| Bashevo | (0)3655 | + 4 digit subscriber nr |
| Bashtino, Kardzh. | (0)3648 | + 4 digit subscriber nr |
| Bashtino, Silistr. | (0)8586 | + 4 digit subscriber nr |
| Bashtino, Starozag. | (0)4108 | + 4 digit subscriber nr |
| Bata | (0)5967 | + 4 digit subscriber nr |
| Batak | (0)3553 | + 4 digit subscriber nr |
| Batak, Velikotarn. | (0)61302 | + 3 digit subscriber nr |
| Batanovtzi (Pernik region) | (0)7712 | + 4 digit subscriber nr |
| Batin | (0)81465 | + 3 digit subscriber nr |
| Batishnitsa | (0)8144 | + 4 digit subscriber nr |
| Batoshevo | (0)67303 | + 3 digit subscriber nr |
| Batovo | (0)5761 | + 4 digit subscriber nr |
| Batsova Mahala | (0)6549 | + 4 digit subscriber nr |
| Batuliya | (0)7164 | + 4 digit subscriber nr |
| Batultsi | (0)6997 | + 4 digit subscriber nr |
| Baurene | (0)91186 | + 3 digit subscriber nr |
| Bayachevo | (0)6063 | + 4 digit subscriber nr |
| Baykal | (0)6555 | + 4 digit subscriber nr |
| Baykalsko | (0)7724 | + 4 digit subscriber nr |
| Baykovo | (0)5348 | + 4 digit subscriber nr |
| Baylovo | (0)71504 | + 3 digit subscriber nr |
| Bazan | (0)8163 | + 4 digit subscriber nr |
| Bazovets, Mont. | (0)9740 | + 4 digit subscriber nr |
| Bazovets, Rus. | (0)8142 | + 4 digit subscriber nr |
| Bazovitsa | (0)7927 | + 4 digit subscriber nr |
| Bdintsi | (0)5764 | + 4 digit subscriber nr |
| Bebrovo | (0)6152 | + 4 digit subscriber nr |
| Beden | (0)3049 | + 4 digit subscriber nr |
| Bedzhene | (0)5329 | + 4 digit subscriber nr |
| Beglezh | (0)6519 | + 4 digit subscriber nr |
| Begovo | (0)31791 | + 3 digit subscriber nr |
| Beguntsi | (0)31388 | + 3 digit subscriber nr |
| Beklemeto | (0)6969 | + 4 digit subscriber nr |
| Bela Rada | (0)9347 | + 4 digit subscriber nr |
| Belanitsa | (0)7720 | + 4 digit subscriber nr |
| Belashtitsa | (0)3100 | + 4 digit subscriber nr |
| Belasitsa | (0)7423 | + 4 digit subscriber nr |
| Belene | (0)658 | + 5 digit subscriber nr |
| Belentsi | (0)6980 | + 4 digit subscriber nr |
| Belev Dol | (0)3029 | + 4 digit subscriber nr |
| Belevren | (0)5556 | + 4 digit subscriber nr |
| Belgun | (0)5746 | + 4 digit subscriber nr |
| Beli Breg | (0)9512 | + 4 digit subscriber nr |
| Beli Brod | (0)9516 | + 4 digit subscriber nr |
| Beli Iskar | (0)71227 | + 3 digit subscriber nr |
| Beli Izvor | (0)9185 | + 4 digit subscriber nr |
| Beli Lom | (0)8363 | + 4 digit subscriber nr |
| Beli Osam | (0)6965 | + 4 digit subscriber nr |
| Beli Plast | (0)3622 | + 4 digit subscriber nr |
| Belidie Han | (0)7117 | + 4 digit subscriber nr |
| Belimel | (0)9552 | + 4 digit subscriber nr |
| Belish | (0)6960 | + 4 digit subscriber nr |
| Belite Kamani | (0)3073 | + 4 digit subscriber nr |
| Belitsa, Blag. | (0)7444 | + 4 digit subscriber nr |
| Belitsa, Gabr. | (0)67774 | + 3 digit subscriber nr |
| Belitsa, Hask. | (0)3755 | + 4 digit subscriber nr |
| Belitsa, Silistr. | (0)8536 | + 4 digit subscriber nr |
| Belitza (Sofia region) | (0)7143 | + 4 digit subscriber nr |
| Belo Pole, Vid. | (0)9325 | + 4 digit subscriber nr |
| Belodol | (0)5930 | + 4 digit subscriber nr |
| Belogradets | (0)5162 | + 4 digit subscriber nr |
| Belogradtchik | (0)936 | + 5 digit subscriber nr |
| Belokopitovo | (0)5314 | + 4 digit subscriber nr |
| Belomazhite | (0)67193 | + 3 digit subscriber nr |
| Belopoltsi | (0)3666 | + 4 digit subscriber nr |
| Belopolyane | (0)3665 | + 4 digit subscriber nr |
| Beloslav | (0)5112 | + 4 digit subscriber nr |
| Belotintsi | (0)9540 | + 4 digit subscriber nr |
| Belovets | (0)8344 | + 4 digit subscriber nr |
| Belovitsa | (0)31700 | + 3 digit subscriber nr |
| Belovo | (0)3581 | + 4 digit subscriber nr |
| Belozem | (0)3159 | + 4 digit subscriber nr |
| Beltsov | (0)8122 | + 4 digit subscriber nr |
| Belyakovets | (0)6122 | + 4 digit subscriber nr |
| Belyanovo | (0)8124 | + 4 digit subscriber nr |
| Belyovo | (0)74388 | + 3 digit subscriber nr |
| Benkovski, Dobr. | (0)5782 | + 4 digit subscriber nr |
| Benkovski, Kardzh. | (0)3676 | + 4 digit subscriber nr |
| Benkovski, Sof. | (0)7182 | + 4 digit subscriber nr |
| Benkovski, Starozag. | (0)41179 | + 3 digit subscriber nr |
| Benkovski, Varn. | (0)5104 | + 4 digit subscriber nr |
| Berende, Pern. | (0)7744 | + 4 digit subscriber nr |
| Berievo | (0)67396 | + 3 digit subscriber nr |
| Berkovitza | (0)953 | + 5 digit subscriber nr |
| Beronovo | (0)5572 | + 4 digit subscriber nr |
| Bersin | (0)7910 | + 4 digit subscriber nr |
| Beslen | (0)7528 | + 4 digit subscriber nr |
| Bezden | (0)7110 | + 4 digit subscriber nr |
| Bezdenitsa | (0)9560 | + 4 digit subscriber nr |
| Bezhanovo, Lov. | (0)6984 | + 4 digit subscriber nr |
| Bezmer, Dobr. | (0)5757 | + 4 digit subscriber nr |
| Bezmer, Yamb. | (0)4711 | + 4 digit subscriber nr |
| Bezvoditsa | (0)5715 | + 4 digit subscriber nr |
| Bikovo | (0)4557 | + 4 digit subscriber nr |
| Bilka | (0)5946 | + 4 digit subscriber nr |
| Binkos | (0)4513 | + 4 digit subscriber nr |
| Birkova | (0)3548 | + 4 digit subscriber nr |
| Biser | (0)3766 | + 4 digit subscriber nr |
| Bisertsi | (0)8340 | + 4 digit subscriber nr |
| Bistra, Targ. | (0)6065 | + 4 digit subscriber nr |
| Bistrentsi | (0)81262 | + 3 digit subscriber nr |
| Bistrets, Burg. | (0)5557 | + 4 digit subscriber nr |
| Bistrilitsa | (0)9528 | + 4 digit subscriber nr |
| Bivolare | (0)6414 | + 4 digit subscriber nr |
| Bivolyane | (0)3636 | + 4 digit subscriber nr |
| Blagoevgrad | (0)73 | + 5/6 digit subscriber nr |
| Blagoevo, Razgr. | (0)8313 | + 4 digit subscriber nr |
| Blagoevo, Velikotarn. | (0)6169 | + 4 digit subscriber nr |
| Blagovets | (0)5775 | + 4 digit subscriber nr |
| Blagovo, Mont. | (0)9568 | + 4 digit subscriber nr |
| Blagovo, Shum. | (0)5312 | + 4 digit subscriber nr |
| Blagun | (0)3647 | + 4 digit subscriber nr |
| Blaskovo | (0)5129 | + 4 digit subscriber nr |
| Blatets, Kyust. | (0)7929 | + 4 digit subscriber nr |
| Blatets, Sliv. | (0)4512 | + 4 digit subscriber nr |
| Blatnitsa | (0)35391 | + 3 digit subscriber nr |
| Blato | (0)7045 | + 4 digit subscriber nr |
| Blazhievo | (0)7048 | + 4 digit subscriber nr |
| Bliznak | (0)5959 | + 4 digit subscriber nr |
| Bliznatsi, Varn. | (0)5107 | + 4 digit subscriber nr |
| Bliznets | (0)4599 | + 4 digit subscriber nr |
| Boazat | (0)67391 | + 3 digit subscriber nr |
| Bobeshino | (0)7935 | + 4 digit subscriber nr |
| Boboshevo | (0)7046 | + 4 digit subscriber nr |
| Bobovdol | (0)702 | + 5 digit subscriber nr |
| Bodrovo | (0)3932 | + 4 digit subscriber nr |
| Boeritsa | (0)7149 | + 4 digit subscriber nr |
| Boevo | (0)3076 | + 4 digit subscriber nr |
| Bogatino | (0)3653 | + 4 digit subscriber nr |
| Bogatovo | (0)67394 | + 3 digit subscriber nr |
| Bogdan, Dobr. | (0)5719 | + 4 digit subscriber nr |
| Bogdan, Plovd. | (0)31308 | + 3 digit subscriber nr |
| Bogdanitsa | (0)31108 | + 3 digit subscriber nr |
| Bogdanliya | (0)7158 | + 4 digit subscriber nr |
| Bogdanovo, Burg. | (0)55504 | + 3 digit subscriber nr |
| Bogdanovo, Novozag. | (0)4528 | + 4 digit subscriber nr |
| Bogdantsi, Razgr. | (0)8378 | + 4 digit subscriber nr |
| Bogdantsi, Silistr. | (0)8538 | + 4 digit subscriber nr |
| Bogolin | (0)7547 | + 4 digit subscriber nr |
| Bogomil | (0)3767 | + 4 digit subscriber nr |
| Bogomilovo | (0)4123 | + 4 digit subscriber nr |
| Bogoroditsa | (0)7424 | + 4 digit subscriber nr |
| Bogorovo, Yamb. | (0)4757 | + 4 digit subscriber nr |
| Bohot | (0)6495 | + 4 digit subscriber nr |
| Bohova | (0)7734 | + 4 digit subscriber nr |
| Boil | (0)8547 | + 4 digit subscriber nr |
| Boitchinovtzi | (0)9513 | + 4 digit subscriber nr |
| Bolyarino | (0)3157 | + 4 digit subscriber nr |
| Bolyarovo | (0)4741 | + 4 digit subscriber nr |
| Bolyarski Izvor | (0)3728 | + 4 digit subscriber nr |
| Bolyarsko | (0)4710 | + 4 digit subscriber nr |
| Bolyartsi, Plovd. | (0)3323 | + 4 digit subscriber nr |
| Bolyartsi, Varn. | (0)5105 | + 4 digit subscriber nr |
| Bor | (0)3344 | + 4 digit subscriber nr |
| Borets | (0)3193 | + 4 digit subscriber nr |
| Borika, Smol. | (0)3032 | + 4 digit subscriber nr |
| Borikovo | (0)3036 | + 4 digit subscriber nr |
| Borilovets | (0)9338 | + 4 digit subscriber nr |
| Borilovo | (0)41115 | + 3 digit subscriber nr |
| Borima | (0)6953 | + 4 digit subscriber nr |
| Borimechkovo | (0)3586 | + 4 digit subscriber nr |
| Borino | (0)3042 | + 4 digit subscriber nr |
| Borintsi | (0)4580 | + 4 digit subscriber nr |
| Borislav | (0)6413 | + 4 digit subscriber nr |
| Borislavtsi | (0)3759 | + 4 digit subscriber nr |
| Borisovo | (0)8131 | + 4 digit subscriber nr |
| Borisovo, Yamb. | (0)47202 | + 3 digit subscriber nr |
| Borov Dol | (0)4597 | + 4 digit subscriber nr |
| Borovan | (0)9147 | + 4 digit subscriber nr |
| Borovets, Kyust. | (0)7056 | + 4 digit subscriber nr |
| Borovetz | (0)7128 | + 4 digit subscriber nr |
| Borovichene | (0)74204 | + 3 digit subscriber nr |
| Borovina | (0)3035 | + 4 digit subscriber nr |
| Borovitsa, Kardzh. | (0)3656 | + 4 digit subscriber nr |
| Borovo (Ruse region) | (0)8140 | + 4 digit subscriber nr |
| Borovo, Starozag. | (0)41149 | + 3 digit subscriber nr |
| Borovtsi | (0)9529 | + 4 digit subscriber nr |
| Borskoto | (0)6712 | + 4 digit subscriber nr |
| Bortsi | (0)5343 | + 4 digit subscriber nr |
| Borushtitsa | (0)4345 | + 4 digit subscriber nr |
| Boshulya | (0)3566 | + 4 digit subscriber nr |
| Bosilkovo, Burg. | (0)5579 | + 4 digit subscriber nr |
| Bosilkovo, Smol. | (0)3020 | + 4 digit subscriber nr |
| Bosilkovtsi | (0)8123 | + 4 digit subscriber nr |
| Bosna | (0)8562 | + 4 digit subscriber nr |
| Bosnek | (0)7715 | + 4 digit subscriber nr |
| Bostan | (0)60450 | + 3 digit subscriber nr |
| Bostina | (0)3019 | + 4 digit subscriber nr |
| Botevgrad | (0)723 | + 5 digit subscriber nr |
| Botevo, Mont. | (0)9746 | + 4 digit subscriber nr |
| Botevo, Varn. | (0)5117 | + 4 digit subscriber nr |
| Botevo, Yamb. | (0)4792 | + 4 digit subscriber nr |
| Botrov | (0)81266 | + 3 digit subscriber nr |
| Botunya | (0)9181 | + 4 digit subscriber nr |
| Bov | (0)7168 | + 4 digit subscriber nr |
| Boyadzhik | (0)4793 | + 4 digit subscriber nr |
| Boyan | (0)5342 | + 4 digit subscriber nr |
| Boyana | (0)5139 | + 4 digit subscriber nr |
| Boyanovo, Yamb. | (0)4723 | + 4 digit subscriber nr |
| Boyantsi | (0)3349 | + 4 digit subscriber nr |
| Boynitsa | (0)9333 | + 4 digit subscriber nr |
| Boyno | (0)3623 | + 4 digit subscriber nr |
| Bozduganovo | (0)41489 | + 3 digit subscriber nr |
| Bozhan | (0)5756 | + 4 digit subscriber nr |
| Bozhanovo | (0)5747 | + 4 digit subscriber nr |
| Bozhenitsa | (0)71302 | + 3 digit subscriber nr |
| Bozhevtsi | (0)4552 | + 4 digit subscriber nr |
| Bozhichen | (0)8116 | + 4 digit subscriber nr |
| Bozhkovtsi | (0)667 | + 5 digit subscriber nr |
| Bozhurishte | (0)7112 | + 4 digit subscriber nr |
| Bozhuritsa | (0)6517 | + 4 digit subscriber nr |
| Bozhurka | (0)6068 | + 4 digit subscriber nr |
| Bozhurluk | (0)6533 | + 4 digit subscriber nr |
| Bozhurovo, Dobr. | (0)5760 | + 4 digit subscriber nr |
| Bozhurovo, Razgr. | (0)83469 | + 3 digit subscriber nr |
| Bradvari | (0)8510 | + 4 digit subscriber nr |
| Braknitsa | (0)60388 | + 3 digit subscriber nr |
| Brakyovtsi | (0)7192 | + 4 digit subscriber nr |
| Branichevo | (0)5366 | + 4 digit subscriber nr |
| Branipole | (0)3113 | + 4 digit subscriber nr |
| Branishte | (0)5763 | + 4 digit subscriber nr |
| Brashlen | (0)8138 | + 4 digit subscriber nr |
| Brashlyanitsa | (0)6416 | + 4 digit subscriber nr |
| Brashten | (0)30459 | + 3 digit subscriber nr |
| Bratan | (0)4584 | + 4 digit subscriber nr |
| Bratanitsa | (0)35251 | + 3 digit subscriber nr |
| Bratovo, Burg. | (0)562732 | + 2 digit subscriber nr |
| Bratya Daskalovi | (0)4134 | + 4 digit subscriber nr |
| Bratya Kunchevi | (0)41173 | + 3 digit subscriber nr |
| Bratzigovo | (0)3552 | + 4 digit subscriber nr |
| Bregare | (0)6557 | + 4 digit subscriber nr |
| Bregovo | (0)9312 | + 4 digit subscriber nr |
| Bregovo, Kardzh. | (0)3674 | + 4 digit subscriber nr |
| Brenitsa, Vrach. | (0)9145 | + 4 digit subscriber nr |
| Brest, Plev. | (0)6563 | + 4 digit subscriber nr |
| Brestak | (0)5136 | + 4 digit subscriber nr |
| Breste | (0)6577 | + 4 digit subscriber nr |
| Brestnik | (0)3114 | + 4 digit subscriber nr |
| Brestnitsa, Lov. | (0)6994 | + 4 digit subscriber nr |
| Brestovene | (0)8343 | + 4 digit subscriber nr |
| Brestovets | (0)6492 | + 4 digit subscriber nr |
| Brestovitsa, Plovd. | (0)3142 | + 4 digit subscriber nr |
| Brestovitsa, Rus. | (0)81462 | + 3 digit subscriber nr |
| Brestovo | (0)6916 | + 4 digit subscriber nr |
| Breze, Smol. | (0)30410 | + 3 digit subscriber nr |
| Breznik | (0)7751 | + 4 digit subscriber nr |
| Breznishki Izvor | (0)7752 | + 4 digit subscriber nr |
| Breznitsa | (0)7529 | + 4 digit subscriber nr |
| Brezovo | (0)3191 | + 4 digit subscriber nr |
| Brezovo, Lov. | (0)6902 | + 4 digit subscriber nr |
| Brod | (0)3922 | + 4 digit subscriber nr |
| Brodilovo | (0)55068 | + 3 digit subscriber nr |
| Brusartzi | (0)9783 | + 4 digit subscriber nr |
| Brusen, Sof. | (0)7103 | + 4 digit subscriber nr |
| Bryagovets | (0)36401 | + 3 digit subscriber nr |
| Bryagovitsa | (0)6164 | + 4 digit subscriber nr |
| Bryagovo, Hask. | (0)3704 | + 4 digit subscriber nr |
| Bryagovo, Plovd. | (0)3167 | + 4 digit subscriber nr |
| Bryast | (0)3923 | + 4 digit subscriber nr |
| Bryastovets | (0)5518 | + 4 digit subscriber nr |
| Buchin Prohod | (0)7119 | + 4 digit subscriber nr |
| Buhovo | (0)2994 | + 4 digit subscriber nr |
| Buhovtsi | (0)6021 | + 4 digit subscriber nr |
| Buk | (0)3646 | + 4 digit subscriber nr |
| Bukatsite | (0)3026 | + 4 digit subscriber nr |
| Bukova Polyana | (0)3050 | + 4 digit subscriber nr |
| Bukovets, Mont. | (0)9782 | + 4 digit subscriber nr |
| Bukovets, Velikotarn. | (0)6123 | + 4 digit subscriber nr |
| Bukovets, Vid. | (0)9318 | + 4 digit subscriber nr |
| Bukovets, Vrach. | (0)9149 | + 4 digit subscriber nr |
| Bukovlak | (0)6418 | + 4 digit subscriber nr |
| Bukovo, Blag. | (0)7532 | + 4 digit subscriber nr |
| Bukovo, Plovd. | (0)31605 | + 3 digit subscriber nr |
| Bulair | (0)5149 | + 4 digit subscriber nr |
| Bunovo, Kyust. | (0)7934 | + 4 digit subscriber nr |
| Bunovo, Sof. | (0)7187 | + 4 digit subscriber nr |
| Burevo | (0)3077 | + 4 digit subscriber nr |
| Burgas | (0)56 | + 5/6 digit subscriber nr |
| Burya | (0)6728 | + 4 digit subscriber nr |
| Busintsi | (0)7732 | + 4 digit subscriber nr |
| Butan | (0)9168 | + 4 digit subscriber nr |
| Butovo | (0)6137 | + 4 digit subscriber nr |
| Buynovitsa | (0)53435 | + 3 digit subscriber nr |
| Buynovo, Smol. | (0)30418 | + 3 digit subscriber nr |
| Buynovo, Targ. | (0)6066 | + 4 digit subscriber nr |
| Buynovtsi | (0)6154 | + 4 digit subscriber nr |
| Buzovgrad | (0)4355 | + 4 digit subscriber nr |
| Byaga | (0)3557 | + 4 digit subscriber nr |
| Byal Bryag | (0)5352 | + 4 digit subscriber nr |
| Byal Izvor, Starozag. | (0)4103 | + 4 digit subscriber nr |
| Byal Kladenets, Hask. | (0)3740 | + 4 digit subscriber nr |
| Byal Kladenets, Sliv. | (0)4526 | + 4 digit subscriber nr |
| Byala | (0)8121 | + 4 digit subscriber nr |
| Byala Palanka | (0)4592 | + 4 digit subscriber nr |
| Byala Reka, Plovd. | (0)3166 | + 4 digit subscriber nr |
| Byala Reka, Shum. | (0)5394 | + 4 digit subscriber nr |
| Byala Reka, Velikotarn. | (0)61301 | + 3 digit subscriber nr |
| Byala Slatina | (0)915 | + 5 digit subscriber nr |
| Byala Tcherkva (V. Tarnovo region) | (0)6134 | + 4 digit subscriber nr |
| Byala Voda, Plev. | (0)6581 | + 4 digit subscriber nr |
| Byala, Sliv. | (0)4551 | + 4 digit subscriber nr |
| Byalka | (0)3625 | + 4 digit subscriber nr |
| Byalkovo | (0)6711 | + 4 digit subscriber nr |
| Byalo Pole | (0)4105 | + 4 digit subscriber nr |
| Chakalarovo | (0)3678 | + 4 digit subscriber nr |
| Chakali | (0)61503 | + 3 digit subscriber nr |
| Chal | (0)3642 | + 4 digit subscriber nr |
| Chalakovi | (0)3154 | + 4 digit subscriber nr |
| Chamla | (0)3058 | + 4 digit subscriber nr |
| Charda | (0)4768 | + 4 digit subscriber nr |
| Chargan | (0)4717 | + 4 digit subscriber nr |
| Chavdar, Smol. | (0)30456 | + 3 digit subscriber nr |
| Chavdar, Sof. | (0)7185 | + 4 digit subscriber nr |
| Chavdartsi | (0)6946 | + 4 digit subscriber nr |
| Chavei | (0)6714 | + 4 digit subscriber nr |
| Chehlare | (0)3198 | + 4 digit subscriber nr |
| Chekanchevo | (0)7157 | + 4 digit subscriber nr |
| Chelnik | (0)4778 | + 4 digit subscriber nr |
| Chelopechene, Dobr. | (0)5745 | + 4 digit subscriber nr |
| Chelopek | (0)9111 | + 4 digit subscriber nr |
| Chemish | (0)9558 | + 4 digit subscriber nr |
| Chepintsi, Smol. | (0)3056 | + 4 digit subscriber nr |
| Chepintsi, Sof. | (0)2996 | + 4 digit subscriber nr |
| Cherencha | (0)5318 | + 4 digit subscriber nr |
| Cheresha | (0)59409 | + 3 digit subscriber nr |
| Chereshitsa | (0)3629 | + 4 digit subscriber nr |
| Chereshovitsa | (0)9522 | + 4 digit subscriber nr |
| Chereshovo, Razgr. | (0)83461 | + 3 digit subscriber nr |
| Cherganovo | (0)4341 | + 4 digit subscriber nr |
| Cherkaski | (0)95277 | + 3 digit subscriber nr |
| Cherkovna, Razgr. | (0)8322 | + 4 digit subscriber nr |
| Cherkovna, Targ. | (0)6001 | + 4 digit subscriber nr |
| Cherkovna, Varn. | (0)5126 | + 4 digit subscriber nr |
| Cherkovo | (0)5520 | + 4 digit subscriber nr |
| Cherna Gora, Starozag. | (0)4136 | + 4 digit subscriber nr |
| Cherna Mogila, Burg. | (0)5536 | + 4 digit subscriber nr |
| Cherna Mogila, Hask. | (0)37602 | + 3 digit subscriber nr |
| Cherna, Dobr. | (0)5776 | + 4 digit subscriber nr |
| Chernevo | (0)51537 | + 3 digit subscriber nr |
| Cherni Osam | (0)6962 | + 4 digit subscriber nr |
| Cherni Vit | (0)6906 | + 4 digit subscriber nr |
| Cherni Vrah, Burg. | (0)5910 | + 4 digit subscriber nr |
| Cherni Vrah, Mont. | (0)9749 | + 4 digit subscriber nr |
| Chernichevo, Plovd. | (0)31718 | + 3 digit subscriber nr |
| Cherno Pole | (0)9324 | + 4 digit subscriber nr |
| Chernodab | (0)37706 | + 3 digit subscriber nr |
| Chernoglavtsi | (0)53436 | + 3 digit subscriber nr |
| Chernogorovo, Hask. | (0)3927 | + 4 digit subscriber nr |
| Chernogorovo, Pazardzh. | (0)3514 | + 4 digit subscriber nr |
| Chernograd | (0)5539 | + 4 digit subscriber nr |
| Chernokaptsi | (0)60451 | + 3 digit subscriber nr |
| Chernolik | (0)8544 | + 4 digit subscriber nr |
| Chernomorets | (0)5507 | + 4 digit subscriber nr |
| Chernook | (0)5122 | + 4 digit subscriber nr |
| Chernookovo | (0)57308 | + 3 digit subscriber nr |
| Chernozem | (0)4726 | + 4 digit subscriber nr |
| Chernozemen | (0)31707 | + 3 digit subscriber nr |
| Chernyovo | (0)7146 | + 4 digit subscriber nr |
| Cherven Breg | (0)7035 | + 4 digit subscriber nr |
| Cherven, Plovd. | (0)3325 | + 4 digit subscriber nr |
| Cherven, Rus. | (0)8156 | + 4 digit subscriber nr |
| Chervena | (0)63205 | + 3 digit subscriber nr |
| Chervena Voda | (0)8115 | + 4 digit subscriber nr |
| Cherventsi | (0)5134 | + 4 digit subscriber nr |
| Cheshma | (0)6157 | + 4 digit subscriber nr |
| Chetirtsi | (0)7915 | + 4 digit subscriber nr |
| Chiflik, Kardzh. | (0)3624 | + 4 digit subscriber nr |
| Chiflik, Lov. | (0)69613 | + 3 digit subscriber nr |
| Chiren | (0)9115 | + 4 digit subscriber nr |
| Choba | (0)31998 | + 3 digit subscriber nr |
| Chokmanovo | (0)3038 | + 4 digit subscriber nr |
| Chokoba | (0)4514 | + 4 digit subscriber nr |
| Cholakovo | (0)8517 | + 4 digit subscriber nr |
| Chomakovtsi | (0)6574 | + 4 digit subscriber nr |
| Chorul | (0)7175 | + 4 digit subscriber nr |
| Chubrika | (0)3654 | + 4 digit subscriber nr |
| Chuchuligovo | (0)7425 | + 4 digit subscriber nr |
| Chudomir | (0)8360 | + 4 digit subscriber nr |
| Chukarka | (0)5533 | + 4 digit subscriber nr |
| Chukarovo | (0)4731 | + 4 digit subscriber nr |
| Chukata | (0)3053 | + 4 digit subscriber nr |
| Chukovets, Pern. | (0)77221 | + 3 digit subscriber nr |
| Chukovets, Silistr. | (0)85118 | + 3 digit subscriber nr |
| Chukovo, Gabr. | (0)6720 | + 4 digit subscriber nr |
| Chuprene | (0)9327 | + 4 digit subscriber nr |
| Churek | (0)71505 | + 3 digit subscriber nr |
| Churen | (0)31402 | + 3 digit subscriber nr |
| Churichene | (0)74206 | + 3 digit subscriber nr |
| Daben | (0)6986 | + 4 digit subscriber nr |
| Dabene | (0)31392 | + 3 digit subscriber nr |
| Dabnik | (0)5934 | + 4 digit subscriber nr |
| Dabnitsa | (0)7522 | + 4 digit subscriber nr |
| Dabovan | (0)6568 | + 4 digit subscriber nr |
| Dabovets | (0)3756 | + 4 digit subscriber nr |
| Dabovik | (0)57304 | + 3 digit subscriber nr |
| Dabovo, Kazanl. | (0)4333 | + 4 digit subscriber nr |
| Dabovo, Yamb. | (0)4742 | + 4 digit subscriber nr |
| Dabrava, Dobr. | (0)5727 | + 4 digit subscriber nr |
| Dabrava, Lov. | (0)69246 | + 3 digit subscriber nr |
| Dabravino | (0)5101 | + 4 digit subscriber nr |
| Dagonovo | (0)74406 | + 3 digit subscriber nr |
| Dalbok Dol | (0)6955 | + 4 digit subscriber nr |
| Dalbok Izvor | (0)3164 | + 4 digit subscriber nr |
| Dalboki | (0)41171 | + 4 digit subscriber nr |
| Dalgach | (0)6029 | + 4 digit subscriber nr |
| Dalgi Del | (0)9556 | + 4 digit subscriber nr |
| Dalgo Pole | (0)3175 | + 4 digit subscriber nr |
| Dalgodeltsi | (0)9748 | + 4 digit subscriber nr |
| Damyanitsa | (0)7430 | + 4 digit subscriber nr |
| Damyanovo | (0)67398 | + 3 digit subscriber nr |
| Danoto, T.K. | (0)35534 | + 3 digit subscriber nr |
| Darzhava | (0)4138 | + 4 digit subscriber nr |
| Daskal Atanasovo | (0)4141 | + 4 digit subscriber nr |
| Daskot | (0)61394 | + 3 digit subscriber nr |
| Daskotna | (0)59400 | + 3 digit subscriber nr |
| Davidovo, Silistr. | (0)8518 | + 4 digit subscriber nr |
| Debeletz | (0)6117 | + 4 digit subscriber nr |
| Debeli Lag | (0)77226 | + 3 digit subscriber nr |
| Debelt | (0)5558 | + 4 digit subscriber nr |
| Debnevo | (0)6959 | + 4 digit subscriber nr |
| Debochitsa | (0)7414 | + 4 digit subscriber nr |
| Debovo | (0)6548 | + 4 digit subscriber nr |
| Debrashtitsa | (0)3516 | + 4 digit subscriber nr |
| Debrene, Dobr. | (0)5712 | + 4 digit subscriber nr |
| Dechkovtsi, Kardzh. | (0)3673 | + 4 digit subscriber nr |
| Dechkovtsi, Velikotarn. | (0)61109 | + 3 digit subscriber nr |
| Dekov | (0)6588 | + 4 digit subscriber nr |
| Delchevo | (0)8334 | + 4 digit subscriber nr |
| Deleyna | (0)9355 | + 4 digit subscriber nr |
| Delyanovtsi | (0)63204 | + 3 digit subscriber nr |
| Denitsa, Yamb. | (0)4747 | + 4 digit subscriber nr |
| Dermantsi | (0)6983 | + 4 digit subscriber nr |
| Dervishka Mogila | (0)3778 | + 4 digit subscriber nr |
| Devene | (0)9182 | + 4 digit subscriber nr |
| Deventsi | (0)6570 | + 4 digit subscriber nr |
| Devetak | (0)5525 | + 4 digit subscriber nr |
| Devetaki | (0)69245 | + 3 digit subscriber nr |
| Devin | (0)3041 | + 4 digit subscriber nr |
| Devintsi | (0)3639 | + 4 digit subscriber nr |
| Devnya | (0)519 | + 5 digit subscriber nr |
| Dichevo | (0)8587 | + 4 digit subscriber nr |
| Dichin | (0)6119 | + 4 digit subscriber nr |
| Dimcha | (0)61304 | + 3 digit subscriber nr |
| Dimchevo | (0)5519 | + 4 digit subscriber nr |
| Dimitrievo | (0)41339 | + 3 digit subscriber nr |
| Dimitrovche | (0)37703 | + 3 digit subscriber nr |
| Dimitrovgrad | (0)391 | + 5 digit subscriber nr |
| Dimitrovtsi | (0)6129 | + 4 digit subscriber nr |
| Dimovo (Vidin region) | (0)9341 | + 4 digit subscriber nr |
| Dinevo | (0)3713 | + 4 digit subscriber nr |
| Dink | (0)3124 | + 4 digit subscriber nr |
| Dinkata | (0)3526 | + 4 digit subscriber nr |
| Dinkovitsa | (0)9315 | + 4 digit subscriber nr |
| Dinkovo | (0)9323 | + 4 digit subscriber nr |
| Dinya | (0)4146 | + 4 digit subscriber nr |
| Disevitsa | (0)6493 | + 4 digit subscriber nr |
| Divchovoto | (0)6905 | + 4 digit subscriber nr |
| Divlya | (0)7743 | + 4 digit subscriber nr |
| Divotino | (0)7717 | + 4 digit subscriber nr |
| Djebel | (0)3632 | + 4 digit subscriber nr |
| Dlagnya | (0)6722 | + 4 digit subscriber nr |
| Dlahchevo-Sablyar | (0)7913 | + 4 digit subscriber nr |
| Dlazhko | (0)5345 | + 4 digit subscriber nr |
| Dobra Polyana | (0)5948 | + 4 digit subscriber nr |
| Dobralak | (0)3348 | + 4 digit subscriber nr |
| Dobrevo | (0)5781 | + 4 digit subscriber nr |
| Dobrevtsi, Sevl. | (0)67305 | + 3 digit subscriber nr |
| Dobri Dol, Mont. | (0)9728 | + 4 digit subscriber nr |
| Dobri Dol, Plovd. | (0)31620 | + 3 digit subscriber nr |
| Dobri Dol, Varn. | (0)5108 | + 4 digit subscriber nr |
| Dobri Laki | (0)74344 | + 3 digit subscriber nr |
| Dobrich, Hask. | (0)3926 | + 4 digit subscriber nr |
| Dobrina | (0)5189 | + 4 digit subscriber nr |
| Dobrinishte | (0)7447 | + 4 digit subscriber nr |
| Dobrinovo | (0)5590 | + 4 digit subscriber nr |
| Dobritch | (0)58 | + 5/6 digit subscriber nr |
| Dobrodan | (0)6968 | + 4 digit subscriber nr |
| Dobrogled | (0)5119 | + 4 digit subscriber nr |
| Dobrolevo | (0)9131 | + 4 digit subscriber nr |
| Dobromir | (0)5945 | + 4 digit subscriber nr |
| Dobromirka | (0)6738 | + 4 digit subscriber nr |
| Dobroplodno | (0)5166 | + 4 digit subscriber nr |
| Dobrostan | (0)3328 | + 4 digit subscriber nr |
| Dobrotich | (0)5138 | + 4 digit subscriber nr |
| Dobrotitsa, Targ. | (0)6072 | + 4 digit subscriber nr |
| Dobrovnitsa | (0)35254 | + 3 digit subscriber nr |
| Dobrudzhanka | (0)8523 | + 4 digit subscriber nr |
| Dobrusha | (0)91184 | + 3 digit subscriber nr |
| Docha | (0)6723 | + 4 digit subscriber nr |
| Doktor Yosifovo | (0)9541 | + 4 digit subscriber nr |
| Dokyovtsi | (0)7735 | + 4 digit subscriber nr |
| Dolen, Blag. | (0)7549 | + 4 digit subscriber nr |
| Dolen, Smol. | (0)3075 | + 4 digit subscriber nr |
| Dolina, Dobr. | (0)5768 | + 4 digit subscriber nr |
| Dolina, Shum. | (0)5365 | + 4 digit subscriber nr |
| Dolishte, Kardzh. | (0)3628 | + 4 digit subscriber nr |
| Dolishte, Varn. | (0)51104 | + 3 digit subscriber nr |
| Dolistovo | (0)7043 | + 4 digit subscriber nr |
| Dolna Banya | (0)7120 | + 4 digit subscriber nr |
| Dolna Dikanya | (0)7729 | + 4 digit subscriber nr |
| Dolna Grashtitsa | (0)7912 | + 4 digit subscriber nr |
| Dolna Lipnitsa | (0)6144 | + 4 digit subscriber nr |
| Dolna Mahala, Hask. | (0)37423 | + 3 digit subscriber nr |
| Dolna Mahala, Plovd. | (0)31702 | + 3 digit subscriber nr |
| Dolna Mitropoliya | (0)6552 | + 4 digit subscriber nr |
| Dolna Oryahovitza | (0)6173 | + 4 digit subscriber nr |
| Dolna Ribnitsa | (0)7427 | + 4 digit subscriber nr |
| Dolna Riksa | (0)9549 | + 4 digit subscriber nr |
| Dolna Verenitsa | (0)9567 | + 4 digit subscriber nr |
| Dolni Dabnik | (0)6514 | + 4 digit subscriber nr |
| Dolni Domlyan | (0)3138 | + 4 digit subscriber nr |
| Dolni Glavanak | (0)37422 | + 3 digit subscriber nr |
| Dolni Lom | (0)9328 | + 4 digit subscriber nr |
| Dolni Lukovit | (0)65164 | + 3 digit subscriber nr |
| Dolni Okol | (0)7126 | + 4 digit subscriber nr |
| Dolni Rakovets | (0)7723 | + 4 digit subscriber nr |
| Dolni Tchiflik | (0)5142 | + 4 digit subscriber nr |
| Dolni Tsibar | (0)9741 | + 4 digit subscriber nr |
| Dolni Vadin | (0)9174 | + 4 digit subscriber nr |
| Dolni Vit | (0)6566 | + 4 digit subscriber nr |
| Dolno Ablanovo | (0)8118 | + 4 digit subscriber nr |
| Dolno Belevo | (0)3928 | + 4 digit subscriber nr |
| Dolno Botevo | (0)3711 | + 4 digit subscriber nr |
| Dolno Cherkovishte | (0)37421 | + 3 digit subscriber nr |
| Dolno Draglishte | (0)74403 | + 3 digit subscriber nr |
| Dolno Dryanovo | (0)7531 | + 4 digit subscriber nr |
| Dolno Izvorovo | (0)4336 | + 4 digit subscriber nr |
| Dolno Kamartsi | (0)71503 | + 3 digit subscriber nr |
| Dolno Kozarevo | (0)6044 | + 4 digit subscriber nr |
| Dolno Novkovo | (0)6043 | + 4 digit subscriber nr |
| Dolno Novo Selo | (0)41332 | + 3 digit subscriber nr |
| Dolno Ozirovo | (0)9525 | + 4 digit subscriber nr |
| Dolno Ryahovo | (0)8537 | + 4 digit subscriber nr |
| Dolno Sahrane | (0)4329 | + 4 digit subscriber nr |
| Dolno Tserovene | (0)9721 | + 4 digit subscriber nr |
| Dolno Uyno | (0)7938 | + 4 digit subscriber nr |
| Dolno Voyvodino | (0)3719 | + 4 digit subscriber nr |
| Dolno Yabalkovo | (0)5555 | + 4 digit subscriber nr |
| Domlyan | (0)31396 | + 3 digit subscriber nr |
| Dondukovo | (0)9785 | + 4 digit subscriber nr |
| Dorkovo | (0)3543 | + 4 digit subscriber nr |
| Dositeevo | (0)3768 | + 4 digit subscriber nr |
| Dospat | (0)3045 | + 4 digit subscriber nr |
| Doyrantsi | (0)5367 | + 4 digit subscriber nr |
| Doyrentsi | (0)69249 | + 3 digit subscriber nr |
| Drachevo | (0)55505 | + 3 digit subscriber nr |
| Dragana | (0)6939 | + 4 digit subscriber nr |
| Draganchetata | (0)6716 | + 4 digit subscriber nr |
| Draganitsa | (0)95276 | + 3 digit subscriber nr |
| Draganovets | (0)6003 | + 4 digit subscriber nr |
| Draganovo, Velikotarn. | (0)6174 | + 4 digit subscriber nr |
| Draganovtsi | (0)6718 | + 4 digit subscriber nr |
| Dragantsi | (0)5524 | + 4 digit subscriber nr |
| Dragash Voyvoda | (0)6547 | + 4 digit subscriber nr |
| Dragichevo | (0)7718 | + 4 digit subscriber nr |
| Draginovo | (0)3545 | + 4 digit subscriber nr |
| Dragoevo | (0)5332 | + 4 digit subscriber nr |
| Dragoman | (0)7172 | + 4 digit subscriber nr |
| Dragomazh | (0)8331 | + 4 digit subscriber nr |
| Dragomirovo, Svisht. | (0)63202 | + 3 digit subscriber nr |
| Dragor | (0)3518 | + 4 digit subscriber nr |
| Dragovishtitsa, Kyust. | (0)7922 | + 4 digit subscriber nr |
| Dragovishtitsa, Sof. | (0)7118 | + 4 digit subscriber nr |
| Dragovo | (0)5599 | + 4 digit subscriber nr |
| Dragoynovo | (0)31604 | + 3 digit subscriber nr |
| Draka | (0)5553 | + 4 digit subscriber nr |
| Drakata | (0)74341 | + 3 digit subscriber nr |
| Dralfa | (0)6027 | + 4 digit subscriber nr |
| Drama | (0)4774 | + 4 digit subscriber nr |
| Drandar | (0)51536 | + 3 digit subscriber nr |
| Drangovo, Blag. | (0)74208 | + 3 digit subscriber nr |
| Drangovo, Kardzh. | (0)3677 | + 4 digit subscriber nr |
| Drangovo, Plovd. | (0)3196 | + 4 digit subscriber nr |
| Drashan | (0)9140 | + 4 digit subscriber nr |
| Drashkova Polyana | (0)6964 | + 4 digit subscriber nr |
| Drazhevo | (0)4714 | + 4 digit subscriber nr |
| Dren | (0)7726 | + 4 digit subscriber nr |
| Drenkovo | (0)7413 | + 4 digit subscriber nr |
| Drenov | (0)6918 | + 4 digit subscriber nr |
| Drentsi | (0)53437 | + 3 digit subscriber nr |
| Drinovo | (0)60380 | + 3 digit subscriber nr |
| Dripchevo | (0)3762 | + 4 digit subscriber nr |
| Dropla, Dobr. | (0)5724 | + 4 digit subscriber nr |
| Drugan | (0)7728 | + 4 digit subscriber nr |
| Drumevo | (0)5319 | + 4 digit subscriber nr |
| Drumohar | (0)7930 | + 4 digit subscriber nr |
| Druzhba | (0)9352 | + 4 digit subscriber nr |
| Druzhevo | (0)7165 | + 4 digit subscriber nr |
| Dryanovets, Razgr. | (0)8318 | + 4 digit subscriber nr |
| Dryanovets, Rus. | (0)8125 | + 4 digit subscriber nr |
| Dryanovo | (0)676 | + 5 digit subscriber nr |
| Dryanovo, Hask. | (0)3785 | + 4 digit subscriber nr |
| Dryanovo, Yamb. | (0)4771 | + 4 digit subscriber nr |
| Duhovets | (0)83394 | + 3 digit subscriber nr |
| Dulovo | (0)855 | + 5 digit subscriber nr |
| Dunavtsi, Kazanl. | (0)4348 | + 4 digit subscriber nr |
| Dunavtzi | (0)9314 | + 4 digit subscriber nr |
| Dupnitza | (0)701 | + 5 digit subscriber nr |
| Durankulak | (0)5748 | + 4 digit subscriber nr |
| Dushantsi | (0)7183 | + 4 digit subscriber nr |
| Dushevo | (0)67393 | + 3 digit subscriber nr |
| Dushevski Kolibi | (0)67390 | + 3 digit subscriber nr |
| Duvanlii | (0)3123 | + 4 digit subscriber nr |
| Dve Mogili | (0)8141 | + 4 digit subscriber nr |
| Dvorishte | (0)7926 | + 4 digit subscriber nr |
| Dyadovo | (0)4523 | + 4 digit subscriber nr |
| Dyankovo | (0)8323 | + 4 digit subscriber nr |
| Dyulevo, Burg. | (0)5552 | + 4 digit subscriber nr |
| Dyulevo, Pazardzh. | (0)35392 | + 3 digit subscriber nr |
| Dyulino | (0)51428 | + 3 digit subscriber nr |
| Dyulitsa | (0)3675 | + 4 digit subscriber nr |
| Dzherman | (0)7034 | + 4 digit subscriber nr |
| Dzhinot | (0)4762 | + 4 digit subscriber nr |
| Dzhurovo | (0)7139 | + 4 digit subscriber nr |
| Egalnitsa | (0)7745 | + 4 digit subscriber nr |
| Egrek | (0)3644 | + 4 digit subscriber nr |
| Ekzarh Yosif | (0)8143 | + 4 digit subscriber nr |
| Elena | (0)6151 | + 4 digit subscriber nr |
| Elena, Hask. | (0)3701 | + 4 digit subscriber nr |
| Elenino | (0)4122 | + 4 digit subscriber nr |
| Elenite | (0)554 | + 5 digit subscriber nr |
| Elenovo, Targ. | (0)60385 | + 3 digit subscriber nr |
| Elenska | (0)3024 | + 4 digit subscriber nr |
| Eleshnitsa, Blag. | (0)7446 | + 4 digit subscriber nr |
| Eleshnitsa, Sof. | (0)71502 | + 3 digit subscriber nr |
| Elhovets | (0)3055 | + 4 digit subscriber nr |
| Elhovo | (0)478 | + 5 digit subscriber nr |
| Elhovo, Sliv. | (0)4334 | + 4 digit subscriber nr |
| Elhovo, Starozag. | (0)4119 | + 4 digit subscriber nr |
| Elin Pelin | (0)725 | + 5 digit subscriber nr |
| Elin Pelin, Gara | (0)7153 | + 4 digit subscriber nr |
| Eliseina | (0)9128 | + 4 digit subscriber nr |
| Elovdol, Sof. | (0)71304 | + 3 digit subscriber nr |
| Elshitsa | (0)3538 | + 4 digit subscriber nr |
| Elyovo | (0)3037 | + 4 digit subscriber nr |
| Emen | (0)61203 | + 3 digit subscriber nr |
| Enchovtsi | (0)6778 | + 4 digit subscriber nr |
| Enevo, Dobr. | (0)5714 | + 4 digit subscriber nr |
| Enina | (0)4326 | + 4 digit subscriber nr |
| Enitsa | (0)9143 | + 4 digit subscriber nr |
| Enyovche | (0)3657 | + 4 digit subscriber nr |
| Erma Reka | (0)3074 | + 4 digit subscriber nr |
| Esen | (0)5577 | + 4 digit subscriber nr |
| Esenitsa | (0)5137 | + 4 digit subscriber nr |
| Etropole | (0)720 | + 5 digit subscriber nr |
| Evlogievo | (0)6545 | + 4 digit subscriber nr |
| Ezerche | (0)8329 | + 4 digit subscriber nr |
| Ezerovo, Plovd. | (0)3168 | + 4 digit subscriber nr |
| Ezerovo, Varn. | (0)5114 | + 4 digit subscriber nr |
| Fargovo | (0)7545 | + 4 digit subscriber nr |
| Fatovo | (0)3039 | + 4 digit subscriber nr |
| Filaretovo | (0)4588 | + 4 digit subscriber nr |
| Filipovo, Blag. | (0)74496 | + 3 digit subscriber nr |
| Filipovo, Yamb. | (0)4739 | + 4 digit subscriber nr |
| Filipovtsi | (0)7733 | + 4 digit subscriber nr |
| Florentin | (0)9316 | + 4 digit subscriber nr |
| Fotinovo, Pazardzh. | (0)35502 | + 3 digit subscriber nr |
| Furen | (0)91183 | + 3 digit subscriber nr |
| Gabar | (0)5513 | + 4 digit subscriber nr |
| Gabarevo | (0)4363 | + 4 digit subscriber nr |
| Gabarnitsa | (0)5168 | + 4 digit subscriber nr |
| Gabra | (0)71506 | + 3 digit subscriber nr |
| Gabrene | (0)7428 | + 4 digit subscriber nr |
| Gabrovitsa | (0)3583 | + 4 digit subscriber nr |
| Gabrovnitsa | (0)9545 | + 4 digit subscriber nr |
| Gabrovo | (0)66 | + 5/6 digit subscriber nr |
| Gabrovo, Kardzh. | (0)3699 | + 4 digit subscriber nr |
| Gagovo | (0)60384 | + 3 digit subscriber nr |
| Galabets, Burg. | (0)5969 | + 4 digit subscriber nr |
| Galabets, Hask. | (0)3707 | + 4 digit subscriber nr |
| Galabintsi | (0)4797 | + 4 digit subscriber nr |
| Galabnik | (0)77229 | + 3 digit subscriber nr |
| Galabovo | (0)418 | + 5 digit subscriber nr |
| Galabovo, Plovd. | (0)3119 | + 4 digit subscriber nr |
| Galabovo, Smol. | (0)30256 | + 3 digit subscriber nr |
| Galata | (0)69031 | + 3 digit subscriber nr |
| Galatin | (0)91188 | + 3 digit subscriber nr |
| Galiche | (0)9136 | + 4 digit subscriber nr |
| Galovo | (0)9173 | + 4 digit subscriber nr |
| Gamzovo | (0)9319 | + 4 digit subscriber nr |
| Ganchovets | (0)6727 | + 4 digit subscriber nr |
| Garchinovo | (0)60375 | + 3 digit subscriber nr |
| Garlyano | (0)7928 | + 4 digit subscriber nr |
| Garvan, Silistr. | (0)8561 | + 4 digit subscriber nr |
| Garvanovo | (0)3749 | + 4 digit subscriber nr |
| Gaytaninovo | (0)75215 | + 3 digit subscriber nr |
| Gelemenovo | (0)3522 | + 4 digit subscriber nr |
| General Inzovo | (0)4770 | + 4 digit subscriber nr |
| General Kantardzhievo | (0)5115 | + 4 digit subscriber nr |
| General Kiselovo | (0)5130 | + 4 digit subscriber nr |
| General Kolevo, Dobr. | (0)5766 | + 4 digit subscriber nr |
| General Kolevo, Varn. | (0)5133 | + 4 digit subscriber nr |
| General Todorov | (0)74207 | + 3 digit subscriber nr |
| General Toshevo, Yamb. | (0)4796 | + 4 digit subscriber nr |
| Generalovo | (0)3775 | + 4 digit subscriber nr |
| General-Toshevo | (0)5731 | + 4 digit subscriber nr |
| Georgi Damyanovo | (0)9551 | + 4 digit subscriber nr |
| Georgi Dobrevo | (0)3757 | + 4 digit subscriber nr |
| Gergevets | (0)4519 | + 4 digit subscriber nr |
| Gigen | (0)6562 | + 4 digit subscriber nr |
| Gigintsi | (0)7754 | + 4 digit subscriber nr |
| Glashatay | (0)6076 | + 4 digit subscriber nr |
| Glava | (0)6599 | + 4 digit subscriber nr |
| Glavan, Starozag. | (0)4155 | + 4 digit subscriber nr |
| Glavanovtsi, Mont. | (0)9555 | + 4 digit subscriber nr |
| Glavantsi | (0)5758 | + 4 digit subscriber nr |
| Glavatar | (0)31258 | + 3 digit subscriber nr |
| Glavinitza | (0)8581 | + 4 digit subscriber nr |
| Gledka | (0)3721 | + 4 digit subscriber nr |
| Glodzhevo | (0)8324 | + 4 digit subscriber nr |
| Gloginka | (0)60387 | + 3 digit subscriber nr |
| Glogovo | (0)6908 | + 4 digit subscriber nr |
| Glozhene, Vrach. | (0)9160 | + 4 digit subscriber nr |
| Glumche | (0)5526 | + 4 digit subscriber nr |
| Gnyazdovo | (0)3626 | + 4 digit subscriber nr |
| Godeshevo | (0)7548 | + 4 digit subscriber nr |
| Godetch | (0)729 | + 5 digit subscriber nr |
| Godlevo | (0)74402 | + 3 digit subscriber nr |
| Golema Rakovitsa | (0)71587 | + 3 digit subscriber nr |
| Golemanite | (0)6116 | + 4 digit subscriber nr |
| Golemo Malovo | (0)7179 | + 4 digit subscriber nr |
| Golesh, Sof. | (0)7193 | + 4 digit subscriber nr |
| Golets | (0)6933 | + 4 digit subscriber nr |
| Golyam Dervent | (0)4724 | + 4 digit subscriber nr |
| Golyam Izvor, Lov. | (0)6998 | + 4 digit subscriber nr |
| Golyam Izvor, Rus. | (0)8374 | + 4 digit subscriber nr |
| Golyam Manastir | (0)4799 | + 4 digit subscriber nr |
| Golyam Porovets | (0)8330 | + 4 digit subscriber nr |
| Golyama Chinka | (0)3643 | + 4 digit subscriber nr |
| Golyama Zhelyazna | (0)6957 | + 4 digit subscriber nr |
| Golyamo Asenovo | (0)3929 | + 4 digit subscriber nr |
| Golyamo Dryanovo | (0)4346 | + 4 digit subscriber nr |
| Golyamo Gradishte | (0)60370 | + 3 digit subscriber nr |
| Golyamo Krushevo | (0)4744 | + 4 digit subscriber nr |
| Golyamo Novo | (0)6064 | + 4 digit subscriber nr |
| Golyamo Peshtene | (0)9180 | + 4 digit subscriber nr |
| Golyamo Sokolovo | (0)6061 | + 4 digit subscriber nr |
| Golyamo Vranovo | (0)8137 | + 4 digit subscriber nr |
| Gomotartsi | (0)9343 | + 4 digit subscriber nr |
| Goran | (0)6923 | + 4 digit subscriber nr |
| Goreme | (0)74343 | + 3 digit subscriber nr |
| Goren Chiflik | (0)5146 | + 4 digit subscriber nr |
| Goren Sipets | (0)3630 | + 4 digit subscriber nr |
| Gorichane | (0)5740 | + 4 digit subscriber nr |
| Goritsa, Burg. | (0)5937 | + 4 digit subscriber nr |
| Goritsa, Dobr. | (0)5734 | + 4 digit subscriber nr |
| Gorna Beshovitsa | (0)9125 | + 4 digit subscriber nr |
| Gorna Brestnitsa | (0)7921 | + 4 digit subscriber nr |
| Gorna Breznitsa | (0)74328 | + 3 digit subscriber nr |
| Gorna Dikanya | (0)77222 | + 3 digit subscriber nr |
| Gorna Kabda | (0)6006 | + 4 digit subscriber nr |
| Gorna Kovachitsa | (0)9559 | + 4 digit subscriber nr |
| Gorna Koznitsa | (0)7031 | + 4 digit subscriber nr |
| Gorna Lipnitsa | (0)61303 | + 3 digit subscriber nr |
| Gorna Luka | (0)9550 | + 4 digit subscriber nr |
| Gorna Mahala | (0)31705 | + 3 digit subscriber nr |
| Gorna Malina | (0)7152 | + 4 digit subscriber nr |
| Gorna Mitropoliya | (0)6556 | + 4 digit subscriber nr |
| Gorna Oryahovitza | (0)618 | + 5 digit subscriber nr |
| Gorna Ribnitsa | (0)74347 | + 3 digit subscriber nr |
| Gorna Rositsa | (0)67395 | + 3 digit subscriber nr |
| Gorna Studena | (0)6321 | + 4 digit subscriber nr |
| Gorna Sushitsa | (0)7435 | + 4 digit subscriber nr |
| Gorni Dabnik | (0)6512 | + 4 digit subscriber nr |
| Gorni Lom | (0)9326 | + 4 digit subscriber nr |
| Gorni Tsibar | (0)9745 | + 4 digit subscriber nr |
| Gornik | (0)6591 | + 4 digit subscriber nr |
| Gorno Ablanovo | (0)8148 | + 4 digit subscriber nr |
| Gorno Aleksandrovo | (0)4554 | + 4 digit subscriber nr |
| Gorno Belevo | (0)41351 | + 3 digit subscriber nr |
| Gorno Botevo | (0)41172 | + 3 digit subscriber nr |
| Gorno Cherkovishte | (0)4352 | + 4 digit subscriber nr |
| Gorno Draglishte | (0)74401 | + 3 digit subscriber nr |
| Gorno Dryanovo | (0)7527 | + 4 digit subscriber nr |
| Gorno Ezerovo | (0)5655 | + 4 digit subscriber nr |
| Gorno Izvorovo | (0)4350 | + 4 digit subscriber nr |
| Gorno Kraishte | (0)74405 | + 3 digit subscriber nr |
| Gorno Ozirovo | (0)9520 | + 4 digit subscriber nr |
| Gorno Pavlikene | (0)6926 | + 4 digit subscriber nr |
| Gorno Peshtene | (0)9188 | + 4 digit subscriber nr |
| Gorno Sahrane | (0)4357 | + 4 digit subscriber nr |
| Gorno Trape | (0)69614 | + 3 digit subscriber nr |
| Gorno Tserovene | (0)9557 | + 4 digit subscriber nr |
| Gorno Varshilo | (0)3562 | + 4 digit subscriber nr |
| Gorotsvet | (0)8369 | + 4 digit subscriber nr |
| Gorska Polyana | (0)4749 | + 4 digit subscriber nr |
| Gorski Dolen Trambesh | (0)61705 | + 3 digit subscriber nr |
| Gorski Izvor, Hask. | (0)3936 | + 4 digit subscriber nr |
| Gorski Izvor, Kardzh. | (0)36702 | + 3 digit subscriber nr |
| Gorski Senovets | (0)61608 | + 3 digit subscriber nr |
| Gorsko Ablanovo | (0)60374 | + 3 digit subscriber nr |
| Gorsko Kalugerovo | (0)61309 | + 3 digit subscriber nr |
| Gorsko Kosovo | (0)61393 | + 3 digit subscriber nr |
| Gorsko Novo Selo | (0)61502 | + 3 digit subscriber nr |
| Gorsko Selo | (0)6047 | + 4 digit subscriber nr |
| Gorsko Slivovo | (0)6943 | + 4 digit subscriber nr |
| Gortalovo | (0)6499 | + 4 digit subscriber nr |
| Gostilitsa | (0)6725 | + 4 digit subscriber nr |
| Gostilya | (0)6559 | + 4 digit subscriber nr |
| Gostinya | (0)69247 | + 3 digit subscriber nr |
| Gostun | (0)74409 | + 3 digit subscriber nr |
| Gotze Deltchev | (0)751 | + 5 digit subscriber nr |
| Govedare | (0)3528 | + 4 digit subscriber nr |
| Govedartsi | (0)7125 | + 4 digit subscriber nr |
| Gradat | (0)3054 | + 4 digit subscriber nr |
| Gradets, Sliv. | (0)4582 | + 4 digit subscriber nr |
| Gradezhnitsa | (0)6907 | + 4 digit subscriber nr |
| Gradina, Plev. | (0)6417 | + 4 digit subscriber nr |
| Gradina, Plovd. | (0)3162 | + 4 digit subscriber nr |
| Gradina, Razgr. | (0)8361 | + 4 digit subscriber nr |
| Gradinarovo | (0)5125 | + 4 digit subscriber nr |
| Gradini | (0)57307 | + 3 digit subscriber nr |
| Gradishte, Plev. | (0)6539 | + 4 digit subscriber nr |
| Gradishte, Sevl. | (0)67306 | + 3 digit subscriber nr |
| Gradishte, Shum. | (0)5311 | + 4 digit subscriber nr |
| Gradnitsa, Sevl. | (0)6736 | + 4 digit subscriber nr |
| Graf Ignatievo | (0)3107 | + 4 digit subscriber nr |
| Grafitovo | (0)4525 | + 4 digit subscriber nr |
| Gramada | (0)9337 | + 4 digit subscriber nr |
| Gramatikovo | (0)5958 | + 4 digit subscriber nr |
| Gramazhdano | (0)7933 | + 4 digit subscriber nr |
| Grancharovo | (0)8548 | + 4 digit subscriber nr |
| Granit | (0)41331 | + 3 digit subscriber nr |
| Granitovo, Yamb. | (0)4722 | + 4 digit subscriber nr |
| Granitsa | (0)7911 | + 4 digit subscriber nr |
| Grashevo | (0)3549 | + 4 digit subscriber nr |
| Grivitsa | (0)6411 | + 4 digit subscriber nr |
| Grohotno | (0)30417 | + 3 digit subscriber nr |
| Grozdyovo | (0)5145 | + 4 digit subscriber nr |
| Gruevo | (0)3637 | + 4 digit subscriber nr |
| Gugutka | (0)3662 | + 4 digit subscriber nr |
| Guliyka | (0)3649 | + 4 digit subscriber nr |
| Gulyantzi | (0)6561 | + 4 digit subscriber nr |
| Gumoshtnik | (0)6950 | + 4 digit subscriber nr |
| Gurkovo | (0)4331 | + 4 digit subscriber nr |
| Gurkovo, Dobr. | (0)5723 | + 4 digit subscriber nr |
| Gurkovo, Sof. | (0)7136 | + 4 digit subscriber nr |
| Gusla | (0)5363 | + 4 digit subscriber nr |
| Gutsal | (0)71220 | + 3 digit subscriber nr |
| Gyovren | (0)30416 | + 3 digit subscriber nr |
| Gyueshevo | (0)7925 | + 4 digit subscriber nr |
| Gyulyovtsa | (0)55438 | + 3 digit subscriber nr |
| Hadzhi Dimitar | (0)5742 | + 4 digit subscriber nr |
| Hadzhidimitrovo, Starozag. | (0)4356 | + 4 digit subscriber nr |
| Hadzhidimitrovo, Svisht. | (0)63203 | + 3 digit subscriber nr |
| Hadzhievo | (0)3512 | + 4 digit subscriber nr |
| Han Krum | (0)5333 | + 4 digit subscriber nr |
| Hanovo | (0)4779 | + 4 digit subscriber nr |
| Harlets | (0)9163 | + 4 digit subscriber nr |
| Harmanli | (0)373 | + 5 digit subscriber nr |
| Harsovo, Blag. | (0)74321 | + 3 digit subscriber nr |
| Harsovo, Razgr. | (0)8376 | + 4 digit subscriber nr |
| Harsovo, Shum. | (0)5324 | + 4 digit subscriber nr |
| Haskovo | (0)38 | + 5/6 digit subscriber nr |
| Hayredin | (0)9166 | + 4 digit subscriber nr |
| Herakovo | (0)7178 | + 4 digit subscriber nr |
| Hirevo | (0)6732 | + 4 digit subscriber nr |
| Hisarya | (0)337 | + 5 digit subscriber nr |
| Hitrino | (0)5341 | + 4 digit subscriber nr |
| Hlevene | (0)69240 | + 3 digit subscriber nr |
| Hlyabovo | (0)4738 | + 4 digit subscriber nr |
| Hotantsa | (0)8192 | + 4 digit subscriber nr |
| Hotnitsa | (0)6128 | + 4 digit subscriber nr |
| Hrabarsko | (0)7176 | + 4 digit subscriber nr |
| Hrabrino | (0)3120 | + 4 digit subscriber nr |
| Hrabrovo, Varn. | (0)5180 | + 4 digit subscriber nr |
| Hrishteni | (0)4126 | + 4 digit subscriber nr |
| Hristiyanovo | (0)41146 | + 3 digit subscriber nr |
| Hristo Danovo | (0)31397 | + 3 digit subscriber nr |
| Ichera | (0)4517 | + 4 digit subscriber nr |
| Idilevo | (0)67301 | + 3 digit subscriber nr |
| Iganovo | (0)31395 | + 3 digit subscriber nr |
| Iglika, Shum. | (0)5347 | + 4 digit subscriber nr |
| Iglika, Yamb. | (0)4745 | + 4 digit subscriber nr |
| Ignatitsa | (0)9122 | + 4 digit subscriber nr |
| Igralishte | (0)74348 | + 3 digit subscriber nr |
| Ihtiman | (0)724 | + 5 digit subscriber nr |
| Ilinden | (0)7521 | + 4 digit subscriber nr |
| Iliya | (0)7939 | + 4 digit subscriber nr |
| Iliyno | (0)6042 | + 4 digit subscriber nr |
| Imrenchevo | (0)5336 | + 4 digit subscriber nr |
| Indzhe Voyvoda | (0)5516 | + 4 digit subscriber nr |
| Inovo | (0)9342 | + 4 digit subscriber nr |
| Irechekovo | (0)4763 | + 4 digit subscriber nr |
| Iskar, Plev., Selo | (0)65617 | + 3 digit subscriber nr |
| Iskar, Varn. | (0)5132 | + 4 digit subscriber nr |
| Iskra, Burg. | (0)5522 | + 4 digit subscriber nr |
| Iskra, Plovd. | (0)3163 | + 4 digit subscriber nr |
| Iskra, Silistr. | (0)8565 | + 4 digit subscriber nr |
| Iskretz | (0)7163 | + 4 digit subscriber nr |
| Iskritsa | (0)4158 | + 4 digit subscriber nr |
| Isperih | (0)835 | + 5 digit subscriber nr |
| Isperihovo | (0)3558 | + 4 digit subscriber nr |
| Ivailovgrad | (0)3661 | + 4 digit subscriber nr |
| Ivan Vazovo | (0)31704 | + 3 digit subscriber nr |
| Ivancha, Velikotarn. | (0)6147 | + 4 digit subscriber nr |
| Ivanovo, Hask. | (0)3765 | + 4 digit subscriber nr |
| Ivanovo, Shum. | (0)5393 | + 4 digit subscriber nr |
| Ivanski | (0)5317 | + 4 digit subscriber nr |
| Izbeglii | (0)3324 | + 4 digit subscriber nr |
| Izbul | (0)5325 | + 4 digit subscriber nr |
| Izgrev, Plev. | (0)6531 | + 4 digit subscriber nr |
| Izgrev, Yamb. | (0)47201 | + 3 digit subscriber nr |
| Izvor, Burg. | (0)5917 | + 4 digit subscriber nr |
| Izvor, Vid. | (0)9351 | + 4 digit subscriber nr |
| Izvornik | (0)5135 | + 4 digit subscriber nr |
| Izvorovo, Dobr. | (0)57306 | + 3 digit subscriber nr |
| Izvorovo, Starozag. | (0)41359 | + 3 digit subscriber nr |
| Izvorovo, Targ. | (0)6048 | + 4 digit subscriber nr |
| Izvorsko | (0)51108 | + 3 digit subscriber nr |
| Kabile | (0)4712 | + 4 digit subscriber nr |
| Kableshkovo | (0)5933 | + 4 digit subscriber nr |
| Kableshkovo, Burg. | (0)5968 | + 4 digit subscriber nr |
| Kableshkovo, Dobr. | (0)5750 | + 4 digit subscriber nr |
| Kadievo | (0)31401 | + 3 digit subscriber nr |
| Kakrina | (0)6928 | + 4 digit subscriber nr |
| Kalchevo | (0)4715 | + 4 digit subscriber nr |
| Kalenik, Lov. | (0)6938 | + 4 digit subscriber nr |
| Kalenik, Vid. | (0)93341 | + 3 digit subscriber nr |
| Kaleytsa | (0)6967 | + 4 digit subscriber nr |
| Kalimantsi, Blag. | (0)7438 | + 4 digit subscriber nr |
| Kalipetrovo | (0)8524 | + 4 digit subscriber nr |
| Kalishte | (0)7742 | + 4 digit subscriber nr |
| Kalitinovo | (0)4113 | + 4 digit subscriber nr |
| Kalofer | (0)3133 | + 4 digit subscriber nr |
| Kaloyanovets | (0)41144 | + 3 digit subscriber nr |
| Kaloyanovo, Sliv. | (0)4518 | + 4 digit subscriber nr |
| Kalugerene | (0)8585 | + 4 digit subscriber nr |
| Kalugerovo, Hask. | (0)3782 | + 4 digit subscriber nr |
| Kalugerovo, Pazard. | (0)3515 | + 4 digit subscriber nr |
| Kalugerovo, Sof. | (0)71337 | + 3 digit subscriber nr |
| Kamburovo | (0)6049 | + 4 digit subscriber nr |
| Kamchiya, K.K. | (0)5144 | + 4 digit subscriber nr |
| Kamen, Dobr. | (0)5767 | + 4 digit subscriber nr |
| Kamen, Sliv. | (0)4510 | + 4 digit subscriber nr |
| Kamen, Velikotarn. | (0)6163 | + 4 digit subscriber nr |
| Kamenar, Razgr. | (0)8366 | + 4 digit subscriber nr |
| Kamenets, Plev. | (0)6419 | + 4 digit subscriber nr |
| Kamenets, Yamb. | (0)4754 | + 4 digit subscriber nr |
| Kamenna Reka | (0)47354 | + 3 digit subscriber nr |
| Kameno | (0)5515 | + 4 digit subscriber nr |
| Kameno Pole | (0)9126 | + 4 digit subscriber nr |
| Kamenovo, Razgr. | (0)8327 | + 4 digit subscriber nr |
| Kamenovo, Sliv. | (0)4524 | + 4 digit subscriber nr |
| Kamenyak, Shum. | (0)5346 | + 4 digit subscriber nr |
| Kamtchiya | (0)5575 | + 4 digit subscriber nr |
| Kanchevo | (0)4325 | + 4 digit subscriber nr |
| Kanits | (0)9330 | + 4 digit subscriber nr |
| Kaolinovo | (0)5361 | + 4 digit subscriber nr |
| Kapatovo | (0)74201 | + 3 digit subscriber nr |
| Kapinovo, Dobr. | (0)57302 | + 3 digit subscriber nr |
| Kapinovo, Velikotarn. | (0)6111 | + 4 digit subscriber nr |
| Kapinovtsi | (0)8336 | + 4 digit subscriber nr |
| Kapitan Andreevo | (0)3773 | + 4 digit subscriber nr |
| Kapitan Dimitrievo | (0)3559 | + 4 digit subscriber nr |
| Kapitan Petko Voyvoda | (0)47356 | + 3 digit subscriber nr |
| Kapitanovtsi | (0)9313 | + 4 digit subscriber nr |
| Karabunar | (0)3569 | + 4 digit subscriber nr |
| Karadzhalovo | (0)3165 | + 4 digit subscriber nr |
| Karadzhovo | (0)3102 | + 4 digit subscriber nr |
| Karageorgievo | (0)5534 | + 4 digit subscriber nr |
| Karaisen | (0)6132 | + 4 digit subscriber nr |
| Karaivantsa | (0)6726 | + 4 digit subscriber nr |
| Karamanovo | (0)8127 | + 4 digit subscriber nr |
| Karan Varbovka | (0)81461 | + 3 digit subscriber nr |
| Karanovo, Burg. | (0)5538 | + 4 digit subscriber nr |
| Karantsi | (0)61406 | + 3 digit subscriber nr |
| Karavelovo, Plovd. | (0)3130 | + 4 digit subscriber nr |
| Karavelovo, Shum. | (0)5320 | + 4 digit subscriber nr |
| Karavelovo, Yamb. | (0)4775 | + 4 digit subscriber nr |
| Karbintsi | (0)93212 | + 3 digit subscriber nr |
| Kardam, Dobr. | (0)5733 | + 4 digit subscriber nr |
| Kardam, Targ. | (0)60389 | + 3 digit subscriber nr |
| Kardjali | (0)361 | + 5 digit subscriber nr |
| Karlovo | (0)335 | + 5 digit subscriber nr |
| Karlukovo | (0)6987 | + 4 digit subscriber nr |
| Karnare | (0)3135 | + 4 digit subscriber nr |
| Karnobat | (0)559 | + 5 digit subscriber nr |
| Karpachevo | (0)6948 | + 4 digit subscriber nr |
| Karpelevo | (0)7434 | + 4 digit subscriber nr |
| Kasak | (0)30457 | + 3 digit subscriber nr |
| Kasnakovo | (0)3931 | + 4 digit subscriber nr |
| Kaspitchan | (0)5327 | + 4 digit subscriber nr |
| Kateritsa | (0)6528 | + 4 digit subscriber nr |
| Katrishte | (0)7917 | + 4 digit subscriber nr |
| Katselovo | (0)8149 | + 4 digit subscriber nr |
| Katunets | (0)6934 | + 4 digit subscriber nr |
| Katunitsa | (0)3117 | + 4 digit subscriber nr |
| Kavarna | (0)570 | + 5 digit subscriber nr |
| Kavlak | (0)61605 | + 3 digit subscriber nr |
| Kazachevo | (0)69243 | + 3 digit subscriber nr |
| Kazanka | (0)41117 | + 3 digit subscriber nr |
| Kazanlak | (0)431 | + 5 digit subscriber nr |
| Kazimir | (0)8512 | + 4 digit subscriber nr |
| Kermen | (0)4516 | + 4 digit subscriber nr |
| Kesarevo | (0)6167 | + 4 digit subscriber nr |
| Kesten | (0)3040 | + 4 digit subscriber nr |
| Kichenitsa | (0)8325 | + 4 digit subscriber nr |
| Kilifarevo | (0)6114 | + 4 digit subscriber nr |
| Kipilovo | (0)4583 | + 4 digit subscriber nr |
| Kirchevo | (0)6920 | + 4 digit subscriber nr |
| Kireevo | (0)93342 | + 3 digit subscriber nr |
| Kirilovo, Starozag. | (0)4115 | + 4 digit subscriber nr |
| Kirilovo, Yamb. | (0)4729 | + 4 digit subscriber nr |
| Kiselevo | (0)9784 | + 4 digit subscriber nr |
| Kitanchevo | (0)8338 | + 4 digit subscriber nr |
| Kitino | (0)60453 | + 3 digit subscriber nr |
| Kitka, Burg. | (0)5943 | + 4 digit subscriber nr |
| Kladni Dyal | (0)6118 | + 4 digit subscriber nr |
| Kladnitsa | (0)7711 | + 4 digit subscriber nr |
| Klenovik | (0)7725 | + 4 digit subscriber nr |
| Klimash | (0)5576 | + 4 digit subscriber nr |
| Kliment, Plovd. | (0)31309 | + 3 digit subscriber nr |
| Kliment, Shum. | (0)5362 | + 4 digit subscriber nr |
| Klisura | (0)7124 | + 4 digit subscriber nr |
| Klisura, Plovd. | (0)3137 | + 4 digit subscriber nr |
| Klokotnitsa | (0)3726 | + 4 digit subscriber nr |
| Klyuch | (0)74202 | + 3 digit subscriber nr |
| Kneja | (0)9132 | + 4 digit subscriber nr |
| Knyazhevo | (0)4730 | + 4 digit subscriber nr |
| Knyazhevsko | (0)41018 | + 3 digit subscriber nr |
| Kobilino | (0)3664 | + 4 digit subscriber nr |
| Kobilyak | (0)9517 | + 4 digit subscriber nr |
| Kochani | (0)3079 | + 4 digit subscriber nr |
| Kochmar | (0)5759 | + 4 digit subscriber nr |
| Kochovo | (0)5337 | + 4 digit subscriber nr |
| Koilovtsi | (0)6529 | + 4 digit subscriber nr |
| Koinare | (0)6573 | + 4 digit subscriber nr |
| Kolarovo, Silistr. | (0)8539 | + 4 digit subscriber nr |
| Kolarovo, Starozag. | (0)41480 | + 3 digit subscriber nr |
| Kolena | (0)41175 | + 3 digit subscriber nr |
| Kolets | (0)3746 | + 4 digit subscriber nr |
| Kolyu Marinovo | (0)4137 | + 4 digit subscriber nr |
| Komarevo, Plev. | (0)6412 | + 4 digit subscriber nr |
| Komarevo, Varn. | (0)5124 | + 4 digit subscriber nr |
| Komarevo, Vrach. | (0)9133 | + 4 digit subscriber nr |
| Komoshtitsa | (0)9725 | + 4 digit subscriber nr |
| Konare, Kazanl. | (0)4343 | + 4 digit subscriber nr |
| Konevo, Shum. | (0)5396 | + 4 digit subscriber nr |
| Konstantin | (0)6155 | + 4 digit subscriber nr |
| Konstantinovets | (0)4147 | + 4 digit subscriber nr |
| Konstantinovo, Burg. | (0)5912 | + 4 digit subscriber nr |
| Konstantinovo, Hask. | (0)3784 | + 4 digit subscriber nr |
| Konstantinovo, Varn. | (0)51125 | + 3 digit subscriber nr |
| Kontil | (0)3634 | + 4 digit subscriber nr |
| Konush, Hask. | (0)3717 | + 4 digit subscriber nr |
| Konush, Plovd. | (0)3341 | + 4 digit subscriber nr |
| Konyovo | (0)4520 | + 4 digit subscriber nr |
| Kopilovtsi, Kyust. | (0)7918 | + 4 digit subscriber nr |
| Koprinka | (0)4351 | + 4 digit subscriber nr |
| Koprivshtitza | (0)7184 | + 4 digit subscriber nr |
| Koren | (0)3729 | + 4 digit subscriber nr |
| Koritata | (0)3057 | + 4 digit subscriber nr |
| Korkina | (0)7042 | + 4 digit subscriber nr |
| Kormyansko | (0)6733 | + 4 digit subscriber nr |
| Kornitsa | (0)7520 | + 4 digit subscriber nr |
| Kosacha | (0)7727 | + 4 digit subscriber nr |
| Kosharna | (0)8136 | + 4 digit subscriber nr |
| Koshava | (0)9353 | + 4 digit subscriber nr |
| Koshov | (0)8159 | + 4 digit subscriber nr |
| Kosovo, Shum. | (0)53222 | + 3 digit subscriber nr |
| Kostandenets | (0)8312 | + 4 digit subscriber nr |
| Kostandovo | (0)3544 | + 4 digit subscriber nr |
| Kostelevo | (0)9116 | + 4 digit subscriber nr |
| Kostenets, Selo | (0)7144 | + 4 digit subscriber nr |
| Kostenetz | (0)7142 | + 4 digit subscriber nr |
| Kosti | (0)55069 | + 3 digit subscriber nr |
| Kostinbrod | (0)721 | + 5 digit subscriber nr |
| Kostur | (0)37704 | + 3 digit subscriber nr |
| Kotcherinovo | (0)7053 | + 4 digit subscriber nr |
| Kotel | (0)453 | + 5 digit subscriber nr |
| Kotlentsi | (0)5783 | + 4 digit subscriber nr |
| Kovach | (0)4149 | + 4 digit subscriber nr |
| Kovachevets | (0)60382 | + 3 digit subscriber nr |
| Kovachevo, Pazardzh. | (0)3567 | + 4 digit subscriber nr |
| Kovachevo, Starozag. | (0)4144 | + 4 digit subscriber nr |
| Kovachevtsi, Sof. | (0)7123 | + 4 digit subscriber nr |
| Kovachitsa | (0)9720 | + 4 digit subscriber nr |
| Kozanovo | (0)3343 | + 4 digit subscriber nr |
| Kozar Belene | (0)6535 | + 4 digit subscriber nr |
| Kozarsko | (0)3554 | + 4 digit subscriber nr |
| Kozitsa, Kardzh. | (0)3633 | + 4 digit subscriber nr |
| Kozitsa, Targ. | (0)6032 | + 4 digit subscriber nr |
| Kozlets | (0)37424 | + 3 digit subscriber nr |
| Kozlodui | (0)973 | + 5 digit subscriber nr |
| Kozlovets | (0)6325 | + 4 digit subscriber nr |
| Kozyak | (0)8545 | + 4 digit subscriber nr |
| Krachimir | (0)9320 | + 4 digit subscriber nr |
| Kraevo | (0)7132 | + 4 digit subscriber nr |
| Kraishte, Dobr. | (0)5735 | + 4 digit subscriber nr |
| Kralevo, Targ. | (0)6067 | + 4 digit subscriber nr |
| Kramolin | (0)67304 | + 3 digit subscriber nr |
| Kran | (0)4338 | + 4 digit subscriber nr |
| Krapchene | (0)9548 | + 4 digit subscriber nr |
| Krapets, Dobr. | (0)5749 | + 4 digit subscriber nr |
| Krasen, Rus. | (0)8152 | + 4 digit subscriber nr |
| Krasnovo | (0)3178 | + 4 digit subscriber nr |
| Krastava | (0)35418 | + 3 digit subscriber nr |
| Krastevich | (0)31701 | + 3 digit subscriber nr |
| Kravenik | (0)67302 | + 3 digit subscriber nr |
| Kravino | (0)4104 | + 4 digit subscriber nr |
| Kraymorie | (0)562737 | + 2 digit subscriber nr |
| Kraynitsi | (0)7033 | + 4 digit subscriber nr |
| Kraynovo | (0)4748 | + 4 digit subscriber nr |
| Kremen, Blag. | (0)74407 | + 3 digit subscriber nr |
| Krepcha | (0)60372 | + 3 digit subscriber nr |
| Krepost | (0)3924 | + 4 digit subscriber nr |
| Kresna | (0)7433 | + 4 digit subscriber nr |
| Kreta, Plev. | (0)6560 | + 4 digit subscriber nr |
| Kribul | (0)7541 | + 4 digit subscriber nr |
| Kritchim | (0)3145 | + 4 digit subscriber nr |
| Kriva Krusha | (0)4562 | + 4 digit subscriber nr |
| Kriva Reka | (0)5379 | + 4 digit subscriber nr |
| Krivina, Rus. | (0)81268 | + 3 digit subscriber nr |
| Krivnya, Varn. | (0)5181 | + 4 digit subscriber nr |
| Krivodol | (0)9117 | + 4 digit subscriber nr |
| Krum | (0)3925 | + 4 digit subscriber nr |
| Krumovgrad | (0)3641 | + 4 digit subscriber nr |
| Krumovo Gradishte | (0)5523 | + 4 digit subscriber nr |
| Krumovo, Plovd. | (0)3116 | + 4 digit subscriber nr |
| Krumovo, Varn. | (0)5116 | + 4 digit subscriber nr |
| Krushari | (0)5771 | + 4 digit subscriber nr |
| Krusheto | (0)6179 | + 4 digit subscriber nr |
| Krushevets | (0)5913 | + 4 digit subscriber nr |
| Krushevo, Gabr. | (0)6737 | + 4 digit subscriber nr |
| Krushevo, Plovd. | (0)31627 | + 3 digit subscriber nr |
| Krushovene | (0)6554 | + 4 digit subscriber nr |
| Krushovitsa, Plev. | (0)6523 | + 4 digit subscriber nr |
| Krushovitsa, Varn. | (0)9164 | + 4 digit subscriber nr |
| Krushuna | (0)6944 | + 4 digit subscriber nr |
| Kubadin | (0)5559 | + 4 digit subscriber nr |
| Kubrat | (0)8341 | + 4 digit subscriber nr |
| Kuklen | (0)3115 | + 4 digit subscriber nr |
| Kula | (0)938 | + 5 digit subscriber nr |
| Kulina Voda | (0)6589 | + 4 digit subscriber nr |
| Kunino | (0)9120 | + 4 digit subscriber nr |
| Kurnovo | (0)9129 | + 4 digit subscriber nr |
| Kurtovo Konare | (0)3146 | + 4 digit subscriber nr |
| Kutela | (0)3022 | + 4 digit subscriber nr |
| Kutovo | (0)9311 | + 4 digit subscriber nr |
| Kutsina | (0)6149 | + 4 digit subscriber nr |
| Kyolmen | (0)5392 | + 4 digit subscriber nr |
| Kyustendil | (0)78 | + 5 digit subscriber nr |
| Laga | (0)7104 | + 4 digit subscriber nr |
| Lakatnik | (0)7162 | + 4 digit subscriber nr |
| Laki | (0)3052 | + 4 digit subscriber nr |
| Laki, Blag. | (0)75214 | + 3 digit subscriber nr |
| Lazarovo | (0)9142 | + 4 digit subscriber nr |
| Lebnitsa | (0)74324 | + 3 digit subscriber nr |
| Ledenik | (0)6124 | + 4 digit subscriber nr |
| Ledenika | (0)92 | + 5/6 digit subscriber nr |
| Lenkovo | (0)6569 | + 4 digit subscriber nr |
| Lenovo | (0)3347 | + 4 digit subscriber nr |
| Lepitsa | (0)6571 | + 4 digit subscriber nr |
| Leshnitsa, Blag. | (0)7431 | + 4 digit subscriber nr |
| Leshnitsa, Lov. | (0)6922 | + 4 digit subscriber nr |
| Lesicheri | (0)61305 | + 3 digit subscriber nr |
| Lesichovo | (0)3517 | + 4 digit subscriber nr |
| Leskovets, Vrach. | (0)9176 | + 4 digit subscriber nr |
| Lesnovo | (0)7155 | + 4 digit subscriber nr |
| Lesovo | (0)4725 | + 4 digit subscriber nr |
| Lesura | (0)91180 | + 3 digit subscriber nr |
| Letnitza | (0)6941 | + 4 digit subscriber nr |
| Levka | (0)3774 | + 4 digit subscriber nr |
| Levochevo | (0)3034 | + 4 digit subscriber nr |
| Levski | (0)650 | + 5 digit subscriber nr |
| Levski, Pazardzh. | (0)3535 | + 4 digit subscriber nr |
| Levski, Varn. | (0)51539 | + 3 digit subscriber nr |
| Levunovo | (0)7436 | + 4 digit subscriber nr |
| Lik | (0)9100 | + 4 digit subscriber nr |
| Lilkovo | (0)3109 | + 4 digit subscriber nr |
| Lilyache | (0)9183 | + 4 digit subscriber nr |
| Lilyanovo | (0)74325 | + 3 digit subscriber nr |
| Lipen | (0)9569 | + 4 digit subscriber nr |
| Lipnik | (0)8321 | + 4 digit subscriber nr |
| Lipnitsa, Vrach. | (0)9167 | + 4 digit subscriber nr |
| Lisets, Lov. | (0)6911 | + 4 digit subscriber nr |
| Listets, Burg. | (0)5942 | + 4 digit subscriber nr |
| Listets, Silistr. | (0)8584 | + 4 digit subscriber nr |
| Litakovo | (0)7138 | + 4 digit subscriber nr |
| Livada | (0)5918 | + 4 digit subscriber nr |
| Lom | (0)971 | + 5 digit subscriber nr |
| Lom Cherkovna | (0)8129 | + 4 digit subscriber nr |
| Lomets, Lov. | (0)6956 | + 4 digit subscriber nr |
| Lomnitsa, Dobr. | (0)5711 | + 4 digit subscriber nr |
| Lopyan | (0)7102 | + 4 digit subscriber nr |
| Lovchantsi | (0)5765 | + 4 digit subscriber nr |
| Lovetch | (0)68 | + 5/6 digit subscriber nr |
| Lovnidol | (0)67308 | + 3 digit subscriber nr |
| Lozen, Hask. | (0)3754 | + 4 digit subscriber nr |
| Lozen, Starozag. | (0)41114 | + 3 digit subscriber nr |
| Lozen, Velikotarn. | (0)61603 | + 3 digit subscriber nr |
| Lozenets, Dobr. | (0)5773 | + 4 digit subscriber nr |
| Lozenitsa | (0)74323 | + 3 digit subscriber nr |
| Lozitsa, Plev. | (0)6546 | + 4 digit subscriber nr |
| Loznitsa, Dobr. | (0)57305 | + 3 digit subscriber nr |
| Loznitza | (0)8362 | + 4 digit subscriber nr |
| Lozno | (0)7937 | + 4 digit subscriber nr |
| Lozovo | (0)562733 | + 2 digit subscriber nr |
| Lukovit | (0)697 | + 5 digit subscriber nr |
| Lyaskovets, Hask. | (0)3748 | + 4 digit subscriber nr |
| Lyaskovetz | (0)619 | + 5 digit subscriber nr |
| Lyaskovo, Burg. | (0)5535 | + 4 digit subscriber nr |
| Lyaskovo, Hask. | (0)3696 | + 4 digit subscriber nr |
| Lyaskovo, Kardzh. | (0)3693 | + 4 digit subscriber nr |
| Lyaskovo, Plovd. | (0)3345 | + 4 digit subscriber nr |
| Lyaskovo, Smol. | (0)3044 | + 4 digit subscriber nr |
| Lyaskovo, Starozag. | (0)41275 | + 3 digit subscriber nr |
| Lyubcha | (0)30458 | + 3 digit subscriber nr |
| Lyuben Karavelovo | (0)51103 | + 3 digit subscriber nr |
| Lyubichevo | (0)6074 | + 4 digit subscriber nr |
| Lyubimetz | (0)3751 | + 4 digit subscriber nr |
| Lyublen | (0)60376 | + 3 digit subscriber nr |
| Lyulyak | (0)4121 | + 4 digit subscriber nr |
| Lyulyakovo, Dobr. | (0)5737 | + 4 digit subscriber nr |
| Lyutadzhik | (0)9187 | + 4 digit subscriber nr |
| Lyutibrod | (0)9109 | + 4 digit subscriber nr |
| Lyutidol | (0)9127 | + 4 digit subscriber nr |
| Madan | (0)308 | + 5 digit subscriber nr |
| Madan, Mont. | (0)9515 | + 4 digit subscriber nr |
| Madara | (0)5313 | + 4 digit subscriber nr |
| Madjarovo | (0)3720 | + 4 digit subscriber nr |
| Madrets, Starozag. | (0)4153 | + 4 digit subscriber nr |
| Madrevo | (0)8348 | + 4 digit subscriber nr |
| Madrino | (0)5528 | + 4 digit subscriber nr |
| Madzhari | (0)3743 | + 4 digit subscriber nr |
| Madzherito | (0)4129 | + 4 digit subscriber nr |
| Maglij | (0)4321 | + 4 digit subscriber nr |
| Mahalata | (0)74345 | + 3 digit subscriber nr |
| Makariopolsko | (0)6026 | + 4 digit subscriber nr |
| Makovo | (0)6004 | + 4 digit subscriber nr |
| Makresh | (0)9339 | + 4 digit subscriber nr |
| Malak Izvor, Hask. | (0)3745 | + 4 digit subscriber nr |
| Malak Izvor, Lov. | (0)6990 | + 4 digit subscriber nr |
| Malak Manastir | (0)4727 | + 4 digit subscriber nr |
| Malchika | (0)6534 | + 4 digit subscriber nr |
| Malenovo | (0)4764 | + 4 digit subscriber nr |
| Malevo, Hask. | (0)3712 | + 4 digit subscriber nr |
| Malinovo | (0)6910 | + 4 digit subscriber nr |
| Malka Vereya | (0)41270 | + 3 digit subscriber nr |
| Malka Zhelyazna | (0)6909 | + 4 digit subscriber nr |
| Malki Iskar | (0)7105 | + 4 digit subscriber nr |
| Malki Varshets | (0)67399 | + 3 digit subscriber nr |
| Malko Gradishte | (0)3752 | + 4 digit subscriber nr |
| Malko Kadievo | (0)41276 | + 3 digit subscriber nr |
| Malko Kirilovo | (0)4728 | + 4 digit subscriber nr |
| Malko Tarnovo | (0)5952 | + 4 digit subscriber nr |
| Malko Tranovo | (0)41354 | + 3 digit subscriber nr |
| Malko Vranovo | (0)8134 | + 4 digit subscriber nr |
| Malo Konare | (0)3513 | + 4 digit subscriber nr |
| Malo Malovo | (0)71798 | + 3 digit subscriber nr |
| Malo Selo | (0)7057 | + 4 digit subscriber nr |
| Malorad | (0)9141 | + 4 digit subscriber nr |
| Mamarchevo | (0)4743 | + 4 digit subscriber nr |
| Manastir, Smol. | (0)30528 | + 3 digit subscriber nr |
| Manastir, Varn. | (0)5127 | + 4 digit subscriber nr |
| Manastirishte | (0)91668 | + 3 digit subscriber nr |
| Mandra | (0)3741 | + 4 digit subscriber nr |
| Manevtsi | (0)6774 | + 4 digit subscriber nr |
| Manole | (0)3122 | + 4 digit subscriber nr |
| Manolich | (0)5570 | + 4 digit subscriber nr |
| Manolovo | (0)4362 | + 4 digit subscriber nr |
| Manolsko Konare | (0)3105 | + 4 digit subscriber nr |
| Marchevo | (0)9518 | + 4 digit subscriber nr |
| Marikostinovo | (0)7426 | + 4 digit subscriber nr |
| Marinka | (0)5919 | + 4 digit subscriber nr |
| Maritsa | (0)71228 | + 3 digit subscriber nr |
| Markovo, Plovd. | (0)3112 | + 4 digit subscriber nr |
| Marten | (0)8117 | + 4 digit subscriber nr |
| Maslarevo | (0)6143 | + 4 digit subscriber nr |
| Matenitsa | (0)3173 | + 4 digit subscriber nr |
| Matochina | (0)37701 | + 3 digit subscriber nr |
| Matsa | (0)4140 | + 4 digit subscriber nr |
| Mayor Uzunovo | (0)9345 | + 4 digit subscriber nr |
| Mechka, Plev. | (0)6415 | + 4 digit subscriber nr |
| Mechka, Rus. | (0)8158 | + 4 digit subscriber nr |
| Meden Kladenets | (0)4798 | + 4 digit subscriber nr |
| Medeni Polyani | (0)3547 | + 4 digit subscriber nr |
| Medkovets | (0)9727 | + 4 digit subscriber nr |
| Mednikarovo | (0)4154 | + 4 digit subscriber nr |
| Medovina | (0)6033 | + 4 digit subscriber nr |
| Medovnitsa | (0)9322 | + 4 digit subscriber nr |
| Melnik | (0)7437 | + 4 digit subscriber nr |
| Menenkyovo | (0)3588 | + 4 digit subscriber nr |
| Meritchleri | (0)3921 | + 4 digit subscriber nr |
| Meshtitsa | (0)7714 | + 4 digit subscriber nr |
| Metodievo, Shum. | (0)5397 | + 4 digit subscriber nr |
| Mezdra | (0)910 | + 5 digit subscriber nr |
| Mezek | (0)3777 | + 4 digit subscriber nr |
| Mihalkovo | (0)30472 | + 3 digit subscriber nr |
| Mihaltsi | (0)6133 | + 4 digit subscriber nr |
| Mihaylovo, Starozag. | (0)4125 | + 4 digit subscriber nr |
| Mihaylovo, Vrach. | (0)9162 | + 4 digit subscriber nr |
| Mihiltsi | (0)31717 | + 3 digit subscriber nr |
| Mikre | (0)6932 | + 4 digit subscriber nr |
| Milanovo, Shum. | (0)5335 | + 4 digit subscriber nr |
| Milevo | (0)3103 | + 4 digit subscriber nr |
| Milkovitsa | (0)6565 | + 4 digit subscriber nr |
| Mineralni bani- Burgas | (0)5512 | + 4 digit subscriber nr |
| Mineralni bani-Haskovo | (0)3722 | + 4 digit subscriber nr |
| Mirovo, Sof. | (0)7145 | + 4 digit subscriber nr |
| Mirovo, Starozag. | (0)41350 | + 3 digit subscriber nr |
| Mirovo, Velikotarn. | (0)61604 | + 3 digit subscriber nr |
| Miryantsi | (0)3520 | + 4 digit subscriber nr |
| Miziya | (0)9161 | + 4 digit subscriber nr |
| Mlada Gvardiya | (0)5163 | + 4 digit subscriber nr |
| Mlechevo | (0)67307 | + 3 digit subscriber nr |
| Mogila, Yamb. | (0)47193 | + 3 digit subscriber nr |
| Mogilets | (0)6046 | + 4 digit subscriber nr |
| Mogilino | (0)81463 | + 3 digit subscriber nr |
| Mogilovo | (0)41335 | + 3 digit subscriber nr |
| Mokren | (0)4515 | + 4 digit subscriber nr |
| Mokresh, Lom. | (0)9747 | + 4 digit subscriber nr |
| Mokrishte | (0)3529 | + 4 digit subscriber nr |
| Momchilovo | (0)5169 | + 4 digit subscriber nr |
| Momchilovtsi | (0)3023 | + 4 digit subscriber nr |
| Momin Sbor | (0)61107 | + 3 digit subscriber nr |
| Momina Klisura | (0)3582 | + 4 digit subscriber nr |
| Momina Tsarkva | (0)5554 | + 4 digit subscriber nr |
| Momino Selo | (0)3155 | + 4 digit subscriber nr |
| Mominsko | (0)31178 | + 3 digit subscriber nr |
| Momkovo | (0)3772 | + 4 digit subscriber nr |
| Momtchilgrad | (0)3631 | + 4 digit subscriber nr |
| Montana | (0)96 | + 5/6 digit subscriber nr |
| Morava | (0)6326 | + 4 digit subscriber nr |
| Mortagonovo | (0)8311 | + 4 digit subscriber nr |
| Moskovets | (0)31390 | + 3 digit subscriber nr |
| Mostovo | (0)3320 | + 4 digit subscriber nr |
| Mrachenik | (0)31324 | + 3 digit subscriber nr |
| Mramor, Sof. | (0)2998 | + 4 digit subscriber nr |
| Mramoren | (0)9113 | + 4 digit subscriber nr |
| Muhovo | (0)7148 | + 4 digit subscriber nr |
| Muldava | (0)3346 | + 4 digit subscriber nr |
| Muletarovo | (0)74203 | + 3 digit subscriber nr |
| Musachevo, Starozag. | (0)4151 | + 4 digit subscriber nr |
| Muselievo | (0)6543 | + 4 digit subscriber nr |
| Musina | (0)61397 | + 3 digit subscriber nr |
| Mustrak | (0)37702 | + 3 digit subscriber nr |
| Naretchenski bani | (0)3342 | + 4 digit subscriber nr |
| Navasen | (0)3786 | + 4 digit subscriber nr |
| Nedan | (0)61308 | + 3 digit subscriber nr |
| Nedelino | (0)3072 | + 4 digit subscriber nr |
| Nedoklan | (0)849 | + 5 digit subscriber nr |
| Neftohim. kombinat | (0)5511 | + 4 digit subscriber nr |
| Negovanovtsi | (0)9348 | + 4 digit subscriber nr |
| Neofit Rilski | (0)5164 | + 4 digit subscriber nr |
| Nepraznentsi | (0)7753 | + 4 digit subscriber nr |
| Nevsha | (0)5165 | + 4 digit subscriber nr |
| Neykovo, Sliv. | (0)4586 | + 4 digit subscriber nr |
| Nikola Kozlevo | (0)5328 | + 4 digit subscriber nr |
| Nikolaevo | (0)4330 | + 4 digit subscriber nr |
| Nikolaevo, Plev. | (0)6520 | + 4 digit subscriber nr |
| Nikolichevtsi | (0)7920 | + 4 digit subscriber nr |
| Nikopol | (0)6541 | + 4 digit subscriber nr |
| Nikyup | (0)6121 | + 4 digit subscriber nr |
| Nisovo | (0)8196 | + 4 digit subscriber nr |
| Nivyanin | (0)9144 | + 4 digit subscriber nr |
| Nova Cherna | (0)8534 | + 4 digit subscriber nr |
| Nova Kamena | (0)5752 | + 4 digit subscriber nr |
| Nova Mahala, Pazardzh. | (0)3555 | + 4 digit subscriber nr |
| Nova Nadezhda | (0)3727 | + 4 digit subscriber nr |
| Nova Zagora | (0)457 | + 5 digit subscriber nr |
| Novachene, Plev. | (0)6544 | + 4 digit subscriber nr |
| Novi Han | (0)71501 | + 3 digit subscriber nr |
| Novi Iskar | (0)2991 | + 4 digit subscriber nr |
| Novi Izvor | (0)3340 | + 4 digit subscriber nr |
| Novi Pazar | (0)537 | + 5 digit subscriber nr |
| Novo Botevo | (0)5717 | + 4 digit subscriber nr |
| Novo Delchevo | (0)74327 | + 3 digit subscriber nr |
| Novo Panicharevo | (0)55048 | + 3 digit subscriber nr |
| Novo Selo, Plovd. | (0)3147 | + 4 digit subscriber nr |
| Novo Selo, Rus. | (0)8113 | + 4 digit subscriber nr |
| Novo Selo, Sof. | (0)71225 | + 3 digit subscriber nr |
| Novo Selo, Velikotarn. | (0)61106 | + 3 digit subscriber nr |
| Novo Zhelezare | (0)3177 | + 4 digit subscriber nr |
| Novoselets | (0)4564 | + 4 digit subscriber nr |
| Nozharovo | (0)8375 | + 4 digit subscriber nr |
| Obedinenie | (0)6142 | + 4 digit subscriber nr |
| Obidim | (0)74408 | + 3 digit subscriber nr |
| Obnova | (0)6538 | + 4 digit subscriber nr |
| Oborishte, Pazardzh. | (0)35394 | + 3 digit subscriber nr |
| Obruchishte | (0)4152 | + 4 digit subscriber nr |
| Ochusha | (0)71471 | + 3 digit subscriber nr |
| Odarne | (0)6527 | + 4 digit subscriber nr |
| Ognen | (0)5578 | + 4 digit subscriber nr |
| Ognyanovo, Pazardzh. | (0)3511 | + 4 digit subscriber nr |
| Ohoden | (0)9184 | + 4 digit subscriber nr |
| Okop | (0)4773 | + 4 digit subscriber nr |
| Okorsh | (0)8542 | + 4 digit subscriber nr |
| Omarchevo, Shum. | (0)5364 | + 4 digit subscriber nr |
| Omurtag | (0)605 | + 5 digit subscriber nr |
| Opaka | (0)6039 | + 4 digit subscriber nr |
| Opalchenets | (0)41358 | + 3 digit subscriber nr |
| Opan | (0)4101 | + 4 digit subscriber nr |
| Opanets, Plev. | (0)6498 | + 4 digit subscriber nr |
| Oresh | (0)6328 | + 4 digit subscriber nr |
| Oreshets, Hask. | (0)3769 | + 4 digit subscriber nr |
| Orizari, Plovd. | (0)3128 | + 4 digit subscriber nr |
| Orizovo | (0)4132 | + 4 digit subscriber nr |
| Orlintsi | (0)55503 | + 3 digit subscriber nr |
| Orlov Dol | (0)4733 | + 4 digit subscriber nr |
| Orlovets | (0)61403 | + 3 digit subscriber nr |
| Orlovo, Hasks. | (0)3708 | + 4 digit subscriber nr |
| Orlyak | (0)5753 | + 4 digit subscriber nr |
| Oryahovitsa, Plev. | (0)6553 | + 4 digit subscriber nr |
| Oryahovitsa, Starozag. | (0)41178 | + 3 digit subscriber nr |
| Oryahovo | (0)9171 | + 4 digit subscriber nr |
| Oryahovo, Hask. | (0)3753 | + 4 digit subscriber nr |
| Osen, Silistr. | (0)8582 | + 4 digit subscriber nr |
| Osen, Vrach. | (0)91182 | + 3 digit subscriber nr |
| Osenets | (0)8310 | + 4 digit subscriber nr |
| Osenovo, Varn. | (0)51106 | + 3 digit subscriber nr |
| Osetenovo | (0)4364 | + 4 digit subscriber nr |
| Oshane | (0)9329 | + 4 digit subscriber nr |
| Oshtava | (0)74337 | + 3 digit subscriber nr |
| Osikovitsa | (0)71398 | + 3 digit subscriber nr |
| Osikovo, Blag. | (0)7533 | + 4 digit subscriber nr |
| Osikovo, Targ. | (0)6036 | + 4 digit subscriber nr |
| Osikovska Lakavitsa | (0)71338 | + 3 digit subscriber nr |
| Osina | (0)7544 | + 4 digit subscriber nr |
| Osmar | (0)5334 | + 4 digit subscriber nr |
| Ostra Mogila, Starozag. | (0)41118 | + 3 digit subscriber nr |
| Ostritsa, Rus. | (0)81464 | + 3 digit subscriber nr |
| Ostrov | (0)9175 | + 4 digit subscriber nr |
| Ostrovche | (0)8364 | + 4 digit subscriber nr |
| Ostrovets | (0)36700 | + 3 digit subscriber nr |
| Ostrovo | (0)83462 | + 3 digit subscriber nr |
| Otets Paisievo | (0)31706 | + 3 digit subscriber nr |
| Ovcha Mogila | (0)6327 | + 4 digit subscriber nr |
| Ovchaga | (0)5123 | + 4 digit subscriber nr |
| Ovcharovo, Targ. | (0)6060 | + 4 digit subscriber nr |
| Ovchartsi | (0)7030 | + 4 digit subscriber nr |
| Ovchepoltsi | (0)3510 | + 4 digit subscriber nr |
| Ovchi Kladenets | (0)4794 | + 4 digit subscriber nr |
| Oven | (0)85401 | + 3 digit subscriber nr |
| Ovoshtnik | (0)4342 | + 4 digit subscriber nr |
| Padarsko | (0)31992 | + 3 digit subscriber nr |
| Padina, Kardzh. | (0)3658 | + 4 digit subscriber nr |
| Padina, Varn. | (0)5102 | + 4 digit subscriber nr |
| Paisiy | (0)6166 | + 4 digit subscriber nr |
| Palamartsa | (0)6035 | + 4 digit subscriber nr |
| Pamporovo | (0)3021 | + 4 digit subscriber nr |
| Pamukchii, Shum. | (0)53220 | + 3 digit subscriber nr |
| Pamukchii, Starozag. | (0)4118 | + 4 digit subscriber nr |
| Panagyurishte | (0)357 | + 5 digit subscriber nr |
| Panagyurski koloni | (0)3537 | + 4 digit subscriber nr |
| Pancharevo, Dupn. | (0)7041 | + 4 digit subscriber nr |
| Panicherevo | (0)4340 | + 4 digit subscriber nr |
| Pantcharevo | (0)2992 | + 4 digit subscriber nr |
| Park Rosenets | (0)5916 | + 4 digit subscriber nr |
| Parvenets, Plovd. | (0)3111 | + 4 digit subscriber nr |
| Parvenets, Yamb. | (0)4752 | + 4 digit subscriber nr |
| Parvomai | (0)336 | + 5 digit subscriber nr |
| Parvomaytsi | (0)6175 | + 4 digit subscriber nr |
| Pashovo | (0)37707 | + 3 digit subscriber nr |
| Paskalevets | (0)61395 | + 3 digit subscriber nr |
| Paskalevo | (0)5716 | + 4 digit subscriber nr |
| Pastra | (0)7052 | + 4 digit subscriber nr |
| Pastren | (0)4106 | + 4 digit subscriber nr |
| Pastrogor | (0)37705 | + 3 digit subscriber nr |
| Pastrovo | (0)41116 | + 3 digit subscriber nr |
| Patresh | (0)61306 | + 3 digit subscriber nr |
| Patriarh Evtimovo | (0)3326 | + 4 digit subscriber nr |
| Pavel | (0)6148 | + 4 digit subscriber nr |
| Pavel banya | (0)4361 | + 4 digit subscriber nr |
| Pavlikeni | (0)610 | + 5 digit subscriber nr |
| Pavolche | (0)9189 | + 4 digit subscriber nr |
| Pazardjik | (0)34 | + 5/6 digit subscriber nr |
| Pchelarovo, Dobr. | (0)5739 | + 4 digit subscriber nr |
| Pchelin, Burg. | (0)5573 | + 4 digit subscriber nr |
| Pchelin, Sof. | (0)7147 | + 4 digit subscriber nr |
| Pchelina | (0)8379 | + 4 digit subscriber nr |
| Pchelino | (0)5713 | + 4 digit subscriber nr |
| Pchelishte | (0)61102 | + 3 digit subscriber nr |
| Pchelnik, Varn. | (0)5147 | + 4 digit subscriber nr |
| Pelishat | (0)6497 | + 4 digit subscriber nr |
| Pelovo | (0)6516 | + 4 digit subscriber nr |
| Pernik | (0)76 | + 5/6 digit subscriber nr |
| Perushtitza | (0)3143 | + 4 digit subscriber nr |
| Peshtera | (0)350 | + 5 digit subscriber nr |
| Peshterna | (0)6988 | + 4 digit subscriber nr |
| Peshtersko | (0)5530 | + 4 digit subscriber nr |
| Pesnopoy, Plovd. | (0)31708 | + 3 digit subscriber nr |
| Petarch | (0)7116 | + 4 digit subscriber nr |
| Petarnitsa | (0)6524 | + 4 digit subscriber nr |
| Petko Karavelovo | (0)61405 | + 3 digit subscriber nr |
| Petko Slaveykov | (0)6734 | + 4 digit subscriber nr |
| Petleshkovo | (0)5732 | + 4 digit subscriber nr |
| Petokladentsi | (0)6587 | + 4 digit subscriber nr |
| Petrevene | (0)6981 | + 4 digit subscriber nr |
| Petrich, Sof. | (0)7188 | + 4 digit subscriber nr |
| Petritch | (0)745 | + 5 digit subscriber nr |
| Petrovo, Blag. | (0)74322 | + 3 digit subscriber nr |
| Piperkov Chiflik | (0)7936 | + 4 digit subscriber nr |
| Piperkovo | (0)81264 | + 3 digit subscriber nr |
| Pirdop | (0)7181 | + 4 digit subscriber nr |
| Pirgovo | (0)8114 | + 4 digit subscriber nr |
| Pirin | (0)74386 | + 3 digit subscriber nr |
| Pisanets | (0)8164 | + 4 digit subscriber nr |
| Pisarevo, Velikotarn. | (0)61706 | + 3 digit subscriber nr |
| Pisarovo, Plev. | (0)65165 | + 3 digit subscriber nr |
| Pitovo | (0)4566 | + 4 digit subscriber nr |
| Plakovo | (0)61108 | + 3 digit subscriber nr |
| Planinitsa, Burg. | (0)5949 | + 4 digit subscriber nr |
| Planinovo | (0)4732 | + 4 digit subscriber nr |
| Platchkovtzi | (0)6779 | + 4 digit subscriber nr |
| Pleven | (0)64 | + 5/6 digit subscriber nr |
| Pliska | (0)5323 | + 4 digit subscriber nr |
| Plodovitovo | (0)41353 | + 3 digit subscriber nr |
| Ploski | (0)7439 | + 4 digit subscriber nr |
| Plovdiv | (0)32 | + 5/6 digit subscriber nr |
| Pobeda, Dobr. | (0)5710 | + 4 digit subscriber nr |
| Pobeda, Plev. | (0)6511 | + 4 digit subscriber nr |
| Pobit Kamak, Razgr. | (0)8317 | + 4 digit subscriber nr |
| Podgore | (0)9332 | + 4 digit subscriber nr |
| Podgorets | (0)59407 | + 3 digit subscriber nr |
| Podgoritsa | (0)6023 | + 4 digit subscriber nr |
| Podkova | (0)3671 | + 4 digit subscriber nr |
| Podkrepa | (0)37420 | + 3 digit subscriber nr |
| Podslon, Starozag. | (0)41174 | + 3 digit subscriber nr |
| Poibrene | (0)3530 | + 4 digit subscriber nr |
| Pokrayna | (0)9310 | + 4 digit subscriber nr |
| Pokrovan | (0)3667 | + 4 digit subscriber nr |
| Polaten | (0)6787 | + 4 digit subscriber nr |
| Polikrayshte | (0)6176 | + 4 digit subscriber nr |
| Polski Senovets | (0)6146 | + 4 digit subscriber nr |
| Polski Trambesh | (0)6141 | + 4 digit subscriber nr |
| Polsko Kosovo | (0)8128 | + 4 digit subscriber nr |
| Polyana, Silistr. | (0)8564 | + 4 digit subscriber nr |
| Polyana, Yamb. | (0)4756 | + 4 digit subscriber nr |
| Polyanovo, Hask. | (0)3764 | + 4 digit subscriber nr |
| Pomen | (0)81466 | + 3 digit subscriber nr |
| Pomorie | (0)596 | + 5 digit subscriber nr |
| Pomoshtitsa | (0)60386 | + 3 digit subscriber nr |
| Popina | (0)8560 | + 4 digit subscriber nr |
| Popintsi | (0)3534 | + 4 digit subscriber nr |
| Popitsa | (0)9137 | + 4 digit subscriber nr |
| Popovitsa | (0)3110 | + 4 digit subscriber nr |
| Popovo | (0)608 | + 5 digit subscriber nr |
| Popovo, Yamb. | (0)4746 | + 4 digit subscriber nr |
| Pordim | (0)6513 | + 4 digit subscriber nr |
| Posabina | (0)60373 | + 3 digit subscriber nr |
| Pravda, Silistr. | (0)85402 | + 3 digit subscriber nr |
| Pravda, Velikotarn. | (0)61704 | + 3 digit subscriber nr |
| Pravdino | (0)4753 | + 4 digit subscriber nr |
| Praventsi | (0)5321 | + 4 digit subscriber nr |
| Pravetz | (0)7133 | + 4 digit subscriber nr |
| Prelez | (0)83420 | + 3 digit subscriber nr |
| Presyaka | (0)69242 | + 3 digit subscriber nr |
| Prevala | (0)9553 | + 4 digit subscriber nr |
| Prisovo | (0)61105 | + 3 digit subscriber nr |
| Probuda, Targ. | (0)6022 | + 4 digit subscriber nr |
| Prolaz | (0)6028 | + 4 digit subscriber nr |
| Prolom | (0)31387 | + 3 digit subscriber nr |
| Prosena | (0)8151 | + 4 digit subscriber nr |
| Prosenik | (0)5947 | + 4 digit subscriber nr |
| Prostorno | (0)8316 | + 4 digit subscriber nr |
| Provadiya | (0)518 | + 5 digit subscriber nr |
| Pryaporets, Starozag. | (0)41113 | + 3 digit subscriber nr |
| Pshenichevo | (0)4143 | + 4 digit subscriber nr |
| Ptichevo | (0)60454 | + 3 digit subscriber nr |
| Pudriya | (0)91185 | + 3 digit subscriber nr |
| Pushevo | (0)6125 | + 4 digit subscriber nr |
| Radilovo | (0)3556 | + 4 digit subscriber nr |
| Radingrad | (0)8326 | + 4 digit subscriber nr |
| Radishevo | (0)6410 | + 4 digit subscriber nr |
| Radko Dimitrievo | (0)5310 | + 4 digit subscriber nr |
| Radnevo | (0)417 | + 5 digit subscriber nr |
| Radomir | (0)777 | + 5 digit subscriber nr |
| Radomirtsi | (0)6576 | + 4 digit subscriber nr |
| Raduil | (0)7129 | + 4 digit subscriber nr |
| Radyuvene | (0)6929 | + 4 digit subscriber nr |
| Rakita, Plev. | (0)6590 | + 4 digit subscriber nr |
| Rakitnitsa, Starozag. | (0)4116 | + 4 digit subscriber nr |
| Rakitovo | (0)3542 | + 4 digit subscriber nr |
| Rakovo, Sliv. | (0)4553 | + 4 digit subscriber nr |
| Rakovski | (0)3151 | + 4 digit subscriber nr |
| Rakovski, Razgr. | (0)8328 | + 4 digit subscriber nr |
| Ralitsa | (0)6007 | + 4 digit subscriber nr |
| Rashkovo | (0)71306 | + 3 digit subscriber nr |
| Ravadinovo | (0)5502 | + 4 digit subscriber nr |
| Ravnets, Burg. | (0)5517 | + 4 digit subscriber nr |
| Ravno Pole | (0)7156 | + 4 digit subscriber nr |
| Raykova Mogila | (0)3776 | + 4 digit subscriber nr |
| Raynino | (0)8337 | + 4 digit subscriber nr |
| Raynovo | (0)3920 | + 4 digit subscriber nr |
| Razboyna, Burg. | (0)59406 | + 3 digit subscriber nr |
| Razdelna, Starozag. | (0)4157 | + 4 digit subscriber nr |
| Razdelna, Varn. | (0)51127 | + 3 digit subscriber nr |
| Razgrad | (0)84 | + 5/6 digit subscriber nr |
| Razhena | (0)4335 | + 4 digit subscriber nr |
| Razhevo | (0)3125 | + 4 digit subscriber nr |
| Razhitsa | (0)59408 | + 3 digit subscriber nr |
| Razlog | (0)747 | + 5 digit subscriber nr |
| Rechitsa | (0)59403 | + 3 digit subscriber nr |
| Reselets | (0)6578 | + 4 digit subscriber nr |
| Resen | (0)6115 | + 4 digit subscriber nr |
| Riben | (0)6518 | + 4 digit subscriber nr |
| Riben Dol | (0)30200 | + 3 digit subscriber nr |
| Ribnovo | (0)7526 | + 4 digit subscriber nr |
| Rila | (0)7054 | + 4 digit subscriber nr |
| Rish | (0)5354 | + 4 digit subscriber nr |
| Rodina | (0)6156 | + 4 digit subscriber nr |
| Rogosh | (0)3121 | + 4 digit subscriber nr |
| Rogozinovo | (0)37603 | + 3 digit subscriber nr |
| Roman | (0)9123 | + 4 digit subscriber nr |
| Romcha | (0)7166 | + 4 digit subscriber nr |
| Rosen, Pazardzh. | (0)35255 | + 3 digit subscriber nr |
| Roza | (0)4718 | + 4 digit subscriber nr |
| Rozino, Plovd. | (0)3136 | + 4 digit subscriber nr |
| Rozovets | (0)3195 | + 4 digit subscriber nr |
| Rozovo, Kazanl. | (0)4347 | + 4 digit subscriber nr |
| Rudartsi | (0)7713 | + 4 digit subscriber nr |
| Rudnik, Varn. | (0)5148 | + 4 digit subscriber nr |
| Rudozem | (0)306 | + 5 digit subscriber nr |
| Ruen | (0)5944 | + 4 digit subscriber nr |
| Ruets | (0)6024 | + 4 digit subscriber nr |
| Rumyantsevo | (0)6985 | + 4 digit subscriber nr |
| Rupkite | (0)41356 | + 3 digit subscriber nr |
| Ruptsi, Plev. | (0)6579 | + 4 digit subscriber nr |
| Rusalya | (0)61103 | + 3 digit subscriber nr |
| Ruse | (0)82 | + 6 digit subscriber nr |
| Ruyno | (0)8549 | + 4 digit subscriber nr |
| Ryahovo | (0)8133 | + 4 digit subscriber nr |
| Ryahovtsite | (0)67397 | + 3 digit subscriber nr |
| Sabrano | (0)4527 | + 4 digit subscriber nr |
| Sadievo, Burg. | (0)5537 | + 4 digit subscriber nr |
| Sadievo, Sliv. | (0)4529 | + 4 digit subscriber nr |
| Sadovets | (0)6521 | + 4 digit subscriber nr |
| Sadovo | (0)3118 | + 4 digit subscriber nr |
| Saedinenie | (0)318 | + 5 digit subscriber nr |
| Saedinenie, Burg. | (0)5574 | + 4 digit subscriber nr |
| Saedinenie, Starozag. | (0)41334 | + 3 digit subscriber nr |
| Saedinenie, Targ. | (0)6002 | + 4 digit subscriber nr |
| Salmanovo | (0)5316 | + 4 digit subscriber nr |
| Samokov | (0)722 | + 5 digit subscriber nr |
| Samoranovo | (0)7039 | + 4 digit subscriber nr |
| Samovodene | (0)6112 | + 4 digit subscriber nr |
| Samuil | (0)8377 | + 4 digit subscriber nr |
| Samuilovo, Starozag. | (0)41274 | + 3 digit subscriber nr |
| Sandanski | (0)746 | + 5 digit subscriber nr |
| Sandrovo | (0)8194 | + 4 digit subscriber nr |
| Sapareva banya | (0)707 | + 5 digit subscriber nr |
| Saransko | (0)4755 | + 4 digit subscriber nr |
| Saraya | (0)35257 | + 3 digit subscriber nr |
| Sarnegor | (0)31993 | + 3 digit subscriber nr |
| Sarnevets | (0)41337 | + 3 digit subscriber nr |
| Sarnitsa, Hask. | (0)3744 | + 4 digit subscriber nr |
| Sarpovo | (0)8519 | + 4 digit subscriber nr |
| Savin | (0)83465 | + 3 digit subscriber nr |
| Sbor, Pazardzh. | (0)35256 | + 3 digit subscriber nr |
| Sborishte | (0)4595 | + 4 digit subscriber nr |
| Selanovtsi | (0)9172 | + 4 digit subscriber nr |
| Selcha | (0)30476 | + 3 digit subscriber nr |
| Selishten Dol | (0)7755 | + 4 digit subscriber nr |
| Seltse, Gabr. | (0)6970 | + 4 digit subscriber nr |
| Semchinovo | (0)3564 | + 4 digit subscriber nr |
| Semerdzhievo | (0)8150 | + 4 digit subscriber nr |
| Senoklas | (0)3620 | + 4 digit subscriber nr |
| Senovo | (0)8315 | + 4 digit subscriber nr |
| Septemvri | (0)3561 | + 4 digit subscriber nr |
| Septemvriytsi, Vid. | (0)9340 | + 4 digit subscriber nr |
| Seslav | (0)83467 | + 3 digit subscriber nr |
| Sestrimo | (0)3587 | + 4 digit subscriber nr |
| Sevar | (0)8349 | + 4 digit subscriber nr |
| Sevlievo | (0)675 | + 5 digit subscriber nr |
| Shabla | (0)5743 | + 4 digit subscriber nr |
| Shanovo | (0)4344 | + 4 digit subscriber nr |
| Sheynovo | (0)4327 | + 4 digit subscriber nr |
| Shipka | (0)4324 | + 4 digit subscriber nr |
| Shipkovo | (0)6966 | + 4 digit subscriber nr |
| Shipochane | (0)71224 | + 3 digit subscriber nr |
| Shipochano | (0)7932 | + 4 digit subscriber nr |
| Shiroka Laka | (0)3030 | + 4 digit subscriber nr |
| Shiroki Dol | (0)7127 | + 4 digit subscriber nr |
| Shishkovtsi | (0)7924 | + 4 digit subscriber nr |
| Shishmantsi | (0)3156 | + 4 digit subscriber nr |
| Shivatchevo | (0)4593 | + 4 digit subscriber nr |
| Shkorpilovtsi | (0)5140 | + 4 digit subscriber nr |
| Shtraklevo | (0)8111 | + 4 digit subscriber nr |
| Shuma | (0)7194 | + 4 digit subscriber nr |
| Shumen | (0)54 | + 5/6 digit subscriber nr |
| Shumentsi | (0)85301 | + 3 digit subscriber nr |
| Silistra | (0)86 | + 5/6 digit subscriber nr |
| Simeonovgrad | (0)3781 | + 4 digit subscriber nr |
| Simitli | (0)748 | + 5 digit subscriber nr |
| Sinagovtsi | (0)9346 | + 4 digit subscriber nr |
| Sinapovo | (0)4737 | + 4 digit subscriber nr |
| Sindel | (0)5100 | + 4 digit subscriber nr |
| Sinitevo | (0)3523 | + 4 digit subscriber nr |
| Sinya Voda | (0)8368 | + 4 digit subscriber nr |
| Sitovo | (0)8563 | + 4 digit subscriber nr |
| Siva Reka | (0)3779 | + 4 digit subscriber nr |
| Skalak, Burg. | (0)5941 | + 4 digit subscriber nr |
| Skalitza | (0)4795 | + 4 digit subscriber nr |
| Skobelevo, Hask. | (0)3934 | + 4 digit subscriber nr |
| Skobelevo, Kazanl. | (0)4358 | + 4 digit subscriber nr |
| Skobelevo, Lov. | (0)69248 | + 3 digit subscriber nr |
| Skravena | (0)7137 | + 4 digit subscriber nr |
| Skutare | (0)3129 | + 4 digit subscriber nr |
| Sladak Kladenets | (0)41119 | + 3 digit subscriber nr |
| Slanotran | (0)9349 | + 4 digit subscriber nr |
| Slashten | (0)7546 | + 4 digit subscriber nr |
| Slatina, Lov. | (0)6919 | + 4 digit subscriber nr |
| Slatina, Mont. | (0)9526 | + 4 digit subscriber nr |
| Slatina, Plovd. | (0)31398 | + 3 digit subscriber nr |
| Slatina, Sof. | (0)703 | + 5 digit subscriber nr |
| Slaveyno | (0)3027 | + 4 digit subscriber nr |
| Slavotin | (0)9546 | + 4 digit subscriber nr |
| Slavovitsa, Plev. | (0)6558 | + 4 digit subscriber nr |
| Slavshtitsa | (0)6930 | + 4 digit subscriber nr |
| Slavyani | (0)6913 | + 4 digit subscriber nr |
| Slavyanovo | (0)6515 | + 4 digit subscriber nr |
| Slavyanovo, Targ. | (0)6034 | + 4 digit subscriber nr |
| Slivek | (0)6914 | + 4 digit subscriber nr |
| Sliven | (0)44 | + 5/6 digit subscriber nr |
| Slivenski mineralni bani | (0)4511 | + 4 digit subscriber nr |
| Slivito | (0)4332 | + 4 digit subscriber nr |
| Slivnitza | (0)727 | + 5 digit subscriber nr |
| Slomer | (0)61391 | + 3 digit subscriber nr |
| Smilets, Pazardzh. | (0)35393 | + 3 digit subscriber nr |
| Smirnenski, Mont. | (0)9787 | + 4 digit subscriber nr |
| Smirnenski, Rus. | (0)8165 | + 4 digit subscriber nr |
| Smirnentsi | (0)37604 | + 3 digit subscriber nr |
| Smochan | (0)6915 | + 4 digit subscriber nr |
| Smolyan | (0)301 | + 5 digit subscriber nr |
| Smolyanovtsi | (0)9542 | + 4 digit subscriber nr |
| Smyadovo | (0)5351 | + 4 digit subscriber nr |
| Snezha | (0)59404 | + 3 digit subscriber nr |
| Sofia | (0)2 | + 4/8 digit subscriber nr |
| Sofrovievo | (0)9165 | + 4 digit subscriber nr |
| Sokolare | (0)9146 | + 4 digit subscriber nr |
| Sokolovo, Burg. | (0)5527 | + 4 digit subscriber nr |
| Sokolovo, Dobr. | (0)5728 | + 4 digit subscriber nr |
| Sokolovo, Lov. | (0)6937 | + 4 digit subscriber nr |
| Somovit | (0)6567 | + 4 digit subscriber nr |
| Sopot | (0)3134 | + 4 digit subscriber nr |
| Sopot, Lov. | (0)6935 | + 4 digit subscriber nr |
| Sotirya | (0)4556 | + 4 digit subscriber nr |
| Sozopol | (0)5514 | + 4 digit subscriber nr |
| Spasovo, Starozag. | (0)4130 | + 4 digit subscriber nr |
| Srebarna | (0)8515 | + 4 digit subscriber nr |
| Sredets, Starozag. | (0)4107 | + 4 digit subscriber nr |
| Sredetz | (0)5551 | + 4 digit subscriber nr |
| Sredno Gradishte | (0)41333 | + 3 digit subscriber nr |
| Srednogorovo | (0)4353 | + 4 digit subscriber nr |
| Srem | (0)4734 | + 4 digit subscriber nr |
| Staliyska Mahala | (0)9722 | + 4 digit subscriber nr |
| Stamboliiski | (0)339 | + 5 digit subscriber nr |
| Stamboliyski, Hask. | (0)3725 | + 4 digit subscriber nr |
| Stambolovo, Velikotarn. | (0)61307 | + 3 digit subscriber nr |
| Stanevo | (0)9724 | + 4 digit subscriber nr |
| Stara Reka, Yamb. | (0)4713 | + 4 digit subscriber nr |
| Stara Zagora | (0)42 | + 5/6 digit subscriber nr |
| Starchishte | (0)6077 | + 4 digit subscriber nr |
| Starnitsa | (0)30205 | + 3 digit subscriber nr |
| Staro Oryahovo | (0)5141 | + 4 digit subscriber nr |
| Staro Selo, Lov. | (0)69616 | + 3 digit subscriber nr |
| Staro Selo, Silistr. | (0)8533 | + 4 digit subscriber nr |
| Staro Selo, Vrach. | (0)9121 | + 4 digit subscriber nr |
| Staro Zhelezare | (0)3174 | + 4 digit subscriber nr |
| Staropatitsa | (0)9336 | + 4 digit subscriber nr |
| Starosel | (0)3176 | + 4 digit subscriber nr |
| Staroseltsi | (0)6490 | + 4 digit subscriber nr |
| Starozagorski bani | (0)4111 | + 4 digit subscriber nr |
| Stavertsi | (0)6550 | + 4 digit subscriber nr |
| Stefan Karadzha, Dobr. | (0)5762 | + 4 digit subscriber nr |
| Stefan Stambolovo | (0)61402 | + 3 digit subscriber nr |
| Stob | (0)7058 | + 4 digit subscriber nr |
| Stoevo | (0)3322 | + 4 digit subscriber nr |
| Stoletovo | (0)4100 | + 4 digit subscriber nr |
| Stolnik | (0)7154 | + 4 digit subscriber nr |
| Stomanevo | (0)30475 | + 3 digit subscriber nr |
| Stoyan Mihaylovski | (0)53221 | + 3 digit subscriber nr |
| Strahilovo | (0)6145 | + 4 digit subscriber nr |
| Strajitza | (0)6161 | + 4 digit subscriber nr |
| Straldja | (0)4761 | + 4 digit subscriber nr |
| Stransko | (0)3933 | + 4 digit subscriber nr |
| Strazha, Targ. | (0)6062 | + 4 digit subscriber nr |
| Strelets, Starozag. | (0)41279 | + 3 digit subscriber nr |
| Strelets, Velikotarn. | (0)6178 | + 4 digit subscriber nr |
| Streltcha | (0)3532 | + 4 digit subscriber nr |
| Streltsi, Plovd. | (0)31995 | + 3 digit subscriber nr |
| Stroevo | (0)3106 | + 4 digit subscriber nr |
| Strumeshnitsa | (0)74205 | + 3 digit subscriber nr |
| Stryama | (0)3153 | + 4 digit subscriber nr |
| Stubel | (0)9564 | + 4 digit subscriber nr |
| Studenitsa | (0)5349 | + 4 digit subscriber nr |
| Studeno Buche | (0)9544 | + 4 digit subscriber nr |
| Suha Reka | (0)5330 | + 4 digit subscriber nr |
| Suhache | (0)6572 | + 4 digit subscriber nr |
| Suhindol | (0)6136 | + 4 digit subscriber nr |
| Suhodol, Burg. | (0)55502 | + 3 digit subscriber nr |
| Sumer | (0)9561 | + 4 digit subscriber nr |
| Sungurlare | (0)5571 | + 4 digit subscriber nr |
| Susam | (0)3724 | + 4 digit subscriber nr |
| Sushitsa, Velikotarn. | (0)6168 | + 4 digit subscriber nr |
| Suvorovo | (0)5153 | + 4 digit subscriber nr |
| Svalenik | (0)8166 | + 4 digit subscriber nr |
| Sveshtari | (0)8335 | + 4 digit subscriber nr |
| Svetlen | (0)6030 | + 4 digit subscriber nr |
| Svetlina, Yamb. | (0)4736 | + 4 digit subscriber nr |
| Svezhen | (0)31996 | + 3 digit subscriber nr |
| Svilengrad | (0)379 | + 5 digit subscriber nr |
| Svilengrad, Gara | (0)3738 | + 4 digit subscriber nr |
| Svirkovo | (0)3783 | + 4 digit subscriber nr |
| Svishtov | (0)631 | + 5 digit subscriber nr |
| Svoboda, Starozag. | (0)4139 | + 4 digit subscriber nr |
| Svoge | (0)726 | + 5 digit subscriber nr |
| Takach | (0)5368 | + 4 digit subscriber nr |
| Tankovo, Hask. | (0)3706 | + 4 digit subscriber nr |
| Targovishte | (0)601 | + 5 digit subscriber nr |
| Tarnak | (0)9134 | + 4 digit subscriber nr |
| Tarnava, Vrach. | (0)9139 | + 4 digit subscriber nr |
| Tarnicheni | (0)4368 | + 4 digit subscriber nr |
| Tatarevo, Hask. | (0)3747 | + 4 digit subscriber nr |
| Tatarevo, Plovd. | (0)31602 | + 3 digit subscriber nr |
| Tatari | (0)6580 | + 4 digit subscriber nr |
| Tazha | (0)4367 | + 4 digit subscriber nr |
| Tchepelare | (0)3051 | + 4 digit subscriber nr |
| Tchernootchene | (0)3691 | + 4 digit subscriber nr |
| Tcherven bryag | (0)659 | + 5 digit subscriber nr |
| Tchiprovtzi | (0)9554 | + 4 digit subscriber nr |
| Tchirpan | (0)416 | + 5 digit subscriber nr |
| Teketo | (0)3700 | + 4 digit subscriber nr |
| Telish | (0)6575 | + 4 digit subscriber nr |
| Tenevo | (0)4777 | + 4 digit subscriber nr |
| Tepava | (0)69244 | + 3 digit subscriber nr |
| Tervel | (0)5751 | + 4 digit subscriber nr |
| Terziysko, Lov. | (0)69612 | + 3 digit subscriber nr |
| Teteven | (0)678 | + 5 digit subscriber nr |
| Tetovo | (0)8347 | + 4 digit subscriber nr |
| Tipchenitsa | (0)9124 | + 4 digit subscriber nr |
| Tishevitsa | (0)9119 | + 4 digit subscriber nr |
| Tlachene | (0)9130 | + 4 digit subscriber nr |
| Todorovo, Plev. | (0)6494 | + 4 digit subscriber nr |
| Tompsan | (0)7169 | + 4 digit subscriber nr |
| Topchii | (0)8320 | + 4 digit subscriber nr |
| Topoli Dol | (0)35252 | + 3 digit subscriber nr |
| Topolitsa | (0)5532 | + 4 digit subscriber nr |
| Topolnitsa, Blag. | (0)7422 | + 4 digit subscriber nr |
| Topolovets | (0)9335 | + 4 digit subscriber nr |
| Topolovgrad | (0)470 | + 5 digit subscriber nr |
| Topolovo, Plovd. | (0)3321 | + 4 digit subscriber nr |
| Toros | (0)6989 | + 4 digit subscriber nr |
| Totleben | (0)6510 | + 4 digit subscriber nr |
| Trakiya | (0)4109 | + 4 digit subscriber nr |
| Tran | (0)7731 | + 4 digit subscriber nr |
| Tranchovitsa | (0)6530 | + 4 digit subscriber nr |
| Trankovo, Yamb. | (0)47203 | + 3 digit subscriber nr |
| Trastenik | (0)6551 | + 4 digit subscriber nr |
| Trastenik, Rus. | (0)8145 | + 4 digit subscriber nr |
| Traykovo | (0)9723 | + 4 digit subscriber nr |
| Tri Kladentsi | (0)91189 | + 3 digit subscriber nr |
| Trivoditsi | (0)31403 | + 3 digit subscriber nr |
| Troitsa | (0)5338 | + 4 digit subscriber nr |
| Troyan | (0)670 | + 5 digit subscriber nr |
| Troyanovo, Burg. | (0)5580 | + 4 digit subscriber nr |
| Troyanovo, Starozag. | (0)4142 | + 4 digit subscriber nr |
| Trud | (0)3126 | + 4 digit subscriber nr |
| Trudovets | (0)7135 | + 4 digit subscriber nr |
| Tryavna | (0)677 | + 5 digit subscriber nr |
| Tsalapitsa | (0)3149 | + 4 digit subscriber nr |
| Tsaparevo | (0)74346 | + 3 digit subscriber nr |
| Tsar Asen, Pazardzh. | (0)35258 | + 3 digit subscriber nr |
| Tsar Asen, Targ. | (0)60378 | + 3 digit subscriber nr |
| Tsar Samuil | (0)8535 | + 4 digit subscriber nr |
| Tsaratsovo | (0)3127 | + 4 digit subscriber nr |
| Tsarev Brod | (0)5315 | + 4 digit subscriber nr |
| Tsarevets, Svisht. | (0)6329 | + 4 digit subscriber nr |
| Tsarichino | (0)5726 | + 4 digit subscriber nr |
| Tsarski Izvor | (0)61602 | + 3 digit subscriber nr |
| Tsarvaritsa | (0)7914 | + 4 digit subscriber nr |
| Tselina | (0)41338 | + 3 digit subscriber nr |
| Tsenovo, Starozag. | (0)41330 | + 3 digit subscriber nr |
| Tserova Koriya | (0)6126 | + 4 digit subscriber nr |
| Tserovets | (0)8167 | + 4 digit subscriber nr |
| Tserovo, Pazardzh. | (0)3589 | + 4 digit subscriber nr |
| Tserovo, Sof. | (0)7167 | + 4 digit subscriber nr |
| Tuchenitsa | (0)6496 | + 4 digit subscriber nr |
| Tuden | (0)7198 | + 4 digit subscriber nr |
| Tulovo | (0)4323 | + 4 digit subscriber nr |
| Turiya | (0)43616 | + 3 digit subscriber nr |
| Tutrakan | (0)857 | + 5 digit subscriber nr |
| Tutrakantsi | (0)5121 | + 4 digit subscriber nr |
| Tvarditza | (0)454 | + 5 digit subscriber nr |
| Tyanevo, Hask. | (0)3787 | + 4 digit subscriber nr |
| Tyurkmen | (0)3197 | + 4 digit subscriber nr |
| Tzar Kaloyan | (0)8314 | + 4 digit subscriber nr |
| Ugartchin | (0)6931 | + 4 digit subscriber nr |
| Umarevtsi | (0)6927 | + 4 digit subscriber nr |
| Vabel, Plev. | (0)6542 | + 4 digit subscriber nr |
| Vaglarovo | (0)3705 | + 4 digit subscriber nr |
| Valtchedram | (0)9744 | + 4 digit subscriber nr |
| Valtchidol | (0)5131 | + 4 digit subscriber nr |
| Varben, Plovd. | (0)3190 | + 4 digit subscriber nr |
| Varbitsa, Hask. | (0)3935 | + 4 digit subscriber nr |
| Varbitsa, Plev. | (0)6526 | + 4 digit subscriber nr |
| Varbitsa, Velikotarn. | (0)61703 | + 3 digit subscriber nr |
| Varbitza | (0)5391 | + 4 digit subscriber nr |
| Varbovka | (0)6135 | + 4 digit subscriber nr |
| Varbyane | (0)5326 | + 4 digit subscriber nr |
| Vardim | (0)6324 | + 4 digit subscriber nr |
| Varna | (0)52 | + 5/7 digit subscriber nr |
| Varshetz | (0)9527 | + 4 digit subscriber nr |
| Varvara, Pazardzh. | (0)3563 | + 4 digit subscriber nr |
| Vasil Levski, Plovd. | (0)31394 | + 3 digit subscriber nr |
| Vasil Levski, Targ. | (0)6069 | + 4 digit subscriber nr |
| Vasilyovo | (0)6900 | + 4 digit subscriber nr |
| Vazovo | (0)83393 | + 3 digit subscriber nr |
| Velchovo, Velikotarn. | (0)61101 | + 3 digit subscriber nr |
| Velichkovo, Pazardzh. | (0)3519 | + 4 digit subscriber nr |
| Veliki Preslav | (0)538 | + 5 digit subscriber nr |
| Velingrad | (0)359 | + 5 digit subscriber nr |
| Velino | (0)5344 | + 4 digit subscriber nr |
| Venchan | (0)5167 | + 4 digit subscriber nr |
| Venets, Burg. | (0)5521 | + 4 digit subscriber nr |
| Venets, Starozag. | (0)41019 | + 3 digit subscriber nr |
| Veselets, Rus. | (0)83429 | + 3 digit subscriber nr |
| Veselie | (0)55046 | + 3 digit subscriber nr |
| Veselina | (0)8365 | + 4 digit subscriber nr |
| Veselinovo, Yamb. | (0)4716 | + 4 digit subscriber nr |
| Veslets, Vrach. | (0)91888 | + 3 digit subscriber nr |
| Vetovo | (0)8161 | + 4 digit subscriber nr |
| Vetren, Silistr. | (0)8514 | + 4 digit subscriber nr |
| Vetren-Pazardjik region | (0)3584 | + 4 digit subscriber nr |
| Vetrino | (0)5161 | + 4 digit subscriber nr |
| Vidima | (0)69588 | + 3 digit subscriber nr |
| Vidin | (0)94 | + 5/6 digit subscriber nr |
| Vievo | (0)3059 | + 4 digit subscriber nr |
| Vinarovo, Starozag. | (0)41352 | + 3 digit subscriber nr |
| Vinarsko | (0)5589 | + 4 digit subscriber nr |
| Vinishte | (0)9547 | + 4 digit subscriber nr |
| Vinitsa | (0)31603 | + 3 digit subscriber nr |
| Vinogradets | (0)3568 | + 4 digit subscriber nr |
| Virovsko | (0)9110 | + 4 digit subscriber nr |
| Vishnevo | (0)30257 | + 3 digit subscriber nr |
| Vishovgrad | (0)6138 | + 4 digit subscriber nr |
| Visoka Polyana, Shum. | (0)5340 | + 4 digit subscriber nr |
| Vitanovtsi | (0)7719 | + 4 digit subscriber nr |
| Vladaya | (0)2999 | + 4 digit subscriber nr |
| Vladimirovo, Mont. | (0)9514 | + 4 digit subscriber nr |
| Vladinya | (0)6925 | + 4 digit subscriber nr |
| Vladislav | (0)61606 | + 3 digit subscriber nr |
| Voden, Plovd. | (0)31606 | + 3 digit subscriber nr |
| Voditsa, Varn. | (0)5118 | + 4 digit subscriber nr |
| Vodoley | (0)61104 | + 3 digit subscriber nr |
| Voinika | (0)4751 | + 4 digit subscriber nr |
| Vokil | (0)8546 | + 4 digit subscriber nr |
| Voynyagovo | (0)31393 | + 3 digit subscriber nr |
| Voyvodino | (0)51314 | + 3 digit subscriber nr |
| Voyvodinovo | (0)3101 | + 4 digit subscriber nr |
| Voyvodovo, Hask. | (0)3718 | + 4 digit subscriber nr |
| Vrabevo | (0)6954 | + 4 digit subscriber nr |
| Vrachantsi | (0)5784 | + 4 digit subscriber nr |
| Vrachesh | (0)7134 | + 4 digit subscriber nr |
| Vranyak | (0)91401 | + 3 digit subscriber nr |
| Vrattsa | (0)7923 | + 4 digit subscriber nr |
| Vrav | (0)9344 | + 4 digit subscriber nr |
| Yabalkovo, Hask. | (0)3937 | + 4 digit subscriber nr |
| Yablanitza | (0)6991 | + 4 digit subscriber nr |
| Yablanovo | (0)4587 | + 4 digit subscriber nr |
| Yagoda | (0)4322 | + 4 digit subscriber nr |
| Yagodina | (0)30419 | + 3 digit subscriber nr |
| Yagodovo, Mont. | (0)9524 | + 4 digit subscriber nr |
| Yagodovo, Plovd. | (0)3104 | + 4 digit subscriber nr |
| Yahinovo | (0)7032 | + 4 digit subscriber nr |
| Yakimovo | (0)9742 | + 4 digit subscriber nr |
| Yakoruda | (0)7442 | + 4 digit subscriber nr |
| Yambol | (0)46 | + 5/6 digit subscriber nr |
| Yamna | (0)7106 | + 4 digit subscriber nr |
| Yantra, Gabr. | (0)6724 | + 4 digit subscriber nr |
| Yantra, Velikotarn. | (0)6177 | + 4 digit subscriber nr |
| Yarlovo | (0)71221 | + 3 digit subscriber nr |
| Yasen, Plev. | (0)6491 | + 4 digit subscriber nr |
| Yasenkovo | (0)53434 | + 3 digit subscriber nr |
| Yasenovo, Starozag. | (0)4337 | + 4 digit subscriber nr |
| Yasna Polyana | (0)55044 | + 3 digit subscriber nr |
| Yastrebovo, Starozag. | (0)4102 | + 4 digit subscriber nr |
| Yavorets | (0)67392 | + 3 digit subscriber nr |
| Yavorovo | (0)41355 | + 3 digit subscriber nr |
| Yazdach | (0)41336 | + 3 digit subscriber nr |
| Yerusalimovo | (0)3758 | + 4 digit subscriber nr |
| Yoakim-Gruevo | (0)3148 | + 4 digit subscriber nr |
| Yoglav | (0)69241 | + 3 digit subscriber nr |
| Yonkovo | (0)8332 | + 4 digit subscriber nr |
| Yudelnik | (0)8132 | + 4 digit subscriber nr |
| Yulievo | (0)4339 | + 4 digit subscriber nr |
| Yuper | (0)8345 | + 4 digit subscriber nr |
| Yurukovo | (0)74495 | + 3 digit subscriber nr |
| Zabardo | (0)30517 | + 3 digit subscriber nr |
| Zafirovo | (0)8532 | + 4 digit subscriber nr |
| Zagore | (0)41277 | + 3 digit subscriber nr |
| Zagrazhden, Plev. | (0)6564 | + 4 digit subscriber nr |
| Zamfir | (0)9726 | + 4 digit subscriber nr |
| Zaritsa | (0)8583 | + 4 digit subscriber nr |
| Zarnevo | (0)5754 | + 4 digit subscriber nr |
| Zavet | (0)8342 | + 4 digit subscriber nr |
| Zavoy | (0)47192 | + 3 digit subscriber nr |
| Zaychar | (0)59405 | + 3 digit subscriber nr |
| Zelenikovo, Plovd. | (0)3194 | + 4 digit subscriber nr |
| Zemen | (0)7741 | + 4 digit subscriber nr |
| Zemlen | (0)41484 | + 3 digit subscriber nr |
| Zetyovo, Starozag. | (0)41357 | + 3 digit subscriber nr |
| Zgalevo | (0)6522 | + 4 digit subscriber nr |
| Zgorigrad | (0)9186 | + 4 digit subscriber nr |
| Zhalti Bryag | (0)3703 | + 4 digit subscriber nr |
| Zheravna | (0)4585 | + 4 digit subscriber nr |
| Zhitnitsa, Plovd. | (0)31703 | + 3 digit subscriber nr |
| Zhitnitsa, Varn. | (0)5128 | + 4 digit subscriber nr |
| Zimnitsa, Kazanl. | (0)4354 | + 4 digit subscriber nr |
| Zlataritza | (0)6153 | + 4 digit subscriber nr |
| Zlatitza | (0)728 | + 5 digit subscriber nr |
| Zlatna Niva | (0)53234 | + 3 digit subscriber nr |
| Zlatna Panega | (0)6992 | + 4 digit subscriber nr |
| Zlatograd | (0)3071 | + 4 digit subscriber nr |
| Zlatoklas | (0)8543 | + 4 digit subscriber nr |
| Zlatosel | (0)31997 | + 3 digit subscriber nr |
| Zmeitsa | (0)3043 | + 4 digit subscriber nr |
| Zmeyovo | (0)4124 | + 4 digit subscriber nr |
| Zvanartsi | (0)83466 | + 3 digit subscriber nr |
| Zvanichevo | (0)3521 | + 4 digit subscriber nr |