Quick Facts
Region: Europe
Full Name: Republic of Belarus
Capital City: Minsk
Language Spoken: Belarusian, Russian, other
Belarus Travel Insurance
Get travel insurance to Belarus from Direct Travel Insurance. We offer low cost and high quality travel insurance to Belarus and most of the world.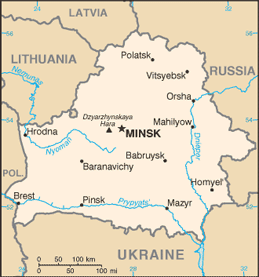 Geographic data
53 00 N, 28 00 E
Elevation Extremes
lowest point: Nyoman River 90 m highest point: Dzyarzhynskaya Hara 346 m
Land boundaries
total: 2,900 km border countries: Latvia 141 km, Lithuania 502 km, Poland 407 km, Russia 959 km, Ukraine 891 km
Natural hazards
NA
Natural resources
forests, peat deposits, small quantities of oil and natural gas, granite, dolomitic limestone, marl, chalk, sand, gravel, clay
Land use
arable land: 26.77% permanent crops: 0.6% other: 72.63% (2005)
Environmental current issues
soil pollution from pesticide use; southern part of the country contaminated with fallout from 1986 nuclear reactor accident at Chornobyl' in northern Ukraine
Climate
Temperate continental climate. Required clothing Medium- to heavyweights in winter. Waterproofs are advisable throughout the year.
Time difference
time difference: UTC+2 daylight saving time: +1hr, begins last Sunday in March; ends last Sunday in October
Population
10,293,011 (July 2006 est.)
Age structure
0-14 years: 15.7% (male 825,823/female 791,741) 15-64 years: 69.7% (male 3,490,442/female 3,682,950) 65 years and over: 14.6% (male 498,976/female 1,003,079) (2006 est.)
Median age
total: 37.2 years male: 34.5 years female: 39.9 years (2006 est.)
Population growth rate
-0.06% (2006 est.)
Birth rate
11.16 births/1,000 population (2006 est.)
Death rate
14.02 deaths/1,000 population (2006 est.)
Net migration rate
2.3 migrant(s)/1,000 population (2006 est.)
Sex ratio
at birth: 1.05 male(s)/female under 15 years: 1.04 male(s)/female 15-64 years: 0.95 male(s)/female 65 years and over: 0.5 male(s)/female total population: 0.88 male(s)/female (2006 est.)
Life expectancy at birth
total population: 69.08 years male: 63.47 years female: 74.98 years (2006 est.)
Total fertility rate
1.43 children born/woman (2006 est.)
Business Practices
Belorussian business is fairly formal in attitude and the climate makes the wearing of business suits tolerable for most of the year. Men adopt the standard dark suit, white shirt, and necktie. Don't be surprised if Belorussian male counterparts wear the same attire for an entire week of meetings. Belorussian women may dress in a more sexually provocative manner (even for office attire) than Western professional counterparts. Foreign female managers can avoid unwanted comments and attention by maintaining a conservative business dress standard. English is widely used in management circles and knowledge of German might also be useful. Cards should have a Russian translation on the back. Business transactions are likely to take quite a long time. Office hours: 0900-1800 Monday to Friday.
Crime
Criminal acts affecting foreigners are usually in the form of car thefts, vandalism, and muggings. Car thefts and vandalism are directed against cars popular with the newly rich. The most frequently stolen vehicles are Mercedes and BMW cars. Audis and high end four wheel drive vehicles such as Jeep Cherokees and Land Rovers have also been reported stolen. Car jackings or attempted car jackings by armed criminals have occurred. Owners of these vehicles should be especially alert to anyone following them to their homes or loitering near their residences when they are parking. In these types of situations do not stop. Instead, drive past your house and proceed to a police station or other public place and contact the police. Muggings occur in poorly lighted less traveled areas at night. . Jostling or bumping, thrusting a notice or flyer into the intended victim's face or crowding him, are some of the distraction techniques used to steal purses and wallets. In the metro, criminals time purse snatching or pick pocketing with the arrival or departure of trains in order to expedite their escape. Pick pocketing and purse snatching are prevalent at Brussels? three major train stations, the Gare du Nord (North Station), Gare Central (Central Station), and especially, the Gare du Midi (South Train Station). Purses have been stolen out of unlocked cars while the driver is stopped at a light. Purses, briefcases, cellular phones, backpacks, cameras, etc, have been stolen from parked cars when they are readily visible, or the owner has been observed placing them in the trunk. Purses have also been stolen from women out walking Minsk is a relatively quiet city for its size. There are numerous parks in and around the city for those who like to walk and exercise. The main shopping area is small and easy to get around on foot. When walking late in the evening, one should remember to be alert to his/her surroundings, walk in well-lit or heavily trafficked areas avoiding side streets and dark paths through parks if at all possible. The value of the currency is such that carrying large quantities of cash is unavoidable. Cash should be distributed around various pockets avoiding the use of backpacks or large handbags. The local police are largely inefficient due to extremely limited resources, inexperience, poor training and low morale. It is not unusual for the police to respond to crime scenes, especially outside the city of Minsk, several days after the fact. Police officers sometimes must use public transportation to respond to a crime scene, or wait until a vehicle is available. Police investigators have to face on an on going basis, hundreds of unsolved, open cases requiring their individual attention. The Militia, also called the GAI (transportation police), is well-known for being rude to foreigners, especially to women who drive vehicles and are notorious for shaking down motorists for a "fine" of a few thousand rubles for an imaginary traffic violation. The lack of adequate salaries in the militia generates poor morale and reports of drunken police officers on duty are quite common. The growth of organized crime in Belarus is becoming a serious economic, social and political concern. While the threat posed by organized crime in Belarus does not approach the levels in Russia, Ukraine or Lithuania, organized crime groups have infiltrated the economic structure and legitimate business. While the term "Mafia" is often used much too liberally in describing questionable business activities in Belarus, organized crime has in fact established a solid base of operations in the business community. Foreign firms interested in establishing business relationships or creating partnerships in Belarus should do so with great care. Businessmen should also not be surprised by the visit of two or more individuals who will offer "protection" for a particular amount of money. These extortion pitches are documented and real. Actual extortion attempts or threats for a piece of the "action" have been reported as well. Companies should be prepared to receive these individuals and not discount their intentions, nor their capabilities should threats be made. Ministry of internal affairs officials should be notified immediately, if any such threats should occur.
Hotels
While they do not meet western standards, Minsk (where many of the larger hotels are situated on Masherov Prospekt), Brest, Grodno, Mogilev and Vitebsk have 3- and 2-star hotels. There is a 1-star hotel in Pinsk.
Communications
Telephone IDD is available to all major cities, including Minsk 172 and Brest 162. Country code: 375. When dialing from abroad the 0 of the area code must not be omitted. International calls from Belarus must go through the operator. Fax/telex services are available in some larger hotels in Minsk such as the Yubileynaya and the Planeta. There are also public fax offices available although their reliability relates directly to the availability of international phone lines. Telegrams can be sent from hotels. Airmail to Western Europe takes a minimum of ten days. Larger hotels offer Poste Restante services.
Electricity
is 220V, 50Hz. Adaptors are recommended. Electricity 220V, 50Hz. Adaptors are recommended.
Plug Types
C,F
Food And Dining
In addition to Belarusian dishes, there is also a good selection of international and Russian specialties available. Things to know: Beer and vodka can be bought round the clock from all-night kiosks and food shops. Coffee is generally available with meals and in cafes, although standards vary. Some bars are open until the early hours of the morning, while some close around 2100.

National specialties:
? Belarusian borshch, a soup made with beetroot, is served hot with sour cream.
? Other excellent specialties are filet ? la Minsk and Minsk cutlet.
? Regional cooking is often based on potatoes with mushrooms and berries as favorite side dishes.
? Local dishes well worth trying are dracheny, a tasty potato dish with mushrooms, and draniki which is served with pickled berries.
? Mochanka is a thick soup mixed with lard accompanied by hot pancakes. National drinks:
? Beloveszhskaya Bitters are made from over 100 different herbs and have an interesting flavor.
? A favorite drink is chai (black tea).

Tipping:
10 per cent is usual. In some hotels in Minsk and other cities a 10 to 15 per cent service charge is added to the bill. Porters expect a tip of US$1-2.

Nightlife
A thriving cultural scene with opera, ballet, theater, circus and puppet theater can be found in Minsk. Brest also has a renowned puppet theater. Tickets can be bought in advance at underground stations or at the Central Theater Ticket Office (Skoriny 13; opening hours: Mon-Sat 0930-2000, Sun 1100-1700). Same-day tickets are only available at the venue in question. Minsk now has a reasonable selection of restaurants, some of which offer live music. There are also discos, music venues and bars in the city. Many clubs are open all night.
Entry departure requirements
Visa immigration information
Passports
Passport valid for six months after departure required by all, except for nationals of Mongolia and Serbia & Montenegro with a National Identity Card.
Visas
Required by all except the following:
(a) nationals of the CIS (except nationals of Turkmenistan, who do require visas);
(b) nationals of Cuba, Malaysia and Serbia & Montenegro, provided traveling for tourist purposes for up to 30 days;
(c) nationals of Bosnia & Herzegovina and Macedonia (Former Yugoslav Republic of), provided traveling for business purposes and holding an invitation letter;
(d) nationals of Mongolia, provided holding proof of tourist (return tickets), business or social (invitation to visit from Belize resident) visit;
(e) transit passengers continuing their journey to a third country provided holding valid onward or return documentation and not leaving the airport.
Note
All foreign nationals must hold medical insurance and register their passports at the local police station within three days of their arrival. If staying at a hotel, reception will do this automatically.
Types of visa and cost
Visitor and Business: US$69 (single-entry); US$124 (double-entry); US$179 (triple-entry); US$344 (multiple-entry). Tourist: US$33 (individual); US$17 per person (group). Transit: US$26 (single-entry); US$46 (double-entry); US$67 (triple entry); US$86 (multiple-entry); US$17 per person (group). Express visas are available for a higher fee.
Note
(a) Tourist visas are only available to those booking through a travel agency in Belarus or from a travel agency in another country which has an agreement with Belarus state travel and can supply state travel vouchers. (b) Children traveling on their parents' passports do not need a visa but must be accounted for on parents' visa application form.
Validity
Visitor and Business: 90 days (single-, double-, and triple-entry); one year (multiple-entry). Tourist: 30 days. Transit: 48 hours.
Application to
Nearest Consulate (or Consular section at Embassy). Visas can be obtained at Minsk-2 International Airport in exceptional cases, such as illness or death of a Belarusian relative, only provided the traveller is met at the airport by their official sponsor with the original letter of invitation or tourist vouchers. In this case, the fee may be higher.
Application requirements
(a) Valid passport with at least one blank page. (b) One application form. (c) One recent passport-size photo. (d) Fee (postal order or cheque only). (e) Stamped, self-addressed envelope for return of passport if applying by post, sent by recorded delivery. Tourist: (a)-(e) and, (f) Copy of tourist voucher. (g) Copy of the confirmation from a Belarusian travel agency, including registration number. Business: (a)-(e) and, (f) Letter of invitation from a registered Belarusian company, written on headed paper, including registration number, date of issue, official's signature, corporate seal and expected duration of stay. Visitor: (a)-(e) and, (f) Invitation from Belarusian resident endorsed by a local Belarusian Visa and Registration office. Transit: (a)-(e) and, (f) Visa for destination country, or, if no visa is required, copy of the ticket or itinerary.
Note
Nationals of EU countries, Andorra, Argentina, Bahrain, Brazil, Bulgaria, Canada, Chile, Croatia, Iceland, Japan, Korea (Rep), Kuwait, Liechtenstein, Norway, Oman, Qatar, Saudi Arabia, South Africa, Switzerland, United Arab Emirates and Uruguay no longer need to submit formal letters of invitation to obtain Visitor and Business visas.
Working days required
Five, or 48 hours for express processing.
HIV entry requirements
Test requires for anyone staying longer than 3 months
Departure tax
None
Embassies
Embassy of Belarus in the UK
6 Kensington Court, London W8 5DL, UK
Tel: (020) 7937 3288 or 7938 3677 (visa section).
Opening hours: Mon-Fri 0900-1800; 0930-1230 (visa section).
Embassy of Belarus in the USA
1619 New Hampshire Avenue, NW, Washington, DC 20009, USA
Tel: (202) 986 1604 or 1606 (consular section).
Website: www.belarusembassy.org
Travel Advice
Visitors should be aware of the potential for pickpockets and muggers and take necessary precautions. However, the majority of visits to Belarus are trouble-free. Please note that Belarus is governed by a strong Presidential system with security forces loyal to it. Historically, the authorities have shown little tolerance for their opposition counterparts. This has often been reflected in the heavy-handed use of security forces to disperse or intimidate opposition events. Any demonstrations or rallies should be avoided.
This advice is based on information provided by the Foreign, Commonwealth & Development Office in the UK. It is correct at time of publishing. As the situation can change rapidly, visitors are advised to contact the following organizations for the latest travel advice:
British Foreign, Commonwealth & Development Office
Website: www.gov.uk/foreign-travel-advice
US Department of State
Currency
Belarusian Rouble (BYR). Notes are in denominations of BYR100,000, 50,000, 20,000, 10,000, 5000, 1000, 500, 100, 50, 20 and 10.
Currency restrictions
The import and export of local currency is prohibited. All remaining local currency must be reconverted at the point of departure. The import of foreign currency is unlimited, subject to declaration. The export of foreign currency is limited to the amount declared on arrival. Foreign banknotes and coins must be exported within two months of import.
Banking hours
Mon-Fri 0900-1700.
Currency exchange
Foreign currency should only be exchanged at banks, money-changing kiosks and official bureaux de change, and all transactions must be recorded on the currency declaration form which is issued on arrival. It is wise to retain all exchange receipts. It is best to change money in US dollars, Euros or Russian roubles since travelers may encounter difficulties with other currencies. Most aspects of a tour, including accommodation, transport and meals, are paid before departure (through Belintourist or a recognized tour operator), so large amounts of spending money are not necessary. The US dollar or Euros are the preferred foreign currencies. Some foreign currencies may be hard to exchange.
Credit cards
Major European and international credit cards, including American Express, Cirrus, EC, Electron, EuroCard/MasterCard, Maestro and Visa are accepted in some larger hotels and at foreign currency shops and restaurants. Check with your credit or debit card company for details of merchant acceptability and other services which may be available. There are a number of ATMs in downtown Minsk.
Travellers cheques
May be accepted at larger banks, but cash is easier to exchange. To avoid exchange rate charges, traveller's cheques should be taken in US dollars or Euros.
| City/Region | City/Area code | Followed by |
| --- | --- | --- |
| Baranovichi | (8~0)163 | + 6 digit subscriber nr |
| Belunichi | (8~0)2232 | + 5 digit subscriber nr |
| Berestovitsa | (8~0)1511 | + 5 digit subscriber nr |
| Bereza | (8~0)1643 | + 5 digit subscriber nr |
| Berezino | (8~0)1715 | + 5 digit subscriber nr |
| Beshenkovichi | (8~0)2131 | + 5 digit subscriber nr |
| Bobruysk | (8~0)2251 | + 5 digit subscriber nr |
| Borisov | (8~0)1777 | + 5 digit subscriber nr |
| Bragin | (8~0)2344 | + 5 digit subscriber nr |
| Braslav | (8~0)2153 | + 5 digit subscriber nr |
| Brest | (8~0)162 | + 6 digit subscriber nr |
| Buda-Koshelevo | (8~0)2336 | + 5 digit subscriber nr |
| Buhov | (8~0)2231 | + 5 digit subscriber nr |
| Chashniki | (8~0)2133 | + 5 digit subscriber nr |
| Chausu | (8~0)2242 | + 5 digit subscriber nr |
| Chechersk | (8~0)2332 | + 5 digit subscriber nr |
| Cherikov | (8~0)2243 | + 5 digit subscriber nr |
| Cherven | (8~0)1714 | + 5 digit subscriber nr |
| Dobrush | (8~0)2333 | + 5 digit subscriber nr |
| Dokshitsu | (8~0)2157 | + 5 digit subscriber nr |
| Dribin | (8~0)2248 | + 5 digit subscriber nr |
| Drogichin | (8~0)1644 | + 5 digit subscriber nr |
| Dubrova | (8~0)2137 | + 5 digit subscriber nr |
| Dyatlovo | (8~0)1563 | + 5 digit subscriber nr |
| Dzerzhinsk | (8~0)1716 | + 5 digit subscriber nr |
| Elsk | (8~0)2354 | + 5 digit subscriber nr |
| Gancevichi | (8~0)1646 | + 5 digit subscriber nr |
| Glubokoye | (8~0)2156 | + 5 digit subscriber nr |
| Glusk | (8~0)223 | + 6 digit subscriber nr |
| Gomel | (8~0)2322 | + 5 digit subscriber nr |
| Gorki | (8~0)2233 | + 5 digit subscriber nr |
| Gorodok | (8~0)2139 | + 5 digit subscriber nr |
| Grodno | (8~0)1522 | + 5 digit subscriber nr |
| Hotimsk | (8~0)2247 | + 5 digit subscriber nr |
| Hoyniki | (8~0)2346 | + 5 digit subscriber nr |
| Ivanovo | (8~0)1652 | + 5 digit subscriber nr |
| Ivatsevichi | (8~0)1645 | + 5 digit subscriber nr |
| Ivye | (8~0)1595 | + 5 digit subscriber nr |
| Kalinkovichi | (8~0)2345 | + 5 digit subscriber nr |
| Kamenets | (8~0)1631 | + 5 digit subscriber nr |
| Kirovsk | (8~0)2237 | + 5 digit subscriber nr |
| Kletsk | (8~0)1793 | + 5 digit subscriber nr |
| Klichev | (8~0)2236 | + 5 digit subscriber nr |
| Klimovichi | (8~0)2244 | + 5 digit subscriber nr |
| Kobrin | (8~0)1642 | + 5 digit subscriber nr |
| Kopul | (8~0)1719 | + 5 digit subscriber nr |
| Korelichi | (8~0)1596 | + 5 digit subscriber nr |
| Korma | (8~0)2337 | + 5 digit subscriber nr |
| Kostyukovichi | (8~0)2245 | + 5 digit subscriber nr |
| Krasnopolye | (8~0)2238 | + 5 digit subscriber nr |
| Krichev | (8~0)2241 | + 5 digit subscriber nr |
| Krugloye | (8~0)2234 | + 5 digit subscriber nr |
| Krupki | (8~0)1796 | + 5 digit subscriber nr |
| Lelchitsu | (8~0)2356 | + 5 digit subscriber nr |
| Lepel | (8~0)2132 | + 5 digit subscriber nr |
| Lida | (8~0)1561 | + 5 digit subscriber nr |
| Liozno | (8~0)2138 | + 5 digit subscriber nr |
| Loev | (8~0)2347 | + 5 digit subscriber nr |
| Logoysk | (8~0)1774 | + 5 digit subscriber nr |
| Luninets | (8~0)1647 | + 5 digit subscriber nr |
| Lyahovichi | (8~0)1633 | + 5 digit subscriber nr |
| Lyuban | (8~0)1794 | + 5 digit subscriber nr |
| Malorita | (8~0)1651 | + 5 digit subscriber nr |
| Maryina Gorka | (8~0)1713 | + 5 digit subscriber nr |
| Minsk | (8~0)17 | + 7 digit subscriber nr |
| Mioru | (8~0)2152 | + 5 digit subscriber nr |
| Mogilev | (8~0)222 | + 6 digit subscriber nr |
| Molodechno | (8~0)1773 | + 5 digit subscriber nr |
| Mostu | (8~0)1515 | + 5 digit subscriber nr |
| Mozur | (8~0)2351 | + 5 digit subscriber nr |
| Mstislavl | (8~0)224 | + 6 digit subscriber nr |
| Myadel | (8~0)1797 | + 5 digit subscriber nr |
| Narovlya | (8~0)2355 | + 5 digit subscriber nr |
| Nesvizh | (8~0)177 | + 6 digit subscriber nr |
| Nobogrudok | (8~0)1597 | + 5 digit subscriber nr |
| Novopolotsk | (8~0)214 | + 6 digit subscriber nr |
| Oktyabrski | (8~0)2357 | + 5 digit subscriber nr |
| Orsha | (8~0)2161 | + 5 digit subscriber nr |
| Oshmyanu | (8~0)1593 | + 5 digit subscriber nr |
| Osipovichi | (8~0)2235 | + 5 digit subscriber nr |
| Ostrovets | (8~0)1591 | + 5 digit subscriber nr |
| Petrikov | (8~0)235 | + 6 digit subscriber nr |
| Pinsk | (8~0)165 | + 6 digit subscriber nr |
| Pleshchenitsu | (8~0)1779 | + 5 digit subscriber nr |
| Postavu | (8~0)2155 | + 5 digit subscriber nr |
| Pruzhanu | (8~0)1632 | + 5 digit subscriber nr |
| Rechitsa | (8~0)234 | + 6 digit subscriber nr |
| Rogachev | (8~0)2339 | + 5 digit subscriber nr |
| Rossonu | (8~0)2159 | + 5 digit subscriber nr |
| Senno | (8~0)2135 | + 5 digit subscriber nr |
| Sharkovshchina | (8~0)2154 | + 5 digit subscriber nr |
| Shchuchin | (8~0)1514 | + 5 digit subscriber nr |
| Shklov | (8~0)2239 | + 5 digit subscriber nr |
| Shumilino | (8~0)213 | + 6 digit subscriber nr |
| Slavgorod | (8~0)2246 | + 5 digit subscriber nr |
| Slonim | (8~0)1562 | + 5 digit subscriber nr |
| Slutsk | (8~0)1795 | + 5 digit subscriber nr |
| Smolevichi | (8~0)1776 | + 5 digit subscriber nr |
| Smorgon | (8~0)1592 | + 5 digit subscriber nr |
| Soligorsk | (8~0)171 | + 6 digit subscriber nr |
| Starye Dorogi | (8~0)1792 | + 5 digit subscriber nr |
| Stolbtsu | (8~0)1717 | + 5 digit subscriber nr |
| Stolin | (8~0)1655 | + 5 digit subscriber nr |
| Svetlogorsk | (8~0)2342 | + 5 digit subscriber nr |
| Svisloch | (8~0)1513 | + 5 digit subscriber nr |
| Tolochin | (8~0)2136 | + 5 digit subscriber nr |
| Ushachi | (8~0)2158 | + 5 digit subscriber nr |
| Uzda | (8~0)1718 | + 5 digit subscriber nr |
| Verhnedvinsk | (8~0)2151 | + 5 digit subscriber nr |
| Vetka | (8~0)233 | + 6 digit subscriber nr |
| Vileyka | (8~0)1771 | + 5 digit subscriber nr |
| Vitebsk | (8~0)212 | + 6 digit subscriber nr |
| Volkovusk | (8~0)1512 | + 5 digit subscriber nr |
| Volozhin | (8~0)1772 | + 5 digit subscriber nr |
| Voronovo | (8~0)1594 | + 5 digit subscriber nr |
| Zelva | (8~0)1564 | + 5 digit subscriber nr |
| Zhabinka | (8~0)1641 | + 5 digit subscriber nr |
| Zhitkovichi | (8~0)2353 | + 5 digit subscriber nr |
| Zhlobin | (8~0)2334 | + 5 digit subscriber nr |
| Zhodino | (8~0)1775 | + 5 digit subscriber nr |