Quick Facts
Region: Africa
Full Name: Republic of Botswana
Capital City: Gaborone
Language Spoken: Setswana 78.2%, Kalanga 7.9%, Sekgalagadi 2.8%, English 2.1% (official), other 8.6%, unspecified 0.4% (2001 census)
Botswana Travel Insurance
Get travel insurance to Botswana from Direct Travel Insurance. We offer low cost and high quality travel insurance to Botswana and most of the world.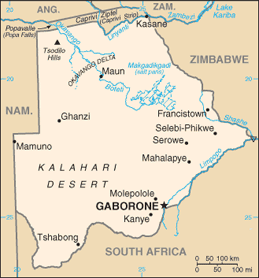 Geographic data
22 00 S, 24 00 E
Elevation Extremes
lowest point: junction of the Limpopo and Shashe Rivers 513 m highest point: Tsodilo Hills 1,489 m
Land boundaries
total: 4,013 km border countries: Namibia 1,360 km, South Africa 1,840 km, Zimbabwe 813 km
Natural hazards
periodic droughts; seasonal August winds blow from the west, carrying sand and dust across the country, which can obscure visibility
Natural resources
diamonds, copper, nickel, salt, soda ash, potash, coal, iron ore, silver
Land use
arable land: 0.65% permanent crops: 0.01% other: 99.34% (2005)
Environmental current issues
overgrazing; desertification; limited fresh water resources
Climate
Mainly temperate climate. Summer, between October and April, is very hot and combined with the rainy season. Dry and cooler weather exists between May and September with an average temperature of 25ºC (77º). Early mornings and evenings may be cold and frosty in winter. Annual rainfall decreases westwards and southwards.
Time difference
time difference: UTC+2
Population
1,639,833 note: estimates for this country explicitly take into account the effects of excess mortality due to AIDS; this can result in lower life expectancy, higher infant mortality and death rates, lower population and growth rates, and changes in the distribution of population by age and sex than would otherwise be expected (July 2006 est.)
Age structure
0-14 years: 38.3% (male 319,531/female 309,074) 15-64 years: 57.9% (male 460,692/female 488,577) 65 years and over: 3.8% (male 23,374/female 38,585) (2006 est.)
Median age
total: 19.4 years male: 18.8 years female: 20 years (2006 est.)
Population growth rate
-0.04% (2006 est.)
Birth rate
23.08 births/1,000 population (2006 est.)
Death rate
29.5 deaths/1,000 population (2006 est.)
Net migration rate
6.07 migrant(s)/1,000 population note: there is an increasing flow of Zimbabweans into South Africa and Botswana in search of better economic opportunities (2006 est.)
Sex ratio
at birth: 1.03 male(s)/female under 15 years: 1.03 male(s)/female 15-64 years: 0.94 male(s)/female 65 years and over: 0.61 male(s)/female total population: 0.96 male(s)/female (2006 est.)
Life expectancy at birth
total population: 33.74 years male: 33.9 years female: 33.56 years (2006 est.)
Total fertility rate
2.79 children born/woman (2006 est.)
Business Practices
Although friendly and well disposed toward foreigners, businesspeople and government employees tend to be more reserved and formal for the region. Women may wear business suits, although jackets will be uncomfortably hot during much of the year. Shirtsleeves and ties are appropriate for men for some business meetings during the hot summer months. However, suits should be worn during the short winter or in meetings with senior government officials or business leaders. The use of first names generally takes longer than in many countries, and it is a good idea to wait until your Botswana contact initiates the practice. Reconfirm your meeting 24 hours beforehand directly with the person you are to meet, if possible. Even carefully arranged meetings may sometimes start late. Business meetings may be interrupted by telephone conversations. Although odd for an American businessperson, these occurrences are not indications of a lack of respect or interest in your business offer.
Crime
This nation is one of the more stable and quieter places in all of Africa. The crime rate is not as great as in other nations with the possible exception of neighboring Namibia. Foreigners are welcome and relatively safe in this land, although it is always prudent to exercise solid security practices when in a strange location. The most common crime is opportunistic and non-violent, such as pickpocketing and theft. Among other items, thieves take jewelry, cellphones, wallets, and passports. Take common-sense precautions, such as staying aware of surroundings, distributing cash in different pockets and not wearing expensive jewelry or watches. Muggers often work in groups. Reported theft is mainly burglary of homes and hotel rooms, as well as break-ins targeting parked vehicles. Do not leave any valuables visible in a car, even when driving, and place handbags and other items under the seat or beneath passengers' feet to prevent "smash-and-grab" crimes. Use alarms for cars and residences. Car vandalism and theft is a concern. The use of handguns, once quite rare, is becoming more common as illegal arms are smuggled from South Africa. Carjacking is on the rise; stay particularly alert at gate entrances, where many attacks occur. Corruption is low. The police force, while professional, suffers from a lack of resources. Given delays on the police emergency number, travelers should carry their embassy's phone number and the police non-emergency number.
Hotels
Hotels in Botswana generally maintain a reasonable standard, particularly those in main centers in the east of the country. The largest number of hotels and motels are in or near Gaborone (the President, the Sun Hotel, the Grand Palm, the Cresta Lodge and the Cresta Gabarone being of international standard. Other hotels have fairly basic amenities.
Communications
Telephone IDD service is available to over 80 countries. The country code is 267 and the outgoing international code is 00. There are very few public phone boxes. The use of fax service is increasing.
Electricity
is 220-240 volts AC, 50Hz. 15- and 13-amp plug sockets are used. Electricity 220-240 volts AC, 50Hz. 15- and 13-amp plug sockets are in use.
Plug Types
D,G
Food And Dining
Restaurants and bars can be found in main towns, often within hotels. Millet and sorghum porridge constitutes much of the cuisine. Beef and goat are very popular meats. Most lodges and safari camps also have restaurants and licensed bars, although food is generally basic outside major hotels and restaurants. The standard of food in lodges and camps is generally very good. There is local beer and no real restrictions on alcohol.

National specialties:
? Morama (an underground tuber).
? The Kalahari truffle.
? The Mopane worm (boiled, cooked or deep-fried).
? Beans such as cow peas, ditloo and letlhodi, dried bean leaves, plus nuts like peanuts and groundnuts.
? Wild spinach, morogo is very tasty.
? Plenty of watermelons, plus other varieties of melon.
? Seswaa or Chotlho is a popular traditional meat dish cooked with only salt and water and served with pap, a soft maize meal.
? Variations upon bread meals, such as dumplings (matemekwane), flat cakes (diphaphatha) and fat cakes (magwinya). National drinks:
? Palm wine (which is extremely strong) and Kgadi (made from distilled sugar or fungus).
? Traditional beer such as khadi or bojalwa, which tastes a bit like apple cider.
? Homemade ginger beer is popular.
? Bush tea - or Rooibos - is a reddish caffeine-free tea that is soothing and delicious, although something of an acquired taste.

Tipping:
A discretionary 5 to 10 per cent. In many places, a service charge is automatically added. It is customary to tip the game guide and lodge staff while on safari.

Nightlife
Most people get up early in the morning, and nightlife is not very extensive. However, there are some bars and restaurants in Gaborone. The city also has a cinema. Maun has a handful of restaurants and a small cinema.
Entry departure requirements
Visa immigration information Passports Passports valid for at least six months required by all. Visas Required by all except the following for stays of up to 90 days: (a) nationals referred to in the chart above (except 1. nationals of Czech Republic, Estonia, Hungary, Latvia, Lithuania, Poland, Slovak Republic and Slovenia, who do need a visa); (b) nationals of Commonwealth countries (except nationals of Antigua & Barbuda, Bangladesh, Brunei, Cameroon, Dominica, Ghana, India, Kiribati, The Maldives, Nigeria, Pakistan, St Kitts & Nevis, St Lucia, St Vincent & the Grenadines, Sri Lanka, Tuvalu and Vanuatu who do need a visa); (c) nationals of Hong Kong (SAR), Iceland, Liechtenstein, Norway, San Marino, Serbia & Montenegro, Switzerland and Uruguay and Zimbabwe; (d) transit passengers provided continuing their journey by the same or first connecting aircraft and not leaving the airport. Types of visa and cost General Entry: US$103 (single- or multiple-entry). Validity Maximum of 90 days from the date of issue. Application to Consulate (or Consular Section at Embassy or High Commission); see General Info section. Application requirements (a) Two completed application forms. (b) Two recent color passport-size photos. (c) Passport valid for at least six months, with at least one blank page. (d) Fee (cash or postal order only). (e) Tourists must be able to produce evidence of their itinerary in Botswana. (f) Letter of invitation or letter of offer of employment if traveling on business. Working days required One to three. Temporary residence Anyone wishing to stay for more than 90 days should contact the Immigration and Passport Control Officer, PO Box 942, Gaborone.
HIV entry requirements
No Test required
Departure tax
None
Embassies
Botswana High Commission in the UK 6 Stratford Place, London W1C 1AY, UK Tel: (020) 7499 0031 or 7647 1000 or (09065) 508 954 (recorded visa information; calls cost ?1 per minute). Opening hours: Mon-Fri 0900-1300 and 1400-1700. Embassy of the Republic of Botswana in the USA 1531-33 New Hampshire Avenue, NW, Washington, DC 20036, USA Tel: (202) 244 4990. Website: http://www.botswanaembassy.org/ Travel Advice Most visits to Botswana are trouble-free but you should be aware of the global risk of indiscriminate international terrorist attacks, which could be against civilian targets, including places frequented by foreigners. This advice is based on information provided by the Foreign & Commonwealth Office in the UK. It is correct at time of publishing. As the situation can change rapidly, visitors are advised to contact the following organizations for the latest travel advice: British Foreign, Commonwealth & Development Office Website: www.gov.uk/foreign-travel-advice US Department of State Website: https://travel.state.gov/content/travel.html
Currency
Pula (P) = 100 thebe. Notes are in denominations of P100, 50, 20 and 10. Coins are in denominations of P5, 2 and 1, and 50, 25, 10 and 5 thebe. Various gold and silver coins were issued to mark the country's 10th anniversary of independence, and are still legal tender.
Currency restrictions
There are no restrictions on the import of local or foreign currencies, provided declared on arrival. Export of local currency is limited to P50 and foreign currencies up to amount declared on arrival.
Banking hours
Mon-Fri 0900-1530; Sat 0815-1045. Most banks work these core hours with occasional regional differences.
Currency exchange
Money should be exchanged in banks at market rates. There are four main commercial banks in the country (Barclays Bank of Botswana, First National Bank, Stanbic Bank Botswana and Standard Charted Bank) with branches in major towns and villages. Owing to limited facilities in small villages, it is advisable to change money at the airport or in major towns, where credit card cash advances may also be available. There are also Exchange Bureaus at major border posts.
Credit cards
American Express, Diners Club, MasterCard and Visa are widely accepted. Check with your credit or debit card company for details of merchant acceptability and other services which may be available.
Travellers cheques
To avoid additional exchange rate charges, travelers are advised to take traveller's cheques in US Dollars or Pounds Sterling. Traveller's cheques are accepted in large cities but with a high surcharge.
| City/Region | City/Area code | Followed by |
| --- | --- | --- |
| Barolong | 54 | + 5 digits |
| Francistown | 24 | + 5 digits |
| Gaborone | 3 | + 6 digits |
| Gantsi | 65 | + 5 digits |
| Jwaneng | 58 | + 5 digits |
| Kasane | 62 | + 5 digits |
| Letlhakane | 29 | + 5 digits |
| Mahalapye | 47 | + 5 digits |
| Maun | 68 | + 5 digits |
| Mochudi | 57 | + 5 digits |
| Molepolole | 59 | + 5 digits |
| Outer Gaborone | 31 | + 5 digits |
| Palapye | 49 | + 5 digits |
| Ramotswa | 53 | + 5 digits |
| Selebi-Phikwe | 26 | + 5 digits |
| Serowe | 46 | + 5 digits |