Quick Facts
Region: Middle East
Full Name: Kingdom of Bahrain
Capital City: Manama
Language Spoken: Arabic, English, Farsi, Urdu
Bahrain Travel Insurance
Get travel insurance to Bahrain from Direct Travel Insurance. We offer low cost and high quality travel insurance to Bahrain and most of the world.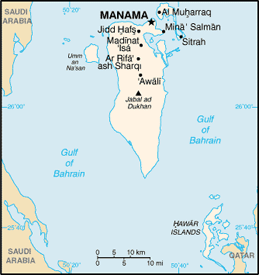 Geographic data
26 00 N, 50 33 E
Elevation Extremes
lowest point: Persian Gulf 0 m highest point: Jabal ad Dukhan 122 m
Land boundaries
0 km
Natural hazards
periodic droughts; dust storms
Natural resources
oil, associated and nonassociated natural gas, fish, pearls
Land use
arable land: 2.82% permanent crops: 5.63% other: 91.55% (2005)
Environmental current issues
desertification resulting from the degradation of limited arable land, periods of drought, and dust storms; coastal degradation (damage to coastlines, coral reefs, and sea vegetation) resulting from oil spills and other discharges from large tankers, oil refineries, and distribution stations; lack of freshwater resources, groundwater and seawater are the only sources for all water needs
Climate
June to October, hot and humid (42°C), December to April, mild (10°-20°C). December through to March can be quite cool. Rainfall is slight and occurs mainly in winter. Spring and Autumn are the most pleasant months. Required clothing Lightweight cottons and linens from spring to autumn, mediumweight clothes from November to March. Warmer clothes are necessary in winter and on cool evenings.
Time difference
time difference: UTC+3
Population
698,585 note: includes 235,108 non-nationals (July 2006 est.)
Age structure
0-14 years: 27.4% (male 96,567/female 94,650) 15-64 years: 69.1% (male 280,272/female 202,451) 65 years and over: 3.5% (male 12,753/female 11,892) (2006 est.)
Median age
total: 29.4 years male: 32.4 years female: 25.8 years (2006 est.)
Population growth rate
1.45% (2006 est.)
Birth rate
17.8 births/1,000 population (2006 est.)
Death rate
4.14 deaths/1,000 population (2006 est.)
Net migration rate
0.82 migrant(s)/1,000 population (2006 est.)
Sex ratio
at birth: 1.03 male(s)/female under 15 years: 1.02 male(s)/female 15-64 years: 1.38 male(s)/female 65 years and over: 1.07 male(s)/female total population: 1.26 male(s)/female (2006 est.)
Life expectancy at birth
total population: 74.45 years male: 71.97 years female: 77 years (2006 est.)
Total fertility rate
2.6 children born/woman (2006 est.)
Business Practices
Business meetings in Bahrain are formal by regional standards and suites, ties and conservative dresses (long-sleeve, ankle-length) should be worn. Personal contact, frequently renewed, is key to doing business successfully in Bahrain. Visiting businessmen should be prepared to spend a portion of any business call on socializing and on getting to know their counterparts, although in general the atmosphere here is more time-oriented and "businesslike" than in other countries of the region. Nearly everyone with whom a business traveler is likely to come into contact with speaks at least some English, and Bahraini government officials and businessmen are usually fluent in the language. Bahrain's weekend is officially Thursday and Friday, with most government offices operating Saturday through Wednesday while most private companies operate full days Saturday through Wednesday plus half-days on Thursday. (Employees of offshore financial institutions often follow a more Western workweek.) Customary office hours are shown below. Government offices: 0700-1415 Saturday to Wednesday. Commercial organizations: 0800-1530 or 0800-1300 and 1600-1930 Saturday to Wednesday or Thursday. Shops and supermarkets: 0830-1230 and 1530-1930 Saturday to Thursday. Markets and shops open Friday mornings. Commercial banks: 0730-1200 and some also 1530-1730 Saturday to Wednesday. 0730-1100 Thursday. (HSBC?s main branch in Adliya is open 7 days a week, from 7am ? 7pm).
Crime
The crime rate is low, and violent crime is rare. However, burglary, petty theft, and robberies do occur. Visitors should take the same security precautions as in any major city. Lock hotel room doors whether you are there or not, and store valuables in hotel room safes when they are available. Women should keep their purses firmly under their arms, and men should avoid keeping their wallets in their hip pockets while in the old market area (Souk). Travelers using local taxis should insist on the use of a meter since drivers may otherwise charge unexpectedly high fares. Although reports of assaults on woman are not common, female visitors should take care when travelling alone at night and are advised to use one of the reputable taxi companies. If possible, use ATMs only within bank or hotel lobbies. In 2006, reports emerged of a sophisticated scam at ATM machines. A ?skimmer? is mounted to the front of the normal ATM card slot that reads the ATM card number and transmits it wirelessly to the criminals sitting in a nearby car. At the same time, a wireless camera is disguised to look like a leaflet holder and is mounted in a position to view PIN entries. The thieves copy the cards and use the PIN numbers. Bahrain has a professional, well-trained police force, and visitors are encouraged to contact the police if problems are encountered.
Hotels
Bahrain has many first-class hotels catering for the business community, but there is little in the way of cheaper accommodation. Hotel accommodation ranges from 5-star comfort, to family run hotels and 1-star budget establishments. All hotels are equipped with reliable phone and fax service, and many hotels also provide news agency and business wire services.
Communications
Full Telephone IDD service is available. Country code: 973. Outgoing international code: 0. Bahrain Telecommunications Company (BATELCO) operates a Fax service from the Batelco Building on Government Avenue. Bahrain possesses one of the most modern international communications networks in the Gulf. A 24-hour Telex/telegram service is run by Cable and Wireless, Mercury House, Al-Khalifa Avenue, Manama, as well as at the airport. Airmail service to Europe takes three to four days. The main post office is at Manama. Efficient 1-day international courier services operate out of Bahrain.
Electricity
: Manama and other towns is 230 volts AC, single-phase and 400 volts, 3-phase; 50Hz. (Awali, 120 volts AC, 60Hz.) Plug fittings are normally the 13-amp pin type. Electricity 230 volts AC, 50Hz (Awali, 110 volts AC, 60Hz). Lamp fittings are of both the bayonet and screw types. Plug fittings are normally of the 13-amp pin type.
Plug Types
G
Food And Dining
There is a good selection of restaurants serving all kinds of food, including American, Arabic, Chinese, European, Indian, Japanese, Lebanese and Mexican. Arabic food is mainly spicy and strongly flavored. Lamb is the principal meat with chicken, turkey and duck. Salad and dips are common. Strong Arabic coffee and tea is also widely available. Things to know: The sale of alcohol is not encouraged, although it is available to non-Muslims in nightclubs, good restaurants and luxury hotels, except during Ramadan. Muslims in Bahrain are not allowed to drink alcohol at any age. Non-Muslims over the age of 18 are allowed to drink, but are not allowed to transport any alcohol and must drink their alcohol where they buy it. Even non-Muslim adults are forbidden to drink during Ramadan.

National specialties:
? Machbous is fish or meat served with rice.
? Muchammar is brown, sweet rice served with sugar or dates.
? Baba ghanoush is a delicious dinner of pureed garlic, aubergine, yogurt and sesame paste, usually served with vegetables or pita bread.
? Falafel is widely eaten.
? Shawarma is lamb or chicken carved from a rotating spit and wrapped in flat bread.
? Small fried potatoes are a popular accompaniment.
? Sambousan are crisp pastry cases filled with meat, cheese, sugar or nuts. National drinks:
? Arak (grape spirit flavored with aniseed).
? Beer is commonly drunk.
? Gahwa (coffee) often has cardamom and saffron added to it.

Tipping:
10 per cent is expected by taxi drivers and waiters, particularly when service is not included, and is normal practice. Airport porters expect 100 fils for each piece of luggage.

Nightlife
Restaurants, nightclubs and cinemas showing English and Arabic films can be found in the main towns.
Entry departure requirements
Restricted entry Holders of Israeli passports.
Visa immigration information
Passports
Valid passport for at least six months from date of departure required by all except the following:
(a) nationals of Kuwait, Oman, Qatar, Saudi Arabia and the United Arab Emirates holding a valid national ID card.
Visas
Required by all except the following:
(a) nationals of Kuwait, Oman, Qatar, Saudi Arabia and the United Arab Emirates;
(b) transit passengers continuing their journey by the first connecting flight, provided holding confirmed tickets and appropriate travel documents and remaining within the transit area.
Note
1. Nationals of EU countries (except nationals of Cyprus, the Czech Republic, Estonia, Hungary, Latvia, Lithuania, Malta, Poland, the Slovak Republic and Slovenia), Andorra, Australia, Brunei, Canada, Hong Kong, Iceland, Japan, Liechtenstein, Malaysia, Monaco, New Zealand, Norway, San Marino, Singapore, Switzerland, USA and the Vatican City may obtain visas on arrival at Bahrain International Airport or King Fahad Causeway holding valid passports and possibly return/onward tickets for tourist or business stays of up to two weeks. The fee is approximately US$13. If working for a media company (eg a newspaper or TV company) a special invitation from the Bahrain authorities is required.
Types of visa and cost
Tourist: US$34 (two-week, single-entry), renewable for two further weeks once in Bahrain, at the General Directorate of Immigration and Passports, Manama. Business: US$69 (four-week, multiple-entry), only available to British, Canadian and US nationals.
Validity
Three months from date of issue (Tourist); five years (Business).
Application to
Consulate (or Consular Section at Embassy); see Passport/Visa Information.
Note: (a) No Objection Certificates are obtainable through various hotels, travel agencies and other companies licensed to carry out tourist activities in Bahrain. Organized groups are charged a fee of BHD5 per person (approximately US$13). Non-British students must obtain and validate an NOC from a Bahraini resident (relative, friend or hotel spokesperson) and also submit a letter from university detailing the student status to accompany it. Long-term business visas should be arranged by the employing company in Bahrain. (b) Some visitors can now apply for an electronic visa in Bahrain, through the website www.evisa.gov.bh. This has the added benefit of being 24-hour and enabling secure online credit payment and multiple applications, if necessary.
Application requirements
Entry visa: (a) Valid passport. (b) One passport-size photo. (c) One completed application form. (d) One registered, self-addressed envelope and cheque for ?3 to cover return of passport if applying by post. (e) Fee, payable in cash or by company cheques only. (f) No Objection Certificate obtained by agent in Bahrain from the Ministry of Interior (only applies to certain nationals). Tourist: (a)-(e) and, (f) Letter stating the purpose and duration of the visit and the applicant's responsibility for all travel expenses. Business: (a)-(e) and, (f) Letter from the company stating the purpose and duration of of the visit and the applicant's responsibility for all travel expenses.
Working days required
Two.
HIV entry requirements
All foreign citizens (workers, families etc) applying for residence permits must submit to a locally performed medical exam, including HIV tests. Anyone who test positive is immediately deported
Departure tax
BHD3 (approximately US$8). Children under two years of age and transit passengers not leaving the airport are exempt.
Embassies
Embassy of the Kingdom of Bahrain in the UK
30 Belgrave Square, London SW1X 8QB, UK
Tel: (020) 7201 9170.
Website: www.bahrainembassy.co.uk
Opening hours: Mon-Fri 0900-1600; 0900-1200 (visa section).
Embassy of the Kingdom of Bahrain in the USA
3502 International Drive, NW, Washington, DC 20008, USA
Tel: (202) 342 1111.
Website: www.bahrainembassy.org
Travel Advice
Most visits to Bahrain are trouble-free but you should be aware of the global risk of indiscriminate international terrorist attacks, which could be against civilian targets, including places frequented by foreigners.
This advice is based on information provided by the Foreign, Commonwealth & Development Office in the UK. It is correct at time of publishing. As the situation can change rapidly, visitors are advised to contact the following organizations for the latest travel advice:
British Foreign, Commonwealth & Development Office
Tel: (0845) 850 2829.
Website: www.gov.uk/foreign-travel-advice
US Department of State
Currency
Dinar (BHD) = 1000 fils. Notes appear in denominations of BHD20, 10, 5, and 1, and 500 fils. Coins are in denominations of 100, 50, 25 and 10 fils.
Currency restrictions
There are no restrictions on the import or export of either local or foreign currency.
Banking hours
Sat-Wed 0730-1200 and 1530-1730; Thurs 0730-1100. Government offices, businesses and most offices are closed on Friday, which is a weekly holiday.
Currency exchange
Currency can be exchanged at the airport, at most hotels and in banks and bureaux de change. Rates are more preferential at the bureaux de change than at the airport or at hotels. ATMs are available in major cities.
Credit cards
American Express, Diners Club, MasterCard and Visa are accepted in hotels, major stores and restaurants. Smaller shops may prefer to deal in cash. Check with your credit or debit card company for details of merchant acceptability and other services which may be available.
Travellers cheques
To avoid additional exchange rate charges, travelers are advised to take traveller's cheques in US Dollars.
| City/Region | City/Area code | Followed by |
| --- | --- | --- |
| Manama | 17 | + 6 digits |