Quick Facts
Region: South America
Full Name: Federative Republic of Brazil
Capital City: Brasilia
Language Spoken: Portuguese (official), Spanish, English, French
Brazil Travel Insurance
Get travel insurance to Brazil from Direct Travel Insurance. We offer low cost and high quality travel insurance to Brazil and most of the world.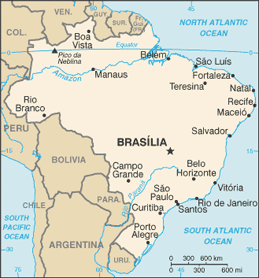 Geographic data
10 00 S, 55 00 W
Elevation Extremes
lowest point: Atlantic Ocean 0 m highest point: Pico da Neblina 3,014 m
Land boundaries
total: 16,885 km border countries: Argentina 1,261 km, Bolivia 3,423 km, Colombia 1,644 km, French Guiana 730.4 km, Guyana 1,606 km, Paraguay 1,365 km, Peru 2,995 km, Suriname 593 km, Uruguay 1,068 km, Venezuela 2,200 km
Natural hazards
recurring droughts in northeast; floods and occasional frost in south
Natural resources
bauxite, gold, iron ore, manganese, nickel, phosphates, platinum, tin, uranium, petroleum, hydropower, timber
Land use
arable land: 6.93% permanent crops: 0.89% other: 92.18% (2005)
Environmental current issues
deforestation in Amazon Basin destroys the habitat and endangers a multitude of plant and animal species indigenous to the area; there is a lucrative illegal wildlife trade; air and water pollution in Rio de Janeiro, Sao Paulo, and several other large cities; land degradation and water pollution caused by improper mining activities; wetland degradation; severe oil spills
Climate
Varies from arid scrubland in the interior to the impassable tropical rainforests of the northerly Amazon jungle and the tropical eastern coastal beaches. The south is more temperate. Rainy seasons occur from January to April in the north, April to July in the northeast and November to March in the Rio/São Paulo area. Required clothing Lightweight cottons and linens with waterproofing for the rainy season. Warm clothing is needed in the south during winter (June to July). Specialist clothing is needed for the Amazon region. Warm clothing is advised if visiting the southern regions in winter time. The sunlight is extremely bright and sunglasses are recommended.
Time difference
time difference: UTC-3 daylight saving time: +1hr, begins third Sunday in October; ends third Sunday in February note: Brazil is divided into four time zones, including one for the Fernando de Noronha islands
Population
188,078,227 note: Brazil conducted a census in August 2000, which reported a population of 169,799,170; that figure was about 3.3% lower than projections by the US Census Bureau, and is close to the implied underenumeration of 4.6% for the 1991 census; estimates for this country explicitly take into account the effects of excess mortality due to AIDS; this can result in lower life expectancy, higher infant mortality and death rates, lower population and growth rates, and changes in the distribution of population by age and sex than would otherwise be expected (July 2006 est.)
Age structure
0-14 years: 25.8% (male 24,687,656/female 23,742,998) 15-64 years: 68.1% (male 63,548,331/female 64,617,539) 65 years and over: 6.1% (male 4,712,675/female 6,769,028) (2006 est.)
Median age
total: 28.2 years male: 27.5 years female: 29 years (2006 est.)
Population growth rate
1.04% (2006 est.)
Birth rate
16.56 births/1,000 population (2006 est.)
Death rate
6.17 deaths/1,000 population (2006 est.)
Net migration rate
-0.03 migrant(s)/1,000 population (2006 est.)
Sex ratio
at birth: 1.05 male(s)/female under 15 years: 1.04 male(s)/female 15-64 years: 0.98 male(s)/female 65 years and over: 0.7 male(s)/female total population: 0.98 male(s)/female (2006 est.)
Life expectancy at birth
total population: 71.97 years male: 68.02 years female: 76.12 years (2006 est.)
Total fertility rate
1.91 children born/woman (2006 est.)
Business Practices
Business suits are worn when meeting senior officials and local heads of business, for semi-formal social functions and in exclusive restaurants and clubs. Exchange of calling cards is usual, as is the expectation of dealing with someone of equal business status. The pace of negotiation is slow and is based largely on personal contact. It is rare for important business deals to be concluded by telephone or letter. Many Brazilian executives do not react favorably to quick and infrequent visits by foreign sales representatives. They prefer a more continuous working relationship. The Brazilian buyer is also concerned with after-sales service provided by the exporter. The slower pace of business negotiation does not mean that Brazilians are less knowledgeable in terms of industrial technology or modern business practices. In fact, one should be as prepared technically when making a call on a Sao Paulo firm as on a Chicago firm. In addition, a businessperson should learn as much about the Brazilian economic and commercial environment as possible before doing business. While office hours in Brazil are generally 8:30 a.m. to 5:30 p.m., decision-makers begin work later in the morning and stay later in the evening. The best times for calls on a Brazilian executive are between 10 a.m. and noon, and 3 to 5 p.m., although this is less the case for Sao Paulo where appointments are common throughout most of the day. Lunch is usually two hours. It is customary in Brazil to drink coffee during a business appointment. While many Brazilians may speak English, they may wish to conduct business in Portuguese. The non-Portuguese speaking executive may need an interpreter on more than 50 percent of business calls. Correspondence and product literature should be in Portuguese, and English is preferred as a substitute over Spanish. Specifications and other technical data should be in the metric system. Office hours are usually 0830-1730 Monday to Friday.
Crime
The incidence of crime against tourists tends to be greater in areas surrounding hotels, discotheques, bars, nightclubs and other similar establishments that cater to visitors, especially at dusk and during the evening hours. Incidents of theft on city buses are frequent and such transportation should be avoided. Several cities have established specialized tourist police units to patrol areas frequented by tourists. Kidnapping for ransom has become a profitable industry in Rio and Sao Paulo in recent years. Many cases are not reported to the authorities because the relatives of victims lack faith in the ability of the police to handle such matters safely and effectively and prefer simply to pay the ransom demanded. Most victims continue to be wealthy Brazilian businesspeople and their family members rather than expatriate visitors or residents. The following common-sense practices will help visitors and residents from becoming victim of crime: Avoid going out alone if possible; walk with a companion wherever possible. Avoid unlit areas, especially alleys and parks. Do not resist an armed thief. If robbed, never pursue on foot. Do not carry large sums of money; carry only what you need. Do not wear ostentatious necklaces or other jewelry of real or apparent value. Do not overburden yourself with bundles. When riding in a cab, keep all the doors locked and the windows rolled up to within two inches of the top frame. Rio de Janeiro Rio de Janeiro continues to experience a high incidence of crime. Visitors are particularly vulnerable to street thefts and robberies in areas adjacent to all the main beaches in Rio. All incidents should be reported to the tourist police, who can be reached at 511-5112. Sao Paulo All areas of Sao Paulo have a high rate of armed robbery of pedestrians and motorists at stoplights. At airports, hotel lobbies, bus stations, and other public places there is much pickpocketing, and the theft of carry-on luggage, briefcases, and laptop computers. Travelers should closely protect these items. Travelers should "dress down" when outside and avoid carrying valuables, especially any jewelry or expensive watches. Sao Paulo police resorted more to guns to fight crime in 1999 and ended up killing the highest number of people in seven years in Brazil's most violent region, a police watchdog in early 2000. Police in Sao Paulo state killed 664 people in 1999, 26 percent more than in 1998 and the most since 1992. According to statistics released by Sao Paulo's Civil Police Force on in January 2006, there is, on average, one bank robbery per day in the city's metropolitan area alone. The statistics indicate that there were 418 cases reported in 2004, while the number of incidents in 2005 rose by 8 percent, to 449. Meanwhile, 25 incidents have been reported this year-to-date. The heavily-armed gangs conducting the robberies usually consist of between five and 10 people. Brasilia A number of violent assaults have been registered in the hotel district in Brasilia in recent years, and it is advisable for visitors staying there to take taxis to their destination when going out at night. Certain areas of the Lago Sul district in Brasilia, where many expatriates live, are prone to being targeted for burglary.
Hotels
Accommodation varies according to region. First-class accommodation is, by and large, restricted to the cities of the south. Rio de Janeiro and S?o Paulo have many modern hotels, ranging from the very expensive deluxe hotels to moderately priced hotels. It is vital to pre-book well in advance for the Carnival (which takes place annually in February). Bras?lia has a small number of good hotels. Most tourists visit Bras?lia by air from Rio or S?o Paulo for a day trip, or make a single-night stopover. Bahia (Salvador) has small number of good hotels, some moderately priced hotels, several demi-pensions. The Bahia carnival takes place after Christmas (from December to March).
Communications
Full IDD telephone services are available for the whole country and abroad. The country code is 55. The outgoing international code is 00. Embratel is one of the main telecommunication services in Brazil (website: www.embratel.com.br). Offices of Embratel are in Rio de Janeiro and Sao Paulo. Rio?s airport provides 24-hour telecommunication services. Public telephones take telephone cards (cartoes telefonicos) most of which cost R$20. Some older telephones may require metal discs (fichas), which can be obtained from cash desks or newspaper kiosks. International calls from Brazil are generally expensive. Mobile analogue and digital telephone networks exist. There are many different network providers, including TCO (website: www.tco.com.br) and Americel (website: www.americel.com.br). GSM 1800 networks have recently been established. Main operators include Oi (website: www.oi.com.br) and TIM Brazil (website: www.timbrasil.br). Hotels generally provide Internet access to guests. Internet cafes can be found in main towns and cities, and there are often Internet booths at airports. In smaller towns, public access is sometimes available at post offices. Post offices are open 0900-1300 Monday to Friday and 0900-1300 Saturday.
Electricity
services vary from city to city. In Brasilia and Recife it is 220 volts AC; Rio de Janeiro and Sao Paulo 127 volts AC or 220 volts in larger hotels. Plugs are of the two-pin type. Better hotels provide 110-volt and 220-volt outlets, transformers and adaptors. Electricity Bras?lia and Recife, 220 volts AC; Rio de Janeiro and S?o Paulo, 127 volts AC or 220 volts in larger hotels. Plugs are of the two-pin type. Most hotels provide 110-volt and 220-volt outlets, transformers and adaptors.
Plug Types
A,B,C,I
Food And Dining
Many regional variations are very different from North American and European food. One example is Bahian cookery, derived from days when slaves had to cook scraps and anything that could be caught locally, together with coconut milk and palm oil.

National specialties:
? Vatap? (shrimps, fish oil, coconut milk, bread and rice).
? Sarapatel (liver, heart, tomatoes, peppers, onion and gravy).
? Caruru (shrimps, okra, onions and peppers). From Rio Grande do Sul comes:
? Churrasco (barbecued beef, tomato and onion sauce).
? Galleto al primo canto (pieces of cockerel cooked on the spit with white wine and oil). From Amazonas comes:
? Pato no tucupi (duck in rich wild green herb sauce).
? Tacac? (thick yellow soup with shrimps and garlic).
? In the northeast, dried salted meat and beans are the staple diet.
? In Rio de Janeiro, a favorite dish is feijoada (thick stew of black beans, chunks of beef, pork, sausage, chops, pigs? ears and tails on white rice, boiled green vegetables and orange slices). Types of establishment vary. If resident in a hotel, drinks and meals can often be charged to an account. National drinks: All kinds of alcoholic drink are manufactured and available and there are no licensing hours or restrictions on drinking.
? Beer is particularly good and draught beer is called chopp.
? The local liqueur is cacha?a, a type of rum popular with locals, but not so much with visitors.
? This phenomenally strong spirit is often mixed with sugar, crushed ice and limes to make caipirinha, a refreshing if intoxicating cocktail, and the Brazilian national drink.
? Southern Brazilian wine is of a high quality.
? Brazilian coffee is served in espresso-sized cups and is extremely popular. Some bars have waiters and table service.

Tipping:
10 to 15 per cent is usual for most services not included on the bill.

Nightlife
The best entertainment occurs in Rio de Janeiro and S?o Paulo. In Rio, the major clubs do not present their main acts until after midnight, and the daily paper gives current information; small clubs (boites) provide nightly entertainment throughout the city. S?o Paulo nightlife is more sophisticated, with greater choice; the shows tend to start earlier.
Entry departure requirements
Restricted entry Passports issued by Bhutan, Central African Republic and Chinese Taipei are not recognized by the Brazilian Government. Holders of such passports should hold a Laissez-Passer issued by the Brazilian authorities. For further details, check with the nearest Consulate or Consular section of Embassy.
Visa immigration information
Passports
Passports valid for at least six months from date of entry required by all except nationals of Argentina, Chile, Paraguay and Uruguay arriving in Brazil directly from their own countries and holding a national identity card.
Note
Persons under 18 years of age, when not accompanied by both parents, must have a birth certificate (an original or authenticated photocopy). This must be in English, French, Portuguese or Spanish, otherwise an official translation must be presented as well. When traveling alone or with one parent, a declaration from the absent parent(s) must be presented authorizing the journey and giving the name and address of the person in Brazil who will be responsible for the minor. In the case of divorced or deceased parents, papers attesting to full custody must be presented.
Visas
Required by all except the following:
(a) nationals mentioned under passport exemptions above;
(b) 1. nationals of EU countries (except nationals of Cyprus, Czech Republic, Estonia, Latvia, Lithuania, Malta and Slovak Republic who do require a visa) for tourist and business stays of up to 90 days;
(c) nationals of Andorra, Argentina, The Bahamas, Barbados, Bolivia, Chile, Colombia, Costa Rica, Ecuador, Iceland, Israel, Korea (Rep), Liechtenstein, Malaysia, Mexico, Monaco, Morocco, Namibia, New Zealand, Norway, Panama, Paraguay, Peru, The Philippines, San Marino, South Africa, Sovereign Order of Malta, Surinam, Switzerland, Thailand, Trinidad & Tobago, Tunisia, Turkey, Uruguay, Vatican City and Venezuela for tourist and business stays of up to 90 days (except nationals of Andorra, The Bahamas, Barbados, Bolivia, Liechtenstein, Malaysia, Namibia, Panama, Trinidad & Tobago and Venezuela who must always obtain a visa if traveling to Brazil for business purposes);
(d) transit passengers continuing their journey to a third country by the same or first connecting flight, provided holding onward documentation and not leaving the airport.
Note
All travelers must be in possession of onward or return tickets and sufficient funds to cover their stay.
Types of visa and cost
Tourist: cost varies according to nationality. Generally, it is around US$27 Other prices, based on reciprocity, are US$48 (for nationals of Australia); US$55 (for nationals of Canada and Nigeria); free, but US$137 processing fee (for nationals of the USA); US$76 processing fee for nationals of the United Arab Emirates; US$69 (for nationals of Japan and the Russian Federation). Business: US$82 (US$21 processing fee for nationals of the United Arab Emirates; US$137 processing fee for nationals of the USA). Transit: contact the Consulate for details of cost. Postal applications, and those via courier or travel agent, cost an additional US$14 Some countries must pay an extra US$34
Validity
90 days from date of issue. Tourist visas can be used for multiple entry within the period of validity. For an extension of the (up to three months) tourist visa, apply in Brazil, although this is always at the discretion of the Brazilian Immigration Authorities.
Application to
Consulate (or Consular section at the Embassy); see Passport/Visa Information.
Application requirements
Tourist/Transit: (a) Valid passport for at least six months. (b) Application form. (c) Proof of sufficient funds to cover duration of stay or return or onward tickets (photocopy, or letter from carrier giving flight details). (d) One passport-size photo. (e) Certificate of vaccination, if necessary; enquire at Embassy/Consulate. (f) Fee (paid at any post office in the UK with a Giro slip obtainable from the Consulate). (g) If participating in conferences, seminars, an artistic or sports event, a letter from the organizers is required. Business: (a)-(g) and, (h) Letter from applicant?s company stating the purpose and duration of the visit and contacts to be maintained by the applicant.
Note
For postal applications, travelers should also submit a special delivery or guaranteed delivery, self-addressed, pre-paid envelope and a written request stating nationality, status and length of residence in the UK (where applicable) and validity of the British visa (where applicable).
Working days required
Depends on nationality. A minimum of three working days in person, 10 by post, 15 for those who require consultation.
Temporary residence
Apply to Consulate (or Consular section at Embassy).
HIV entry requirements
No Test Required
Departure tax
None
Embassies
Brazilian Embassy in the UK
32 Green Street, London W1K 7AT, UK
Tel: (020) 7399 9000.
Website: www.brazil.org.uk
Opening hours: Mon-Fri 1000-1300 and 1400-1700.
Brazilian Consulate General in the UK
6 St Alban?s Street, London SW1Y 4SQ, UK
Tel: (020) 7930 9055.
Website: www.brazil.org.uk
Opening hours: Mon-Fri 1000-1600 (personal callers).
Brazilian Embassy in the USA
3006 Massachusetts Avenue, NW, Washington, DC 20008, USA
Tel: (202) 238 2700 or 2828 (consular section).
Consulate General of Brazil in the USA
1185 Avenue of the Americas, 21st Floor, New York, NY 10036, USA
Tel: (917) 777 7777.
Travel Advice
Most visits to Brazil are trouble-free. However, levels of crime and violence are high, especially in major cities. Travelers should be vigilant, especially when going out after dark.
Travelers should be aware of the global risk of indiscriminate terrorist attacks which could be against civilian targets, including places frequented by foreigners.
Drug trafficking and use is a growing problem, with severe penalties in Brazil.
This advice is based on information provided by the Foreign, Commonwealth & Development Office in the UK. It is correct at time of publishing. As the situation can change rapidly, visitors are advised to contact the following organizations for the latest travel advice:
British Foreign, Commonwealth & Development Office
Website: www.gov.uk/foreign-travel-advice
US Department of State
Website: http://travel.state.gov/travel
Currency
Real/Reais (R$) = 100 centavos. Notes are in denominations of R$100, 50, 10, 5 and 1. Coins are in denominations of R$1, and 50, 25, 10, 5, 2 and 1 centavos.
Currency restrictions
The import and export of local currency is unlimited, provided amounts over R$10,000 are declared.
Banking hours
Mon-Fri 1000-1600.
Currency exchange
All banks, cambios, travel agencies and authorized hotels exchange recognized traveller's cheques and foreign currency. There is an extensive network of ATMs around the country. The US Dollar is the most widely accepted foreign currency.
Credit cards
Most major international credit cards are accepted, though not universally. Check with your credit or debit card company for details of merchant acceptability and other services which may be available.
Travellers cheques
Exchangeable at hotels, banks and tourist agencies. Tourists cannot exchange US traveller's cheques for US banknotes but they may, however, benefit from a 15 per cent discount when paying hotel or restaurant bills in foreign currency or traveller's cheques. To avoid additional exchange rate charges, travelers are advised to take traveller's cheques in US Dollars.
| City/Region | City/Area code | Followed by |
| --- | --- | --- |
| Amazonas | (0)92 | + 8 digit subscriber nr |
| Bahia | (0)71 | + 8 digit subscriber nr |
| Bauru | (0)14 | + 8 digit subscriber nr |
| Belo Horizonte | (0)31 | + 8/9 digit subscriber nr |
| Boa Vista | (0)95 | + 8 digit subscriber nr |
| Bras?lia | (0)61 | + 8 digit subscriber nr |
| Campinas | (0)19 | + 8 digit subscriber nr |
| Campo Grande | (0)67 | + 8 digit subscriber nr |
| Campos dos Goytacazes | (0)22 | + 8 digit subscriber nr |
| Caxias do Sul | (0)54 | + 8 digit subscriber nr |
| Ceara | (0)85 | + 8 digit subscriber nr |
| Curitiba | (0)41 | + 8 digit subscriber nr |
| Divin?polis | (0)37 | + 8 digit subscriber nr |
| Espirito Santo | (0)28 | + 8 digit subscriber nr |
| Feira de Santana | (0)75 | + 8 digit subscriber nr |
| Florian?polis | (0)48 | + 8 digit subscriber nr |
| Foz do Igua?u | (0)45 | + 8 digit subscriber nr |
| Goi?nia | (0)62 | + 8 digit subscriber nr |
| Governador Valadares | (0)33 | + 8 digit subscriber nr |
| Ilh?us | (0)73 | + 8 digit subscriber nr |
| Imperatriz | (0)99 | + 8 digit subscriber nr |
| Jacobina | (0)74 | + 8 digit subscriber nr |
| Joinville | (0)47 | + 8 digit subscriber nr |
| Juiz de Fora | (0)32 | + 8 digit subscriber nr |
| Lages | (0)49 | + 8 digit subscriber nr |
| Londrina | (0)43 | + 8 digit subscriber nr |
| Macap? | (0)96 | + 8 digit subscriber nr |
| Macei? | (0)82 | + 8 digit subscriber nr |
| Marab? | (0)94 | + 8 digit subscriber nr |
| Maranhao | (0)98 | + 8 digit subscriber nr |
| Maring? | (0)44 | + 8 digit subscriber nr |
| Mato Grosso | (0)65 | + 8 digit subscriber nr |
| Montes Claros | (0)38 | + 8 digit subscriber nr |
| Natal | (0)84 | + 8 digit subscriber nr |
| Para | (0)93 | + 8 digit subscriber nr |
| Para?ba | (0)83 | + 8 digit subscriber nr |
| Pato Branco | (0)46 | + 8 digit subscriber nr |
| Pelotas | (0)53 | + 8 digit subscriber nr |
| Pernambuco | (0)81 | + 8 digit subscriber nr |
| Picos | (0)89 | + 8 digit subscriber nr |
| Ponta Grossa | (0)42 | + 8 digit subscriber nr |
| Porto Alegre | (0)51 | + 8 digit subscriber nr |
| Porto Velho | (0)69 | + 8 digit subscriber nr |
| Presidente Prudente | (0)18 | + 8 digit subscriber nr |
| Ribeir?o Preto | (0)16 | + 8 digit subscriber nr |
| Rio Branco | (0)68 | + 8 digit subscriber nr |
| Rio de Janeiro | (0)21 | + 8/10 digit subscriber nr |
| Rio Verde | (0)64 | + 8 digit subscriber nr |
| Rondon?polis | (0)66 | + 8 digit subscriber nr |
| Salgueiro | (0)87 | + 8 digit subscriber nr |
| Santa Maria | (0)55 | + 8 digit subscriber nr |
| Santos | (0)13 | + 8 digit subscriber nr |
| S?o Jos? do Rio Preto | (0)17 | + 8 digit subscriber nr |
| S?o Paulo | (0)11 | + 8/10 digit subscriber nr |
| Sergipe | (0)79 | + 8 digit subscriber nr |
| Sobral | (0)88 | + 8 digit subscriber nr |
| Sorocaba | (0)15 | + 8 digit subscriber nr |
| Taubat? | (0)12 | + 8 digit subscriber nr |
| Tef? | (0)97 | + 8 digit subscriber nr |
| Teresina | (0)86 | + 8 digit subscriber nr |
| Tocantins | (0)63 | + 8 digit subscriber nr |
| Uberl?ndia | (0)34 | + 8 digit subscriber nr |
| Varginha | (0)35 | + 8 digit subscriber nr |
| Vit?ria | (0)27 | + 8 digit subscriber nr |
| Vit?ria da Conquista | (0)77 | + 8 digit subscriber nr |
| Volta Redonda | (0)24 | + 8 digit subscriber nr |