Quick Facts
Region: North & Central America & the Caribbean
Full Name: Bermuda
Capital City: Hamilton
Language Spoken: English (official), Portuguese
Bermuda Travel Insurance
Get travel insurance to Bermuda from Direct Travel Insurance. We offer low cost and high quality travel insurance to Bermuda and most of the world.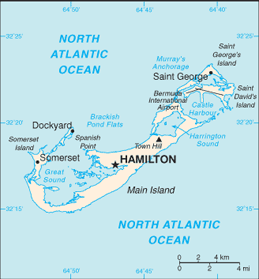 Geographic data
32 20 N, 64 45 W
Elevation Extremes
lowest point: Atlantic Ocean 0 m highest point: Town Hill 76 m
Land boundaries
0 km
Natural hazards
hurricanes (June to November)
Natural resources
limestone, pleasant climate fostering tourism
Land use
arable land: 20% permanent crops: 0% other: 80% (55% developed, 45% rural/open space) (2005)
Environmental current issues
sustainable development
Climate
Sub-tropical, with no wet season. The Gulf Stream which flows between Bermuda and the North American continent keeps the climate temperate. Change of seasons comes during mid-November to mid-December and from late March through to April when spring or summer weather may occur and visitors should be prepared for both. Showers may be heavy at times but the skies usually clear quickly. Summer temperatures prevail from May to mid-November with the warmest weather in July, August and September ? this period is occasionally followed by high winds. Visitors should note that such high winds between June 1 and November 30 can (albeit rarely) turn into hurricanes and tropical storms. Since Bermuda is a small target, most storms brush by and only bring elevated surf. There are exceptions, however - the most recent being \'Fabian\', a direct hit on 5 September 2003.\nRequired clothing\nLightweight cottons and linens. Light waterproofs or umbrellas are advisable and warmer clothes for cooler months.
Time difference
time difference: UTC-4 daylight saving time: +1hr, begins first Sunday in April; ends last Sunday in October
Population
65,773 (July 2006 est.)
Age structure
0-14 years: 18.6% (male 6,146/female 6,098) 15-64 years: 69.2% (male 22,562/female 22,954) 65 years and over: 12.2% (male 3,479/female 4,534) (2006 est.)
Median age
total: 40.2 years male: 39.3 years female: 41 years (2006 est.)
Population growth rate
0.61% (2006 est.)
Birth rate
11.4 births/1,000 population (2006 est.)
Death rate
7.74 deaths/1,000 population (2006 est.)
Net migration rate
2.4 migrant(s)/1,000 population (2006 est.)
Sex ratio
at birth: 1.02 male(s)/female under 15 years: 1.01 male(s)/female 15-64 years: 0.98 male(s)/female 65 years and over: 0.77 male(s)/female total population: 0.96 male(s)/female (2006 est.)
Life expectancy at birth
total population: 77.96 years male: 75.85 years female: 80.1 years (2006 est.)
Total fertility rate
1.89 children born/woman (2006 est.)
Business Practices
Business meetings in Bermuda tend to be formal by regional standards with lightweight suits or shirt and tie are acceptable. Calling cards and occasionally letters of introduction are used. Office hours are usually 0900-1700 Monday to Friday.
Crime
Bermuda has a moderate crime rate driven in part by drugs. Confrontational crime is rare. Serious incidents, including use of weapons, do occur, although the use of firearms remains rare. The murder rate is extremely low. The most-recorded crime, as shown in police records, is breaking and entering. There have been incidents of sexual assault. Chemical mace and pepper spray are illegal in Bermuda and it would be an offense for you to use it to defend yourself, even if attacked. Mace and pepper spray have been made illegal specifically to stop offenders from having access to it and from using it against their intended victims. Examples of common crimes include theft of unattended baggage and items from rental motorbikes, purse snatchings (often by thieves riding motorbikes), muggings, and thefts from hotel rooms. Valuables left in hotel rooms (occupied and unoccupied) or left unattended in public areas are vulnerable to theft. There are regular reports of thefts of money, valuables, and passports from hotels and guest-houses; keep hotel windows and doors locked at all times. Check-forging is also a significant crime. Avoid writing checks, but also guard all credit-card information closely. Particular caution should be exercised after dark, especially just after the bars close. Stick to well-lit parts of the island and avoid the quieter, dark streets. Outside the major urban areas there are few footpaths or street lighting. Possession or importation of even small quantities of drugs attracts severe penalties; ensure that no one has access to your luggage. The police force is professional and helpful. The emergency number is 911.
Hotels
Hotels in Bermuda are all of a high standard and a number of international and business class hotels can be found.
Communications
Telephone IDD service is available. The country code is 441 and the outgoing international code is 011. The Bermuda Telephone Company operates the internal telephone system. Bermuda numbers dialed from within Bermuda should be prefixed with the last two digits of the country code (29 or 23) but there are no conventional area codes. Fax services are available from many hotels and offices.
Electricity
is at 110 volts AC, 60Hz Using American (flat) 2-pin plugs. Electricity 110 volts AC, 60Hz. American (flat) two-pin plugs are standard.
Plug Types
A,B
Food And Dining
There is a vast variety of restaurants, cafes, bars and taverns to suit all pockets. Service will vary although generally table service can be expected. Hotel cooking is usually international with some Bermudan specialties.

National specialties:
? Bermuda lobster (in season from September to mid-April).
? Mussel pie.
? Conch stew.
? Cassava pie.
? Wahoo steak.
? Hoppin' John (black-eyed peas and rice).
? Fish chowder laced with sherry, peppers, rum and shark.
? Other seafoods include rockfish, red snapper, guinea chick (shiny lobster) and yellowtail.
? Peculiar to Bermuda is the Bermuda onion. Other fine home-grown products include pawpaw and strawberries in January and February, and a variety of local citrus fruit.
? Traditional Sunday breakfast is codfish and potatoes, which are served with red sauce, avocado and banana, while desserts include sweet potato pudding, bay grape jelly and loquat jam. National drinks:
? National drinks and cocktails have Golsing's Bermuda Black Seal rum as a base, and have colorful names such as Dark and Stormy (traditional local drink) and the famous Rum Swizzle.
? British, European and US beer is available.

Tipping:
When not included in the bill, 15 per cent generally for most services. Hotels and guest houses add a set amount per person in lieu of tips to the bill.

Nightlife
Most hotels offer a variety of entertainment. Dancing, barbecues, nightclubs and discos are all available. There are also island cruises such as the Hawkins Island Don't Stop the Carnival Party, which enables exclusive access to Hawkins Island (it is accessible only by boat) for entertainment - even the locals attend. Local music is a mixture of Calypso and Latin American, and steel band music is very popular. All the latest listings can be found in Preview Bermuda and This Week in Bermuda.
Entry departure requirements
Note Before entering Bermuda, it is essential to be in possession of either a return or onward ticket to a country to which one has a legal right of entry. Anyone arriving in Bermuda and intending to return to their own country via another one which requires a visa must obtain such a visa before arrival in Bermuda. Visitors are advised to check details with the British Overseas Territories Visa Section (see Passport/Visa Information). Restricted entry Admission will be refused to travelers intending to immigrate from Bermuda to the USA. Those who intend to visit the USA must possess an onward ticket to a country beyond the USA and the necessary documents to enter that country.
Visa immigration information
Passports
Passport valid for six months after date of entry into Bermuda required by all except:
1. nationals of Canada and the USA with an original birth certificate and official photo ID.
Visas
Required by all except the following:
(a) nationals of countries referred to in the chart above, and of their overseas territories, except nationals of the Slovak Republic and Slovenia, who do need a visa;
(b) citizens of Commonwealth countries (except nationals of Ghana, Jamaica, Nigeria, Pakistan and Sri Lanka who do need a visa);
(c) nationals of Andorra, Angola, Argentina, Benin, Bhutan, Bolivia, Brazil, Burkina Faso, Burundi, Cape Verde, Central African Republic, Chad, Chile, Colombia, Comoro Islands, Congo (Dem Rep), Congo (Rep), Costa Rica, Cote d'Ivoire, Dominican Republic, East Timor, Ecuador, El Salvador, Equatorial Guinea, Eritrea, Ethiopia, Gabon, Guatemala, Guinea, Guinea-Bissau, Honduras, Iceland, Indonesia, Israel, Korea (Rep), Laos, Libya, Liechtenstein, Madagascar, Mali, Mexico, Micronesia (Federated States of), Monaco, Mynamar, Nepal, Nicaragua, Niger, Norway, Panama, Paraguay, Peru, The Phillippines, Puerto Rico, Rwanda, San Marino, S?o Tom? e Principe, Senegal, Sudan, Surinam, Switzerland, Taiwan (China), Thailand, Togo, Turkey, Uruguay, Vatican City, Venezuela and Zimbabwe.
Note
(a) Visa-controlled nationals who have the right to reside in the United States (Permanent Resident), Canada (Permanent Resident) or the United Kingdom (no limit on stay in the United Kingdom), and are in possession of proof of such status and a valid passport, do not require Bermuda entry visas. (b) Transit passengers from countries mentioned above must continue to a third country within five hours by the same aircraft, hold confirmed onward tickets and documentation and not leave the airport.
Types of visa and cost
Tourist: US$48
Validity
The permitted length of stay is initially three months. For extensions, permission should be sought from the immigration authorities in Bermuda (see address below).
Application to
Visa Section at UK Passport Office; see Passport/Visa Information.
Application requirements
(a) Valid passport with two blank pages. (b) One application form. (c) Proof of onward or return ticket. (d) Fee payable in cash.
Working days required
Four weeks. Processing by post may take longer.
Temporary residence
Persons intending to take up residence and/or employment will require prior authorization from the Department of Immigration, Government Administration Building, 30 Parliament Street, Hamilton HM 12, Bermuda (tel: 295 5151 and/or ext 1378; fax: 295 4115).
HIV entry requirements
No Test Required
Departure tax
A tax of BD$25 is included in air tickets. Children under two years and passengers in immediate transit are exempt.
Embassies
Bermuda is a British Dependent Territory, and is represented abroad by British Embassies ? see United Kingdom section.
The UK Passport Service
London Passport Office, Globe House, 89 Ecclestone Square, London SW1V 1PN, UK
Tel: (0870) 521 0410 (24-hour national advice line) or (020) 7901 2150 (visa enquiries for British Overseas Territories).
Website: https://www.gov.uk/browse/abroad/passports
Opening hours: Mon-Fri 0730-1900; Sat 0900-1600.
Personal callers for visas should go to the agency window in the collection room of the London office.

Most visits to Bermuda are trouble-free but you should be aware of the global risk of indiscriminate international terrorist attacks, which could be against civilian targets, including places frequented by foreigners.
This advice is based on information provided by the Foreign, Commonwealth & Development Office in the UK. It is correct at time of publishing. As the situation can change rapidly, visitors are advised to contact the following organizations for the latest travel advice:
British Foreign, Commonwealth & Development Office
Website: www.gov.uk/foreign-travel-advice
US Department of State
Currency
Bermuda Dollar (BMD; symbol BD$) = 100 cents. Notes are in denominations of BD$100, 50, 20, 10, 5 and 2. Coins are in denominations of BD$1, and 25, 10, 5 and 1 cents. Note The Bermuda Dollar is at par with the US Dollar.
Currency restrictions
There is no limit to the import of local or foreign currency, provided declared on arrival. Unless especially authorized, the export of local currency is limited to BD$250. There is no limit to the export of foreign currency. A police officer may seize and detain any cash which is being imported into or exported from Bermuda if the officer has reasonable grounds for suspecting that it directly or indirectly represents any person's proceeds of criminal conduct or is intended by any person for use in any criminal conduct.
Banking hours
This ranges between Mon-Fri 0900-1630, with one bank having additional hours of Sat 1000-1500.
Currency exchange
US Dollars are generally accepted at parity. It is illegal to exchange money other than at authorized banks or bureaux de change.
Credit cards
American Express, MasterCard and Visa are accepted at most large hotels, shops and restaurants. Check with your credit or debit card company for details of merchant acceptability and other services that may be available.
Travellers cheques
US Dollar cheques are widely accepted. To avoid additional exchange rate charges, travelers are advised to take traveller's cheques in US Dollars.
| City/Region | City/Area code | Followed by |
| --- | --- | --- |
| Bermuda | (1+)441 | + 7 digit subscriber nr |