Quick Facts
Region: North & Central America & the Caribbean
Full Name: Barbados
Capital City: Bridgetown
Language Spoken: English
Barbados Travel Insurance
Get travel insurance to Barbados from Direct Travel Insurance. We offer low cost and high quality travel insurance to Barbados and most of the world.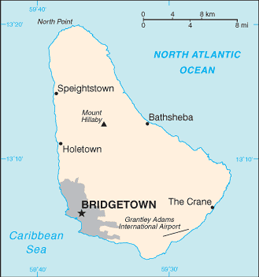 Geographic data
13 10 N, 59 32 W
Elevation Extremes
lowest point: Atlantic Ocean 0 m highest point: Mount Hillaby 336 m
Land boundaries
0 km
Natural hazards
infrequent hurricanes; periodic landslides
Natural resources
petroleum, fish, natural gas
Land use
arable land: 37.21% permanent crops: 2.33% other: 60.46% (2005)
Environmental current issues
pollution of coastal waters from waste disposal by ships; soil erosion; illegal solid waste disposal threatens contamination of aquifers
Climate
The balmy, tropical climate is cooled by constant sea breezes but is still sunnier and drier than the other islands. The dry season is from December to June; during the so-called wet season (July to November), some brief rain showers are likely. Average sunshine hours per day are eight to 10 from November to March and eight to nine from April to October. Tropical storms and hurricanes may occur between June and November. Required clothing Lightweight cottons are advised; beachwear is not worn in towns.
Time difference
time difference: UTC-4
Population
279,912 (July 2006 est.)
Age structure
0-14 years: 20.1% (male 28,160/female 28,039) 15-64 years: 71.1% (male 97,755/female 101,223) 65 years and over: 8.8% (male 9,508/female 15,227) (2006 est.)
Median age
total: 34.6 years male: 33.4 years female: 35.6 years (2006 est.)
Population growth rate
0.37% (2006 est.)
Birth rate
12.71 births/1,000 population (2006 est.)
Death rate
8.67 deaths/1,000 population (2006 est.)
Net migration rate
-0.31 migrant(s)/1,000 population (2006 est.)
Sex ratio
at birth: 1.01 male(s)/female under 15 years: 1 male(s)/female 15-64 years: 0.97 male(s)/female 65 years and over: 0.62 male(s)/female total population: 0.94 male(s)/female (2006 est.)
Life expectancy at birth
total population: 72.79 years male: 70.79 years female: 74.82 years (2006 est.)
Total fertility rate
1.65 children born/woman (2006 est.)
Business Practices
For men, suit and tie is the normal business attire for non?Barbadians; Barbadian men sometimes wear a "shirt?jack," which is akin to a safari?type short?sleeved jacket with matching trousers. For women, a long? or short?sleeved suit, or a dress, is appropriate. Business hours are generally from 8:00 am ? 4:30 PM. Luncheon meetings are common, but breakfast meetings are not. Business appointments are generally required, and punctuality in business affairs is appreciated.
Crime
Although security and personal safety are generally not a problem, do not be complacent. Cases of robbery, personal attacks on tourists and other crimes do occur. The main type of incident for which travelers require consular assistance is for lost and stolen passports. Maintain the same level of personal security awareness as in any European or North American country. Avoid isolated areas, including beaches, after dark. Do not carry large amounts of cash or jewellery. Valuables and travel documents should be left, where possible, in safety deposit boxes and hotel safes.
Hotels
Accommodation includes uncompromising luxury and many first-class hotels. Generally the luxury hotels are in the West, while the medium-priced can be found along the southwest coast. The East Coast, due to its exposure to the trade winds and wild Atlantic Ocean has only a small number of hotels and guesthouses. However, it is this area that is chosen by the Bajans for their own holidays. Hotel prices are more expensive in the winter than in the summer. High season is between December 16 to April 15, the low season runs for the remainder of the year. Most hotels have air-conditioning; many have swimming pools and housekeeping apartments. Most rates are for room only.
Communications
Telephone IDD service is available to some towns. The country code is 1 809 and the outgoing international code is 011. Hotels have telephones available to both residents and non-residents. Most business offices and hotels have facsimile machines; travelers can generally use hotels, machines on a fee basis. Barbados External Telecommunications Ltd. (BET) has a service whereby that firm can receive facsimile messages at no fee to the addressee, but the senders pay to send faxes. Incoming facsimile messages should have the addressee's name clearly marked, and sent to the following fax number: 246/429?4854. Various secretarial service firms will also send facsimile messages for a fee. Post office hours: 0800-1700 Monday to Friday at Bridgetown main office; other branches are open 0730-1200 and 1300-1500 Monday, 0800-1200 and 1300-1515 Tuesday to Friday.
Electricity
is 110 volts AC, 50Hz. American-style 2-pin plugs are in use Electricity 110-115 volts AC, 50Hz. American-style two-pin plugs are in use.
Plug Types
A,B
Food And Dining
There are many restaurants offering both international and traditional Bajan cuisine at a variety of prices. Things to know: An exchange ?Dine Around? system is operated between some hotels of the same class and guests can eat at other hotels for no extra cost. There are numerous bars which emulate the British pub and serve genuine British bitter and stout.

National specialties:
? Flying fish.
? Lobster.
? Crane chubb.
? The sea urchin (oursin or sea egg).
? Other specialties include sweet potatoes, plantains, breadfruit, yams and such fruits as avocados, pears, soursops, pawpaws, bananas, figs and coconuts. National drinks:
? All types of rum-based cocktails, rum punch, planters punch, pina coladas and sangria.
? The two most famous rums are Cockspur?s Five Star and, for the connoisseur, Mount Gay (the oldest rum blend on the island).
? The local beer is Banks.

Tipping:
In restaurants or nightclubs, tips are usually 10 to 15 per cent. Porters? tips are at the customer?s discretion.

Nightlife
Nightclubs, discos and bars provide entertainment including limbo dancing, fire-eaters, steel bands and dance bands. There is a small cover charge. As in all Caribbean countries, swinging nightspots tend to come and go with seasons. Coastal boat trips with live entertainment are very popular; most sail twice daily and run buffets, bars and live music. Calypso and reggae will always be in the air, ready to inject the night air with that lively West Indian ambience. Dinner shows are always well attended. The Harbour Lights Extravaganza Dinner Show offers a truly tropical evening of dancing, with a barbeque serving food and free drinks until 0300 (website: www.harborlightsbarbados.com/beach_extravaganza.htm). The Bajan Roots & Rhythms at the Plantation Theater is highly interactive with a party atmosphere but family-friendly, dishing up a traditional buffet for those who have exhausted themselves dancing (website: http://theplantation.bb/).
Entry departure requirements
Visa immigration information
Passports
Passport valid for duration of intended stay required by all.
Visas
Tourist visas are required by all except the following:
(a) 1. nationals of EU countries for stays of up to six months (nationals of the Czech Republic, Estonia, Hungary, Latvia, Lithuania, Poland, Portugal, Slovak Republic and Slovenia for stays of up to 28 days);
(b) 2. nationals of Commonwealth countries for stays of up to six months (some nationals may be permitted visa-free for differing amounts - see other visa-exemption regulations below), except nationals of Cameroon, India, Mozambique, Namibia, Nauru, Pakistan and Papua New Guinea who do need a visa;
(c) 3. nationals of Brazil, Iceland, Israel, Liechtenstein, Mali, Mauritania, Norway, San Marino, Switzerland, Tunisia, Turkey, Turks & Caicos Islands, USA and Zimbabwe for stays of up to six months;
(d) nationals of Turkey for stays of up to three months;
(e) 4. nationals of Argentina, Chile, Colombia, Guyana, Japan, Korea (Rep) and Uruguay for stays of up to 90 days;
(f) nationals of Costa Rica for stays of up to 30 days;
(g) nationals of CIS countries for stays of up to 28 days;
(h) nationals of Albania, Bulgaria, Croatia, Cuba, Macedonia (Former Yugoslav Republic of), Mexico, Nicaragua, Panama, Peru, Romania, Surinam and Venezuela for stays of up to 28 days;
(i) transit passengers with valid passport and not leaving the airport but leaving by the same aircraft or transit passengers leaving for onward destination within 48 hours, provided holding confirmed tickets and other documents for the next destination.
Types of visa and cost
Tourist: US$31 (single-entry); US$38 (multiple-entry).
Validity
Three months from date of issue.
Application to
Consulate (or Consular Section at Embassy or High Commission); see Passort/Visa Information.
Application requirements
(a) One application form. (b) One passport-size photo. (c) Valid passport. (d) Evidence of return or onward flight. (e) Company letter where required. (f) Fee; payable by cash or postal order. (g) Valid visa, if required, to onward/returning country. (h) Special delivery, addressed envelope for postal applications.
Working days required
Two (in person and by post).
Temporary residence
Enquire at the Immigration Office in Barbados.
HIV entry requirements
No Test Required
Departure tax
B$25 for all departures. Passengers in transit who will be remaining in Barbados for less than 24 hours and children aged under 12 are exempt.
Embassies
Barbados High Commission in the UK
1 Great Russell Street, London WC1B 3ND, UK
Tel: (020) 7631 4975.
Website: www.foreign.gov.bb
Opening hours: Mon-Fri 0930-1730 (general enquiries); 1000-1600 (visa section).
Embassy of Barbados in the USA
2144 Wyoming Avenue, NW, Washington, DC 20008, USA
Tel: (202) 939 9200.
Website: www.barbados.org
Travel Advice
Most visits to Barbados are trouble-free but you should be aware of the global risk of indiscriminate international terrorist attacks, which could be against civilian targets, including places frequented by foreigners.
This advice is based on information provided by the Foreign, Commonwealth & Development Office in the UK. It is correct at time of publishing. As the situation can change rapidly, visitors are advised to contact the following organizations for the latest travel advice:
British Foreign, Commonwealth & Development Office
Website: www.gov.uk/foreign-travel-advice
US Department of State
Currency
Barbados Dollar (BBD; symbol B$) = 100 cents. Notes are in denominations of B$100, 50, 20, 10, 5 and 2. Coins are in denominations of B$1, and 25, 10, 5 and 1 cents. Note The Barbados Dollar is tied to the US Dollar.
Currency restrictions
The import of local currency is unlimited, subject to declaration. The export of local currency is prohibited. The import and export of foreign currency is limited to the amount declared on arrival.
Banking hours
Generally Mon-Thurs 0800-1500, Fri 0800-1700.
Currency exchange
The best exchange rates are available at commercial banks. The island is served by the Barbados National Bank and a range of at least six international banks, each with a main office in Bridgetown and further branches in Hastings, Holetown, Speightstown and Worthing. ATMs are available.
Credit cards
American Express, Barclaycard, Carte Blanche, Diners Club, Eurocard, MasterCard and Visa are accepted in the resorts, but cash is preferred for customs duty payment. Discover Card may be used in certain places. Check with your credit or debit card company for details of merchant acceptability and other services which may be available.
Travellers cheques
Accepted by all banks and most hotels. To avoid additional exchange rate charges, travelers are advised to take traveller's cheques in US Dollars or Pounds Sterling.
| City/Region | City/Area code | Followed by |
| --- | --- | --- |
| Barbados | (1+)246 | + 7 digit subscriber nr |