Quick Facts
Region: Asia & Oceania
Full Name: People's Republic of Bangladesh
Capital City: Dhaka
Language Spoken: Bangla (official, also known as Bengali), English
Bangladesh Travel Insurance
Get travel insurance to Bangladesh from Direct Travel Insurance. We offer low cost and high quality travel insurance to Bangladesh and most of the world.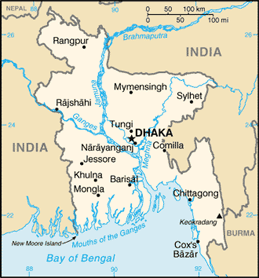 Geographic data
24 00 N, 90 00 E
Elevation Extremes
lowest point: Indian Ocean 0 m highest point: Keokradong 1,230 m
Land boundaries
total: 4,246 km border countries: Burma 193 km, India 4,053 km
Natural hazards
droughts, cyclones; much of the country routinely inundated during the summer monsoon season
Natural resources
natural gas, arable land, timber, coal
Land use
arable land: 55.39% permanent crops: 3.08% other: 41.53% (2005)
Environmental current issues
many people are landless and forced to live on and cultivate flood-prone land; water-borne diseases prevalent in surface water; water pollution, especially of fishing areas, results from the use of commercial pesticides; ground water contaminated by naturally occurring arsenic; intermittent water shortages because of falling water tables in the northern and central parts of the country; soil degradation and erosion; deforestation; severe overpopulation
Climate
Very hot, tropical climate with a monsoon season from April to October when temperatures are highest; rainfall averages over 2540mm. The cool season is between November and March. The country is prone to widespread flooding and is also a high-risk earthquake zone. Required clothing Lightweight cottons and linens throughout the year. Warmer clothes are needed in the evenings during the cool season. Waterproofs are necessary during the monsoon season.
Time difference
time difference: UTC+6
Population
147,365,352 (July 2006 est.)
Age structure
0-14 years: 32.9% (male 24,957,997/female 23,533,894) 15-64 years: 63.6% (male 47,862,774/female 45,917,674) 65 years and over: 3.5% (male 2,731,578/female 2,361,435) (2006 est.)
Median age
total: 22.2 years male: 22.2 years female: 22.2 years (2006 est.)
Population growth rate
2.09% (2006 est.)
Birth rate
29.8 births/1,000 population (2006 est.)
Death rate
8.27 deaths/1,000 population (2006 est.)
Net migration rate
-0.68 migrant(s)/1,000 population (2006 est.)
Sex ratio
at birth: 1.06 male(s)/female under 15 years: 1.06 male(s)/female 15-64 years: 1.04 male(s)/female 65 years and over: 1.16 male(s)/female total population: 1.05 male(s)/female (2006 est.)
Life expectancy at birth
total population: 62.46 years male: 62.47 years female: 62.45 years (2006 est.)
Total fertility rate
3.11 children born/woman (2006 est.)
Business Practices
Bangladeshi business executives are usually very courteous, and try to make their foreign guests feel at ease. Men and women do not usually shake hands with each other, and may avoid doing so with a visitor of the opposite sex. Foreign visitors often find that hosting meals for their Bangladeshi agents or business contacts helps to smooth business negotiations. Visitors may also be invited to share meals as guests of their Bangladeshi hosts Holidays/Work Week Bangladesh observes Friday-Saturday weekend. Business hours are 9:00-17:00. Banks observe the same hours as the BDG, while industry has a 48-hour week. Muslim religious holidays vary with appearance of the moon (they move ahead approximately 11 days every year).
Crime
Armed robbery, pickpocketing, and purse snatching are very real threats day or night, including in areas frequented by foreigners. There have been incidents, notably in Gulshan and Banani, where resident Westerners, familiar with local conditions, have been robbed at gunpoint. Do not wear jewelry in the street. Pickpockets and scam artists are commonplace and are a particular problem in Dhaka's Motijheel commercial district and the Purana Paltan business area. Guests should place all valuables in hotel safe deposit boxes. Thieves often work in pairs on motorcycles or 3-wheeled "baby taxis". Passengers using rickshaws and "baby taxis" or in taxis are particularly vulnerable, especially at night. Avoid using public transport, especially if traveling alone. If you need to, you can book taxis by telephone (in Dhaka), but you should exercise caution. Abduction of children and businessmen for ransom is increasing, although this does not appear to be particularly directed at foreigners. Do not accept assistance from strangers who seem eager to help with directions, as they may then demand payment for services. Local law enforcement authorities are particularly alert and responsive to criminal activity in the areas where foreigners reside. Uniformed police are visible throughout the diplomatic enclave. However, their capability to respond quickly or effectively to an emergency situation is limited. The police lack mobile units, do not have adequate communication capability, and weapons are antiquated. Very few officers speak English. Foreigners in trouble are best served contacting their embassies. Officials sometimes abuse their authority; you should be accompanied when visiting police stations. With regard to the Bangladeshi populace, the police are frequently accused of a wide range of human rights violations, of failing to prevent human rights abuses, of breaking a number of laws and of taking bribes. Amnesty International has highlighted the police as major perpetrators of torture, including of children. Deaths in police custody are high. Deaths in custody and in crossfire incidents have risen significantly in the past few months with the formation of the Rapid Action Battalion (RAB), responsible for the deaths of more than 100 people since its formation in July 2004.
Hotels
Two international class hotels are located in Dhaka, the Dhaka Sheraton and the Sonargaon Pan Pacific Hotel. A more moderately priced but older hotel, the Hotel Purbani, is also used by business visitors to Dhaka. In Chittagong, business visitors usually stay at the Hotel Agrabad. For longer stays, guest-house accommodations are available in upper-class neighborhoods in Dhaka and Chittagong. The Bangladesh Parjatan Corporation manages several modern hotels throughout the country. Bills normally must be paid in hard currency or with traveler's checks. Restaurants in Dhaka and Chittagong serve mainly local (Bengali) and other Asian cuisines. Continental food is available at Dhaka's internationally operated hotels. The main components of local food are boiled rice and fish, or curry of mutton, beef, or chicken. Vegetables and lentils are also popular. There is no effective system of health inspection of restaurants.
Communications
The country code is 880 and the outgoing international code is 00. Telex, telephone, fax, Internet e-mail and airmail postal services are available for business correspondence. Most international telephone calls must be booked through an operator, usually after some delay, however limited telephone IDD service is available. Collect telephone calls or toll-free calls cannot be made from most areas of Bangladesh, but cellular phone service is available in Dhaka and Chittagong. Express Mail Service (EMS) is available to the major cities. International courier services, including Airborne, DHL, Federal Express, TNT Skypack, and United Parcel Service, operate to and from Bangladesh. There are fax facilities at the Sheraton and Sonargaon hotels in Dhaka and services are now widely available in all the large towns. Post boxes are blue for airmail and red for surface mail.
Electricity
is a 220/240 volts AC, 60Hz. Plugs are of the British 5- and 15-amp, 2- or 3-pin (round) type. Electricity 220/240 volts AC, 50Hz. Plugs are of the British 5- and 15-amp, two- or three-pin (round) type.
Plug Types
C,D,G,K
Food And Dining
There are plenty of good restaurants in Dhaka and main towns around the country. Western food can be found in most hotels and in some large restaurants. Things to know: Alcoholic drink is expensive and strict Muslim customs severely limit availability and drinking times, although leading hotels have bars which will serve alcohol. National specialties
? Curries such as korma, bhuna, masala gosht, kashmiri and tikka.
? Dishes are usually served with rice, naan or paratha (griddle-fried flat breads).
? Kebabs are widely available.
? Seafood and fresh-water fish are in natural abundance and smoked hilsa, fresh bhetki, chingri and prawns are definitely worth trying.
? Desserts tend to be sweet and milky, such as misti dhohi (sweetened yogurt), zorda (sweet rice with nuts) and ros malai (round sweets floating in thick milk). National drinks:
? Chai (milky sweet tea).
? Lassi (yogurt drink).
? Coconut water.

Tipping:
Most services expect a tip in hotels; give 10 per cent for restaurant staff.

Nightlife
Leading hotels have bars, but Western-style nightclubs do not exist. Displays of local dance and music are occasionally to be seen, particularly during religious festivals. Traditional theater can be seen in major cities and the Dhaka City Corporation has recently opened a modern theater hall called Dhaka Mohanagor Natya Mancha
Entry departure requirements
Restricted entry The government of Bangladesh refuses admission and transit to nationals of Israel.
Visa immigration information
Passports
Passport valid for three months after departure required by all.
Visas
Required by all except the following:
(a) nationals of Bangladesh or former Bangladeshi nationals holding British passports, provided they have the statement ?no visa required for travel to Bangladesh? stamped in their passport by the Bangladesh High Commission;
(b) nationals of Hong Kong (SAR) and Macau (SAR) for stays of up to 30 days;
(c) nationals of The Maldives (can obtain a visa on arrival);
(d) transit passengers continuing their journey by the same or first connecting aircraft, provided holding valid onward or return documentation and not leaving the airport.
Note
Some tourist and business travelers who do not have a mission for Bangladesh in their country of origin can obtain 30-day visas (for business and investment purposes) on arrival (provided holding letter of invitation from company based in Bangladesh, containing their Tax Identification Number and attestation from Chamber of Commerce or Bangladeshi Government ministries with corresponding passport name and passport number) and also 90-day visas at Chittagong, Dhaka and Zia international airports, provided holding return air tickets and sufficient funds for stay and all documents for next destination. Citizens of countries where there is a Bangladesh Mission must obtain a visa before going to Bangladesh.
Types of visa and cost
Tourist and Business. Prices vary according to nationality; contact the Embassy for more details (see Passport/Visa Information). For UK passport holders: US$69 (single-entry); US$89 (double-entry); US$129 (triple-entry); US$179 (multiple-entry). Visas are issued free for nationals of India and Japan.
Validity
Single-entry: Three months; Double-entry and Triple-entry: Six months. Multiple-entry: Twelve months. Stays are for a maximum of 90 days each.
Application to
Consular section at Embassy or High Commission; see Passport/Visa Information.
Application requirements
(a) Valid passport. (b) Completed application form. (c) Passport-size photos. (d) Fee, payable in cash (application in person) or postal order (postal application). (e) Letter from employer confirming applicant's identity and position in the company. (f) For postal applications, self-addressed, pre-paid registered envelope or pre-paid return courier. Tourist: (a)-(f) and, (g) Printed itinerary. (h) Hotel reservation letter, or invitation letter, which should be on official letterhead or, if it is from a private individual, have bank statement attached. Business: (a)-(f) and, (g) Invitation from a business organization in Bangladesh. (h) Letter from the sponsoring organization in the UK detailing their financial responsibility for the applicant.
Working days required
Three. At least seven days for postal applications. Application times are longer (two to three weeks) for non-British or Irish nationals and journalists.
Temporary residence
Enquire at Passport Control Office, Dhaka, Bangladesh.
HIV entry requirements
No Test Required
Departure tax
BDT300. Children under two years of age and passengers in immediate transit are exempt.
Embassies
Bangladesh High Commission in the UK
28 Queen?s Gate, London SW7 5JA, UK
Tel: (020) 7584 0081.
Website: www.bangladeshhighcommission.org.uk
Opening hours: Mon-Fri 1000-1730; Mon-Thurs 1030-1300 and 1500-1630, Fri 1030-1245 and 1500-1630 (visa collection).
Bangladesh Embassy in the USA
3510 International Drive, NW, Washington, DC 20008, USA
Tel: (202) 244 0183.
Website: www.bangladoot.org
Travel Advice
Travelers are advised against all but essential travel to the Chittagong Hill Tracts (this does not include the city of Chittagong) because of the risk of being caught up in clashes between rival tribal groups, settlers and the military.
Travelers should be aware of the threat from terrorism in Bangladesh. Attacks using explosive devices continue to take place in locations throughout the country, including Dhaka and the Sylhet region, with increasing frequency. Such attacks are indiscriminate and are carried out in public places, including courts, markets, cinemas, shrines, cultural events and political gatherings. There is a risk that travelers might get caught up in such attacks.
Please also note that, on December 26th 2004, a massive earthquake registering 9.0 on the Richter scale struck off the west coast of Indonesia. The quake created a tsunami ? a series of huge waves that spread destruction across many parts of Asia and reached as far as the east coast of Africa. The damage was far less severe in Bangladesh than in other countries and travel, for the most part, has been unaffected.
This advice is based on information provided by the Foreign, Commonwealth & Development Office in the UK. It is correct at time of publishing. As the situation can change rapidly, visitors are advised to contact the following organizations for the latest travel advice:
British Foreign, Commonwealth & Development Office
Website: www.gov.uk/foreign-travel-advice
US Department of State
Currency
Bangladesh Taka (BDT) = 100 paisa. Notes are in denominations of BDT500, 100, 50, 20, 10, 5, 2 and 1. Coins are in denominations of BDT5 and 1, and 50, 25, 10 and 5 paisa.
Currency restrictions
The import and export of local currency is limited to BDT100. Reconversion of local currency is permitted up to BDT500 or 25 per cent of the amount exchanged on arrival. The import of foreign currency is allowed but amounts greater than US$150 must be declared on arrival. The export of foreign currency is limited to US$150 or the amount declared on arrival.
Banking hours
Sun-Wed 0900-1500, Thurs 0900-1300. Selected banks may open on Saturdays.
Currency exchange
All foreign currency exchanged must be entered on a currency declaration form. Hotel bills must be paid in a major convertible currency or with traveller's cheques. Many shops in the cities will offer better rates of exchange than the banks.
Credit cards
Credit cards are not generally accepted outside the capital. Check with your credit or debit card company for details of merchant acceptability and other services which may be available. ATMs (Standard Chartered Bank) in Dhaka, Chittagong, Bogra, Sylhet, Narayanganj and Khulna. HSBC has ATMs in Dhaka and Chittagong. Both accept UK cashpoint cards.
Travellers cheques
Can be exchanged on arrival at Dhaka Airport. To avoid additional exchange rate charges, travelers are advised to take traveller's cheques in US Dollars or Pounds Sterling.
| City/Region | City/Area code | Followed by |
| --- | --- | --- |
| Abhaynagar (Noapara) | (0)4222 | + 3/4 digit subscriber nr |
| Agailjhara | (0)4323 | + 4/5 digit subscriber nr |
| Akhaura | (0)8522 | + 4/5 digit subscriber nr |
| Alamdanga | (0)7622 | + 3 digit subscriber nr |
| Anwara | (0)3029 | + 4 digit subscriber nr |
| Araihazar | (0)6722 | + 5 digit subscriber nr |
| Ashuganj | (0)8528 | + 3 digit subscriber nr |
| Babugonj | (0)4327 | + 4/5 digit subscriber nr |
| Badarganj | (0)5222 | + 3 digit subscriber nr |
| Bagerhat | (0)468 | + 5 digit subscriber nr |
| Bagerphara | (0)4223 | + 4 digit subscriber nr |
| Bajitpur | (0)9423 | + 3 digit subscriber nr |
| Bakergonj | (0)4328 | + 4/5 digit subscriber nr |
| Balagonj | (0)8222 | + 5 digit subscriber nr |
| Banaripara | (0)4332 | + 5 digit subscriber nr |
| Bancharampur | (0)8523 | + 4/5 digit subscriber nr |
| Bandar | (0)6724 | + 5 digit subscriber nr |
| Bandarban | (0)361 | + 5 digit subscriber nr |
| Baneswar | (0)7228 | + 5 digit subscriber nr |
| Bangla hili | (0)5329 | + 5 digit subscriber nr |
| Banskhali | (0)3020 | + 4 digit subscriber nr |
| Barabkunda | (0)3028 | + 5 digit subscriber nr |
| Baralekha | (0)8622 | + 5 digit subscriber nr |
| Barguna | (0)448 | + 5 digit subscriber nr |
| Barisal | (0)431 | + 7 digit subscriber nr |
| Barura | (0)8027 | + 4 digit subscriber nr |
| Bashail | (0)9222 | + 5 digit subscriber nr |
| Baufal | (0)4422 | + 5 digit subscriber nr |
| Begamgonj | (0)3221 | + 4 digit subscriber nr |
| Belkuchi | (0)7522 | + 4/5 digit subscriber nr |
| Bera | (0)7323 | + 4 digit subscriber nr |
| Bhairab bazar | (0)9424 | + 3/5 digit subscriber nr |
| Bhaluka | (0)9022 | + 5 digit subscriber nr |
| Bhandaria | (0)4623 | + 3 digit subscriber nr |
| Bhanga | (0)6323 | + 5 digit subscriber nr |
| Bhangura | (0)7328 | + 4 digit subscriber nr |
| Bheramara | (0)7022 | + 3 digit subscriber nr |
| Bhola | (0)491 | + 5 digit subscriber nr |
| Bhuapur | (0)9223 | + 5 digit subscriber nr |
| Bianibazar | (0)8223 | + 5 digit subscriber nr |
| Birganj | (0)5323 | + 3/5 digit subscriber nr |
| Biswanath | (0)8224 | + 5 digit subscriber nr |
| Boalkhali | (0)3032 | + 4 digit subscriber nr |
| Boalmari | (0)6324 | + 5 digit subscriber nr |
| Boda | (0)5653 | + 5 digit subscriber nr |
| Bogra | (0)51 | + 5 digit subscriber nr |
| Borhanuddin | (0)4922 | + 5 digit subscriber nr |
| Brahmanbaria | (0)851 | + 5 digit subscriber nr |
| Brahmanpara | (0)8028 | + 4 digit subscriber nr |
| Burichang | (0)8029 | + 4/5 digit subscriber nr |
| Chakaria | (0)3422 | + 4 digit subscriber nr |
| Chandanaish | (0)3033 | + 4 digit subscriber nr |
| Chandiana | (0)8022 | + 4 digit subscriber nr |
| Chandpur | (0)841 | + 5 digit subscriber nr |
| Chapai Nobabganj | (0)781 | + 5 digit subscriber nr |
| Chatkhil | (0)3222 | + 4 digit subscriber nr |
| Chatmohar | (0)7324 | + 4/5 digit subscriber nr |
| Chattak | (0)8723 | + 5 digit subscriber nr |
| Chauddagram | (0)8020 | + 4/5 digit subscriber nr |
| Chaugacha | (0)4224 | + 4 digit subscriber nr |
| Chhagalnaiya | (0)3322 | + 4 digit subscriber nr |
| Chitalmari | (0)4652 | + 4 digit subscriber nr |
| Chittagong | (0)31 | + 6 digit subscriber nr |
| Chouhali | (0)7523 | + 4 digit subscriber nr |
| Chrirbandar | (0)5326 | + 5 digit subscriber nr |
| Chuadanga | (0)761 | + 5 digit subscriber nr |
| Chunarughat | (0)8325 | + 5 digit subscriber nr |
| Comilla | (0)81 | + 5 digit subscriber nr |
| Companiganj | (0)8225 | + 5 digit subscriber nr |
| Companiganj (B.Hat) | (0)3223 | + 5 digit subscriber nr |
| Cox's Bazar | (0)341 | + 5 digit subscriber nr |
| Dagonbhuya | (0)3323 | + 4 digit subscriber nr |
| Damudda | (0)6023 | + 5 digit subscriber nr |
| Dashmina | (0)4423 | + 5 digit subscriber nr |
| Daudkandi | (0)8023 | + 3/4 digit subscriber nr |
| Daulatkhan | (0)4924 | + 5 digit subscriber nr |
| Debidwar | (0)8024 | + 4 digit subscriber nr |
| Dhaka | (0)2 | + 7 digit subscriber nr |
| Dhamrai | (0)6222 | + 5 digit subscriber nr |
| Dharmapasha | (0)8725 | + 5 digit subscriber nr |
| Dhunat | (0)5023 | + 5 digit subscriber nr |
| Dhupchachia | (0)5024 | + 5 digit subscriber nr |
| Dianjpur | (0)531 | + 5 digit subscriber nr |
| Dighalia (RSU) | (0)4033 | + 5 digit subscriber nr |
| Dohar | (0)6223 | + 5 digit subscriber nr |
| Durgapur | (0)9525 | + 5 digit subscriber nr |
| Fakirhat | (0)4653 | + 3/4 digit subscriber nr |
| Faridpur | (0)7325 | + 4 digit subscriber nr |
| Fatikchari | (0)3022 | + 4 digit subscriber nr |
| Fenchugonj | (0)8226 | + 5 digit subscriber nr |
| Feni | (0)331 | + 5 digit subscriber nr |
| Fulbari | (0)5327 | + 3 digit subscriber nr |
| Fulgazi | (0)3326 | + 4 digit subscriber nr |
| Gafargaon | (0)9025 | + 5 digit subscriber nr |
| Gaibandha | (0)541 | + 5 digit subscriber nr |
| Gazaria | (0)6922 | + 5 digit subscriber nr |
| Ghatail | (0)9225 | + 5 digit subscriber nr |
| Goalanda | (0)6423 | + 5 digit subscriber nr |
| Godagari | (0)7225 | + 5 digit subscriber nr |
| Golachipa | (0)4424 | + 5 digit subscriber nr |
| Golapgonj | (0)8227 | + 5 digit subscriber nr |
| Gopalgonj | (0)668 | + 5 digit subscriber nr |
| Gopalpur | (0)9226 | + 5 digit subscriber nr |
| Goshairhat | (0)6024 | + 4/5 digit subscriber nr |
| Gouripur | (0)9024 | + 5 digit subscriber nr |
| Gournadi | (0)4322 | + 4/5 digit subscriber nr |
| Gurudashpur | (0)7724 | + 5 digit subscriber nr |
| Habiganj | (0)831 | + 5 digit subscriber nr |
| Hajiganj | (0)8424 | + 3/4 digit subscriber nr |
| Haragacha | (0)5224 | + 5 digit subscriber nr |
| Hathazari | (0)3023 | + 5 digit subscriber nr |
| Hatiya (Oshkhali) | (0)3224 | + 3 digit subscriber nr |
| Hizla | (0)4324 | + 4 digit subscriber nr |
| Homna | (0)8025 | + 4 digit subscriber nr |
| Ishwardi | (0)7326 | + 5 digit subscriber nr |
| Ishwargonj | (0)9027 | + 5 digit subscriber nr |
| Islampur | (0)9824 | + 5 digit subscriber nr |
| Itna | (0)9426 | + 5 digit subscriber nr |
| Jagonnathpur | (0)8727 | + 5 digit subscriber nr |
| Jaintapur | (0)8229 | + 5 digit subscriber nr |
| Jamalpur | (0)981 | + 5 digit subscriber nr |
| Jhalakati | (0)498 | + 5 digit subscriber nr |
| Jhikargacha | (0)4225 | + 3/4 digit subscriber nr |
| Jhinaidah | (0)571 | + 5 digit subscriber nr |
| Jokiganj | (0)8232 | + 5 digit subscriber nr |
| Kachua | (0)8425 | + 4/5 digit subscriber nr |
| Kaliakoir | (0)6822 | + 5 digit subscriber nr |
| Kaliganj | (0)6823 | + 5 digit subscriber nr |
| Kaligonj | (0)4523 | + 4 digit subscriber nr |
| Kalihati | (0)9227 | + 5 digit subscriber nr |
| Kalkini | (0)6622 | + 4 digit subscriber nr |
| Kamarkhand | (0)7524 | + 4 digit subscriber nr |
| Kanaighat | (0)8220 | + 5 digit subscriber nr |
| Kaokhali | (0)4624 | + 5 digit subscriber nr |
| Kapashia | (0)6824 | + 5 digit subscriber nr |
| Kaptai | (0)3529 | + 3 digit subscriber nr |
| Kashba | (0)8524 | + 5 digit subscriber nr |
| Kashiani | (0)6652 | + 5 digit subscriber nr |
| Kazipur | (0)7525 | + 4/5 digit subscriber nr |
| Kendua | (0)9528 | + 5 digit subscriber nr |
| Keranigonj | (0)6224 | + 5 digit subscriber nr |
| Keshobpur | (0)4226 | + 4/5 digit subscriber nr |
| Khagrachari | (0)371 | + 5 digit subscriber nr |
| Khepupara | (0)4425 | + 3 digit subscriber nr |
| Khulna | (0)41 | + 6 digit subscriber nr |
| Kishoreganj | (0)941 | + 5 digit subscriber nr |
| Komalgonj | (0)8623 | + 5 digit subscriber nr |
| Kotalipara | (0)6653 | + 4/5 digit subscriber nr |
| Kotiadhi | (0)9428 | + 5 digit subscriber nr |
| Kulaura | (0)8624 | + 5 digit subscriber nr |
| Kurigram | (0)581 | + 5 digit subscriber nr |
| Kushtia | (0)71 | + 5 digit subscriber nr |
| Laksham | (0)8032 | + 3/4 digit subscriber nr |
| Lalmohan | (0)4925 | + 5 digit subscriber nr |
| Lalmonirhat | (0)591 | + 5 digit subscriber nr |
| Laximpur | (0)381 | + 5 digit subscriber nr |
| Lohagara | (0)4823 | + 5 digit subscriber nr |
| Lohajang | (0)6923 | + 5 digit subscriber nr |
| Madabpur | (0)8327 | + 5 digit subscriber nr |
| Madan | (0)9529 | + 5 digit subscriber nr |
| Madaripur | (0)661 | + 5 digit subscriber nr |
| Madhabdi | (0)6257 | + 3 digit subscriber nr |
| Magura | (0)488 | + 5 digit subscriber nr |
| Manda | (0)7425 | + 5 digit subscriber nr |
| Maninganj | (0)651 | + 5 digit subscriber nr |
| Manirampur | (0)4227 | + 5 digit subscriber nr |
| Matlab | (0)8426 | + 4/5 digit subscriber nr |
| Maulavibazar | (0)861 | + 5 digit subscriber nr |
| Mehendigonj | (0)4325 | + 4 digit subscriber nr |
| Meherpur | (0)791 | + 5 digit subscriber nr |
| Mirjagonj (RSU) | (0)4426 | + 5 digit subscriber nr |
| Mirsari | (0)3024 | + 4 digit subscriber nr |
| Mirzapur | (0)9229 | + 5 digit subscriber nr |
| Mithapukur | (0)5225 | + 5 digit subscriber nr |
| Modhupur | (0)9228 | + 5 digit subscriber nr |
| Mohadevpur | (0)7426 | + 5 digit subscriber nr |
| Mohanganj | (0)9524 | + 5 digit subscriber nr |
| Moheshkhali | (0)3424 | + 3 digit subscriber nr |
| Moheshpur | (0)4525 | + 3 digit subscriber nr |
| Moksudpur | (0)6654 | + 5 digit subscriber nr |
| Mollarhat | (0)4655 | + 4/5 digit subscriber nr |
| Monahardi | (0)6253 | + 5 digit subscriber nr |
| Mongla | (0)4658 | + 3 digit subscriber nr |
| Morelganj | (0)4656 | + 5 digit subscriber nr |
| Mothbaria | (0)4625 | + 5 digit subscriber nr |
| Mujibnagar | (0)7923 | + 5 digit subscriber nr |
| Muktagacha | (0)9028 | + 5 digit subscriber nr |
| Muladi | (0)4326 | + 4/5 digit subscriber nr |
| Munsigonj | (0)691 | + 5 digit subscriber nr |
| Muradnagar | (0)8026 | + 4/5 digit subscriber nr |
| Mymensingh | (0)91 | + 5 digit subscriber nr |
| Nabiganj | (0)8328 | + 5 digit subscriber nr |
| Nabinagar | (0)8525 | + 4 digit subscriber nr |
| Nagarkanda | (0)6327 | + 5 digit subscriber nr |
| Nagarpur | (0)9233 | + 5 digit subscriber nr |
| Nageswari | (0)5826 | + 5 digit subscriber nr |
| Nagoan | (0)741 | + 5 digit subscriber nr |
| Nalcity | (0)4953 | + 4/5 digit subscriber nr |
| Nangalcoat | (0)8033 | + 4 digit subscriber nr |
| Narail | (0)481 | + 5 digit subscriber nr |
| Narsingdi | (0)628 | + 5 digit subscriber nr |
| Nasirnagar | (0)8526 | + 4 digit subscriber nr |
| Natore | (0)771 | + 5 digit subscriber nr |
| Nazirpur | (0)4626 | + 4/5 digit subscriber nr |
| Netrokona | (0)951 | + 5 digit subscriber nr |
| Nilphamari | (0)551 | + 5 digit subscriber nr |
| Noakhali | (0)321 | + 5 digit subscriber nr |
| Nowabgonj | (0)6225 | + 5 digit subscriber nr |
| Paba | (0)7227 | + 5 digit subscriber nr |
| Pabna | (0)731 | + 5 digit subscriber nr |
| Paikgacha | (0)4027 | + 3 digit subscriber nr |
| Palash | (0)6254 | + 5 digit subscriber nr |
| Palashbari | (0)5424 | + 5 digit subscriber nr |
| Panchagar | (0)568 | + 5 digit subscriber nr |
| Panchbibi | (0)5724 | + 5 digit subscriber nr |
| Pangsha | (0)6424 | + 5 digit subscriber nr |
| Parshuram | (0)3324 | + 5 digit subscriber nr |
| Pathorghata | (0)4455 | + 5 digit subscriber nr |
| Patuakhali | (0)441 | + 5 digit subscriber nr |
| Phulpur | (0)9033 | + 5 digit subscriber nr |
| Pirgonj | (0)5227 | + 5 digit subscriber nr |
| Pirojpur | (0)461 | + 5 digit subscriber nr |
| Potia | (0)3035 | + 3 digit subscriber nr |
| Raiganj | (0)7526 | + 5 digit subscriber nr |
| Raipura | (0)6255 | + 5 digit subscriber nr |
| Rajbari | (0)641 | + 5 digit subscriber nr |
| Rajnagar | (0)8625 | + 5 digit subscriber nr |
| Rajoir | (0)6623 | + 5 digit subscriber nr |
| Rajshahi MEA | (0)721 | + 6 digit subscriber nr |
| Ramgati (Alexender) | (0)3823 | + 3 digit subscriber nr |
| Ramgonj | (0)3824 | + 4 digit subscriber nr |
| Rampal | (0)4657 | + 4/5 digit subscriber nr |
| Ramu | (0)3425 | + 5 digit subscriber nr |
| Rangamati | (0)351 | + 5 digit subscriber nr |
| Rangpur | (0)521 | + 5 digit subscriber nr |
| Rangunia | (0)3025 | + 4 digit subscriber nr |
| Rauzan | (0)3026 | + 4 digit subscriber nr |
| Rohanpur | (0)7823 | + 5 digit subscriber nr |
| Rupganj | (0)6725 | + 5 digit subscriber nr |
| Rupsha | (0)4020 | + 4 digit subscriber nr |
| Sadarpur (J.Monjil) | (0)6328 | + 5 digit subscriber nr |
| Saghata (Bonarpara) | (0)5426 | + 5 digit subscriber nr |
| Saidpur | (0)5526 | + 4 digit subscriber nr |
| Sarail | (0)8527 | + 4 digit subscriber nr |
| Sarishabari | (0)9827 | + 5 digit subscriber nr |
| Sathia | (0)7327 | + 4 digit subscriber nr |
| Satkania | (0)3036 | + 3 digit subscriber nr |
| Satkhira | (0)471 | + 5 digit subscriber nr |
| Sayestaganj | (0)8332 | + 3 digit subscriber nr |
| Senbag | (0)3225 | + 4 digit subscriber nr |
| Shaharasti | (0)8427 | + 5 digit subscriber nr |
| Shajatpur | (0)7527 | + 4 digit subscriber nr |
| Shakhipur | (0)9232 | + 5 digit subscriber nr |
| Shariakandi | (0)5028 | + 5 digit subscriber nr |
| Shariatpur | (0)601 | + 5 digit subscriber nr |
| Sharsa | (0)4228 | + 4 digit subscriber nr |
| Sharsa (Benapol) | (0)421 | + 5 digit subscriber nr |
| Sherpur | (0)5029 | + 5 digit subscriber nr |
| Shetabgonj | (0)5325 | + 5 digit subscriber nr |
| Shibchar | (0)6624 | + 5 digit subscriber nr |
| Shibgonj | (0)7825 | + 5 digit subscriber nr |
| Sibgonj (Mokamtala) | (0)5020 | + 5 digit subscriber nr |
| Singair | (0)6527 | + 5 digit subscriber nr |
| Sirajdikhan | (0)6924 | + 5 digit subscriber nr |
| Sirajganj | (0)751 | + 5 digit subscriber nr |
| Snadwip | (0)3027 | + 4 digit subscriber nr |
| Sonagazi | (0)3325 | + 4 digit subscriber nr |
| Sonargaon | (0)6723 | + 5 digit subscriber nr |
| Sreemongal | (0)8626 | + 3 digit subscriber nr |
| Sreenagar | (0)6925 | + 5 digit subscriber nr |
| Sreepur | (0)6825 | + 5 digit subscriber nr |
| Sujanagar | (0)7329 | + 5 digit subscriber nr |
| Sunamganj | (0)871 | + 5 digit subscriber nr |
| Swarupkhati | (0)4627 | + 4 digit subscriber nr |
| Sylhet MEA | (0)821 | + 6 digit subscriber nr |
| Tangail | (0)921 | + 5 digit subscriber nr |
| Tanore | (0)7229 | + 5 digit subscriber nr |
| Tarash | (0)7528 | + 4/5 digit subscriber nr |
| Terokhada | (0)4029 | + 4 digit subscriber nr |
| Thakurgoan | (0)561 | + 5 digit subscriber nr |
| Tongibari | (0)6926 | + 5 digit subscriber nr |
| Tongipara | (0)6655 | + 4 digit subscriber nr |
| Trisal | (0)9032 | + 5 digit subscriber nr |
| Ukhiya | (0)3427 | + 3 digit subscriber nr |
| Ullapara | (0)7529 | + 4/5 digit subscriber nr |
| Uzirpur | (0)4329 | + 4 digit subscriber nr |
| Zitka | (0)6524 | + 5 digit subscriber nr |