Quick Facts
Region: Africa
Full Name: Republic of Benin
Capital City: Porto-Novo
Language Spoken: French (official), Fon and Yoruba (most common vernaculars in south), tribal languages (at least six major ones in north)
Benin Travel Insurance
Get travel insurance to Benin from Direct Travel Insurance. We offer low cost and high quality travel insurance to Benin and most of the world.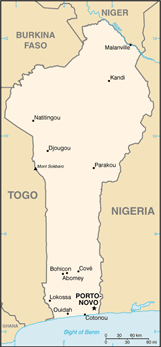 Geographic data
9 30 N, 2 15 E
Elevation Extremes
lowest point: Atlantic Ocean 0 m highest point: Mont Sokbaro 658 m
Land boundaries
total: 1,989 km border countries: Burkina Faso 306 km, Niger 266 km, Nigeria 773 km, Togo 644 km
Natural hazards
hot, dry, dusty harmattan wind may affect north from December to March
Natural resources
small offshore oil deposits, limestone, marble, timber
Land use
arable land: 23.53% permanent crops: 2.37% other: 74.1% (2005)
Environmental current issues
inadequate supplies of potable water; poaching threatens wildlife populations; deforestation; desertification
Climate
The south has an equatorial climate with four seasons. It is hot and dry from January to April and during August, with rainy seasons through May to July and September to December. The north has more extreme temperatures, hot and dry between November and June, cooler and very wet between July and October. Required clothing Lightweight cottons and linens. A light raincoat or an umbrella is necessary in rainy seasons and warmer clothes are advised for cool evenings.
Time difference
time difference: UTC+1 note: Cotonou (seat of government)
Population
7,862,944 note: estimates for this country explicitly take into account the effects of excess mortality due to AIDS; this can result in lower life expectancy, higher infant mortality and death rates, lower population and growth rates, and changes in the distribution of population by age and sex than would otherwise be expected (July 2006 est.)
Age structure
0-14 years: 44.1% (male 1,751,709/female 1,719,138) 15-64 years: 53.5% (male 2,067,248/female 2,138,957) 65 years and over: 2.4% (male 75,694/female 110,198) (2006 est.)
Median age
total: 17.6 years male: 17.2 years female: 18 years (2006 est.)
Population growth rate
2.73% (2006 est.)
Birth rate
38.85 births/1,000 population (2006 est.)
Death rate
12.22 deaths/1,000 population (2006 est.)
Net migration rate
0.67 migrant(s)/1,000 population (2006 est.)
Sex ratio
at birth: 1.03 male(s)/female under 15 years: 1.02 male(s)/female 15-64 years: 0.97 male(s)/female 65 years and over: 0.69 male(s)/female total population: 0.98 male(s)/female (2006 est.)
Life expectancy at birth
total population: 53.04 years male: 51.9 years female: 54.22 years (2006 est.)
Total fertility rate
5.2 children born/woman (2006 est.)
Business Practices
Lightweight tropical suits should be worn to business meetings. It is essential to be able to conduct conversations in French. Normal courtesies should be observed and punctuality is especially important. The Beninese like to spend time getting to know their business partners. Often business matters will be discussed late in the conversation, once both parties feel that they have established enough trust. It is important that introductions cover family, activities, travels, and interests and will be more pleasant if done over a meal. This protocol serves to make the other more comfortable and more receptive to ideas. Office hours are 0800-1230 and 1500-1830 Monday to Friday.
Crime
Street crime, especially within Cotonou, continues to rise. Most robberies and muggings occur along the Marina Boulevard and the beach near the hotels frequented by international visitors. Some of the incidents reported involve the use of force, often by armed persons, with occasional minor injury to the victim. Isolated areas are best avoided Police assistance in Benin can be described as haphazard. The police lack sufficient funding and equipment to combat crime in Cotonou. The police maintain an emergency number, staffed 24 hours a day, but the caller must be able to speak French. Benin lacks the regular street address system found in western countries so the caller will have to use landmarks. In some instances, the caller may have to send a car to pick up the police because they lack proper transportation. Security forces, namely the Beninese Gendarmes, have a reputation of harassing individuals. The Gendarmes maintain sporadic nightly "security checkpoints" throughout Cotonou. Normal security measures are to be observed at all times. Visitors should always keep car doors locked, whether driving or parked. Visitors should refrain from flashing valuables or cash, always remain aware of their surroundings, and be wary of strangers.
Hotels
Benin has a wide array of hotels. Only one top quality hotel is well established in Cotonou (Sheraton) but it is complemented by a variety of hotels of lesser standing that nevertheless offer good service. Hotel accommodation is available in other major cities though not to the extent it is in Cotonou.
Communications
Telephone IDD service is available. The country code is 229 and the outgoing international code is 00. There is an additional charge for calls made from a coin box. There are good Poste Restante facilities at most main post offices. Post office hours: 0800-1400 Monday to Saturday.
Electricity
is 220 volts AC, 50Hz. Electricity 220 volts AC, 50Hz.
Plug Types
E
Food And Dining
There is a selection of restaurants and hotels in Cotonou, serving French food with table service, although some also serve local African specialties, particularly seafood.

Tipping:
It is normal to tip 10 per cent of the bill in hotels and restaurants.

Nightlife
Cotonou offers several nightclubs, but elsewhere there is little nightlife except during festivals.
Entry departure requirements
Restricted entry All visitors over one year of age are required to produce a yellow fever certificate on entry to Benin. Visa immigration information Passports Valid passport required by all except nationals of the following countries in possession of a national identity card: Burkina Faso, Cameroon, Central African Republic, Chad, Congo, (Rep of), C?te d'Ivoire, Gabon, Ghana, Madagascar, Mali, Mauritania, Niger, Rwanda, Senegal and Togo. Visas Required by all except the following: (a) nationals of ECOWAS member countries; (b) those in transit continuing their onward journey within 24 hours, provided holding confirmed tickets and not leaving the airport. Note All children of nationals who require a visa, issued with their own passport, do require a visa. Types of visa and cost Tourist and Business. Visas cost US$77 for 15 days; US$94 for 30 days; US$112 for 90 days. Validity Visas are valid for a 15-, 30- or 90-day period within three months of date of issue. Application to Consulate (or Consular section at Embassy); see Passport/Visa Information. Application requirements (a) Valid passport. (b) Application form completed in duplicate. (c) Two passport-size photos. (d) Pre-paid registered envelope large enough to fit passport, if applying by post. (e) Fee. (f) For a Business visa, a letter from the applicant's company. Working days required Callers at the Consulate are usually able to obtain visas on the same day. Temporary residence Enquire at Consulate (or Consular Section at Embassy).
HIV entry requirements
No Test required
Departure tax
None
Embassies
Honorary Consulate of Benin in the UK Millennium House, Humber Road, Nr Staples Corner, London NWZ 6DW, UK Tel: (020) 7435 0665. E-mail: l.landau@btinternet.com Opening hours: Mon, Wed and Fri: 1000-1630. Embassy of the Republic of Benin in France 87 avenue Victor Hugo, 75116 Paris, France Tel: (1) 4500 9882 or 4222 3191 (consular section). Website: http://beninconsulate.co.uk/ Embassy of the Republic of Benin in the USA 2124 Kalorama Road, NW, Washington, DC 20008, USA Tel: (202) 232 6656. Website: http://beninembassy.us/ Travel Advice Most visits to Benin are trouble-free but you should be aware of the global risk of indiscriminate international terrorist attacks, which could be against civilian targets, including places frequented by foreigners. This advice is based on information provided by the Foreign, Commonwealth & Development Office in the UK. It is correct at time of publishing. As the situation can change rapidly, visitors are advised to contact the following organizations for the latest travel advice: British Foreign, Commonwealth & Development Office Website: www.gov.uk/foreign-travel-advice US Department of State Website: https://travel.state.gov/content/travel.html
Currency
CFA (Communaut? Financiaire Africaine) Franc (XOF) = 100 centimes. Notes are in denominations of XOF10,000, 5000, 2000 and 1000. Coins are in denominations of XOF500, 200, 100, 50, 25, 10, 5 and 1. Benin is part of the French Monetary Area. Only currency issued by the Banque des Etats de l'Afrique de l'Ouest (Bank of West African States) is valid; currency issued by the Banque des Etats de l'Afrique Centrale (Bank of Central African States) is not. The CFA Franc is tied to the Euro.
Currency restrictions
The import of local currency is unlimited, subject to declaration. The export of local currency is unlimited for EU residents; other nationalities must declare currency that is to be exported (proof of origin might be demanded). The import of foreign currency is unlimited, subject to declaration. The export of foreign currency is limited to the equivalent of XOF100,000.
Banking hours
Mon-Fri 0800-1100 and 1500-1700. Some banks may open on Saturday.
Currency exchange
Currency can be exchanged at banks and in major hotels.
Credit cards
American Express, Diners Club, MasterCard and Visa are accepted on a limited basis. Check with your credit or debit card company for details of merchant acceptability and other services which may be available. Some banks may advance cash or visa cards.
Travellers cheques
To avoid additional exchange rate charges, travelers are advised to take traveller's cheques in Euros or Pounds Sterling.
| City/Region | City/Area code | Followed by |
| --- | --- | --- |
| Alibori | 23 | + 6 digit subscriber nr |
| Atlantique | 21 | + 6 digit subscriber nr |
| Collines | 22 | + 6 digit subscriber nr |
| Ou?m? | 20 | + 6 digit subscriber nr |