Quick Facts
Region: South America
Full Name: Republic of Bolivia
Capital City: La Paz
Language Spoken: Spanish (official), Quechua (official), Aymara (official)
Bolivia Travel Insurance
Get travel insurance to Bolivia from Direct Travel Insurance. We offer low cost and high quality travel insurance to Bolivia and most of the world.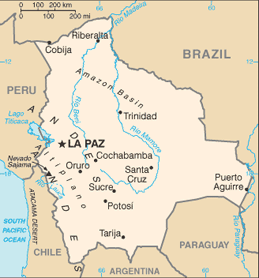 Geographic data
17 00 S, 65 00 W
Elevation Extremes
lowest point: Rio Paraguay 90 m highest point: Nevado Sajama 6,542 m
Land boundaries
total: 6,940 km border countries: Argentina 832 km, Brazil 3,423 km, Chile 860 km, Paraguay 750 km, Peru 1,075 km
Natural hazards
flooding in the northeast (March-April)
Natural resources
tin, natural gas, petroleum, zinc, tungsten, antimony, silver, iron, lead, gold, timber, hydropower
Land use
arable land: 2.78% permanent crops: 0.19% other: 97.03% (2005)
Environmental current issues
the clearing of land for agricultural purposes and the international demand for tropical timber are contributing to deforestation; soil erosion from overgrazing and poor cultivation methods (including slash-and-burn agriculture); desertification; loss of biodiversity; industrial pollution of water supplies used for drinking and irrigation
Climate
Bolivia has a temperate climate but with wide differences between day and night. The wettest period is November to March, which, in extreme circumstances, may induce landslides in mountainous areas, and cause certain roads to become impassable. The northeast slopes of the Andes are semi-tropical. Visitors often find La Paz uncomfortable because of the thin air due to high altitude. The mountain areas can become very cold at night. Required clothing Lightweight linens with a raincoat. A light overcoat is necessary at night, particularly in the Altiplano and the Puna.
Time difference
time difference: UTC-4 note: Sucre (constitutional capital)
Population
8,989,046 (July 2006 est.)
Age structure
0-14 years: 35% (male 1,603,982/female 1,542,319) 15-64 years: 60.4% (male 2,660,806/female 2,771,807) 65 years and over: 4.6% (male 182,412/female 227,720) (2006 est.)
Median age
total: 21.8 years male: 21.2 years female: 22.5 years (2006 est.)
Population growth rate
1.45% (2006 est.)
Birth rate
23.3 births/1,000 population (2006 est.)
Death rate
7.53 deaths/1,000 population (2006 est.)
Net migration rate
-1.22 migrant(s)/1,000 population (2006 est.)
Sex ratio
at birth: 1.05 male(s)/female under 15 years: 1.04 male(s)/female 15-64 years: 0.96 male(s)/female 65 years and over: 0.8 male(s)/female total population: 0.98 male(s)/female (2006 est.)
Life expectancy at birth
total population: 65.84 years male: 63.21 years female: 68.61 years (2006 est.)
Total fertility rate
2.85 children born/woman (2006 est.)
Business Practices
Suit or a shirt and tie should be worn. Appointments should be made in advance. A local representative is required by law in the case of investment contracts, direct sales for major projects and all government agency purchases. Bolivia's small market requires that most agents represent more than one line of merchandise with regard to product promotion and distribution. The amount of effort given to promoting a particular product line is determined in part by the interest and support expressed by the supplier, as well as by the agent's ability and interest. Office hours are 0830-1200 and 1430-1830 Monday to Friday and 0900-1200 Saturday
Crime
Street crime, such as pickpocketing, purse-snatching and theft from parked vehicles, is common in La Paz, Cochabamba, and Santa Cruz. Petty criminals sometimes use aggressive tactics against foreigners, including slashing bags and pockets. There has been a steady increase in robbery in public places, especially on public transport vehicles and terminals. Theft of cars, particularly late-model four-wheel drive vehicles, is also relatively common. Violent crime, or crime involving weapons remains infrequent. However, hijacking of vehicles has increased in recent years, and travelers should take appropriate precautions to avoid being victimized. In La Paz, violent crime and armed robbery against foreigners, including the use of firearms, are on the rise. Victims are often choked until they are unconscious. Robberies and attacks are increasing in the city of Santa Cruz. In urban areas, be wary of cons involving teams, in which one thief diverts a victim's attention, while a second snatches a purse or luggage (or cuts open pockets or bags to remove valuables), and a third operates a getaway vehicle. Beware of con men pretending to clean soiled clothing. Criminals are also known to pose as police officers. Keep passports, air tickets and other valuable items in a safe location, and keep a copy of passports, in case the originals are lost. Crime has also increased at tourist destinations. Travel only in large groups to Los Yungas and the Inca trails with tours organized by reputable and trusted tour operators. Be especially careful while hiking at "La muela del diablo." In the Chapare area, avoid the road between Santa Cruz and Cochabamba, where drug-trafficking activities take place. Travelers planning to trek in the Bolivian Andes should join an organized group from a reputable firm. Hire an experienced guide and porter who can communicate in Spanish and English. Tourists traveling near Rurrenabaque especially should use the services of a registered travel agency. There have been a number of recent cases of ?express kidnappings.? where tourists are kidnapped for money. In August 2005, two foreign tourists were robbed and killed in an area west of La Paz bordering Peru. In January 2005, a British tourist visiting Rio Pirai in Santa Cruz was shot in the foot after pursuing robbers. In October 2004, masked gunmen stopped and robbed a tourism bus coming from Chacaltaya, a former ski resort close to La Paz.
Hotels
There are several good, comfortable hotels in La Paz, where single rooms range between US$35 and US$120 a night, including taxes. The better hotels include the Radisson Plaza, the Hotel Plaza, the Hotel Presidente and the Europa, as well as such apartment/hotels as the Ritz Apart-Hotel and the Camino Real Apart-Hotel. There are several good hotels in Santa Cruz (including Los Tajibos, Yotau and La Quinta) and in Cochabamba (Hotel Portales, Gran Hotel Cochabamba and Aranjuez).
Communications
Telephone IDD service is available. The country code is 591 and the outgoing international code is 011. Fax services are available. Airmail to Europe takes three to four days. A Poste Restante service is available.
Electricity
is 110/220 volts AC in La Paz, 220 volts AC in the rest of the country, 50Hz. Most houses and hotels have 2-pin sockets for both electrical currents. Electricity Electricity is 110/220 volts AC in La Paz, 220 volts AC in the rest of the country, 50Hz. Most houses and hotels have 2-pin sockets for both electrical currents.
Plug Types
A,C
Food And Dining
Bolivian food is distinctive and is generally good. Dishes are dominated by meat. International- and local-style restaurants are available in La Paz and other main towns. Mineral water and bottled drinks are available. Things to know: Local bars are increasing in number and are unrestricted with no licensing hours.

National specialties:
? Empanada salte?a (a mixture of diced meat, chicken, chives, raisins, diced potatoes, hot sauce and pepper baked in dough).
? Lomo montado (fried tender loin steak with two fried eggs on top, rice and fried banana).
? Picante de pollo (southern fried chicken, fried potatoes, rice, tossed salad with hot peppers).
? Cu?o (naturally freeze-dried potato used in soup called chairo).
? Lech?n al horno (roast suckling pig served with sweet potato and fried plantains).
? Ilajhua (a hot sauce consisting of tomatoes and pepper pods) will often be used to add spice and flavor to dishes. National drinks:
? Bolivian beer, especially pace?a, is some of the best on the continent.
? Chicha, made from fermented cereals and corn, is very strong.

Tipping:
It is customary to add 10 per cent as a tip to the 13 per cent service charge added to hotel and restaurant bills. Porters also expect tips for each piece of luggage.

Nightlife
La Paz has many nightclubs, which generally open around midnight. There are also numerous whiskerias, local bars. On Fridays and Saturdays there are folk music and dancing shows, which start late in the evening. Cochabamba and Santa Cruz have several discos.
Entry departure requirements
Visa immigration information
Passports
Passport valid for at least one year beyond the intended length of stay required by all except holders of an identity card issued to nationals of Argentina, Paraguay, Peru and Uruguay.
Visas
Required by all except the following, provided traveling for tourist purposes:
(a) 1. nationals of countries mentioned in the chart above (except nationals of Malta who do require a visa);
(b) nationals of Andorra, Argentina, Brazil, Chile, Colombia, Costa Rica, Ecuador, Holy See, Iceland, Liechtenstein, Mexico, Monaco, New Zealand, Netherlands Antilles, Norway, Panama, Paraguay, Peru, The Philippines, Serbia & Montenegro, Switzerland, Turkey, Uruguay and Venezuela;
(c) transit passengers (except nationals of China (PR)) continuing their journey by the same or first connecting aircraft within 24 hours, provided holding valid onward or return documentation and not leaving the airport.
Note
(a) All nationals traveling on business do need a Specific Purpose visa. (b) Nationals not requiring a tourist visa are usually allowed to stay for a period of 30 to 90 days; check with the Embassy (or Consular section at Embassy). (c) In addition to a visa, nationals of the following countries also require special authorization: Afghanistan, Cambodia, Congo (Dem Rep), Korea (Dem Rep), Iran, Iraq, Laos, Libya, Nigeria, Pakistan, Sudan and the Syrian Arab Republic.
Types of visa and cost
Tourist/Transit: Cost depends on nationality; enquire at the Embassy (or Consular section at Embassy). Specific Purpose: US$106 . Student: US$53
Validity
Tourist visas are valid for 30 days but can be extended for up to 90 days (depending on nationality) from the date of entry. Specific Purpose visas are valid for 30 days and can be renewed for 60 or 90 additional days at the immigration office in Bolivia. Student visas are valid for 60 days. Transit visas are valid for 15 days.
Application to
Consulate (or Consular section at Embassy); see Passport/Visa Information.
Application requirements
(a) One passport-size photo. (b) Completed application form. (c) Passport with remaining validity of at least one year. (d) Fee, payable by cash or cheque. (e) Return airline ticket or travel itinerary as proof of onward travel. (f) A yellow fever vaccination certificate may be required (see Health section). (g) For Specific Purpose visas, a letter of introduction from the relevant company or institution as proof of business intentions and the dates of travel. (h) Sufficient funds. Student: (a)-(h) and, (i) Medical certificate proving that applicant possesses no contagious diseases.
Working days required
One to two for nationals requiring tourist visas without special authorization. Approximately six weeks for all other nationals requiring tourist visas and special authorization from the Bolivian Ministry of Foreign Affairs.
Temporary residence
Enquire at Bolivian Consulate.
HIV entry requirements
No Test Required
Departure tax
Usually Bs15, but variable depending on airport and destination.
Embassies
Embassy and Consulate of the Republic of Bolivia in the UK
106 Eaton Square, London SW1W 9AD, UK
Tel: (020) 7235 4248 or 2257.
Website: http://www.bolivianembassy.co.uk/
Opening hours: Mon-Fri 0930-1730 (general enquiries); 1000-1230 (consular and visa enquiries).
Embassy of the Republic of Bolivia in the USA
3014 Massachusetts Avenue, NW, Washington, DC 20008, USA
Tel: (202) 483 4410 or 232 4828 (consular section).
Travel Advice
Most visits to Bolivia are trouble-free but you should be aware of the global risk of indiscriminate international terrorist attacks, which could be against civilian targets, including places frequented by foreigners.
In addition, unpredictable bouts of social unrest can affect main tourist areas and internal travel. It is best to avoid demonstrations and respect roadblocks.
This advice is based on information provided by the Foreign, Commonwealth & Development Office in the UK. It is correct at time of publishing. As the situation can change rapidly, visitors are advised to contact the following organizations for the latest travel advice:
British Foreign, Commonwealth & Development Office
Tel: (0845) 850 2829.
Website: www.gov.uk/foreign-travel-advice
US Department of State
Currency
1 Boliviano (BOB; symbol Bs) = 100 centavos. Notes are in denominations of Bs200, 100, 50, 20 and 10. Coins are in denominations of Bs2 and 1, and 50 and 20 centavos. Note The Boliviano is tied to the US Dollar.
Currency restrictions
There are no restrictions on the import or the export of either local or foreign currency, subject to declaration.
Banking hours
Mon-Fri 0830-1200 and 1430-1800. Some banks open Sat 0830-1200.
Currency exchange
Money can be changed in hotels and casas de cambio.
Credit cards
American Express, Diners Club, MasterCard and Visa have limited acceptance. Check with your credit or debit card company for details of merchant acceptability and other services which may be available.
Travellers cheques
US Dollar traveller's cheques are probably the best form of currency to take to Bolivia at present. Sterling cheques can sometimes be exchanged, but only with difficulty.
| City/Region | City/Area code | Followed by |
| --- | --- | --- |
| Bermejo | (0)469 | + 5 digits |
| Camargo | (0)462 | + 5 digits |
| Cochabamba | (0)44 | + 6 digits |
| Huanuni | (0)255 | + 5 digits |
| La Paz | (0)22 | + 6 digits |
| Llallagua | (0)258 | + 5 digits |
| Montero | (0)392 | + 5 digits |
| Oruro | (0)252 | + 5 digits |
| Potosi | (0)262 | + 5 digits |
| Puerto Quijarro | (0)397 | + 5 digits |
| Santa Cruz | (0)33 | + 6 digits |
| Sucre | (0)464 | + 5 digits |
| Tarija | (0)466 | + 5 digits |
| Trinidad | (0)346 | + 5 digits |
| Yacuiba | (0)468 | + 5 digits |