Quick Facts
Region: Europe
Full Name: Czech Republic
Capital City: Prague
Language Spoken: Czech
Czech Republic Travel Insurance
Get travel insurance to Czech Republic from Direct Travel Insurance. We offer low cost and high quality travel insurance to Czech Republic and most of the world.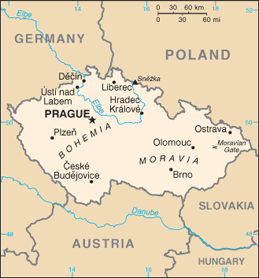 Geographic data
49 45 N, 15 30 E
Elevation Extremes
lowest point: Elbe River 115 m highest point: Snezka 1,602 m
Land boundaries
total: 2,290.2 km border countries: Austria 466.3 km, Germany 810.3 km, Poland 761.8 km, Slovakia 251.8 km
Natural hazards
flooding
Natural resources
hard coal, soft coal, kaolin, clay, graphite, timber
Land use
arable land: 38.82% permanent crops: 3% other: 58.18% (2005)
Environmental current issues
air and water pollution in areas of northwest Bohemia and in northern Moravia around Ostrava present health risks; acid rain damaging forests; efforts to bring industry up to EU code should improve domestic pollution
Climate
The weather is quite unsettled, with generally cold winters and mild summers. Spring and summer have the highest rainfall. Required clothing Mediumweights, heavy topcoat and overshoes for winter; lightweights for summer.
Time difference
time difference: UTC+1 daylight saving time: +1hr, begins last Sunday in March; ends last Sunday in October
Population
10,235,455 (July 2006 est.)
Age structure
0-14 years: 14.4% (male 755,098/female 714,703) 15-64 years: 71.2% (male 3,656,021/female 3,629,036) 65 years and over: 14.5% (male 576,264/female 904,333) (2006 est.)
Median age
total: 39.3 years male: 37.5 years female: 41.1 years (2006 est.)
Population growth rate
-0.06% (2006 est.)
Birth rate
9.02 births/1,000 population (2006 est.)
Death rate
10.59 deaths/1,000 population (2006 est.)
Net migration rate
0.97 migrant(s)/1,000 population (2006 est.)
Sex ratio
at birth: 1.06 male(s)/female under 15 years: 1.06 male(s)/female 15-64 years: 1.01 male(s)/female 65 years and over: 0.64 male(s)/female total population: 0.95 male(s)/female (2006 est.)
Life expectancy at birth
total population: 76.22 years male: 72.94 years female: 79.69 years (2006 est.)
Total fertility rate
1.21 children born/woman (2006 est.)
Business Practices
Businessmen wear suits. Knowledge of German is useful, as English is not widely spoken among the older generation. Long business lunches are usual. Overall, western European customs apply when conducting business in the Czech Republic. Standard business attire is the norm and punctuality at appointments is expected. It is becoming increasingly common for Czech business people to work beyond the standard eight-hour day and weekend meetings do occur more frequently. Foreign businessmen should expect initial business meetings to not be overly cordial but serious and matter-of-fact. Unless the Czech businessperson has had experience dealing with U.S. companies, he or she may appear to be overly reserved or even unfriendly during this first meeting. It usually takes several meetings to establish a sense of rapport with the Czech contact and to develop a more informal and relaxed attitude in communications. When scheduling meetings or events to which Czech business guests are invited, it is best to avoid Friday afternoon (and Friday morning, if possible), as many Czechs have country houses to which they travel to as early as possible on Friday. Czechs regard weekends and holidays as near-sacrosanct family time, and they avoid allowing business to intrude on this time. As is the case in much of Europe, it may be more difficult to make business appointments and contacts in the Czech Republic during the month of August and close to major holidays, such as Christmas. Office hours are 0800-1600 Monday to Friday.
Crime
Violent and/or confrontational crime is rare in the Czech Republic. The type of crime most foreigners, are likely to face is petty street crime. Residents and visitors alike are advised to be wary of Prague's famously efficient pickpockets. Special caution is warranted in and around train stations and when boarding and exiting Prague's trams. Tourist areas, such as Charles Bridge, and the areas around Wenceslas and Old Town Squares are also favored haunts of pickpockets and scam artists. The skilled, professional pickpocket rings can have as many as six to eight members on the street operating against the same target or group of targets. In many cases, the pickpocket rings are family affairs with members varying in age and gender. The criminals rarely use violence or the threat of violence to carry out the crime. Most times, the victim is distracted on the street or jostled on the crowded trams while their wallet or valuables are lifted. Most victims of pickpockets report being unaware of the incident taking place and realize it only after the fact, although there are some reports of purse snatchings in which the criminal grabs a handbag or backpack and runs. Rural areas of the Czech Republic are quite safe. Car theft and vehicle break-ins are not uncommon in Prague. The stolen cars are usually transported out of the country by organized crime rings or dismantled for spare parts. The recovery rate of stolen property, including vehicles, is very low.
Hotels
The Czech Republic is able to offer a full range of accommodation to suit every pocket. There is a wide range of hotels, graded from one to five stars, boarding hostels and private apartments. Many campsites are also open during the summer. For further information on the range of accommodation available, contact the Czech Tourist Authority at Vinohradsk? Suite 46, PO Box 32, 12041 Prague 2, Czech Republic Tel: (2) 2158 0111. Fax: (2) 2425 7091 or 2424 7516. E-mail: cccr@cccr-cta.cz Website: www.visitczechia.cz or www.cccr-info.cz.
Communications
Full Telephone IDD is available. Country code: 420. Outgoing international code: 00. There are public telephone booths, including special kiosks for international calls. Surcharges can be quite high on long-distance calls from hotels. Most of the public telephone boxes take phonecards, which can be purchased at all Telecom points of sale and at newsagent and tobacconist shops. Mobile phones are GSM 900/1800. Network operators include Cesky Mobil (website: www.oskarmobil.cz), Eurotel (website: www.eurotel.cz) and RadioMobil (website: www.paegas.cz). Coverage extends all over the country. Fax services are widely available. Post office hours are 0800-1800 Monday to Friday.
Electricity
is at 220 volts AC, 50Hz. Most major hotels have standard international 2-pin razor plugs. Lamp fittings are normally of the screw type Electricity Generally 220 volts AC, 50Hz. Most major hotels have standard international two-pin razor plugs. Lamp fittings are normally of the screw type.
Plug Types
E
Food And Dining
Food is often based on Austro-Hungarian dishes. Western-style fresh vegetables are often missing in lower-class restaurants. There is a wide selection of restaurants, beer taverns and wine cellars.

National specialties:
? (Wiener) Schnitzel and pork are very popular.
? Bramborak, a delicacy of a potato pancake filled with garlic and herbs.
? Prague ham.
? Meat dishes are mostly served with knedliky, a type of large dough dumpling, and zeli (sauerkraut). National drinks:
? Popular beverages include beers (lager, dark ales, pilsner), red, white and sparkling wines from Bohemia and Moravia, fruit juices and liqueurs.
? Particular specialties include becherovka (herb brandy) and two Moravian favorites, slivovice (plum brandy) and merunkovice (apricot brandy). There are no rigid licensing hours. Tipping : A 5 to 10 per cent tip is usual.

Nightlife
Theater and opera are of a good standard all over Eastern Europe. Much of the nightlife takes place in nightclubs, bars and casinos which are to be found in major cities.
Entry departure requirements
Visa immigration information
Passports
Passport valid for at least three months beyond length of stay without visa or for at least three months beyond expiry date of visa if applicable, except for:
(a)1. EU/EEA nationals (EU + Iceland, Liechtenstein, Norway) and Swiss nationals holding a valid national ID card.
Note: EU and EEA nationals are only required to produce evidence of their EU/EEA nationality and identity in order to be admitted to any EU/EEA Member State. This evidence can take the form of a valid national passport or national identity card. Either is acceptable. Possession of a return ticket, any length of validity on their document, sufficient funds for the length of their proposed visit should not be imposed.
Note
Minors are allowed to travel on their parents' passports up until aged 15 years.
Visas
Required by all except the following:
(a) 1. British nationals with a valid passport;
(b) 2. nationals listed in the chart above and nationals of Andorra, Argentina, Bolivia, Brazil, Brunei, Chile, Costa Rica, Croatia, El Salvador, Guatemala, Honduras, Hong Kong (SAR), Israel, Korea (Rep), Macau (SAR), Malaysia, Mexico, Monaco, New Zealand, Nicaragua, Panama, Paraguay, San Marino, Sovereign Military Order of Malta, Switzerland, Uruguay, Vatican City and Venezuela for up to 90 days;
(c) nationals of Bulgaria, Romania and Singapore for up to 30 days;
(d) transit passengers continuing their journey within 24 hours and not leaving the airport, providing holding onward tickets and relevant travel documentation. *Airport transit/transit visas are, however, always required for nationals of Afghanistan, Bangladesh, Congo (Dem Rep), Eritrea, Ethiopia, Ghana, Iran, Iraq, Lebanon, Nigeria, Pakistan, Somalia, Sri Lanka and the Syrian Arab Republic (this does not apply if the above national holds a valid residence visa or permit of any EU country, Iceland, Liechtenstein or Norway, or holds a permanent or long-term residence permit in Andorra, Canada, Japan, Monaco, San Marino, Switzerland or the USA);
(e) holders of a UN laissez-passer for as long as is necessary.
Note
(a) EU and EEA nationals, and those who do not require visas, whose stay will exceed 30 days, must register with the Alien and Border Police within 30 days of arrival. All other nationals must register with the Alien and Border Police within three days of arrival, regardless of intended length of stay. Generally, accommodation providers will arrange this for their guests. (b) British Overseas Citizens require visas as do holders of British Travel Documents (blue) under the 1951 Geneva Convention, and holders of British Travel Documents (brown) for tourism and business trips, and must apply in person.
Types of visa and cost
Single-entry, Multiple-entry, Single-transit, Double-transit, Multiple-transit and Airport-transit. Prices vary according to the nationality of the applicant and according to currency rates. For UK nationals, single-entry visas cost US$31 , multiple-entry visas cost US$119 , for stays not exceeding 90 days. Single-transit/double-transit: US$31 There are no visa fees for nationals of Albania, Ecuador, Japan, Seychelles, South Africa and Turkey, or for children under 15 years of age.
Validity
Single- and multiple-entry: Six months from date of issue for a visit of a specified period not exceeding 90 days. Transit (single, double and multiple-transit): Six months from date of issue for a visit of a specified period not exceeding five days.
Application to
Consulate (or Consular section at the Embassy); see Passport/Visa Information for details. Please note that some nationals must apply in person for a visa and submit slightly different application requirements (see below). Check with the Embassy for further details.
Application requirements
(a) One original application form. (b) One recent passport-size photo (attach with glue; do not staple). (c) Passport valid for at least 90 days beyond the requested length of visa, with at least one blank page and a photocopy of the data page. Children inscribed in their parents' passports are permitted to travel with their parents up to the age of 15, from when they will require a separate passport. (d) Fee (payable in cash, by banker's draft or by postal order only). (e) Proof of sufficient funds (eg recent bank statement or letter from host or sponsor). (f) Postal applications should be accompanied by a self-addressed envelope pre-paid for special delivery. (g) Valid travel insurance policy covering emergency hospital treatment and repatriation. Business: (a)-(g) and, (h) Letter from employer or invitation letter from company in the Czech Republic. Student: (a)-(g) and, (h) Letter from school or college confirming that you are a student and confirmation of available accommodation.
Note
All documents must be submitted in both original form, plus one photocopy.
Working days required
Seven (in person); 14 (by post); maximum 30.
Temporary Residence
EU citizens may apply if intending to stay longer than three months, for a temporary or permanent resident permit with the Alien & Border Police in the Czech Republic. The process will take about 60 days. Alternatively, applications may be filed with democratic missions abroad (processing time: up to 180 days). The issue of the permit is not a condition for the stay.
HIV entry requirements
No Test Required
Departure tax
Prague (Ruzyne): Kc700
Embassies
Embassy of the Czech Republic in the UK
26-30 Kensington Palace Gardens, London W8 4QY, UK
Tel: (020) 7243 1115 or (09069) 101 060 (24-hour recorded visa information; calls cost ?1 per minute).
Website: www.mzv.cz/london
Opening hours: Mon-Thurs 0830-1715; Fri 0830-1600; Mon-Fri 0900-1100 (visa application); 1315-1500 (visa collection).
Embassy of the Czech Republic in the USA
3900 Spring of Freedom Street, NW, Washington, DC 20008, USA
Tel: (202) 274 9100 (general) or 9123 (consular).
Website: www.mzv.cz/washington
Travel Advice
Most visits to the Czech Republic are trouble-free but you should be aware of the global risk of indiscriminate international terrorist attacks, which could be against civilian targets, including places frequented by foreigners.
This advice is based on information provided by the Foreign, Commonwealth & Development Office in the UK. It is correct at time of publishing. As the situation can change rapidly, visitors are advised to contact the following organizations for the latest travel advice:
British Foreign, Commonwealth & Development Office
Tel: (0845) 850 2829.
Website: www.gov.uk/foreign-travel-advice
US Department of State
Currency
Koruna (CZK) or Crown = 100 haler. Notes are in denominations of CZK5000, 2000, 1000, 500, 200, 100, 50 and 20. Coins are in denominations of CZK50, 20, 10, 5, 2 and 1, and 50, 20 and 10 hellers.
Currency restrictions
The import and export of local currency is limited to Kc200,000 or 10 golden coins. The import and export of foreign currency is unlimited.
Banking hours
Generally Mon-Fri 0800-1800. Some banks close early on Fridays.
Currency exchange
Foreign currency (including travelers cheques) can be exchanged at all bank branches and at authorized exchange offices, main hotels and road border crossings.
Credit cards
Major cards such as American Express, Diners Club, Discover, Visa, MasterCard and others may be used to exchange currency and are also accepted in some hotels, restaurants and shops. Check with your credit or debit Card Company for details of merchant acceptability and other services which may be available.
Travellers cheques
These are widely accepted. To avoid additional exchange rate charges, travellers are advised to take travellers cheques in US Dollars, Euros or Pounds Sterling.
| City/Region | City/Area code | Followed by |
| --- | --- | --- |
| Jihocesk? | 39 | + 7 digits |
| Jihomoravsk? | 54 | + 7 digits |
| Karlovarsk? | 35 | + 7 digits |
| Krilov?hradeck? | 49 | + 7 digits |
| Libereck? | 48 | + 7 digits |
| Moravskoslezsk? | 59 | + 7 digits |
| Olomouck? | 58 | + 7 digits |
| Pardubick? | 46 | + 7 digits |
| Plzensk? | 37 | + 7 digits |
| Praha | 2 | + 8 digits |
| Stredocesk? | 32 | + 7 digits |
| ?steck? | 47 | + 7 digits |
| Vysocina | 56 | + 7 digits |
| Zl?nsk? | 57 | + 7 digits |