Quick Facts
Region: Europe
Full Name: Republic of Cyprus
Capital City: Nicosia (Lefkosia)
Language Spoken: Greek, Turkish, English
Cyprus Travel Insurance
Get travel insurance to Cyprus from Direct Travel Insurance. We offer low cost and high quality travel insurance to Cyprus and most of the world.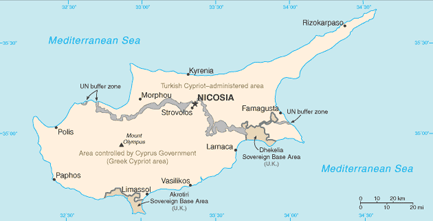 Geographic data
35 00 N, 33 00 E
Elevation Extremes
lowest point: Mediterranean Sea 0 m highest point: Mount Olympus 1,951 m
Land boundaries
total: NA; note - boundary with Dhekelia is being resurveyed border countries: Akrotiri 47.4 km, Dhekelia NA
Natural hazards
moderate earthquake activity; droughts
Natural resources
copper, pyrites, asbestos, gypsum, timber, salt, marble, clay earth pigment
Land use
arable land: 10.81% permanent crops: 4.32% other: 84.87% (2005)
Environmental current issues
water resource problems (no natural reservoir catchments, seasonal disparity in rainfall, sea water intrusion to island's largest aquifer, increased salination in the north); water pollution from sewage and industrial wastes; coastal degradation; loss of wildlife habitats from urbanization
Climate
Warm Mediterranean climate. Hot, dry summers with mild winters during which rainfall is most likely. Required clothing Lightweight cottons and linens during summer months; warmer mediumweights and rainwear during the winter.
Time difference
time difference: UTC+2 daylight saving time: +1hr, begins last Sunday in March; ends last Sunday in October
Population
784,301 (July 2006 est.)
Age structure
0-14 years: 20.4% (male 81,776/female 78,272) 15-64 years: 68% (male 270,254/female 263,354) 65 years and over: 11.6% (male 39,536/female 51,109) (2006 est.)
Median age
total: 34.9 years male: 33.9 years female: 35.9 years (2006 est.)
Population growth rate
0.53% (2006 est.)
Birth rate
12.56 births/1,000 population (2006 est.)
Death rate
7.68 deaths/1,000 population (2006 est.)
Net migration rate
0.42 migrant(s)/1,000 population (2006 est.)
Sex ratio
at birth: 1.05 male(s)/female under 15 years: 1.04 male(s)/female 15-64 years: 1.03 male(s)/female 65 years and over: 0.77 male(s)/female total population: 1 male(s)/female (2006 est.)
Life expectancy at birth
total population: 77.82 years male: 75.44 years female: 80.31 years (2006 est.)
Total fertility rate
1.82 children born/woman (2006 est.)
Business Practices
Business customs in Cyprus are not very different from those in Europe and North America. Despite the long and hot summer, the conventional business dress code usually calls for a suit and tie for men and conservative attire for women. More casual wear is usually worn when entertaining business guests, depending on the venue. All offices are closed half-day Wednesday, otherwise 0800-1300 and 1600-1900 Monday to Friday (summer); 0800-1300 and 1500-1800 Monday to Friday (winter).
Crime
Cyprus is still a very safe country to visit or live in. Criminal activity is minimal and not specifically directed at foreign visitors or residents. There are some petty crimes committed in the tourist beach areas but these are very limited in number and generally involve foreign pickpockets. The only real exception is bars (discos) late at night where gangs of young Cypriots have been known to attack foreigners, particularly young male foreigners with a military appearance. This is attributed to consumption of alcohol coupled with a resentment of the continued presence of British troops at the sovereign base areas on Cyprus. It is best to avoid the discos after midnight. While crime and civil disorder is uncommon in Cyprus, demonstrations sometimes occur, and there have been occasional violent incidents along the "green line" dividing the Turkish and Greek sides of the island. Terrorist groups from the Middle East have occasionally used Cyprus as a site for carrying out acts of terrorism against third-country targets
Hotels
There are over 500 European standard hotels and hotel apartments scattered throughout the island.
Communications
The island's telecommunications system is quite advanced and efficient. The country code is 357 and the outgoing international code: 00. More than 190 countries can be reached on a fully automatic direct dialing. Installation services are offered within a few days notice. Fax service is available, as is the Internet. Telecard or coin operated public telephones are installed at various central locations in towns and villages. Post office hours are 0730-1330 Monday to Friday; 1500-1800 Thursday (not in July and August).
Electricity
is at 240 volts AC, 50Hz. There are two types of plug in use, 5-amp round 3-pin and 13-amp square 3-pin (UK-type). Electricity 240 volts AC, 50Hz. Square 13-amp three-pin plugs (UK-type) are used.
Plug Types
G,F
Food And Dining
Major resorts have bars and restaurants of every category. At larger hotels, the indigenous cuisine tends to have an 'international flavor' although authentic local dishes may also be available. All over the island there are restaurants offering genuine Cypriot food. One of the best ways of enjoying Cypriot food is by ordering mezze (snacks), a large selection of a number of different local dishes. However, the cuisine varies according to whether the visitor eats in the North or the Republic of Cyprus. Waiter service is normal and counter service is common in bars. There are no licensing hours and the highlight of the wine year is the annual wine festival in Limassol, usually held in September, when free wine flows and local food is on offer.

National specialties:
? Tava (a tasty stew of meat, herbs and onions).
? Dolmades (vine leaves stuffed with minced meat and rice).
? Kebabs (pieces of lamb or other meat skewered and roasted over a charcoal fire).
? Stifado (a stew of beef or hare cooked with wine, vinegar, onion and spices).
? Fresh seafood: Tsipoura (seabream), Lavraki (seabass) and Garides (prawns).
? Loukoumades, Cyprus doughnuts with honey syrup. National drinks:
? Coffee is Greek-style (short, strong and unfiltered)
? Cyprus produces excellent wines, spirits and beer which can only be bought in the south. Tipping : A service charge is added to all bills, but tipping is still acceptable and remains at the discretion of the individual.
Entry departure requirements
Resricted Entry (a) Holders of Former Yugoslav Republic passports bearing the stamp 'Macedonia'. (b) Holders of passports issued illegally by the 'Turkish Republic of Northern Cyprus'. Other nationalities having stamps or visas of the 'Turkish Republic of Northern Cyprus' in their passports are only allowed to enter Cyprus after the visas/stamps are cancelled by the Immigration Authorities of the Republic of Cyprus.
Visa immigration information
Passports
Passport valid for at least three months beyond length of stay required by all except:
(a)1. EU/EEA nationals (EU + Iceland, Liechtenstein, Norway) and Swiss nationals holding a valid national ID card.
Note: EU and EEA nationals are only required to produce evidence of their EU/EEA nationality and identity in order to be admitted to any EU/EEA Member State. This evidence can take the form of a valid national passport or national identity card. Either is acceptable. Possession of a return ticket, any length of validity on their document, sufficient funds for the length of their proposed visit should not be imposed.
Visas
Required by all except the following for stays of up to 90 days:
(a) nationals of countries referred to in the chart above;
(b) nationals of Andorra, Argentina, Bolivia, Brazil, Brunei, Bulgaria, Chile, Costa Rica, Croatia, El Salvador, Guatemala, Honduras, Hong Kong (SAR), Iceland, Israel, Korea (Rep), Liechtenstein, Macau (SAR), Malaysia, Mexico, Monaco, New Zealand, Nicaragua, Norway, Panama, Paraguay, Romania, San Marino, Singapore, Switzerland, Uruguay, Vatican City and Venezuela;
(c) transit passengers continuing their onward journey by the same or first connecting aircraft within 24 hours, provided holding valid onward or return documentation and not leaving the airport, except nationals of Afghanistan, Bangladesh, Congo (Dem Rep), Eritrea, Ethiopia, Ghana, Iran, Iraq, Nigeria, Pakistan, Somalia, Sri Lanka and Turkey, who require an Airport Transit visa.
Types of visa and cost
Tourist/Business: CUS$10 (free of charge to nationals of Egypt, Russian Federation, Syrian Arab Republic and Ukraine, provided holding onward or return tickets and sufficient funds to cover the duration of their stay). Multiple-entry visas are only issued to those who require it for business purposes and cost CUS$34 Transit: CUS$10 Airport Transit: CUS$10
Validity
Tourist/Business: Three months. Transit: Five days.
Application to
In person to the Consulate (or Consular section at Embassy or High Commission).
Application requirements
(a) Passport valid at least six months after returning from Cyprus. (b) One completed application form. (c) One passport-size photo. (d) Proof of sufficient funds to cover duration of stay. (e) Provisional booking or itinery of travel arrangements and evidence of hotel reservation or letter of invitation from resident of Cyprus. (f) Fee (payable by cash or postal order only, subject to rate of exchange). (g) Application must be submitted in person; however, for those who reside more than 200miles (300km) from the Consulate may apply by post and send a registered self addressed special delivery envelope. Business: (a)-(g) and, (h) Introductory letter from the applicant's company, giving details of salary. (i) Official letter of invitation from a company in Cyprus.
Working days required
In most cases personal applications will be processed on the same day or within 24 hours after an interview, but it may take up to a minimum of 10 days if application needs to be referred to Cyprus (depending on nationality, eg Turkey).
Temporary residence
Nationals of any country coming to Cyprus for employment or studies must secure an employment or student's permit through the Migration Officer, Nicosia prior to arrival. Applications should be submitted by the prospective employers or the directors of the schools.
HIV entry requirements
Test required for anyone applying for a work or study permits
Departure tax
None
Embassies
High Commisson of the Republic of Cyprus in the UK
93 Park Street, London W1K 7ET, UK
Tel: (020) 7499 8272 or 7491 2955 or 7629 6288 (Cyprus Trade Center) or 5350 (consular section).
Website: www.cyprus.gov.cy
Opening hours: Mon-Fri 0930-1700; 0930-1300 (consular section).
Embassy of the Republic of Cyprus in the USA
2211 R Street NW, Washington DC 20008-4082, USA
Tel: (202) 462 5772 or 462 0873.
Website: www.cyprusembassy.net
Consulate of the Republic of Cyprus in the USA
13 East, 40th Street, New York, NY 10016, USA
Tel: (212) 686 6016/7.
Travel Advice
Most visits to Cyprus are trouble-free but you should be aware of the global risk of indiscriminate international terrorist attacks, which could be against civilian targets, including places frequented by foreigners.
This advice is based on information provided by the Foreign, Commonwealth & Development Office in the UK. It is correct at time of publishing. As the situation can change rapidly, visitors are advised to contact the following organizations for the latest travel advice:
British Foreign, Commonwealth & Development Office
Website: www.gov.uk/foreign-travel-advice
US Department of State
Currency
Cyprus Pound (CYP; symbol C?) = 100 cents. Notes are in denominations of C?20, 10, 5 and 1. Coins are in denominations of 50, 20, 10, 5, 2 and 1 cents.
Currency restrictions
The import of local currency is unrestricted, subject to declaration; foreign currency for amounts over US$1000 (or the equivalent in other currency) must be declared. The export of local and foreign currency is limited to the amount declared on arrival. Local currency withdrawn from Cypriot banks may be exported provided a holding certificate is obtained by the bank.
Banking hours
Generally Mon-Fri 0830-1230 in June, July and August; Mon-Fri 0815-1230 and Mon 1515-1645 rest of year. Certain central banks may also open Tues-Fri in the afternoon. Banks in Larnaca and at Pafos International Airport are open all day.
Currency exchange
Visitors wishing to obtain non-Cypriot currency at Cypriot banks for business purposes are advised that this is only possible by prior arrangement. ATMs operate 24 hours in main towns and tourist areas.
Credit cards
All major credit cards are accepted at most places. Check with your credit or debit Card Company for details of merchant acceptability and other services which may be available.
Travellers cheques
May be cashed in all banks. To avoid additional exchange rate charges, travellers are advised to take travellers cheques in Pounds Sterling or Cyprus Pounds.
| City/Region | City/Area code | Followed by |
| --- | --- | --- |
| Lefkosia (Nicosia) | (0)392 | + 7 digit subscriber nr |