Quick Facts
Region: Europe
Full Name: Republic of Croatia
Capital City: Zagreb
Language Spoken: Croatian 96.1%, Serbian 1%, other and undesignated 2.9% (including Italian, Hungarian, Czech, Slovak, and German) (2001 census)
Croatia Travel Insurance
Get travel insurance to Croatia from Direct Travel Insurance. We offer low cost and high quality travel insurance to Croatia and most of the world.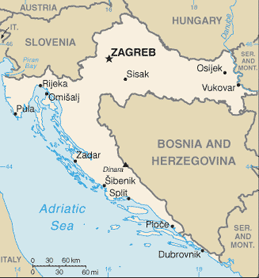 Geographic data
45 10 N, 15 30 E
Elevation Extremes
lowest point: Adriatic Sea 0 m highest point: Dinara 1,830 m
Land boundaries
total: 2,197 km border countries: Bosnia and Herzegovina 932 km, Hungary 329 km, Serbia 241 km, Montenegro 25 km, Slovenia 670 km
Natural hazards
destructive earthquakes
Natural resources
oil, some coal, bauxite, low-grade iron ore, calcium, gypsum, natural asphalt, silica, mica, clays, salt, hydropower
Land use
arable land: 25.82% permanent crops: 2.19% other: 71.99% (2005)
Environmental current issues
air pollution (from metallurgical plants) and resulting acid rain is damaging the forests; coastal pollution from industrial and domestic waste; landmine removal and reconstruction of infrastructure consequent to 1992-95 civil strife
Climate
Croatia has a varied climate, with continental climate conditions in the north and Mediterranean ones on the Adriatic coast. Required clothing Lightweights with rainwear for summer. Mediumweights for winter with heavier clothing for inland areas.
Time difference
time difference: UTC+1 daylight saving time: +1hr, begins last Sunday in March; ends last Sunday in October
Population
4,494,749 (July 2006 est.)
Age structure
0-14 years: 16.2% (male 373,638/female 354,261) 15-64 years: 67% (male 1,497,958/female 1,515,314) 65 years and over: 16.8% (male 288,480/female 465,098) (2006 est.)
Median age
total: 40.3 years male: 38.3 years female: 42.1 years (2006 est.)
Population growth rate
-0.03% (2006 est.)
Birth rate
9.61 births/1,000 population (2006 est.)
Death rate
11.48 deaths/1,000 population (2006 est.)
Net migration rate
1.58 migrant(s)/1,000 population (2006 est.)
Sex ratio
at birth: 1.06 male(s)/female under 15 years: 1.05 male(s)/female 15-64 years: 0.99 male(s)/female 65 years and over: 0.62 male(s)/female total population: 0.93 male(s)/female (2006 est.)
Life expectancy at birth
total population: 74.68 years male: 71.03 years female: 78.53 years (2006 est.)
Total fertility rate
1.4 children born/woman (2006 est.)
Business Practices
Business meetings in Croatia follow formal business protocols, but the image of Western-style efficiency is often overlooks the fact that things go very slowly through the cumbersome bureaucracy. English and German are widely used as second languages. Business cards including professional or academic titles should be exchanged just after formal introductions. There are also a large number of local agents, advisers, consultants and, to a lesser extent, lawyers, willing to act for foreign companies, but none should be engaged before being thoroughly checked in advance. Croatia has created a more liberal framework for foreign investments so that foreign investors are guaranteed special rights and incentives for investing in Croatia. Office hours are usually 0800-1600 Monday to Friday.
Crime
Croatia has a relatively low crime rate. Foreigners do not appear to be singled out; however, displays of wealth increase chances of becoming the victim of a pickpocket or mugger. Such crimes often occur in bus or railroad stations. Violent crime is rare. The emergency police number is 92. Response time is generally good, though long waits may occur.
Hotels
Once a major European tourism destination, Croatia has some very good hotels on its Adriatic coast, although the war effectively closed all but those on the Istrian peninsula (Rijeka-Pula). Elsewhere, deluxe hotels are available in Zagreb and the Plitvice Lakes tourist area on the border with Bosnia-Herzegovina near Bihac.
Communications
IDD is available. Country code: 385. Outgoing international code: 00. All services, including facsimile, are generally available for communications to and from Western Europe. Apart from a limited telex service, all telephone communications between Zagreb and Belgrade have been indefinitely cut. Internal communications are generally satisfactory.
Electricity
is at 220 volts AC, 50Hz. Electricity 220 volts AC, 50Hz.
Plug Types
C,F
Food And Dining
National specialties:
? Much Croatian food contains cheese and oil, often mixed with other ingredients in pies or 'donuts'.
? The Adriatic coast is renowned for its variety of seafood dishes, including scampi, prstaci (shellfish) and brodet (mixed fish stewed with rice), all cooked in olive oil and served with vegetables.
? In the interior, visitors should sample manistra od bobica (beans and fresh maize soup). National drinks:
? The regional wines are good.
? Italian espresso is also popular and cheap. Tipping : 10 per cent is expected in hotels, restaurants and taxis.
Entry departure requirements
Restricted entry and transit Croatia does not recognize passports issued by Chinese Taipei, Palestine and the Turkish Republic of Cyprus.
Visa immigration information
Passports
Passport valid for at least the length of stay required by all, except:
1. nationals of EU countries, and nationals of Andorra, Iceland, Liechtenstein, Monaco, Norway, San Marino, Switzerland and Vatican City, with valid national photo ID cards.
Visas
Required by all except the following for stays of up to 90 days:
(a) nationals listed in the chart above (including the Sovereign Military Order of Malta, although such passport holders may not enter Croatia with national ID cards);
(b) nationals of Andorra, Argentina, Bolivia, Bosnia & Herzegovina, Brazil, Brunei, Bulgaria, Chile, Costa Rica, Ecuador, El Salvador, Guatemala, Honduras, Hong Kong (SAR), Iceland, Israel, Korea (Rep), Liechtenstein, Macau (SAR), Macedonia (Former Yugoslav Republic of), Malaysia, Mexico, Monaco, New Zealand, Nicaragua, Norway, Panama, Paraguay, Romania, San Marino, Serbia & Montenegro, Singapore, Switzerland, Turkey, Uruguay, the Vatican City and Venezuela;
(c) nationals of Russian Federation, if they have a letter of invitation from a Croatian resident or a valid tourist voucher;
(d) transit passengers continuing their journey by the same or first connecting aircraft within 24 hours, provided holding confirmed onward and return documentation and not leaving the airport. Note: nationals of Afghanistan, Bangladesh, Congo (Democratic Republic of), Eritrea, Ethiopia, Ghana, Iraq, Iran, Nigeria, Pakistan, Somalia and Sri Lanka do require airport transit visas unless they have a permit for staying in the EU, Andorra, Iceland, Liechtenstein, Monaco, Norway, San Marino, Switzerland or the USA.
Types of visa and cost
Travel/Transit: US$26 (single-entry); US$33 (double-entry); US$52 (multiple-entry).
Validity
Travel: Valid for a one-year period, with continuous stay or the overall duration of repeated entries not exceeding 90 days, during a six-month period starting from day of entry. Business: Valid for one year; can be issued to members of a foreign company provided it is registered in Croatia. For further information on company registration, contact the Croatian Chamber of Economy. Transit: Valid for a six-month period for up to five days maximum; can sometimes be multiple-entry. Airport Transit: One or more transit through the Airport International Transit area over a period not exceeding 24 hours. Group: Five to 50 persons based on submission of group travel documents, for one entry or transit not exceeding a 30-day period.
Application to
Consulate (or Consular section at Embassy); see Passport/Visa Information.
Application requirements
(a) Valid passport. (b) Completed application form. (c) Passport-size photo (30 x 35mm and in color). (d) Proof of sufficient funds to cover duration of stay (minimum of ?100 per day). (e) Proof of accommodation within Croatia or documentation regarding the purpose and means of travel (such as business/invitation letter, return or onward ticket, holiday arrangements).
Working days required
Five days to four weeks, depending on nationality and type of visa required. Multiple-entry visas: Four to six weeks.
HIV entry requirements
No Test Required
Departure tax
None
Embassies
Embassy of the Republic of Croatia in the UK
21 Conway Street, London W1T 6BN, UK
Tel: (020) 7387 2022 or 1144 (consular section).
Website: http://uk.mvp.hr
Opening hours: Mon-Fri 0900-1700; Mon-Thurs 1100-1400, Fri 1000-1200 (visa section).
Embassy of the Republic of Croatia in the USA
2343 Massachusetts Avenue, NW, Washington, DC 20008, USA
Tel: (202) 588 5899.
Website: www.croatiaemb.org



Most visits to Croatia are trouble-free but you should be aware of the global risk of indiscriminate international terrorist attacks, which could be against civilian targets, including places frequented by foreigners.
Unexploded land mines are still a danger. Highly populated areas and major routes are now clear of mines and are safe to visit. However, isolated areas in the mountains and countryside have not all been cleared. Travelers should therefore be careful not to stray from roads and paved areas without an experienced guide.
This advice is based on information provided by the Foreign, Commonwealth & Development Office in the UK. It is correct at time of publishing. As the situation can change rapidly, visitors are advised to contact the following organizations for the latest travel advice:
British Foreign, Commonwealth & Development Office
Tel: (0845) 850 2829.
Website: www.gov.uk/foreign-travel-advice
US Department of State
Website: http://travel.state.gov/travel
Currency
Kuna (HRK) = 100 Lipa. Notes are in denominations of HRK1000, 500, 200, 100, 50, 20, 10 and 5. Coins are in denominations of HRK25, 5, 2 and 1, and 50, 20, 10, 5, 2 and 1 lipa.
Currency restrictions
The import and export of local currency is limited to K15, 000 (in banknotes up to K500). The import and export of foreign currency is unlimited but it is compulsory to declare in writing the amounts that exceed the value equivalent to K40, 000.
Banking hours
Mon-Fri 0700-1900, Sat 0700-1300. Some banks may open on Sundays in larger cities.
Currency exchange
Foreign currency can be exchanged in banks, by authorized dealers and post offices. ATMs are widespread.
Credit cards
American Express, Diners Club, MasterCard and Visa are widely accepted. Check with your credit or debit card company for details of merchant acceptability and other facilities which may be available.
Travellers cheques
To avoid additional exchange rate charges, travelers are advised to take traveller's cheques in US Dollars, Pounds Sterling or Euros.
| City/Region | City/Area code | Followed by |
| --- | --- | --- |
| Bjelovar | (0)43 | + 6 digit subscriber nr |
| Cakovec | (0)40 | + 6 digit subscriber nr |
| Dubrovnik | (0)20 | + 6 digit subscriber nr |
| Gospic | (0)53 | + 6 digit subscriber nr |
| ?ibenik | (0)22 | + 6 digit subscriber nr |
| Karlovac | (0)47 | + 6 digit subscriber nr |
| Koprivnica | (0)48 | + 6 digit subscriber nr |
| Krapina | (0)49 | + 6 digit subscriber nr |
| Osijek | (0)31 | + 6 digit subscriber nr |
| Pazin | (0)52 | + 6 digit subscriber nr |
| Po?ega | (0)34 | + 6 digit subscriber nr |
| Rijeka | (0)51 | + 6 digit subscriber nr |
| Sisak | (0)44 | + 6 digit subscriber nr |
| Slavonski Brod | (0)35 | + 6 digit subscriber nr |
| Split | (0)21 | + 6 digit subscriber nr |
| Vara?din | (0)42 | + 6 digit subscriber nr |
| Vinkovci | (0)32 | + 6 digit subscriber nr |
| Virovitica | (0)33 | + 6 digit subscriber nr |
| Zadar | (0)23 | + 6 digit subscriber nr |
| Zagreb | (0)1 | + 7 digit subscriber nr |