Quick Facts
Region: Africa
Full Name: Republic of Chad
Capital City: N'Djamena
Language Spoken: French (official),Arabic (official), Sara (in south), more than 120 different languages and dialects
Chad Travel Insurance
Get travel insurance to Chad from Direct Travel Insurance. We offer low cost and high quality travel insurance to Chad and most of the world.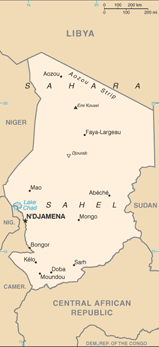 Geographic data
15 00 N, 19 00 E
Elevation Extremes
lowest point: Djourab Depression 160 m highest point: Emi Koussi 3,415 m
Land boundaries
total: 5,968 km border countries: Cameroon 1,094 km, Central African Republic 1,197 km, Libya 1,055 km, Niger 1,175 km, Nigeria 87 km, Sudan 1,360 km
Natural hazards
hot, dry, dusty harmattan winds occur in north; periodic droughts; locust plagues
Natural resources
petroleum, uranium, natron, kaolin, fish (Lake Chad), gold, limestone, sand and gravel, salt
Land use
arable land: 2.8% permanent crops: 0.02% other: 97.18% (2005)
Environmental current issues
inadequate supplies of potable water; improper waste disposal in rural areas contributes to soil and water pollution; desertification
Climate
Hot, tropical climate, though temperatures vary in different areas. The southern rainy season lasts from May to October and the central rains from June to September. The north has little rain all year. The dry season is often windy and cooler during the evenings. Required clothing Linens and tropical waterproof clothing.
Time difference
time difference: UTC+1
Population
9,944,201 (July 2006 est.)
Age structure
0-14 years: 47.9% (male 2,396,393/female 2,369,261) 15-64 years: 49.3% (male 2,355,940/female 2,550,535) 65 years and over: 2.7% (male 107,665/female 164,407) (2006 est.)
Median age
total: 16 years male: 15.3 years female: 16.6 years (2006 est.)
Population growth rate
2.93% (2006 est.)
Birth rate
45.73 births/1,000 population (2006 est.)
Death rate
16.38 deaths/1,000 population (2006 est.)
Net migration rate
-0.11 migrant(s)/1,000 population (2006 est.)
Sex ratio
at birth: 1.04 male(s)/female under 15 years: 1.01 male(s)/female 15-64 years: 0.92 male(s)/female 65 years and over: 0.66 male(s)/female total population: 0.96 male(s)/female (2006 est.)
Life expectancy at birth
total population: 47.52 years male: 45.88 years female: 49.21 years (2006 est.)
Total fertility rate
6.25 children born/woman (2006 est.)
Business Practices
Crime
Incidents of petty theft and theft from vehicles occur. There are also reports of armed robbery, sometimes targeting expatriates. Highway bandits are known to operate in Chad. There is a high level of banditry; much of it carjacking ambushes, south of GozBeida. Take sensible personal security precautions. Avoid carrying valuables or wearing jewelry in public and avoid isolated or poorer areas of towns. Avoid walking around and traveling at night. A series of civil wars within Chad has left guns readily available, and weapons flooded in from the conflict in Sudan's Darfur province, which borders eastern Chad. Criminals do not hesitate to use violence when presented with resistance. Corruption and ill-discipline in the security forces is a significant concern. N'djamena residents have noted that since the government cracked down on pay fraud in the security forces in 2004, crime worsened significantly in the city, with many of the perpetrators enjoying the protection of the police force. The government cited dissatisfaction with the crackdown as a major motivator for an abortive army mutiny in May 2004. The government's clean-up campaign weeded out several thousand fictitious soldiers, whose salaries were augmenting the low salaries of security officers. Since a private in the Chadian army earns less than US$30 per month, the temptation to illegally supplement army salaries has always been high. The Republican Guard and the National and Chadian National Nomadic Guard (GNNT), two well-armed sections of the armed forces that both took a significant role in the mutiny, are especially notorious for extorting money from drivers when demanding to see their papers at checkpoints. N'djamena residents say that if armed robbers break into a house or steal a car, the victim is better off blowing a whistle than calling a policeman. When one person blows their whistle, others join in and the whole street is alerted in the hope that the criminal will be scared away. Residents fear that calling the police will be futile, as the criminal may be under the protection of the police or armed forces - or a member of them. This has been the case in a spate of recent incidents reported in the local press, where the criminal has been simply released. Sometimes, even when the police are prevailed upon to pursue criminals, they demand money for their services. As an alternative to relying on the police, better-off residents of the capital keep guns and tear gas canisters ready to deal with attackers and intruders. Even the head of the local human rights association carries a pistol, explaining: "I was nearly killed in my office. A guy came to my office and pointed his gun at me. I took out mine and he fled. This was the seventh time I had been attacked." Those unable to afford sophisticated defense carry knives. Particularly immune from prosecution are members of President Deby's small Zagawa ethnic group from eastern Chad. Local residents observe that when police officers apprehend a Zagawa offender, some higher-ranking Zagawa officer commonly intervenes to have the suspect freed, regardless of the crime.
Hotels
There are several good hotels in N'Djam?na, but accommodation elsewhere is very limited. There are some small hotels at Sarh, a modern hotel complex in Zakouma National Park, and various small hunting hotels in the southwest.
Communications
The country code is 235. It may be necessary to dial through the operator. Post office hours are 0730-1200 Monday to Friday; 1430-1830 Saturday; 0800-1100 Sunday (for the purchase of stamps).
Electricity
is a 220/380 volts AC, 50Hz. Electricity 220 volts AC, 50Hz. Round two-pin plug.
Plug Types
D,E,F
Food And Dining
N'Djam?na offers a fair selection of restaurants serving mainly French and African food. Standard European-style service is normal. Outside the capital, restaurants tend to be cheap and cheerful and there is an acute shortage of some foodstuffs. Visitors should exercise caution with street market food.

National specialties:
? Peanut sauce over rice, often eaten in Southern Chad. National drinks:
? Chad's excellent beer, Gala, is brewed in Moundou and is widely available in the non-Muslim parts of the capital.
? Karkanji, a drink made from Hibiscus flowers. Tipping : 10 per cent is normal for most services (US Dollars are the preferred currency).

Nightlife
Lively dancing and music is to be found in the capital, where there is an increasing number of nightclubs. Pari-matches take place on most Saturdays and Sundays in N'Djam?na (non-Muslim areas): groups of women hire bars and sell drinks all day. Outside N'Djam?na, nightlife is limited, although bars and open-air dancing can generally be found.
Entry departure requirements
Visa immigration information
Passports
Passport valid for at least six months required by all.
Visas
Required by all except those continuing their journey within 48 hours by the same or first connecting aircraft provided holding tickets with reserved seats and valid travel documents. All visitors must register at the S?ret? (immigration department) within 72 hours of arrival; two passport photographs are also required.
Types of visa and cost
Ordinary visa (includes visas issued for business or tourist purposes): US$20 (single-entry); US$118 (multiple-entry).
Validity
One month.
Note
Single parents or adults traveling alone with children should be aware that documentary evidence of parental responsibility may be requested.
Application to
Consulate (or Consular section at Embassy); see Passport/Visa Information for details. In countries with no Chadian representation, French consulates may deal with applications.
Application requirements
(a) Valid passport. (b) Two passport-size photos. (c) Two application forms. (d) Letters of recommendation from employer (for business visits). (e) Valid return ticket. (f) Fee. (g) Yellow fever vaccination certificate, provided upon arrival. Failure to do so may result in a further vaccination being administered, for which a charge will be made.
Working days required
Three.
HIV entry requirements
No Test required
Departure tax
CFAfr5000 (tourist tax) and CFAfr3000 (security tax). Students and transit passengers continuing their journey within 24 hours are exempt.
Embassies
Embassy of Chad in France
65 rue des Belles Feuilles, 75116 Paris, France
Tel: (1) 4553 3675.
Embassy of Chad in the USA
2002 R Street, NW, Washington, DC 20009, USA
Tel: (202) 462 4009.
Website: http://www.chadembassy.us/
Also deals with enquiries from Canada.
Travel Advice
Travelers are advised against all travel to the area of Chad bordering the Darfur region of Sudan where, due to rebel activity and the conflict in Darfur, the security situation is extremely unstable.
Travelers are advised against all travel to the Borkou-Ennedi-Tibesti provinces in the north of the country, to the area bordering the Central African Republic (CAR) and to the area south of Goz Beida. The Sudan and Libyan borders are subject to closure.
When traveling in Northern Chad, tourists must be accompanied by a local guide provided by the local authorities or Sous-prefet.
The tri-border area where Chad, Sudan and CAR meet should be avoided.
Terrorists are active in countries neighboring Chad, including Algeria.
This advice is based on information provided by the Foreign, Commonwealth & Development Office in the UK. It is correct at time of publishing. As the situation can change rapidly, visitors are advised to contact the following organizations for the latest travel advice:
British Foreign, Commonwealth & Development Office
Tel: (0845) 850 2829.
Website: www.gov.uk/foreign-travel-advice
US Department of State
Currency
CFA (Communaut? Financiaire Africaine) Franc (XAF) = 100 centimes. Notes are in denominations of XAF10,000, 5000, 2000, 1000 and 500. Coins are in denominations of XAF250, 100, 50, 25, 10, 5 and 1. Chad is part of the French Monetary Area. Only currency issued by the Banque des Etats de l'Afrique Centrale (Bank of Central African States) is valid; currency issued by the Banque des Etats de l'Afrique de l'Ouest (Bank of West African States) is not. The CFA Franc is tied to the Euro.
Currency restrictions
If importing or exporting local currency from other countries in the French monetary area, there are no restrictions; the import or export of local currency from any other country is limited to CFAfr10,000. Import of foreign currency is unrestricted, provided declared upon arrival. Export of foreign currency is limited to the amount imported and declared.
Banking hours
Mon-Sat 0700-1300, Fri 0700-1030.
Currency exchange
It is advisable to bring US Dollars or Euros rather than Sterling into the country. CFA Francs can be difficult to exchange outside the French Monetary Area.
Credit cards
Diners Club, MasterCard and Visa are accepted at two hotels in N'Djam?na. It may not be possible to obtain cash advances at banks on credit cards.
Travellers cheques
May be exchanged at one or two banks in N'Djam?na. To avoid additional exchange rate charges, travelers are advised to take traveller's cheques in Euros.