Quick Facts
Region: North & Central America & the Caribbean
Full Name: Canada
Capital City: Ottawa
Language Spoken: English (official) 59.3%, French (official) 23.2%, other 17.5%
Canada Travel Insurance
Get travel insurance to Canada from Direct Travel Insurance. We offer low cost and high quality travel insurance to Canada and most of the world.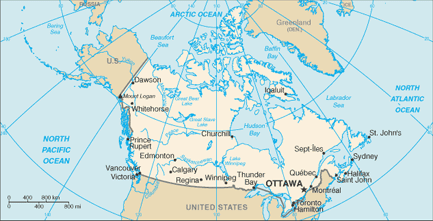 Geographic data
60 00 N, 95 00 W
Elevation Extremes
lowest point: Atlantic Ocean 0 m highest point: Mount Logan 5,959 m
Land boundaries
total: 8,893 km border countries: US 8,893 km (includes 2,477 km with Alaska)
Natural hazards
continuous permafrost in north is a serious obstacle to development; cyclonic storms form east of the Rocky Mountains, a result of the mixing of air masses from the Arctic, Pacific, and North American interior, and produce most of the country's rain and snow east of the mountains
Natural resources
iron ore, nickel, zinc, copper, gold, lead, molybdenum, potash, diamonds, silver, fish, timber, wildlife, coal, petroleum, natural gas, hydropower
Land use
arable land: 4.57% permanent crops: 0.65% other: 94.78% (2005)
Environmental current issues
air pollution and resulting acid rain severely affecting lakes and damaging forests; metal smelting, coal-burning utilities, and vehicle emissions impacting on agricultural and forest productivity; ocean waters becoming contaminated due to agricultural, industrial, mining, and forestry activities
Climate
Note Summer thunderstorms are common throughout Canada. Occasionally, these may become 'severe'. Tornados also occur throughout Canada, with May to September being prime months. The peak season is June and early July in southern Ontario, Alberta, southeastern Québec, and a band stretching from southern Saskatchewan and Manitoba, through to Thunder Bay. The interior of British Columbia and western New Brunswick are also tornado zones. Earth tremors occur in the western mountains. Forest fires can occur at any time, regardless of the season, particularly in the grasslands and forests of western Canada. Climate graphs for the various provinces and territories may be found in the relevant entries below. Required clothing March: Moderate temperatures. Winter clothing with some mediumweight clothing. April: Milder days but the evenings are cool. Mediumweight clothing including a topcoat is recommended. May: Warm days but cool at night. Mediumweight and summer clothing recommended. June: Warm, summer clothing with some mediumweight clothing for cool evenings. The weather in June is ideal for travel and all outdoor activities. July/August: These are the warmest months of the year. Lightweight summer clothing is recommended. September: Warm days and cool evenings. Light- to mediumweight clothing recommended. October: Cool, with the first frost in the air. November: Cool to frosty. Medium- to heavyweight clothing is recommended. First signs of snow. Motorists should have cars prepared for winter and snow tires are recommended. December/January/February: Winter temperatures. Winter clothing is necessary (eg overcoat, hat, boots and gloves). Heavy snowfall in most provinces.
Time difference
time difference: UTC-5 daylight saving time: +1hr, begins second Sunday in March; ends first Sunday in November note: Canada is divided into six time zones
Population
33,098,932 (July 2006 est.)
Age structure
0-14 years: 17.6% (male 2,992,811/female 2,848,388) 15-64 years: 69% (male 11,482,452/female 11,368,286) 65 years and over: 13.3% (male 1,883,008/female 2,523,987) (2006 est.)
Median age
total: 38.9 years male: 37.8 years female: 39.9 years (2006 est.)
Population growth rate
0.88% (2006 est.)
Birth rate
10.78 births/1,000 population (2006 est.)
Death rate
7.8 deaths/1,000 population (2006 est.)
Net migration rate
5.85 migrant(s)/1,000 population (2006 est.)
Sex ratio
at birth: 1.05 male(s)/female under 15 years: 1.05 male(s)/female 15-64 years: 1.01 male(s)/female 65 years and over: 0.75 male(s)/female total population: 0.98 male(s)/female (2006 est.)
Life expectancy at birth
total population: 80.22 years male: 76.86 years female: 83.74 years (2006 est.)
Total fertility rate
1.61 children born/woman (2006 est.)
Business Practices
Business practices in Canada are similar to those in the United States and Europe. Suits are generally expected at meetings. Usual courtesies observed including exchange of business cards, making appointments, etc. Office hours are 0900-1700 Monday to Friday
Crime
Although criminal activity is more common in urban areas, violent crimes such as murder, armed robbery, and rape are infrequent throughout the country. Most reported violent crimes continue to be committed by someone known to the victim, and the majority of property crimes can best be classified as crimes of opportunity. Visitors to Canada's metropolitan areas should be advised to take the same type of security precautions they would while traveling to any major city in the world. Although Canada's violent crime rate is much lower than that found in the United States, it is still higher than the rate in many European countries. The continuing trend to reduce police operating budgets makes it increasingly difficult for the law enforcement community to adequately patrol higher crime areas.
Hotels
International hotel chains are represented in major cities, but advance booking is essential. Guesthouses, farm vacations, bed & breakfast establishments and self-catering lodges are available throughout the country. For further information, contact the Canadian Tourist Office or the Hotel Association of Canada
Communications
There is a reduced rate 1800-0800 Monday to Friday, and 1200 Saturday to 0800 Monday. Full IDD is available. Country code: 1. Outgoing international code: 011. Fax services are available in commercial bureaux and most hotels all day at locally agreed rates.
Electricity
is 110 volts AC, 60Hz. American-style (flat) 2-pin plugs are standard. Electricity 110-120 volts AC, 60Hz. American-style (flat) two-pin plugs are standard.
Plug Types
A,B
Food And Dining
Canadian cuisine is as varied as the country. The hundreds of miles of coastline offer varied seafood, and the central plains provide first-class beef and agricultural produce. Some more unusual produce might include elk, bison and caribou. The colonial influence is still strong, with European menus available in all major cities. The French influence in Qu?bec is easily discernible in the many restaurants which specialize in French cuisine. Waiter service in restaurants is common. Dress requirements and billing procedures vary. A selection of European/US wines and spirits are imported, although the Canadians also enjoy their own, such as rye whisky. Things to know: Spirits may only be purchased from specially-licensed liquor stores or restaurants displaying the sign ?Licensed Premises.? Many allow customers to bring their own beer or wine. A wide variety of alcohol is sold in most hotels, restaurants and bars. Bars may have table or counter service and payment is generally made after each drink. Opening hours vary from province to province. Legal drinking age: The minimum drinking age is either 18 or 19, depending on the province/territory. See Social Profile in the individual Provinces/ Territories sections. Nunavut is an exception because alcohol is prohibited in some communities. Tipping : Normal practice is usually 15 per cent of the bill, more if service is exceptional. Waiters, barbers, hairdressers and taxi drivers should be tipped this amount. Porters at airports and railway stations, cloakroom attendants, bellhops, doormen and hotel porters generally expect C$1 per item of luggage. Tipping your server is standard practice in bars and nightclubs.

Nightlife
Every major provincial capital in the more populated areas has nightclubs, and hotel dinner/dancing. Montr?al, Ottawa, Toronto, Vancouver and Winnipeg are centers for ballet, opera and classical music, with visits from leading orchestras and internationally renowned performers. Entertainment in the more remote towns is scarce.
Entry departure requirements
Restricted entry and transit The Government of Canada refuses admission to: (a) holders of passports, identity or travel documents issued by Bophuthatswana, Ciskei, Transkei, Venda or the All Palestinian government; (b) holders of passports issued by the UK government entitled "British Temporary Resident's Passport"; (c) holders of passports purported issued by the government of Somalia. Note Visitors to Canada must satisfy an examining officer at the Port of Entry that they are genuine visitors, in good health, with no criminal convictions, and have sufficient funds to maintain themselves during their stay in Canada and to return to their country of origin, as well as evidence of confirmed onward reservations out of Canada. Persons under 18 years of age who are unaccompanied by an adult should bring with them a letter from a parent or guardian giving them permission to travel to Canada.
Visa immigration information
Passports
Passport valid for at least one day beyond the intended departure date from Canada required by all except the following:
(a) 1. Canadian citizens holding a Canadian Certificate of Identity, Canadian birth certificate or a certificate of Canadian citizenship;
(b) permanent residents of Canada with proof of status, ie Permanent Resident Card, Record of Landing, Returning Resident Permit or a Refugee Travel Document issued by the Government of Canada to refugees who have been resettled in Canada;
(c) 2. citizens of the USA holding proof of citizenship (eg US birth certificate or US naturalization papers);
(d) persons entering from St Pierre & Miquelon or the USA who are legal permanent residents of the USA and hold a US alien registration card (Green Card);
(e) 3. citizens of France who are residents of and entering from St Pierre & Miquelon;
(f) nationals who are residents of and entering from Greenland.
Note
Identity/travel documents issued to non-national residents of the country of issue, refugees or stateless persons are recognized for travel to Canada.
Visas
Required by all (visitor or transit) except the following for stays of up to six months:
(a) nationals of countries indicated in the chart above, including 4. citizens of British dependent territories (except holders of passports endorsed ?British Subjects? and ?British Protected Persons?, who do require a visa);
(b) 5. nationals of EU countries (except Czech Republic, Estonia, Hungary, Latvia, Lithuania, Poland and Slovak Republic, who do require a visa);
(c) nationals of Andorra, Antigua & Barbuda, Bahamas, Barbados, Botswana, Brunei, French Overseas Possessions and Territories, Greenland, Guernsey, Hong Kong (SAR), Iceland, Israel (National passport holders only), Jersey, Korea (Rep), Liechtenstein, Mexico, Monaco, Namibia, New Zealand, Norway, Papua New Guinea, St Kitts & Nevis, St Lucia, St Vincent & the Grenadines, Samoa, San Marino, Singapore, Solomon Islands, Swaziland, Switzerland and the Vatican City.
(d) those visiting Canada who, during that visit, also visit the USA or St Pierre & Miquelon (a French Overseas Territory) and return directly to Canada as visitors within the period authorized on their initial entry (or any extension thereto).
Types of visa and cost
Visitor: C$75 (single-entry); C$150 (multiple-entry). Family: C$400 (for families of six or more persons). Transit: gratis. Transit visas are necessary for all nationals who require a visitor visa. Although transit visas are not required by British citizens, they may be required by foreign nationals with British passports; check with the Embassy or High Commission for details. Employment: C$150 (individual); C$450 (group of three or more). Student: C$125. Fees to be paid in the form of a Canadian Dollar bank draft made payable to 'Receiver General for Canada.' Bank drafts must be no older than two months with name and address of applicant printed on the back. For further information, contact the High Commission. Prices are subject to frequent change.
Validity
Up to six months depending on circumstances of individual applicant. The determination regarding length of stay in Canada can only be decided by the examining officer at the port of entry, but visas cannot exceed the validity of the passport and cannot be longer than five years. If no actual departure date is indicated within the visitor?s passport, then the visitor will be required to depart within three months from the date of entry. Visitors must effect their departure from Canada on or before the date authorized by the examining officer on arrival. If an extension of stay is desired, an application must be made in writing to the nearest Canada Immigration Center at least three weeks before the expiry of the visitor visa. Multiple-entry visas cannot be valid longer than passport. Transit visas are only allocated if a national's flight/onward journey is continuing within 24 hours. Single-entry visas can be used multiple times by nationals of St Pierre & Miquelon and the USA.
Note
(a) A single-entry visa is still valid if used to visit the USA. (b) Persons wishing to attend a course of six months duration or less, at any level, do not require a study permit. However, if there is the possibility that you will extend your period of study in Canada, or if you are a full time student and wish to work on campus, you may apply for a study permit.
Application to
Consulate (or Consular section at Embassy or High Commission); see Passport/Visa Information.
Application requirements
(a) Valid passport. (b) Proof of immigration status in country of residence. (c) Application form. (d) Two recent passport-size photos. (e) Proof of sufficient funds for length of stay (this may entail providing a letter from one?s employer, mortgage statements or bank statements or letter of invitation from a Canadian resident). (f) Evidence of employment (in some cases). (g) Details of travel plans. (h) Visa processing fee payable in bankers draft only. (i) For those applying by post, an 8" x 6", registered, self-addressed envelope with 50p (C$1) stamp. Transit: (a)-(i) and, (j) Onward/return tickets.
Note
(a) Children under 18 years must have information with them on the people responsible for their welfare, if traveling alone; this includes a letter of permission to travel from guardian(s), and also a letter from the custodian in Canada. (b) Depending on circumstance and nationality, certain applicants may need to undergo a medical examination in order to receive their visas; this must be carried out by a physician on Canada's list of Designated Medical Practitioners.
Temporary residence
A work permit is required for temporary residence in Canada. Persons who wish to proceed to Canada for the purposes of study or temporary employment should contact the nearest Canadian High Commission, Embassy or Consulate, as authorization is normally required prior to arrival. Those taking up temporary employment will require an Employment Authorization, for which a fee is charged. Persons going for study purposes must obtain a Student Authorization; a charge is made for this service.
Working days required
10 days are required from receiving applications, but applications should be made at least one month prior to the intended date of departure; eight weeks if applying by post. Certain nationals are subject to longer processing times. For urgent applications is it advised to apply in person.
HIV entry requirements
Testing is required for anyone over 15 years of age and seeking entry for a period of over 6 months
Departure tax
An Airport Improvement Fee (AIF) has been implemented at all major airports; the cost is per person and is added to the price of the air ticket. Vancouver charges C$5 for flights within British Columbia and Yukon and C$15 for all other flights. Calgary's AIF is C$15. Toronto has a departure tax of C$8 for connecting flights and C$15 for all others. Ottawa and Montr?al levy an AIF of C$15. Note An Air Travellers Security Charge (ATSC) was introduced in 2002, which helps to pay for the additional security following 11 September 2001. This charge is levied on all passengers departing from any Canadian airport for domestic, national and international flights. The charge is currently C$17 per person for national and international departures and C$5-17 per person per flight for all domestic services.
Embassies
Canadian High Commission in the UK
Immigration division: 38 Grosvenor Street, London W1K 4AA, UK
Tel: (020) 7258 6600 or (020) 7258 6699 (recorded visa information).
Website: www.canada.org.uk or www.cic.gc.ca
Opening hours: Mon-Fri 0800-1100 excluding public holidays (personal callers only).
Consular section: Canada House, 5 Pall Mall East, Trafalgar Square, London SW1Y 5BJ, UK
Tel: (020) 7258 6600.

Canadian Embassy in the USA
501 Pennsylvania Avenue, NW, Washington, DC 20001, USA
Tel: (202) 682 1740.
Website: www.canadianembassy.org
Canadian Consulate General in the USA
1251 Avenue of the Americas, New York, NY 10020-1175, USA
Tel: (212) 596 1628.
Consulates in: Anchorage, Houston, Philadelphia, Phoenix, Raleigh and San Diego.
Consulates General in: Atlanta, Boston, Buffalo, Chicago, Dallas, Denver, Detroit, Los Angeles, Miami, Minneapolis, San Francisco and Seattle.

Most visits to Canada are trouble-free but you should be aware of the global risk of indiscriminate international terrorist attacks, which could be against civilian targets, including places frequented by foreigners. This advice is based on information provided by the Foreign, Commonwealth & Development Office in the UK. It is correct at time of publishing. As the situation can change rapidly, visitors are advised to contact the following organizations for the latest travel advice:
British Foreign, Commonwealth & Development Office
Tel: (0845) 850 2829.
Website: www.gov.uk/foreign-travel-advice
US Department of State
Currency
Canadian Dollar (CAD; symbol C$) = 100 cents. Notes are in denominations of C$100, 50, 20, 10 and 5. Coins are in denominations of C$2 and 1, and 25, 10, 5 and 1 cents.
Currency restrictions
There are no restrictions on the import or export of either local or foreign currency. The export of silver coins over C$5 is prohibited. Amounts equal to or greater than C$10,000 must be declared on entry and exit.
Banking hours
Mon-Fri 0930-1600/1700 with extended hours in some locations. Business accounts can only be set up on presentation of a letter of credit from a home bank.
Currency exchange
Credit cards
Major credit cards are widely accepted.
Travellers cheques
To avoid additional exchange rate charges, travelers are advised to take traveller's cheques in Canadian Dollars; these are widely negotiable.
| City/Region | City/Area code | Followed by |
| --- | --- | --- |
| British Columbia | (1+)778 | + 7 digit subscriber nr |
| Greater Toronto Area | (1+)905 | + 7 digit subscriber nr |
| Manitoba | (1+)204 | + 7 digit subscriber nr |
| Montreal | (1+)514 | + 7 digit subscriber nr |
| New Brunswick | (1+)506 | + 7 digit subscriber nr |
| Newfoundland | (1+)709 | + 7 digit subscriber nr |
| Northern Alberta (Edmonton) | (1+)780 | + 7 digit subscriber nr |
| Nova Scotia, Prince Edward Island | (1+)902 | + 7 digit subscriber nr |
| Ontario | (1+)807 | + 7 digit subscriber nr |
| Ontario (Toronto Metro) | (1+)416 | + 7 digit subscriber nr |
| Quebec | (1+)819 | + 7 digit subscriber nr |
| Qu?bec (Qu?bec City) | (1+)418 | + 7 digit subscriber nr |
| Saskatchewan | (1+)306 | + 7 digit subscriber nr |
| Southern Alberta (Calgary) | (1+)403 | + 7 digit subscriber nr |
| Toronto (Ontario) | (1+)647 | + 7 digit subscriber nr |
| Yukon & NW Territories. | (1+)867 | + 7 digit subscriber nr |