Quick Facts
Region: Africa
Full Name: Central African Republic
Capital City: Bangui
Language Spoken: French (official), Sangho (lingua franca and national language), tribal languages
Central African Republic Travel Insurance
Get travel insurance to Central African Republic from Direct Travel Insurance. We offer low cost and high quality travel insurance to Central African Republic and most of the world.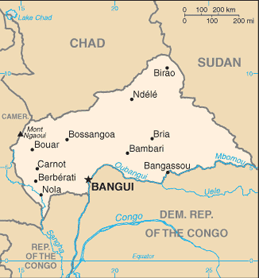 Geographic data
7 00 N, 21 00 E
Elevation Extremes
lowest point: Oubangui River 335 m highest point: Mont Ngaoui 1,420 m
Land boundaries
total: 5,203 km border countries: Cameroon 797 km, Chad 1,197 km, Democratic Republic of the Congo 1,577 km, Republic of the Congo 467 km, Sudan 1,165 km
Natural hazards
hot, dry, dusty harmattan winds affect northern areas; floods are common
Natural resources
diamonds, uranium, timber, gold, oil, hydropower
Land use
arable land: 3.1% permanent crops: 0.15% other: 96.75% (2005)
Environmental current issues
tap water is not potable; poaching has diminished the country's reputation as one of the last great wildlife refuges; desertification; deforestation
Climate
Hot all year with a defined dry season. Especially hot in the north, with greater humidity in the south. The rainy season is mainly from May to October. Heavy rainfall is typical in the southwestern forest areas. Required clothing Linens and tropical waterproof clothing.
Time difference
time difference: UTC+1
Population
4,303,356 note: estimates for this country explicitly take into account the effects of excess mortality due to AIDS; this can result in lower life expectancy, higher infant mortality and death rates, lower population and growth rates, and changes in the distribution of population by age and sex than would otherwise be expected (July 2006 est.)
Age structure
0-14 years: 41.9% (male 907,629/female 897,153) 15-64 years: 53.9% (male 1,146,346/female 1,173,268) 65 years and over: 4.2% (male 71,312/female 107,648) (2006 est.)
Median age
total: 18.4 years male: 18 years female: 18.8 years (2006 est.)
Population growth rate
1.53% (2006 est.)
Birth rate
33.91 births/1,000 population (2006 est.)
Death rate
18.65 deaths/1,000 population (2006 est.)
Net migration rate
0 migrant(s)/1,000 population (2006 est.)
Sex ratio
at birth: 1.03 male(s)/female under 15 years: 1.01 male(s)/female 15-64 years: 0.98 male(s)/female 65 years and over: 0.66 male(s)/female total population: 0.98 male(s)/female (2006 est.)
Life expectancy at birth
total population: 43.54 years male: 43.46 years female: 43.62 years (2006 est.)
Total fertility rate
4.41 children born/woman (2006 est.)
Business Practices
Formal wear is expected for meetings in the Central African Republic (suits and ties for men). Knowledge of French is essential. Interpreter and translation services may be available at large hotels or contact your embassy for assistance. Business cards should be in French and English. Office hours are normally 0730-1530 Monday to Friday.
Crime
With unemployment estimated at 80 percent, street crime is a concern. The police force is ill-equipped and poorly trained. When a crime occurs, the victim may have to pay to send a vehicle to pick up police officers due to the shortage of police vehicles. Armed highway robbery in rural areas is common, especially in the dry season from December until May. Armed banditry renders road travel outside the city dangerous, especially after dark.
Hotels
There are a few good hotels in Bangui, some of which are very exclusive and expensive. The better hotels have air-conditioning and swimming pools. Pre-booking is essential, ideally several weeks in advance. Outside Bangui, accommodation of any standard is very difficult to find.
Communications
Telephone IDD is available. Country code: 236, although some calls are still directed through the operator. Telex facilities are available at post offices in Bangui and good hotels. Telegrams may be sent from 1430-1830 Saturday and from 0800-1830 Sunday.
Electricity
is 220/380 volts AC, 50Hz. Electricity 220 volts AC, 50Hz.
Plug Types
C,E
Food And Dining
Western food is only available in the capital, Bangui. Most of the top-class hotels have good restaurants. The standard of these restaurants is high, but they do tend to be expensive. Otherwise travelers must call at local villages and barter for provisions. Local food is basic. Many dishes contain okra (gombo), although other popular ingredients include rice, bananas and cassava. Bars are numerous in Bangui with both table and counter service. Drinking and smoking are not encouraged in Muslim society; in Muslim areas, drinking is best done in private. Elsewhere, there are numerous beer halls offering beverages of a high standard. National dishes:
? Muamba de Galinha is chicken with palm oil and okra.
? Chicken and cumin stew.
? Fried fish in peanut sauce.
? Palm butter soup.
? Shrimps eaten with boiled yams or sweet potatoes.
? Spinach stew, which might also include tomato, peppers, chiles, onions and peanut butter.
? Banana leaves stuffed with beef, onions and peanuts.
? Dongo-Dongo, which is halfway between a soup and a sauce, and is always served with okra and sometimes fish or meat too. National drinks:
? Two of the most popular brews are palm wine and banana wine. Tipping : 10 per cent is appropriate in expensive hotels and restaurants. Bargaining is normal.

Nightlife
The few hotels in Bangui have expensive clubs catering for tourists and businessmen; local nightlife is centered on the district known as 'Kilom?tre Cinq'.
Entry departure requirements
Visa immigration information
Passports
Passport valid for six months after entry into the Central African Republic required by all.
Visas
Required by all except the following:
(a) nationals of Benin, Burkina Faso, Cameroon, Chad, Congo (Democratic Republic of), Congo (Rep), C?te d'Ivoire, Equatorial Guinea, Gabon, Israel, Liberia, Liechtenstein, Mauritius, Monaco, Niger, Rwanda, Senegal, Sudan, Switzerland and Togo provided traveling from their own countries;
(b) transit passengers continuing their journey by the same or first connecting aircraft provided holding valid onward or return documentation and not leaving the airport.
Note
Nationals of Lebanon are visa-exempt if in possession of written proof of their status as businessperson, banker or technician.
Types of visa and cost
Tourist/Business and Transit: US$59 (for stays of up to 30 days); US$179 (for stays of up to three months). Fees paid in other currencies depend on exchange rates.
Validity
Tourist and Business visas are valid for stays of maximum three months. For transit through the Central African Republic, enquire at the Consulate (or Consular sections at Embassy).
Application to
Consulate (or Consular section at Embassy); see Passport/Visa Information .
Application requirements
(a) Two application forms. (b) Fee. (c) Two passport-size photos. (d) Return/onward ticket. (e) Letter from company stating that applicant will resume work on returning. (f) Yellow fever vaccination certificate. (g) Stamped, self-addressed envelope.
Working days required
Normally two unless application is referred to the authorities in the Central African Republic.
HIV entry requirements
No Test Required
Departure tax
CFAfr10,000 is levied on all passengers
Embassies
Embassy of the Central African Republic in France
30 rue des Perchamps, 75016 Paris, France
Tel: (1) 4224 4256.
Embassy of the Central African Republic in the USA
1618 22nd Street, NW, Washington DC 2008, USA
Tel: (202) 483 7800.
Travel Warnings
All but essential travel to the Central African Republic is advised against. Following a coup d'etat in March 2003 order has yet to be restored to much of the country outside Bangui. Travelers who must travel outside Bangui are strongly recommended to check on the situation in the areas through which they are traveling with their local contacts, the local authorities and diplomatic missions before proceeding.
The threat from terrorism is low but you should be aware of the global risk of indiscriminate terrorist attacks, which could be against civilian targets, including places frequented by foreigners.
This advice is based on information provided by the Foreign, Commonwealth & Development Office in the UK. It is correct at time of publishing. As the situation can change rapidly, visitors are advised to contact the following organizations for the latest travel advice:
British Foreign, Commonwealth & Development Office
Tel: (0845) 850 2829.
Website: www.gov.uk/foreign-travel-advice
US Department of State
Currency
CFA (Communaut? Financiaire Africaine) Franc (CFAfr) = 100 centimes. Notes are in denominations of CFAfr10,000, 5000, 2000, 1000 and 500. Coins are in denominations of CFAfr500, 100, 50, 25, 10, 5 and 1. The Central African Republic is part of the French Monetary Area. Only currency issued by the Banque des Etats de l'Afrique Centrale (Bank of Central African States) is valid; currency issued by the Banque des Etats de l'Afrique de l'Ouest (Bank of West African States) is not. The CFA Franc is tied to the Euro.
Currency restrictions
Import and export of local currency from Benin, Burkina Faso, C?te d'Ivoire, Mauritania, Niger, Senegal and Togo is unlimited; for all other countries the import and export of local currency is limited to CFAfr75,000. The import of foreign currency is unlimited provided it is declared. The export of foreign currency is limited to the amount imported and declared.
Banking hours
Mon-Fri 0700-1230.
Currency exchange
Currency can be exchanged at banks in Bangui and Berb?rati.
Credit cards
Credit cards are not generally accepted, except in major hotels.
Travellers cheques
To avoid additional exchange rate charges, travelers are advised to take traveller's cheques in Euros. Even so, commission rates can be very high.