Quick Facts
Region: North & Central America & the Caribbean
Full Name: Republic of Costa Rica
Capital City: San Jose
Language Spoken: Spanish (official), English
Costa Rica Travel Insurance
Get travel insurance to Costa Rica from Direct Travel Insurance. We offer low cost and high quality travel insurance to Costa Rica and most of the world.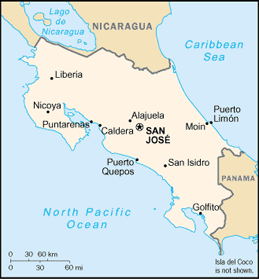 Geographic data
10 00 N, 84 00 W
Elevation Extremes
lowest point: Pacific Ocean 0 m highest point: Cerro Chirripo 3,810 m
Land boundaries
total: 639 km border countries: Nicaragua 309 km, Panama 330 km
Natural hazards
occasional earthquakes, hurricanes along Atlantic coast; frequent flooding of lowlands at onset of rainy season and landslides; active volcanoes
Natural resources
hydropower
Land use
arable land: 4.4% permanent crops: 5.87% other: 89.73% (2005)
Environmental current issues
deforestation and land use change, largely a result of the clearing of land for cattle ranching and agriculture; soil erosion; coastal marine pollution; fisheries protection; solid waste management; air pollution
Climate
In the Central Valley, where the main centers of population are located, the average temperature is 22?C (72?F). In the coastal areas, the temperature is much hotter. The rainy season starts in May and finishes in November. The ?warm? dry season is December to May, though temperature differences between summer and winter are slight.\nRequired clothing\nLightweight cottons and linens most of the year, warmer clothes for cooler evenings. Waterproofing is necessary during the rainy season.
Time difference
time difference: UTC-6
Population
4,075,261 (July 2006 est.)
Age structure
0-14 years: 28.3% (male 590,261/female 563,196) 15-64 years: 66% (male 1,359,750/female 1,329,346) 65 years and over: 5.7% (male 108,041/female 124,667) (2006 est.)
Median age
total: 26.4 years male: 26 years female: 26.9 years (2006 est.)
Population growth rate
1.45% (2006 est.)
Birth rate
18.32 births/1,000 population (2006 est.)
Death rate
4.36 deaths/1,000 population (2006 est.)
Net migration rate
0.49 migrant(s)/1,000 population (2006 est.)
Sex ratio
at birth: 1.05 male(s)/female under 15 years: 1.05 male(s)/female 15-64 years: 1.02 male(s)/female 65 years and over: 0.87 male(s)/female total population: 1.02 male(s)/female (2006 est.)
Life expectancy at birth
total population: 77.02 years male: 74.43 years female: 79.74 years (2006 est.)
Total fertility rate
2.24 children born/woman (2006 est.)
Business Practices
Business meetings and customs tend to be conservative. Unlike the protocol in some neighboring countries, a business suit is appropriate for most business meetings Advance appointments, courtesy and punctuality are appreciated. It is necessary to have some knowledge of Spanish, although many locals speak English. Costa Rican business executives place great importance on personal contacts with foreign suppliers. Appointments should take place in the hosts' facilities instead of a hotel room, unless a special room has been arranged for the meeting. Typical working hours are from 8:00 AM to 12:00 PM, and from 2:00 PM to 6:00 PM. The Costa Rican government has a continuous working schedule from 7:30 AM to 4:00 PM. Most banks open from 9:00 AM to 3:00 PM.
Crime
Crime is increasing, and tourists as well as the local populace are frequent victims. Most crimes are non-violent, including pickpocketing and house and car break-ins, but criminals have shown a greater willingness to use violence in recent years. Travelers should ensure that they purchase an adequate level of locally valid theft insurance when renting vehicles. Never leave valuables in the vehicle, and park in paid lots whenever possible. Criminals have reportedly used skeleton keys to break into cars, particularly rental cars. Carjackings have occurred in recent years, and motorists have been confronted at gunpoint while stopped at traffic lights or upon arrival at their homes. The women were found with gunshot wounds in the head. In addition, a number of women have been victims of sexual assaults at beach resorts on both coasts and in San Jose. There have been several attempted sexual assaults, including one rape, by taxi drivers. Travelers should be careful to use taxis that have working door handles, locks, and meters (called "marias"), and not ride in the front seat with the driver. There have been several kidnappings, including those of foreigners, in recent years. Incidents of crime commonly occur in downtown San Jose, at beaches, at the airport, and at national parks and other tourist attractions. There were assaults on tourist buses in recent years. Travelers who keep valuables out of sight, who do not wear jewelry, and who travel in groups during daylight hours lessen their risk. Local law enforcement agencies have limited capabilities. Money exchangers on the street pass off counterfeit U.S. dollars and local currency. Credit card fraud is growing. Some trails in national parks have been closed because of low numbers of visitors and reported robberies of hikers in the area. Tourists should check with park rangers for current park conditions.
Hotels
There is a good range of reasonably priced hotel accommodation. Most proprietors speak English. San Jos? has many hotels, from the extravagant to the smaller, family-run hotels in the less fashionable districts. There are several good hotels out of town near the airport. Larger hotels have swimming pools and other sports facilities. The majority of the hotels have their own restaurants that are generally good and reasonably priced. Traditional business services are available in larger hotels (e.g., phone, fax, conference rooms, computer equipment, audiovisual equipment, etc.). Outside the capital, charges and the standard of comfort are lower.
Communications
Telephone IDD is available. Country code: 506. Outgoing international code: 00. Costa Rica enjoys an advanced telecommunications network, although some 67,000 Costa Ricans are waiting for telephone service. Telephone service, in general, is reliable. The country also enjoys both public cellular services and data transmission services. Fax facilities are available in San Jos? at the Radiografica Costarricense SA (opening hours: 0700-2200). An additional digit (2) will be added to the beginning of all landline numbers as at 21/03/08 and an additional digit (8) will be added required for all mobile numbers.
Electricity
is 110/220 volts AC, 60Hz. 2-pin plugs are standard. Electricity 110 volts AC, 60Hz. Two-pin plugs are standard.
Plug Types
A,B
Food And Dining
Restaurants in towns and cities serve a variety of foods including Chinese, French, Italian, Mexican and North American. Food is satisfactory, from the most expensive to the cheapest eating places (which are generally found west of the city center). Food sodas (small restaurants) serve local food.

National specialties:
? Casado (rice, beans, stewed beef, fried plantain, salad and cabbage).
? Olla de carne (soup of beef, plantain, corn, yuca, nampi and chayote).
? Sopa negra (black beans with a poached egg).
? Picadillo (meat and vegetable stew).
? Gallos (filled tortillas).
? Tortas (containing meat and vegetables).
? Arreglados (bread filled with same).
? Pan de yuca (specialty from stalls in San Jos?). National drinks: There are many types of cold drinks made from fresh fruit, milk or cereal flour, for example:
? Cebada (barley flour).
? Pinolillo (roasted corn).
? Horchata (corn meal with cinnamon). Imported alcoholic and soft drinks are widely available. Coffee is good value and has an excellent flavor. Tipping : Tipping is not necessary but is accepted if the service was particularly outstanding. Restaurants add a 23 per cent service charge to the bill.

Nightlife
San Jos? especially has many nightclubs, venues with folk music and dance, theaters and cinemas.
Entry departure requirements
Visa immigration information
Passports
Passport valid for at least six months at date of entry required by all.
Visas
Required by all except the following:
(a) 1. nationals of the UK and its dependencies for stays of up to 90 days;
(b) 2. nationals of Andorra, Argentina, Austria, Belgium, Brazil, Canada, Cyprus, Czech Republic, Denmark, Finland, France, Germany, Greece, Honk Kong (British passport holders only), Hungary, Israel, Italy, Japan, Korea (Rep), Latvia, Liechtenstein, Lithunia, Luxembourg, Malta, Monaco, The Netherlands, Norway, Panama, Paraguay, Poland, Portugal, Puerto Rico, Romania, Slovenia, Spain, Sweden, Switzerland, Trinidad & Tobago, Uruguay and USA for stays of up to 90 days;
(c) 3. nationals of Antigua & Barbuda, Australia, The Bahamas, Barbados, Belize, Bolivia, Bulgaria, Chile, Dominica, El Salvador, Estonia, Grenada, Guatemala, Guyana, Honduras, Iceland, Ireland, Jamaica, Mexico, New Zealand, The Philippines, Russian Federation, St Kitts & Nevis, St Lucia, St Vincent & The Grenadines, San Marino, Singapore, Slovak Republic, South Africa*, Surinam, Taiwan (China), Turkey, Vatican City and Venezuela for stays of up to 30 days;
(d) transit passengers continuing their journey to a third country by the same or first connecting flight within 12 hours, provided holding confirmed onward tickets and not leaving the airport (except nationals of China (PR) who do need a transit visa authorized by the Immigration Department in San Jos?).
Note
(a) * Persons holding passports issued by the former homelands of Transkei and Venda do need a visa authorized by the Immigration Department in San Jos?. (b) Nationals of countries listed above must obtain an exit visa from the Immigration Department in San Jos? at least three weeks before leaving Costa Rica. Those who stay for less than 30 days are exempt if in possession of a disembarkation card. (c) Nationals of the following countries may enter Costa Rica with a consular visa for stays of up to 30 days: Belarus, Colombia, Ecuador, Dominican Republic, Egypt, Malaysia, Nicaragua, Peru, Thailand and Zimbabwe; nationals of these countries will have to apply for a consular visa in their country of origin or if they are permanent residents in a country of group (b) 2. in the country where they have permanent residency. (d) All other nationals require a visa. In some cases, an authorization from the Immigration Department in San Jos? is also necessary and visitors should consult the Consulate for an up-to-date list. Temporary visitors must hold return or onward tickets, except those holding a visa showing an exit ticket is not required.
Types of visa and cost
Tourist. Visas cost approximately US$21 ($20). All passengers requiring a visa must hold documents required for the next destination.
Validity
Visas are valid for 30 or 90 days, depending on nationality. Contact the Immigration Department in Costa Rica for renewal or information on the extension procedure.
Application to
Consulate (or Consular section of Embassy; see Passport/Visa Information). Applications should be made in person.
Application requirements
(a) Completed application form. (b) Two passport-size photos. (c) Passport valid for six months at time of entry. (d) Proof of sufficient funds to cover duration of stay. (e) Return or onward ticket.
Working days required
One to two, depending on nationality of applicant. Some visas need the authorization of the Immigration Department in Costa Rica (ask the Consulate or Consular section of Embassy for details) and may take up to three weeks.
Temporary residence
Apply to the Consulate or Consular section of Embassy.
HIV entry requirements
No Test Required
Departure tax
US$26 (or the equivalent in Costa Rican Colon), payable if staying more than 24 hours.
Embassies
Embassy and Consulate of the Republic of Costa Rica in the UK
Flat 1, 14 Lancaster Gate, London W2 3LH, UK
Tel: (020) 7706 8844.
Website: http://costarica.embassyhomepage.com
Opening hours: Mon-Fri 1000-1500 (embassy); 1000-1300 (consulate).
Embassy of the Republic of Costa Rica in the USA
2114 S Street, NW, Washington, DC 20008, USA
Tel: (202) 234 2945 or 328 6628 (consular enquiries).
Website: www.costarica-embassy.org

Most visits to Costa Rica are trouble-free but you should be aware of the global risk of indiscriminate international terrorist attacks, which could be against civilian targets, including places frequented by foreigners.
Incidents of violent crime, some targeted at tourists, are on the increase.
This advice is based on information provided by the Foreign, Commonwealth & Development Office in the UK. It is correct at time of publishing. As the situation can change rapidly, visitors are advised to contact the following organizations for the latest travel advice:
British Foreign, Commonwealth & Development Office
Website: www.gov.uk/foreign-travel-advice
US Department of State
Currency
Costa Rican Col?n (CRC) = 100 c?ntimos. Notes are in denominations of c10,000, c5000, c2000, 1000 and 500. Coins are in denominations of CRC100, 50, 25, 20, 10 and 5. US Dollars are also widely accepted.
Currency restrictions
Up to US$10,000 can be brought to Costa Rica without any restrictions. Amounts above that figure must be declared to customs upon arrival.
Banking hours
Mon-Fri 08000900-1500/1800.
Currency exchange
Visitors should consult their banks for the current rate of exchange (there is no direct local quotation for sterling; the cross rate with the US Dollar is used). ATMs are available throughout the country.
Credit cards
Diners Club, MasterCard and Visa are all accepted; American Express slightly less so, but check with your credit or debit card company for details of merchant acceptability and other services which may be available.
Travellers cheques
To avoid additional exchange rate charges, travelers are advised to take traveller's cheques in US Dollars.