Quick Facts
Region: Africa
Full Name: Republic of Cape Verde
Capital City: Praia
Language Spoken: Portuguese, Crioulo (a blend of Portuguese and West African words)
Cape Verde Travel Insurance
Get travel insurance to Cape Verde from Direct Travel Insurance. We offer low cost and high quality travel insurance to Cape Verde and most of the world.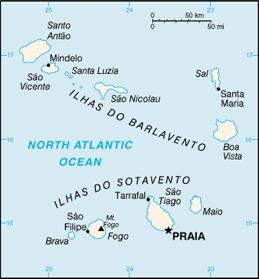 Geographic data
16 00 N, 24 00 W
Elevation Extremes
lowest point: Atlantic Ocean 0 m highest point: Mt. Fogo 2,829 m (a volcano on Fogo Island)
Land boundaries
0 km
Natural hazards
prolonged droughts; seasonal harmattan wind produces obscuring dust; volcanically and seismically active
Natural resources
salt, basalt rock, limestone, kaolin, fish, clay, gypsum
Land use
arable land: 11.41% permanent crops: 0.74% other: 87.85% (2005)
Environmental current issues
soil erosion; deforestation due to demand for wood used as fuel; desertification; environmental damage has threatened several species of birds and reptiles; illegal beach sand extraction; overfishing
Climate
Generally temperate, but rainfall is very low. The rainy season is August to October when rainfall is unpredictable. Required clothing Lightweight throughout the year, tropical for midsummer.
Time difference
time difference: UTC-1
Population
420,979 (July 2006 est.)
Age structure
0-14 years: 37.9% (male 80,594/female 79,126) 15-64 years: 55.3% (male 113,450/female 119,423) 65 years and over: 6.7% (male 10,542/female 17,844) (2006 est.)
Median age
total: 19.8 years male: 19 years female: 20.7 years (2006 est.)
Population growth rate
0.64% (2006 est.)
Birth rate
24.87 births/1,000 population (2006 est.)
Death rate
6.55 deaths/1,000 population (2006 est.)
Net migration rate
-11.91 migrant(s)/1,000 population (2006 est.)
Sex ratio
at birth: 1.03 male(s)/female under 15 years: 1.02 male(s)/female 15-64 years: 0.95 male(s)/female 65 years and over: 0.59 male(s)/female total population: 0.95 male(s)/female (2006 est.)
Life expectancy at birth
total population: 70.73 years male: 67.41 years female: 74.15 years (2006 est.)
Total fertility rate
3.38 children born/woman (2006 est.)
Business Practices
Correspondence generally is in English, French, or Portuguese. Cape Verde has strong business links with Portugal. Government, banking and industry hours are Monday through Friday 8:00 am to 12:00 PM and 2:00 PM to 6:00 PM. Commercial hours are Monday to Friday 8:00 AM to 12:30 PM and 3:00 PM to 7:00 PM and Saturday 9:00 AM to 1:00 PM.
Crime
Though not a common occurrence, violent crime is on the rise, notably in Praia and tourism hubs such as Mindelo, Boa Vista and Sal. Armed robbery, car break-ins and assault are growing more frequent, especially after dark, and the local police force is ill-equipped to combat this trend. Avoid the more remote beaches, and do not walk alone. Thieves target cellphones and cameras. Keep copies of identity documents and plane tickets in a secure place. Crime spikes toward the end of the year, as the holiday season approaches.
Hotels
Accommodations are available on all the islands. There are good hotels on major urban centers. However, bookings should be guaranteed, either directly or through a travel agency, before departing. Room rates range from CVE 3000 to 7000. There are international hotels on Sal island and a tourist complex at Praia that offer reasonable security, otherwise there are small hotels at Mindelo and on Ilha Do Sal (Sal), Fogo and Praia.
Communications
Telephone IDD service is available to main cities, but may not be available elsewhere. The country code is 238. Improvements to rural areas are in progress and the islands have over 12,000 telephones. Some calls to and from Cape Verde must still go through the international operator.
Electricity
is 220 volts AC, 50Hz. Electricity 220 volts AC, 50Hz.
Plug Types
C,F
Food And Dining
There is an increasing number of restaurants and cafes on the islands.

National specialties:
? Pastel com diablo dentro ('pastry with the devil inside') - a mix of tuna, onions, tomatoes and pastry, made from boiled potatoes and corn flour.
? Cachupa, a mess of maize and beans.
? Fruits include mangoes, bananas, papayas, goiabas (guavas), zimbr?o, tambarinas, marmelos, azedinhas, tamaras and cocos. National drinks:
? Aguardiente (sugar cane rum).
? A San Antao liquor made from coffee, cinnamon, fig leaf, peppermint, orange or lime.
? Manecome (local wine from Fogo). Tipping : It is normal to give 10 per cent for good service.

Nightlife
Some hotels provide evening entertainment. Small villages will have a lively taverna. Most nightlife is on the main islands: there are 21 nightclubs in Cape Verde ? eight on Santiago, seven on Sal, five on S?o Vicente and one on Fogo. Praia has a cultural center at which local Cape Verdean artists and instrumentalists perform.
Entry departure requirements
Visa immigration information
Passports
Passport valid for at least six months required by all.
Visas
Required by all except the following:
(a) nationals of ECOWAS countries, Angola and South Africa;
(b) former nationals of Cape Verde, their spouses and children, provided holding proof of origin;
(c) those continuing their journey to a third destination provided holding onward documentation and not leaving the airport.
Types of visa and cost
Transit, Tourist, Business: US$45 (single entry); US$85 (multiple-entry, for Business visas only); paid by cheque or postal order. Prices may fluctuate - enquire at nearest Embassy or Consulate for details.
Validity
Valid for six months from date of issue for visits of up to 90 days, multiple-entry visas are valid for up to one year.
Note: US nationals can obtain visas valid for five years.
Application to
Consulate (or Consular Section at Embassy); see Passport/Visa Information.
Application requirements
(a) Two passport-size photos. (b) One application form. (c) Valid passport. (d) Fee. (e) Return/onward ticket. (f) A stamped addressed envelope if applying by mail.
Working days required
Where there are no complications, visas may be issued immediately; however, it is advisable to anticipate up to two days' delay.
HIV entry requirements
No Test Required
Departure tax
None
Embassies
Embassy of the Republic of Cape Verde in the USA
3415 Massachusetts Avenue, NW, Washington, DC 20007, USA
Tel: (202) 965 6820.
Website:http://www.embcv-usa.gov.cv/
Embassy of the Republic of Cape Verde in the UK
18-20 Stanley Street, Liverpool L1 6AF, UK.
Tel: (0151) 236 0206.
Travel Advice
Most visits to Cape Verde are trouble-free but you should be aware of the global risk of indiscriminate international terrorist attacks, which could be against civillian targets, including places frequented by foreigners.
This advice is based on information provided by the Foreign, Commonwealth & Development Office in the UK. It is correct at time of publishing. As the situation can change rapidly, visitors are advised to contact the following organizations for the latest travel advice:

British Foreign, Commonwealth & Development Office
Website: www.gov.uk/foreign-travel-advice
US Department of State
Currency
Cape Verde Escudo (CVE) = 100 centavos. Notes are in denominations of CVE5000, 2000, 1000 and 500. Coins are in denominations of CVE200, 100, 50, 20, 10, 5 and 1.
Currency restrictions
The import and export of local currency is prohibited. The import of foreign currency is unlimited, subject to declaration on arrival and on departure. The export of foreign currency is limited to the equivalent of CVEsc1,000,000 or the amount declared on arrival, whichever is the larger.
Banking hours
Mon-Fri 0800-1400.
Currency exchange
Available at the airport and in local banks. Currency cannot be reconverted, except in Portugal. There are ATMs found in Sal, Praia and S?o Vincent.
Credit cards
Credit cards are rarely used. A few major hotels accept Visa. Currency can be obtained in banks from credit cards but charges are very high.
Travellers cheques
Accepted in main towns and tourist areas. To avoid additional exchange rate charges, travelers are advised to take traveller's cheques in Pounds Sterling or US Dollars.