Quick Facts
Region: Africa
Full Name: Republic of Cameroon
Capital City: Yaounde
Language Spoken: 24 major African language groups, English (official), French (official)
Cameroon Travel Insurance
Get travel insurance to Cameroon from Direct Travel Insurance. We offer low cost and high quality travel insurance to Cameroon and most of the world.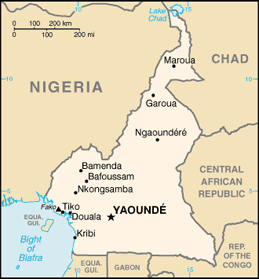 Geographic data
6 00 N, 12 00 E
Elevation Extremes
lowest point: Atlantic Ocean 0 m highest point: Fako 4,095 m (on Mt. Cameroon)
Land boundaries
total: 4,591 km border countries: Central African Republic 797 km, Chad 1,094 km, Republic of the Congo 523 km, Equatorial Guinea 189 km, Gabon 298 km, Nigeria 1,690 km
Natural hazards
volcanic activity with periodic releases of poisonous gases from Lake Nyos and Lake Monoun volcanoes
Natural resources
petroleum, bauxite, iron ore, timber, hydropower
Land use
arable land: 12.54% permanent crops: 2.52% other: 84.94% (2005)
Environmental current issues
waterborne diseases are prevalent; deforestation; overgrazing; desertification; poaching; overfishing
Climate
The south is hot and dry between November and February. The main rainy season is from July to October. Temperatures in the north vary. On the Adamaoua Plateau, temperatures drop sharply at night; the rainy season is from May to October. Grassland areas inland are much cooler than the coast with regular rainfall. Required clothing Lightweight cotton clothes, canvas or light leather shoes or sandals. Rainwear is necessary for coastal areas.
Time difference
time difference: UTC+1
Population
17,340,702 note: estimates for this country explicitly take into account the effects of excess mortality due to AIDS; this can result in lower life expectancy, higher infant mortality and death rates, lower population and growth rates, and changes in the distribution of population by age and sex than would otherwise be expected (July 2006 est.)
Age structure
0-14 years: 41.2% (male 3,614,430/female 3,531,047) 15-64 years: 55.5% (male 4,835,453/female 4,796,276) 65 years and over: 3.2% (male 260,342/female 303,154) (2006 est.)
Median age
total: 18.9 years male: 18.7 years female: 19 years (2006 est.)
Population growth rate
2.04% (2006 est.)
Birth rate
33.89 births/1,000 population (2006 est.)
Death rate
13.47 deaths/1,000 population (2006 est.)
Net migration rate
0 migrant(s)/1,000 population (2006 est.)
Sex ratio
at birth: 1.03 male(s)/female under 15 years: 1.02 male(s)/female 15-64 years: 1.01 male(s)/female 65 years and over: 0.86 male(s)/female total population: 1.01 male(s)/female (2006 est.)
Life expectancy at birth
total population: 51.16 years male: 50.98 years female: 51.34 years (2006 est.)
Total fertility rate
4.39 children born/woman (2006 est.)
Business Practices
Business meetings are somewhat formal, but Cameroonians appreciate an opportunity to "get to know" a potential partner before beginning concrete discussions. It is helpful in Cameroon to supplement written communications with as many face-to-face encounters as possible. Adherence to western standards of punctuality is not the norm; patience and persistence are needed to do business in Cameroon. French is the dominant business language in Cameroon although approximately 20 percent of the population and much of the business community speak English, Cameroon's other official language, which can be used in the two English-speaking provinces and the larger cities. The Cameroonian workweek does not include Saturdays even though businesses are open that day. Holidays falling on Saturdays or Sundays are observed on Fridays or Mondays, respectively. When a working day intervenes between two recognized holidays, the working day is usually, but not always, declared a public holiday. Government offices are officially open from 7:30 am to 3:30 pm without interruption. Businesses generally are open from 8 am to 6 pm with a brief closing for lunch.
Crime
Armed banditry is a serious problem throughout the country, including tourist areas in Cameroon's far north province and in all major cities. To curb banditry, security personnel may request persons to show their passport, residence card, driver's license and/or vehicle registration at random checkpoints. Comply with security officers' requests. The risk of street and residential crime is high. Muggings occur frequently in Cameroon's urban areas. Thieves on motorbikes may target travelers' briefcases or handbags. Visitors should take sensible personal security precautions and maintain a high level of vigilance in public places. There are also occasional reports of carjackings and robberies. The perpetrators are usually well-armed and do not hesitate to use violence. In February 2006, a European victim died after resisting an attack. Muggings and robberies have been reported in the area surrounding the Mount Febe hotel, in Yaound?, at all times of day. There are regular reports of kidnapping, car hijackings and robberies, often armed and accompanied by violent acts. These have occurred most frequently along roads close to Cameroon's eastern border with Central African Republic (CAR) and Chad, in Douala, Yaound?, Kribi and Maroua as well as on the Edea-Kribi road. Westerners have been affected. Armed highwaymen operate in the three provinces of Adamaoua, the North, and the Far North. There have been recent incidents of child abduction, ransom demands and carjacking. If travel must be undertaken in these areas, it should be done only during daylight hours and in government-operated convoys. There have been a number of violent robberies by "coupeurs de routes" (translates to "road blockers"), which are gangs of armed bandits that target vehicles on the main commercial routes, especially north of Garoua, and in the area north of Mount Cameroon (on the Kumba-Ekondo Titi-Mundemba road). These gangs are known to be more active on market days in the larger towns. There have been some serious incidents of car hijacking and robbery, resulting in several deaths, along the Bamenda-Banyo axis in the northwest. A member of the British High Commission staff was attacked and robbed (along with others) near Foumban at midday in this region in December 2005. There has also been a series of attacks along the Douala-Bafoussam Road, especially in the region of Melong, during daylight hours. These roads are best avoided. There were more than 20 incidents of robbery and three rapes committed against the European community in Douala in 2005. Close and lock all doors and windows, including those above ground level, particularly at night. Do not rely on height or fly screens for protection. Identify callers through peepholes before opening doors, especially late at night. Avoid carrying valuables or wearing jewelry in public and avoid isolated or poorer areas of towns (notably, in Yaound?, La Briquetterie and Mokolo). Petty theft is common on trains, buses and in bush taxis. Take sensible precautions when using city taxis as most do not comply with basic security norms, such as seatbelts. Violent assaults on taxi passengers are not uncommon. Avoid travelling alone as far as possible, particularly after dark. The period before Christmas and the holiday season always see an upsurge in crime as those who cannot afford the festivities seek alternative ways to fund their celebrations. In 2006, this upsurge coincided with a significant increase in crime and carjackings in particular. There is an increasing circulation of counterfeit U.S. and Cameroonian currency and in recent years, business travelers have experienced difficulty in obtaining adequate services from Cameroon's banking sector.
Hotels
Good accommodation of international standard is available in Douala, Yaound?, Bamenda, Garoua and Maroua. The good hotels (government-rated 2-star and above) have air-conditioning, sports facilities and swimming pools; most rooms have showers. Most large hotels will accept major credit cards. Rates are for the room only. Cheaper accommodation is also available. Villas and houses are available for rent in most towns in Cameroon. Apartments are available for rent in Douala and Yaounde. Rates have dropped considerably since 1992 but are trending upward, particularly in the two main cities. While real estate brokers (or "agent immobilier") may help in securing housing for American visitors, a good local contact may be more useful. Many newly arrived businesspersons establish temporary housing and office space at one of the well-known hotels.
Communications
Telephone IDD service is available to and from Cameroon. The country code is 237. There are no city or area codes. The outgoing international code is 00. Telephones can usually be found in post offices and restaurants. Automatic dialing links the main towns in Cameroon, but this service is often unreliable. Fax services are available at Intelcom offices.
Electricity
110/220 volts AC, 50Hz. Plugs are round two-pin; bayonet light-fittings are used.
Plug Types
C,E
Food And Dining
Local food is excellent; French or Lebanese cuisine is also available. Luxury items can be extremely expensive. There are many restaurants in big towns and cities, with good service. Most international hotels have bars.

National specialties:
? Manioc leaves (feuille).
? West african peanut soup.
? Banana bread.
? Zom (spinach with meat).
? Fried sweet potatoes or plantains.
? Beef with pineapple or coconut.
? The country abounds in avocado pears, citrus fruits, pineapples and mangoes.
? Prawns are in plentiful supply in the south.
? Many dishes are served with rice, couscous or mashed potato. Legal drinking age: 18 years. Tipping : The average tip for porters and hotel staff should be about 10 per cent, otherwise service charges are usually inclusive.

Nightlife
In Douala and Yaound? particularly, nightclubs and casinos can be found independently or within most good hotels. There are also some cinemas. There are no licensing hours, and hotel bars stay open as long as there is custom.
Entry departure requirements
Restricted entry A yellow fever vaccination certificate must be presented on arrival by all travelers.
Visa immigration information
Passports
Passport valid for a minimum of six months required by all.
Visas
Required by all except the following:
(a) nationals of Central African Republic, Chad, Congo (Rep), Mali and Nigeria for stays not exceeding 90 days;
(b) those in transit continuing their journey on the first or same aircraft within 24 hours provided holding onward tickets and not leaving the airport.
Types of visa and cost
Tourist and Short-stay: US$57 (three months). Business: US$57 (three months); US$114 (six months). Transit: US$57 (five days). All visas are for multiple-entries.
Validity
Tourist and Short-stay visas are valid for up to three months; Business visas for up to six months. Transit visas are valid for up to five days.
Application to
Consulate (or Consular section at Embassy); see Passport/Visa Information. Visas are also available on arrival for countries where Cameroon has no diplomatic representation.
Application requirements
(a) Passport valid for six months. (b) Two completed application forms. (c) Two passport-size photos. (d) International Certificate of Vaccination for Yellow Fever; (e) Return ticket or letter of confirmation from travel agent. (f) Copy of recent bank statement or letter from the bank verifying that applicant has sufficient funds. (g) For a business visa, a letter from applicant's company and a letter from business partners in Cameroon that must be legalized by the local police. (h) Appropriate fee.
Working days required
Two if the application is delivered in person; several for postal applications.
Temporary residence
Applicants must have Residence and Work Permits. Apply to immigration authorities in Cameroon.
HIV entry requirements
No Test Required
Departure tax
Around US$15.
Embassies
Cameroon High Commission in the UK
84 Holland Park, London W11 3SB, UK
Tel: (020) 7727 0771.
Website: https://www.cameroonhighcommission.co.uk/
Opening hours: Mon-Fri 0930-1600; 0930-1230 (visa applications).
Embassy of the Republic of Cameroon in the USA
2349 Massachusetts Avenue, NW, Washington, DC 20008, USA
Tel: (202) 265 8790.
Website: http://cameroonembassyusa.org/camusa/
Travel Advice
All travel to the border area with Nigeria is advised against (in the region of Bakassi Peninsula), since this area is still subject to a territorial dispute between the two countries and tensions are rife, with localized violent incidents often occurring with little warning. All non-essential travel to the border area with the Central African Republic is advised against. The border area with Congo (Rep) is closed. In addition, there is a danger of mugging and banditry in Cameroon, including car-hijacking and robbery, often armed and violent, particularly in Douala, Yaound?, Kribi and Maroua. Jewelry and valuables should not be worn or carried in more isolated, poor regions of Cameroon (notably Yaound?, la Briquetterie and Mokolo).
In addition, you should be aware of the global risk of indiscriminate international terrorist attacks, which could be against civilian targets, including places frequented by foreigners.
This advice is based on information provided by the Foreign & Commonwealth Office in the UK. It is correct at time of publishing. As the situation can change rapidly, visitors are advised to contact the following organizations for the latest travel advice:

British Foreign, Commonwealth & Development Office
Website: www.gov.uk/foreign-travel-advice
US Department of State
Currency
CFA (Franc de la Communaut? Financi?re Africaine) Franc (XAF) = 100 centimes. Notes are in denominations of XAF10,000, 5000, 2000, 1000 and 500. Coins are in denominations of XAF250, 100, 50, 25, 10, 5 and 1. Cameroon is part of the French Monetary Area. Only currency issued by the Banque des ?tats de l'Afrique Centrale (Bank of Central African States) is valid; currency issued by the Banque des ?tats de l'Afrique de l'Ouest (Bank of West African States) is not. The CFA Franc is tied to the Euro.
Currency restrictions
Import of local currency is limited to CFAfr20,000. Import of foreign currency is unlimited. Export of local currency is limited to CFAfr20,000 if traveling for tourist purposes, or CFAfr450,000 if traveling for business purposes. There is no limit on the export of foreign currency.
Banking hours
Mon-Fri 0730-1530.
Currency exchange
Euros are the easiest currency to exchange. US Dollars are the next most acceptable. Travelers should bring cash in preference to travelers cheques.
Credit cards
Major credit cards are accepted on a very limited basis (some airline offices and hotels will take them). Cards cannot be used in banks to obtain cash advances.
Travellers cheques
To avoid additional exchange rate charges, travelers are advised to take traveller's cheques in Euros - although it is possible to exchange Sterling traveller's cheques. Commission rates tend to be high.